The Potluck: October 2020
Continuing the monthly tradition, The Speckled Palate's The Potluck: October 2020 includes a few Halloween-related products, a new kitchen appliance, some books and more. Come see my list and tell me what was on yours for October.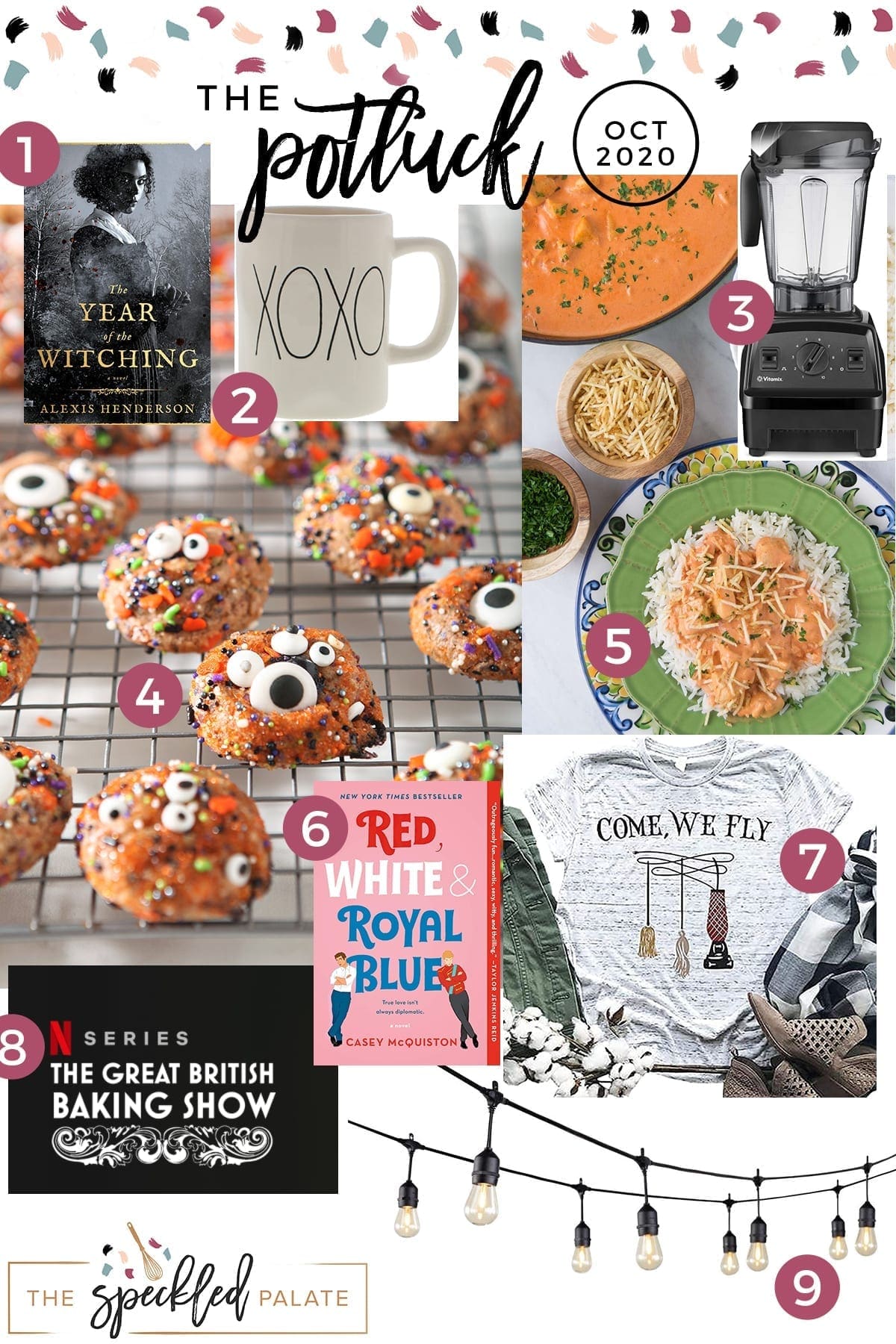 Much like September, October inched by a little faster than the rest of 2020, which was a really nice surprise.
COVID cases are starting to climb again, which is worrying, but so far, our older one's school is still in person. And her teachers—heck, all teachers—are angels.
While we don't have exact Halloween plans yet, I'm hopeful that we can do something. Both girls will be witches, so they'll be dressed to the nines either way.
Let's talk October highlights:
I voted early (!!!) and waltzed right in one day after my husband waited in line for two hours to cast his ballot. I'm thankful we were both able to exercise our right to vote and that we got to do it early.
We're giving our patio a facelift. In the two years we've lived here, we've sworn up and down that we would do something to make our patio more hospitable. A few weeks ago, we got our start with a rock garden alongside the house (in a flower bed that always floods) and some lights.
Our tenth anniversary is Friday! We're planning to get takeout and to have a lovely date night at home. I might bake Fresh Strawberry Cupcakes with Strawberry Cream Cheese Frosting to mark the occasion.
Let's talk October action items:
First and foremost: You're registered to vote, right? (In some states, you can still register!)
Secondly: If you're registered to vote, do you have a voting plan? I hope you do (or that you've already cast your ballot). I hope that you're paying attention to what's happening in our country, too.
This said, I'm going to repeat my recommendations from last month because they both are helping me stay on top of what's going on:
The Daily: I have really enjoyed the reporting and timeliness of this podcast. I highly recommend it for anyone who'd like to dive deep on an issue for 30-45 minutes a day.
Anti-racism Daily: Am I going to plug this every month? Probably. If you aren't supporting this list, do it! This newsletter offers deep-dives into very specific issues dealing with race daily. I find I am learning something new most days, that these newsletters are very timely and that each one gives me a different perspective to consider, along with action items.
Now Let's Talk About This Monthly Love List…
To recap, my potluck, as defined by the folks at Merriam-Webster is:
the regular meal available to a guest for whom no special preparations have been made… a communal meal to which people bring food to share —usually used attributively ; whatever is offered and available in given circumstances or at a given time.
Now who's ready to see what ended up on my list for October 2020?!?
The Potluck: October 2020
Continuing the monthly tradition, The Speckled Palate's The Potluck: October 2020 includes a few Halloween-related products, a new kitchen appliance, some books and more. Come see my list and tell me what was on yours for October.
Disclaimer: The links below are affiliate links. If you click through and take action, I will receive a small commission. Please refer to my disclosure page for more information about the affiliate programs The Speckled Palate participates in.
Photo Credit: www.amazon.com
I have the members of the Feminist Book Club to thank for choosing this book for our October read because there is absolutely no way I would have chosen it myself. (Hi. I am a total wimp, and the thought of willingly choosing a "horror book" is not my jam.) I will say, though, that this was less slasher film and more of a dystopian angle that focused on a young woman, and it definitely had spooky, bone-chilling moments.
As I got farther into it, I had a hard time putting it down to go to sleep. (But not because I was afraid... because I wanted to learn more!) If you're into things like this, you absolutely need to check out Henderson's feminist fantasy novel.
Photo Credit: www.amazon.com
My mom has a thing for XOXO, and she sent this mug to be at Valentine's Day this year... which feels like it was ages ago. (Hello, 2020.) For whatever reason, this mug ended up at the back of our cabinets, and I rediscovered it a few weeks back, and sipping my coffee or afternoon tea from it makes me oh-so-happy. It's like an embrace from afar from my mom, who I haven't hugged since June.
Photo Credit: www.amazon.com
This was a birthday present from my husband and kids, and I am loving it. Yes, I know the price tag on this blender is ridiculous. Yes, I know I'm (a little?) ridiculous for adoring it as I do. But if you're someone like me who legitimately starts their day with a smoothie like I do, this is a worthwhile expense.
In fact, I'm kind of shocked that it took us this long to get one since it works so much better than any other blender we've ever owned...
One thing that I love about a confetti cookie is that you can literally make it for any occasion if you change the sprinkles. They taste delicious, too, and they're fun to make with your kids. (Or make by yourself or with adult friends... you do you!) We love these Toil and Trouble Sprinkles, as well as these Pumpkins and Bats. Don't forget to add spooky candy eyeballs for a finishing touch!
Photo Credit: braziliankitchenabroad.com
My entire family is obsessed with this Chicken Stroganoff recipe because it is wonderfully flavorful and incredibly simple to make on a weeknight, which is a huge win for me. (Hi. I struggle to get dinner on the table sometimes because mamahood isn't the easiest.)
10/10 recommend this recipe, and we've added it into our bi-weekly food rotation because everyone adored it so much. Pair it with Brazilian White Rice, and you're good to go!
Photo Credit: www.amazon.com
I apparently downloaded to my Kindle ages ago... and when I rediscovered it earlier this month, I was really excited to dive in. This friendship-turned-more story between the son of the first female President of the United States and an English prince was the kind of escape I wanted/needed at the moment... and it was so dang good.
I had the biggest book hangover when I finished this book, and I have no shame in sharing my love for it because it was so well written and executed.
Photo Credit: www.amazon.com
During October, we can wear all the Halloween-related things, yes? Yes. I purchased this shirt last year, but it arrived just before Halloween, and I didn't have the opportunity to wear it as much as I wanted, so I was thrilled to bust it out in early October here when it was a bit warmer. Who doesn't love the Sanderson sisters and a bit of Hocus Pocus?
Photo Credit: www.netflix.com
It's back! It's back! It's back! This British reality television show has been one of my favorites since I binged six seasons after birthing our second daughter in the final quarter of 2018. As someone who adores baking, I find this show's challenges super fun but also informative—and I always seem to learn something new along the way, too!
The real question is: If you're watching, who's your favorite contestant? What round do you think you'd succeed at? Where would you be booted?
Photo Credit: www.homedepot.com
We decided to spiff up our patio a few weeks back, and while our little rock garden alongside the house is a work in progress, these lights are up and perfect. Our patio only has a small light by the door, and these add such fun warmth to it. We've already sat outside a few times and drank wine under the lights after our kids went to bed, so that's a huge win, and I can see this being an excellent feature when we're able to actually host friends again, too.
2014: October | November| December
2015: January | February | March | May | June | July | August |
September | November | December
2016: January | February | March | April | May | June | July | August |
September | October | November | December
2017: January | February | March | April | May | June | July | August |
September | October | November | December
2018: January | February | March | April | May | June | July | August |
September | October | November | December
2019: January | February/March | April | August
2020: January | February | March | April | May | June | July/August | September | October | November | December
2021: January | April | May | July | August | September | October | November/December