Last year, I launched a monthly feature to share some of my favorite things with y'all. Because it's fun to share the stuff I love, and because I think y'all could enjoy some of the same things, too.
Since it's actually AUGUST — and we're officially in the dog days of summer — I'm continuing this series today with another list of products and other things I am currently digging. No, I have not included our new A/C system on the list, but rest assured, it's currently one of my absolute favorite things.
To recap, I share my version of a potluck, as defined by the folks at Merriam-Webster:
the regular meal available to a guest for whom no special preparations have been made… a communal meal to which people bring food to share —usually used attributively <a potluck supper>; whatever is offered or available in given circumstances or at a given time.
Every month, I write up a list of my (current) favorite things. While this list might not be a traditional "meal," I hope to provide some unique and interesting stuff (products/entertainment/links/etc.) I've recently loved in the hopes that y'all will enjoy them, too.
Who's ready to recap July?
Let's do this thing!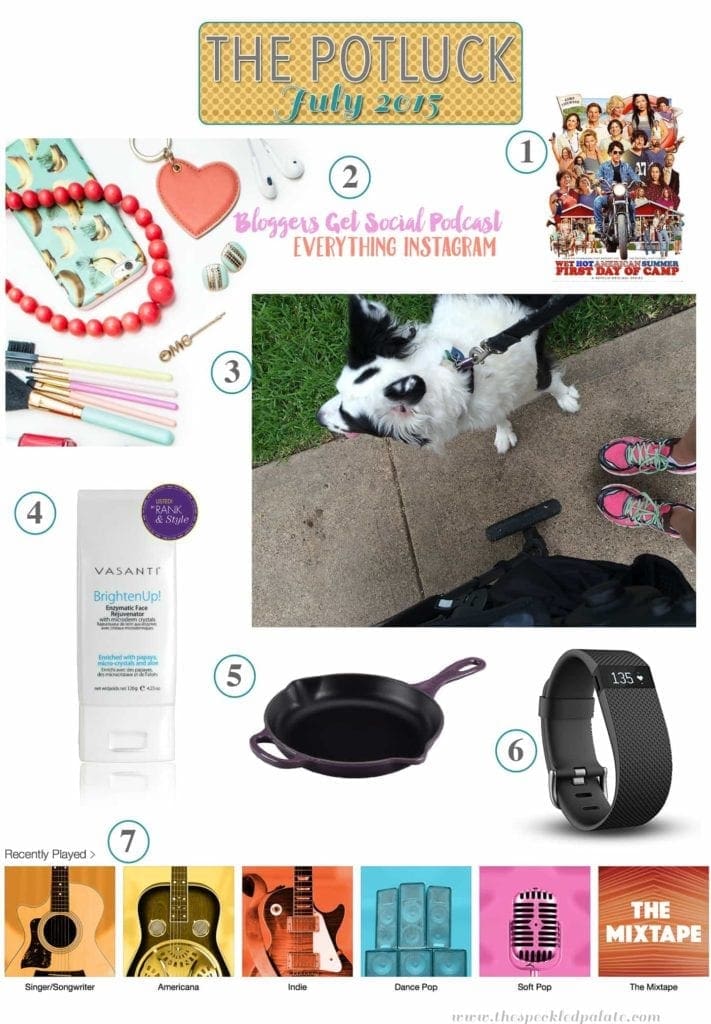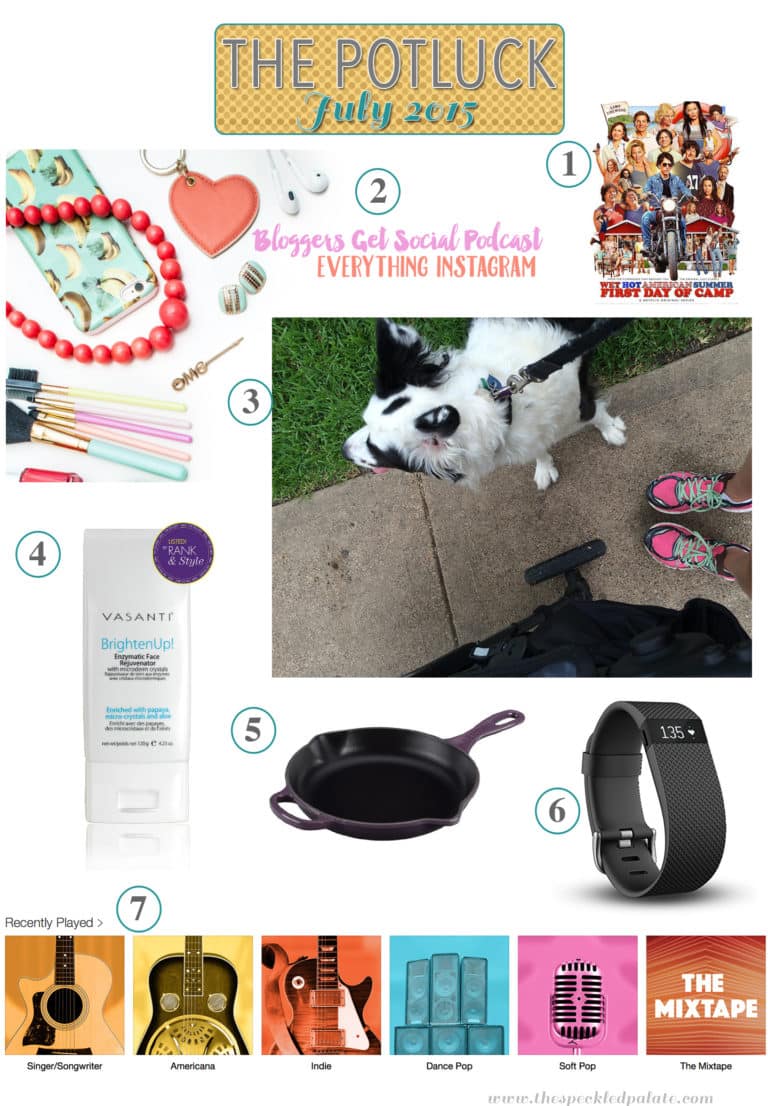 This post contains affiliate links. If you were to make a purchase through one, I would receive a small commission. For more information about the affiliate programs The Speckled Palate participates in, please refer to my disclosure page.
1. Wet Hot American Summer: First Day of Camp. We totally binge-watched this the day it was released, and I howled laughing. It was the perfect prequel to a movie that has made me laugh time and again. Did I ever tell y'all I worked as a camp counselor during several summers of my life? Because I was. Needless to say, camp humor and situations always make me smile, even if they're completely ridiculous. This piece from Carly Mallenbaum on why the series was better than expected is so on point.
2. Bloggers Get Social Podcast: I love me a good podcast, and I've thoroughly enjoyed listening to Krystal and Jenn talk blogging and social media. If you're a blogger and want to learn more about what fellow bloggers are up to and pick up on cool new trends, tips and new social media outlets, I highly suggest listening to this. Also, be sure to check out the Bloggers Get Social website for more a self-study group.
3. Walking with my family: In July, we totally stepped up our movement game and started taking daily walks. It's stupid hot outside these days, but if we're up early enough, you'd better believe the pup, the bebe and I are hiking around the neighborhood, intentionally walking the hills and enjoying the cool-ish morning breeze before the heat of the day sets in. My husband joins us on the weekends for extra long walks.
4. Vasanti Brighten Up! Enzymatic Face Rejuvenator: I received this face rejuvenator in my July ipsy bag, and I have thoroughly enjoyed the sample. Since Lady Baby arrived, my skin has been all kinds of weird — thanks, post-pregnancy hormones — and finding a product that helps exfoliate and make my face happier has been making me happy.
5. Le Creuset Signature Iron Handle Skillet, 11-3/4-Inch, Cassis: This skillet was a Christmas present, and I have adored it ever since. But it especially came into play in July when our A/C was dying, and it was too hot to cook indoors. I'd throw pizza or vegetables or whatever into this pan on the grill, and let them cook up nice and easy. Super simple and delicious… and it's gorgeous, too!
6. Fitbit Charge HR Wireless Activity Wristband: After talking with several friends, I took the plunge and ordered myself a Fitbit. Can I just say how much I am loving this? Because it gets me out the door, moving and intentionally taking the long way to get more steps. I'm not always a super competitive person, but I love competing against friends and family in the weekly challenges, as well as pushing myself to move more, dance more and be more active every day.
7. iTunes radio: Speaking of dancing… Well, I'm not much of a dancer and am not graceful in the least, but I quickly learned that Lady Baby loves music and moving to the beat. So most evenings, we listen to iTunes radio — specifically the Singer/Songwriter channel, Pure Pop or any dance station — and dance it out before bedtime. Because that's apparently how we roll in this house.
…
What did you love in the month of July?
…
Curious about other things I've loved? Check out my other potlucks:
2014: October | November| December
2015: January | February | March | May | June | July | August | September | November | December
2016: January | February |March | April | May | June | July | August | September | October | November | December
2017: January | February | March | April | May | June | July | August | September | October | November | December
2018: January | February | March | April | May | June | July | August | September | October | November | December
2019: January | February/March | April | August