The Potluck: October 2016
Somehow, it's already November.
I have no words to describe this other than holy smokes. (Yes, I realize I just sounded like my grandmother. I know.) October flew by. And now that we're approaching the holidays, I feel like my life is slowing down just a bit so I can take a deep breath before the holiday craziness inevitably descends upon us.
So before we get too far into November, let's talk about things I loved in October!
My potluck, as defined by the folks at Merriam-Webster is:
the regular meal available to a guest for whom no special preparations have been made… a communal meal to which people bring food to share —usually used attributively <a potluck supper>; whatever is offered or available in given circumstances or at a given time.
Around the end of every month, I write up a list of my (current) favorite things. While this list might not be a traditional "meal," I hope to bring some unique products/entertainment/links/etc. that I've recently loved in the hopes that y'all will enjoy them, too.
Here is my love list from October: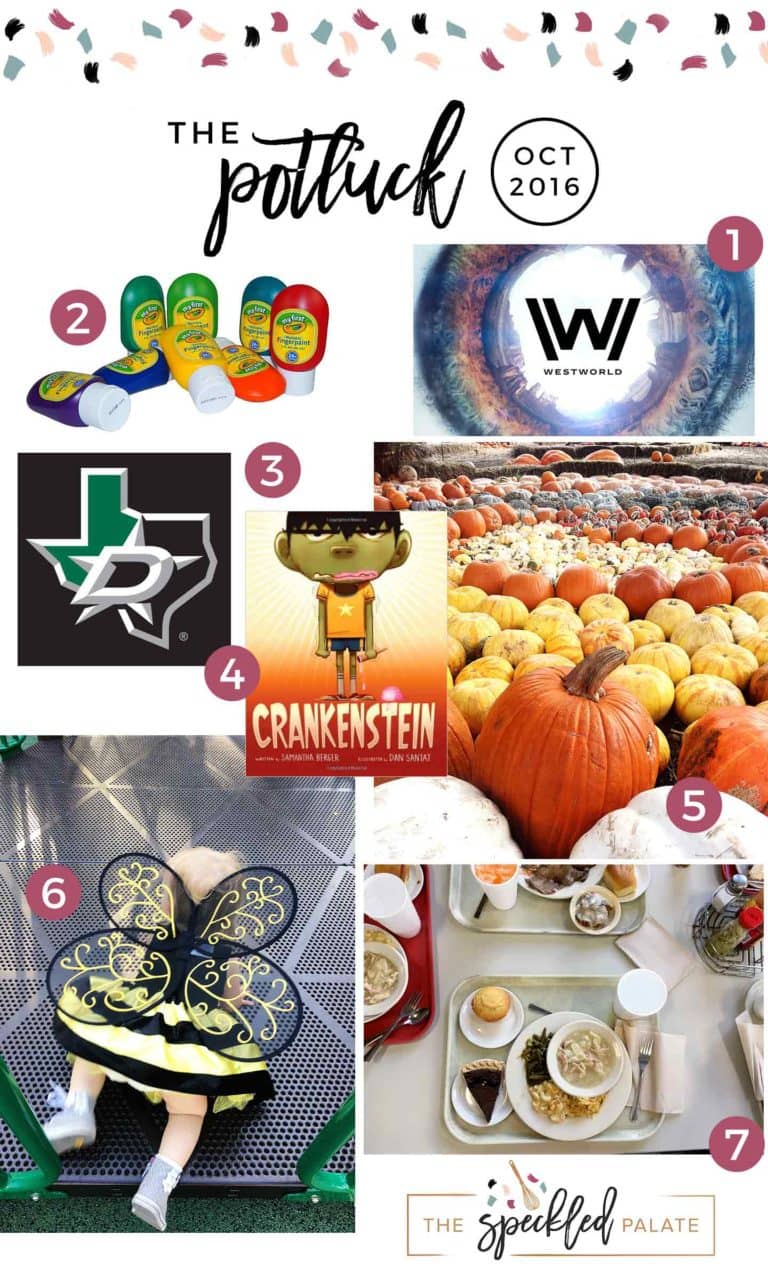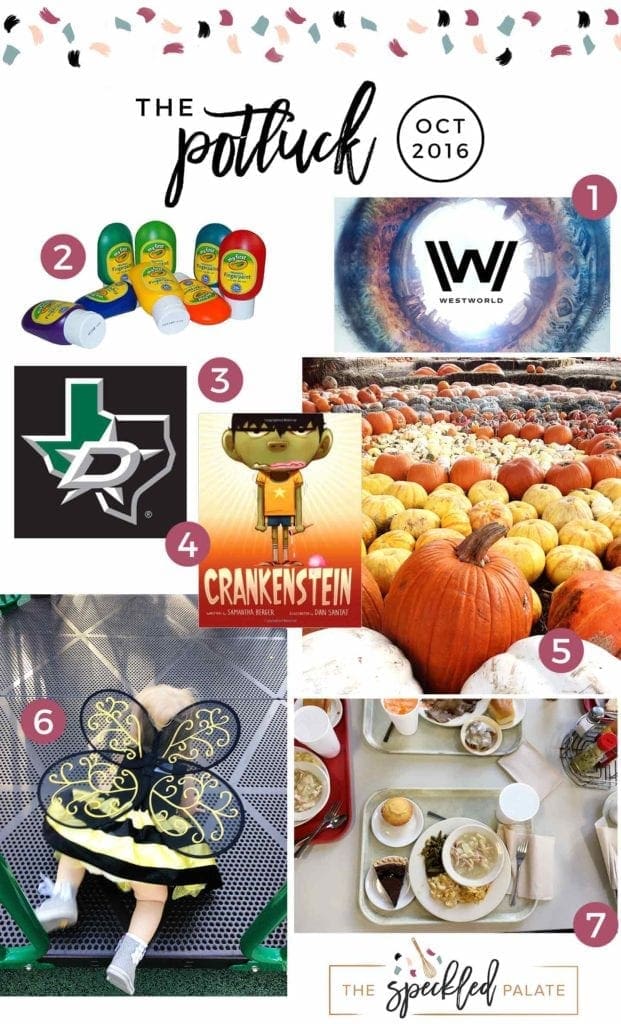 This post contains affiliate links. If you were to make a purchase through one, I would receive a small commission. For more information about the affiliate programs The Speckled Palate participates in, please refer to my disclosure page.
1. Westworld: Let's be real: This show is really effing weird, but I cannot stop watching it because I'm drawn in my the mystery. Like many HBO shows, there's a lot of violence and the subject matter is touchy. But it's sucked both Winston and me in, and we both want to know more about this weird world that's being built. Anyone else watching it?
2. Finger paints: We finger painted a lot during October. We painted some papers, a pumpkin and even ourselves. (Technically, Lady Baby painted herself, but anyone who was painting with her always got a little bit of color, too.) And I have a feeling that we're going to do more of this in the coming months because art is so much fun.
3. Hockey: Hockey is back! Specifically, the Dallas Stars. 🙂 I relished in the availability of hockey on television since the season began in October, and what a month it was. Hooray for hockey… even if my team hasn't gotten off to the best start. The season is long, and hopefully, it'll turn around. And if not, at least it's something fun for me to watch that's not football.
4. Crankenstein by Samantha Berger: Our daughter loves this book. Specifically, she loves the noise Crankenstein makes and making it herself. If you've got a younger child or a toddler, consider gifting them this book because it's a lot of fun to read together!
5. The Dallas Arboretum and Botanical Garden: We started visiting the Arboretum again in October. Not because we didn't like it but because it's been so darn hot outside that being outside, even surrounded by gorgeous plants, wasn't ideal. It cooled off enough in October for us to visit the pumpkins, and we look forward to spending more time at our favorite outdoor Dallas haunt in the coming months.
6. Halloween-centric goodness: Our daughter dressed as a bumble bee this Halloween, and she got the opportunity to don her costume several times. We played with friends at a local park and visited her dad's office to trick-or-treat, too. And then on the night of, we attended our street's annual block party, then visited our neighbors for trick-or-treating. Our little bumble bee loved it all.
7. Delicious meals: Between our weekend in Nashville for Winston's law school reunion and our anniversary at the end of the month, we ate some divine food in October. I loved visiting Bella Napoli, Arnold's and Silo with our friends in Nashville. And our anniversary dinner at Rapscallion was unreal. Fairly positive I'm going to dream about their greens until I get the opportunity to eat them again.
…
What did you love in the month of October?
…
Curious about other things I've loved? Check out my other potlucks:
2014: October | November| December
2015: January | February | March | May | June | July | August | September | November | December
2016: January | February |March | April | May | June | July | August | September | October | November | December
2017: January | February | March | April | May | June | July | August | September | October | November | December
2018: January | February | March | April | May | June | July | August | September | October | November | December
2019: January | February/March | April | August