Hey-o! April has just begun… and it's POTLUCK time, y'all!
Today, I'm recapping all the things I loved during the month of March. To recap, my potluck, as defined by the folks at Merriam-Webster is:
the regular meal available to a guest for whom no special preparations have been made… a communal meal to which people bring food to share —usually used attributively <a potluck supper>; whatever is offered or available in given circumstances or at a given time.
Around the end of every month, I write up a list of my (current) favorite things. While this list might not be a traditional "meal," I hope to bring some unique products/entertainment/links/etc. that I've recently loved in the hopes that y'all will enjoy them, too.
Who's ready to recap March?
Here we go…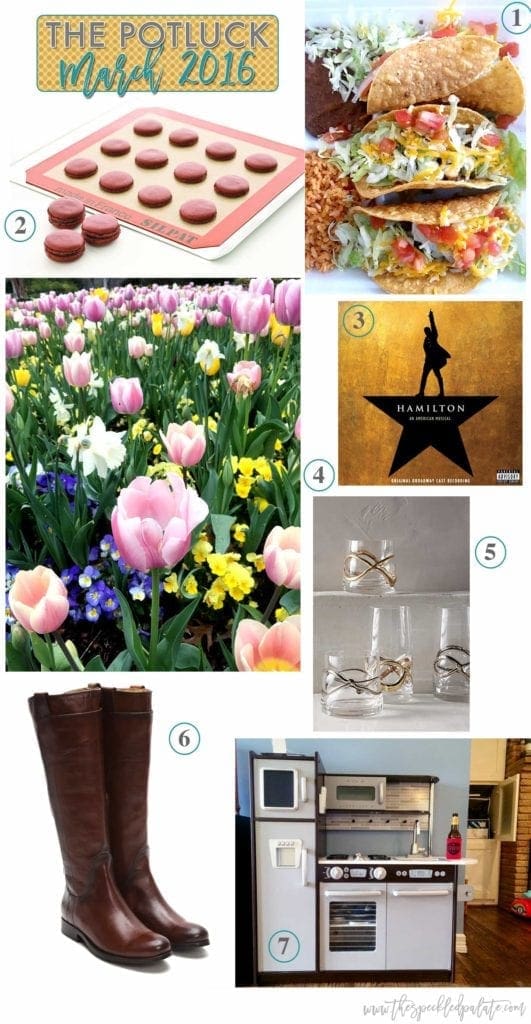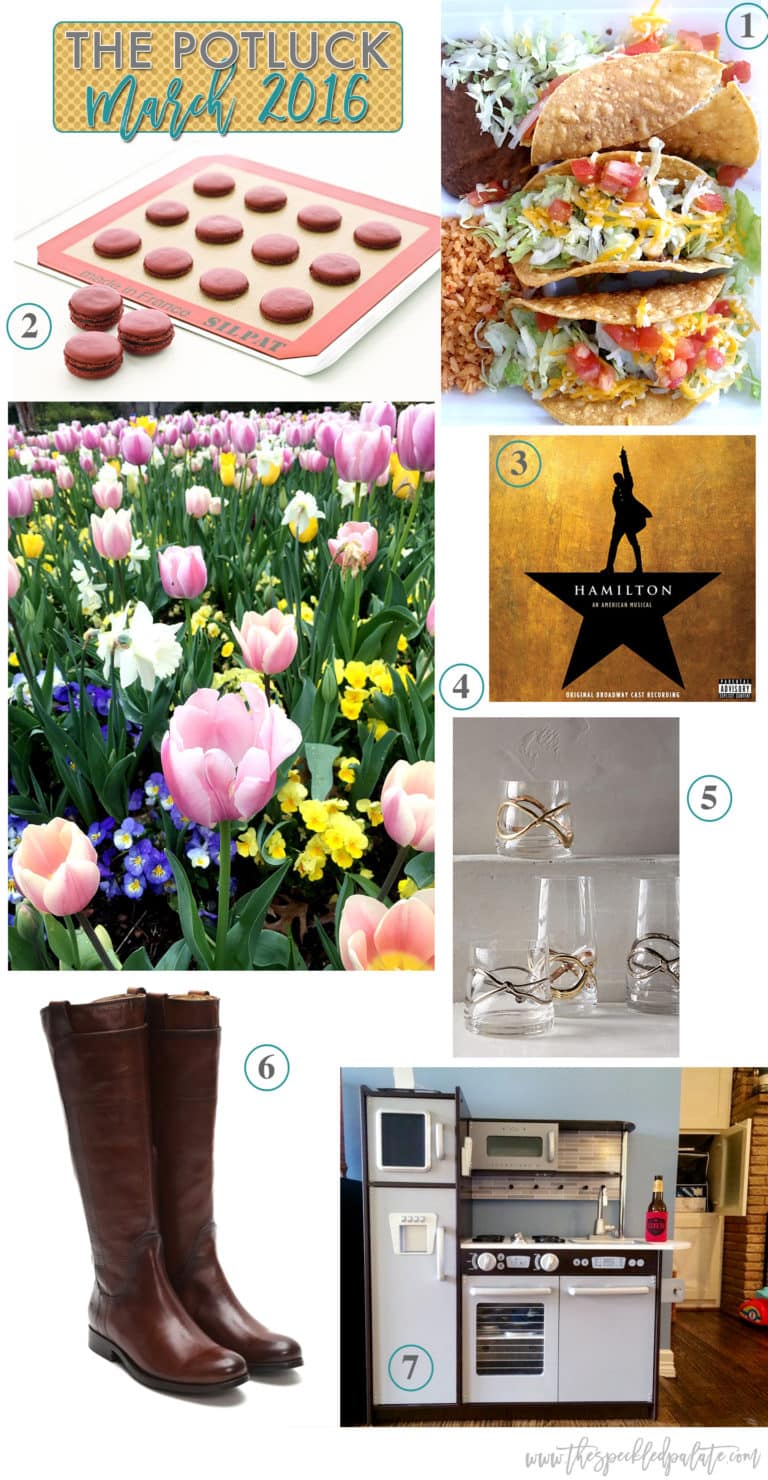 This post contains affiliate links. If you were to make a purchase through one, I would receive a small commission. For more information about the affiliate programs The Speckled Palate participates in, please refer to my disclosure page.
1. Tacos: Seriously, y'all. It's ridiculous how many good taco places are here in Dallas. Because of this, we eat at least one meal centered around this versatile favorite every week, if not more. Lately, I've been digging classic ground beef crunchy tacos. What's YOUR favorite?
2. Baking with my Silpat Baking Mat: I received a Silpat during the month of March to bake some Easter goodies with… and I cannot stop using it. Easter buns? Baked. Cookies? (The recipe is coming soon!) Devoured. Italian chicken? Heck yes! This baking mat works for everything, and I love having it in my kitchen arsenal.
3. Hamilton Soundtrack: I downloaded this soundtrack after listening to the PCHH review of the musical. It was on my radar before, but I hadn't really listened to any of the music until they shared some snippets on the podcast. So for the last few weeks, Lady Baby and I have been jamming out to this soundtrack. The combination of musical stylings, lyrics, melodies and harmonies and actual, you know, American history is so good. If you haven't heard some of the songs from this musical, I highly suggest checking them out.
4. Spring blooms: Spring has sprung! Which is awesome! Everything is blooming in our neighborhood, and we have thoroughly enjoyed our daily walks. I love all the colors we're seeing daily now, and I look forward to seeing the landscape change as the spring leads into summer. Which isn't too far off now. (It was 88 degrees yesterday, y'all. 88 DEGREES.)
5. Glimmer-Wrapped Old Fashioned Glasses: These glasses are some of my all-time favorites, and we use them to make cocktails at our house. Let's make a fancy (and/or grown up!) drink, and sip one tonight!
6. The Frye Company Melissa Tall Riding Boots: Since the weather has been all over the place, I wore these lovely boots that were a belated Christmas present throughout the month when it was chilly enough, knowing it wouldn't be long until it was too warm. Well, it's too warm now, and I'm sad I didn't get more use out of my beautiful boots… but that just gives me something to look forward to for the fall!
7. KidKraft Uptown Espresso Kitchen: This is Lady Baby's favorite of the month. We celebrated her birthday early in the month, and this was a birthday present from her grandmother and aunt. She's enjoyed playing with it so much! In case y'all didn't know, opening and closing cabinets/doors is the MOST fun! So is hiding your mom's cell phone in one of those cabinets, then closing the door so she can't find it… (And yes, that's a beer sitting on the counter. No, it does not belong to my daughter. She's more a champagne kind of baby, hahahaha.)
…
Curious about other things I've loved? Check out my other potlucks:
2014: October | November| December
2015: January | February | March | May | June | July | August | September | November | December
2016: January | February |March | April | May | June | July | August | September | October | November | December
2017: January | February | March | April | May | June | July | August | September | October | November | December
2018: January | February | March | April | May | June | July | August | September | October | November | December
2019: January | February/March | April | August