Continuing the monthly tradition, The Speckled Palate's The Potluck: June 2018 includes hot weather essentials and food, a maternity dress recommendation, an ongoing sporting event, a newly released RomCom and more. Swing by the blog today to get a full list of the things I adored during the month of June.
I cannot believe that it's already July. The year is flying, and with each week that passes, my due date draws nearer and nearer. (Can someone explain to me how I'll be 32 weeks TOMORROW?)
Everyone tells me that the time slows down in the last month, so I'm curious if that will ring true for me or if it will continue flying as I try to cross my T's and dot my I's before Baby Speckle comes.
Before we dive too far into July, though, let's have a look back at the month of June. It was a good month, although it was a little crazy. Honestly, that seems to be how summers are these days, and I have no doubt it'll be even more hectic next summer when we have two little girls running around.
To recap, my potluck, as defined by the folks at Merriam-Webster is:
the regular meal available to a guest for whom no special preparations have been made… a communal meal to which people bring food to share —usually used attributively <a potluck supper>; whatever is offered or available in given circumstances or at a given time.
Ready to learn all the things I liked? Let's do this!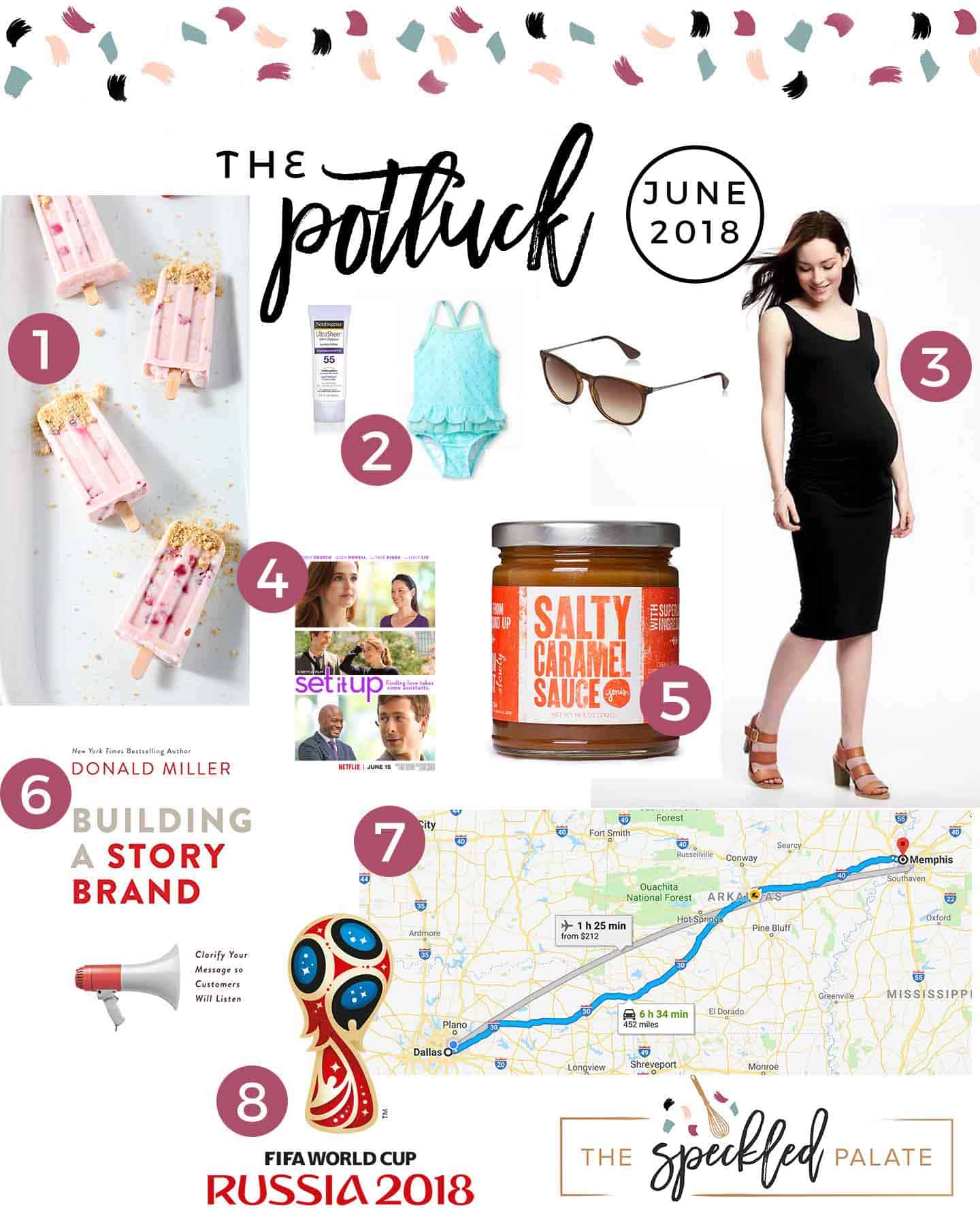 Disclaimer: The links below are affiliate links. If you click through and take action, I will receive a small commission. Please refer to my disclosure page for more information about the affiliate programs The Speckled Palate participates in.
1. Popsicles: Y'all. It's been basically a bajillion degrees in Dallas recently, and with the uptick in the heat, we've been hiding indoors because it is alllllllllll kinds of terrible. (Extra terrible if you're 30+ weeks pregnant.) We've also been enjoying all the popsicles. Currently, our favorites are Roasted Strawberry Cheesecake Popsicles, Patriotic Paleo Popsicles and Dairy-Free Spiked Horchata Popsicles (sans the spiking because one of us is pregnant and the other is 3.)
2. Swimming: With the summer heat comes our favorite summertime activity—swimming! Our daughter adores being in the water and has recently jumped off a diving board with no fear because of course. Some of our favorite swimming accessories this summer include this Cat & Jack swimsuit (someone thinks it looks a little mermaid-y, and I'm inclined to agree), Lady A's puddle jumper (even though we're going to work on swimming without it in these post-swim lesson days), this awesome face sunscreen and my all-time favorite sunglasses.
3. Old Navy Maternity Bodycon Jersey Tank Dress: I've officially found my pregnant lady summer uniform in this slinky, oh-so-comfortable dress. I've really put off getting maternity clothes because of a sweet friend who has been my Maternity Fairy Godmother, who keeps bringing me her old maternity clothes when they no longer become wearable for her. (Pregnant lady problems, am I right?) I ordered this dress on a whim, and I wasn't sure if it would fit or be flattering because my Old Navy doesn't carry maternity clothes in stores, but this dress is magic. So magical that I ordered it in every pattern and color because when you find something that works when you're pregnant, you roll with it.
4. Set It Up: If you're a RomCom fan and haven't seen this delightful little ditty from Netflix, what are you waiting for? I watched this over the span of two nights (because pregnancy basically makes me narcoleptic when watching TV), and it hit all those RomCom notes that I've loved for forever.
5. Jeni's Salty Caramel Sauce: I don't know if you know this about me, but when I'm pregnant, I am no longer somewhat lactose intolerant. Which means I can eat ice cream in abundance. (I'm not, mind you, because this kid doesn't like for me to to eat too much in one sitting, but I like to treat myself with a little bowl every once in a while.) That said, I've been drizzling this Salty Caramel Sauce over Old Fashioned Vanilla, and oh my word, y'all. It is so freaking good.
6. Building A StoryBrand by Donald Miller: After attending the Everything Food Conference in May, I've been passionate about refining TSP's message to y'all and hopefully bringing you more relevant, relatable content. This book is blowing my mind and helping me make that possible! So expect to see more hosting and entertaining-specific features in the near future.
7. Visiting family: Lady A, Lucy and I drove to Memphis to visit my family in June. We had a blast. Not only did we get to see our family, but we got to visit with friends, hit up my favorite food spots and (re)discover the Children's Museum, which I hadn't been to in almost 20 years. It was a glorious visit, and I'm so happy we were able to make the trek to spend some time with my family before Baby Speckle comes this fall.
8. The World Cup: I'm not normally a soccer fan, but every three years when the World Cup rolls around, no matter if its the men or the women playing, I get unreasonably excited for ALL THE SOCCER. (Fun fact: I was in Italy in the summer of 2006 and got swept up in the World Cup madness then.) We've introduced our daughter to the excitement, and we've all been loving getting up to cheer for various teams as the contenders whittle their way down from the group stages. Hosting folks for the semis and the finals this week? I highly suggest making Cheesy French Onion Pull-Apart Bread, Shrimp Spinach Artichoke Dip and Pork Tenderloin Sliders with Red Wine Reduction Sauce. Pair them with a Spicy Bloody Beer Cocktail or a Blended Mimosa since the games are generally earlier in the day.
…
What Did You Love In June?
…
Curious about other things I've loved? Check out my other potlucks:
2014: October | November| December
2015: January | February | March | May | June | July | August | September | November | December
2016: January | February |March | April | May | June | July | August | September | October | November | December
2017: January | February | March | April | May | June | July | August | September | October | November | December
2018: January | February | March | April | May | June | July | August | September | October | November | December
2019: January | February/March | April | August