The Potluck: January 2015
Back in October, I started a new feature to share some of favorite things. I've continued the tradition monthly ever since.
Basically, I'm sharing the latter definition of a potluck, as defined by Merriam-Webster.
the regular meal available to a guest for whom no special preparations have been made… a communal meal to which people bring food to share —usually used attributively <a potluck supper>; whatever is offered or available in given circumstances or at a given time.
Every month, I'm listing off of some of my favorite things. While they might not appear to be a traditional "meal," I want to provide some different and interesting stuff (products/entertainment/links/etc.) I've recently loved in the hopes that y'all will enjoy them, too.
Here are some things I adored during the month of January: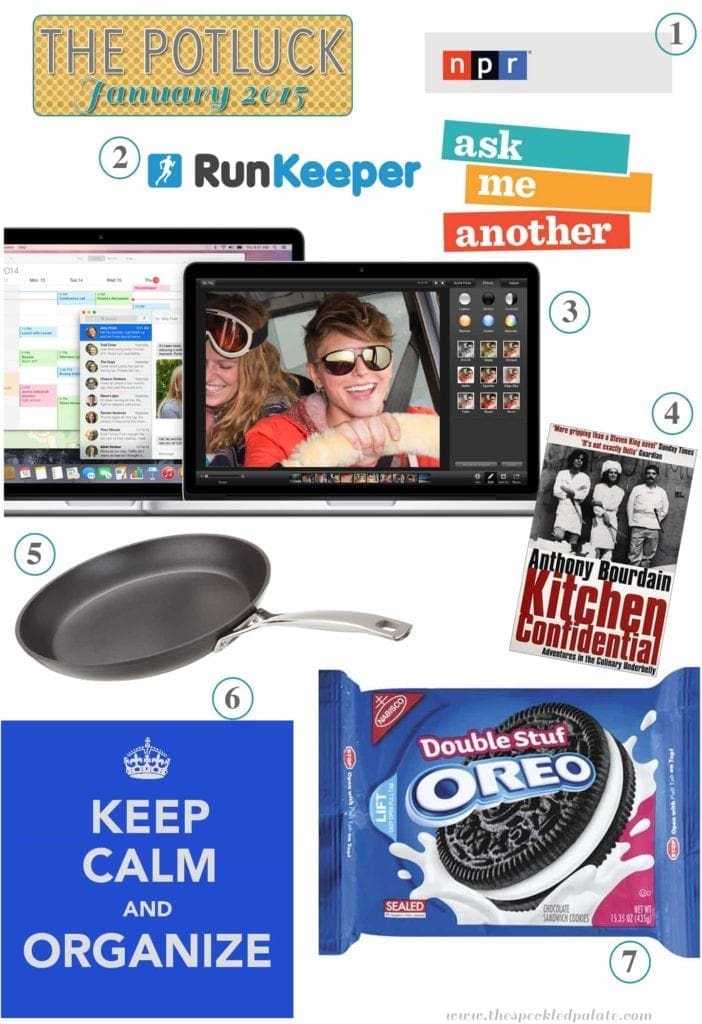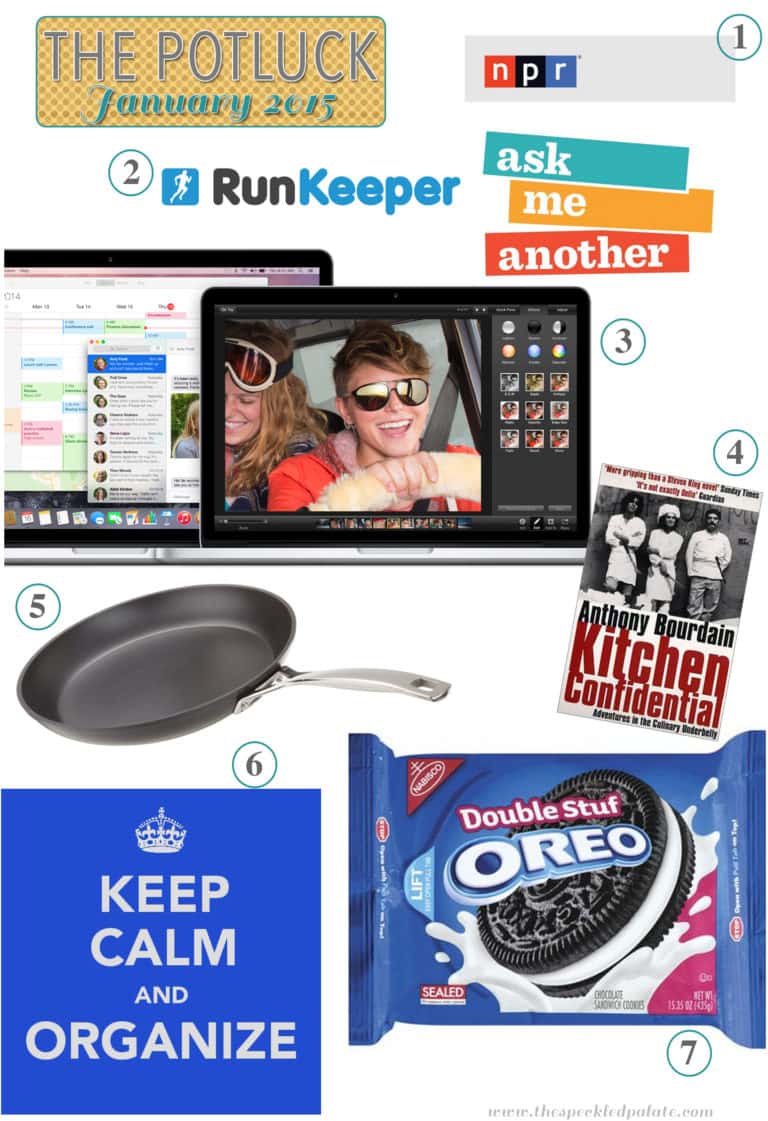 This post contains affiliate links. If you were to make a purchase through one, I would receive a small commission. For more information about the affiliate programs The Speckled Palate participates in, please refer to my disclosure page.
1. NPR's Ask Me Another: I'm always on the lookout for new podcasts to enjoy as I work, and after hearing recommendations for this one on several others I listen to, I knew I had to try it out. And it's totally worth it! It makes me laugh, and I kind of love all the games that include singing. Because that's how I roll.
2. RunKeeper (and daily walks): As a runner, it's strange slowing down, but I'm doing my best to stay active! Lucy, Lady Baby and I have been walking most days, and it feels really good to get outside and explore our neighborhood. I love my RunKeeper app because it keeps track of our daily walks, and I'm looking forward to using it again when I can begin running after Lady Baby arrives.
3. My new computer: Goodness, y'all. When you haven't worked on a new (or new-ish) computer in more than five years, you forget what it's like to have a fast machine. I made the decision at the end of December to spring for a new computer, as my old one was draaaaaaaaagging and on its final leg, and I am so glad I did. While the learning curve is steep and so many things have changed, I'm adoring the speed at which I can get tasks completed, least of all editing photos. It just goes SO much faster, and I absolutely LOVE that.
4. Kitchen Confidential by Anthony Bourdain: This book has been on my to-read list for a while, and since I recently gave in and signed up for KindleUnlimited — I read too many books these days, so this program is awesome! — I've started reading this tell-all. As someone who has never worked in the restaurant industry, I find Bourdain's point of view fascinating, and I love how his voice is consistent with how he talks and presents himself on his television shows. I'm looking forward to digging into this book more, even though I'm sure I'll learn some unfortunate truths along the way.
5. Le Creuset Forged Hard-Anodized 12-Inch Nonstick Shallow Fry Pan: Maybe all my old nonstick pans were less-than-perfect, but ever since I've started using this Christmas present, I've been blown away with what a fantastic pan it is. It does a fantastic job, and it is truly nonstick and so easy to clean!
6. Organizing: Nesting has apparently made me want to organize EVERYTHING, and I'm currently in the process of getting everything in order for baby. Once we get Lady Baby's room finished, I foresee myself going a bit crazy in our own room and in our family room. Ain't nothin' wrong with that.
7. Oreo Double Stuff Sandwich Cookies: Oh sweet mercy. Give them all to me. And a huuuuuuuuuge glass of milk to dunk them in.
…
What did you love in the month of January?
…
Curious about other things I've loved? Check out my other potlucks:
2014: October | November| December
2015: January | February | March | May | June | July | August | September | November | December
2016: January | February |March | April | May | June | July | August | September | October | November | December
2017: January | February | March | April | May | June | July | August | September | October | November | December
2018: January | February | March | April | May | June | July | August | September | October | November | December
2019: January | February/March | April | August