The Potluck: July/August 2020
Continuing the monthly tradition, The Speckled Palate's The Potluck: July/August 2020 includes summer clothing, a TV show, a movie and more. Come check out my list and tell me what was on yours for the months of July and August.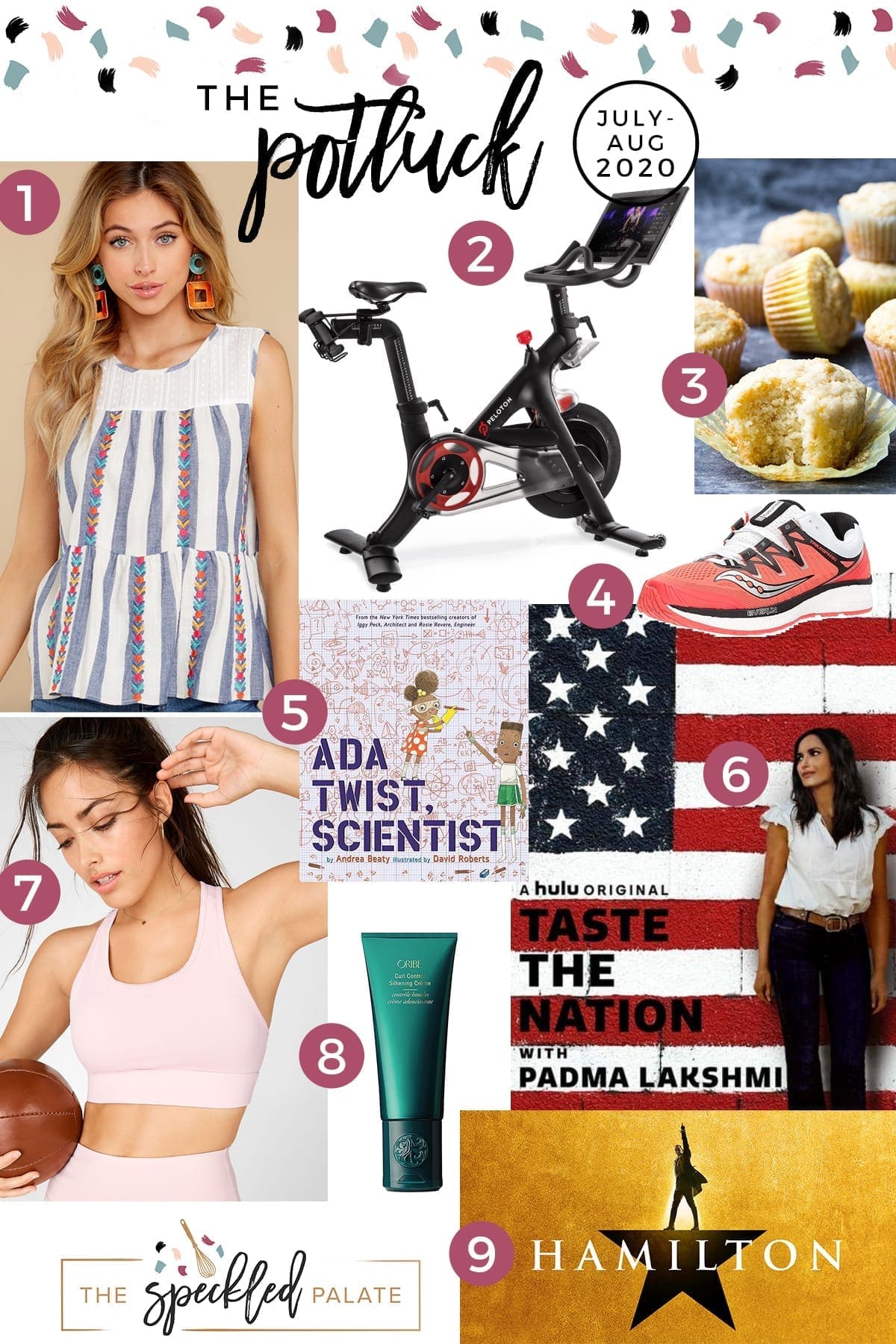 I've decided to consolidate two months of our summer in an attempt to make my potlucks more timely. As my husband pointed out this past Friday night as we were drinking wine, "Why would you wait until almost a month later to share what you liked for that month?"
I hear you, sir, and I'm making adjustments accordingly. 😉
Much like the rest of this year, both July and August had high and low points. Both were filled with great joy—and connection—and both were filled with sorrow and grief.
I keep mentioning to my husband that I can't wait to read what the historians write on 2020 years after it's over because it has been across the board such a jam-packed year.
I hope we're learning. I hope we're moving the needle toward making our country and world a better, freer, more equal place… but I also have my doubts as I see hatred spewed almost daily, too.
With this in mind, I wanted to share something I've found immensely helpful for me in recent months and my anti-racism education. It's something I'd like all of you to join me on because you probably will benefit from it, too.
The Antiracism Daily: This newsletter that arrives in your inbox daily dives deep into lots and lots of issues and does more than just investigate various issues. In addition to the extremely well-written content that's wonderfully (and terribly) timely, it offers action items for the day. As someone who wants to do her part, these emails in my inbox first thing are something I use to jump start my days. They're not easy reads, but they are important. They are so important. And I am so grateful for Nicole Cardoza and her team for writing them consistently.
Obviously, in future months, I plan to share more resources as I find, absorb and put them into action. 🙂 I hope that in September, a few of the books I ordered back in June, which are backlisted, arrive!
Also, let me stress that this isn't an exhaustive list. And it probably won't ever be, but I want to use this platform to share and help others, so if it helps you, fabulous!
Now Let's Talk About This Monthly Love List…
To recap, my potluck, as defined by the folks at Merriam-Webster is:
the regular meal available to a guest for whom no special preparations have been made… a communal meal to which people bring food to share —usually used attributively <a potluck supper>; whatever is offered or available in given circumstances or at a given time.
Now who's ready to see what ended up on my list for July and August 2020?!?
The Speckled Palate's Potluck (July/August 2020)
Continuing the monthly tradition, The Speckled Palate's The Potluck: July/August 2020 includes summer clothing, a TV show, a movie and more. Come check out my list and tell me what was on yours for the months of July and August.
Disclaimer: The links below are affiliate links. If you click through and take action, I will receive a small commission. Please refer to my disclosure page for more information about the affiliate programs The Speckled Palate participates in.
Photo Credit: reddress.com
My mom gifted me this top when she was in town in late June/early July, and I have been adoring it lately because it is so cute and flattering. Since I have a larger chest and a longer torso, a lot of shirts like this simply do not fit and make me look pregnant. As someone who doesn't want to look pregnant these days, you can understand my worries about certain styles of shirts and the like.
I've been getting a ton of wear out of this, and I will continue wearing it until it begins to cool down in Dallas... sometime in October.
Photo Credit: www.onepeloton.com
Have I mentioned how much we love this bike that we purchased off a friend last year? Because it's wonderful and one of the main reasons that I still have my sanity. 😉 In fact, I completed my 100th ride in the month of July. It might sound silly as to how proud I am about that, but I really am.
If you're interested in getting a bike yourself, I have a referral code for you to use! Simply enter CDYPJT at checkout to get $100 worth of accessories.
Photo Credit: bakerbettie.com
If you've got sourdough starter that you don't know what to do with, let me suggest baking these beautiful fluffy muffins STAT! We've made these several times since I discovered this recipe on Instagram in July, and my kids have taken to requesting it on Fridays since we all know that Fridays are special days.
Photo Credit: www.amazon.com
I ordered new running shoes right before we all came home at the beginning of the pandemic... and I wore them out so completely that I had to purchase a new pair in August. These ones are bright, bright, bright, and super comfy. Back when I was actually running (versus the daily walks I do now with our kids and dog), I always chose the most obnoxiously colored shoes that fit my foot, and these ones feel like a nod to those days. I can also see them in the dark, which is a plus.
Photo Credit: www.amazon.com
I ordered this book from a local bookshop back in June, and it arrived mid-July, much to our excitement, and it's become a favorite book. Telling the story of a little girl with a scientific mind who asks tons of questions as she figures out the world around her, this book has inspired some amazing discussions about science experiments and how we look at problems in our house.
Photo Credit: www.hulu.com
If you're a Hulu subscriber and aren't watching this docu-style food series from Padma Lakshmi, you need to fix that ASAP! Padma explores the diverse food of America... and shares that the vast majority of what we consider American food is actually the food of immigrants. (Because HI, the vast majority of us here are immigrants or descendants of immigrants.) While breaking bread with diverse people across this country of ours, Padma shares more than just food and delves into different cultures, as well as what it means to be an American.
Photo Credit: www.fabletics.com
I've been a Fabletics VIP for years now, and this light pink outfit was a wonderful surprise in July. Why? I struggle finding sports bras that fit my post-baby body right (and honestly, I struggled with this before kids, too, but it's especially challenging now). This Mila bra fits perfectly, and so do the tights! I've actually ordered the Mila bra in two other colors, too, since it fits like a dream.
Photo Credit: www.amazon.com
This curl creme is simply the best, and my curls are extra happy these days, thanks to it. Even though I haven't had a haircut in as long as I can remember. If you're a curly girl and need something to give your curls some boost without crunch, I highly recommend this product. I scrunch it into my hair the second I step out of the shower so that it soaks in as best as possible, then towel scrunch before letting it air dry.
Photo Credit: disneyplusoriginals.disney.com
I've loved the soundtrack since it was first released, but we never got to experience it until July, when it came to Disney+. And we've watched it a few times since because it is so dang good. I've always been a person who listens to the lyrics of music—no matter what the music is—but actually seeing Hamilton on stage made the lyrics make so much more sense and that much more impactful. Also, could we talk about Daveed Diggs and Renée Elise Goldsberry? Because they both took my breath away with their performances.
2014: October | November| December
2015: January | February | March | May | June | July | August |
September | November | December
2016: January | February | March | April | May | June | July | August |
September | October | November | December
2017: January | February | March | April | May | June | July | August |
September | October | November | December
2018: January | February | March | April | May | June | July | August |
September | October | November | December
2019: January | February/March | April | August
2020: January | February | March | April | May | June | July/August | September | October | November | December
2021: January | April | May | July | August | September | October | November/December