The Potluck: December 2014
In October, I started a new feature to share some of my favorite things. I continued the tradition in November, and today, I'm sharing my December loves.
But first… Merriam-Webster defines a potluck as…
the regular meal available to a guest for whom no special preparations have been made… a communal meal to which people bring food to share —usually used attributively <a potluck supper>; whatever is offered or available in given circumstances or at a given time.
I'm obviously going for a potluck of the latter definition, though I'll occasionally share food links and love.
Every month, I'm compiling a list of some of my favorite things. While they might appear to be a traditional "meal," I want to provide some different and interesting stuff (products/entertainment/links/etc.) I've been loving in the hopes that y'all will enjoy them, too.
Here are some things I loved during the month of December: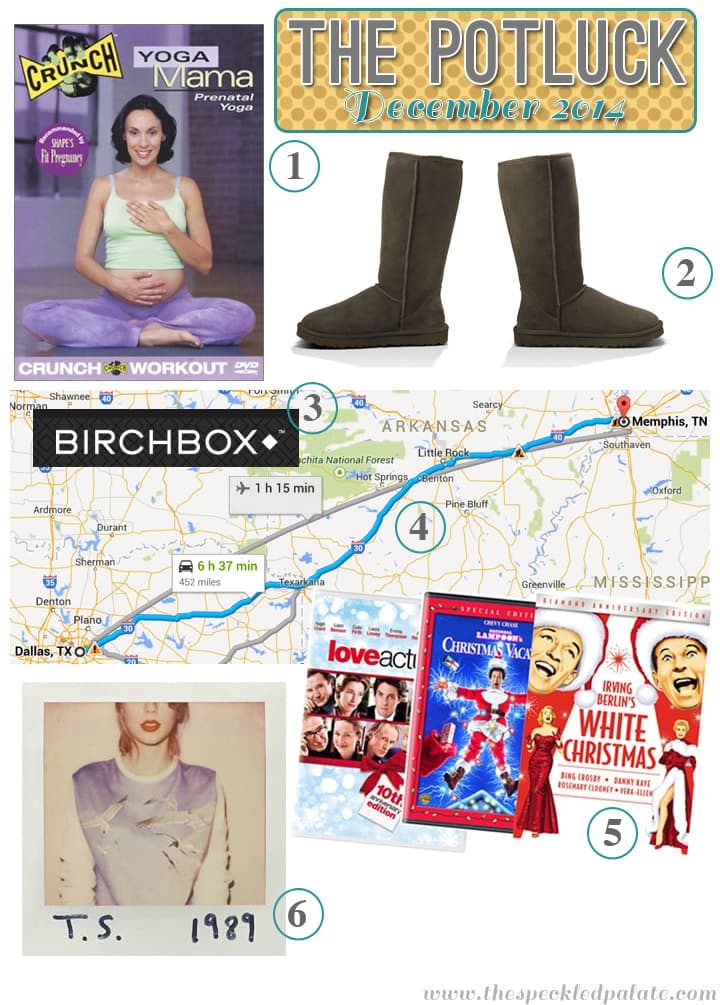 This post contains affiliate links. If you were to make a purchase through one, I would receive a small commission. For more information about the affiliate programs The Speckled Palate participates in, please refer to my disclosure page.
1. Crunch Yoga Mama – Prenatal Yoga: There are some parts where it's, well, a bit crunch-y, but I've really enjoyed relaxing and stretching to this DVD on a daily basis. As someone who tried yoga off and on throughout the years, I knew I wanted to try prenatal yoga… but most of the yoga studios around me only offer evening classes, which don't work with my schedule. After doing some extensive research, I stumbled upon this DVD, and it's perfect for me. It forces me to slow down, breathe and stretch while concentrating on my body and my growing baby.
2. Ugg Classic Tall Boots: Yes, I'm talkin' about the boots with the fur. (With the fur!) My poor feet and hands have been swelling recently, and because of this, my go-to flats don't fit as well as they once did. Not only that, but my feet have been getting so cold with the chilly weather we've been experiencing in Dallas. These boots fit my swollen feet AND are ultra comfy. What's not to love?
3. Birchbox: A friend of mine recommended this monthly treat box a year ago, and I've been enjoying it ever since. And my December box? Out of this world! The Essentiel Elements Wake Up Rosemary Shower Gel smells divine and feels great on my skin. The Klorane Dry Shampoo with Oat Milk works perfectly with my hair color and leaves my locks happy for days without needing to be washed. (This is a major feat, y'all!)
4. Travel and spending time with family and friends: We road tripped to Memphis for Christmas, and I loved the time we spent there. Not only did we get to see many members of my family and spend quality time with them, but we got to hang out with some old friends, too. Now, if we all just lived closer and road trips were a bit easier on a mama-to-be's body…
5. Cheesy Christmas Movies: I already spoke about it, but I've been loving these all month and have made a point to record some ridiculous new ones straight-from-TV. I've also been watching some old classics (like White Christmas, Love Actually and Christmas Vacation, of course), too, and they just make me so happy. 'Tis the season!
6. Taylor Swift's 1989: I'm totally late to jump on this bandwagon, but can we all admit that T.Swift writes super fun and catchy songs? This album just makes me want to dance… and that's saying something since I'm not a dancer at heart.
…
What did you love in the month of December?
…
Curious about other things I've loved? Check out my other potlucks:
2014: October | November| December
2015: January | February | March | May | June | July | August | September | November | December
2016: January | February |March | April | May | June | July | August | September | October | November | December
2017: January | February | March | April | May | June | July | August | September | October | November | December
2018: January | February | March | April | May | June | July | August | September | October | November | December
2019: January | February/March | April | August