March, March, March.
'Twas a really good month. We hosted family and friends the second weekend of the month for a third birthday shindig (that featured unicorns and sparkles and everything our girl adores), then got to see more family throughout the month.
While we were busy, we were incredibly happy!
Before we jump into APRIL goodness, let's take a moment to talk about all the things I loved during March. Which includes a lot of random things, but hey, every month is a little random when it comes to this love list, no?
To recap, my potluck, as defined by the folks at Merriam-Webster is:
the regular meal available to a guest for whom no special preparations have been made… a communal meal to which people bring food to share —usually used attributively <a potluck supper>; whatever is offered or available in given circumstances or at a given time.
Ready to learn all the things I liked? Let's do this!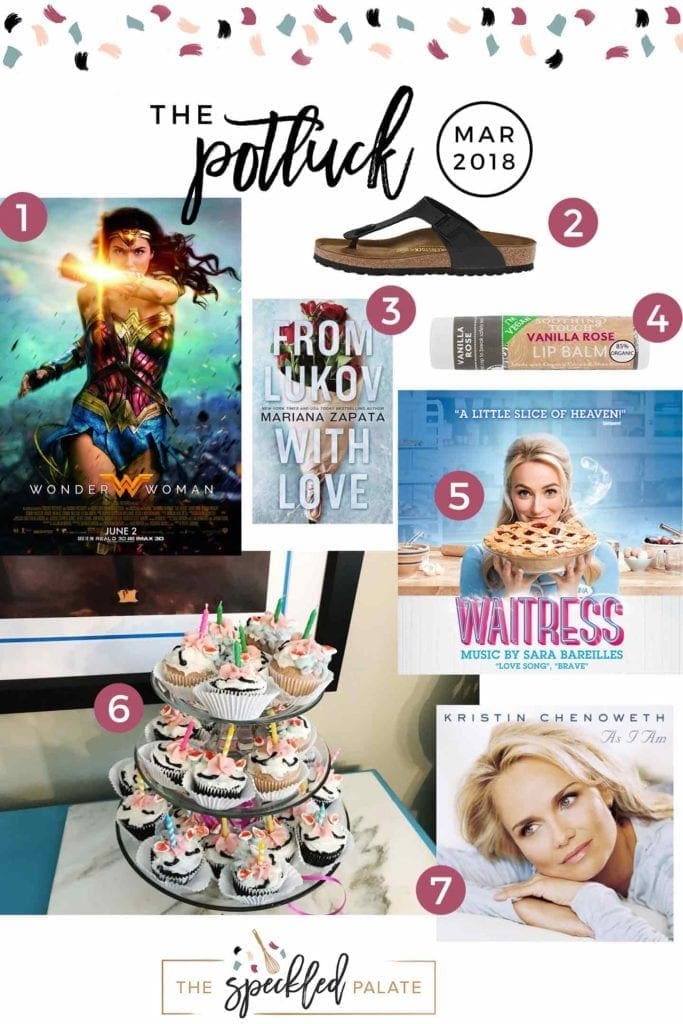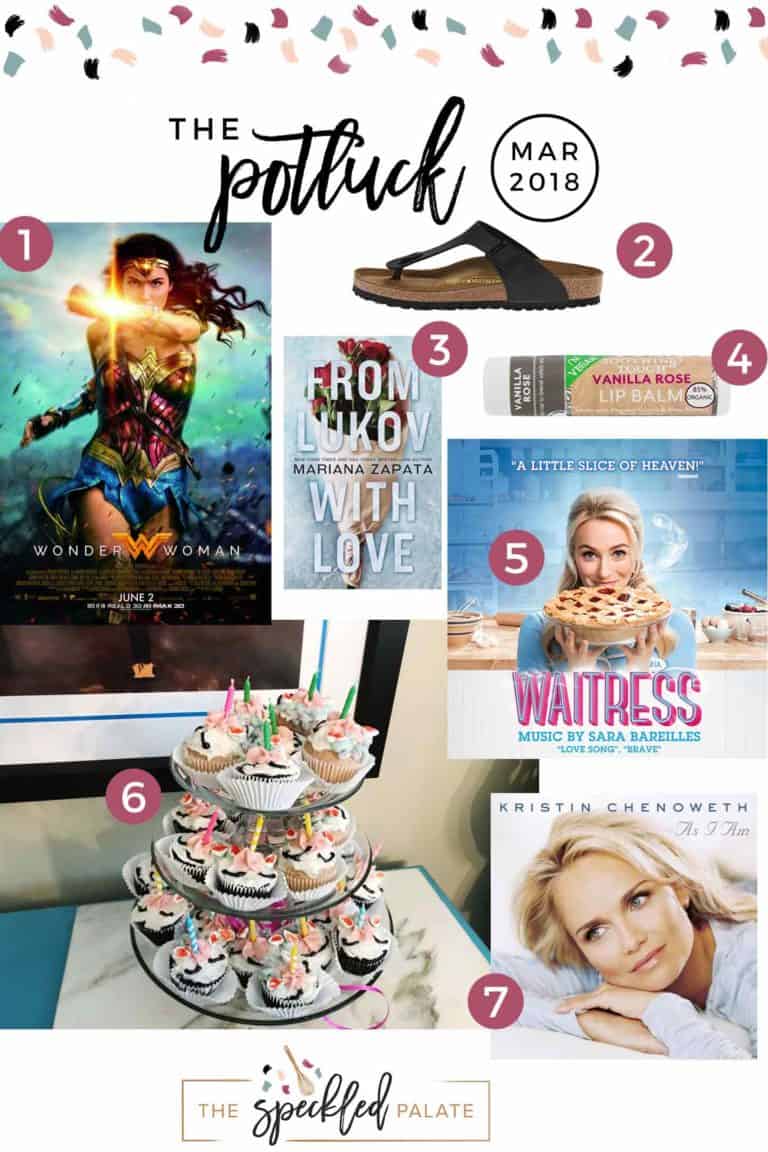 This post contains affiliate links. If you were to make a purchase through one, I would receive a small commission. For more information about the affiliate programs The Speckled Palate participates in, please refer to my disclosure page.
1. Wonder Woman: I know, I know. I'm way late to the party. We hardly ever see movies in theaters, so when this showed up on my television, I was excited to finally watch it. And my goodness, y'all. Wonder Woman is a badass. While violence really isn't my jam, I loved Wonder Woman's strength and drive and seeing it all put together on the big screen.
2. Birkenstock Gizeh Leather Sandals: 'Tis the time of year to bust out my favorite sandals, and since it's been warming up in Dallas, I've been wearing my Birks pretty regularly. You can expect to see me in them until October. Ish. 😉
3. From Lukov with Love: Mariana Zapata is the queen of the slow burn… and this novel was perfection. Enemies to friends to something more is a particular catnip of mine when it comes to reading, and the way Jasmine and Ivan's story was woven together was simply perfect. Masterful. Subtle. Filled with nuance and detail and intrigue that I couldn't stop reading, and now, I have the biggest book hangover.
4. Soothing Touch Vanilla Rose Lip Balm: This lip balm was in my welcome bag at Sproutsfest, and I've been absolutely adoring it recently. As I mentioned in last month's potluck, my skin has been super dry recently. That statement applies to my lips, too, so this lip balm has been keeping my lips happy. It's lightly flavored/scented, so it's not overwhelming, and it lasts a LONG time, too!
…
What Did You Love In March?
…
Curious about other things I've loved? Check out my other potlucks:
2014: October | November| December
2015: January | February | March | May | June | July | August | September | November | December
2016: January | February |March | April | May | June | July | August | September | October | November | December
2017: January | February | March | April | May | June | July | August | September | October | November | December
2018: January | February | March | April | May | June | July | August | September | October | November | December
2019: January | February/March | April | August