Last Updated on
Cream Biscuits and White Sausage Gravy are the ULTIMATE Southern comfort breakfast! Top fluffy, buttery biscuits with a creamy white sausage gravy to create the perfect weekend meal. Makes 15 biscuits.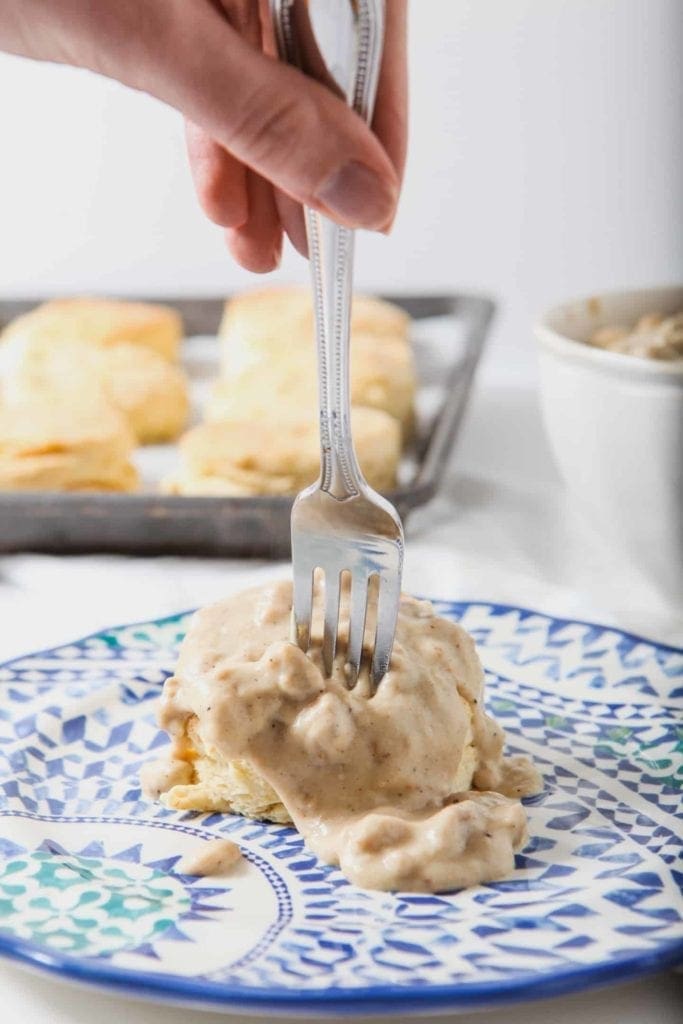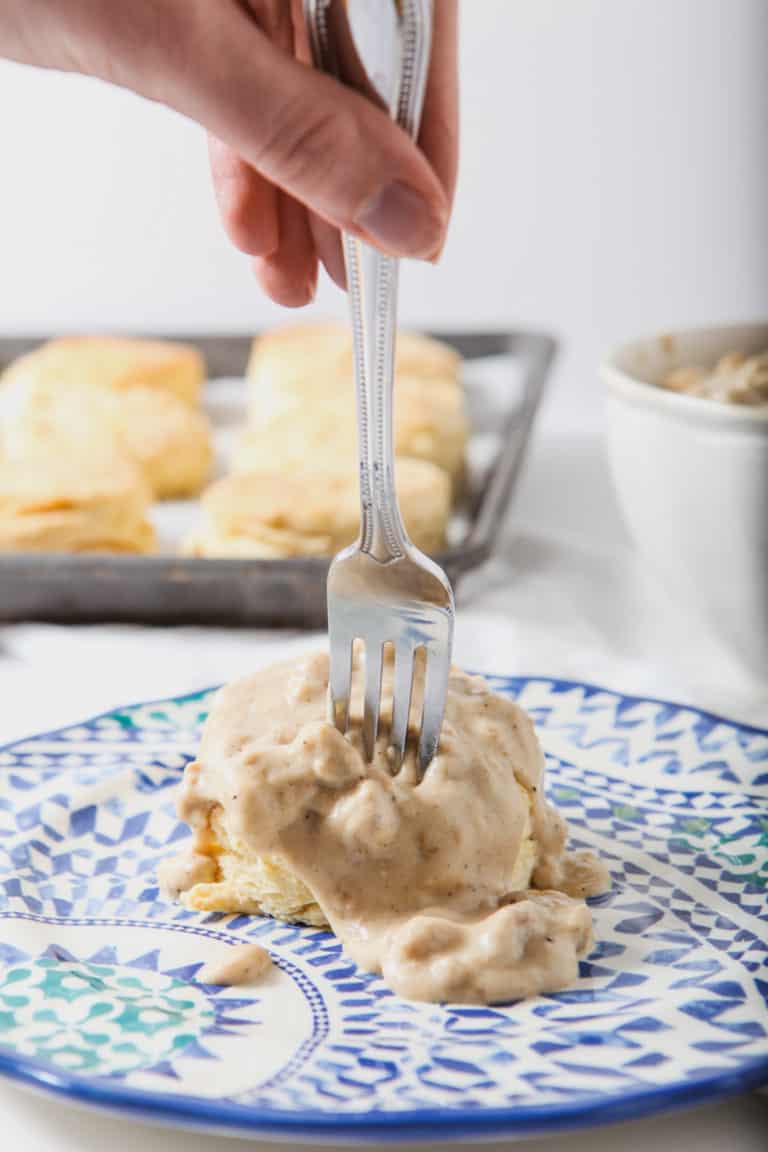 The photos and recipe for these Cream Biscuits and White Sausage Gravy were originally published on January 8, 2014. The photographs, along with the text of this blog post, were updated on March 22, 2018. The post was republished on April 11, 2018.
Oh, you're looking for a decadent breakfast to cook for family and friends?
Look no further than this recipe, y'all.
Cream Biscuits and White Sausage Gravy are the ultimate Southern breakfast, and I cannot think of a diner in the South that doesn't carry this classic dish.
Other breakfast dishes we love: Vegan Coconut Oil Southern-Style Biscuits / Sweet Potato Hash with Fried Egg / Mashed Potato Chorizo Breakfast Tacos / Boudin Breakfast Sandwiches / Sweet Breakfast Crepes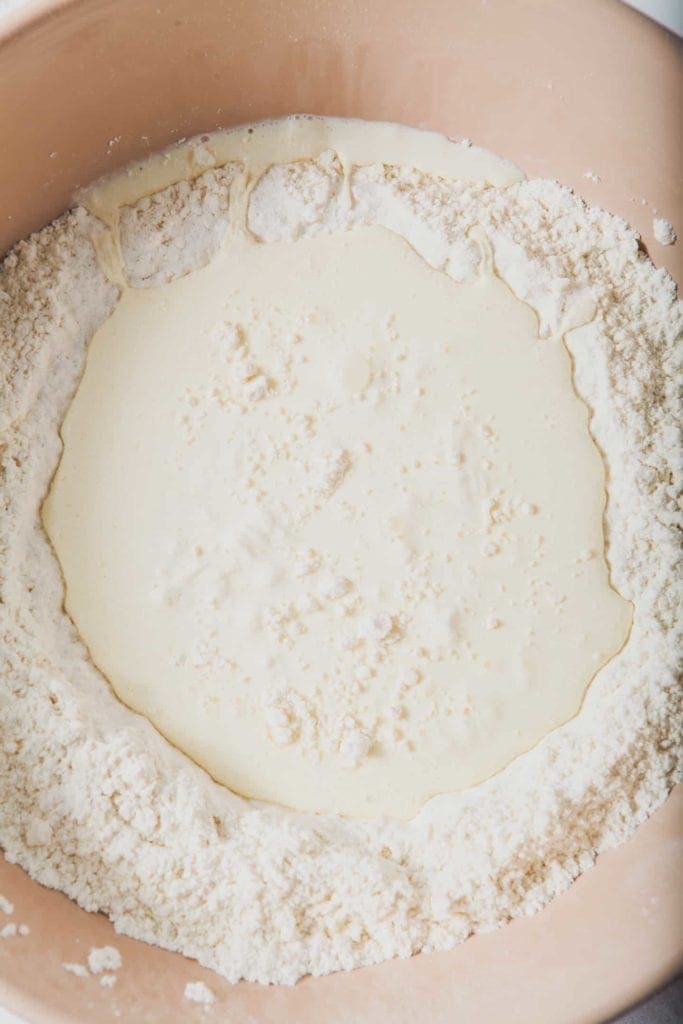 Biscuits and Gravy are a Southern breakfast staple and are absolutely delicious, decadent and kind of ridiculous. And if you're going to make this dish, please don't try to cut calories and use low fat sausage.
Why, you ask?
It messes up the gravy. Once upon a time, I thought that would be a good idea, and it wasn't. Oh, it absolutely was not.
Take my word for it, friends, and learn from my mistakes.
If you're whipping up this brunch favorite, dedicate yourself to going all out in the making of it and follow the principle I've learned in recent years: Moderation.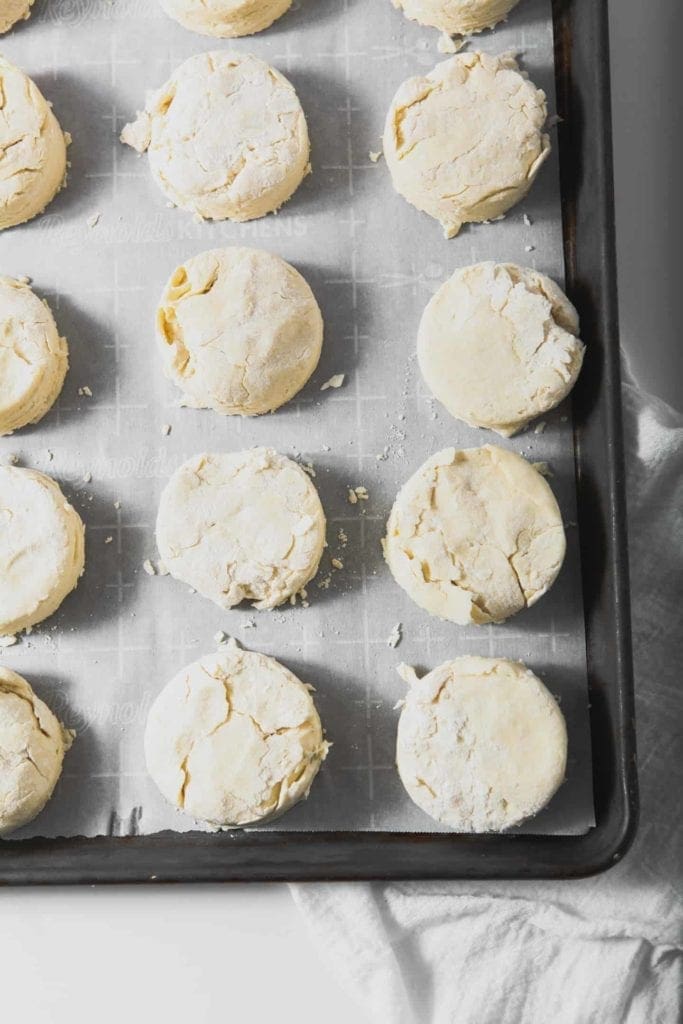 What are the tools and products I need to make Biscuits and Gravy?
Disclaimer: The links below are affiliate links. If you click through and take action, I will receive a small commission. Please refer to my disclosure page. for more information about the affiliate programs The Speckled Palate participates in.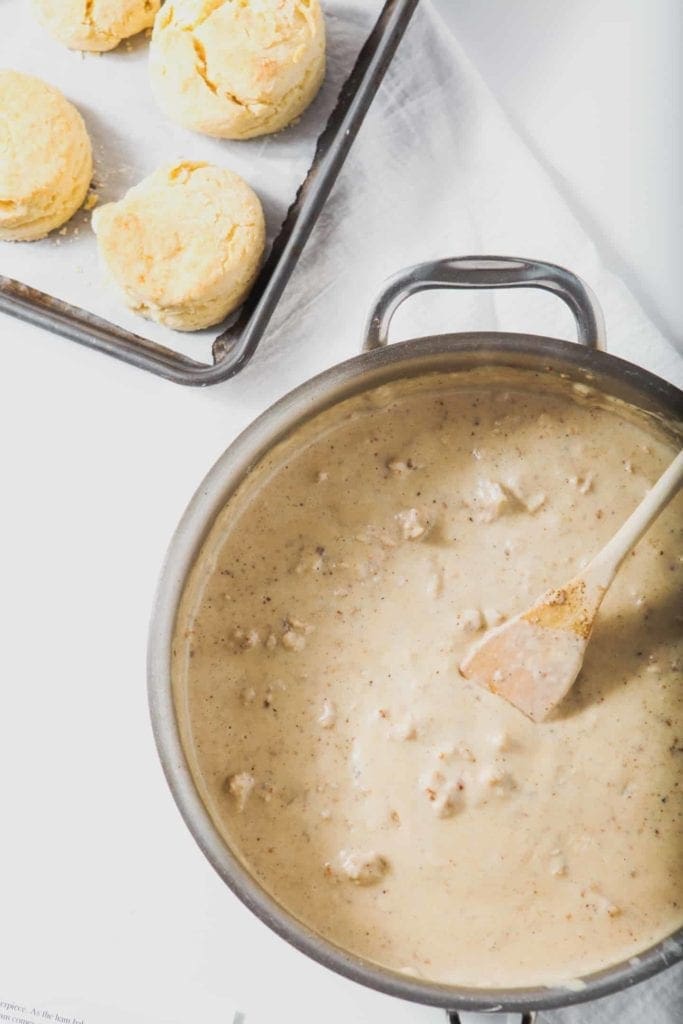 How can I make healthier biscuits and gravy?
Real talk: this recipe is not a low calorie dish. And it doesn't taste the same if you try to cut out fat, either by using milk in the biscuits or low fat sausage in the gravy.
The flavors are nowhere near as good, and the recipe will not turn out as intended. (I should know. I've tried.)
After years of doing it wrong, I have learned that biscuits and gravy are all about moderation–loading up one biscuit (instead of the original three I was eyeing) with just enough gravy, then savoring those flavors throughout breakfast and not going back for seconds or thirds.
Keep this mindset because nobody wants to be a Biscuits and Gravy zombie after they've just eaten half a pan of both… (Trust, y'all.)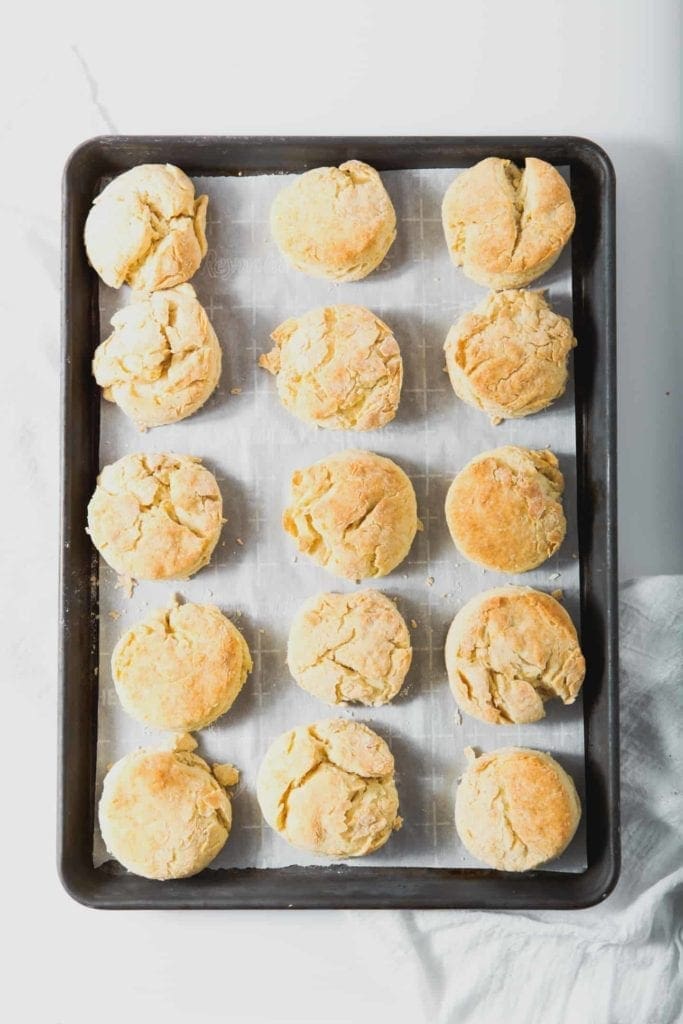 Tips and Tricks to making the BEST Southern Biscuits and Gravy
This biscuit cutter is my favorite to use when for biscuits. If you don't have one, use a drinking glass and a paring knife to cut out the biscuits.
The biscuits can be made 1-2 days in advance and toasted in the toaster oven to warm before serving.
The gravy is best when served immediately. Can't make it the day of your brunch? It can be reheated in the microwave. Plan to add milk to thin it out thicken when refrigerated.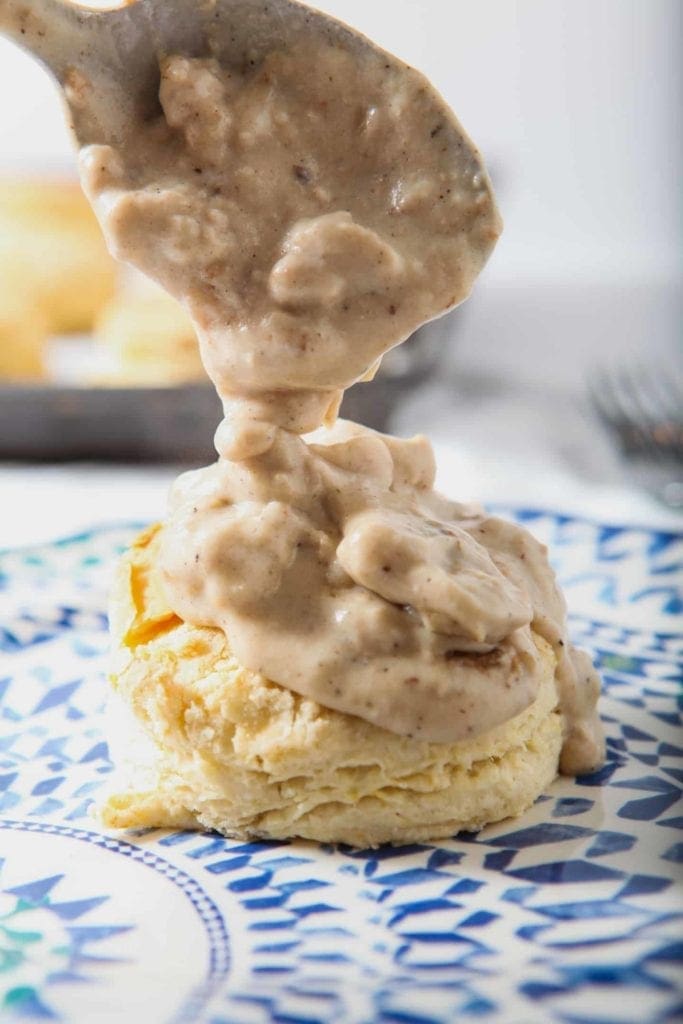 What are some breakfast and brunch dishes I can pair with these biscuits?
Interested in taking a walk on the Southern side for breakfast?
Scroll on down to learn how you can make your own…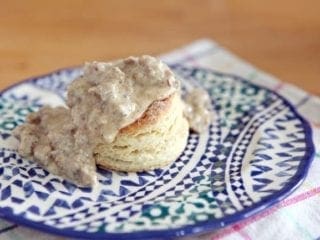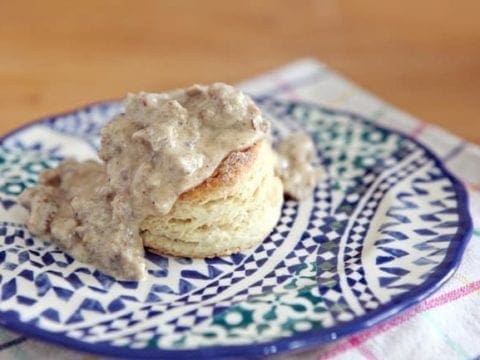 Yield:

15 biscuits
Cream Biscuits and White Sausage Gravy
Cream Biscuits and White Sausage Gravy are the ULTIMATE Southern comfort breakfast! Top fluffy, buttery biscuits with a creamy white sausage gravy to create the perfect weekend meal. Easy to make and even easier to enjoy, these Cream Biscuits with White Sausage Gravy are the ideal breakfast or brunch food if you're looking for something savory, decadent and utterly delicious.
Ingredients
Cream Biscuits
2 cups unbleached all-purpose flour
1 teaspoon kosher salt
1 ½ teaspoons baking powder
1 ¼ cups heavy whipping cream
Unsalted butter, for finishing
White Sausage Gravy
16 oz. breakfast sausage (full fat)
2 ½ tablespoons unsalted butter
¼ cup unbleached all-purpose flour
2 ¼ cups skim milk
¾ cup heavy whipping cream
½ teaspoon freshly cracked black pepper
Hot sauce (to taste, if you're into that kind of thing)
Instructions
Make the Biscuits
Preheat the oven to 450°F.
Line a baking sheet with a nonstick baking mat or parchment paper. Set aside.
In a large bowl, whisk the flour, salt and baking powder together until combined. This is homemade self-rising flour and is all you need, other than cream, to make the biscuits.
Push the dry ingredients up against the sides of the bowl to form a hole for the heavy whipping cream to be poured into. Pour a CUP of the heavy whipping cream in, and stir with a rubber spatula in circular motions to pull the flour into the cream. Mix until the dough begins to pull away from the bowl. (If the mixture still has lots of flour remaining, pour in the reserved 1/4 cup of heavy whipping cream in tablespoon by tablespoon until all the flour has been incorporated into the dough. You don't want your dough to be too wet, so it's important to do incrementally. Also, please try not to overmix your dough.)
Sprinkle a board or another clean, flat surface with flour. Turn the dough out onto the board and sprinkle with additional flour. Using floured hands, fold the dough in half, then pat into a 1/2″ thick round. (If necessary, sprinkle more flour into the dough because you don't want it to stick to the surface. If using additional flour, fold the dough in half again and reform another round.) 
Cut out the biscuits using a biscuit cutter or a drinking glass. Start at the outside edge and cut them close together, being careful not to twist the cutter. Transfer the biscuits to the prepared baking sheet. (Use the scraps to pull together another round for more biscuits, though these will be less fluffy.)
Transfer the baking sheet into the preheated oven, and bake the biscuits for 10-14 minutes or until golden brown.
Remove from the oven and lightly brush with butter. Turn the biscuits out on a plate or a cooling rack, then serve warm!
Make the Gravy
While the biscuits are cooking, make your gravy!
In a medium-sized saucepan, brown the sausage over medium-high heat.
Once the sausage has cooked through, remove from the pan while leaving the grease, and add the butter.
After the butter is melted and combined with the sausage fat, sprinkle in the flour, mixing the fat and flour together to create a roux. Stir constantly until light brown.
Lower the heat to medium-low, and whisk in the milk and heavy whipping cream. Cook until thickened. (Do this slowly so you don't scald the dairy products!)
Season the gravy with black pepper, then add back in the sausage.
Simmer for 12-15 minutes, then enjoy warm over homemade biscuits.
Recommended Products
As an Amazon Associate and member of other affiliate programs, I earn from qualifying purchases.
Nutrition Information:
Yield:
15
Serving Size:
biscuit with 1/8 of gravy made
Amount Per Serving:
Calories:

299
Saturated Fat:

11g
Cholesterol:

71mg
Sodium:

375mg
Carbohydrates:

17g
Sugar:

1g
Protein:

8g
Nutrition facts are an estimate and not guaranteed to be accurate.
Have you ever tried this decadent Southern breakfast?
Are you a fan?