Whole Wheat Italian Focaccia Bread
Jazz up sandwiches by making this Italian-spiced Whole Wheat Italian Focaccia Bread. It's relatively quick and easy to pull together and delicious, too!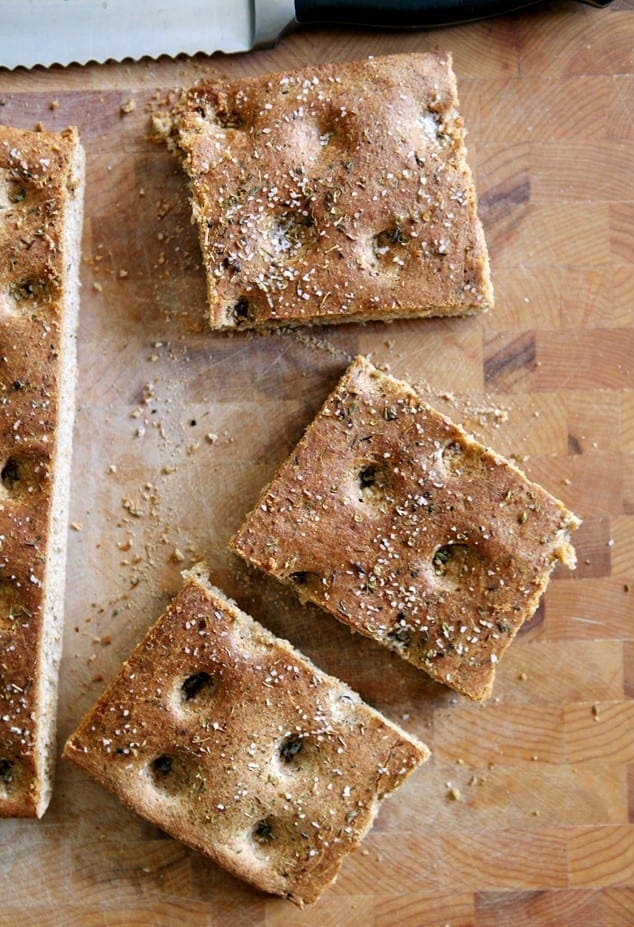 Sandwiches and me have a love-hate relationship.
Some weeks, I love 'em.
Other weeks, I could leave 'em.
And other times? Well, it's probably best y'all didn't hear what I thought about 'em.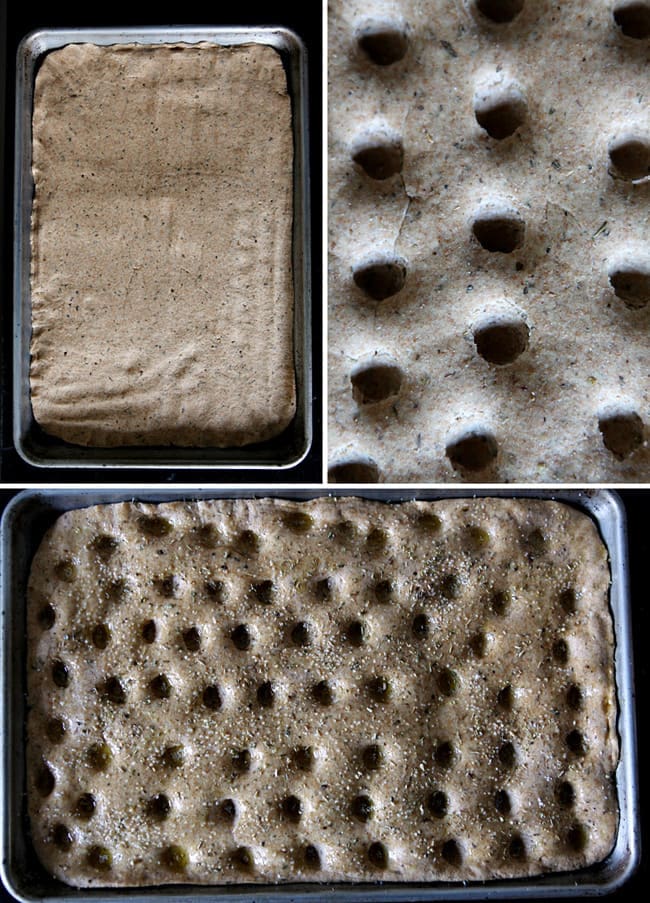 A few weeks back, I was obsessed with re-creating the sandwich I fell in love in Italy… and the first part I wanted to get right was the bread.
So I began tinkering, and I ended up baking this delightful loaf of Whole Wheat Italian Focaccia Bread in response to this obsession.
And if I do say so myself, this focaccia is a game-changer when it comes to making sandwiches at home.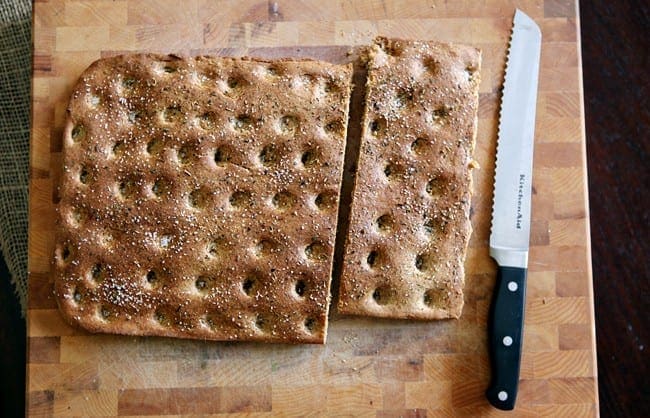 Sadly, the rest of the sandwich didn't come together quite as nicely.
The canned tuna in olive oil just didn't taste as good as it did in Italy.
The pesto I made was tasty… but it wasn't Cortona quality.
And while the mozzarella was delicious, I felt like the overall dish was lacking.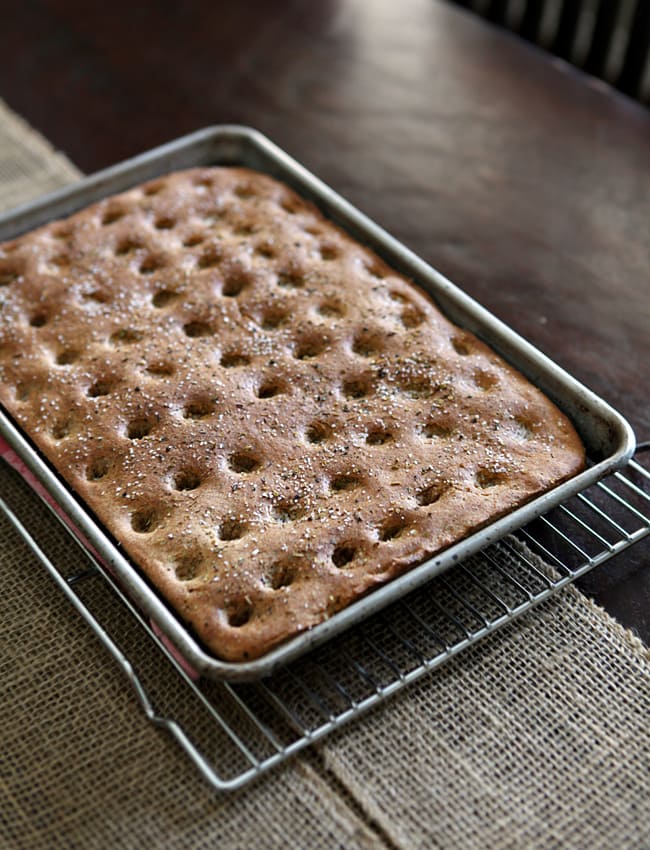 So today?
Today, I share a really fantastic bread recipe and promise I'll keep working on the sandwich portion of this, as I cannot wait to take a bite of the perfect recreation and then share it with y'all here. Though something tells me it's going to take a while and a lot more tinkering because I truly believe the simplest recipes are the ones that are the most challenging to recreate.
However, this focaccia is pretty darn good, and as an added bonus, it's pretty darn easy to pull together, too.
Here's how you do it: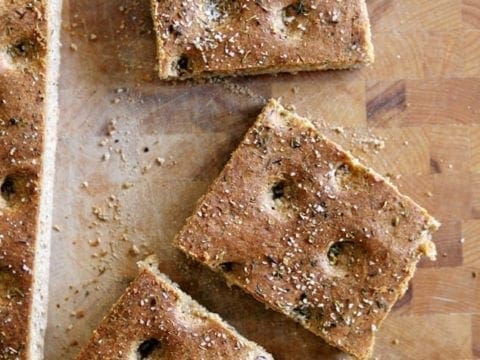 Yield:

1 loaf of bread
Whole Wheat Italian Focaccia Bread
Total Time:
1 hour
25 minutes
Jazz up sandwiches by making this Italian-spiced Whole Wheat Italian Focaccia Bread. It's relatively quick and easy to pull together and delicious, too!
Ingredients
1¾ cup whole wheat pastry flour
1 cup whole wheat flour
1 tablespoon dried oregano
1½ teaspoons dried basil
½ teaspoon garlic powder
¼ teaspoon onion powder
1¼ hot water
2 tablespoons extra virgin olive oil
2½ teaspoons active dry yeast
1 teaspoon local honey
½ teaspoon kosher salt
Instructions
In the bowl of a stand mixer, combine the flours, oregano, basil, garlic powder and onion powder. Using a whisk, stir until incorporated, then set aside.
In a separate bowl, combine the hot water, olive oil, active dry yeast, honey and salt. Stir until the salt has dissolved into the water and the ingredients are incorporated, then pour into the dry mixture.
Using the dough hook attachment on a low speed, combine the ingredients until the dough has become smooth. (Don't get over-anxious and speed up the mixer, as you'll get a face full of flour.)
Once the dough has come together, turn up the speed of the mixer, beating the dough against the sides of the container for 2-3 minutes.
Once the dough has finished mixing, spread it onto a greased jelly roll pan. (This will be a bit challenging, as the dough is a bit tacky and won't want to listen.) Cover it with a damp kitchen towel. Let it rise for 45 minutes in a warm place.
Once the dough has risen and doubled in size, preheat the oven to 450°F.
Create divets in the dough using your clean fingers, then season the bread with additional olive oil, salt and oregano.
Bake for 25 minutes or until top is golden brown.
Let the bread cool for 10 minutes, slice the bread into pieces and enjoy!
Nutrition Information:
Yield:
10 slices
Serving Size:
1
Amount Per Serving:
Calories:

258
Total Fat:

5g
Saturated Fat:

1g
Trans Fat:

0g
Unsaturated Fat:

3g
Cholesterol:

4mg
Sodium:

138mg
Carbohydrates:

46g
Fiber:

6g
Sugar:

2g
Protein:

9g
Nutrition facts are an estimate and not guaranteed to be accurate.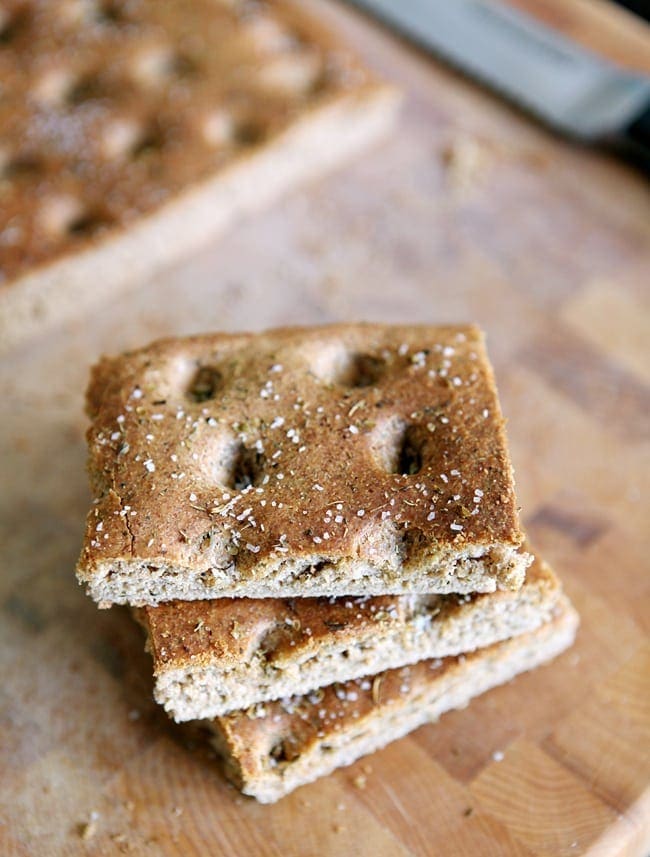 What kind of dishes have you tried to recreate from another time in your life?
Was the recreation successful?