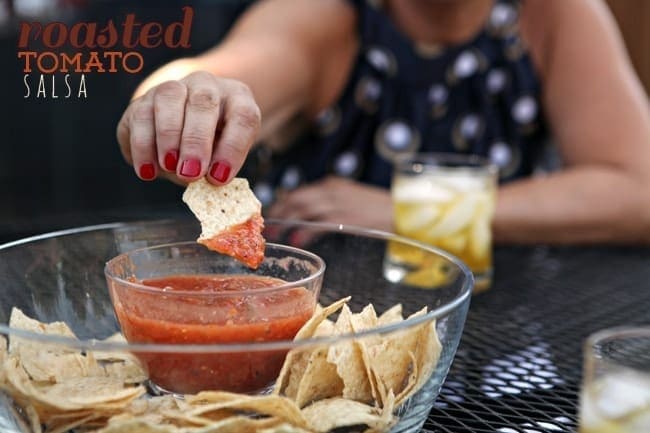 Y'all should know by now that I live in Dallas. It's pretty hot here. In fact, my mother told me that it felt like we lived on the surface of the sun while she was visiting earlier this month. No joke.
I realize it's much hotter other places (I'm looking at you, Arizona), but man, y'all. This summer is kicking my butt, and the heat, especially, is playing a major role in it.
Con? I sweat a lot, so I look like a hot mess most days. And running in 100+ temperatures is a challenge, to say the least. (Plans for that August half marathon? Gone. So I'm holding off on longer distances until the heat breaks since I feel like I'm running in slow motion and come back utterly exhausted from the exertion in the heat.)
Pro? I sweat a lot, so it makes me feel like I'm being über productive when I'm out in the sunshine. I wear shorts and dresses most days because they're comfortable in the heat.
And bonus: I feel way more put together after showering and getting ready because I am no longer perspiring.
Love easy appetizers? Our family adores Charred Corn Salsa and Avocado Cream Sauce, too!
Sadly, the making of this salsa is not a way to beat the summer heat. You have to roast the tomatoes, and it's an integral and delicious step. However, after the salsa has been combined and chilled?
It's absolutely delicious and perfect for a warm summer's day. It also adds nice natural sweetness from the tomatoes with a bit of zing from both serrano and jalapeño peppers.
Bonus points if you can handle the heat, hang out on the patio as the sun is sinking in the west, drink a margarita and eat this dish with your favorite tortilla chips.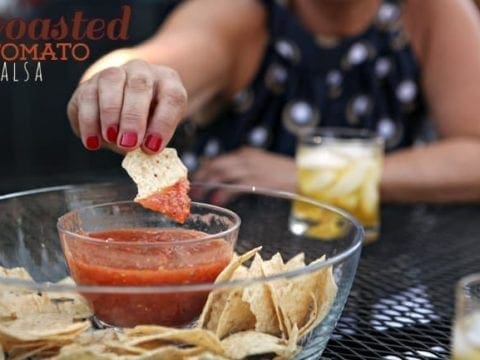 Yield:

16 oz. jar salsa
Roasted Tomato Salsa
Turn vine-sweetened heirloom tomatoes into Roasted Tomato Salsa! Heirloom tomatoes are seasoned with salt and pepper, then roasted and combined with serrano and jalapeño peppers, red onion, garlic and lime juice before being food processed to the desired consistency. This salsa pairs beautifully with tortilla chips.
Ingredients
3 ½ lbs. heirloom tomatoes
½ large red onion, roughly diced
2 serrano peppers, roughly diced
2 garlic gloves
1 jalapeño pepper
¾ teaspoon kosher salt
Juice of ½ a lime
Instructions
Preheat the oven to 475°F.
Season the tomatoes with salt and pepper liberally, and bake for 15 minutes.
Turn up the heat and broil for another 5.
While the tomatoes are cooking, chop the peppers, garlic and onion thickly, then transfer to a food processor.
Once tomatoes have cooled slightly, transfer the tomatoes to the food processor and blend.
Add the salt and lime, blend a little more.
Serve chilled with corn tortilla chips.
Nutrition Information:
Yield:
8
Serving Size:
2 oz. servings
Amount Per Serving:
Calories:

59
Total Fat:

0g
Saturated Fat:

0g
Trans Fat:

0g
Unsaturated Fat:

0g
Cholesterol:

0mg
Sodium:

227mg
Carbohydrates:

13g
Fiber:

3g
Sugar:

9g
Protein:

2g
Nutrition facts are an estimate and not guaranteed to be accurate.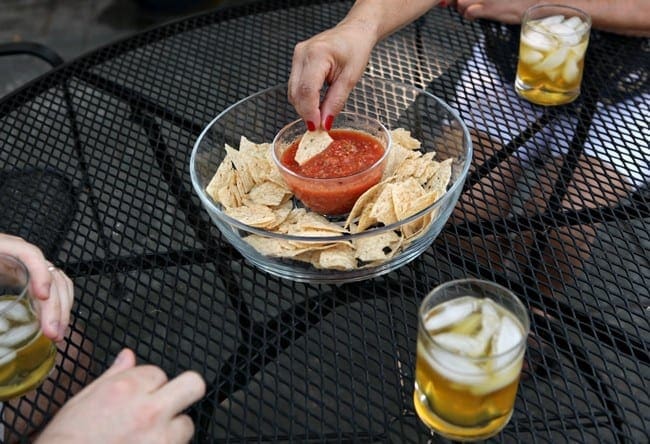 Have you ever made your own salsa?