Homemade Herbed Focaccia Bread Recipe
Who knew that homemade bread was so simple to make? Homemade Herbed Focaccia is a classic Italian bread that rises easily and bakes beautifully at home. Makes 1 jelly roll-sized loaf.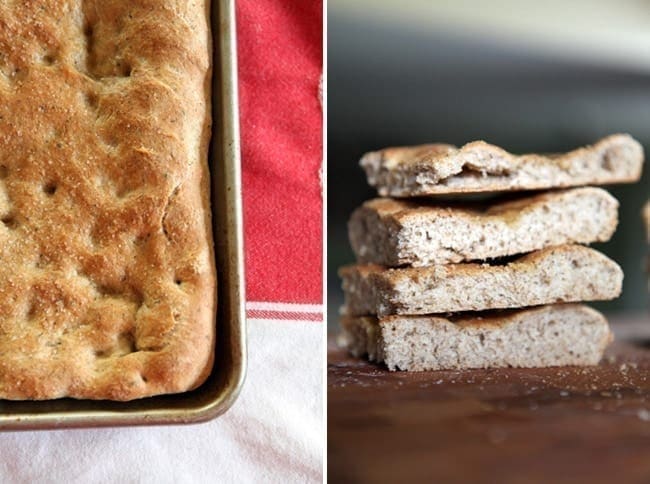 I'm a sucker for bread. Any kind, really. (I like to think this is a result of my running habit/addiction, though I'm fairly positive I consume more bread than I burn off in a run…)
I'm also a sucker for homemade sandwiches. However, since I have the aforementioned bread addiction, I don't like to keep it in the house because I'll consume an entire loaf in an afternoon.
… Yes, that has happened before. And no, it was not pretty. Even if it was super delicious at the time.
So, whenever I want to make a sandwich, I have to run out to the store to pick up a fresh loaf of bread, or I bake my own. Recently, I've been digging my own bread creations because I know exactly what goes into them.
This recipe is one I threw together on one of those days I was craving a sandwich for lunch. It takes a little bit of time, but the end result is better than something you can get from the local grocery store.
Use this bread in… The Faux Yard Bird Sandwich / Toasted Almond Butter Sandwich with Apples and Honey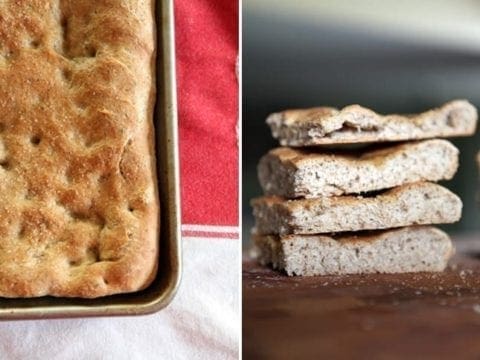 Yield:

1 loaf
Homemade Herbed Focaccia
Total Time:
1 hour
30 minutes
Who knew that homemade bread was so simple to make? Homemade Herbed Focaccia is a classic Italian bread that rises easily and bakes beautifully at home. The dough is studded with garlic powder, oregano, basil, Mural of Flavor, black pepper and salt. After rising, it's brushed with olive oil and baked until crisp and delicious. This focaccia is the perfect bread to enjoy alongside an Italian feast!
Ingredients
1 ¾ cup unbleached all-purpose flour
1 cup whole wheat flour
1 teaspoon granulated sugar
¼ teaspoon kosher salt, plus 1/8 teaspoon
2 teaspoons active dry yeast
½ teaspoon garlic powder
1 teaspoon dried oregano
½ teaspoon dried basil
1 teaspoon black pepper
1 ¼ cup hot water
2 tablespoons extra virgin olive oil, plus 2 teaspoons
Instructions
Spray a jelly roll pan with a nonstick baking spray, and set aside.
In a large bowl, combine the flours with the seasonings—garlic powder, oregano, basil, Mural of Flavor and black pepper.
In a separate bowl or a liquid measuring cup, combine the hot water, salt and sugar. Stir until the sugar has dissolved and the salt has dissipated into the water.
When the water is warm to touch (but not scalding), add the active dry yeast. Let the ingredients sit until the yeast blooms. (It will start to become fizzy in about 10ish minutes.)
When the yeast has bloomed, pour the wet ingredients into the dry ingredients.
Stir the ingredients together until the dough has become smooth. This will take a little while... and I like to do this step in my stand mixer because I can use the bread hook, and let the mixer do all the work. If you don't have a stand mixer, you can stir the ingredients together, then knead it by hand.
Once the dough is incorporated and kneaded, spread it out on the prepared baking sheet. Let it rise for 30 minutes. The dough will be thick and hard to spread out.
Using your fingers, create divots in the dough.
Top bread with 2 teaspoons extra virgin olive oil and 1/8 teaspoon salt.
Bake at 450°F for 25 minutes or until top is golden brown.
Let cool for 10 minutes, slice the bread into 12 evenly cut pieces and enjoy!
Notes
The water should not be scalding hot. Why? It will kill the yeast, and your bread won't rise. As a rule of thumb, I like the water to be hot enough so the salt and sugar can dissolve. Once you can comfortably dip a finger into the water and let it stay for a few moments, it's safe to add the yeast.
Recommended Products
As an Amazon Associate and member of other affiliate programs, I earn from qualifying purchases.
Nutrition Information:
Yield:
12
Serving Size:
1
Amount Per Serving:
Calories:

125
Total Fat:

3g
Saturated Fat:

0g
Trans Fat:

0g
Unsaturated Fat:

2g
Cholesterol:

0mg
Sodium:

46mg
Carbohydrates:

22g
Fiber:

2g
Sugar:

0g
Protein:

4g
Nutrition facts are an estimate and not guaranteed to be accurate.
Do you bake your own bread? What's your favorite recipe?