As y'all should know by now, my husband and I live in the heart of Louisiana, and we are constantly taking day (and weekend) trips to the east and west, visiting family and friends.
Last week was no different, but this time, it was just me making the journey.
You see, one of my cousins, who lives in Pittsburgh, was visiting New Orleans with her husband on a business trip. Being a "grown up" is hard, y'all. We can't travel as much as we'd like, and we don't see family members as often as we could, so when opportunities like this spring up, we make the most of them. So I headed down to the Big Easy to spend some quality time with my cousin, who I hadn't seen in too long.
Side note: I love, love, love the city, but I loathe the traffic and the crazy drivers who come with it. So this day trip I made by myself? A big freakin' deal because I had to drive in the heart of the city, as well as navigate myself safely to and from. (If you know me, you KNOW this is a big deal because I don't handle the city driving craziness well.)
After fighting Jazz Fest traffic and general New Orleans craziness, I parked my car and headed to meet up with Kate. She had started walking my general direction, and we ran into each other on Canal Street, people bustling around us as we squealed and hugged like any cousins would.
We then and walked a mile to Cochon Butcher for a delicious cousinly lunch, chatting all the while about our lives, our spouses and the last time we were in the city together.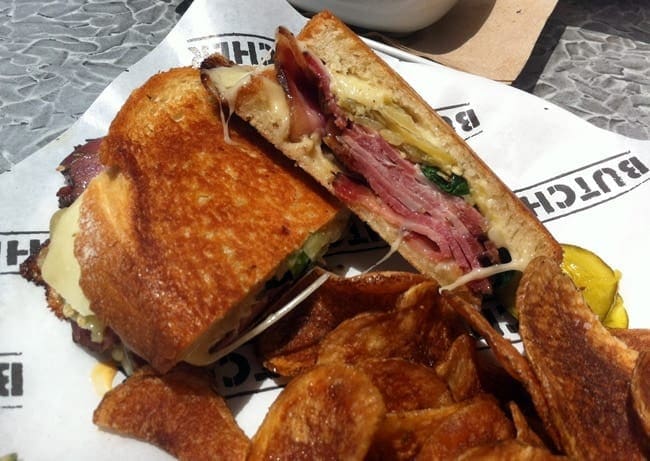 I ordered the Buckboard Bacon Melt, a bacon sandwich, smothered in cheese and collard greens on white bread. I think there were pickles, too. Either way, it was absolutely delicious — melty, crunchy and savory, all at the same time — and I saved half of the sandwich for later. Because it was that good.
Kate opted for the BBQ Pork Sandwich, a "Carolina style" pulled pork sandwich, topped with tangy and spicy Carolina slaw and complete with potato salad.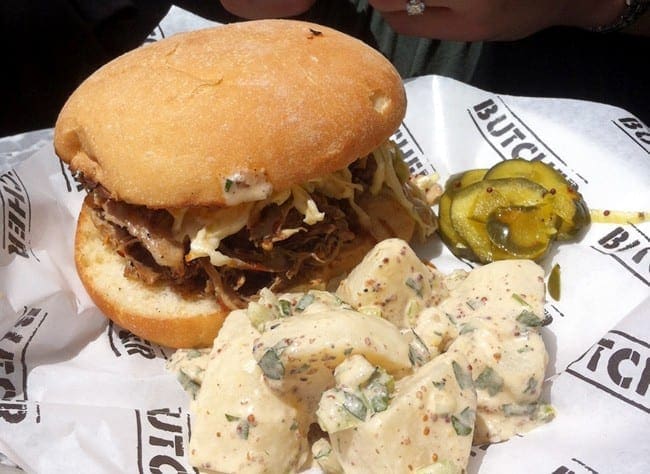 And then we split the Pancetta Mac-n-Cheese.
Because it was TOTALLY necessary and ridiculously decadent and perfect for a Friday lunch date.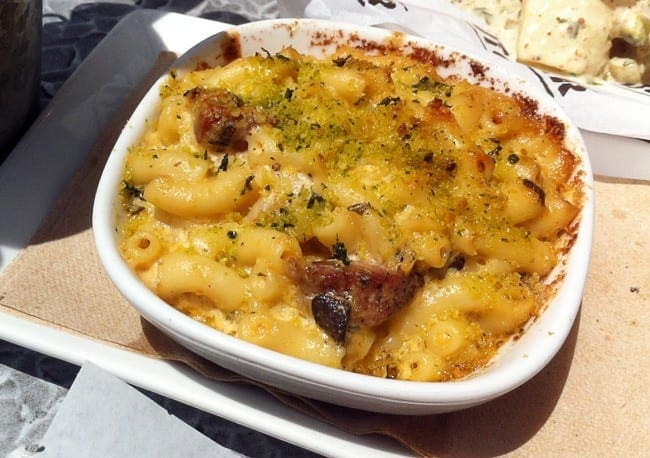 After lunch, a walk was in order. We chatted some more, and we both remembered the time spent in the city as children with our families. The one outstanding thing we both remember from the trip, other than laughter and a song us four cousins wrote late one evening, was the New Orleans Haunted History Tour we took one evening, which scared the bejeezus out of all of us, though we'd never admit it.
We also remembered eating beignets like there was no tomorrow.
So we took a walk down memory lane and headed to Cafe du Monde, ordering some piping hot beignets and iced Cafe Au Laits.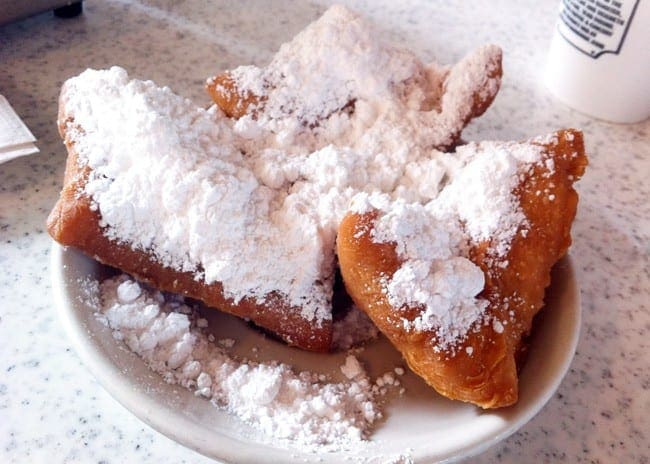 Once we'd finished up our the beignets and were sufficiently speckled with powdered sugar, we headed back to Canal Street and said our goodbyes.
It was a lovely day, and we had a fabulous time together, eating, reminiscing and catching up on all the wonderful and exciting life changes we've both experienced since the last time we hung out.
I can't wait to do it again.
…
Other things and places where we ate and drank: What We Ate: State Fair of Texas (2014) / What We Ate: Cape Cod {May 2014} / What We Ate: State Fair of Texas (2013) / What We Ate: Sylvain (New Orleans, La.) / What We Ate: New Orleans (May 2013) / What We Ate: Los Angeles, Venice Beach, Culver City and everywhere in between / What We Ate: Joe T. Garcia's (Fort Worth) / What We Ate: Bartley's B.B.Q. (Grapevine) / What We Ate: Snooze A.M. Eatery (Denver) / What We Ate: State Fair of Texas / What We Ate: Denver / What We Ate: Crawfish Season