What We Ate: New Orleans (May 2013)
Y'all. It's been an exciting (and exhausting) last month, and as I'm sure you can tell from the sparseness of my posting here, I've been a little, ahem, busy.
As a matter of fact, I have been out of town for the last THREE weekends… and some parts of the weeks… and I feel like I'm finally recovering from the craziness.
That being said, we've gone to Louisiana twice in the last four weeks for weddings, and then I went to Vegas for #BiSC. (I'll eventually have a recap once I can wrap my brain around all the things and feelings.)
But today? Today, I'm sharing some snippets from our most recent New Orleans trip, which we took to celebrate the wedding of our friends, Jay and Ali.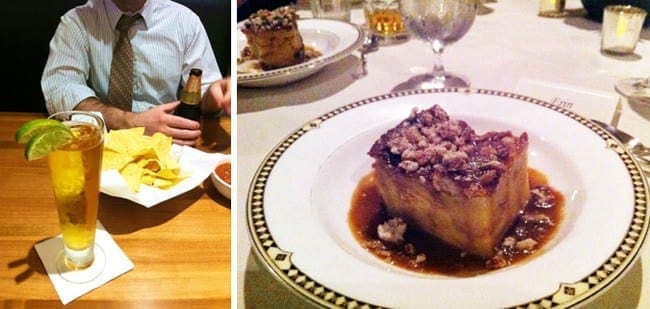 Our trip got off to a stressful start, so we kicked things off with a beer and some chips at the airport once we were past security. After dealing with last minute household repairs and fearing that I wouldn't be able to make the trip, it was fabulous to be on our way and good to go. (First aside: Household repairs of any kind are miserable, but fixing a backed up pipe after it floods your laundry room with dirty dish water? Not the most fun way to start a Friday morning. Thank goodness for our home warranty and them pushing the request through and the plumbers being on the spot and arriving five hours early to make it so I was able to go to New Orleans instead of staying in Dallas to complete house repairs.)
The weather was bad in Louisiana, so we were late leaving Dallas, and Winston actually missed the rehearsal. (Oops. Lucky for everyone, Winston knows the drill, as he's been in about a MILLION weddings at this point.) When we finally arrived in New Orleans, we headed to our hotel, changed our clothes, and headed to the rehearsal dinner, where we drank cocktails, mingled with friends who we hadn't seen in months, and then migrated into a fabulous dining room for dinner. I chose the steak, which was good, but the fish Winston ordered was better. And then when toasts began, we were offered the best bread pudding of my life. I don't say that lightly, y'all. It was really that good and rich… and as a fervent dessert lover, I had trouble finishing the dish because it was just that decadent.
Muriel's has it going on, even if they ARE haunted, and I randomly remembered walking into the restaurant a long time ago on a ghost tour of the city with my family. (SO random, I know, but the restaurant sets a table for the spirits nightly to welcome them, and we walked by that display on our way to the cocktail hour and rehearsal dinner.)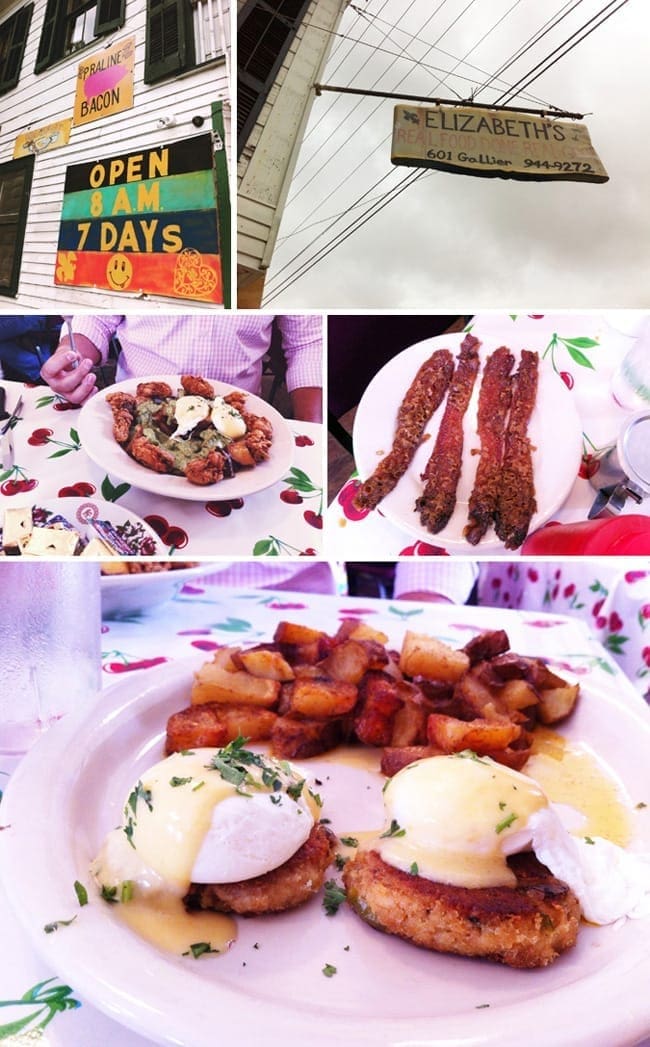 The next day, Winston headed out with the guys for a day of fun, and I met up with Katherine and Grant for breakfast. I hadn't seem Katherine since our move to Texas, so we had a lot of catching up to do, and when she recommended Elizabeth's, the birthplace of Praline Bacon, I knew we had to go there.
Katherine and I both ended up ordering the Crabby Eggs special, which was a riff on Eggs Benedict. Instead of an English Muffin, the poached eggs and hollandaise were placed atop crab cakes… and they were wonderful and something I would love to recreate at home, but I haven't had much luck making crab cakes in the past. (Maybe this should be a goal for the summertime? Hmm. Any advice, y'all?)
The three of us split an order of Praline Bacon, and I cannot say enough about it, y'all. It was sweet and salty and delicious, though I cannot imagine eating the four slice side on my own. (Hi, sugar shock!)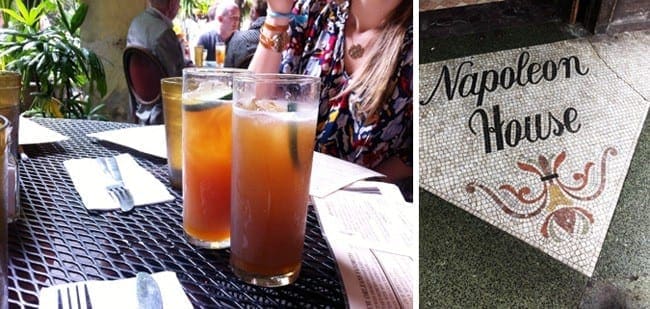 Katherine and Grant dropped me back off at my hotel after a fabulous breakfast, and I was sad to see them go, as we'd had a lovely time chatting and hanging out and eating — three of my favorite things. However, while we had been dining, I heard from two Baton Rouge friends, saying they were headed to the Big Easy for the day since they didn't have anything going on in BR, and we were to meet up for drinks once they arrived.
Our first stop was the Napoleon House, a charming little restaurant and bar I'd walked past multiple times, but never visited. After the initial squeeing, we sat down at a courtyard table and promptly ordered a round of Pimm's Cups for the table. Because that's what you do. And because they're summery and light and tasty.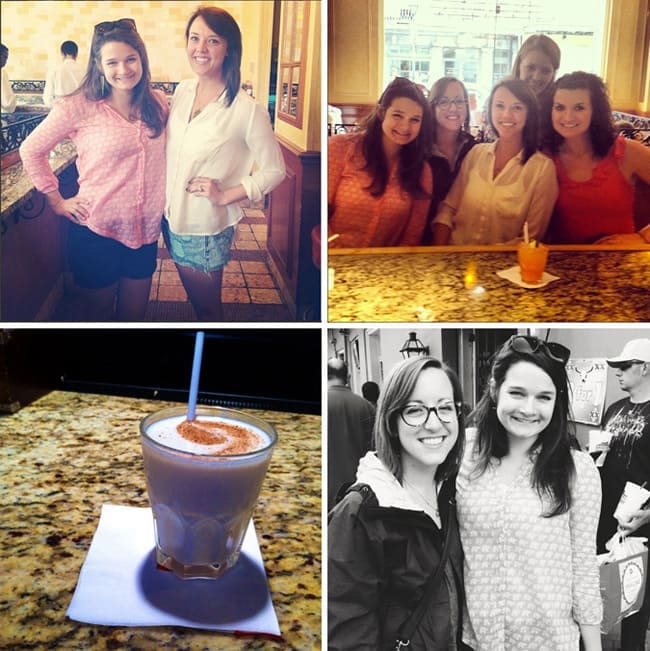 And then, we headed to Bourbon House, where Erica introduced me to Bourbon Milk Punch, which is basically a bourbon milkshake… so incredibly dangerous should you have multiple drinks, but so incredibly delicious at the same time.
We even managed to take some photos of ourselves during our outing at the Bourbon House. Win!
From there, we went our separate ways, sadly, as I needed to get ready for the wedding, but I cherished my time visiting with my Baton Rouge and New Orleans girls, so happy we were able to pull things together last minute.
An hour and a half later, I met up with my in-laws for a drink at Lüke. Shortly thereafter, we headed to the wedding, then the reception, and we danced the night away.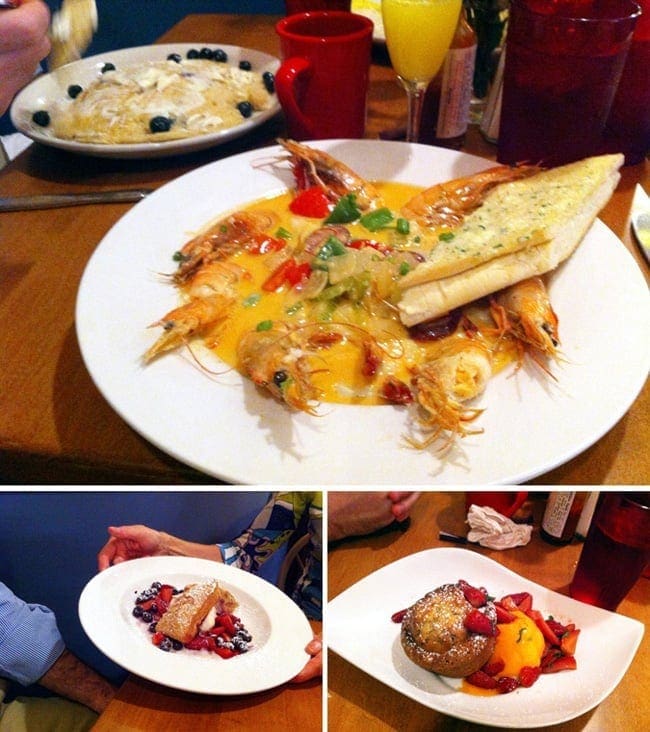 The next day was Mother's Day, and we reserved a spot at Red Gravy for brunch with Winston's parents. This is yet another place I'd walked by several times during my stays in the Big Easy, but I had never gone in, and I was excited to give it a shot, especially after the reviews Winston and I read.
Red Gravy offered both savory and sweet brunch items, and I decided upon the Shrimp and Grits, something I absolutely adore but cannot seem to find in Dallas, and though the shrimp were incredibly hard to peel in the grits, the meal was worth it. The shrimp were well-seasoned. The grits had great flavor. And we finished off our Mother's Day brunch with desserts because WHY NOT?
We had a lovely time with Winston's parents on Sunday morning, and they dropped us at the airport on their way out of town.
It was a crazy weekend, but I am so thankful it worked out for us, and I cannot wait to go back in the middle of June to celebrate another wedding of close friends. And y'all had better believe I'll be documenting that trip, too!
…
What have you done this past month?
Have you been as crazy as I have?
…
Other things and places where we ate and drank: What We Ate: State Fair of Texas (2014) / What We Ate: Cape Cod {May 2014} / What We Ate: State Fair of Texas (2013) / What We Ate: Sylvain (New Orleans, La.) / What We Ate: Los Angeles, Venice Beach, Culver City and everywhere in between / What We Ate: Joe T. Garcia's (Fort Worth) / What We Ate: Bartley's B.B.Q. (Grapevine) / What We Ate: Snooze A.M. Eatery (Denver) / What We Ate: State Fair of Texas / What We Ate: New Orleans / What We Ate: Denver / What We Ate: Crawfish Season