What We Ate: State Fair of Texas (2014)
As y'all read this, I'm out and about in NYC! I've scheduled posts for today, tomorrow and Friday for y'all to enjoy. That being said, I'm unplugged for the rest of the week and won't be here to respond to comments until I am back in Texas. So enjoy yourselves, and I'll see y'all next week!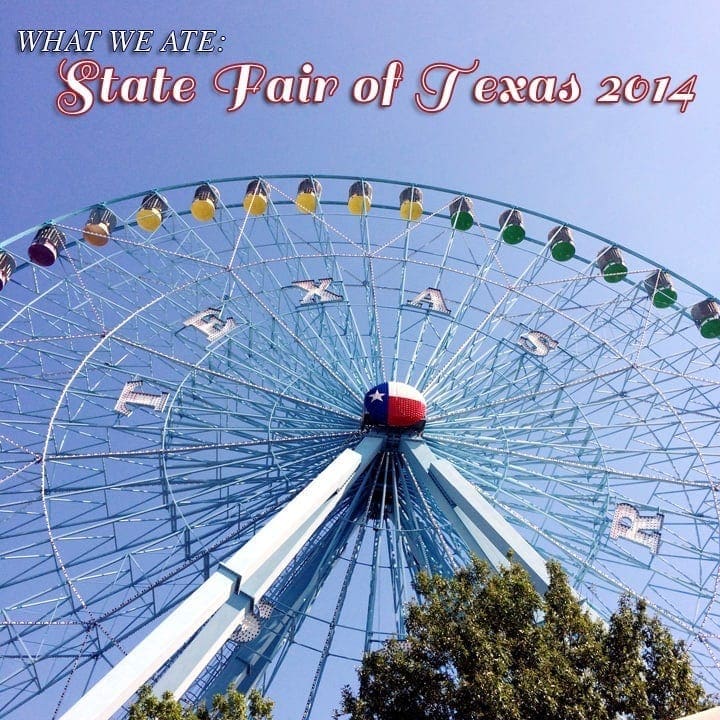 For the last two years, we've trekked to the State Fair of Texas to check out all the delectable fried goodies and Big Tex and all the other exciting offerings the fair had to offer.
This year was no different.
We visited the fair this weekend with Winston's parents, and we ate our way through Fair Park, as one does this time of year. … I feel like I should point out that I've visited Fair Park during other times of the year, and it's really strange. There are no crowds, no fried foods (unless you're competing in a Donut Run… yes, that's an actual thing, and yes, they offer you donuts on the 5K course) and no rides. So there's that.
There's something delightful about the crowds and the excitement, the rides and the glorious fried foods.
Want to see what we ate?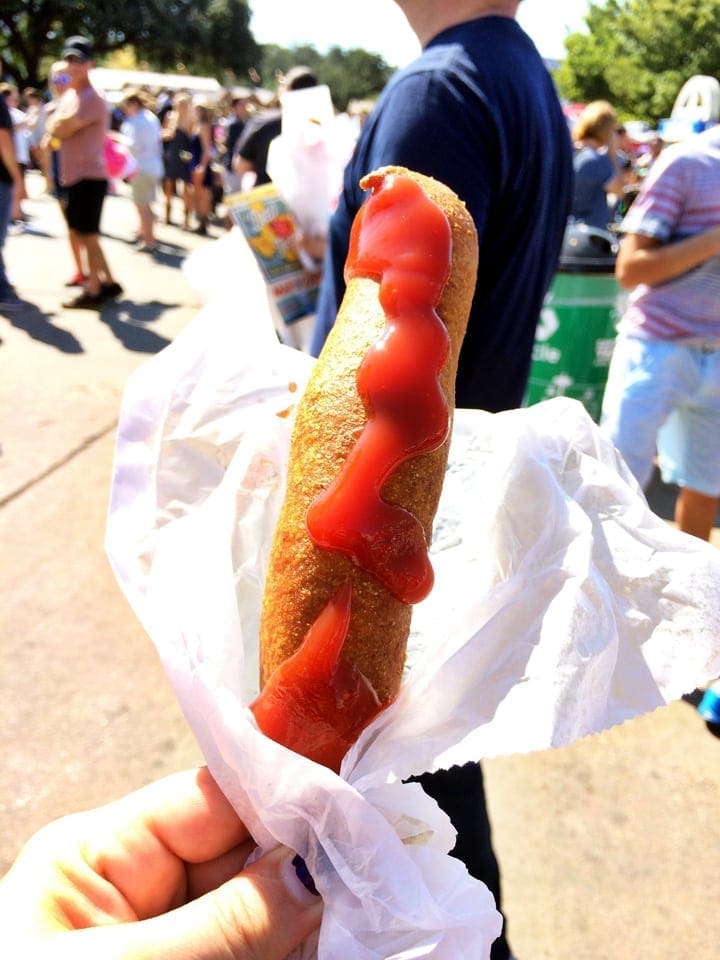 I, of course, devoured a Corny Dog. Because it ain't the fair unless you have one, slathered with your favorite condiment and eaten awkwardly as you navigate the crowd surrounding Big Tex, snapping selfies with him left and right.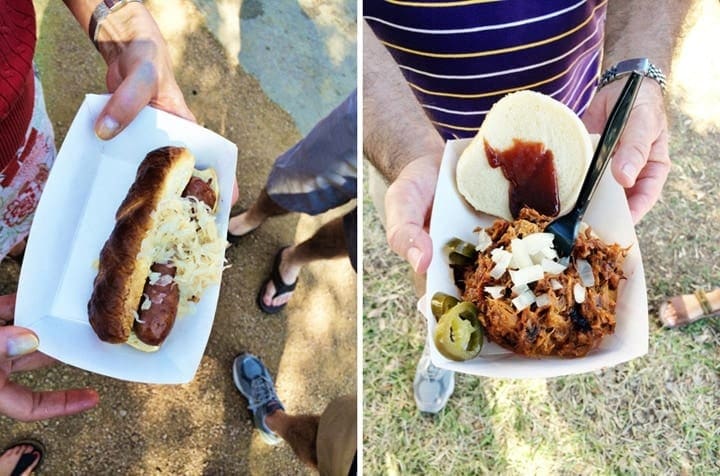 We split the rest of the foods we consumed because that's the way to go when you visit the fair.
The Jalapeño Cheddar Bratwurst, left, was quite tasty without being too spicy. And Winston's dad got a Pulled Pork Sandwich, right, which he said his only complaint was it needed more jalapeños.
… In case y'all didn't know, my in-laws are from South Louisiana. Their tastebuds put mine to shame when it comes to the spicy stuff! Even more so now that I'm pregnant and incredibly sensitive to any kind of heat.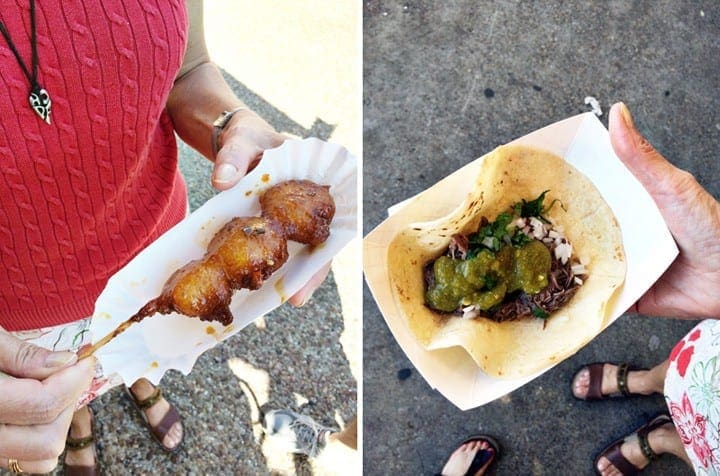 We split a Sweet Jalapeño Corn Dog Shrimp, left. It sounds ridiculous, but the combination of sweet and spicy was delightful without being overwhelming or too heavy.
Winston's mom grabbed a brisket taco, right, while the rest of us were getting Corny Dogs, and she said it was all kinds of fabulous, perfect with the added cilantro.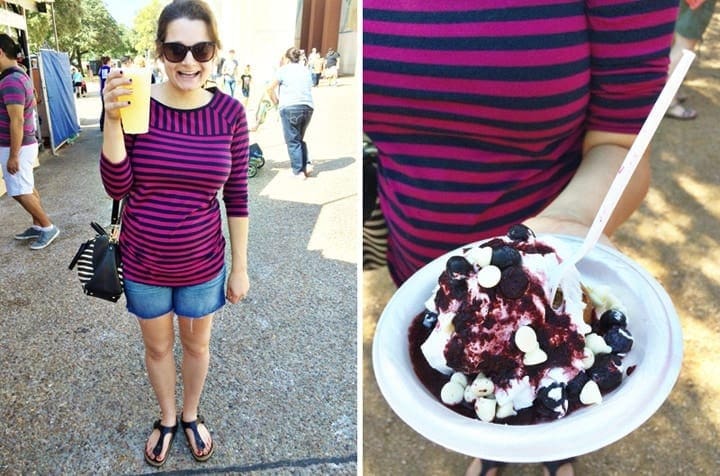 As a pregnant lady, I didn't enjoy a beer or two at the fair… so I purchased a hand-squeezed lemonade to jazz my drink game up, left. I was really excited about it, obviously. And it was oh so good, y'all. Like, I'll probably have to make lemonade at home now because it was the perfect balance of sweet and tart, which I've found is so hard to find.
And to top off our fair food extravaganza, I ordered us a Deep-Fried Texas Bluebonnet. It might not have been the prettiest thing, and I was expecting it to be a gut-bomb that made us all miserable after having a few bites, but it was actually quite light and delicious! The Deep-Fried Texas Bluebonnet is a blueberry muffin stuffed with cream cheese, deep fried, then topped with whipped cream, white chocolate chips and blueberries. It was a finalist in this year's Big Tex Awards, and I can totally understand why it ended up on the list!
Real talk: I'd totally have another one. And I wouldn't be ashamed to not share it.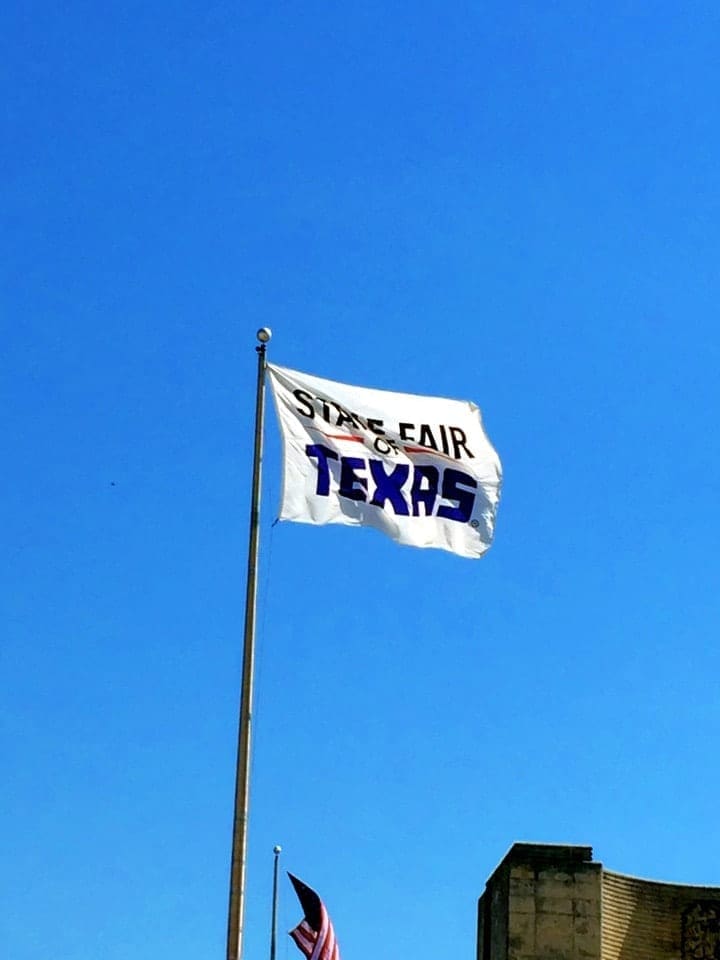 It was a beautiful day at Fair Park, and I'm so happy we had the opportunity to visit the State Fair of Texas before it closed its doors for the year on Sunday night! I'm even happier that we got to introduce Winston's parents to the craziness of the State Fair of Texas, and I hope they'll come back in the years to come because it was quite the experience!
… Did you visit the State Fair this year? What was your favorite dish?
Other things and places where we ate and drank: What We Ate: Cape Cod {May 2014} / What We Ate: State Fair of Texas (2013) / What We Ate: Sylvain (New Orleans, La.) / What We Ate: New Orleans (May 2013) / What We Ate: Los Angeles, Venice Beach, Culver City and everywhere in between / What We Ate: Joe T. Garcia's (Fort Worth) / What We Ate: Bartley's B.B.Q. (Grapevine) / What We Ate: Snooze A.M. Eatery (Denver) / What We Ate: State Fair of Texas / What We Ate: New Orleans / What We Ate: Denver / What We Ate: Crawfish Season