What We Ate: State Fair of Texas (2013)
It should come as no surprise to any of you that I love fried food by now.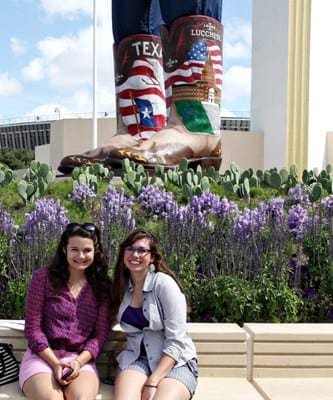 C'mon, folks. You know it's true.
I don't always indulge in foods that are deep fried, but when the State Fair of Texas is in town, I love to try out the latest dishes and fads, as well as spend time with friends and peruse the Fairgrounds. (Including the Creative Arts and Livestock areas. Yes, I'm that person, and I'm totally cool with it.)
This year was no different… and this year, my friend Renee and her husband, Joe, were in town, so we headed out one Friday morning to check out the Fair. Before we left my house, though, we looked at all the different foods offered and marked our favorites, intent on splitting these dishes instead of scarfing them down ourselves.
It was a good plan, and we definitely chose some delightful fried snacks.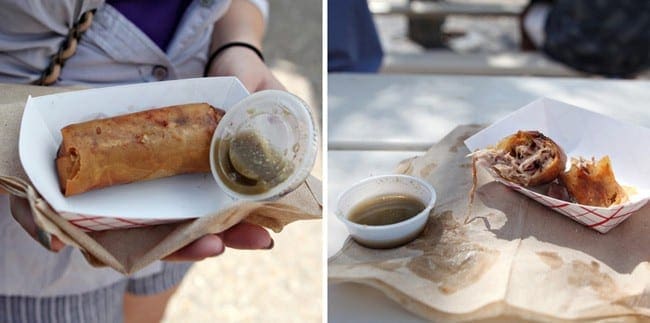 First up was the Deep Fried Cuban Roll, the 2013 Big Tex Choice Award Winner for Best Taste.
We were all kind of disgusted with how greasy the roll was, but it tasted wonderful, and we could all see why it won the Best Taste award this year. And the dipping sauce was to-die-for.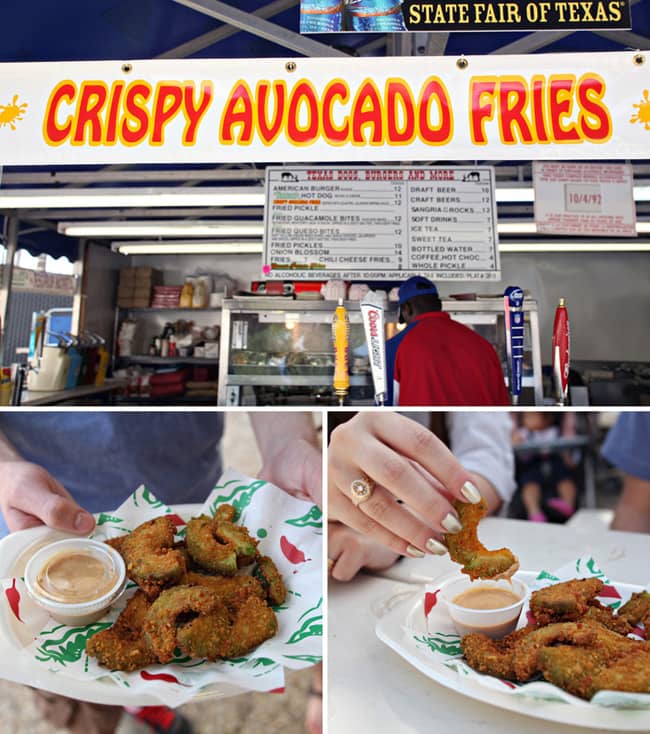 The next dish was one of my favorites. The Crispy Avocado Fries with a spicy dipping sauce. YUM.
Perfection, y'all. And I kind of want to make my own avocado fries now…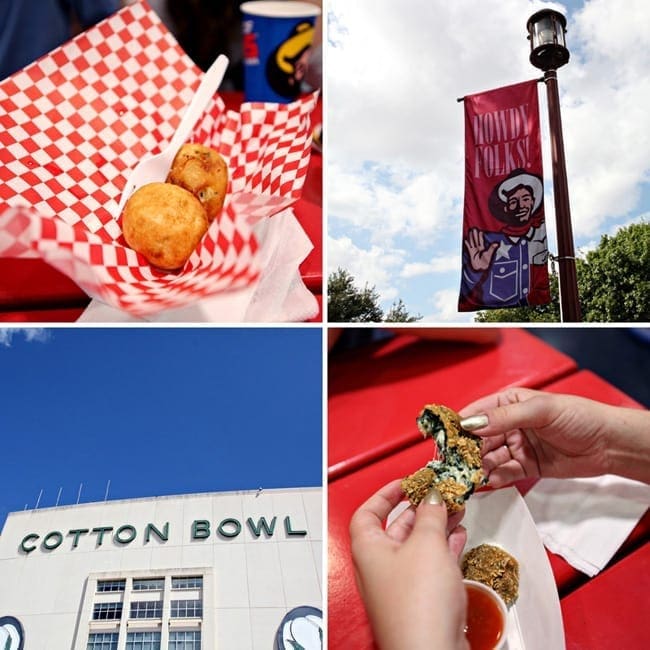 I was pleasantly surprised by the Deep-Fried Shrimp and Grits (top left). Grits are something that can go two ways: Smooth, creamy, and delicious -or- painfully heavy. If they're heavy and stiff, the eater feels like they need to nap for the afternoon, and while afternoon naps are generally awesome, those kind of grits are a gut-buster.
I'm pleased to report that these grits were creamy, smooth and not too heavy… and since they were deep fried, the shrimp were just stirred into the grits. In my opinion, this dish was the best surprise of the day.
We also tried the Spinach Dip Bites (bottom right), which were a Big Tex finalist. Basically, they were spinach and artichoke dip rolled in tortilla chips for their crust, then fried and served with a salsa. Renee and Joe really loved these, and I thought they were pretty tasty, too.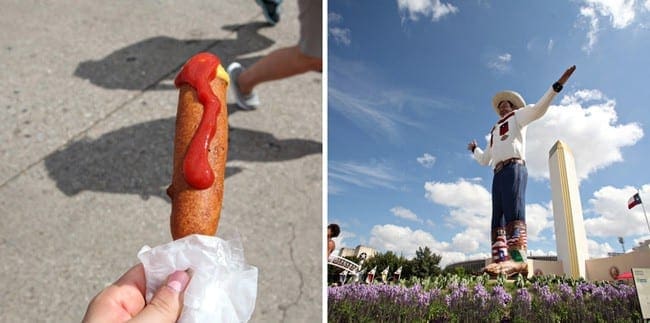 You can't go to the State Fair of Texas without eating a Corny Dog, so I got one and proceeded to eat the whole thing. I mean… they're delightful, y'all, and I have fond memories of corndogs from the MidSouth Fair of my childhood, and I simply couldn't pass them up.
—
Did you go to the State Fair this year?
What was your favorite dish?
…
Other things and places where we ate and drank: What We Ate: State Fair of Texas (2014) / What We Ate: Cape Cod {May 2014} / What We Ate: Sylvain (New Orleans, La.) / What We Ate: Sylvain (New Orleans, La.) / What We Ate: New Orleans (May 2013) / What We Ate: Los Angeles, Venice Beach, Culver City and everywhere in between / What We Ate: Joe T. Garcia's (Fort Worth) / What We Ate: Bartley's B.B.Q. (Grapevine) / What We Ate: Snooze A.M. Eatery (Denver) / What We Ate: State Fair of Texas / What We Ate: New Orleans / What We Ate: Denver / What We Ate: Crawfish Season