What We Ate: Snooze A.M. Eatery (Denver)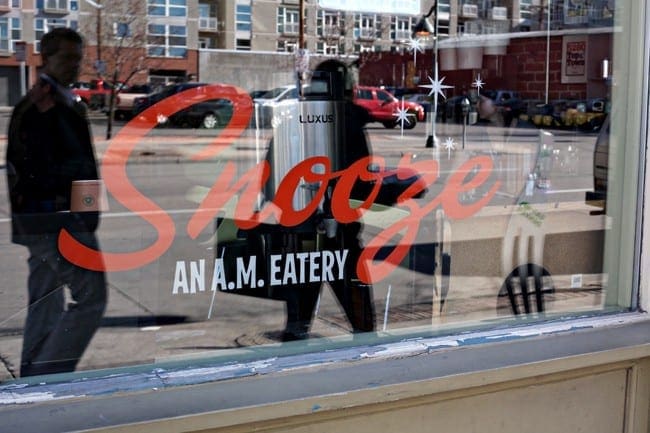 Breakfast is my favorite meal.
I love how it can be sweet or savory or a combination of the two.
And I love how you can eat it at any point in the day.
… As y'all should probably know by now, I am particularly a sucker for pancakes. All kinds. All types. And the more decadent, the better.
Last year, my sister talked up a breakfast place in Denver's Red Velvet Pancakes. Not only did I get to hear about them A LOT, but I received several text messages including photographs of the decadent and delicious-sounding flapjacks. I was insanely jealous, and I made her promise she would take me there the next time I visited Colorado so I could try these pancakes for myself.
Fast forward to last week. I'm in Denver visiting, and I asked about these pancakes she had tempted me with so many times… and we ended up at Snooze, an A.M. Eatery after our father arrived.
Unfortunately, the Red Velvet Pancakes were off the menu… but they had several options for breakfast. I certainly wasn't disappointed, and I know my dad and sister feel the same way.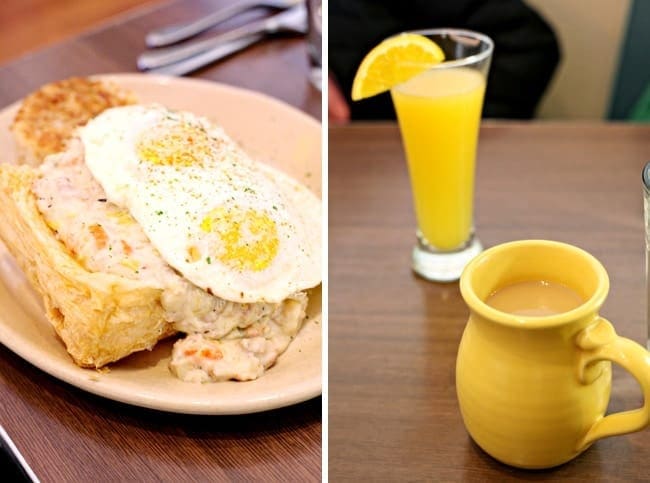 We started off with a mimosa for Leigh and coffee for me and my dad. Good conversation was had over our breakfast drinks, and shortly after we placed our order, our food arrived. And I just had to pull out my camera because it all looked awesome.
My dad had ordered the Breakfast Pot Pie, topped with homemade rosemary sausage gravy and a sunny side up egg. I wasn't so sure about pot pie for breakfast… but as someone who is willing to try anything once, I was easily won over. And breakfast pot pie? Let's just say this might have to become a thing because it's fantastic and filling and oh-so-comforting for a chilly day.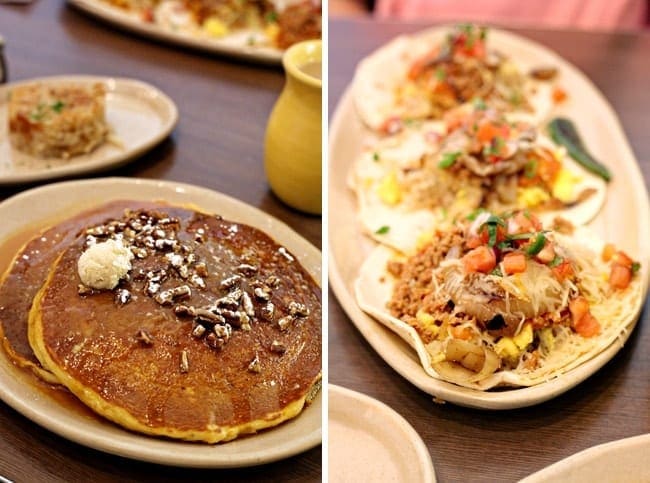 I ordered the Sweet Potato Pancakes, described as, "our signature sweet potato buttermilk pancakes topped with homemade caramel, pecans and ginger butter." How could I go wrong, right? And when I tell you they were probably the most ridiculous pancake I have ever eaten, I mean it in the most wonderful way… because those pancakes were out of this world. And I am currently researching recipes for sweet potato flapjacks because I need to have more of these in my life.
And my sister got Juan's Breakfast Tacos: scrambled eggs, toasty hash browns, pepperjack cheese, ranchero sauce atop a flour tortilla. I was allowed one bite, and I loved the combination of flavors.
… All in all, our experience at Snooze was a wonderful one, and the next time I am in Denver, I'll be asking about visiting this place again. And who knows? Maybe I'll have the opportunity to try those famous Red Velvet Pancakes… though I'd be more than happy having another stack of the Sweet Potato Pancakes.
—
Have you had an experience like this one, where you were drawn in by one dish and ended up with another, equally satisfying one?
Have you visited Snooze?
…
Other things and places where we ate and drank: What We Ate: State Fair of Texas (2014) / What We Ate: Cape Cod {May 2014} / What We Ate: State Fair of Texas (2013) / What We Ate: Sylvain (New Orleans, La.) / What We Ate: New Orleans (May 2013) / What We Ate: Los Angeles, Venice Beach, Culver City and everywhere in between / What We Ate: Joe T. Garcia's (Fort Worth) / What We Ate: Bartley's B.B.Q. (Grapevine) / What We Ate: State Fair of Texas / What We Ate: New Orleans / What We Ate: Denver / What We Ate: Crawfish Season