Happy Wednesday, y'all!
Every year on my birthday, I share a list of 10 random things I know. I'm continuing that tradition this morning.
This year's list includes various lessons learned throughout the last year, as well as a few parenting things. Because, well, that's where I currently am.
Interested in seeing previous lists? 2020 | 2019 | 2017 | 2014 | 2013
Y'all ready?
Let's do this: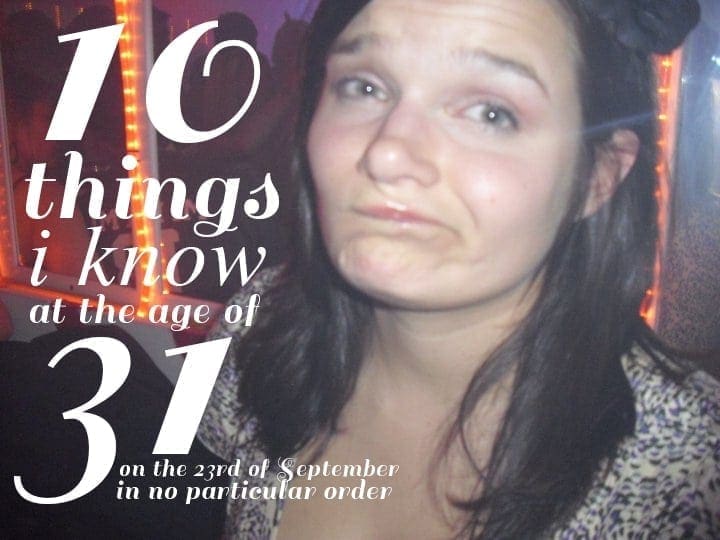 Special thanks to my friend Krysten to snapping this photo late one night after an engagement party. I was 25. Ah, youth and being able to stay out late to sing and dance at sketchily AMAZING clubs that have light-up dance floors and only serve 40's.
10 Things I Know at the Age of 31 at 7:00 a.m. on the 23rd of September (in no particular order)
1. Being a mom is simultaneously the most challenging and most rewarding thing I have ever done. I have no doubt that it will remain this way for the rest of my life.
2. Singing while chopping onions is always a bad idea.
3. Plans will always and forever be the album I listen to the first day it feels like autumn. I've already introduced Lady Baby to it, even though it hasn't really felt like fall…
4. Unless you want me to bring back all the produce that we don't necessarily need (but looks SO PRETTY!), don't allow me to shop at Whole Foods or the farmer's market alone. You've been warned.
5. You don't know what you can actually do until you're in a situation that requires you to overcome what was previously thought to be impossible.
6. Fantasy football might be the death of me. I'm weirdly competitive… except… I can't DO anything about this or effect the outcome of these games, which is unbelievably frustrating. But makes it equally exciting because, well, the Saints? They're having a bad year already. And just… yeah. Thanks for drafting me into your league, Susannah and Meghan. (Related: I'm going to get shellacked in fantasy hockey this year. Someone send help.)
7. My daughter and I both subscribe to the belief that sometimes, you just gotta dance it out. Which is why you can find us bopping around the house to all kinds of pop music most evenings.
8. Life is so much easier when you're surrounded by good people.
9. Homebaked cookies are the best cure for a stressful day.
10. "We cannot become what we want to be by remaining what we are." – Max DePree
…
What do you know today?