What We Ate: Los Angeles, Venice Beach, Culver City… and everywhere in between
Instead of focusing in on one meal in particular during my Southern California trip, I decided quickly that I needed to basically share everything I ate because it was ALL amazing.
No, really.
I consider myself so lucky to have been able to take this trip in the first place… and all the incredible food I got to eat during my time out there was basically like a huge, delightful cherry on top of an already amazing sundae. (Y'all get what I'm saying, right?)
So let's begin, shall we?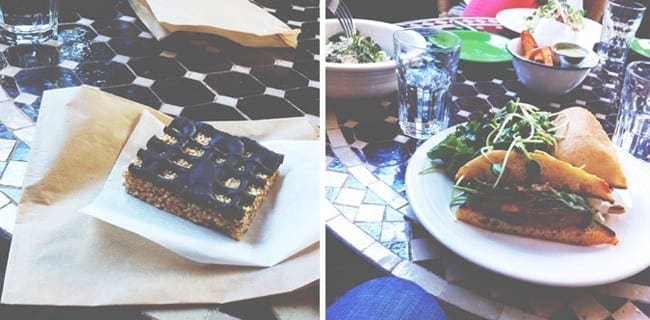 Once I arrived in town on Thursday morning, Nicole, Doni and I co-worked from Nicole's kitchen table until it was lunchtime. And then she took us to her favorite restaurant, Cafe Gratitude in Venice.
We started off with the I Am Comforted (baked rosemary yams with a mint coconut dipping sauce). I ate the I Am Awesome as my meal, which was Eggplant Parmesan on grilled panni bread with marinara, cashew ricotta, heirloom tomatoes, arugula and basil… and hemp seed pesto (!!!). And then Nicole treated us to a sweet treat after — the I Am Kind Quinoa Crispy Treats… a wonderful sweet that I'm going to have to find a way to recreate in my own kitchen.
All in all, a delightful vegan meal to start the trip off right!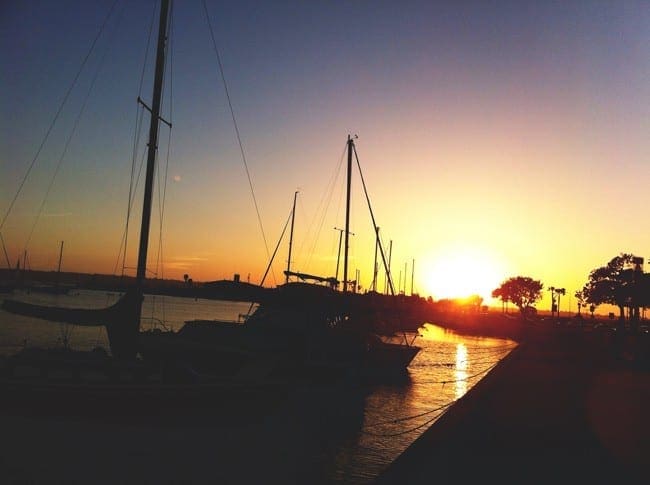 Then we all ran the Ragnar and ate nothing but apples, bananas, nut butter and trail mix for, umm, 37 hours straight.
But the morning after we crossed that finish line?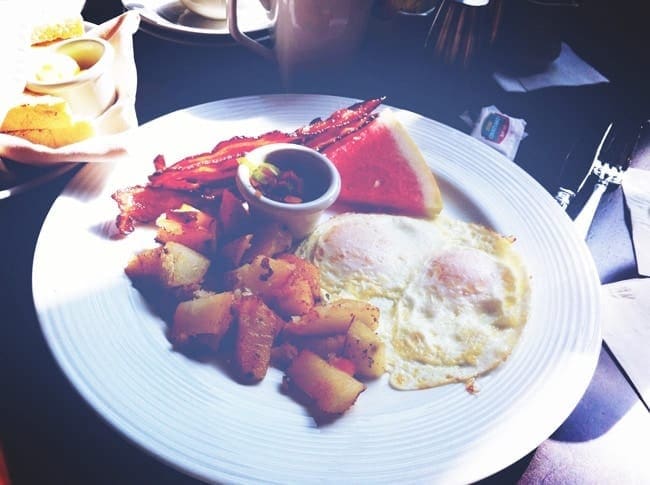 #smugbrunch happened at The Lobby. (It's now officially a thing. And those sunny side up eggs with a whole freakin' loaf of bread, homefries AND bacon were basically the best thing ever after Ragnar.)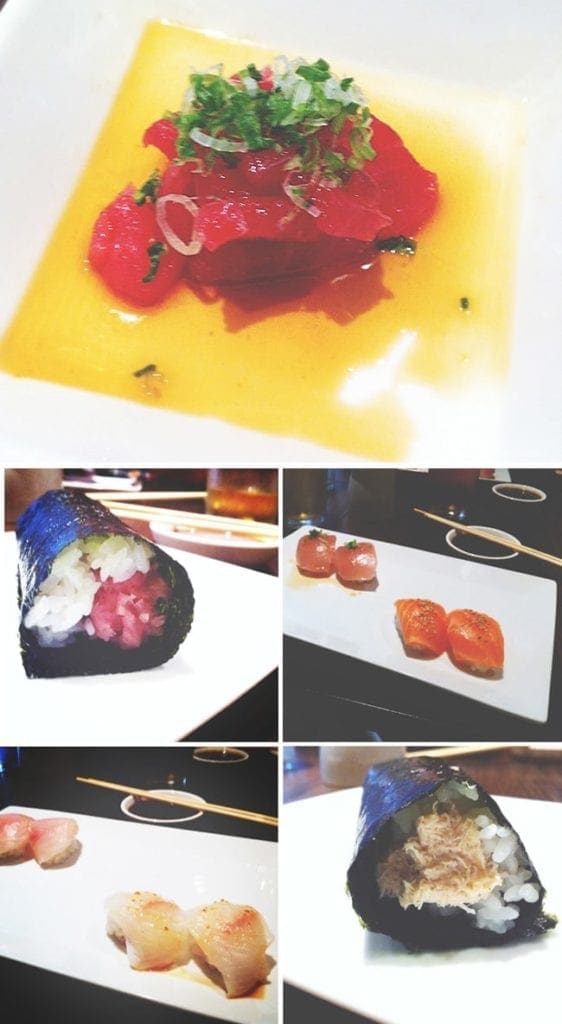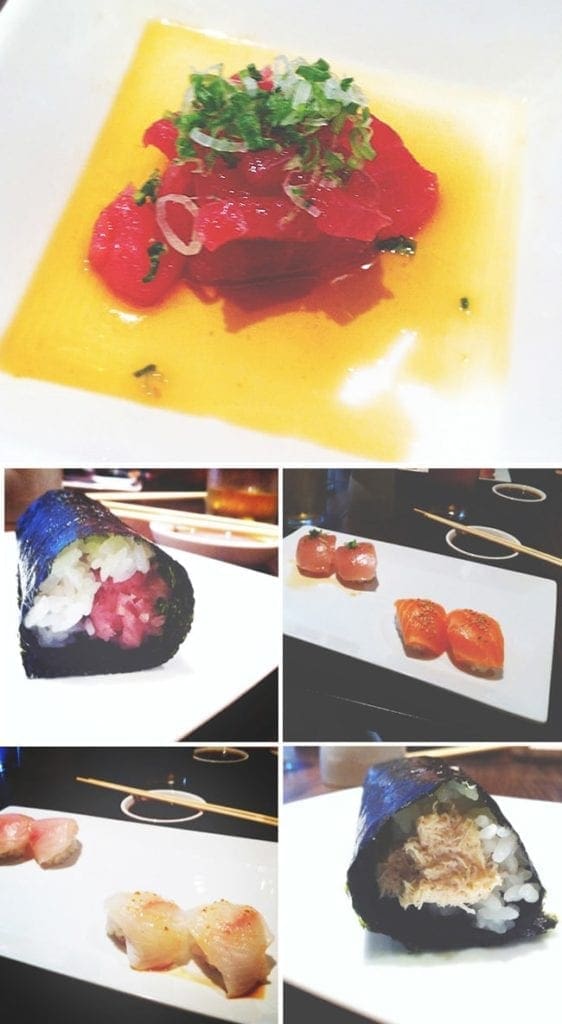 We came back to L.A. that Sunday, and I headed on over to the center of the city to hang out and stay with one of Nashville friends, Sarah.
Sarah wanted to know if I was an adventurous eater… and I said I'd give anything a go. After discussing dinner options with her boyfriend, Cary, and their friend, Mike, a decision was made, and we headed out to Sugarfish in Beverly Hills. I ordered the Trust Me… and I will never look at sushi the same way again.
It was that good.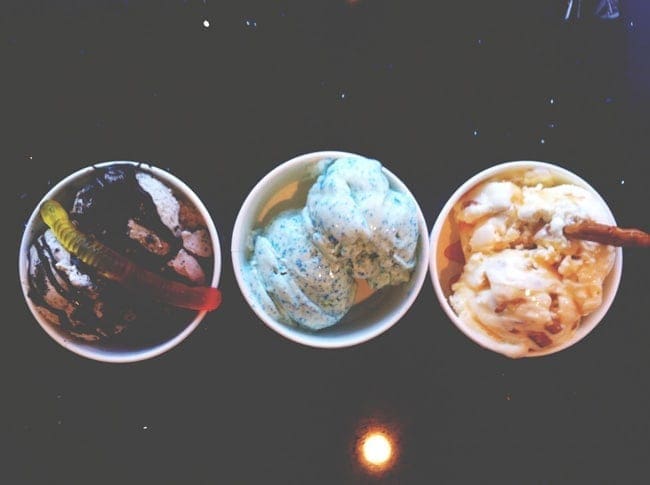 We ended our Beverly Hills culinary evening at The Ice Cream Lab, which is owned by some of Sarah and Cary's friends from college.
… And if there were a way for me to eat ice cream from The Ice Cream Lab daily without having a horrible adverse affect on my health, I'd totally do it. This ice cream was phenomenal, and my personal favorite flavor was The Salt Lick, which was a combination of caramel, pretzels and sea salt.
So delicious, y'all.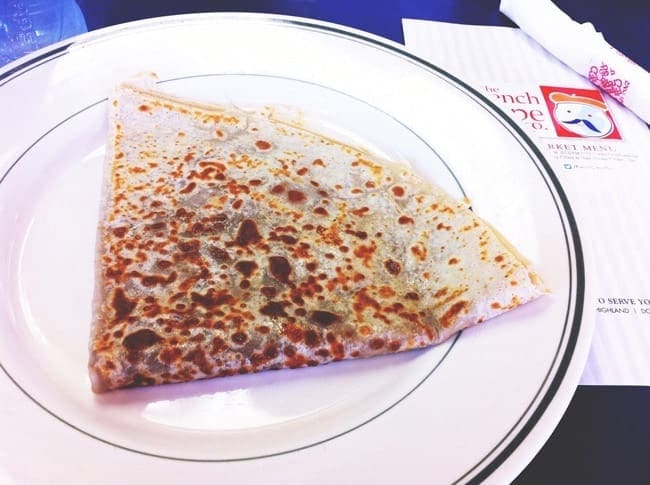 The next day, I went exploring by myself sans car. (This is apparently really challenging in L.A., but I lucked out and was staying within walking distance of so many incredible places that it wasn't an issue for me.)
I ended up at The Original Farmers Market for lunch… and I had a Nutella Crepe from The French Crepe Co., realizing very quickly that I was the only person in the place who ordered something decadent, then shrugging it off, justifying my sugary lunch choice with the fact that I'd run about 20 miles in the previous two days.
I moseyed on over to The Grove after enjoying my meal, and there, I went window shopping and saw A.C. Slater, my first official celebrity sighting!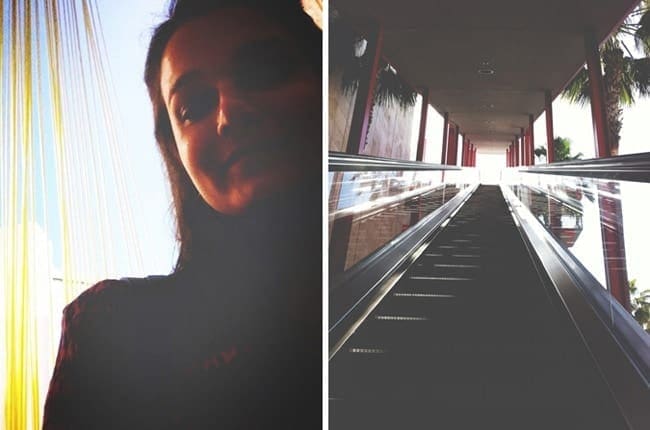 I also walked over to the LACMA and spent, oh, five hours in the museum. Three were spent in the Stanley Kubrick special exhibit, and if you live in the L.A. area, I insist that you go check it out if you haven't already.
… Hi, I'm an art nerd.
You shouldn't be surprised by this at all.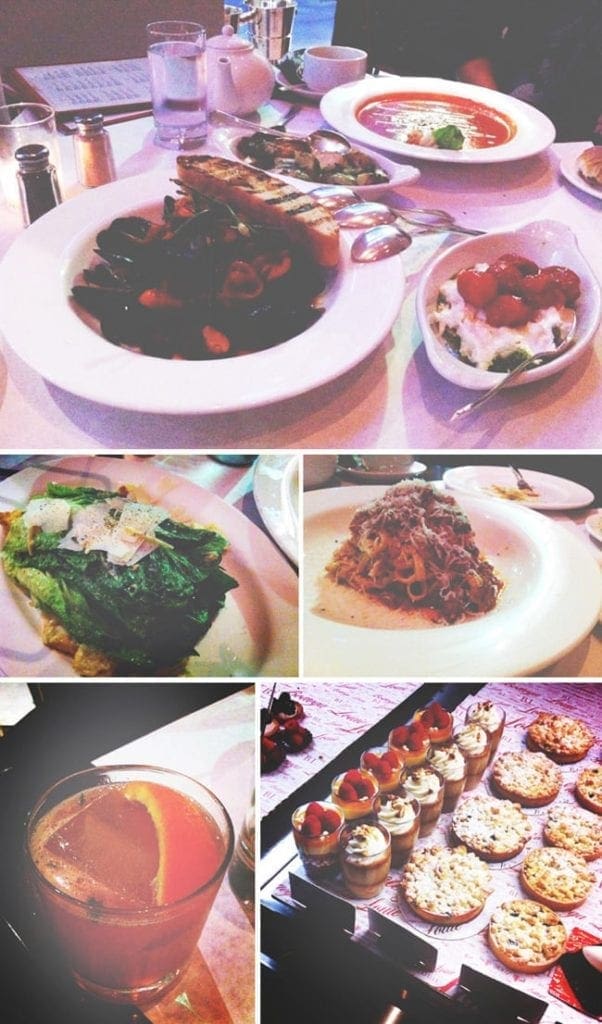 That evening, Cary, Sarah and I drove downtown to Botegga Louie, another one of their favorite restaurants, for some delightful Italian cuisine.
We started off by ordering a few sides: the Brussels Sprouts and Pistachios (OH SO GOOD!), the Burrata and Roasted Vine Tomatoes (which came with a delicious pesto sauce, too!), the Tomato Soup (delicious!) and the Mediterranean Mussels (I'm not much of a fan of these… so I didn't try them, but Cary enjoyed the dish!)
Then for our meal, we had the Caesar Salad, the Tagliatelle Bolognese (reminiscent of my time in Italia!) and the Artichoke Pizza, topped with roasted artichokes, chèvre, mozzarella, tomato sauce, cherry tomatoes, Italian parsley, fleur de sel and extra virgin olive oil.
I sipped on a Ward 8 specialty cocktail, which combined rye whiskey, lemon juice, orange juice, grenadine, club soda and mint leaves. I don't know what my deal has been recently, but I'm into whiskey. A LOT. And this drink was a perfect balance with the whiskey and the other ingredients, none overwhelming the overall flavor, and I tried to savor it.
And then we stopped by the dessert counter on our way out, grabbing a few different treats that looked too good to pass up.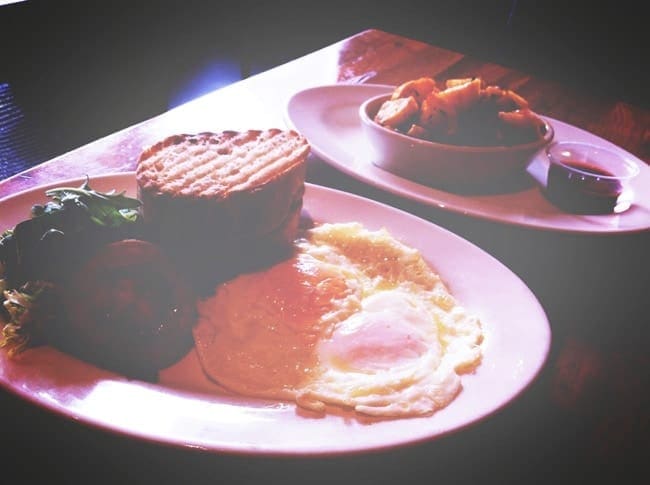 The next morning, I had a solo breakfast at Breadbar while I was waiting for the mall, then the Annenburg Space for Photography to open. Little did I know that the museum is closed on Mondays and Tuesdays… and I disappointingly started walking back to Sarah's place when she and I decided to have a lunch together.
(Sidenote: The next time I am in L.A., I am going to that museum, and I am going to geek out so hard it's going to be incredible.)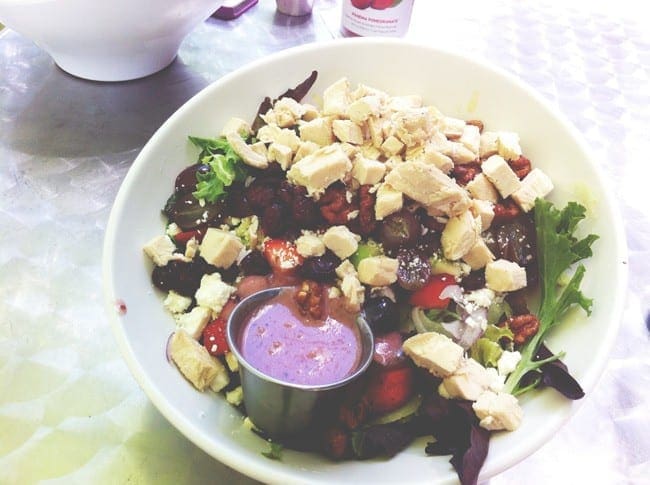 Sarah directed me to Greenleaf Chop Shop near her office, and we both ordered the Antioxidant Orchard salads, which are chock full of fruit and leafy greens.
The salad was much needed after the heavier food we'd eaten during the previous two days, and I was inspired in that moment to make a funky salad dressing featuring a fruit (perhaps raspberry?) to go on top of some of my homemade salads this spring and summer.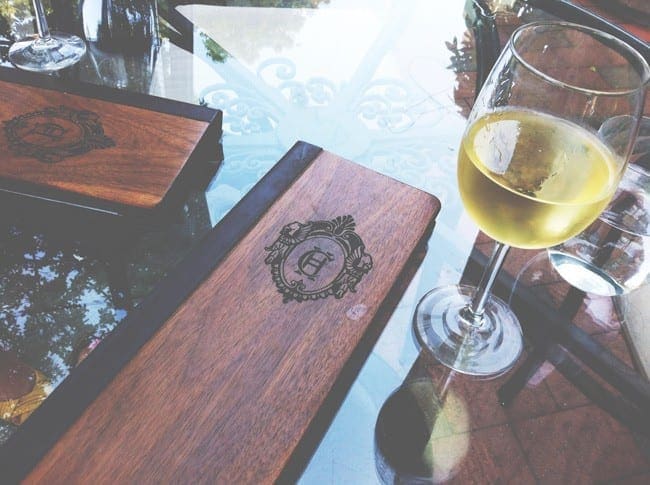 My friend Laura came and picked me up on her way home from work, and we grabbed some drinks at the Culver Hotel in Culver City before my sunset running photoshoot with Nicole.
While we were sipping our chardonnay and enjoying some spinach-artichoke dip, Laura and I caught up… and she taught me the history of the hotel, which is apparently where the munchkins from The Wizard of Oz stayed while the movie was being filmed way back when.
Crazy/cool, huh?
And then after our shoot that evening, Nicole and I stopped by Tender Greens to grab dinner. She had the arugula salad and a side of their fabulous whipped mashed potatoes while I got the special of the evening — pork ragu with potato gnocchi and asparagus with a side salad.
We had a fabulous time. Fabulous. (And then I met up with Angela, visited a crazy/cool speakeasy that's hidden behind a barber shop in her neighborhood, then headed back to L.A. to hang out with Nico and Patrick… and ended up at a 24-hour diner called Canter's to cap off the trip.)
…
Needless to say, not only was the food I ate while visiting California pretty fantastic, but the company made it all the better. And I cannot wait to go back to try some different places and see more friends!
…
Other things and places where we ate and drank: What We Ate: State Fair of Texas (2014) / What We Ate: Cape Cod {May 2014} / What We Ate: State Fair of Texas (2013) / What We Ate: Sylvain (New Orleans, La.) / What We Drank: Velvet (New Orleans) / What We Ate: New Orleans (May 2013) / What We Ate: Joe T. Garcia's (Fort Worth) / What We Ate: Bartley's B.B.Q. (Grapevine) / What We Ate: Snooze A.M. Eatery (Denver) / What We Ate: State Fair of Texas / What We Ate: New Orleans / What We Ate: Denver / What We Ate: Crawfish Season