Pregnancy Update: 25 Weeks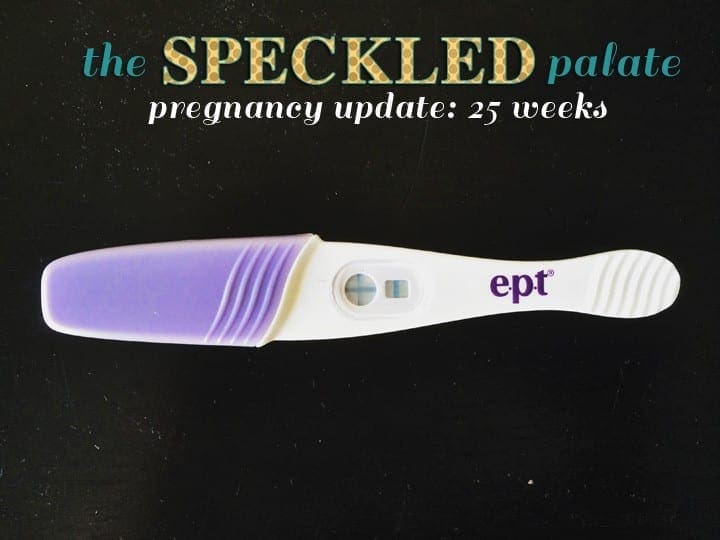 This post is a little late. It was supposed to be last week, but as you all should know, last week was Friendsgiving, and our days were chock-full of delicious Thanksgiving-inspired eats!
Who's excited about another pregnancy update?
Let's kick this thing off right with a photo montage of the growing belly!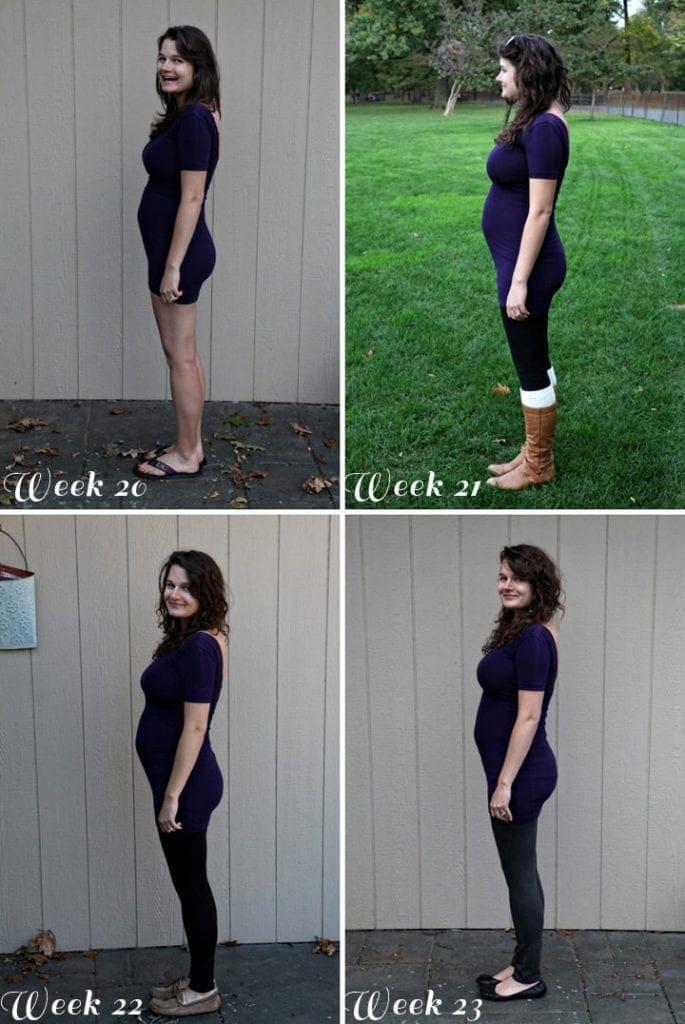 How far along? 25 weeks, 2 days.
How big is baby? The size of a cauliflower. And between 1.5 and 2.5 pounds. She's growing by leaps and bounds weekly, and it's amazing that a few short weeks ago, she was the size of a BANANA.
Total weight gain: ~17 lbs. Yes, I've basically doubled my pregnancy weight gain in the last six weeks. I know. NYC and its food were good to me, and when I asked my doctor if I should be alarmed about this, she said, "No." This happens sometimes, especially when a woman didn't gain much pregnancy weight at the beginning of her pregnancy.
Updates? We're slowly and surely making headway on our girl's name. We're beginning to plan the nursery, as well.
Symptoms? Looking and feeling pregnant. Nosebleeds. Less-than-comfortable sleep. Insomnia.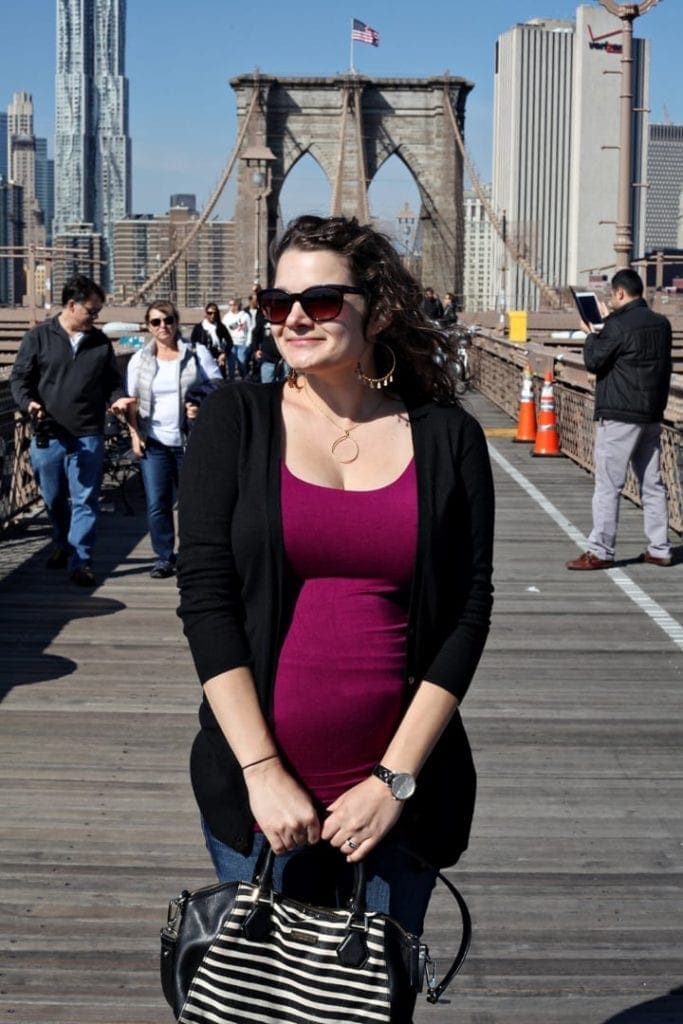 We walked the Brooklyn Bridge while in NYC. That week was when my bump really started to grow!

Missing… It's felt really good outside recently, so I'm missing running. A lot. Cold weather is my favorite running weather, and since I haven't kept up a running routine, jumping back into the grind sounds intimidating and not like the best idea. I miss certain foods (rare steak, sushi, beer, etc.), but I haven't had any cravings for these things other than them occasionally sounding delicious.
Feeling… Pretty decent, all things considered! It's becoming more challenging to pull myself off the couch, roll over in bed, bend to grab things off the ground, etc., but I'm in good spirits and am still moving around pretty well.
Exercise? I'm taking relatively long walks daily. Lu, Lady Baby and I have become BFF walking partners around the neighborhood and surrounding park, and I'm consuming books on tape like nobody's business. (BTW, Gone Girl? Absolutely bonkers, and I can't stop listening!)
Sleep? Somedays, it's good. Other days, it's bad. My sister sent me a special maternity pillow, and I used that for the first time last night… and it's pretty magical. Here's to hoping I can get some good sleep in the coming days and weeks.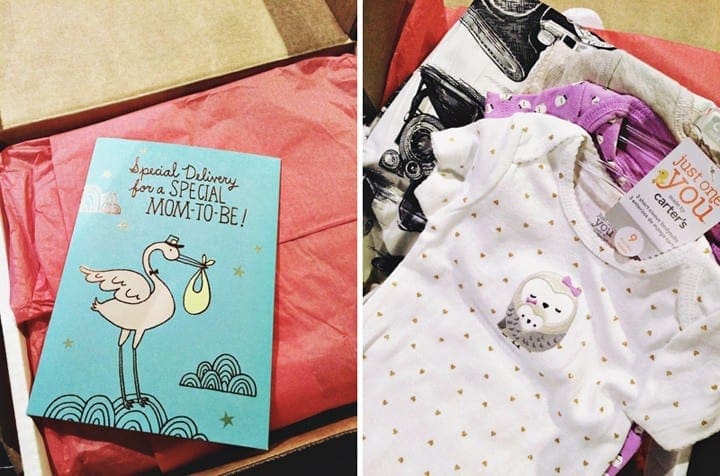 My friend Lindsay sent us a sweet package that included this card, purple-and-gold owl onesies and a camera carseat cover! This was such a lovely surprise to receive in the mail!
Movement? Lady Baby moves a TON these days, and her movements are pronounced… some so much that my belly moves as she does! It's thrilling to feel her bopping around and to know it's her. One of my favorite things is grabbing my husband's hand so he can feel her movements, too. Every time, we marvel at how strange and incredible the sensation is at the same time.
Food cravings? Ever since Halloween, I've been on a major sweet kick. I've been avoiding the leftover Halloween candy, but I may or may not have consumed an entire bag of Peppermint Patties before I called it quits.
Aversions? Eggs of ANY variety. (Even Egg Drop Soup. Sad face.) Spearmint-flavored anything. Wilted spinach.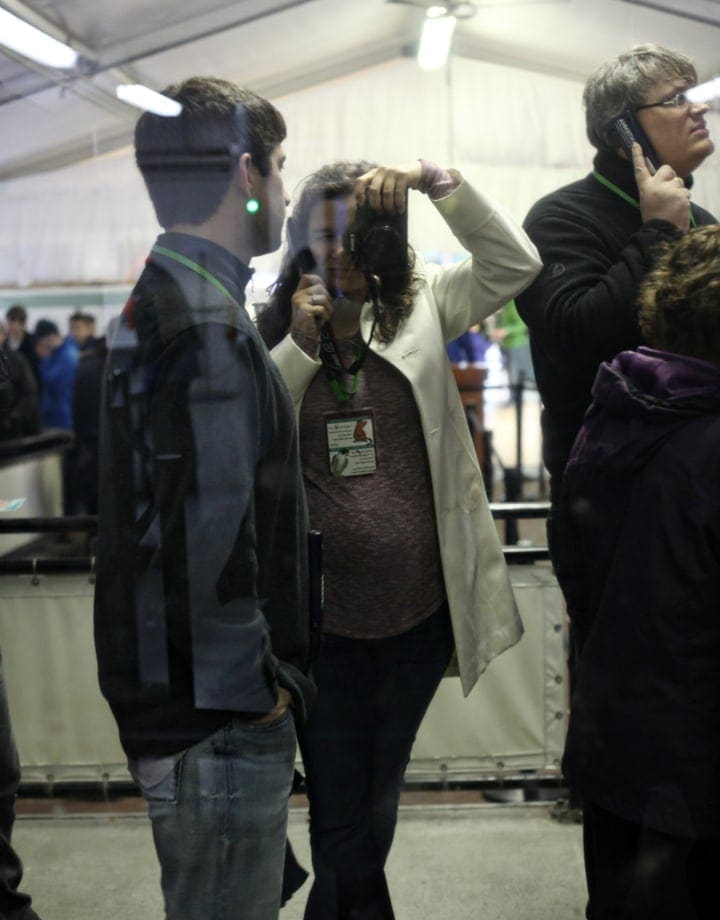 Burgeoning bump in line at the Statue of Liberty… during a Nor'easter. (More on this later.)

Anxious about… Traveling comfortably and safely in the coming weeks. Getting everything ready for Lady Baby during the coming weeks and months.
Excited about… Seeing our friends and families during the holidays. Celebrating Lady Baby and spending time with everyone during upcoming showers.
What I'm loving… I really love that I look pregnant. It's exciting to be at the stage where my pregnancy LOOKS like a pregnancy, and it shouldn't be confused with anything else. I'm also loving how lovely and excited most everyone has been about the pregnancy. It's a thrilling time in our lives, and I'm so happy that our friends and family members are equally excited.
What I'm looking forward to… Seeing our families later this month. Meeting our little girl. Experiencing our family members and friends interact with our daughter for the first time.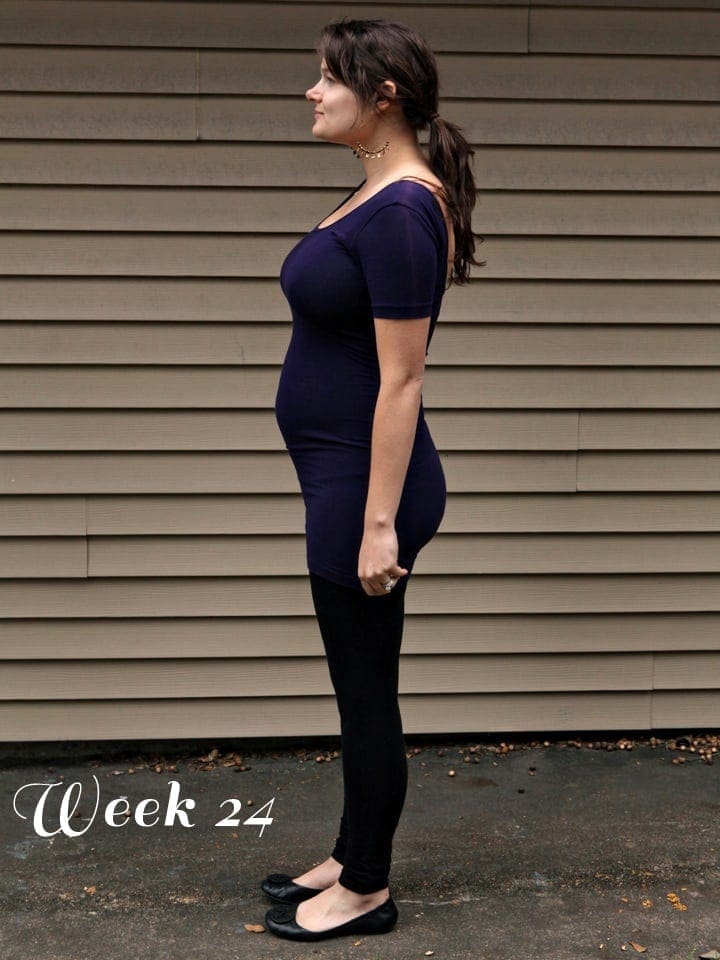 And that's it!
25 weeks, y'all. I can't believe we're already at this point, and time is definitely flying.
Interested in following along? Here are all of my pregnancy updates to date: 20 weeks | 25 Weeks | 29 Weeks | 32 Weeks | 36 Weeks | 40 Weeks