What We Ate: Crawfish Season
Two weeks ago, I moved from a landlocked state to a state dips into the Gulf of Mexico.
Two weeks ago, I hadn't had fresh seafood in, well, a long time.
Tonight, we made the trek into Cajun country – about a 45 minute drive from our city – to eat boiled crawfish, shrimp and crabs with my husband's extended family. And it was worth the drive.
Crawfish season is normally over by this time of year, but since the spring was rainy, the season is still hanging on. I had no idea, and being the crawfish lover I am, I was beyond happy to hear this news because we had the opportunity to enjoy a less common trifecta of seafood when we arrived at our destination.
Being a native Tennessean, when I went to my first crawfish boil in college, my Louisiana friends sat around me, watching and offering tips to make peeling the mudbugs easier. Some even suggested sucking the heads, which I have always refused, as the spices in the tail are more than enough for a Tennessee girl like me. No matter the number of tips and suggestions, I was always the slowest person to peel my crawdaddies, meaning I was the person who ate the least at these boils. Because everyone else snatched up the others before I had the chance to get my hands on them, quite literally.
I was always a fan of the succulent crustaceans, but I always struggled when it came to boils because I always seemed to be the out-of-towner who hadn't been feasting on crawfish since she could walk. And though I always tried to speed it up, I just couldn't keep pace with my Louisiana friends.
However, something was different this time around.
Since I moved away from Louisiana three years ago, I have not seen, nor tasted, a boiled crawfish. And I never imagined that I would miss them as much as I did.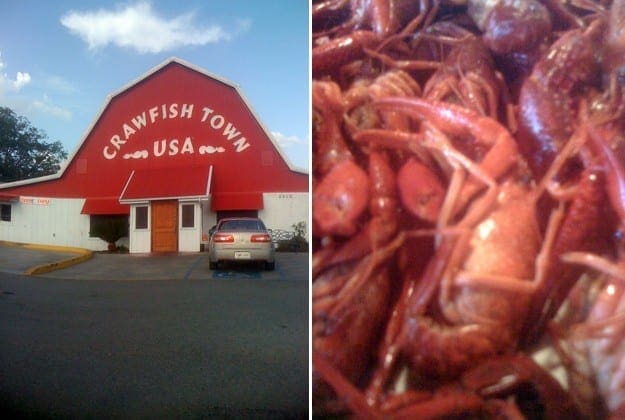 Tonight, I rocked at peeling those suckers. (Woohoo! This is truly a first!) And I kind of kept pace with Winston and his family – all native Louisianans.
As his grandfather put it, "We'll make a Cajun of her yet." (Thanks, Pa!)
As I sit here and reminisce about consuming at least five pounds of crawfish earlier this evening, I just wanted to let y'all know, if you didn't know already, that these crustaceans are amazingly delicious. Sure, it takes some work to get to the good stuff, but the end result? Well worth the trouble.
…
Other things and places where we ate and drank: What We Ate: State Fair of Texas (2014) / What We Ate: Cape Cod {May 2014} / What We Ate: State Fair of Texas (2013) / What We Ate: Sylvain (New Orleans, La.) / What We Drank: Velvet (New Orleans) / What We Ate: New Orleans (May 2013) / What We Ate: Los Angeles, Venice Beach, Culver City and everywhere in between / What We Ate: Joe T. Garcia's (Fort Worth) / What We Ate: Bartley's B.B.Q. (Grapevine) / What We Ate: Snooze A.M. Eatery (Denver) / What We Ate: State Fair of Texas / What We Ate: New Orleans / What We Ate: Denver