What We Ate: Sylvain (New Orleans, La.)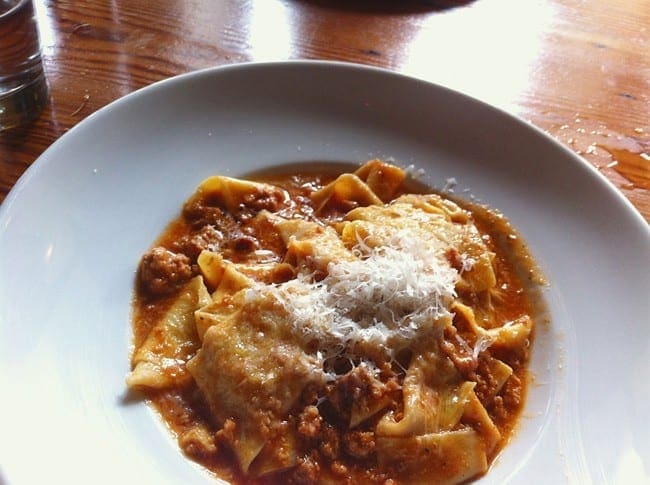 Winston and I traveled a ton during the spring and early summer for weddings, and we ended up in New Orleans several times.
Yes, you should be jealous. Yes, we had a lovely time every time we visited. And yes, you should definitely check out The Big Easy if you never have before.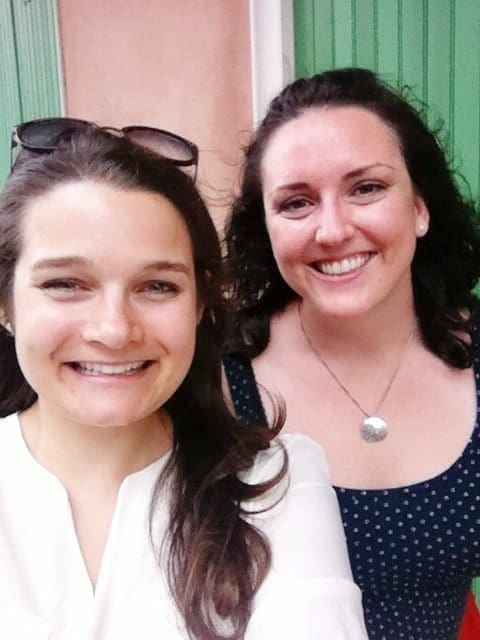 This last time we were in New Orleans was our final wedding of the season, and I made plans with one of my friends for the day of the wedding. Winston was a groomsman, and he had boy things to do, so I was flying solo.
Katherine and I both love food, and when I asked where we should check out while I was in town, she said that we needed to go someplace where I'd never been. And since I've spent quite a bit of time at Butcher, one of her go-to recommendations, she mentioned Sylvain might be a good option for us.
And it was. Oh, it was.
We started off our meal with Moscow Mules. Because hey! It was a Saturday and because Moscow Mules are delightful. Upon taking our drink order, the waiter asked if we liked gin. We answered with a resounding, "Yes!" and he suggested that we substitute gin for the vodka in our drinks because it added a nice depth. So we took his recommendation.
When in Rome (or, cough, NOLA), right?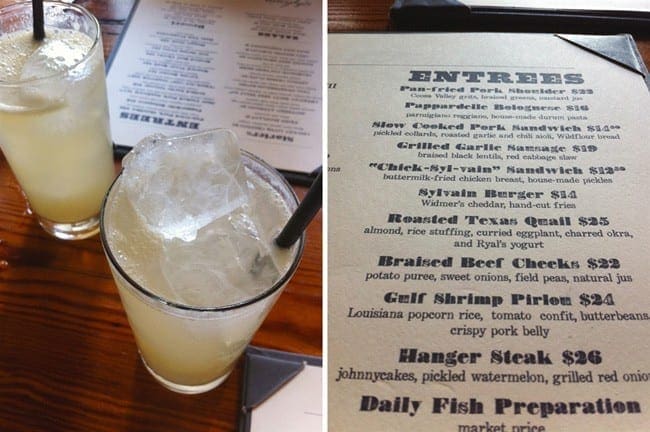 The drinks were notably different than a normal Moscow Mule, but I really liked the different taste the gin added to it. Good call, waiter dude!
And then we proceeded to order appetizers…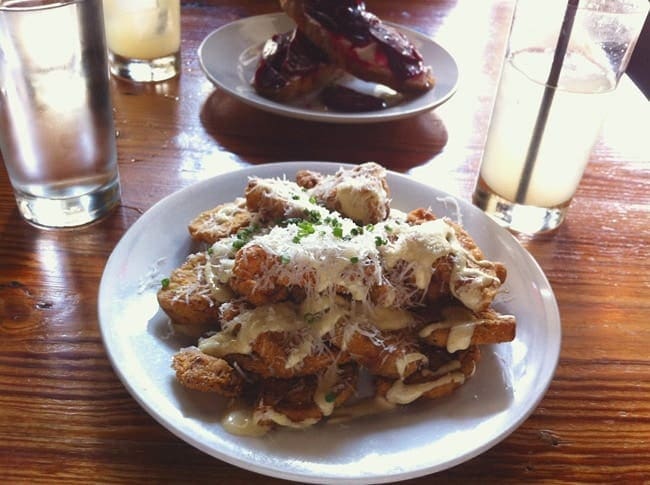 I got the Fried Eggplant, one of my favorite guilty pleasure dishes, that was topped with a lemon aioli and parmigiano reggiano. If you go to Sylvain, get this. It's delightful… though it probably shouldn't just be eaten by one person. Real talk.
Katherine ordered the Roasted Beet Bruschetta, mentioning that beets are one of her food loves. Up until this day, I'd never eaten a beet before, and I was rather skeptical, hearing horror stories about them from my father, who proudly displayed a poem about "I'll never eat a beet" on the wall of his home a few years back.
The roasted beets were placed atop a layer of goat's milk cheese and ciabatta, then topped with a sherry and walnut vinaigrette. They looked really pretty… though I was still skeptical, so Katherine gave me a beet.
It was super earthy, and while I'm not sure I would want beets all the time, it was definitely interesting.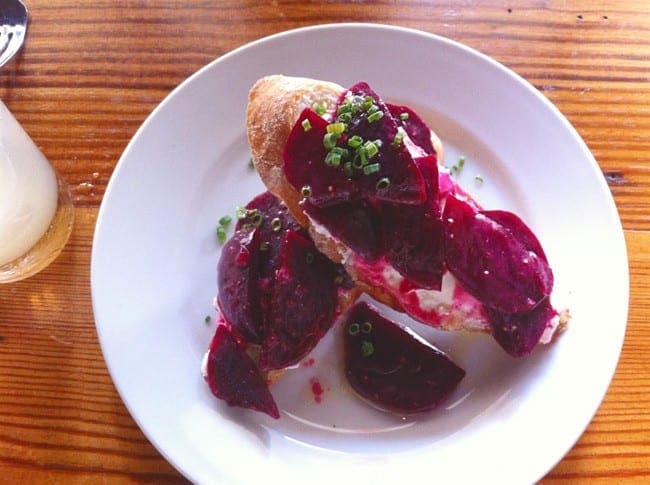 Once we were finishing up our appetizers, we ordered our actual meals.
This was kind of amusing because I kept telling Katherine that I needed to have a pretty big lunch since the ceremony didn't start until 6 p.m., and we probably wouldn't eat until around 9. So I was a bit more decadent than I normally am when it comes to eating during this meal, and it was a good call.
Katherine ordered the Slow-Cooked Pork Sandwich, served on Wildflour bread with pickled collards, roasted garlic and chili oil. It looked amazing, and Katherine said she enjoyed it. (And sadly, I don't have a good image of it, so y'all will just have to trust me here.)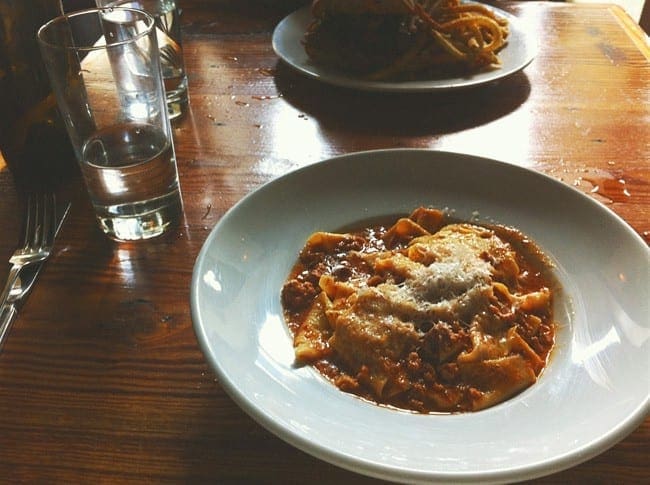 I debated over several dishes on the menu, and ultimately, I ended up ordering the Pappardelle Bolognese because Sylvain makes their durum pasta in house… and I've been a sucker for Bolognese ever since I spent a summer in Italy.
This was one of the best bowls of Bolognese I've had in the States, and that's saying something, y'all. It was pretty much perfect… and I ate the entire thing.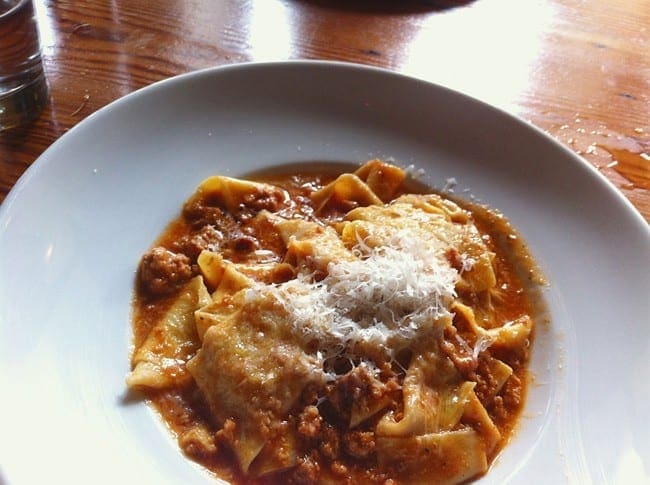 Once we'd finished up our meal, we moseyed around the Quarter for a bit before heading back to the hotel for me to get ready for the wedding.
Thanks for taking me to such a great restaurant, Katherine!
It's definitely a place I'd recommend hitting up if you're in New Orleans, and if you do go there, I would love to know what you thought, too!
…
Other things and places where we ate and drank: What We Ate: State Fair of Texas (2014) / What We Ate: Cape Cod {May 2014} / What We Ate: State Fair of Texas (2013) / What We Ate: New Orleans (May 2013) / What We Ate: Los Angeles, Venice Beach, Culver City and everywhere in between / What We Ate: Joe T. Garcia's (Fort Worth) / What We Ate: Bartley's B.B.Q. (Grapevine) / What We Ate: Snooze A.M. Eatery (Denver) / What We Ate: State Fair of Texas / What We Ate: New Orleans / What We Ate: Denver / What We Ate: Crawfish Season