What We Ate: Bartley's B.B.Q. (Grapevine)
Yesterday, my friend, Patrick, had a layover at DFW, and since the layover was longer than an hour, he wanted to hang out and grab a bit to eat.
When I asked him what he wanted, he said, "Barbecue."
Oooooookay.
Confession: I haven't eaten much barbecue since we arrived in Texas. (I know, I know. Let's all collectively gasp here, especially since everyone should know that as a Memphis girl, I kind of have a thing for good barbecue… even if I find beef barbecue a little different since pork is king in my hometown.)
I was unsure where to take my friend, especially since Dallas isn't known as a barbecue city, not like some towns in East Texas or even Austin and its surrounding towns, and I didn't want to suggest something that was disappointing.
After some Googling, I discovered Bartley's B.B.Q., and I'm glad I did. Not only was it close to the airport, but it was delicious.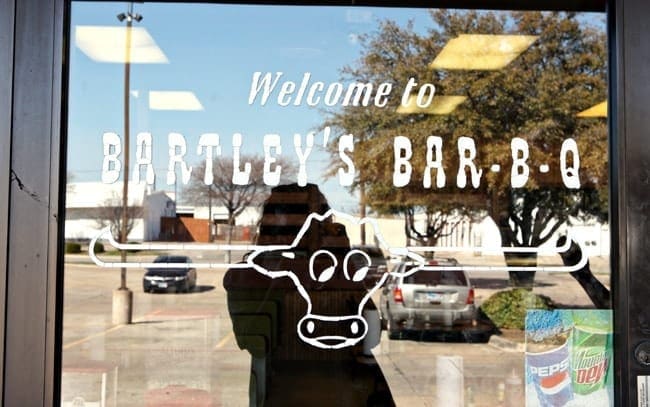 As soon as you walk inside, you're hit with the scent of hickory smoke, which is both delightful and a little distracting. So distracting, in fact, that we entered the line from the wrong end and were immediately asked if we were newbies… and then, if the smoke sidetracked us.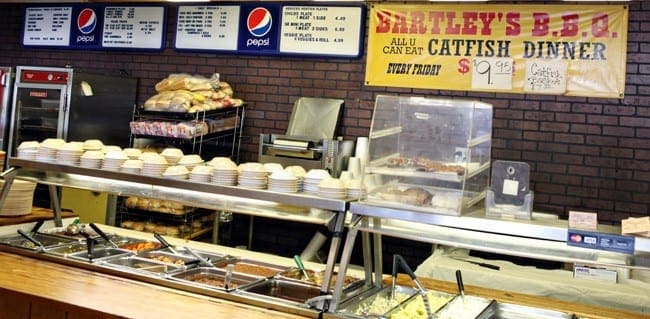 I ordered the brisket sandwich and opted for the barbecue baked beans (which actually turned out to be red beans… so sad I chose the wrong bean pot, even though the beans were good on their own accord… just a little different than my usual barbecue sides) and the housemade slaw, which had slices of apple in it.
Patrick chose the three meat plate with the French fries and potato salad.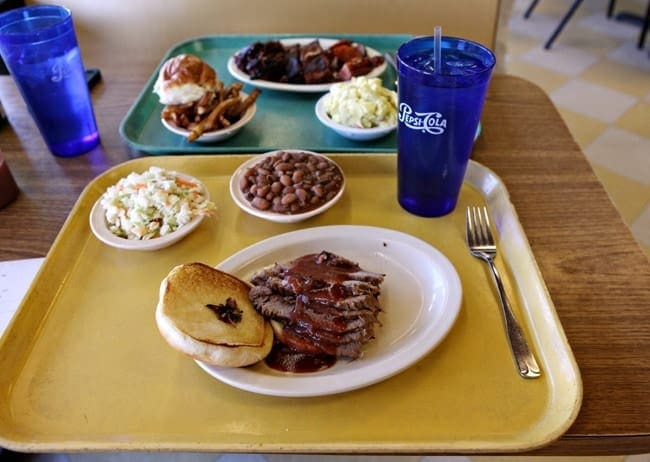 The brisket was delightful, tender and oh-so-delicious. The sides were good compliments to my sandwich… and I kind of wanted to go back and get another one it was so tasty.
Patrick also enjoyed his meal, devouring the brisket, ribs, and the spicy sausage he was given, as well as his sides.
And then we splurged and split a brownie. Because that's how we roll.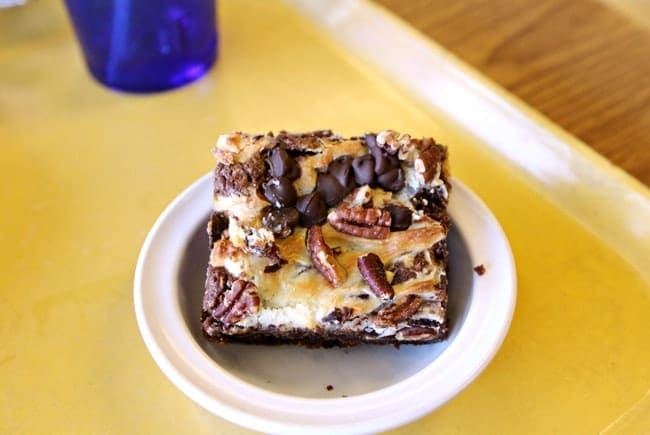 And before we left, we had to take a photo together. Because if you don't take a photo together and post it on the internet, it didn't happen.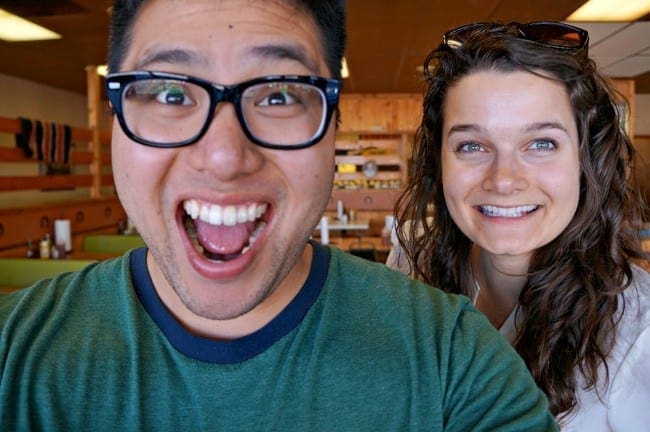 All in all, our experience at Bartley's B.B.Q. was a good one, and I cannot wait for the next time a friend flies through town and has a layover so I can take them here. Because while it's a bit of a hike from my home, it's certainly worth the drive.
…
Has the Internet led you to a wonderful meal like it did for us yesterday?
Have you eaten barbecue at Bartley's?
…
Other things and places where we ate and drank: What We Ate: State Fair of Texas (2014) / What We Ate: Cape Cod {May 2014} / What We Ate: State Fair of Texas (2013) / What We Ate: Sylvain (New Orleans, La.) / What We Ate: New Orleans (May 2013) / What We Ate: Los Angeles, Venice Beach, Culver City and everywhere in between / What We Ate: Joe T. Garcia's (Fort Worth) / What We Ate: Snooze A.M. Eatery (Denver) / What We Ate: State Fair of Texas / What We Ate: New Orleans / What We Ate: Denver / What We Ate: Crawfish Season