Whole Wheat Apple Walnut Chocolate Chip Cookie Cake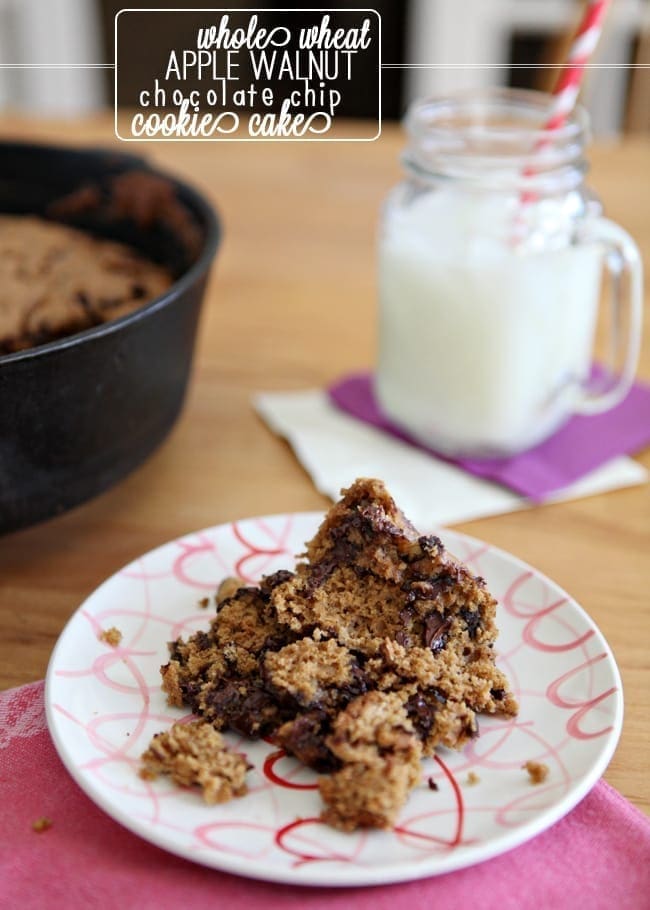 It should be no surprise to anyone that I kind of love Joy the Baker. I've shared her cookbook with friends and family members. I listen to her podcast. And I basically drool over her website whenever I visit. (Hi, I'm a photographer. Hi, I like food. Combine beautiful photography with delicious recipes, and I'm a happy girl.)
Also, I promise this doesn't make me weird. We're on the Internet, guys, and I like to think Joy is just one of my Internet friends who offers great food ideas and gorgeous photos of said recipes for everyone to enjoy.
Yeah.
So, anyway…
A few weeks ago, Joy shared a gorgeous photo on her Facebook page of a cookie cake in a cast iron skillet looked absolutely delightful… and I visited her site to discover it was Banana Walnut Cookie Cake. Which would maybe be the perfect sweet for my husband, but since I'm allergic to bananas, it was an immediate no-go.
I was so disappointed… and then I had a lightbulb moment where I realized applesauce could make an awesome substitute in this cake. And then I made it right then and there… because I'm a little crazy like that.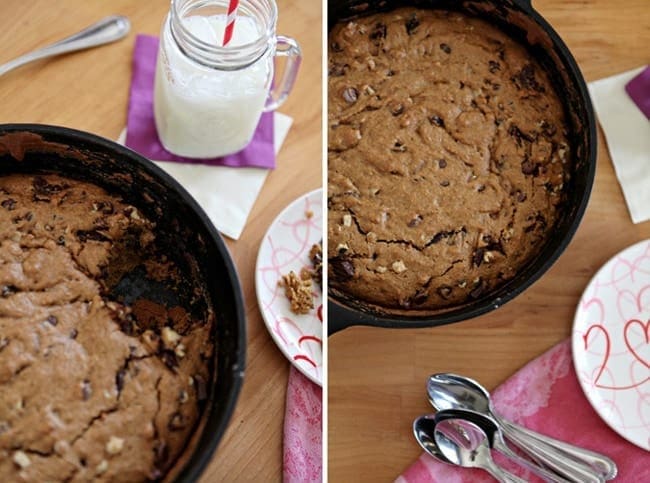 I made a few other substitutions along the way, adding in whole wheat pastry flour and my favorite chocolate chips. (Also? I feel like baking with whole wheat pastry flour is my equivalent of jazz hands on a dish… or me attempting to justify that a sweet is totally healthy when it's totally not.)
By the way, the name of this dish?
Try saying it three times fast.
I dare you.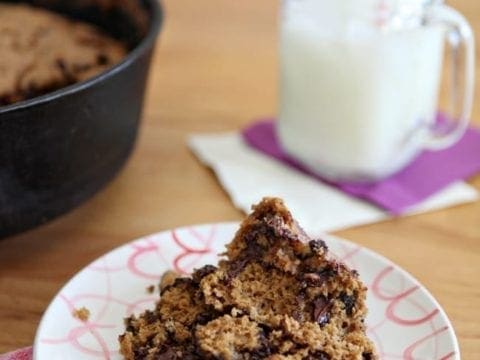 Yield:

10 servings
Whole Wheat Apple, Walnut, Chocolate Chip Cookie Cake
Whole Wheat Apple, Walnut, Chocolate Chip Cookie Cake is a one-pan cookie cake, chock full of chocolate chips, walnuts and applesauce! If you're looking for a lovely sweet treat for any day, this dessert is definitely what you should bake.
Ingredients
½ cup unsalted butter (1 stick)
1 cup brown sugar, packed
1 large egg
1 teaspoon pure vanilla extract
¾ cup unsweetened applesauce
½ teaspoon ground cinnamon
2 cups whole wheat pastry flour
¾ teaspoon baking soda
½ teaspoon sea salt
1 cup bittersweet chocolate chips
½ cup walnuts, coarsely chopped
Instructions
Preheat oven to 350°F.
Melt the butter in an 8-inch cast iron skillet over medium-low heat.
Once melted, stir in sugar and vanilla extract, then remove from heat and whisk until thoroughly combined. Allow the mixture to stand and cool for about 5 minutes. (If the mixture is hot when you add the eggs, they will scramble.)
Add the egg, and whisk into the mixture until smooth.
Then add the applesauce and cinnamon. Stir to combine.
Sprinkle in the flour, baking soda and salt. Stir carefully until all of the dry ingredients are incorporated.
Add the chocolate chips and walnuts, and fold the mixture together.
Smooth the mixture on top.
Place the skillet in the oven, and bake for 25-30 minutes or until dry on top, but slightly soft in the center. (My oven takes a bit more time, so please check yours at the 20 minute point to make sure everything is all right and still delightfully gooey.)
Remove from oven and allow to cool for 15 minutes.
Serve warm, and enjoy with a glass of cold milk or a scoop of ice cream.
Nutrition Information:
Yield:
10
Serving Size:
1 serving
Amount Per Serving:
Calories:

502
Total Fat:

23g
Saturated Fat:

12g
Trans Fat:

0g
Unsaturated Fat:

10g
Cholesterol:

48mg
Sodium:

262mg
Carbohydrates:

65g
Fiber:

8g
Sugar:

21g
Protein:

11g
Nutrition facts are an estimate and not guaranteed to be accurate.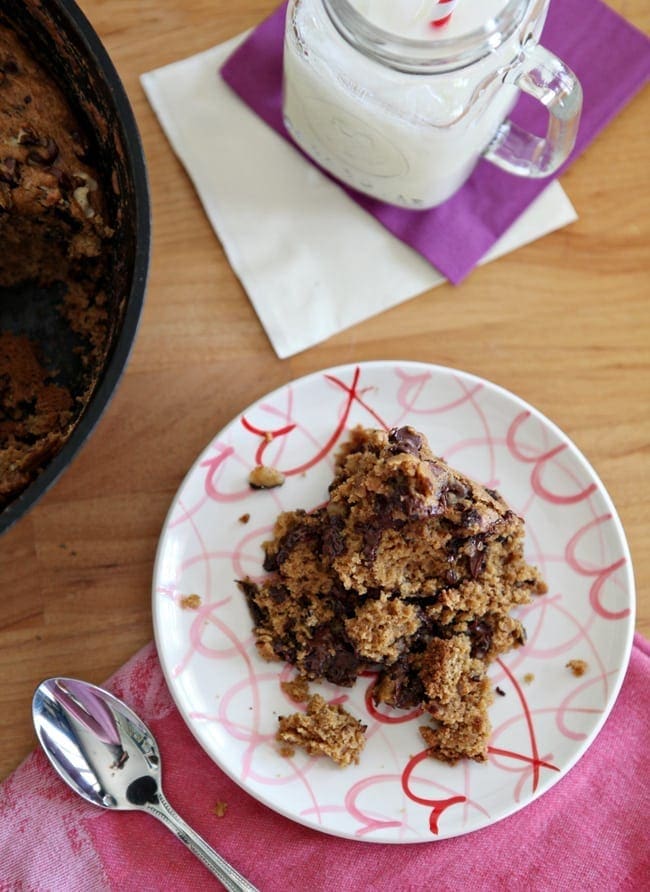 …
Are you like me? Do you edit recipes to your pleasing and food allergies (or tastes?)
What is one of your favorite substitutes?