Finish a springtime picnic with these Vegan Strawberry Lemonade Cookies. Light, slightly sweet and a little tart, this lemonade-inspired dessert is sure to be a hit with the vegans and non-vegans alike!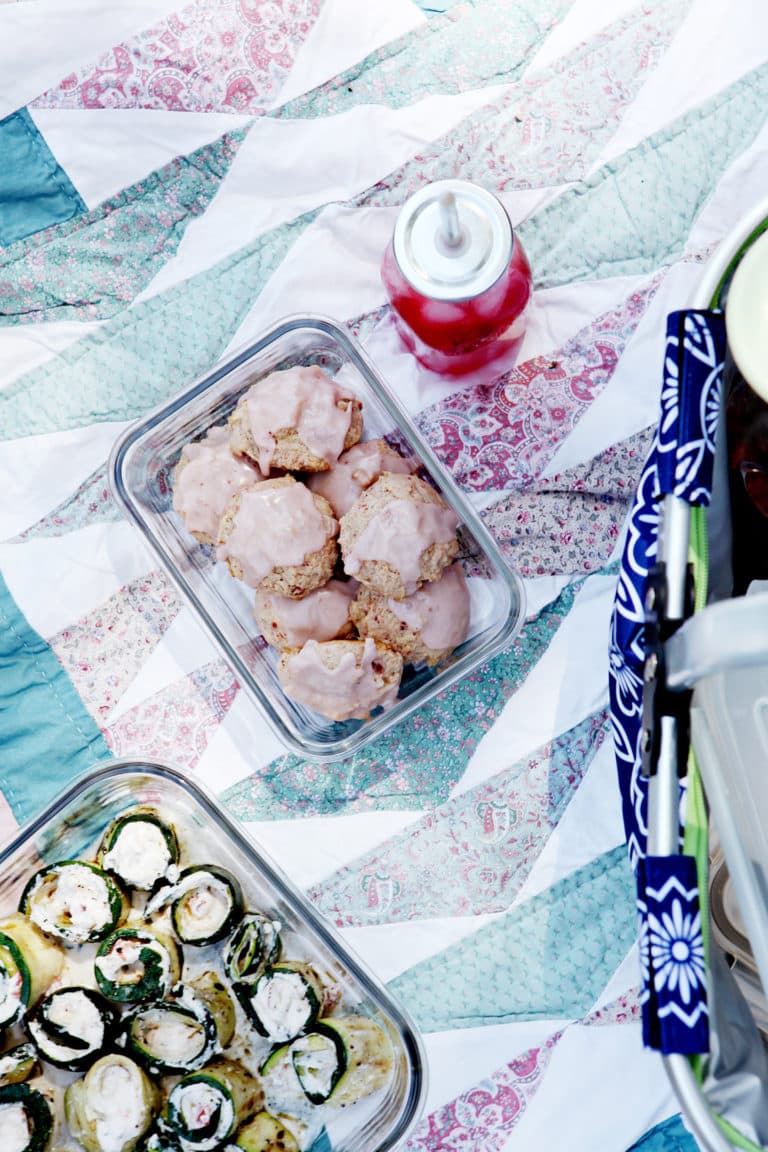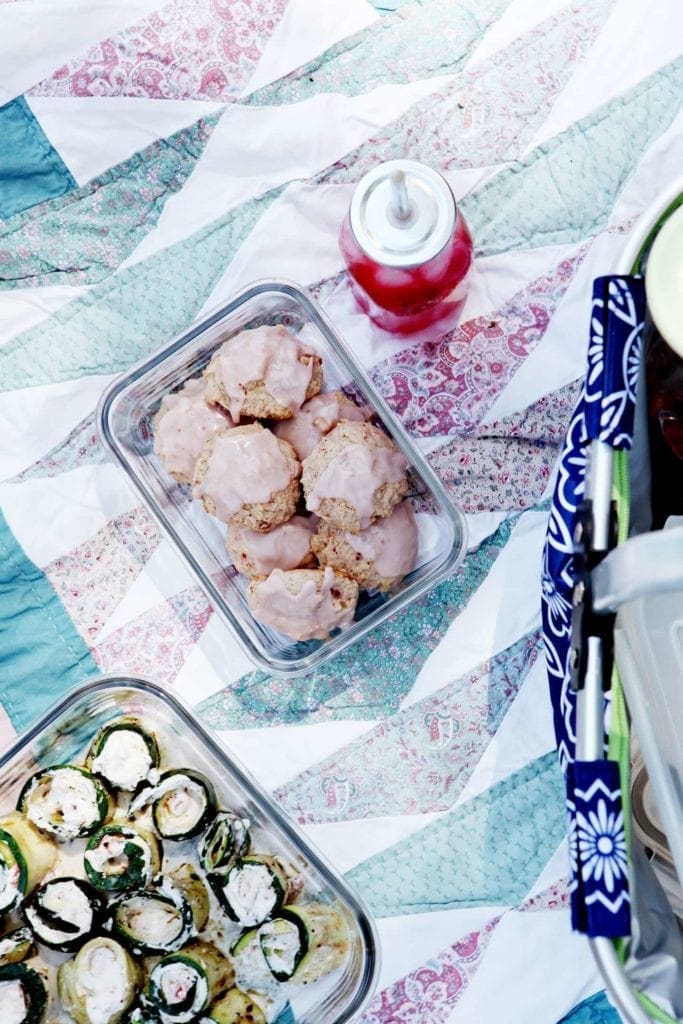 Earth Day is this Friday! And we're finishing our picnic strong today with these Vegan Strawberry Lemonade Cookies.
So far, we've had Mixed Berry Mint Lemonade, Strawberry Romaine Salad (in a jar!) and Grilled Zucchini Rollatini.
And today, I've taken inspiration from strawberry lemonade and made a vegan cookie out of it.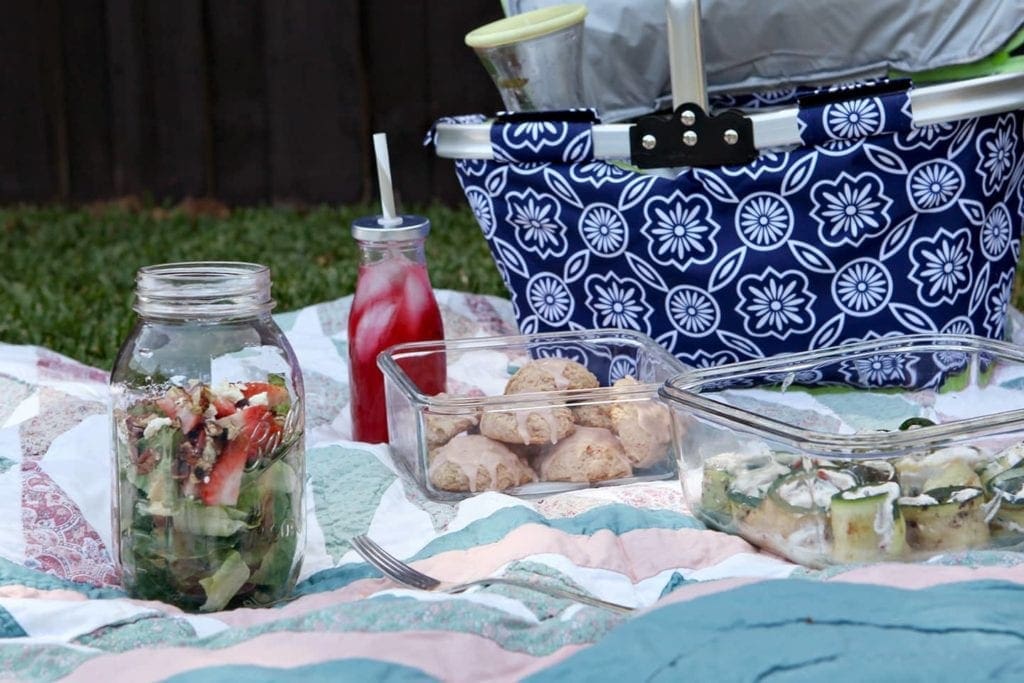 As I've mentioned here before, me and dairy don't always get along. I'm lactose intolerant. It's not severe, because I can eat a little bit of cheese, but I can't enjoy a glass of milk or a bowl of yogurt. And even though this disappeared when I was pregnant, it has come roaring back recently.
So I'm trying my hand with more vegan baked goods these days… with varying success.
Like the vegan cheesecake bites I baked a few years back, thinking silken tofu would be the perfect substitute for cream cheese? *cringes* I wish I could erase that disaster from my memory.
But these Vegan Strawberry Lemonade Cookies? Yeah, they fall into the good memory category… and I got them right on the first go 'round!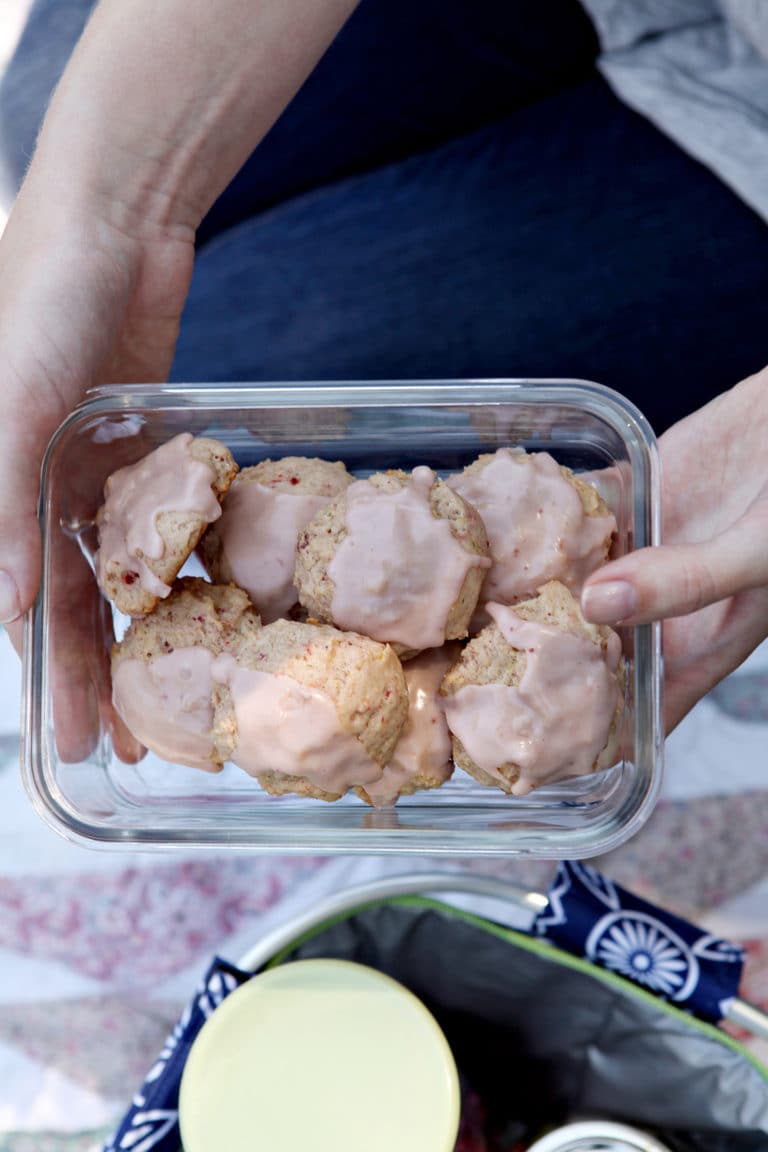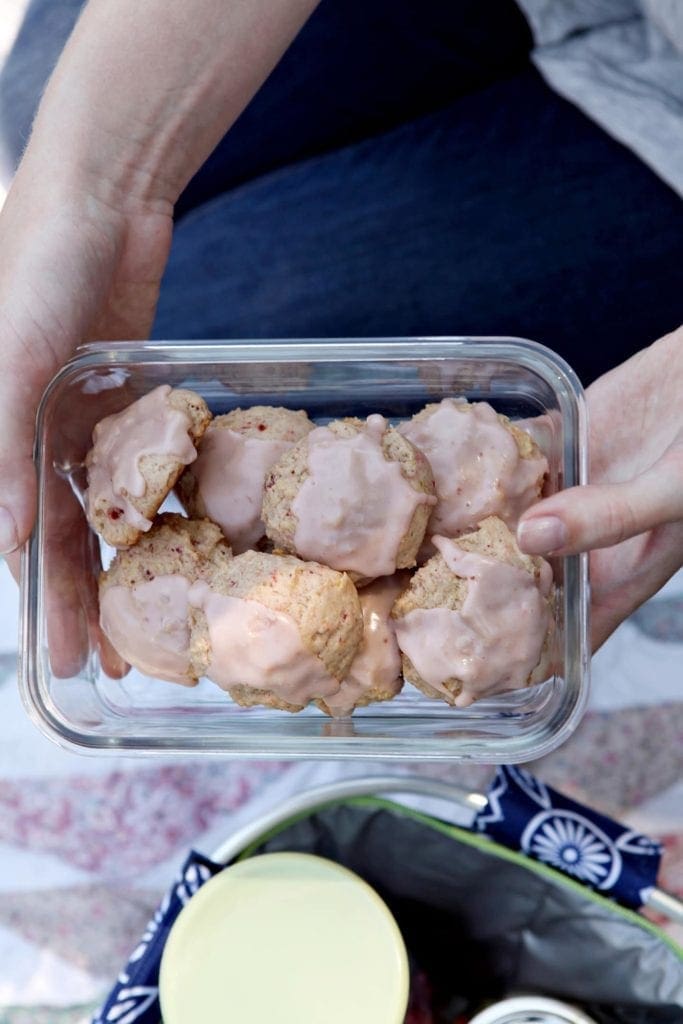 These cookies are fluffy, light and the perfect balance of slightly sweet and slightly tart. You can taste the strawberry and the lemon, too. And the strawberry icing that you add at the end? Delightful.
Bake them in advance, let them cool, ice the cookies, then pack them up in a glass storage container to store until it's time to eat dessert!
Here's how I made these cookies for our picnic: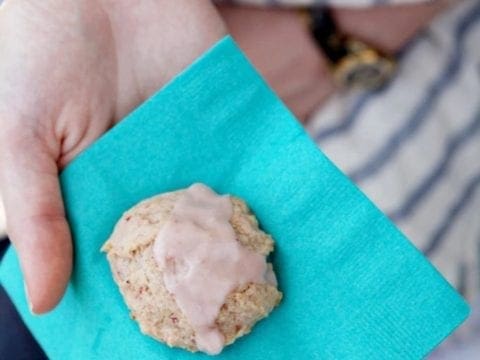 Yield:

24 cookies
Vegan Strawberry Lemonade Cookies
Finish a springtime Earth Day picnic with these Vegan Strawberry Lemonade Cookies. Light, slightly sweet and a little tart, these cookies taste like lemonade. Where does the lemonade flavor come from? Lemon juice, lemon zest and freeze-dried strawberries are all added to the vegan sugar cookie batter before baking, then the cookies are topped with a strawberry icing for a finishing touch. This lemonade-inspired dessert is sure to be a hit with the vegans and non-vegans alike!
Ingredients
Strawberry Icing
¼ cup coconut oil, at room temperature
¼ cup unsweetened applesauce
¾ cup granulated sugar
1 teaspoon pure vanilla extract
1 tablespoon + ¾ teaspoon white distilled vinegar
3 tablespoons lemon juice
2 cups unbleached all-purpose flour
½ cup freeze-dried strawberries, unsweetened, pulverized
1 ¾ teaspoon baking soda
1 teaspoon baking powder
¼ teaspoon kosher salt
1 lemon, zested
1 cup powdered sugar
2 ½ tablespoons strawberry puree
Instructions
Preheat the oven to 350°F. Line a baking sheet with a Silpat baking mat or parchment paper. Set aside.
In a large bowl, combine the coconut oil, applesauce and sugar, whisking until well-combined.
Add the vanilla extract, vinegar and lemon juice, stirring until combined.
In a separate bowl, sift together the flour, freeze-dried strawberries, baking soda, baking powder and salt. Add the lemon zest.
Slowly add the dry ingredients to the wet ingredients while whisking, and mix until just combined.
Using a cookie scoop, dollop the dough onto the prepared cookie sheet.
Bake for 12-15 minutes, or until cookies have cooked through and have firmed up.
Transfer the cookies to a cooling rack.
While the cookies cool, whisk together the powdered sugar and strawberry puree until smooth. Set aside.
Once the cookies are cool, drizzle with the strawberry icing, and enjoy!
Nutrition Information:
Yield:
24
Serving Size:
1 cookie
Amount Per Serving:
Calories:

106
Total Fat:

2g
Saturated Fat:

2g
Trans Fat:

0g
Unsaturated Fat:

0g
Cholesterol:

0mg
Sodium:

135mg
Carbohydrates:

20g
Fiber:

0g
Sugar:

12g
Protein:

1g
Nutrition facts are an estimate and not guaranteed to be accurate.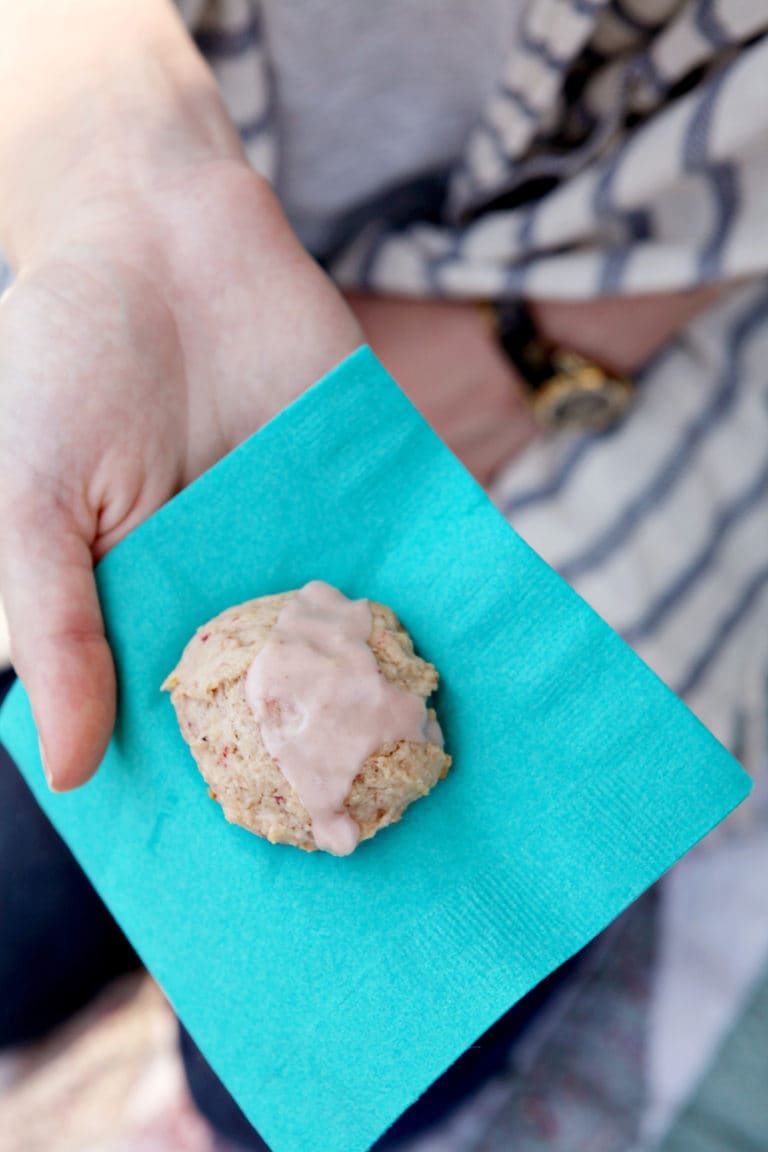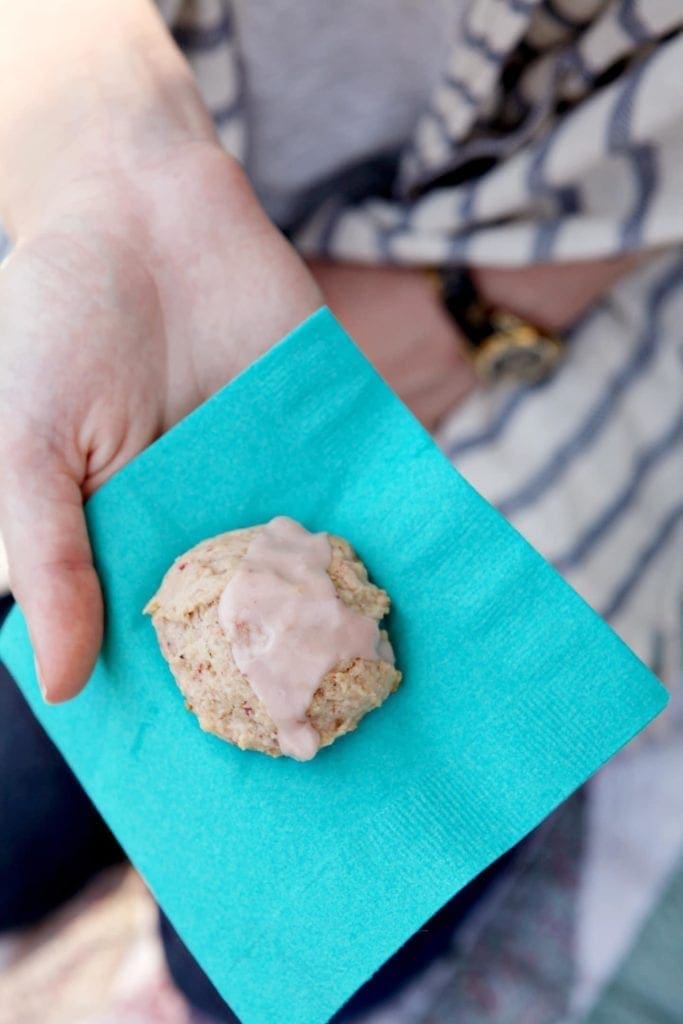 Have you had some vegan baking fails before, too?
Do you have any Earth Day plans?