Monthly Meal Plan: 31 Recipes to Make in May 2018
Looking for recipes to make this May? Look no farther than this Monthly Meal Plan, which includes 31 recipes to make this month! Featuring recipes for Cinco de Mayo, Kentucky Derby Day and Memorial Day, this monthly recipe list covers three celebrations and offers seasonal ideas to make monthly meals from them!
May is SUCH a foodie month, and I'm super pumped to be sharing a Monthly Meal Plan that celebrates the Kentucky Derby, Cinco de Mayo and Memorial Day weekend with y'all!
To be honest… those are basically the only things covered, but have no fear: I've got appetizers, entrees, drinks AND desserts for each of 'em, so you won't have to worry about what to make when it's not a holiday.
Y'all ready to check 'em out?
Let's go…
Kentucky Derby Food + Drinks
The annual running of the roses happens on May 5, and since I'm a lifelong horse racing fan, y'all know I have some goodies for you to enjoy that day, whether you're watching solo or hosting a crowd to cheer on those horses…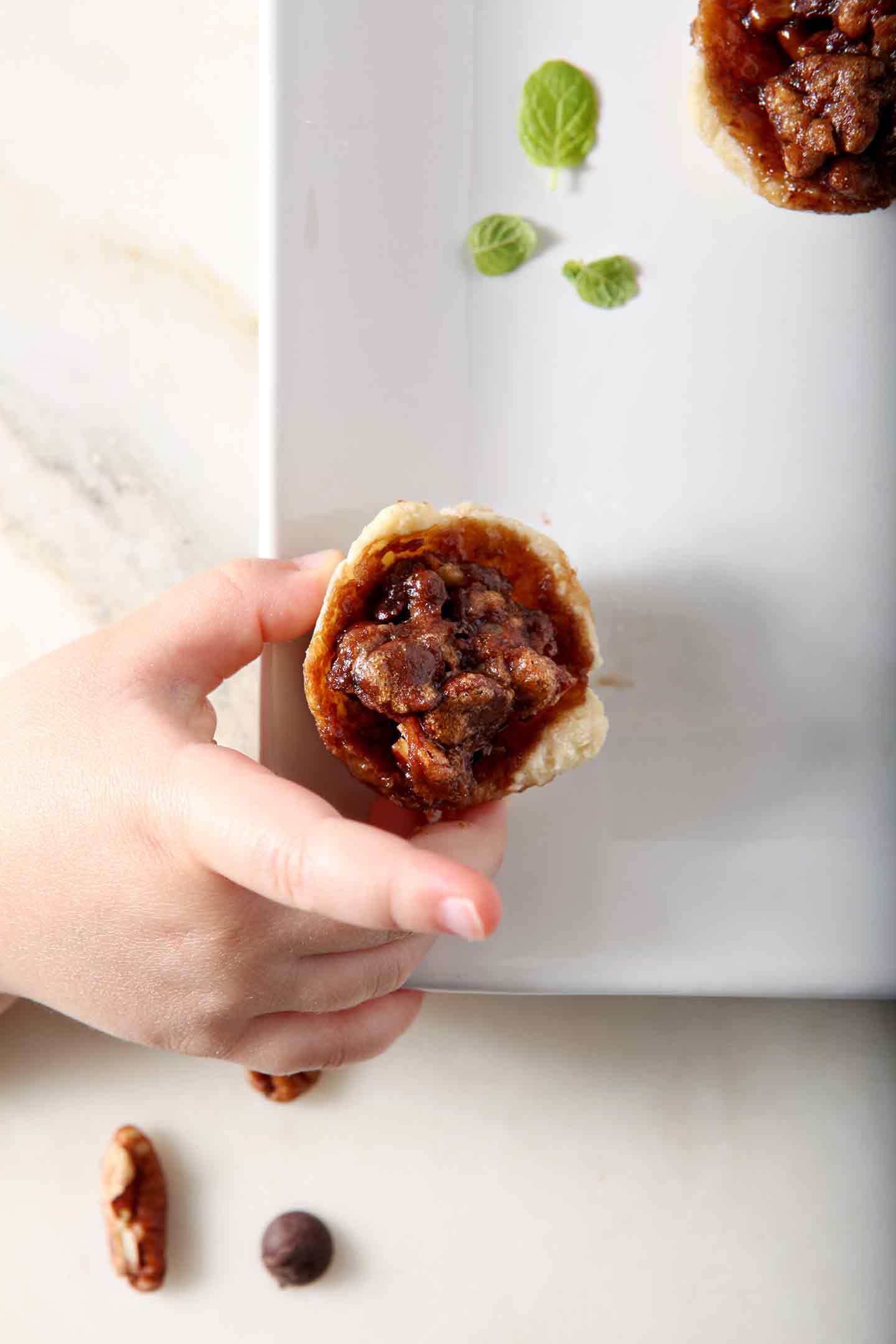 Celebrate the Kentucky Derby this weekend in style with Mini Bourbon Chocolate Pecan Pies! Bourbon, chocolate and pecans make for a delightfully sweet filling inside a cream cheese crust. Paired with bourbon, these mini desserts are the perfect Derby Day treat!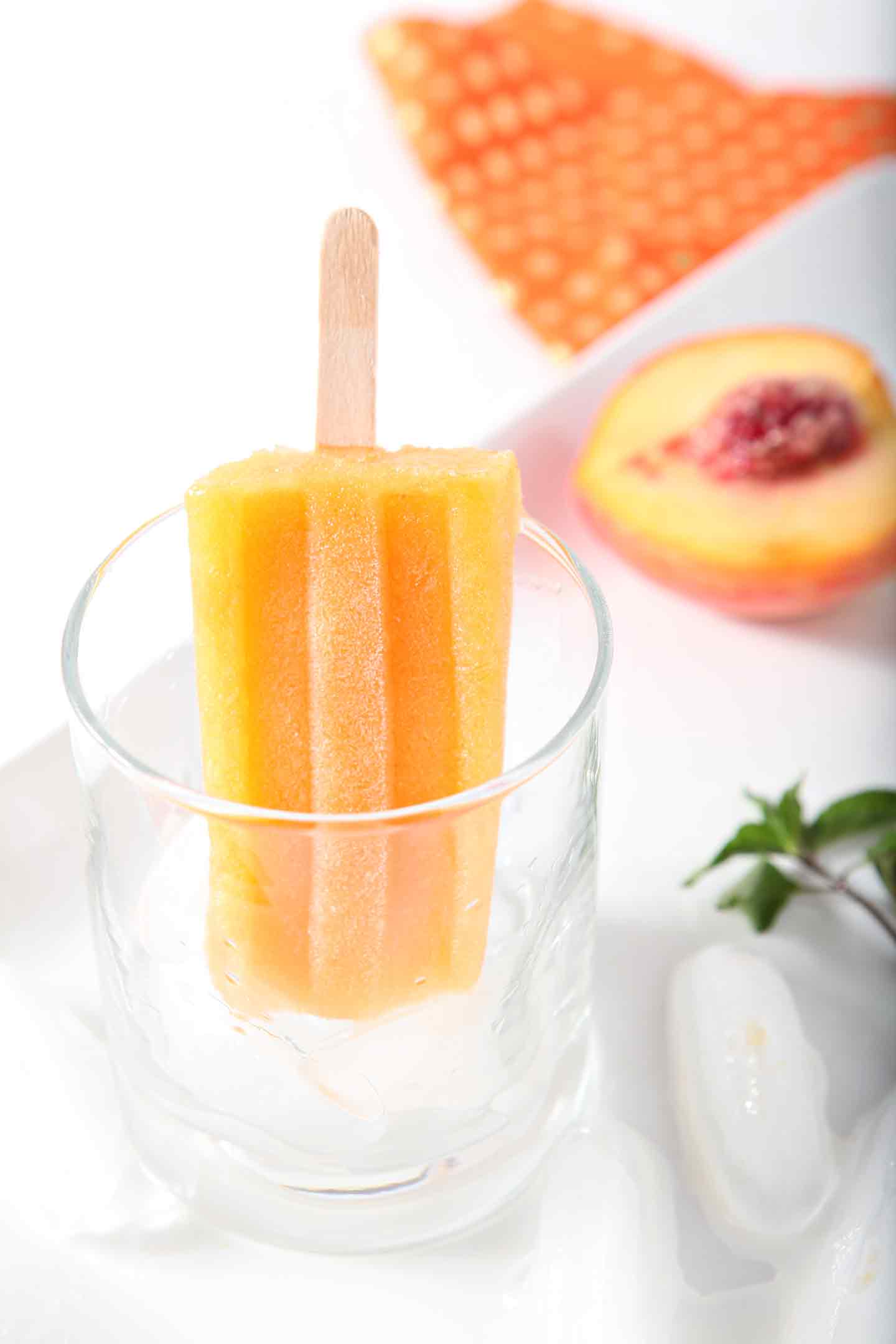 Step up your adult popsicle game this summer by making Peach Julep Popsicles! These bourbon-y, peachy, minty and oh-so-refreshing pops are what you'll want to enjoy on a hot summer day! Homemade mint simple syrup serves as the base, and that's blended with fresh (or frozen) peaches and bourbon. Freeze until solid, put in the popsicle sticks, then enjoy! If you're a fan of traditional juleps and enjoy a stiff drink, these popsicles are for you!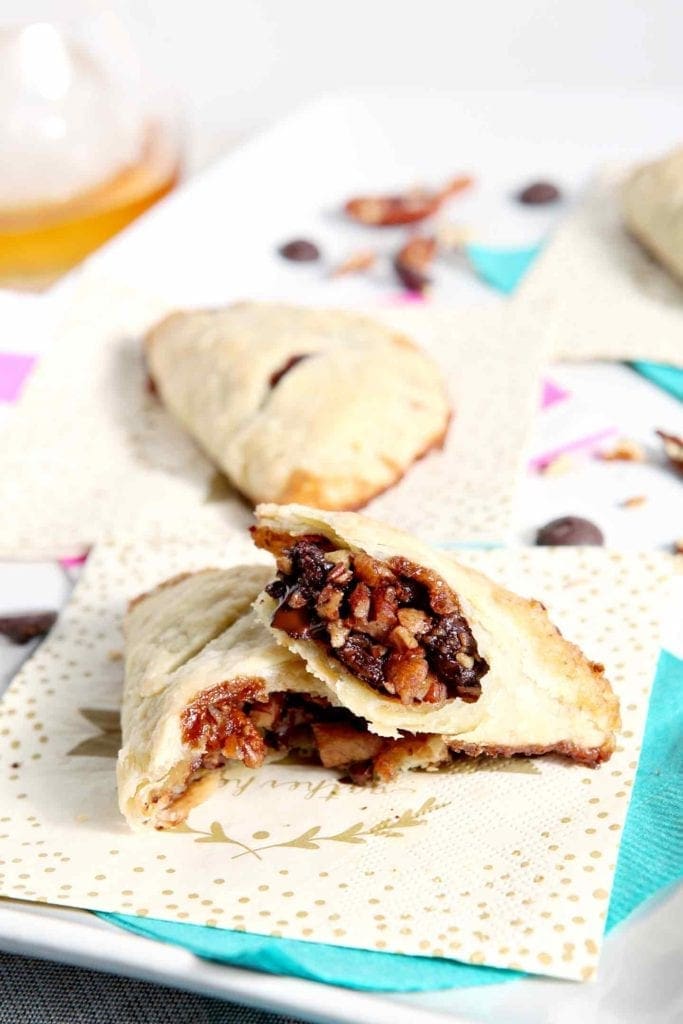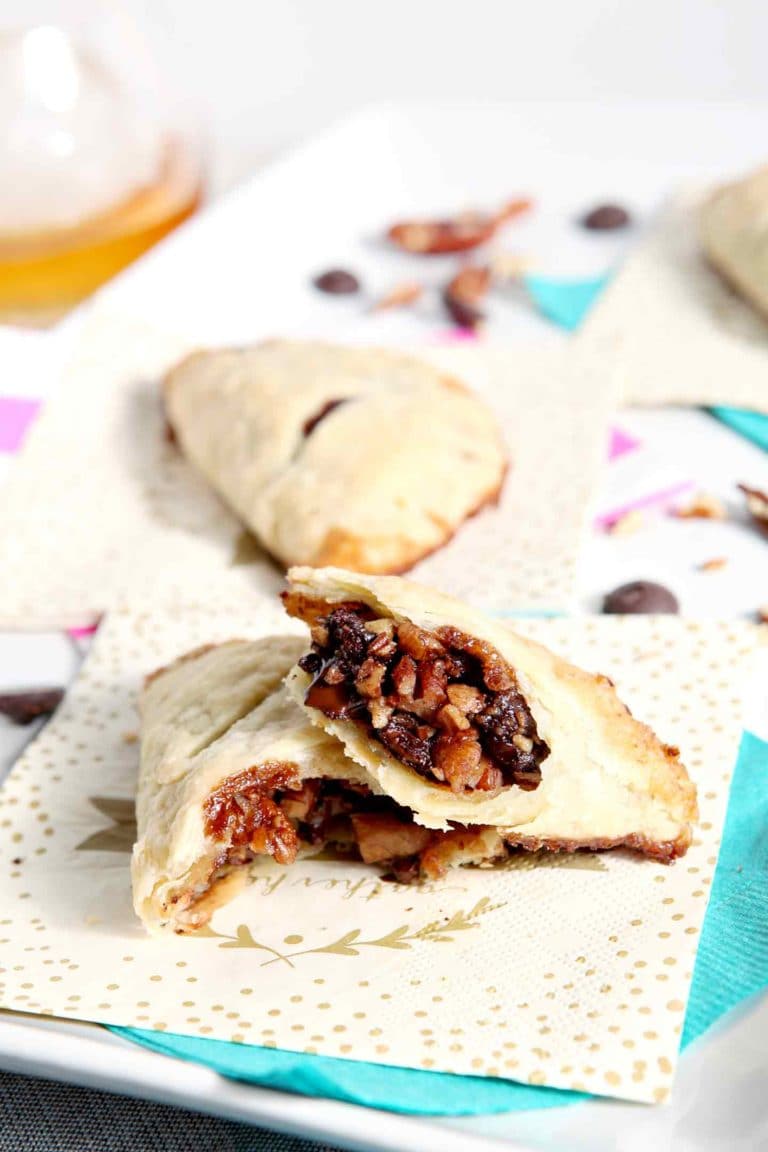 A twist on the classic Kentucky Derby fan-favorite pie, Chocolate Bourbon Pecan Hand Pies make a delightful hand-held dessert for Derby Day… or any other! Wrap these hand pies in a homemade pie crust, made with butter and bourbon, and fill with bittersweet chocolate, pecan pieces and bourbon. Bake, then serve at room temperature. Easy to carry and enjoy on-the-go, Chocolate Bourbon Pecan Hand Pies are the perfect sweet for summer entertaining!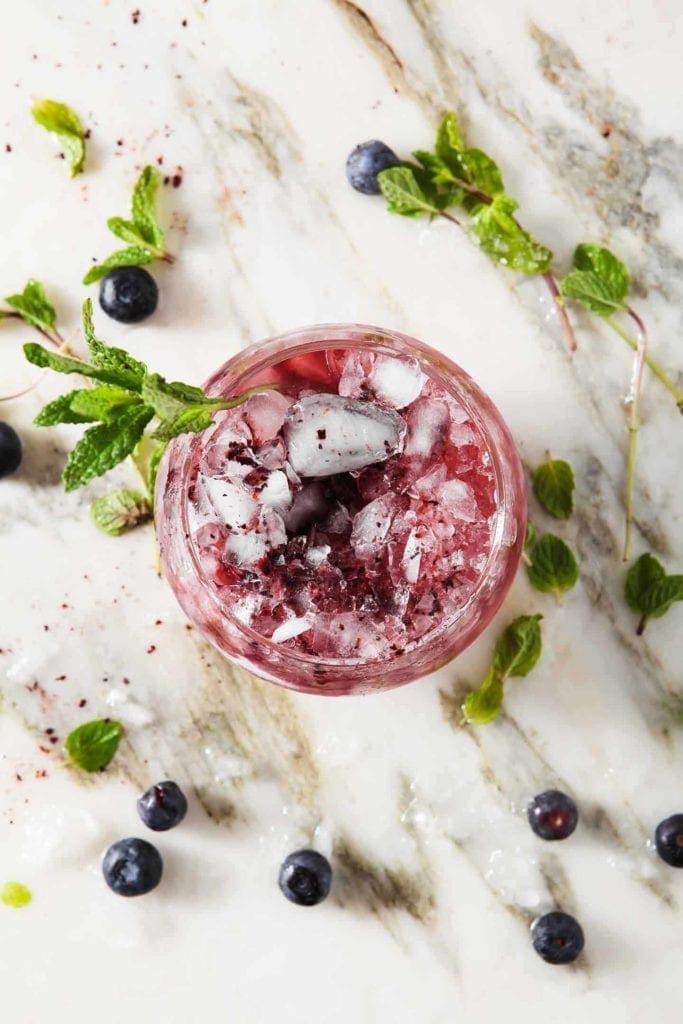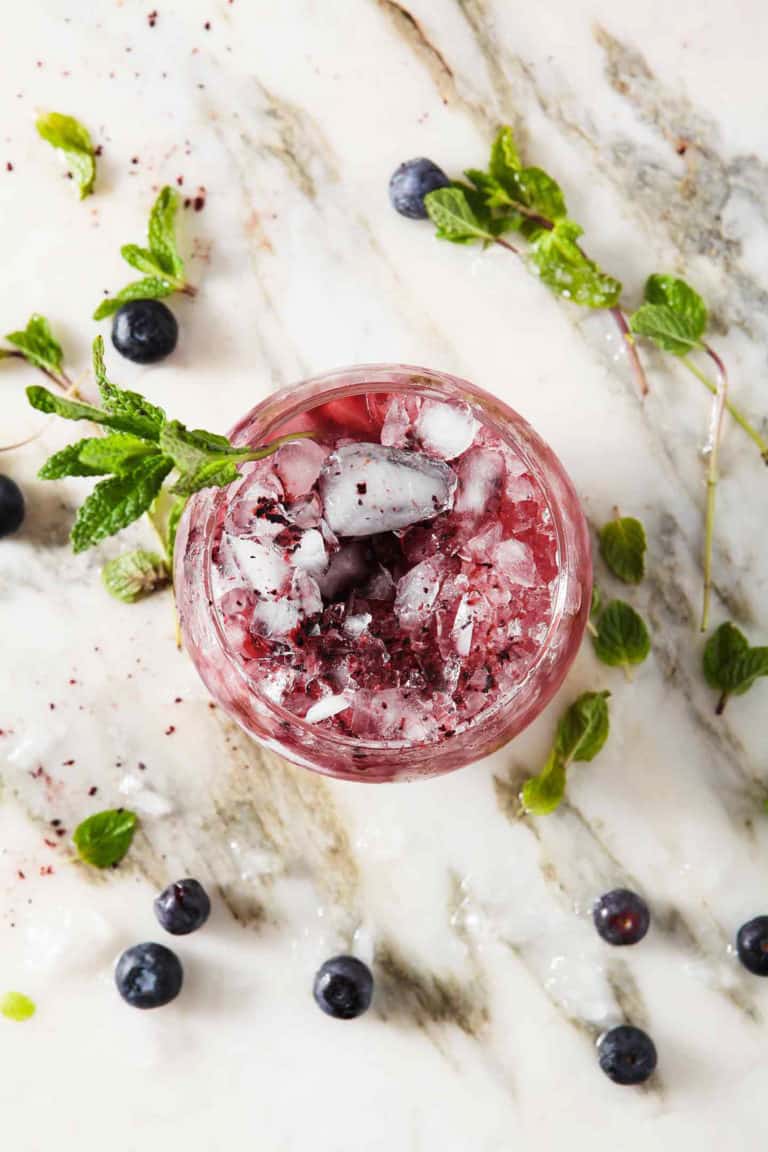 Celebrate Kentucky Derby Week by whipping up homemade Blueberry Mint Juleps, a twist on the Churchill Downs traditional cocktail! Mint leaves are muddled with sugar, then hot water is poured atop them. Blueberry puree is added next with lemon juice and bourbon. Add ice to the cocktail shaker, and shake the drink until it's chilled and delicious. Serve in a highball glass (or any other glass of your choosing) with a sprig of mint as garnish!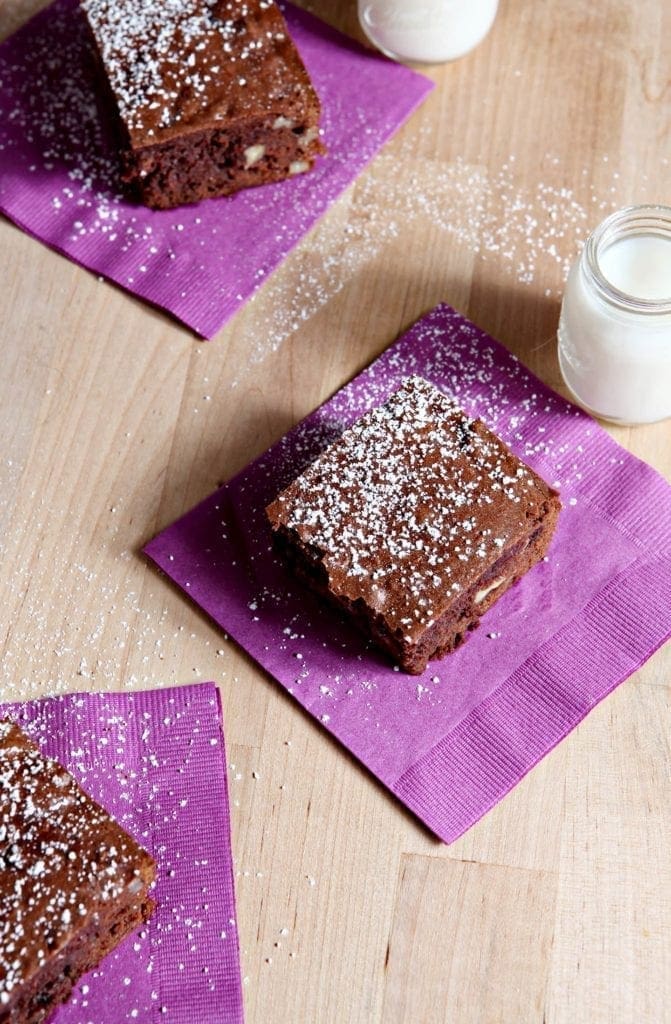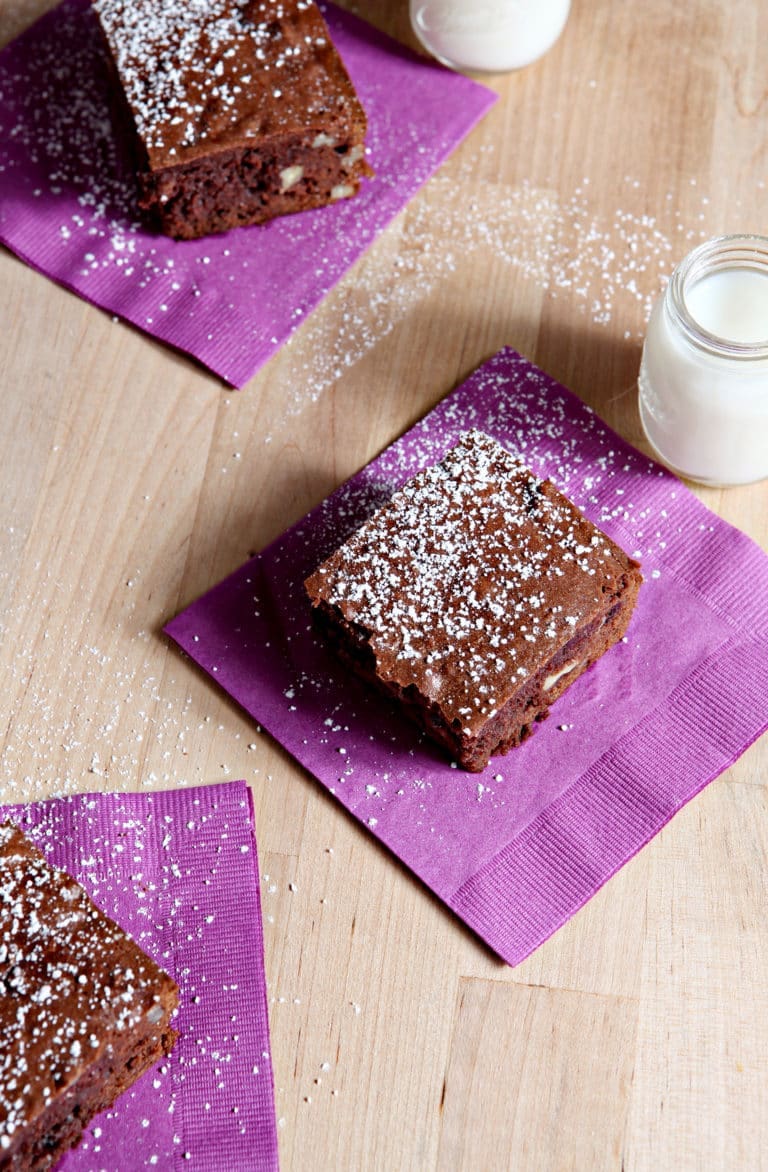 Hosting folks for a party this weekend? Bourbon Pecan Brownies are a unique dessert! Dense, chocolate and pecan-filled brownies sing with bourbon flavor and are perfect for a crowd.
Cinco de Mayo
May 5th! Cinco de Mayo! Things are a little different as a parent than as a college student, but we still like to eat some good food and drink some good drinks. Below are some of our favorites, whether you're celebrating with the family, by yourself or with a crew. (The recipe directly below is made for every.party.ever we host, and it is gone within 30 minutes of our first guest arriving.)

Caramelized Onion Guacamole isn't your run-of-the-mill guacamole! Instead of using tomatoes, herbs and avocados, this recipe calls for sautéed onions, caramelized with a little balsamic vinegar for extra flavor. Once the onions cool to room temperature, mix them into mashed avocados with lime juice, kosher salt, freshly ground black pepper and salt-free creole seasoning. Serve with tortilla chips for the perfect appetizer for ANY get together.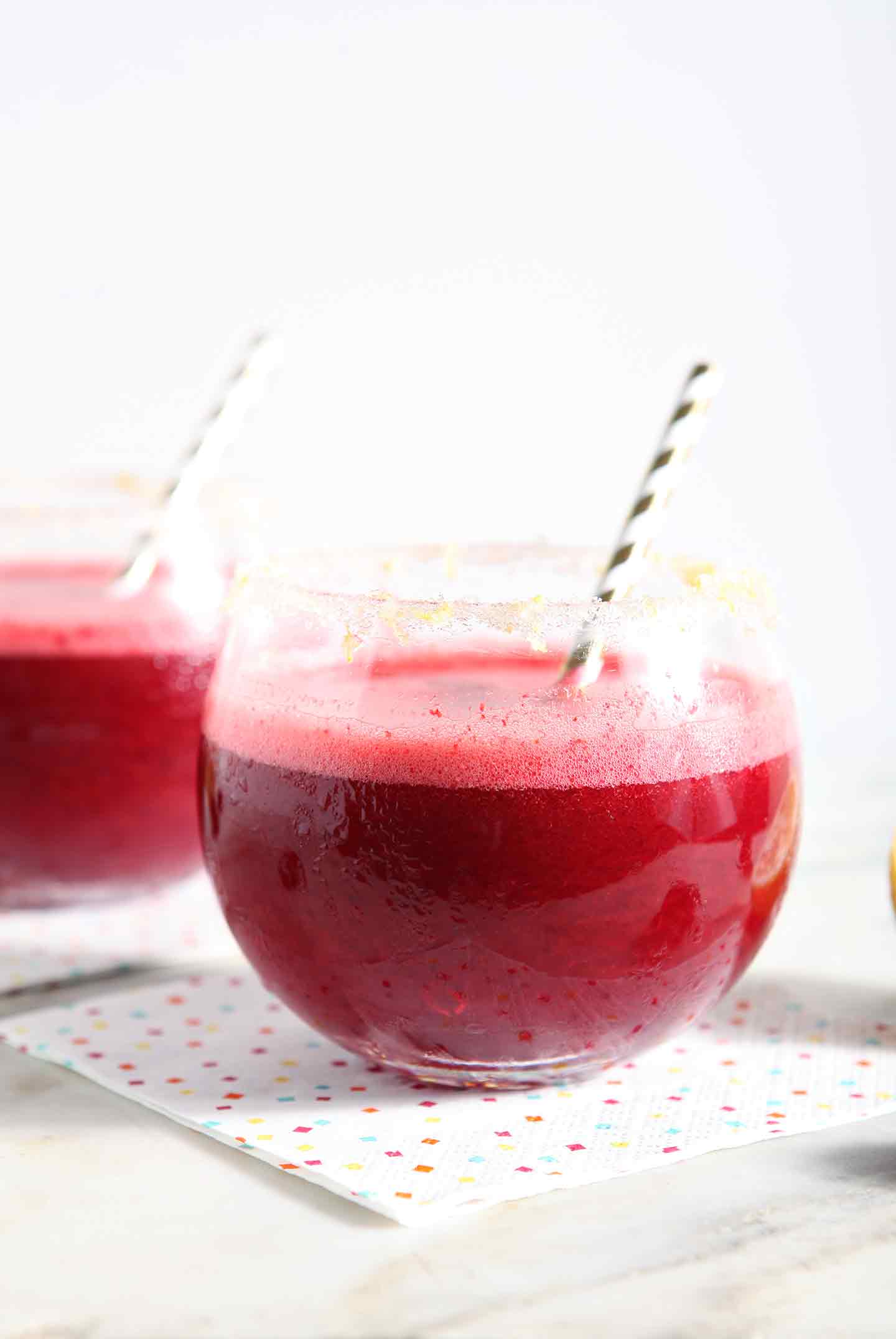 Cool down this month with Cherry Lemonade Margaritas! These tart and slightly sweet cocktails pair beautifully with tacos for Taco Tuesday and make the perfect cocktail for a Cinco de Mayo party. Brilliantly red, these margaritas would also be a standout recipe for a red, white and blue get-together. Made with freshly squeezed lemon juice, cherries, silver tequila and agave, Cherry Lemonade Margaritas are the perfect drink to sip all summer long!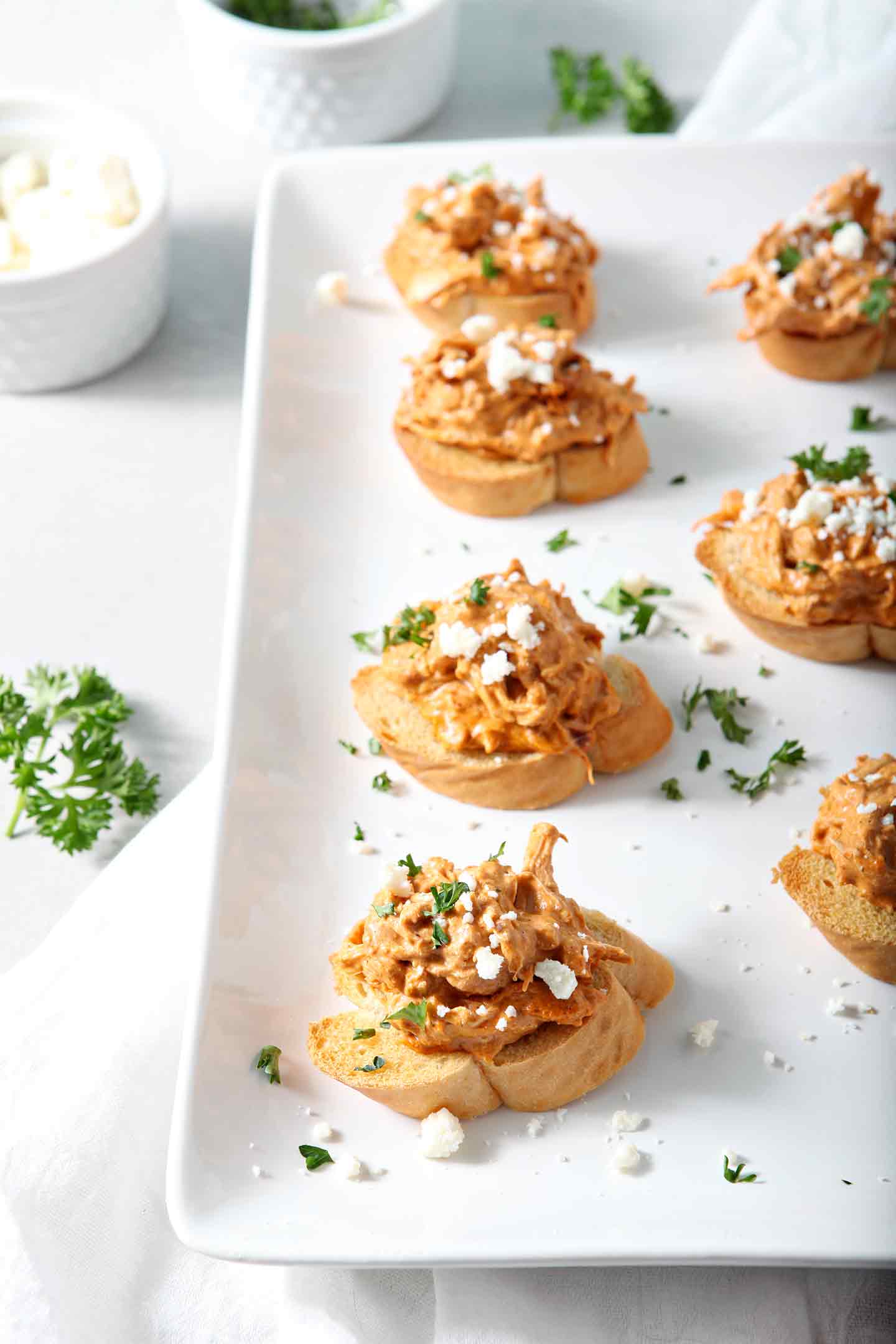 Vibrant, creamy and a little bit spicy, Chicken Enchilada Bruschetta is the appetizer to make this season! This dish comes together in no time, too, thanks to the Instant Pot! Cook the chicken and enchilada sauce on high pressure before shredding and adding cream cheese. Serve over toasted garlic bread, garnished with parsley and cotija cheese! Perfect for entertaining, this Chicken Enchilada Bruschetta adds a creamy, spicy kick to any event! #ad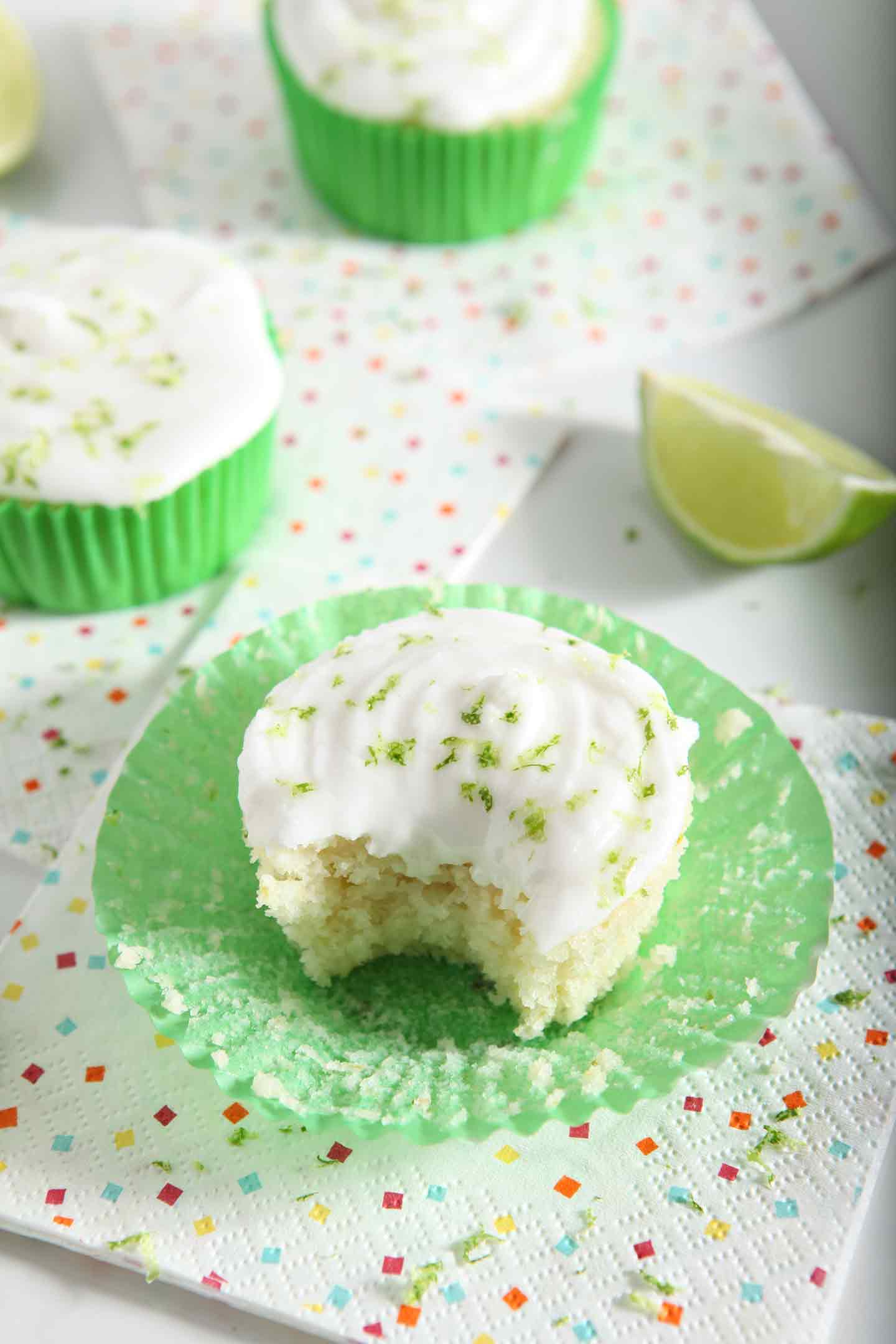 Margarita Cupcakes with Salted Tequila Frosting make the PERFECT dessert for Cinco de Mayo, taco Tuesday, ladies night and more! This recipe, which makes SIX cupcakes, tastes like its boozy namesake. Lime zest and lime juice add tartness to the batter. Once baked, decorate with salty-sweet tequila frosting for the finishing touch. Moist and flavorful, Margarita Cupcakes with Salted Tequila Icing are sure to be a winner at your next get-together!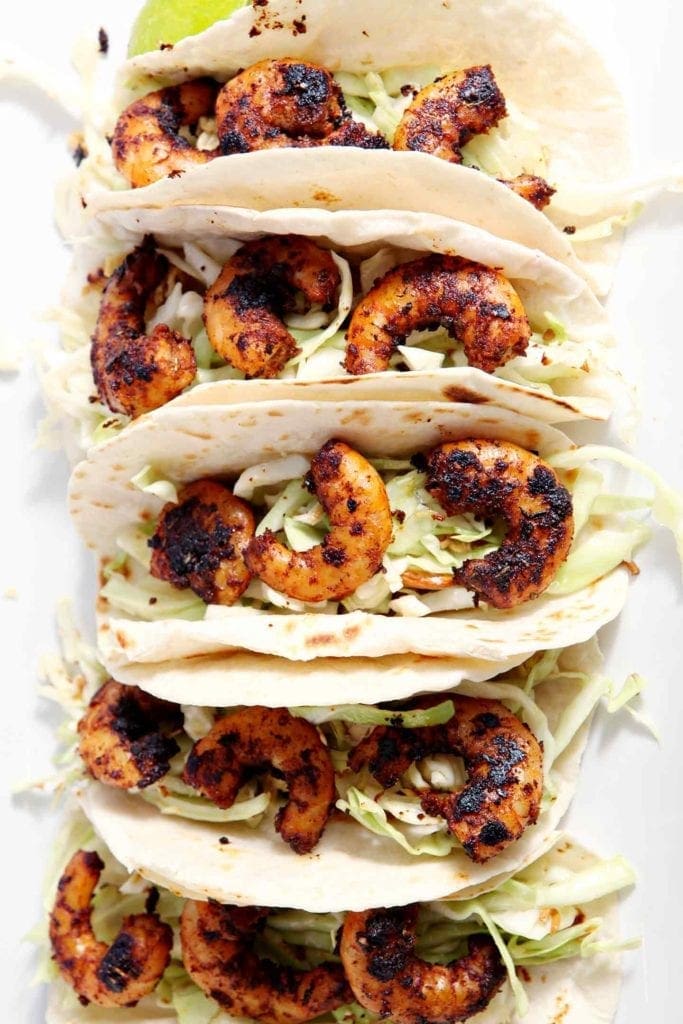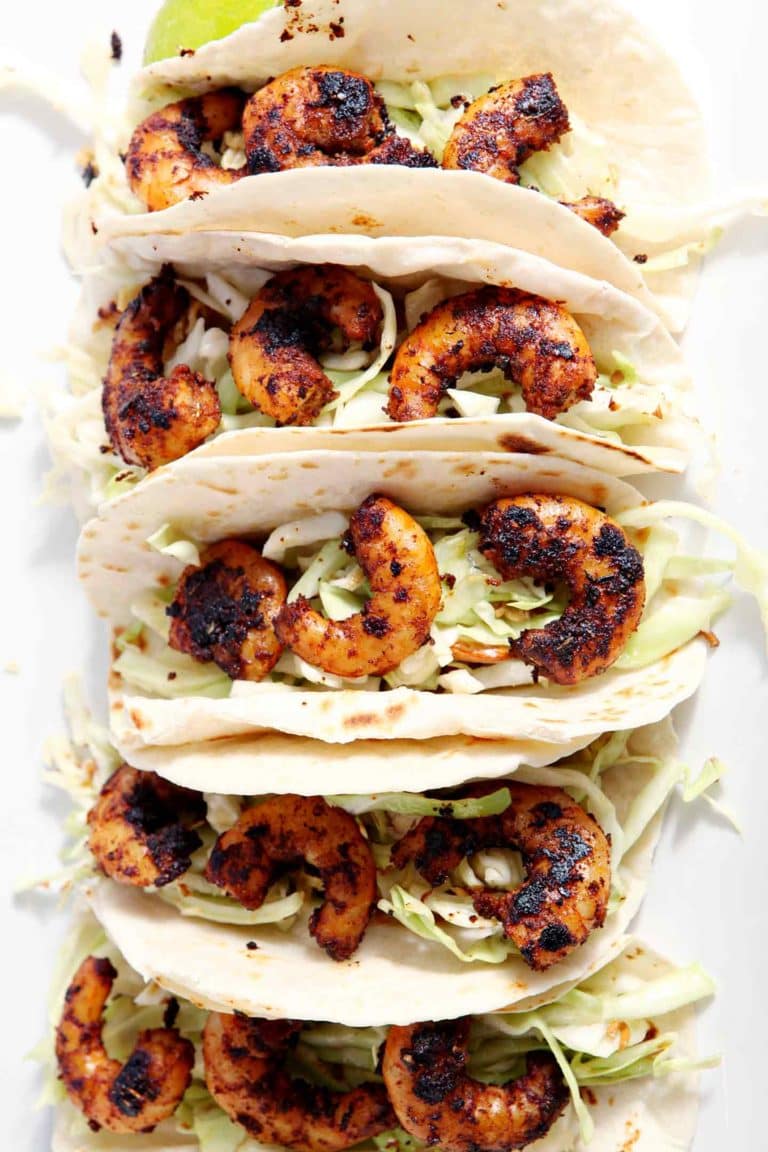 Blackened Shrimp Tacos with a crunchy coleslaw are the BEST entree to make at your football tailgate! Shrimp are liberally sprinkled with homemade blackening seasoning, then cooked. Flour (or corn!) tortillas are warmed on the grill. When the elements of the dish are ready, the shrimp are served atop a (made-at-home) Asian-inspired coleslaw that features green cabbage, toasted almonds, toasted Ramen noodles and a honey vinaigrette. These Blackened Shrimp Tacos go great with beer and are easily transported!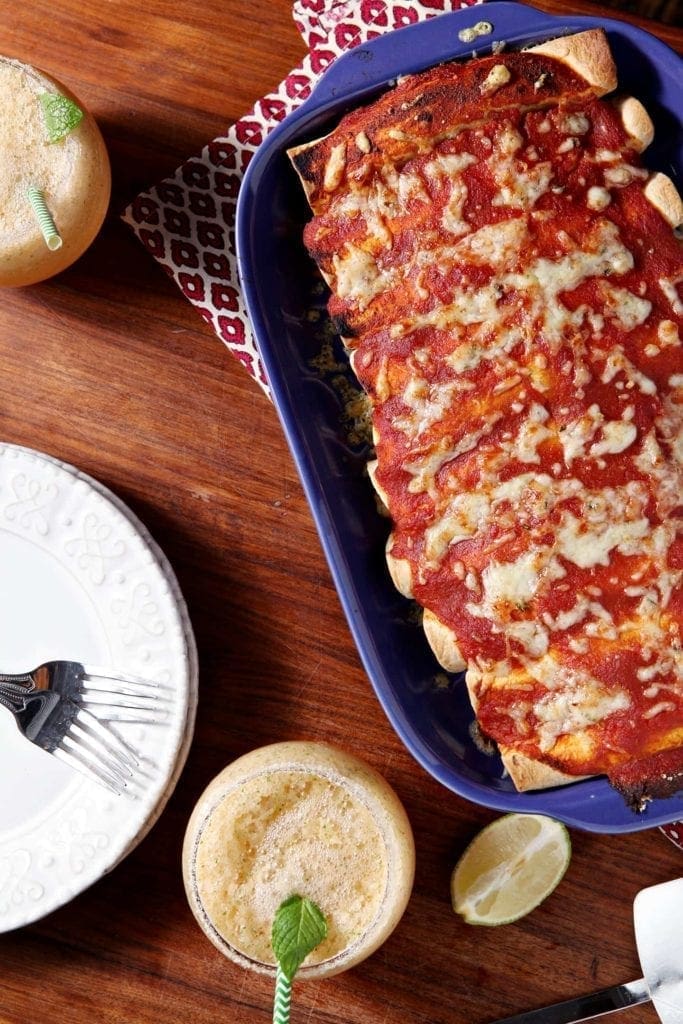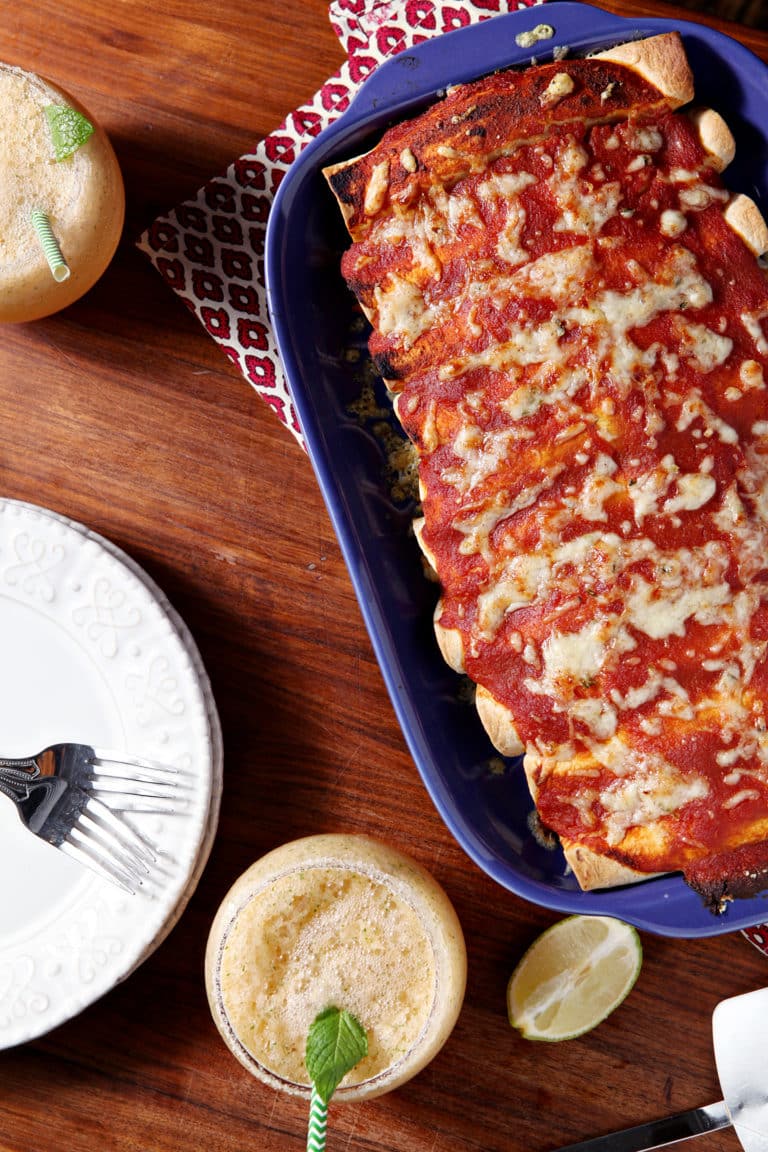 Pork Carnitas Enchiladas are a delicious entree for any Cinco de Mayo get-together! Pork simmers in the slow cooker on low all day, then is sautéed with onion and green chiles. Once the filling is complete, roll it up in tortillas with some pepperjack cheese, slather them in spicy enchilada sauce and bake for this spectacular Mexican cuisine-inspired dish!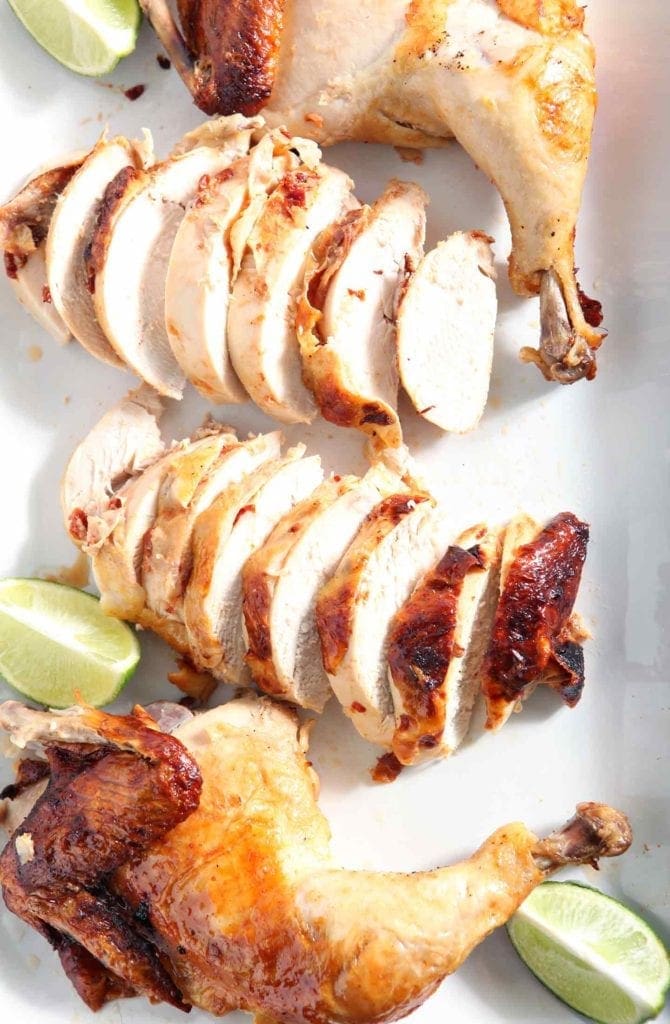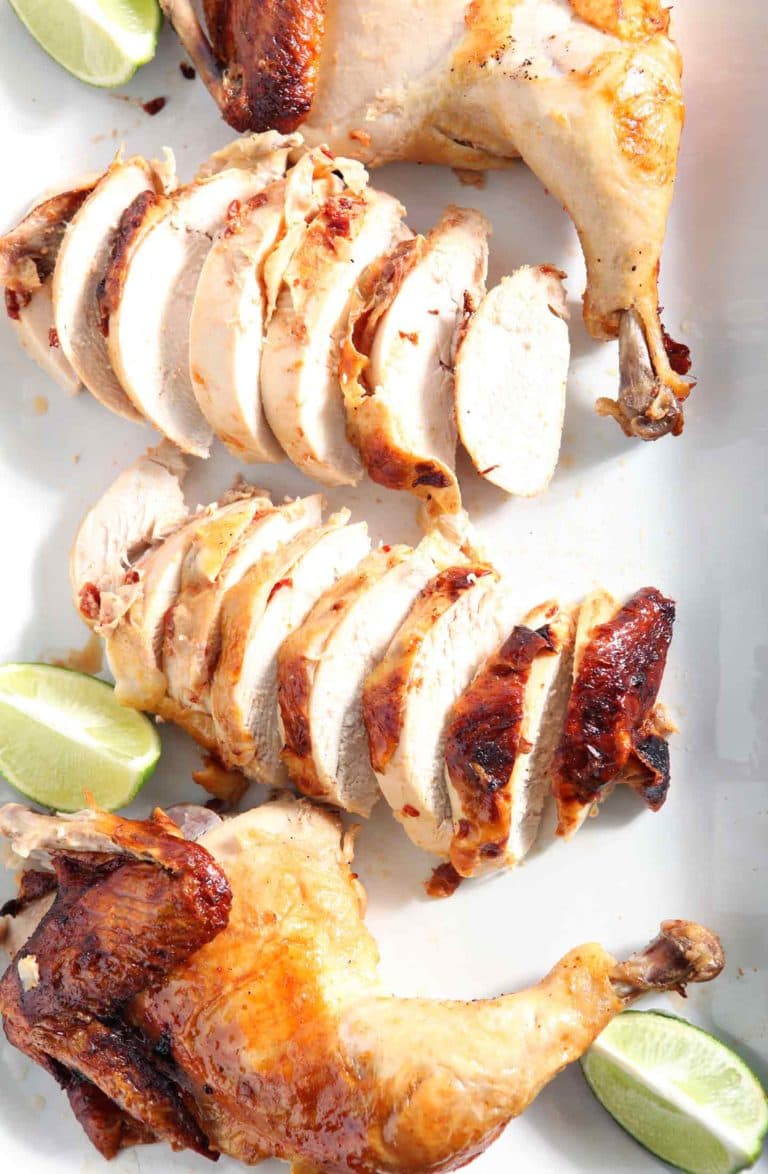 Celebrate Cinco de Mayo or a regular weeknight dinner with Chipotle Lime Spicy Beer Can Chicken! Slather a whole chicken with homemade spicy Chipotle Lime Butter, then roast atop a beer can for additional flavor and moisture. When done, rest the golden brown chicken, then slice and serve. Moist and flavorful, this whole chicken pairs perfectly with a favorite beer, rice, guacamole and more! Let's make Chipotle Lime Spicy Beer Can Chicken tonight!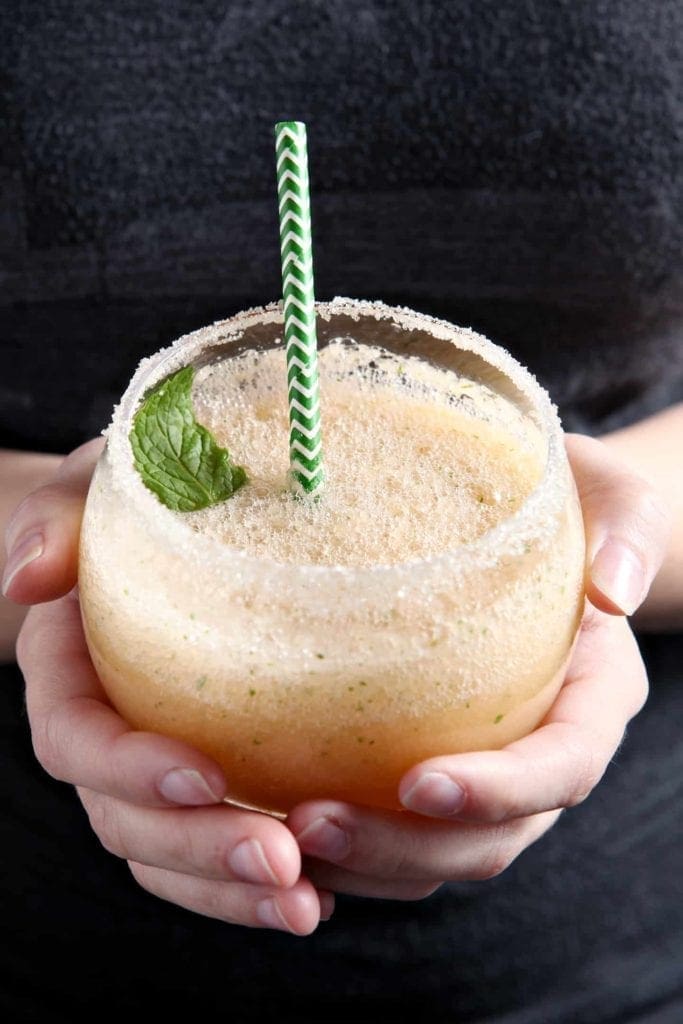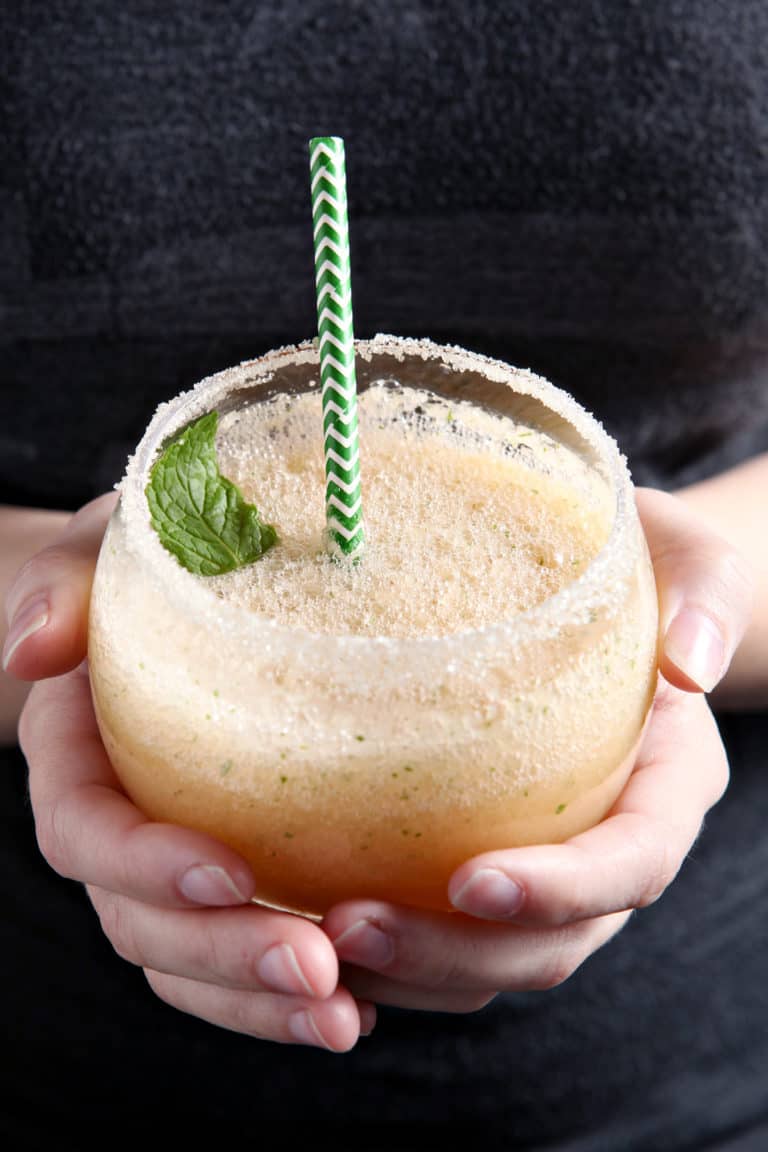 Celebrate Cinco de Mayo with this twist on the classic margarita: Cantaloupe Mint Margaritas! Light, fruity and refreshing, this chilled cocktail will become a warm-weather favorite!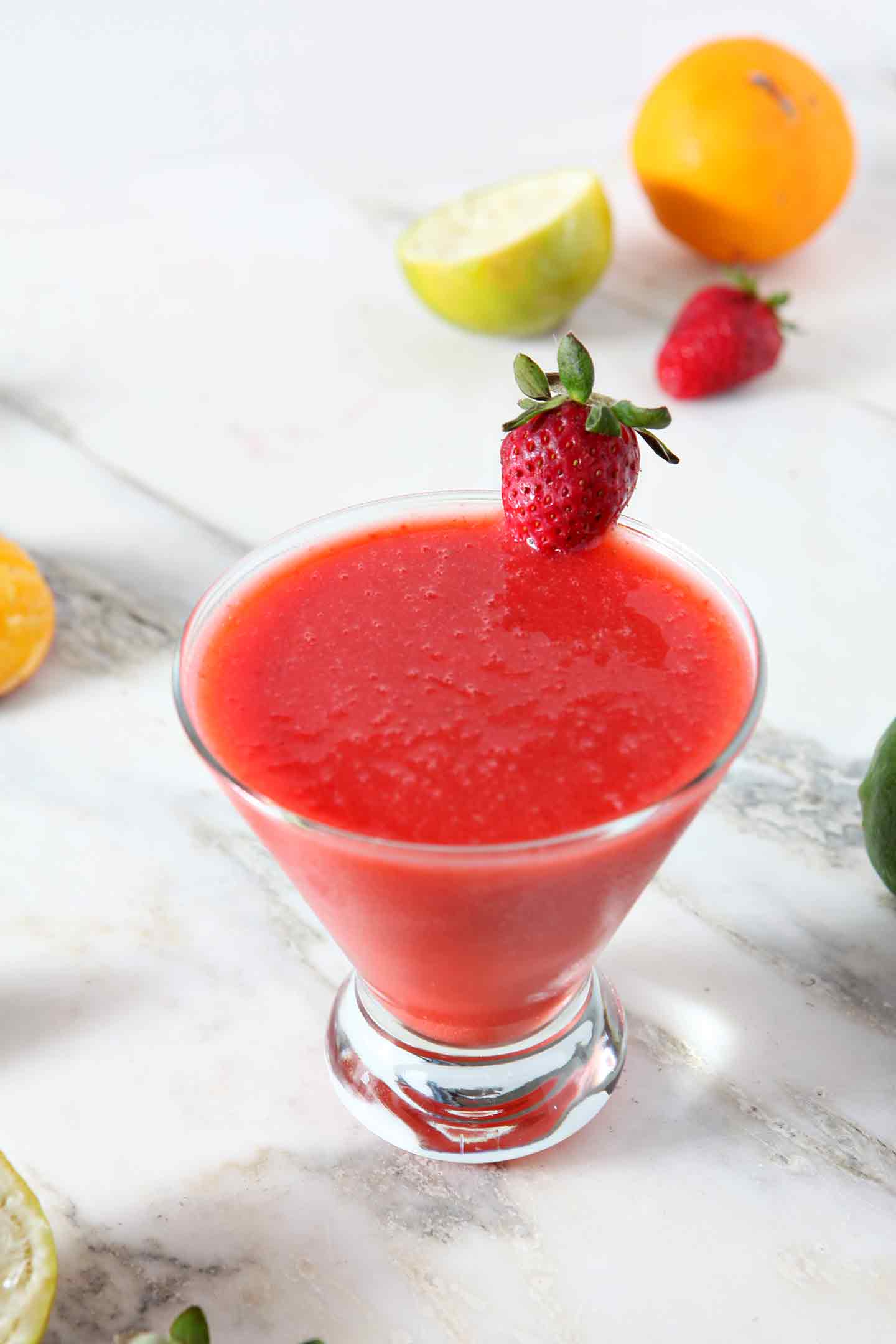 Cool down during the warm weather months by mixing up a Strawberry Virgin Margarita! This booze-free rendition of the beloved margarita has the same sweet-tart kick and packs in the flavor, only calling for five ingredients. Once blended together, serve up Strawberry Virgin Margaritas for friends and family members alike as a cool treat. This vegan mocktail, which can be made paleo-friendly, is sure to become a summertime favorite!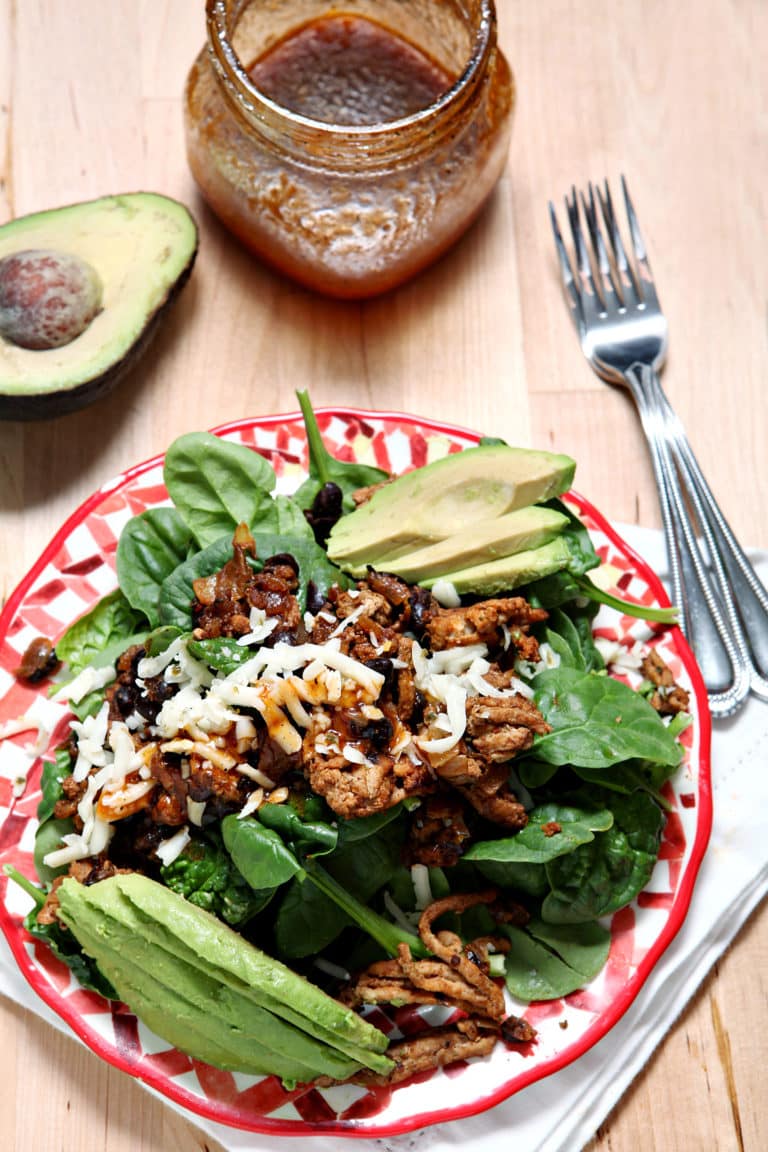 Celebrate Cinco de Mayo at home with this delicious Turkey Taco Salad. Ground turkey, onions and black beans are sautéed together, then placed on a bed of spinach with various other toppings to make a tasty TexMex meal. Drizzle with a homemade Catalina dressing to finish. Easy to personalize, this Turkey Taco Salad is well-loved and perfect for a weeknight meal.
Memorial Day Weekend Food
Memorial Day Weekend is the "official" start of summer, so many of us like to fire up our grills and enjoy the good weather before the heat of summer comes on. Below are some of our favorites to make and enjoy outdoors.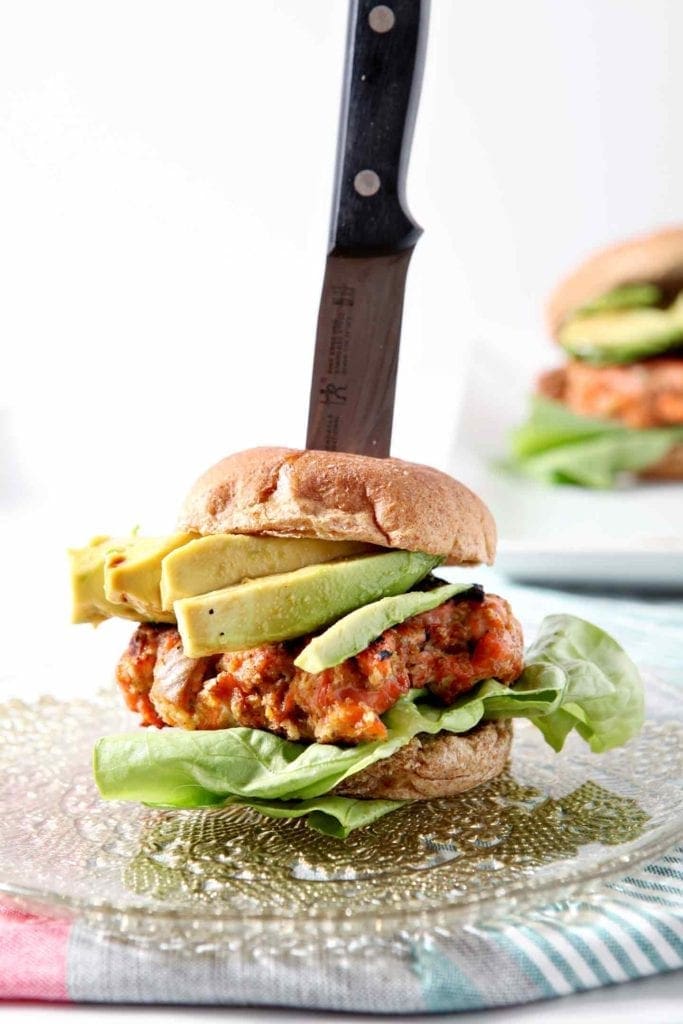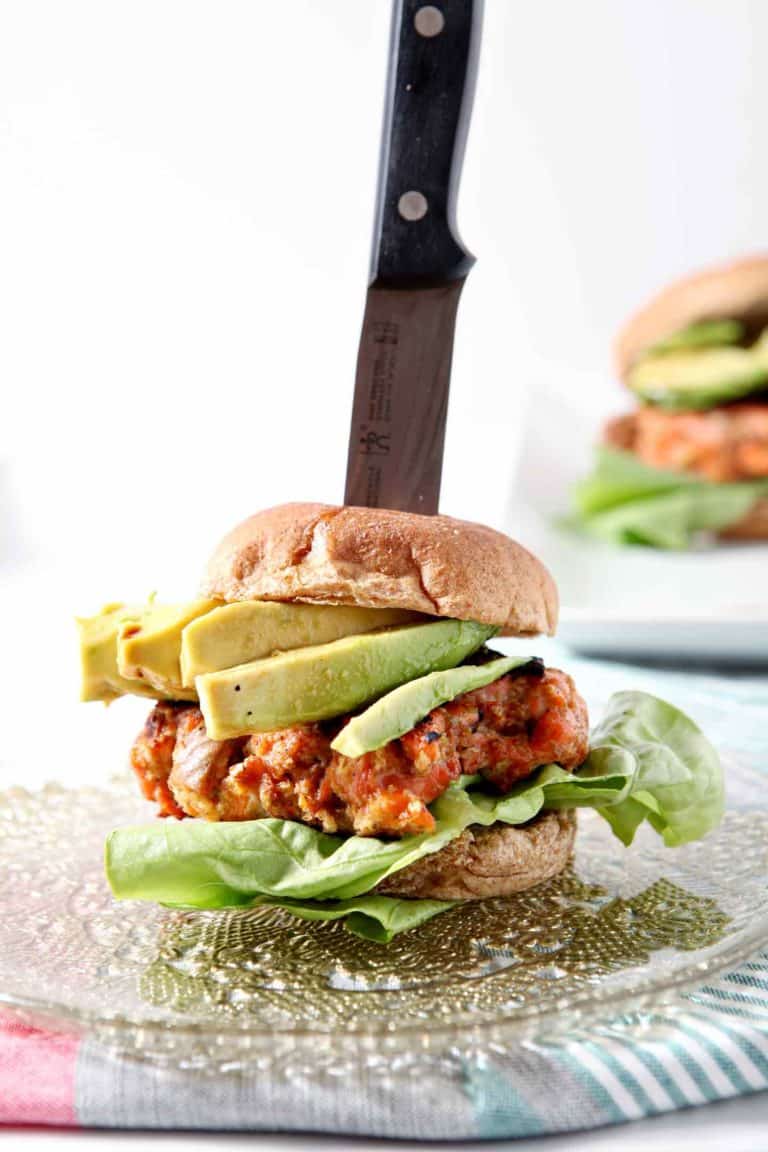 Fire up the grill and serve Classic Salmon Burgers to the whole family! These simple salmon burgers highlight the freshness and flavor of Alaskan sockeye salmon. Combine bite-sized salmon pieces with an egg, panko breadcrumbs, soy sauce, lemon zest and seasonings to create the patties, then cook on a grill pan (or outside on the grill) for the ultimate fish burger! Serve with fresh avocado slices and lettuce, then enjoy immediately. SO tasty!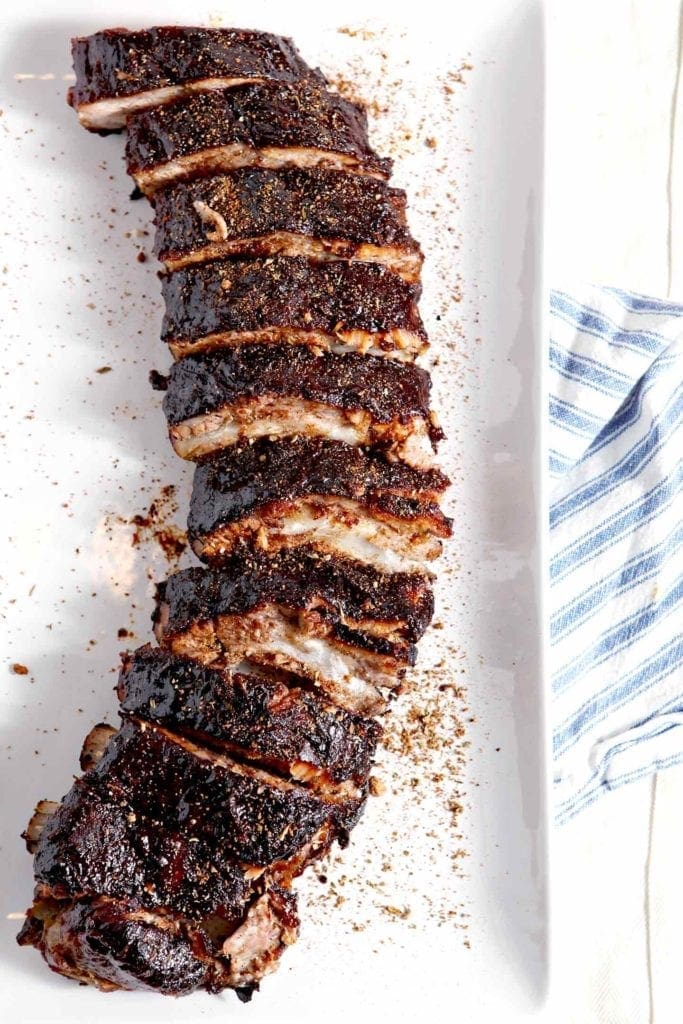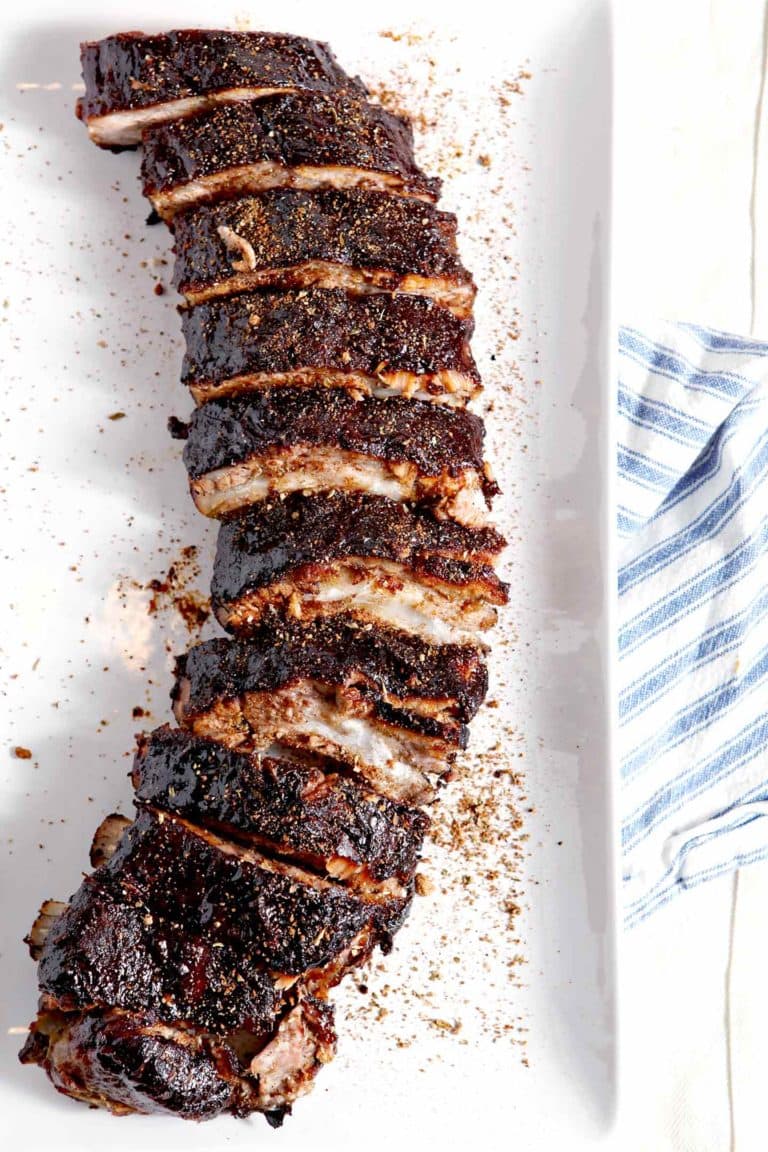 Summertime is the season of barbecue… so it's time to learn how to make a barbecue classic. Even though ribs take time, they're well worth the effort, and these Memphis-Style Barbecue Ribs are PERFECT for any summer get-together. Seasoned with homemade barbecue dry rub, these ribs cook low and slow for hours. Finish this nod to the Memphis dry rib on the grill or in the broiler, and serve with traditional barbecue sides to complete the feast!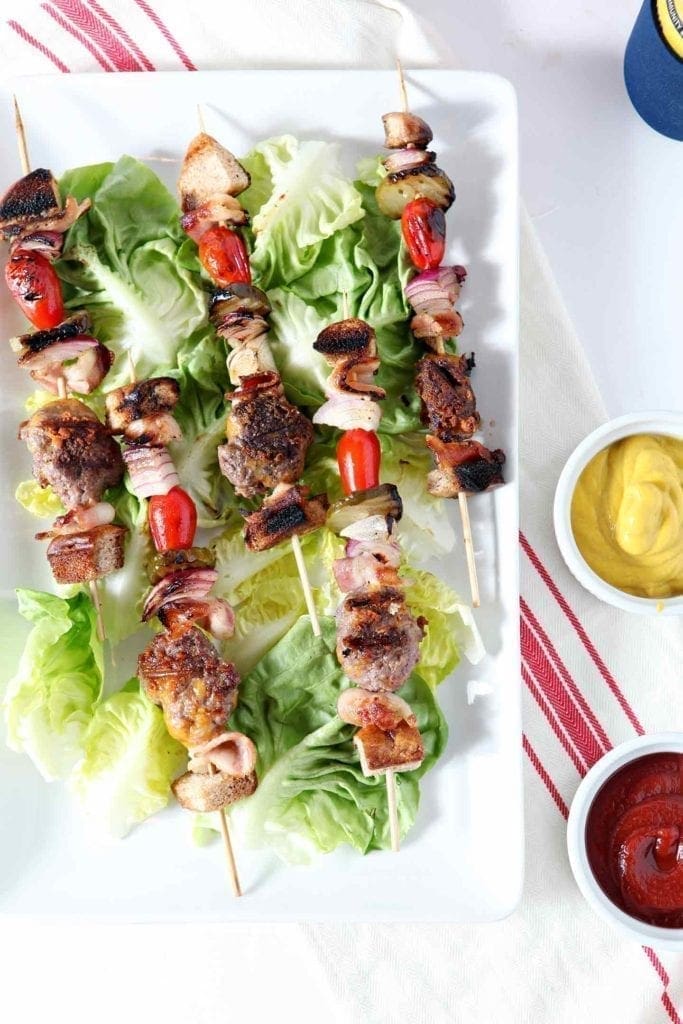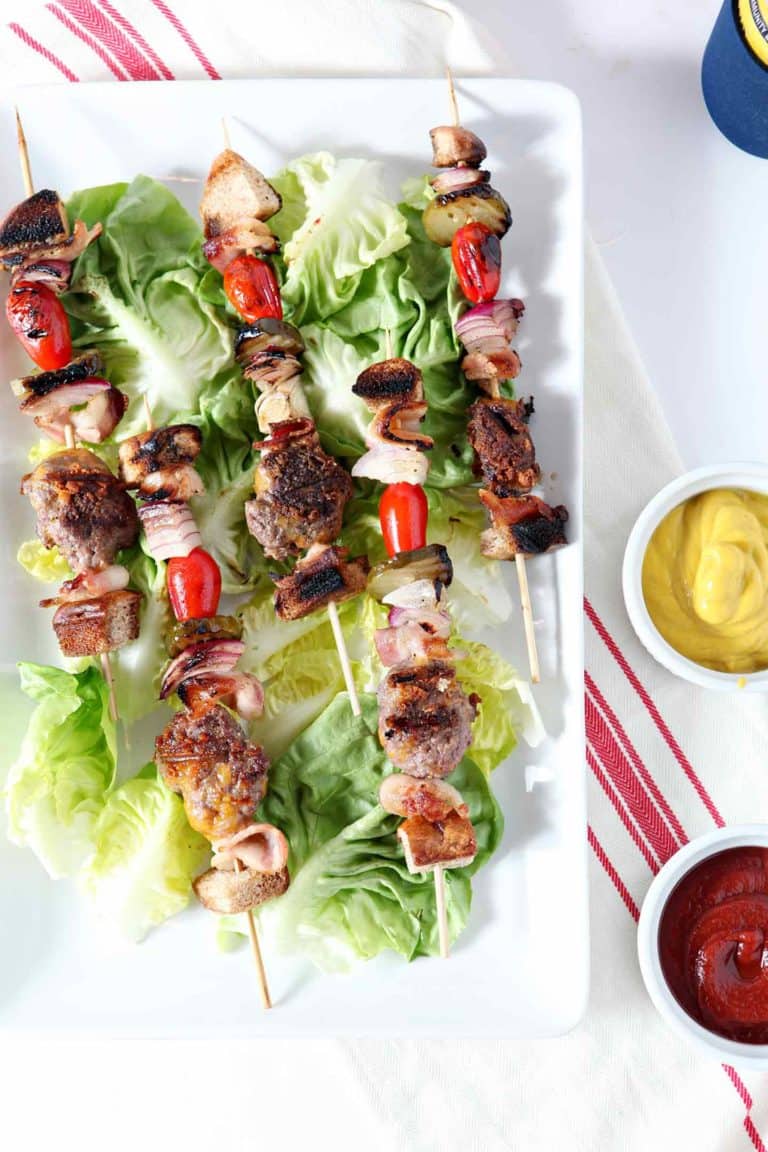 This weekend, let's be adventurous and grill up some Cheeseburger Kebabs! This twist on a cheeseburger offers a unique way to enjoy a summertime classic! And they can be made in advance, too. Mix flavorful, all-beef patties with cheddar cheese, then skewer with bacon, red onion, tomatoes, pickles and burger buns. Grill on both sides until perfectly cooked and serve with burger condiments. Cheeseburger Kebabs will be all the rage this summer!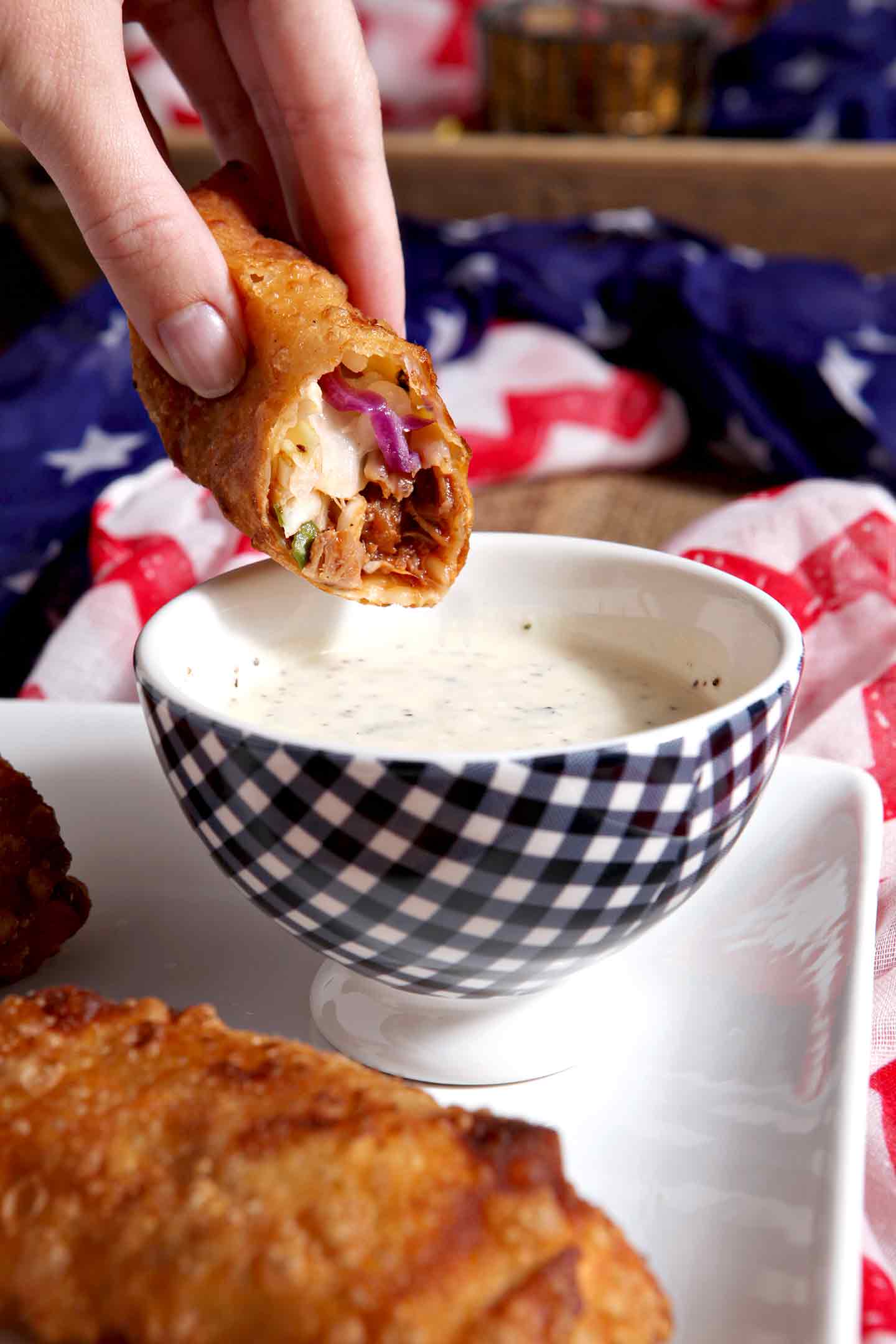 A Southern classic combined with an Asian favorite makes this delightful mash-up. Homemade Pulled Pork (in a tangy barbecue sauce!) is made in the slow cooker, then creamy coleslaw, made with yogurt instead of mayo, is tossed together. When ready, the pulled pork and coleslaw are rolled into eggroll wrappers, fried and served with creamy coleslaw sauce. Pulled Pork Coleslaw Eggrolls are a tasty appetizer to enjoy while watching sports!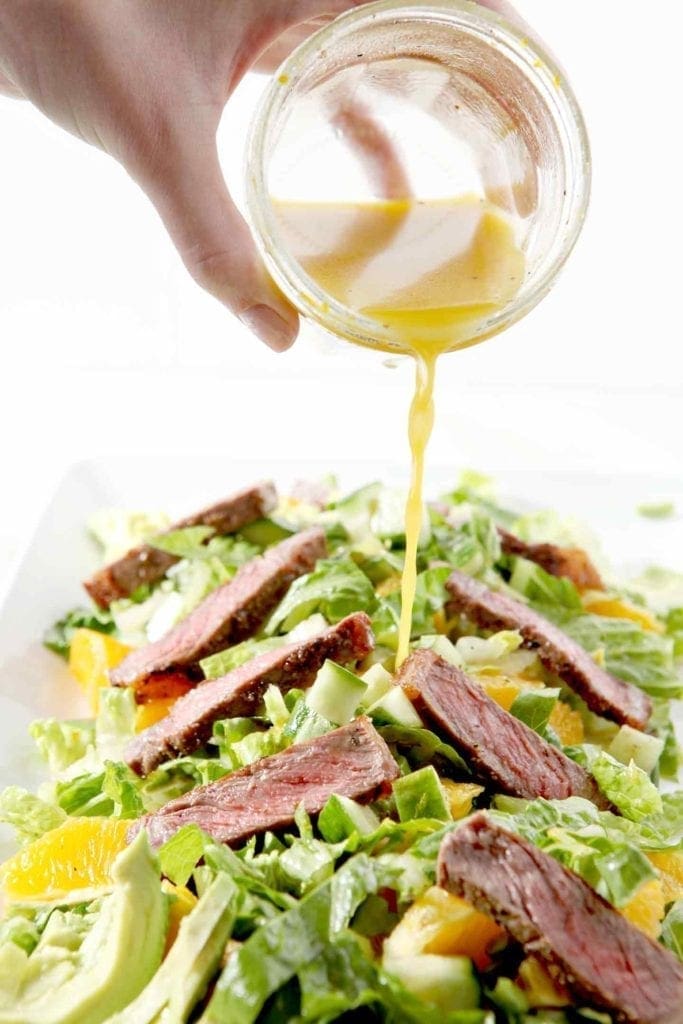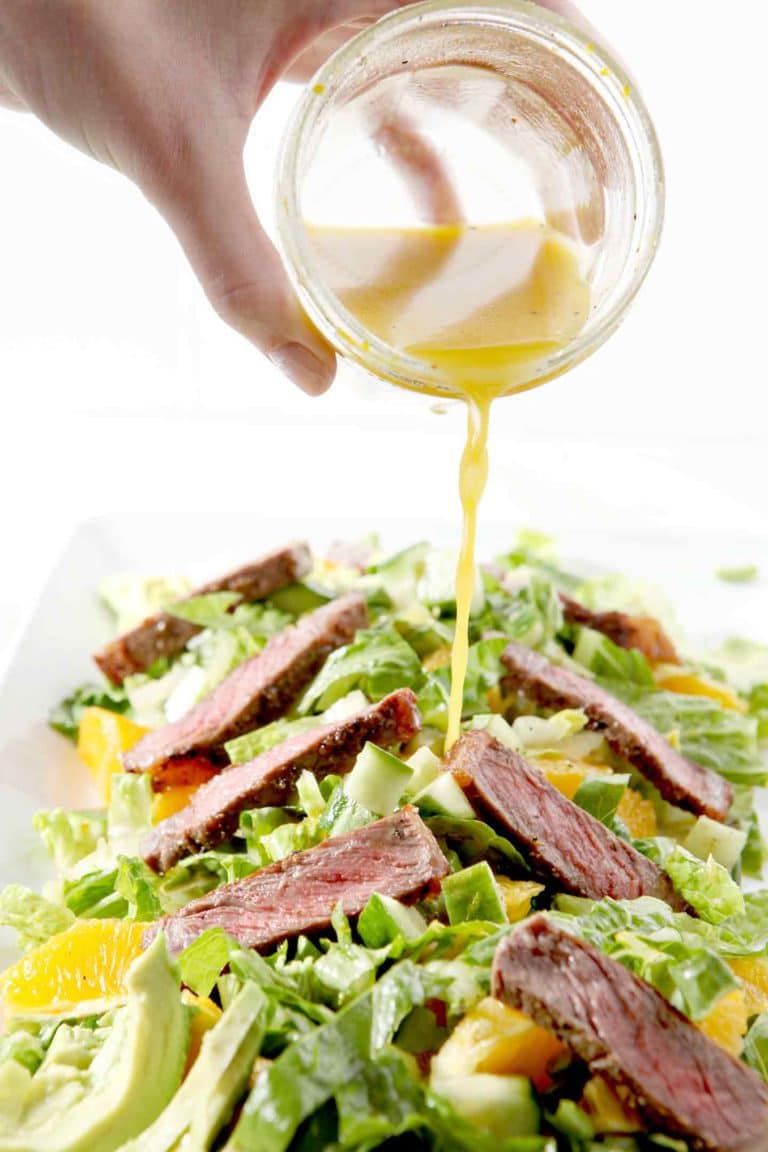 Looking for an entree or appetizer to wow the crowd this summer? Orange Steak Salad is the way to go! This Whole30-compliant, Paleo and Gluten Free recipe will impress guests and family alike. Perfectly cooked New York Strip Steak sits atop a bed of romaine lettuce, studded with navel oranges, English cucumbers and avocado. Finish with a drizzle of homemade Orange Vinaigrette, and this Orange Steak Salad makes the perfect summer meal!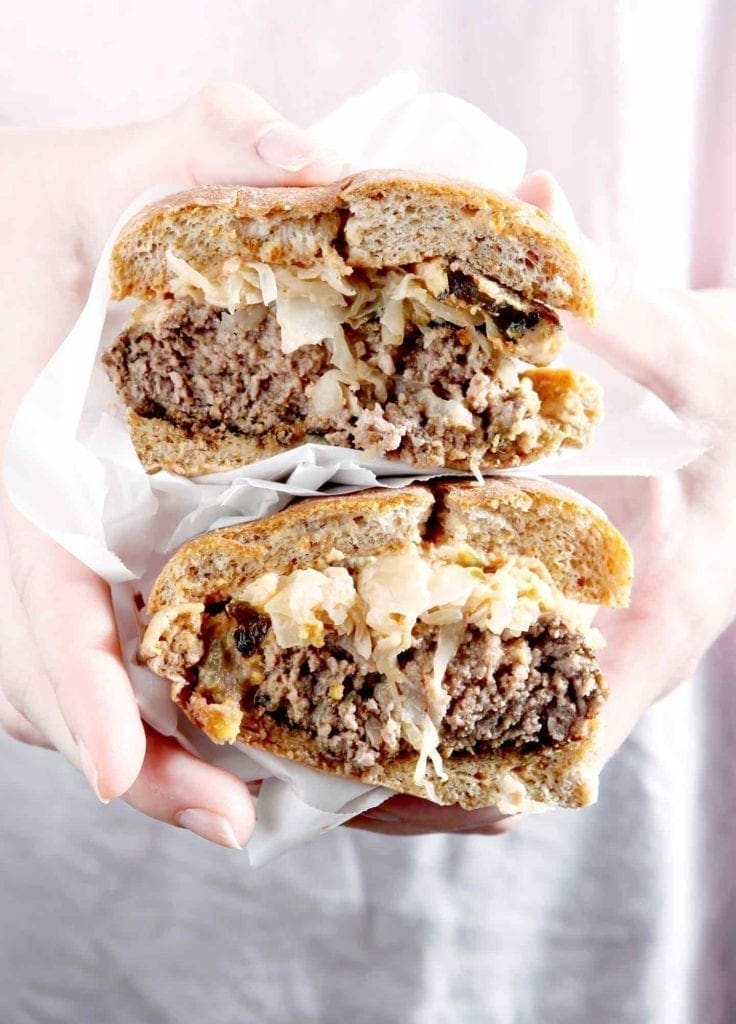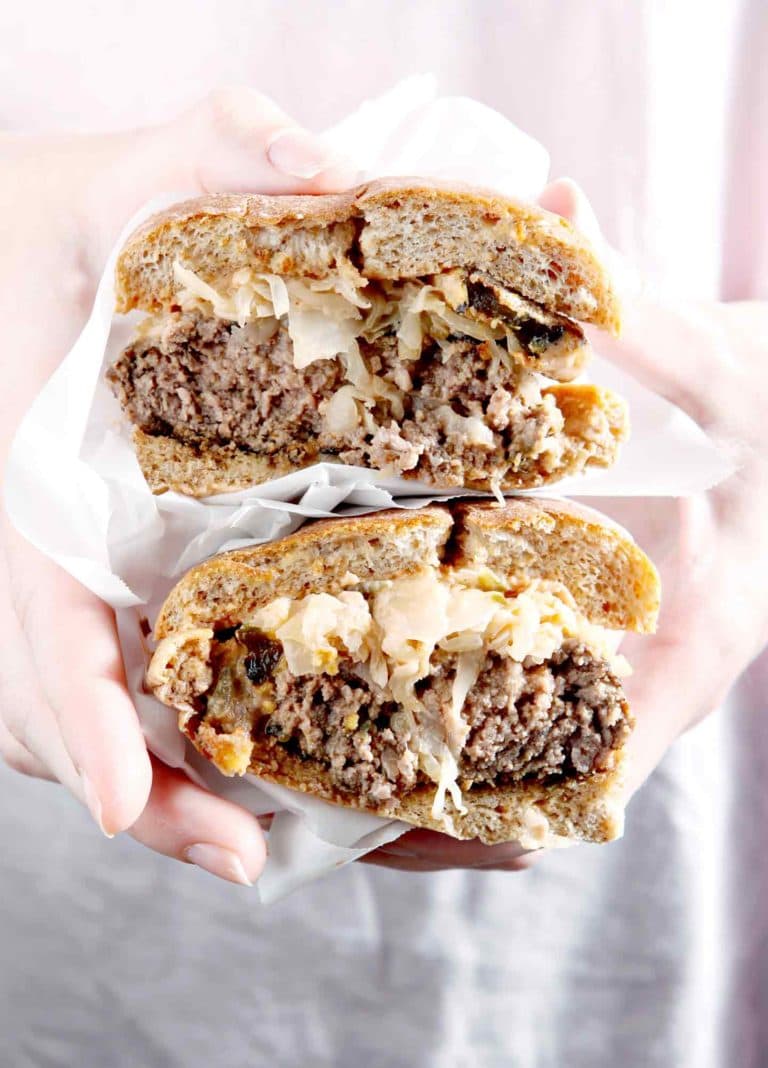 Up your burger game by making this sweet-spicy-savory Sauerkraut Burgers with Oven Fried Pickles and Sweet Sriracha Sauce. This recipe, which we've dubbed the "Sweet and Sauer" Burger, feeds a crowd with pizzazz. These all-beef burgers are topped with sauerkraut, homemade oven fried pickles and a flavorful sweet Sriracha sauce. Sauerkraut Burgers with Oven Fried Pickles and Sweet Sriracha Sauce are sure to be a hit this season!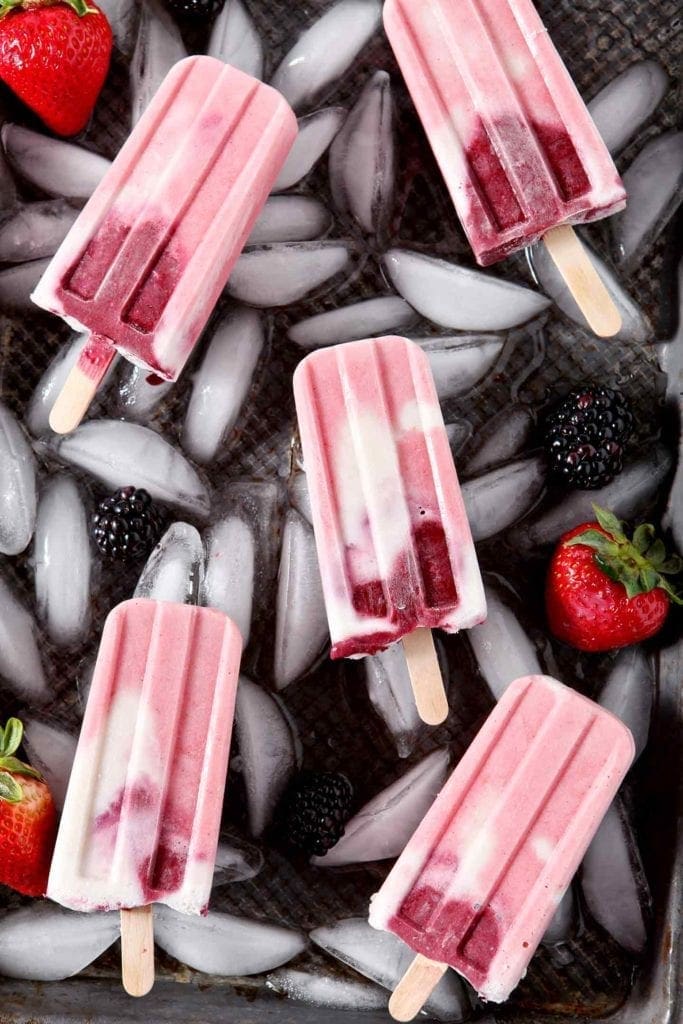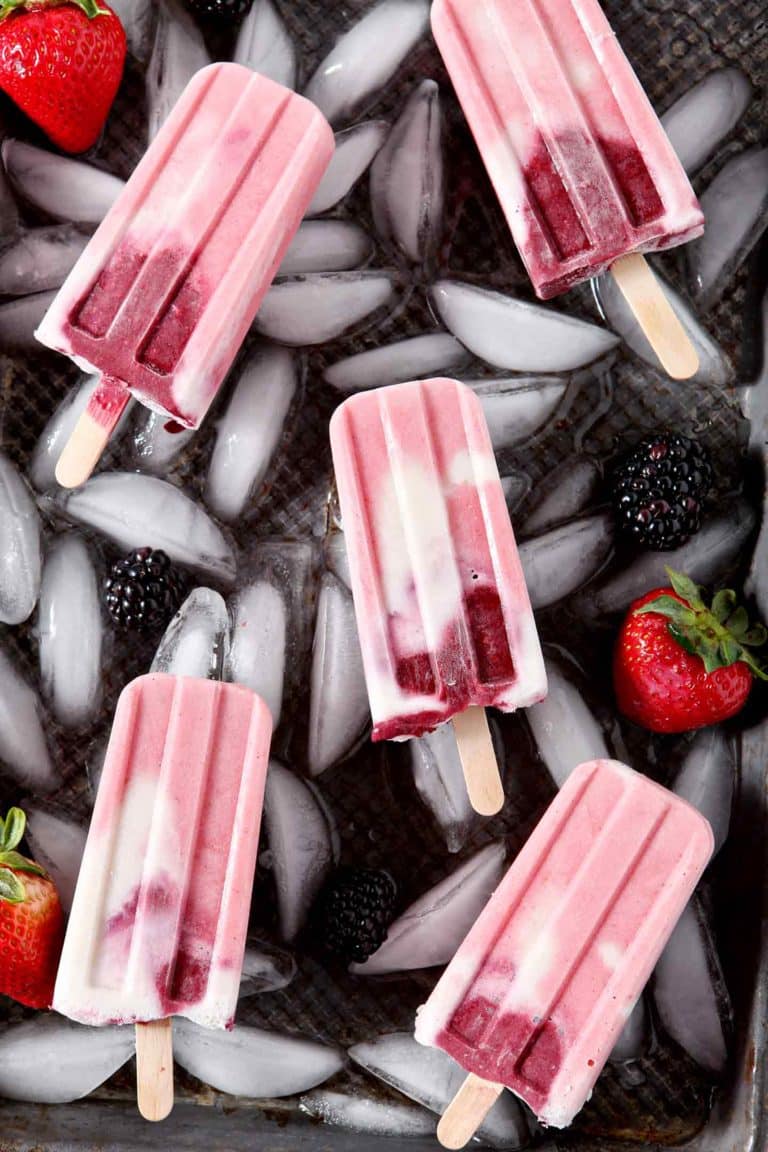 Patriotic Paleo Popsicles are the vegan dessert to make this summer! Red, white and blue, these refined sugar-free popsicles are creamy and naturally sweetened with maple syrup. Coconut cream serves as the base, then strawberry and blackberry purees are added for seasonal flavor and color. Swirl together, then freeze in the popsicle molds. Perfect for Memorial Day, July 4th and Labor Day festivities, these pops are summery sweet all season long!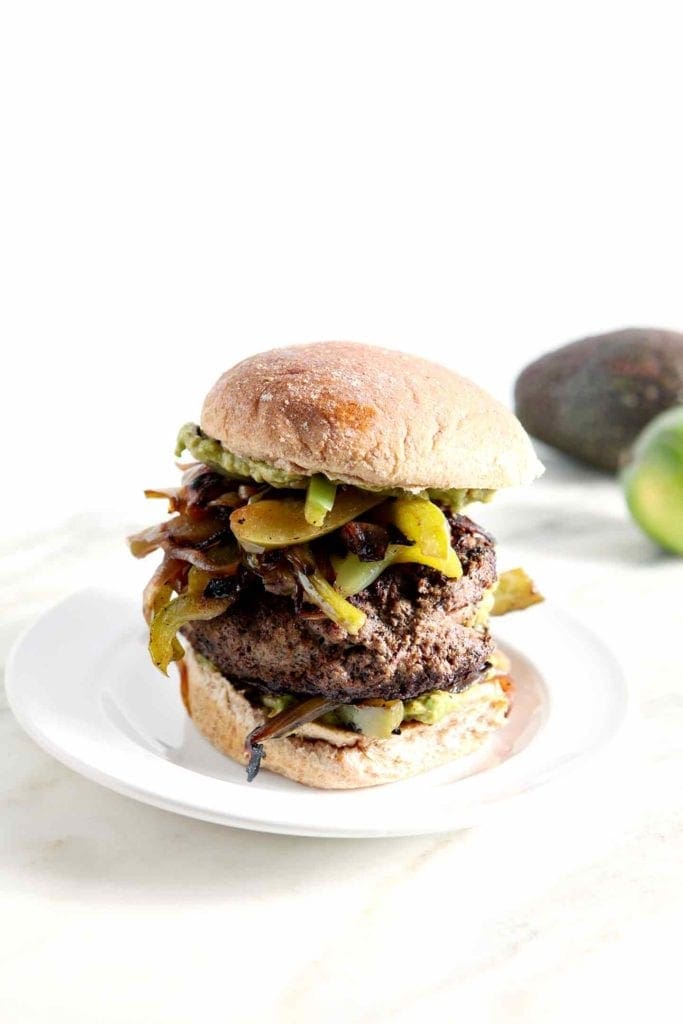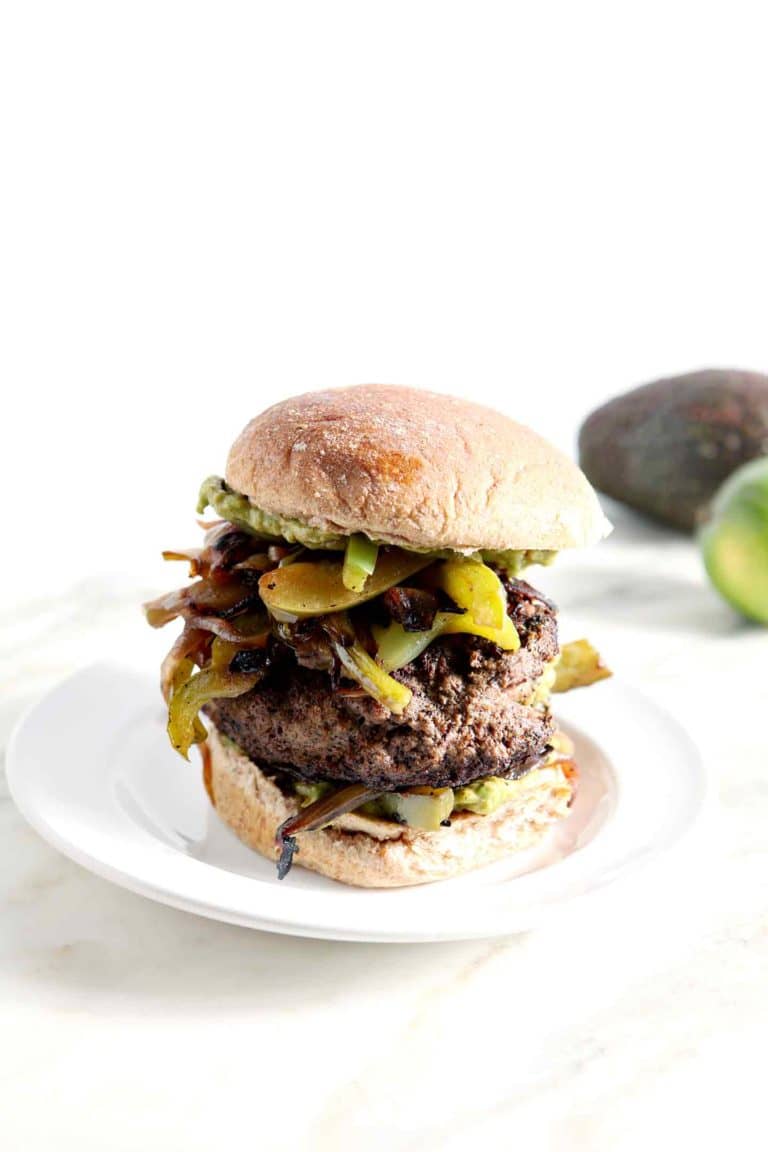 Guacamole-Stuffed Fajita Burgers make the PERFECT entree for Cinco de Mayo and summer parties! This burger combines guacamole goodness, beefy deliciousness and fajita veggies on a bun. First, make guacamole using avocados, taco seasoning and fresh lime juice. Instead of forming a normal patty, make two smaller ones. Dollop guacamole on one, then top with the other and seal tightly. Pan fry or grill and serve. These burgers are a guaranteed hit!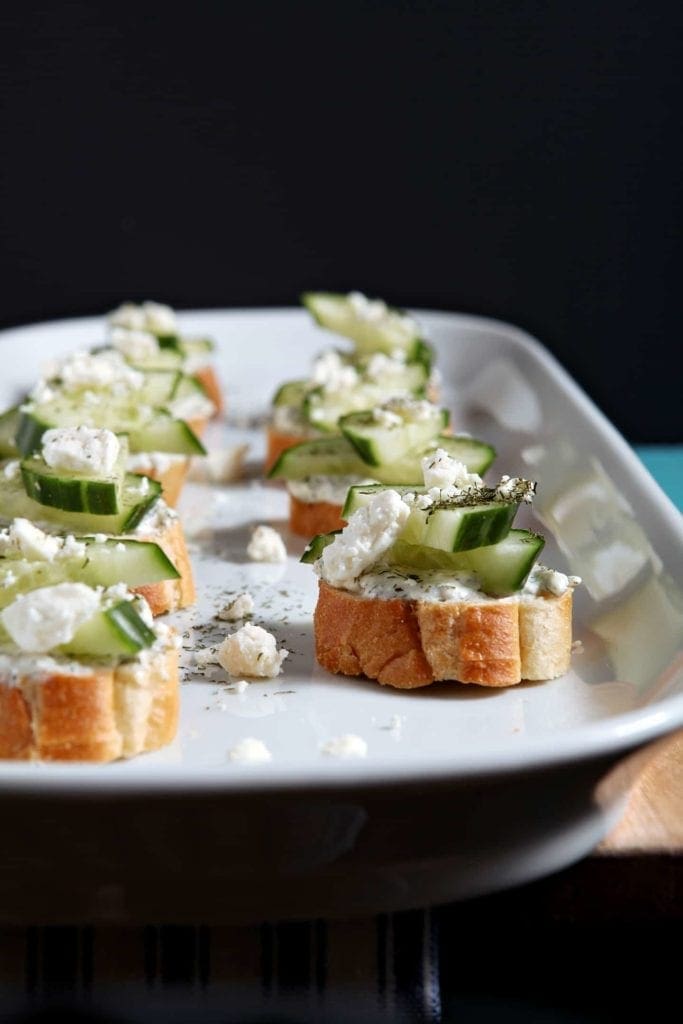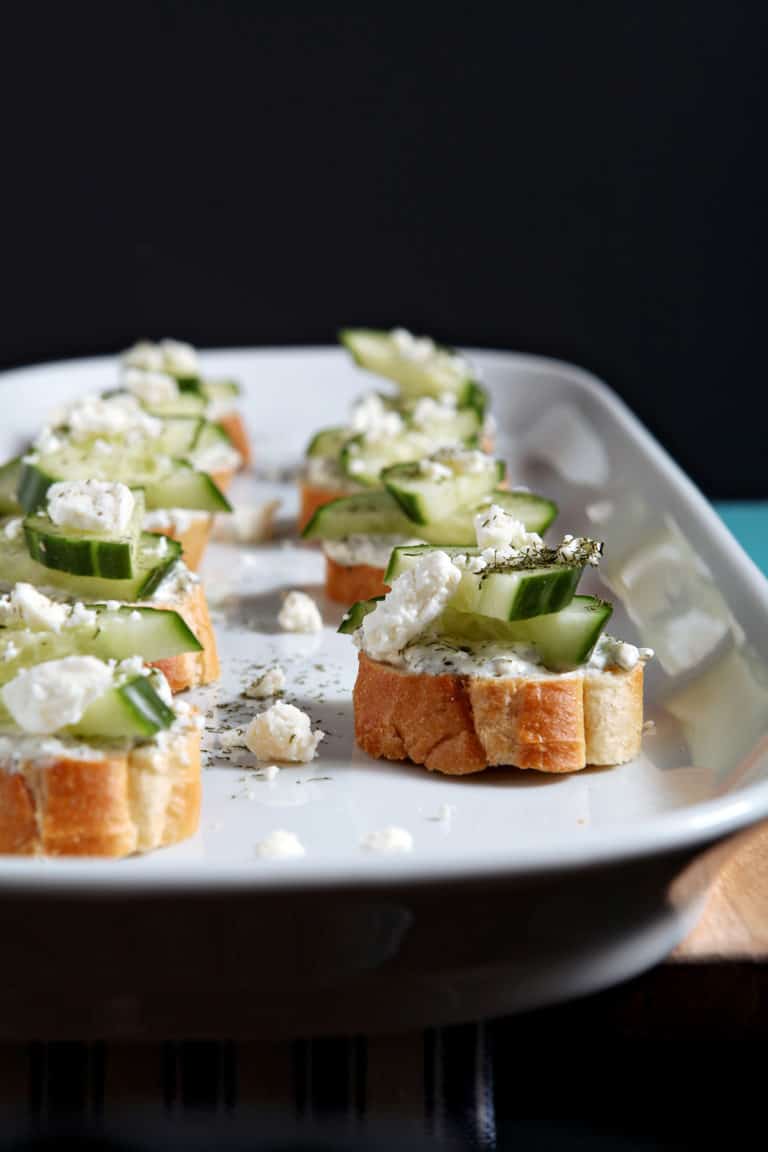 Cucumber Bruschetta tastes like tzatziki sauce and is the perfect appetizer for any warm weather celebration! Dress toasted baguette rounds with a Feta, Greek yogurt and dill sauce, before topping with fresh sliced cucumbers. Vegetarian and super easy to make the day of a celebration, this Cucumber Bruschetta is a dish everyone will adore.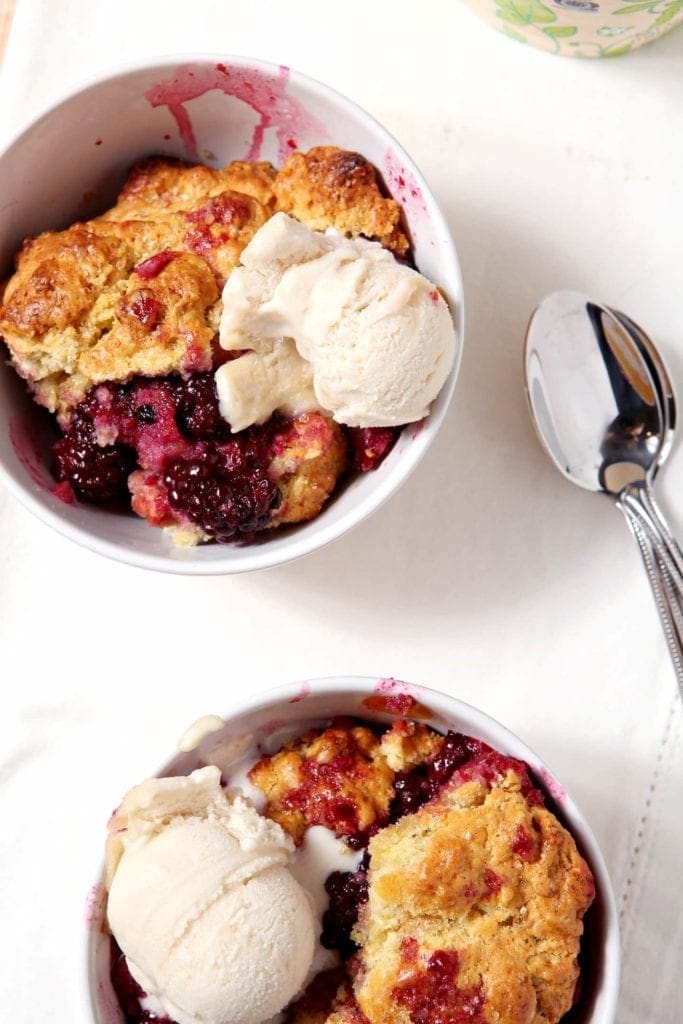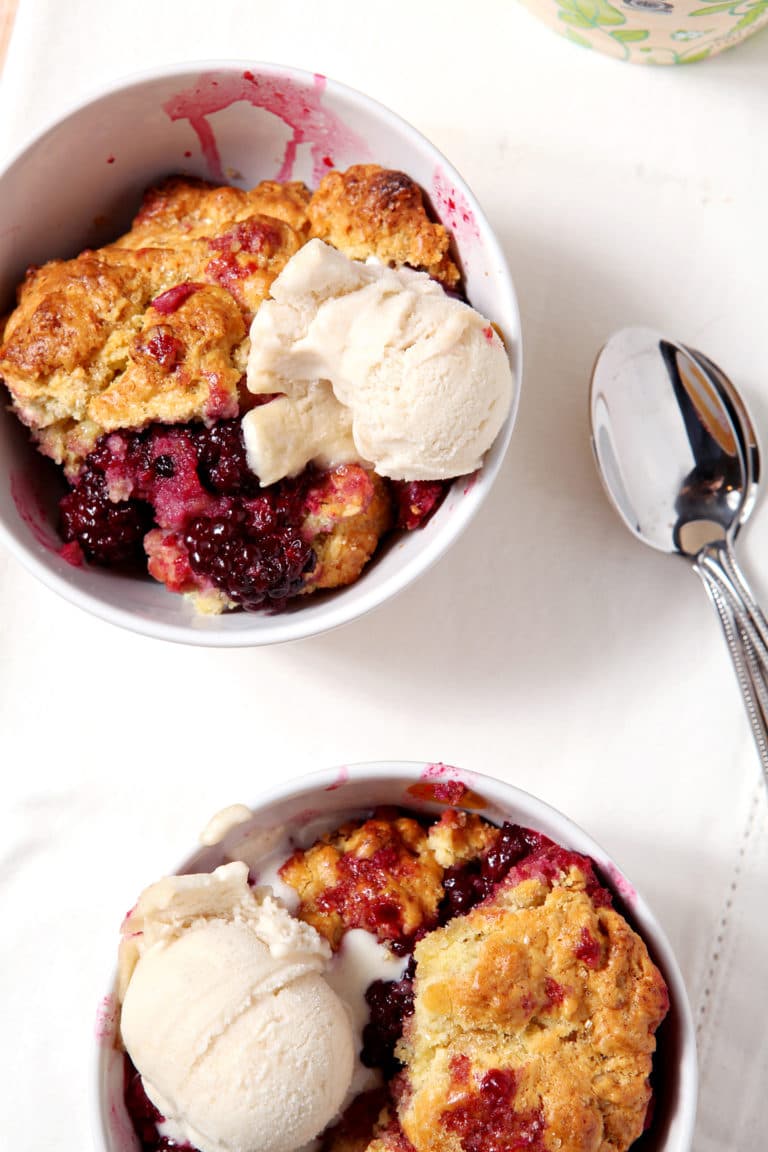 Dairy Free Blackberry Cobbler is the ultimate summertime dessert. Toss blackberries in sugar and lemon zest, then roast beneath a cobbler topping. Serve with a scoop of your favorite (dairy free) ice cream to top off this scrumptious treat.
Summertime Sippers
Warm weather calls for warm weather sippers! With the impending summer weather, it's time we busted out some of our fave drinks for the season. Below, you'll find recipes that feature fresh fruits and unique blends.

Hot weather and long days calls for a Blackberry Ginger White Wine Slush! This adult slushy is what the warm months need, and it's so simple to make! Puree fresh or frozen blackberries with white wine in the blender, then freeze overnight. Once the mixture is the correct consistency, scoop into cocktail glasses and top with ginger ale. Tart and oh-so-delicious, these Blackberry Ginger White Wine Slushes are sure to become a summertime favorite!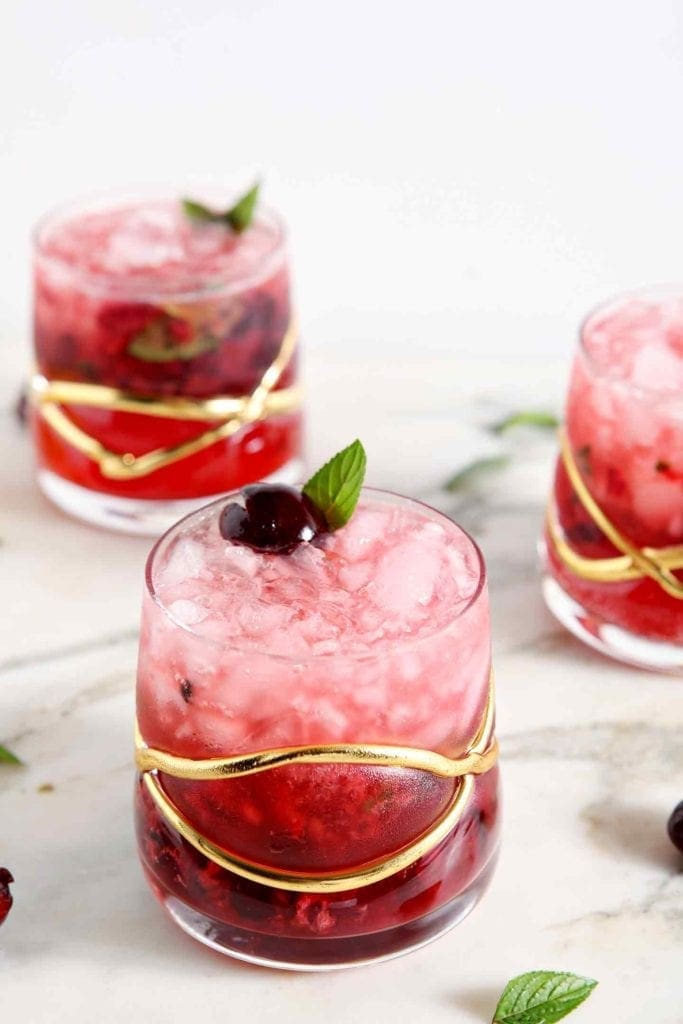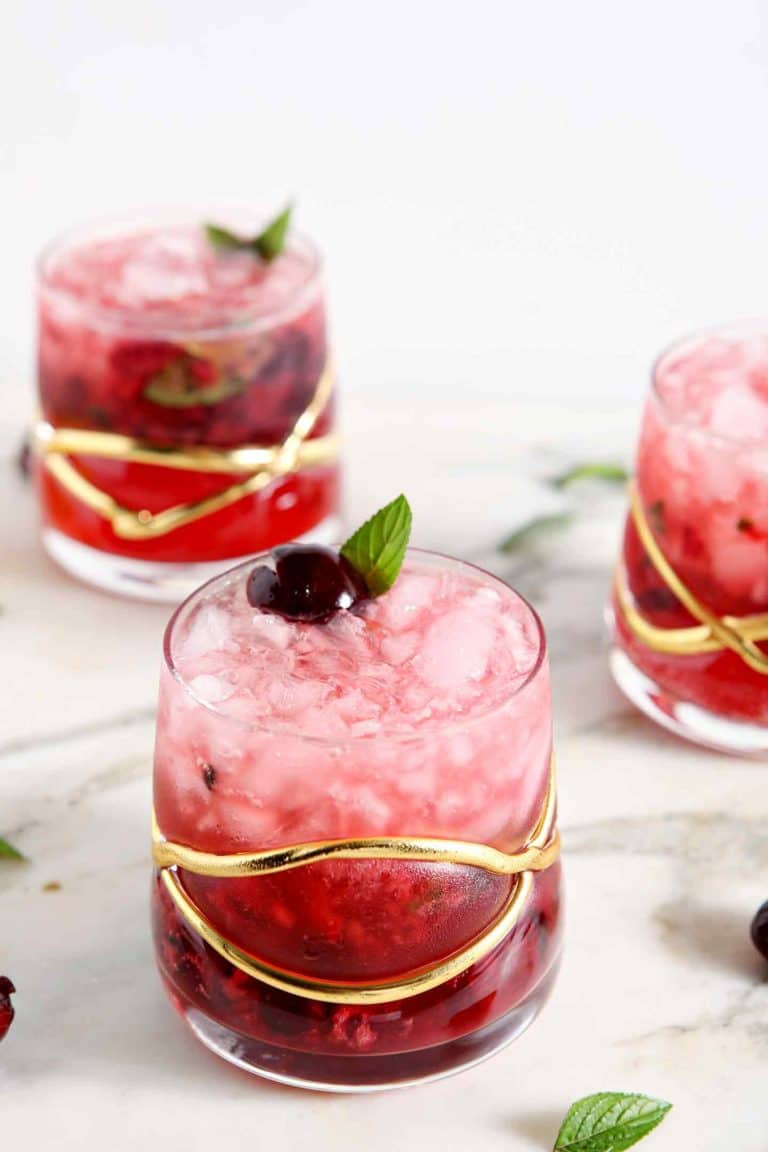 Summertime never tasted so tart and refreshing! The Honeysuckle Cherry Smash is my new favorite cocktail and for good reason. Muddle fresh cherries and mint in an old fashioned glass, then add agave nectar, freshly squeezed lemon juice and Cathead Honeysuckle Vodka. Top with chilled ginger ale, and enjoy immediately! Singing of summer flavors, the Honeysuckle Cherry Smash sips easy on a hot summer day and is sure to become a seasonal favorite!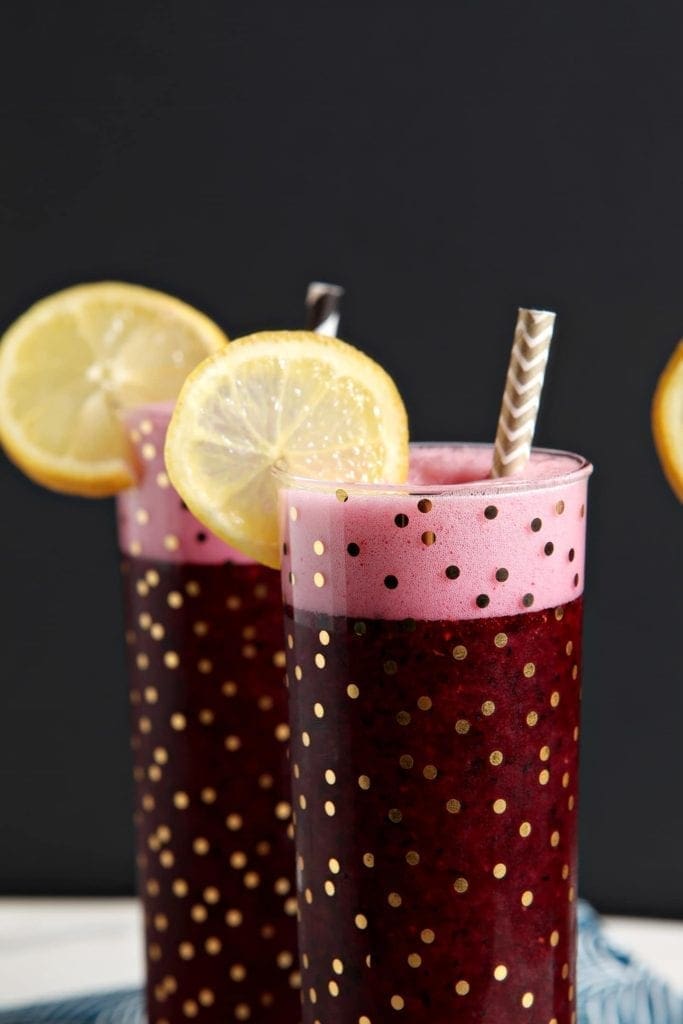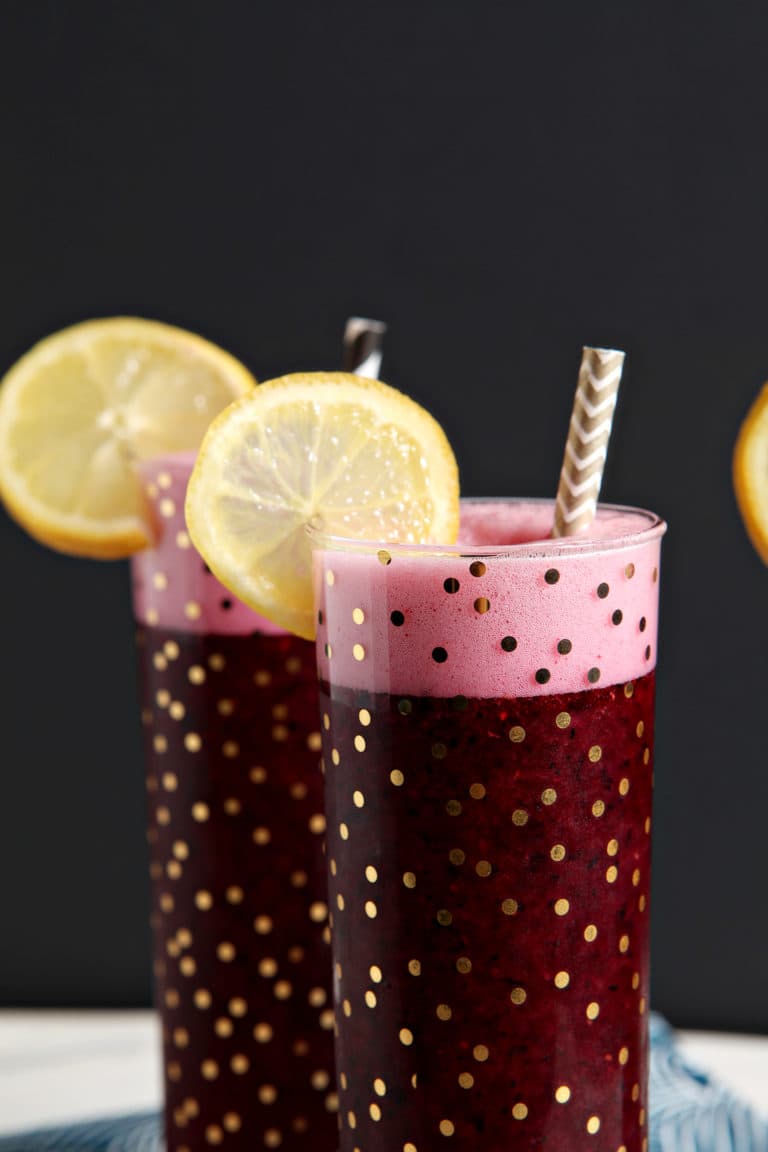 Celebrate the weekend by making this naturally sweetened Spiked Blueberry Lemonade! Fresh lemon juice is combined with honey simple syrup, water and frozen blueberries in the blender, then add in a shot or two of vodka for a perfect summer cocktail!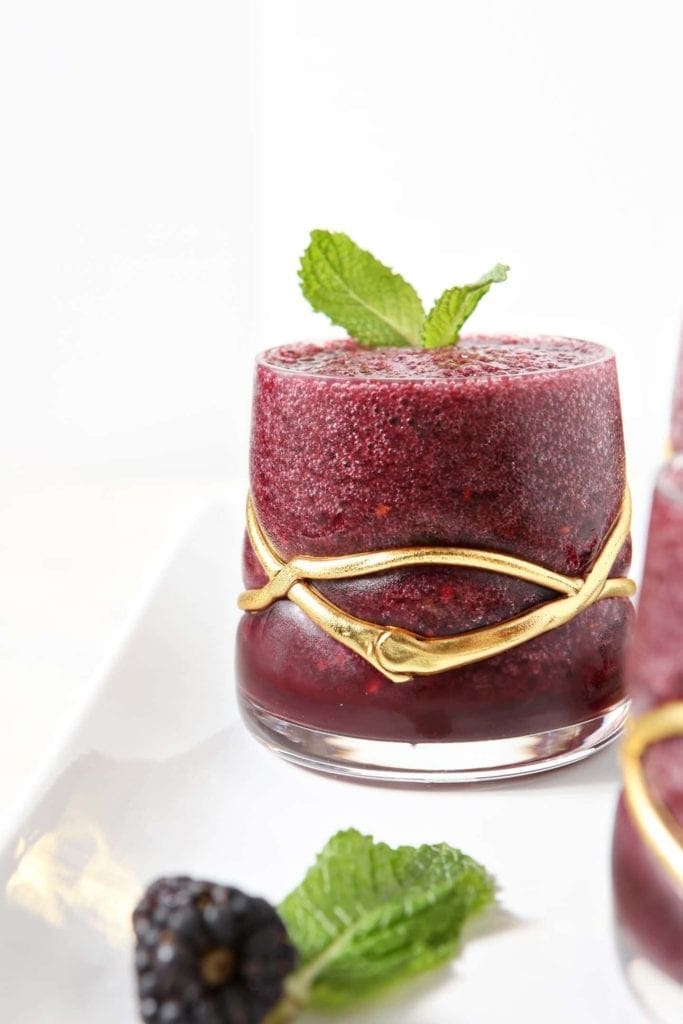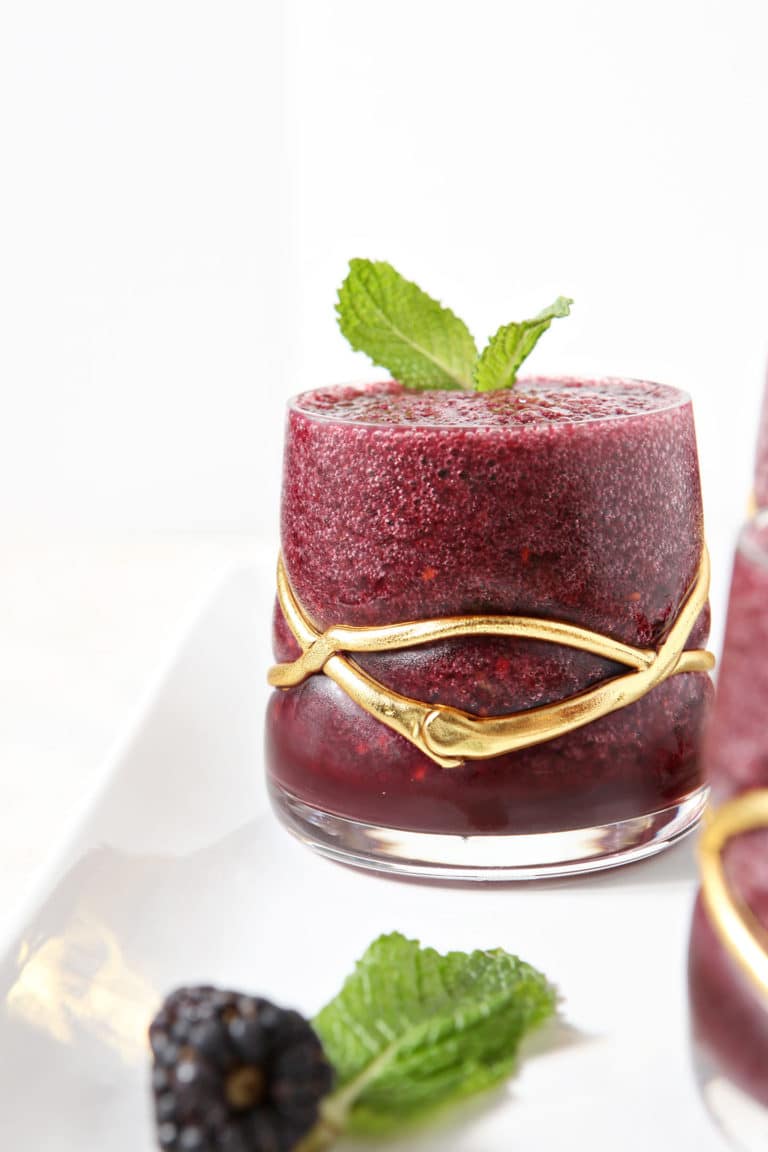 Cool off with a Blackberry Gin Slush this summer! This cocktail mixes frozen blackberries with ginger ale, mint and gin and makes a delightful, chilled creation that's hard to stop sipping.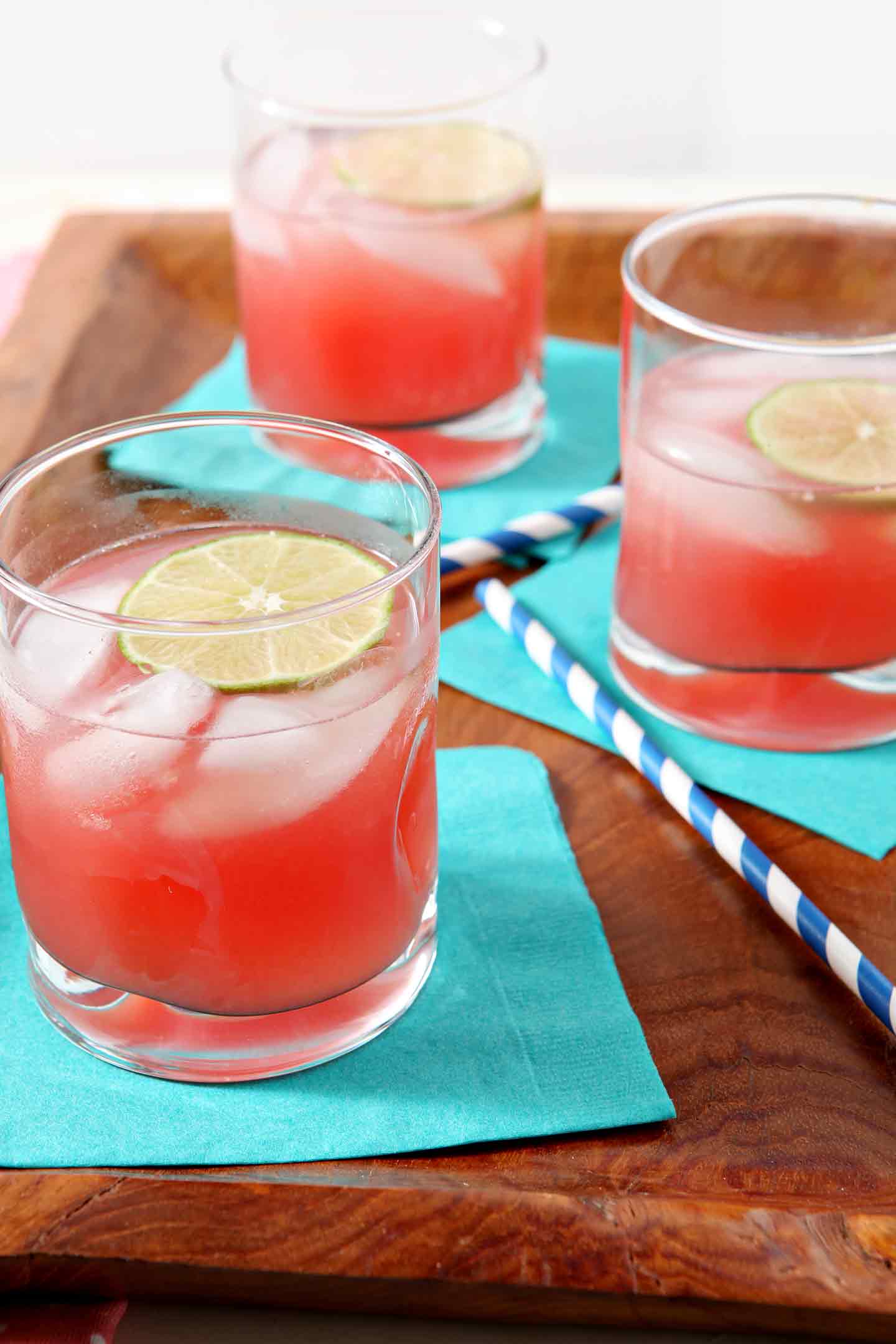 Spiked Watermelon Limeade is the pitcher drink of our dreams! This beautiful pink cocktail highlights just four ingredients for the ultimate summertime cocktail: watermelon, mint, lime and vodka. Puree watermelon chunks, then strain, and add to a pitcher with freshly squeezed lime juice and homemade mint simple syrup. Pour in vodka and chill, then serve to your besties! Refreshing and summery, this Spiked Watermelon Limeade makes a tasty sipper!

This weekend, cool off with a Strawberry Honeysuckle Sparkler, a summertime cocktail featuring fresh strawberry puree, honey simple syrup, honeysuckle vodka and club soda. It's light, simple and oh-so-delicious!
…
Which one of these recipes would you like to make?
What will you be cooking in May?
Other monthly meal plans: January 2018 / February 2018 / March 2018 / April 2018 / June 2018 / July 2018 / August 2018 / September 2018 / October 2018 / November 2018 / December 2018