Cool off with a Blackberry Gin Slush this summer! This cocktail mixes frozen blackberries with ginger ale, mint and gin and makes a delightful, chilled creation that's hard to stop sipping.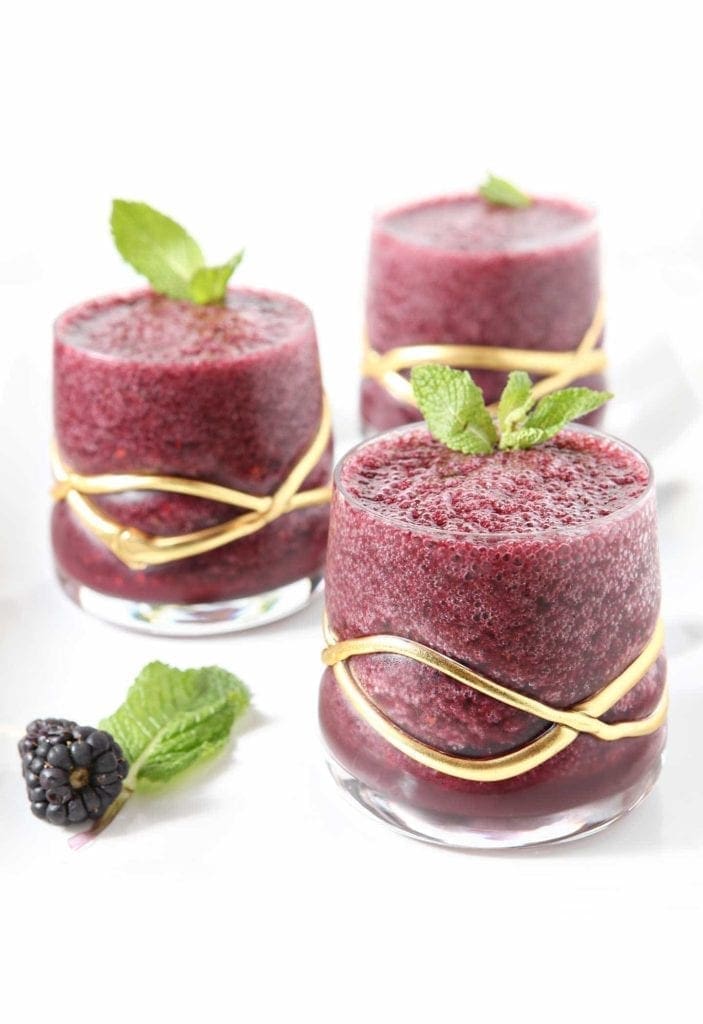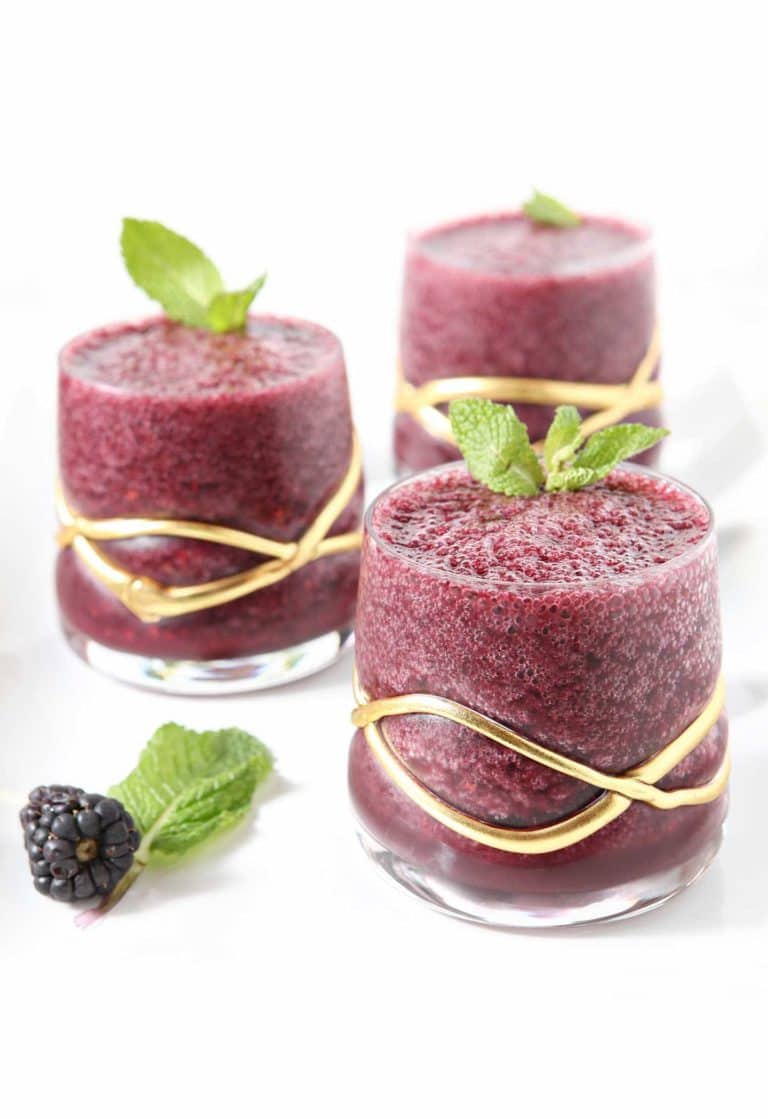 In my years of blogging — nearly five here, plus an additional few at a personal blog that was named after a comment my media ethics professor made about my handwriting — I've had the pleasure of meeting and connecting with so many different bloggers.
I've had the fortunate of meeting several blog friends throughout the years, and I hope to meet more of them in the future.
The bad thing about all of us connecting on the Internet means that more often than not, we can't get together in person because we live in different cities. And that breaks my heart because there are so many people I want to hang out with on a regular basis. The only problem is they don't live anywhere near me.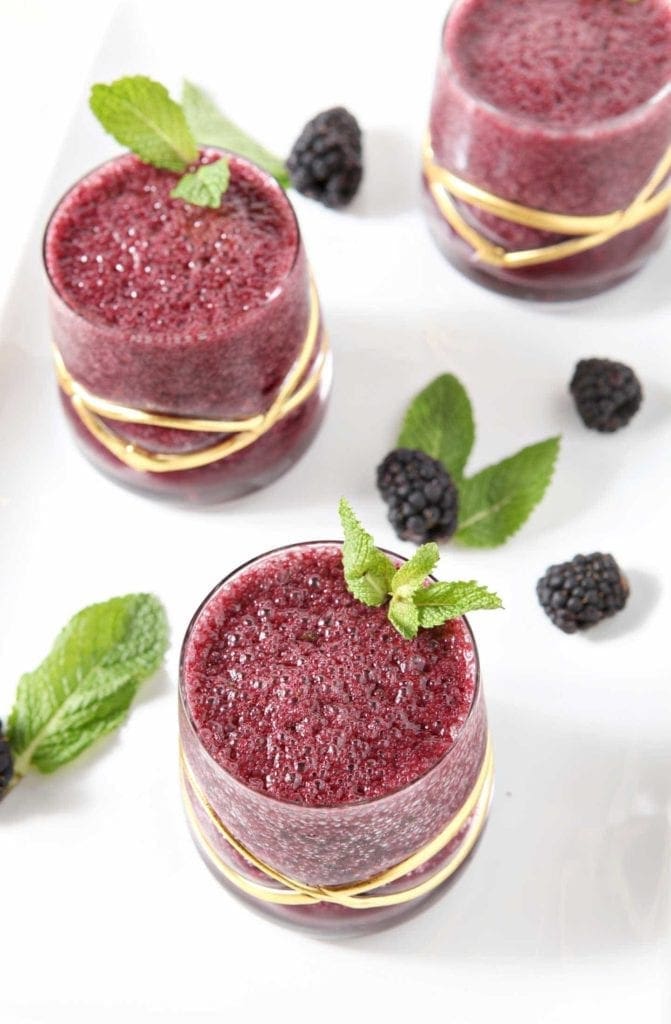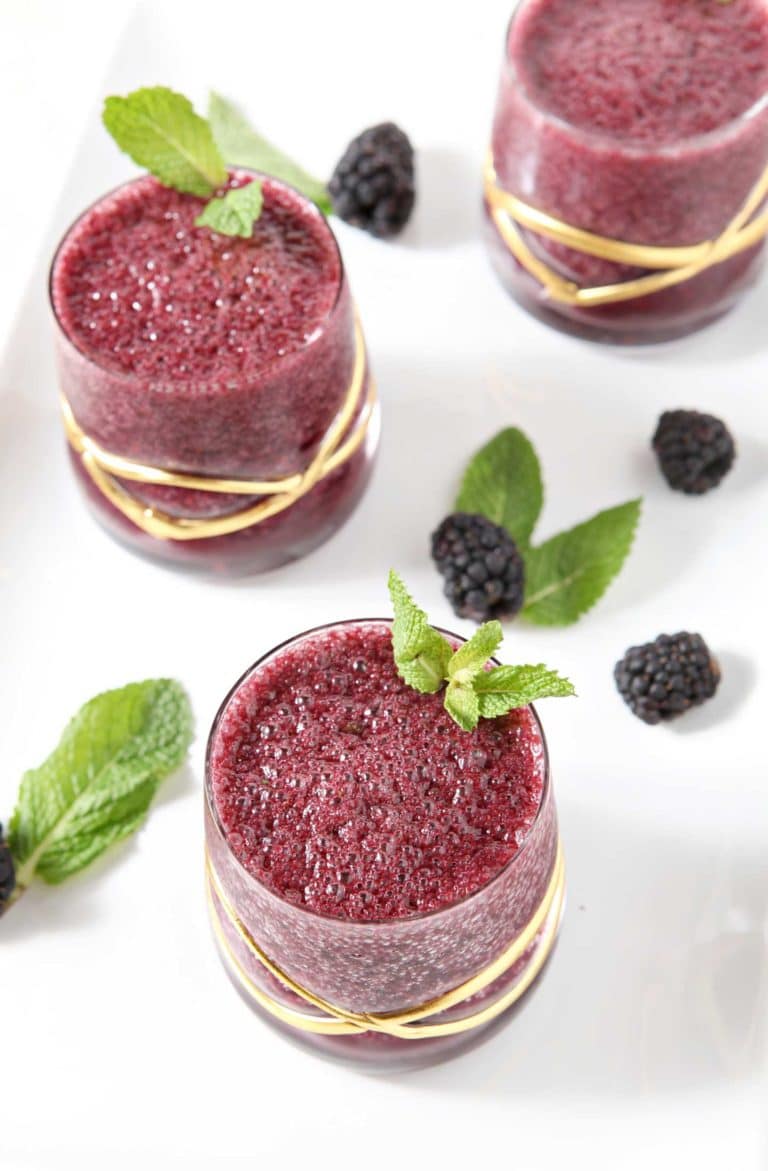 So today, my pal Susannah and I have organized 50 of our blogger friends to create the Great Blogger BBQ. Our barbecue is a nod to the unofficial start of summer, which is this coming Monday. And it's a potluck.
We've all brought different dishes to the par-tay. Some of us have made entrees, others desserts, a few appetizers, some sides and others, like me, have mixed beverages.
My beverage? It's of the boozy variety.
"Surprise!" said no one.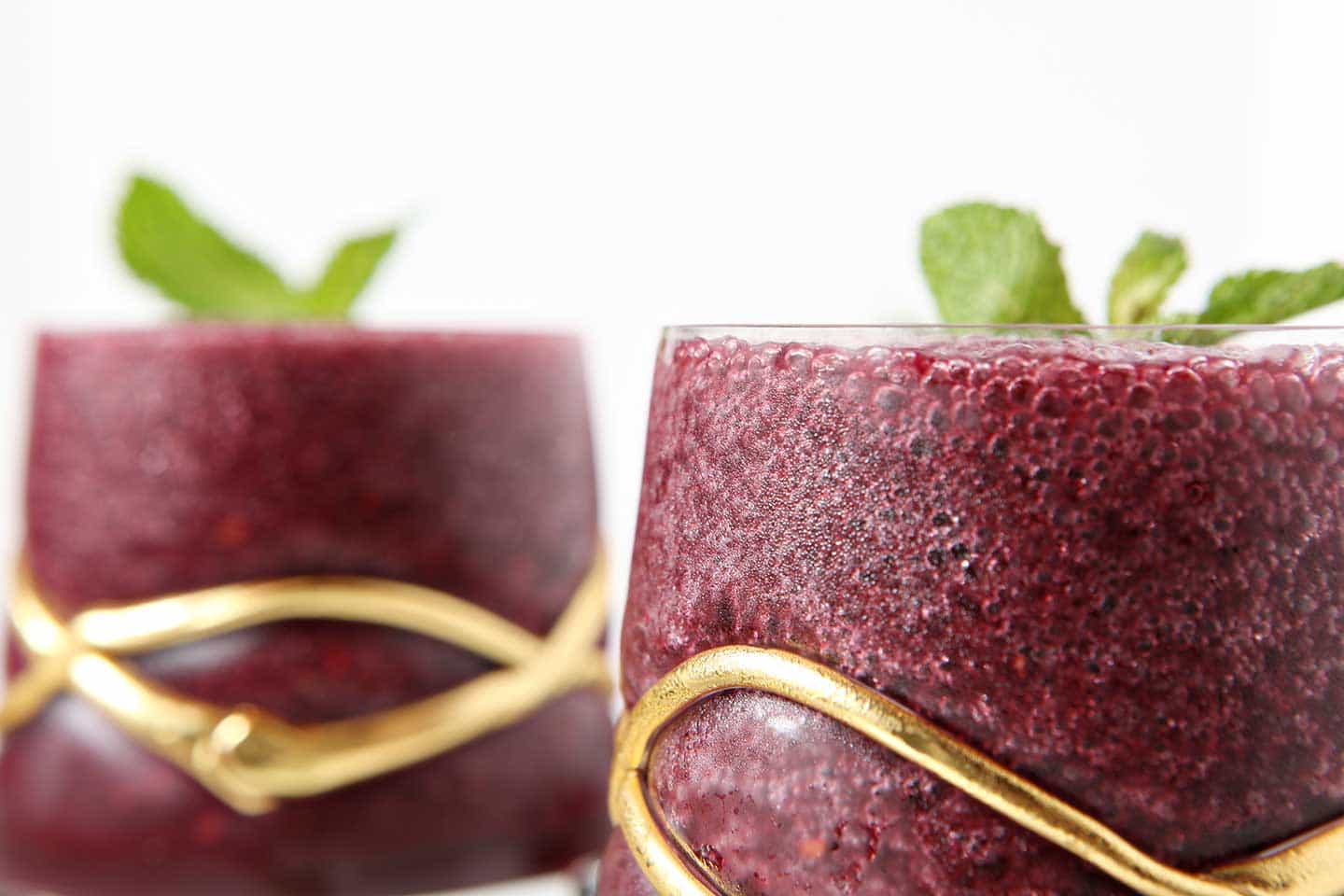 I wanted to make a drink for us to enjoy on a hot summer day. The temperature is rising in Texas, and it won't be long before it's scorching here.
My only caveat was that I wanted to create a light, flavorful drink that would keep us cool without knocking us on our butts. Because while I enjoy a good boozy drink as much as the next person, I've officially decided hangovers are for the birds. And by birds, I mean 21-year-olds testing their tolerance.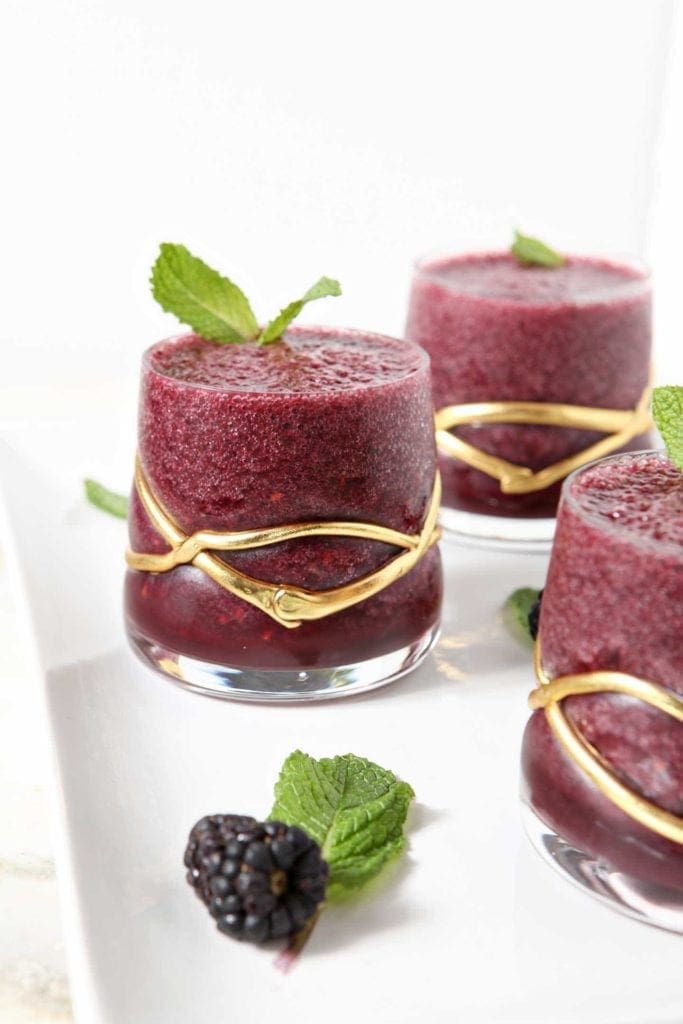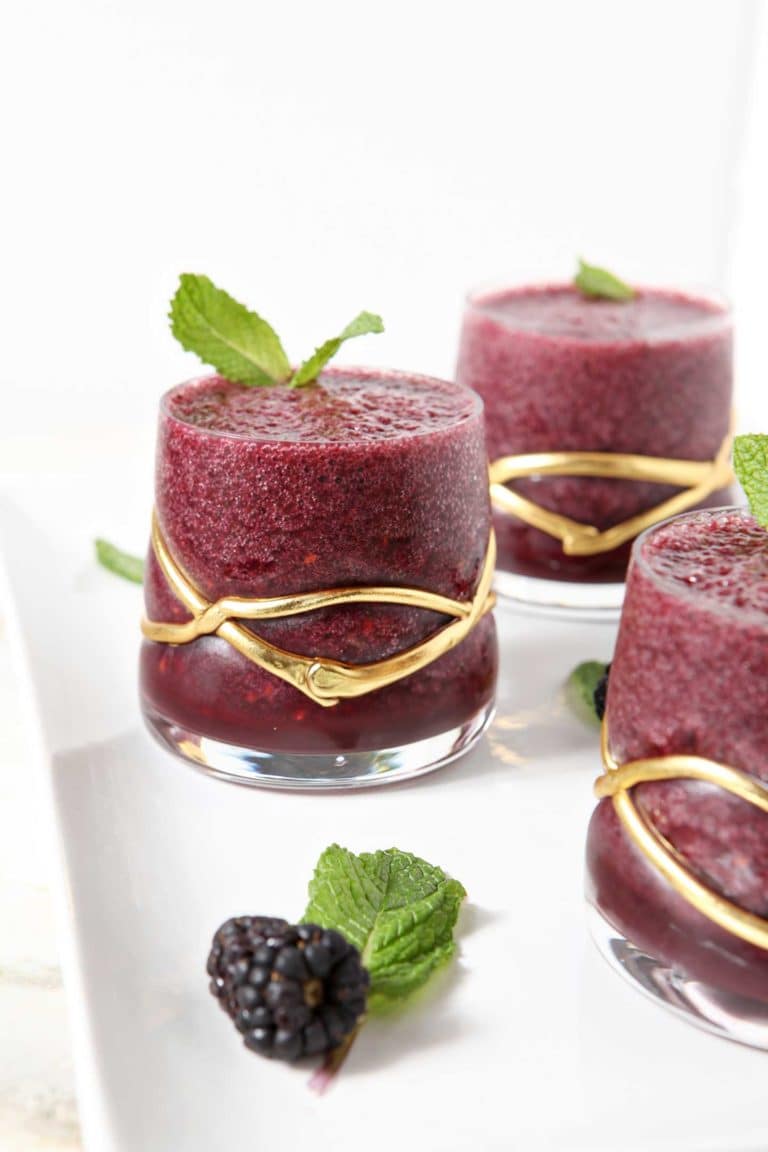 This Blackberry Gin Slush recipe makes THREE drinks! It's light on the booze, but heavy on the summertime flavors of mint and blackberry. And you can make it in your blender.
If that's not an delightfully easy cocktail for a backyard barbecue, I don't know what is.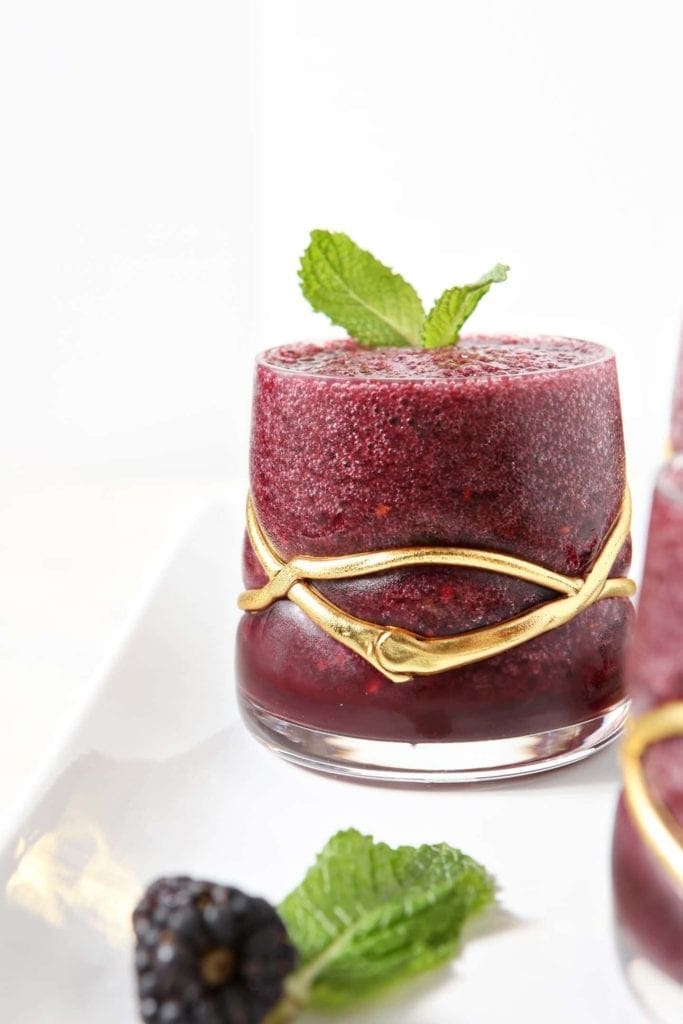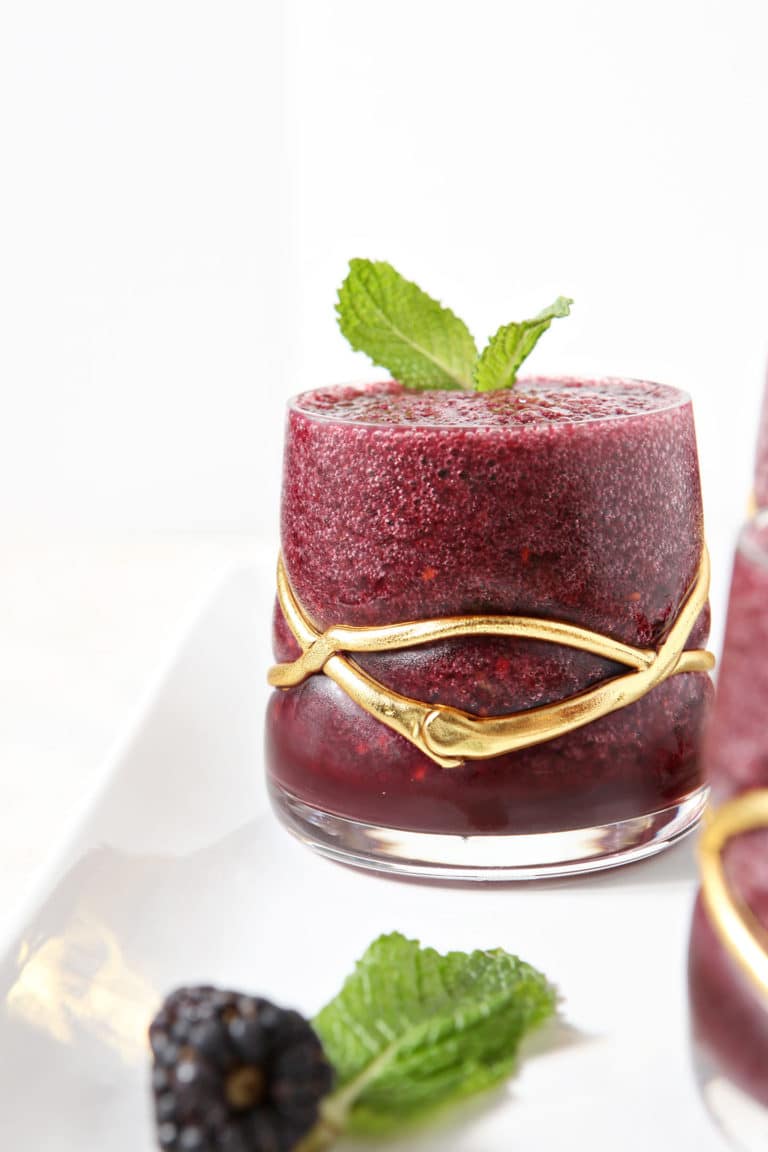 Now, let's talk about the Great Blogger BBQ!
It's almost barbecue season! In celebration, I've teamed up with my blog friends to bring you 50+ recipe ideas for hosting (or attending) a smashing summer shindig.
See all the recipes below!


Blackberry Gin Slush Essentials
The Speckled Palate participates in affiliate programs. As an Amazon Associate, I earn a commission from qualifying purchases. Please refer to my disclosure page for more information about these affiliate programs.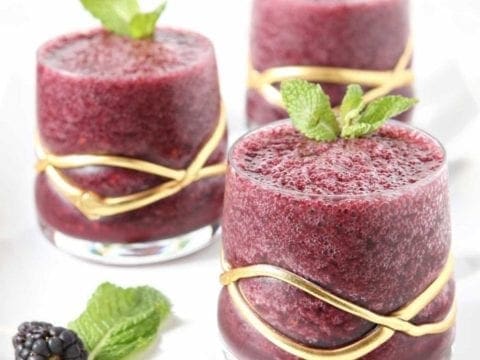 Yield:

3 cocktails
Blackberry Gin Slush
Cool off with a Blackberry Gin Slush this summer! This cocktail mixes frozen blackberries with ginger ale, mint and gin and makes a delightful, chilled creation that's hard to stop sipping.
Ingredients
Mint Simple Syrup
1 cup water
1 cup granulated sugar
1 sprig mint (about 10 mint leaves)
Blackberry Gin Slush
12 oz. ginger ale
2 cups frozen blackberries
2 oz. mint simple syrup (recipe above)
3 oz. gin
5 mint leaves
Instructions
Make the Mint Simple Syrup
In a saucepan over high heat, pour in the water. Add the granulated sugar and sprig of mint.
Bring the water to a simmer, stirring constantly until the sugar has dissolved.
Take off the heat, and bring to room temperature.
Remove the mint sprig.
Store in the refrigerator in a mason jar or a plastic container until use.
Make the Blackberry Gin Slush
In the blender, combine the ginger ale, frozen blackberries, mint simple syrup, gin and mint leaves.
Blend until smooth and a slushy consistency.
Serve immediately with a sprig of mint.
Notes
If you want the cocktails to be boozier, add 2-3 additional oz. of gin. I could taste the gin in these light drinks, but you can certainly add more if you desire!
Nutrition Information:
Yield:
3
Serving Size:
1 drink
Amount Per Serving:
Calories:

684
Total Fat:

1g
Saturated Fat:

0g
Trans Fat:

0g
Unsaturated Fat:

0g
Cholesterol:

0mg
Sodium:

28mg
Carbohydrates:

157g
Fiber:

6g
Sugar:

144g
Protein:

2g
Nutrition facts are an estimate and not guaranteed to be accurate.
Appetizers
Korean BBQ Tofu Sliders with Kimchi Slaw by Hello Little Home
Corn, Black Bean, and Feta Dip by Lizzy is Dizzy
Crab, Bacon & Guacamole Crostinis by That Square Plate
Cocktails and Drinks
Homemade Lemonade by Winstead Wandering
Fleur Collins Cocktail by Hungry Girl por Vida
Fourth of July Sparkler by Mixplorology
Black Stripe Cold Rum Cocktail by Honey and Birch
Fresh Watermelon Mojito by Twin Stripe
Mint Hibiscus Lemonade by The Little Epicurean
Wine Slushy by Living Well Kitchen
Basil Gin Lemonade by Glisten and Grace
Entrées
Balsamic & Honey Chicken Skewers with Strawberry-Kiwi Salsa by No Spoon Necessary
Amazing Basic Spice Rub for Grilling by An Oregon Cottage
Mediterranean Chicken Kebabs by PasadenaDaisy
Smoked Porchetta Pork Loin by Tasty Ever After
Pressure Cooker Pulled Pork by Appeasing a Food Geek
Peach Barbecue Sauce by The Beach House Kitchen
Tuna Stuffed Sweet Peppers by SugarLoveSpices
Herb Marinated Steak Gyros Plates with Tomato-Onion Salad and Green Tahini Sauce by Feed Me Phoebe
Sweet & Sour Chicken Kebabs by Tastefully Frugal
Side Dishes
Coconut Milk Mac & Cheese by A Little Gathering
Cheddar, Corn and Bacon Potato Salad by Family Food on the Table
Lemon Rocket Pasta Salad by Lauren Caris Cooks
Red White & Blue Watergate Salad by A Joyfully Mad Kitchen
Quinoa Tabouli by A Fork's Tale
Desserts
Banana Pudding Ice Cream Cake by Feast + West
Strawberry Beer Floats by bethcakes
Lemon Cream Tarts with Berries by Girl Heart Food
Fresh Strawberry Muffins by Spiced
Lemon Pie Sundae by Flavours & Frosting
Strawberry Lemon Shortcakes by Dash of Herbs
Grasshopper Pie by 2 Cookin' Mamas
Mixed Berry Vanilla Bean Cake by Cake 'n Knife
No Churn Cookies and Cream Strawberry Ice Cream by The Secret Ingredient Is
Coconut Blueberry & Vodka Ice Pops by Nik Snacks
Strawberry Key Lime Margarita Greek Yogurt Ice Pops by Beer Girl Cooks
Cherry & Rhubarb Tart by Crepes of Wrath