Slightly sweet and crisp apple cider swirled with homemade salted caramel and bourbon is comforting, delicious and oh-so-seasonal! Spiked Caramel Apple Cider is the ultimate fall drink and can be made with or without the booze. First, whip up a batch of apple cider. Next, make a homemade salted caramel sauce. Finally, mix drinks to sip on a chilly autumn evening. What's not to love about Spiked Caramel Apple Cider for the fall months?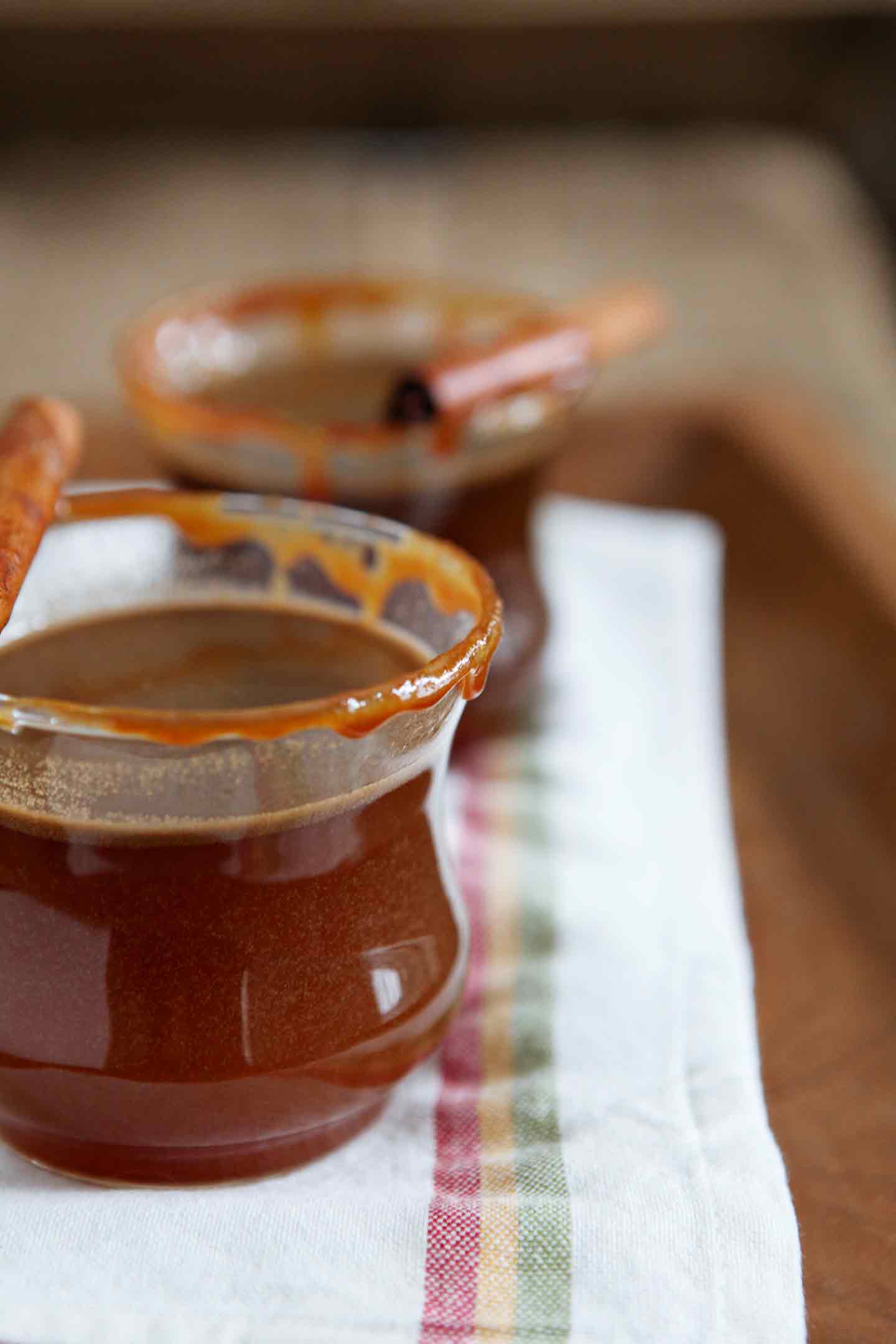 I'm super excited to announce a new collaboration that'll be appearing here at The Speckled Palate once a month: Comfort in 1!
Rachel from Feast and Farm and I thought it would be a blast for us to specify a seasonally appropriate ingredient every month, then make something cozy and comforting with it as the star. We plan to share our creations with our readers on the same day!
So we begin this fun feature, Comfort in 1, today!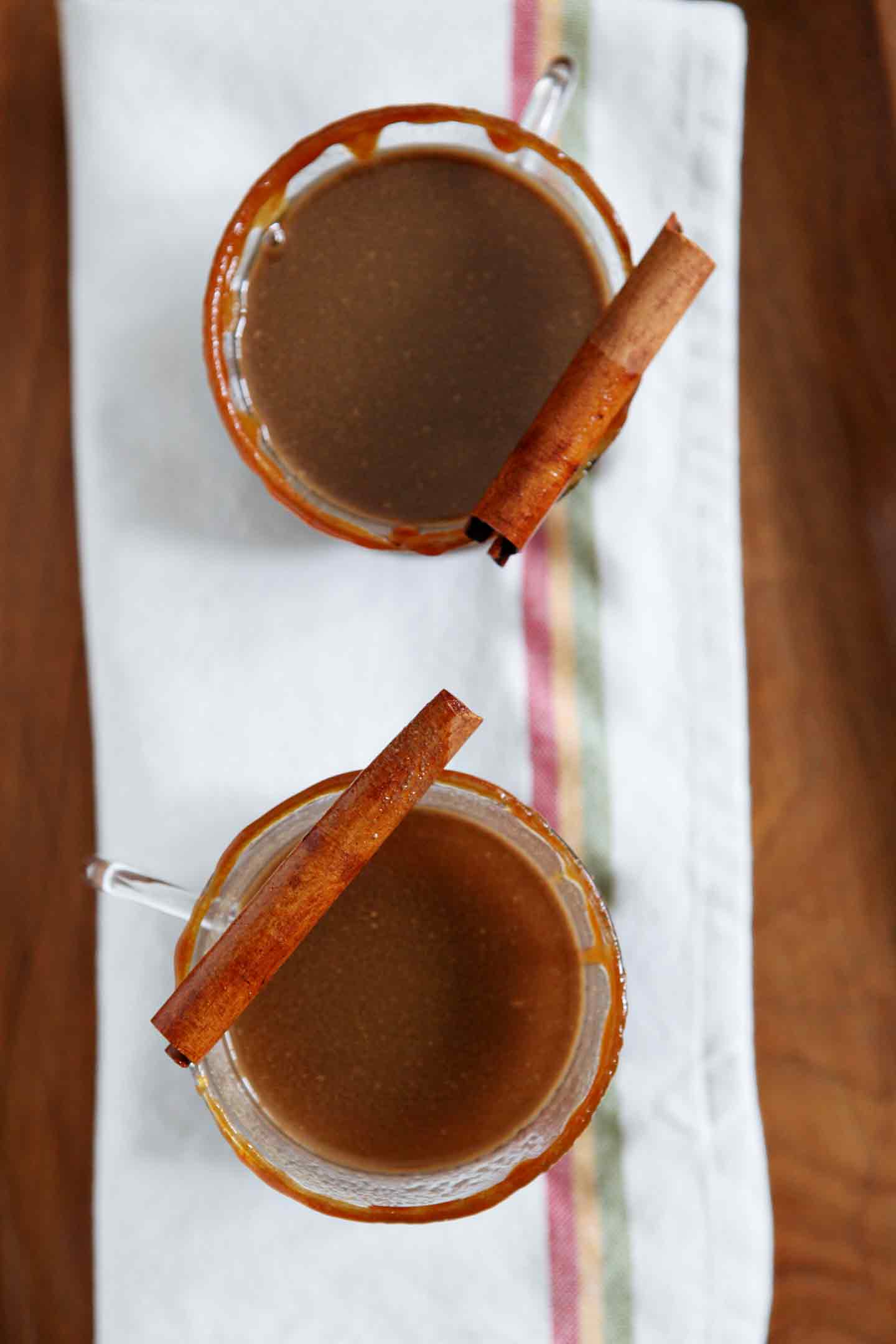 September reminds us both of the fall, crisp weather and apples. So the ingredient was easily selected.
As I was brainstorming apple recipes, I initially thought I wanted to make a family classic until I got a craving for apple cider. Cider is one of my favorite drinks to sip during the fall months because it's an autumnal comfort food of mine.
However, I wanted to make Spiked Apple Cider, one of my all-time favorite treats that was a revelation when I realized I liked bourbon. Except… I'm pregnant. So clearly, there would be no spiking of this cider for me.
That didn't keep me from creating an alcoholic version of this drink for my husband, then foisting it upon him to be my taste-tester. (He leads a rough life, y'all. Haha.)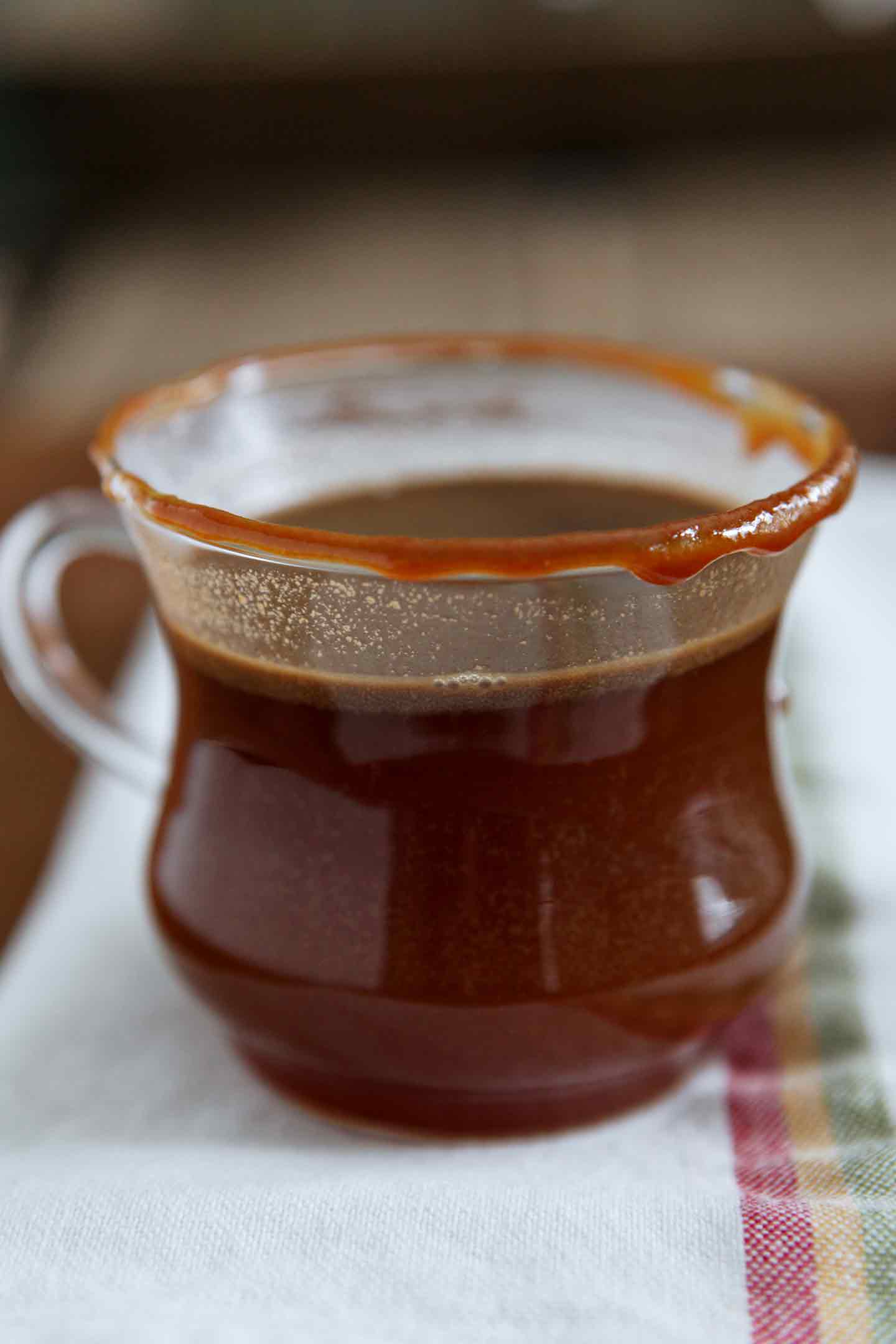 Do I have to spike this cider?
No! Absolutely not!
If you don't drink, you can leave the bourbon out of the cider. This tastes delicious without the added alcohol.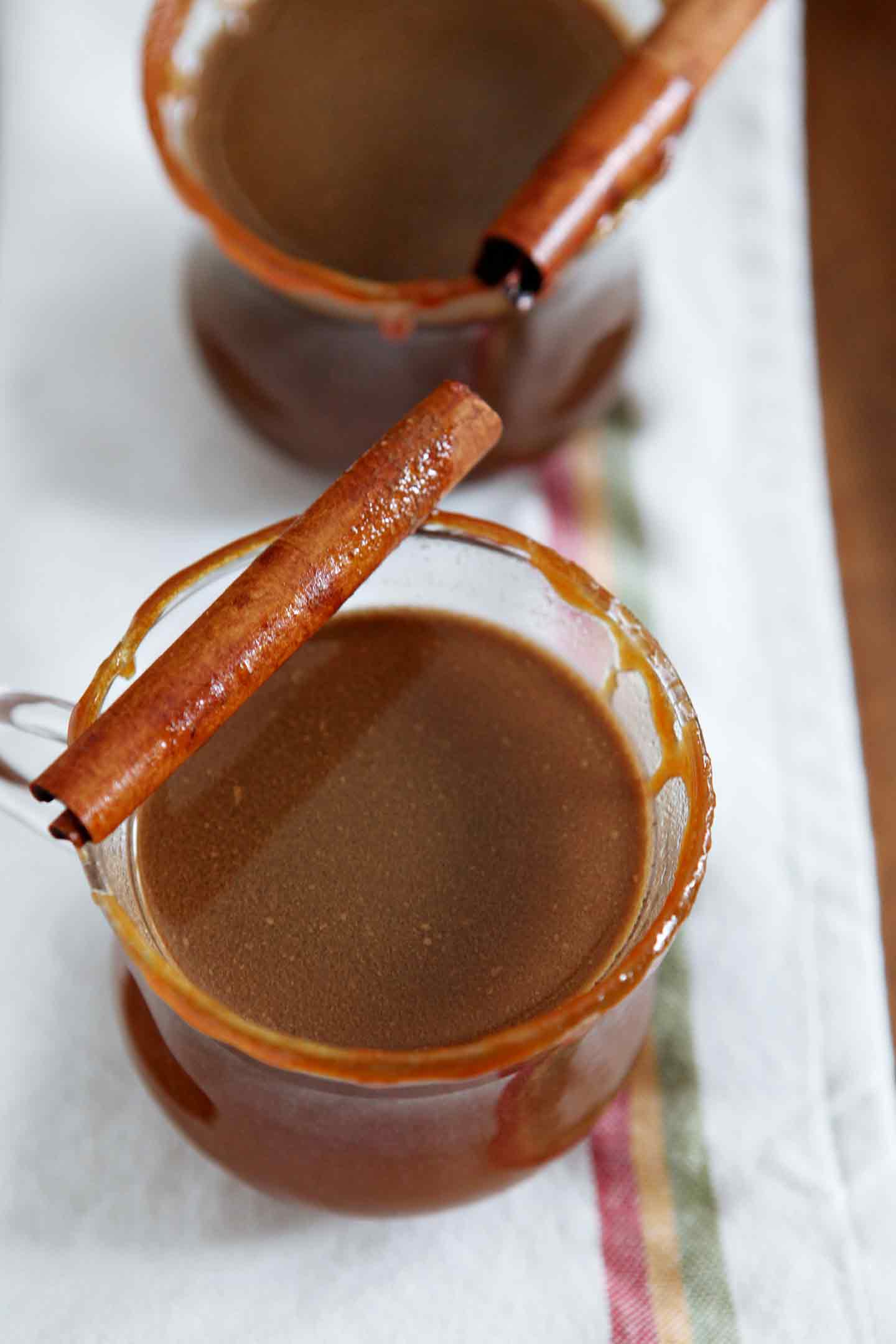 Do I have to make the cider and caramel from scratch?
If you don't have time to make your own cider, feel free to purchase a jug of your favorite cider from the grocery.
If you're feeling hesitant about the caramel, I totally get that. You can also purchase salted caramel sauce from the grocery, and if you're more comfortable doing that, please do. (Goodness knows I've burned one too many pots of caramel in my time.)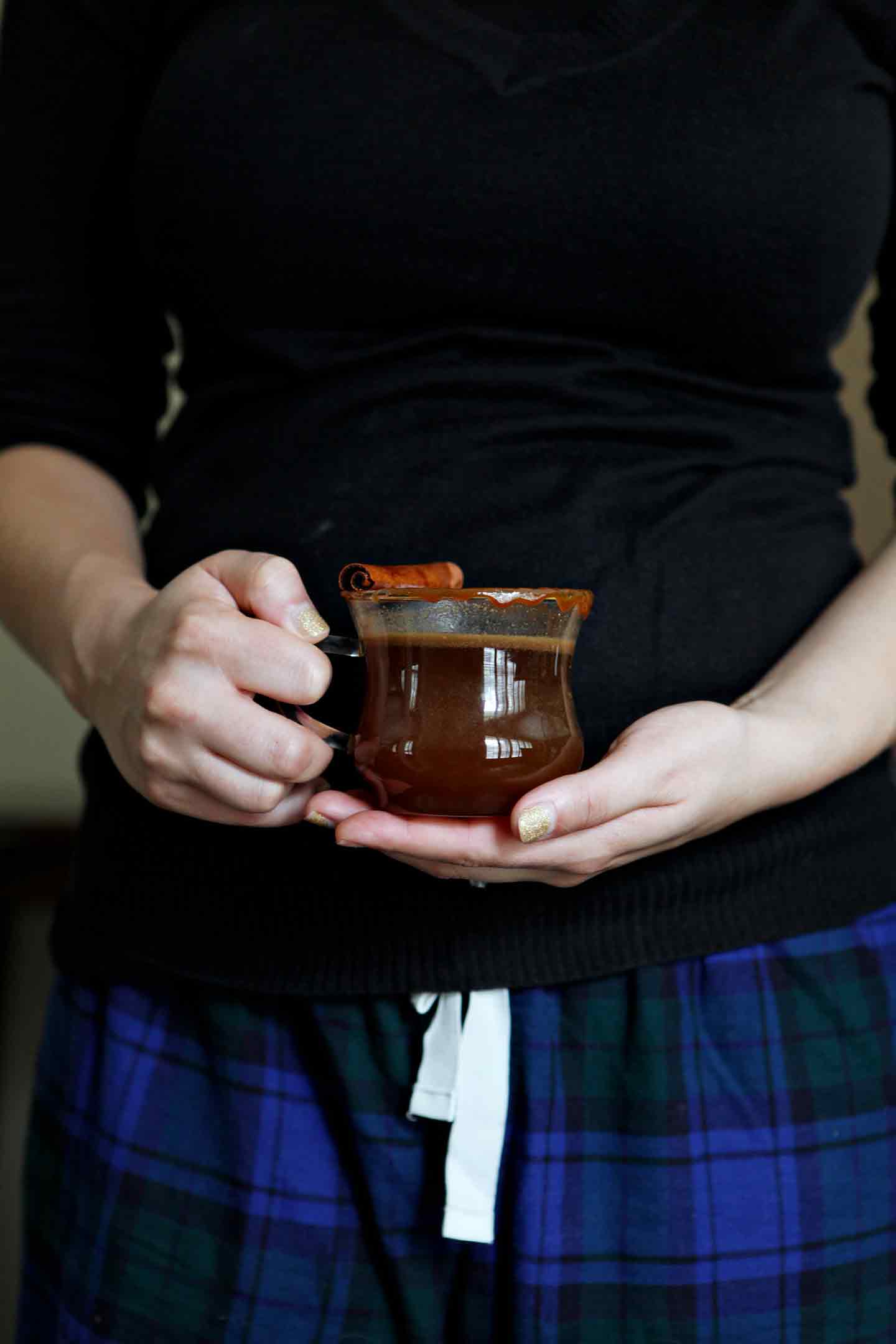 What tools/products do I need to make this Spiked Caramel Apple Cider at home?
Disclaimer: The links below are affiliate links. If you click through and take action, I will receive a small commission. Please refer to my disclosure page for more information about the affiliate programs The Speckled Palate participates in.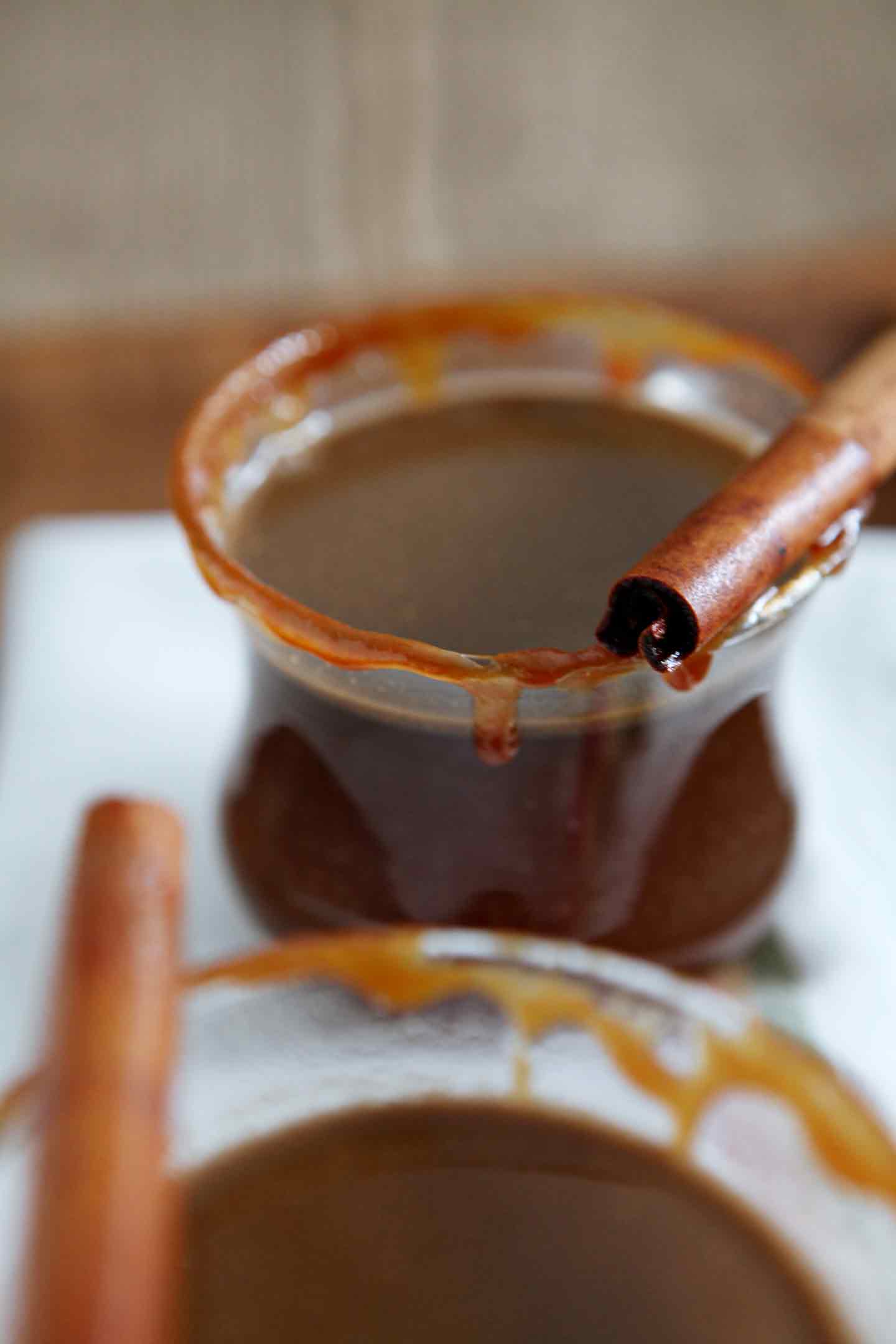 What can I serve alongside this caramel apple cider?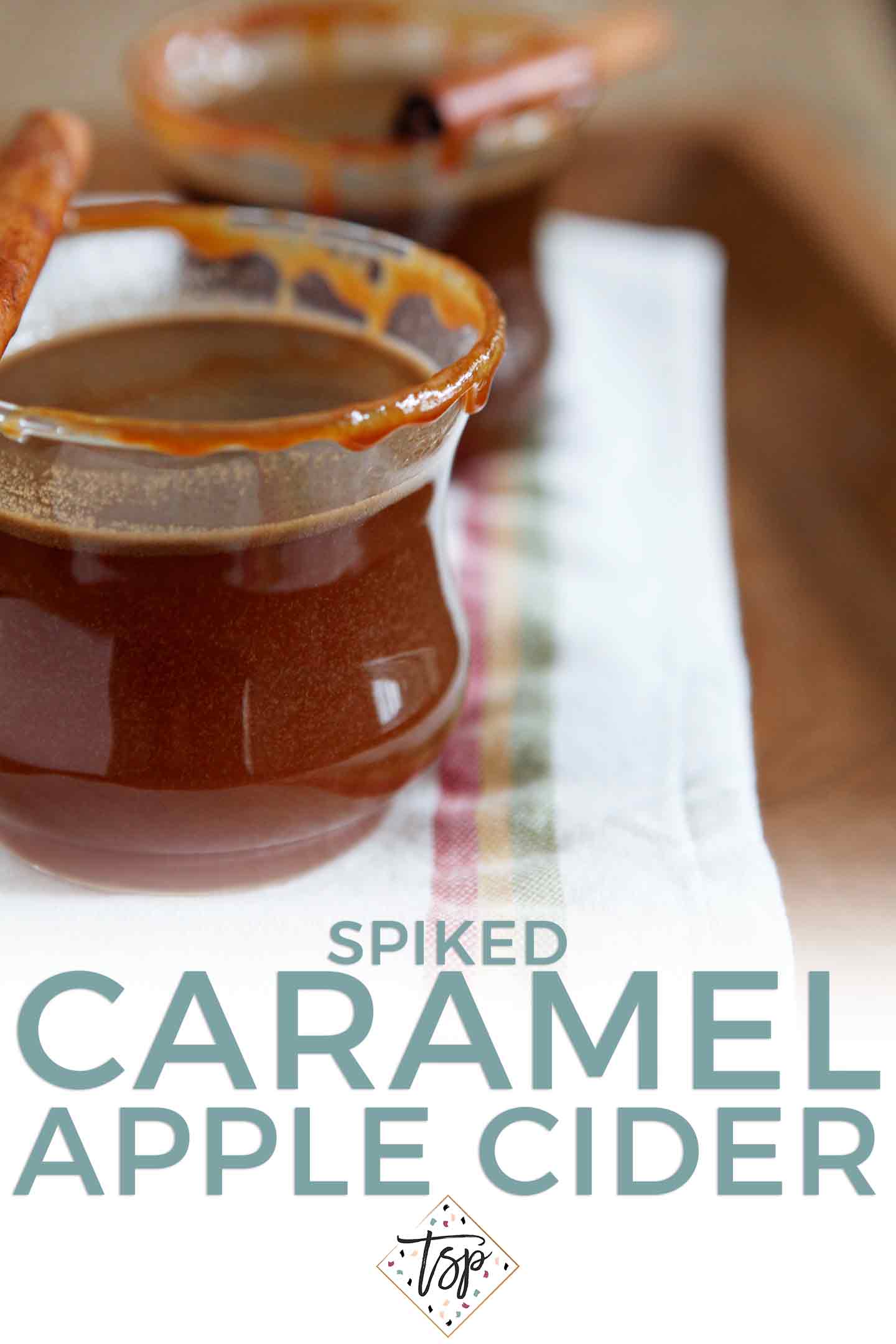 Interested in making this cocktail (or making it a mocktail)?
Here's how you can do it: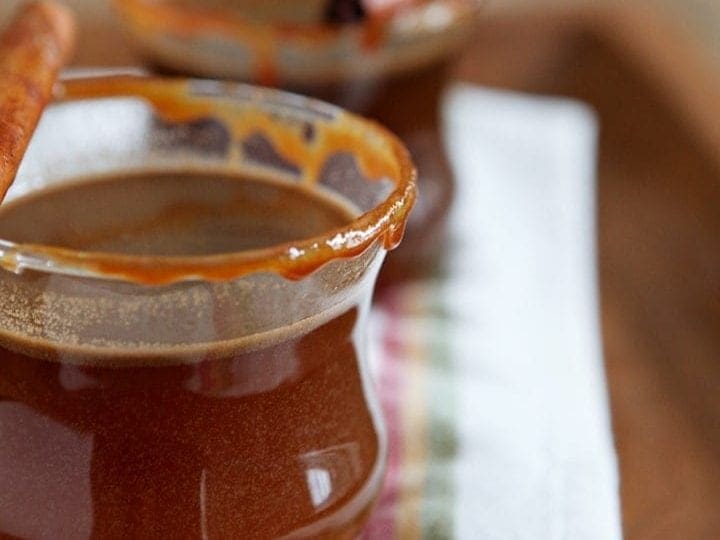 Yield:

8 servings
Spiked Caramel Apple Cider
Total Time:
1 hour
10 minutes
Slightly sweet and crisp apple cider, swirled with homemade salted caramel, and if you so choose, your favorite bourbon. Spiked Caramel Apple Cider is a delightful fall treat!
Ingredients
Apple Cider
64 oz. apple juice (100% apple juice with no sugar added)
3 large cinnamon sticks
1 tablespoon whole cloves
Salted Caramel
1 cup granulated sugar
6 tablespoons salted butter, , cut into 1/2" pieces
½ cup half-and-half
¾ teaspoon high-quality sea salt
For an individual-sized Non-Alcoholic Caramel Apple Cider
8 oz. homemade apple cider
4 teaspoons salted caramel
For an individual-sized Spiked Caramel Apple Cider
6 oz. homemade apple cider
4 teaspoons salted caramel
2 oz. bourbon
Instructions
Make the Apple Cider
Pour the entire bottle of apple juice into a large pot, then add the cinnamon sticks and cloves. Turn the heat to high, and bring to a boil.
When the cider is boiling, lower the heat to the lowest possible setting. Cover, and allow at least 30 minutes to simmer.
Make the Salted Caramel
In a medium-sized saucepan over medium heat, add the sugar. With a rubber spatula, constantly stir the sugar as it heats and melts, eventually turning a caramel color. (Be VERY careful in this step because the sugar is so easy to burn!)
When the sugar starts browning, lower the heat. Add the butter, stirring as the caramel bubbles for 2-3 minutes.
Slowly drizzle in the half-and-half to the caramel, whisking vigorously. The caramel will bubble and splatter at this step, too.
When the half-and-half is incorporated into the caramel, remove the saucepan from the heat. Add the sea salt, and whisk until incorporated.
Allow the caramel time to cool.
Make the Drinks
The Caramel Apple Cider can be made with a blender or in a cocktail shaker. Be forewarned if you're making this a warm drink, using a metal cocktail shaker will be a challenge, and the entire shaker will absorb the heat of the drink and make shaking and pouring a challenge.
Pour the homemade apple cider into the blender/shaker. Measure in the salted caramel. Blend/shake until the caramel is incorporated into the cider. Once combined, add the bourbon, if you so choose, and stir with a spoon to mix.
Pour the prepared drink into an appropriate vessel (a heat-proof mug or a cocktail glass if you're drinking this chilled), and enjoy immediately.
Nutrition Information:
Yield:
8 cups
Serving Size:
1
Amount Per Serving:
Calories:

312
Total Fat:

11g
Saturated Fat:

7g
Trans Fat:

0g
Unsaturated Fat:

3g
Cholesterol:

28mg
Sodium:

291mg
Carbohydrates:

55g
Fiber:

1g
Sugar:

49g
Protein:

1g
Nutrition facts are an estimate and not guaranteed to be accurate.
What kind of drinks are you drawn to during the fall and winter months?