Sweet and salty, this Halloween Trail Mix is a fall snack that's a little healthier than bingeing on copious amounts of Halloween candy. A combination of assorted nuts, mini marshmallows and the seasonal favorite, candy corn, this trail mix is perfect for anyone who adores the combination of sweet and salty!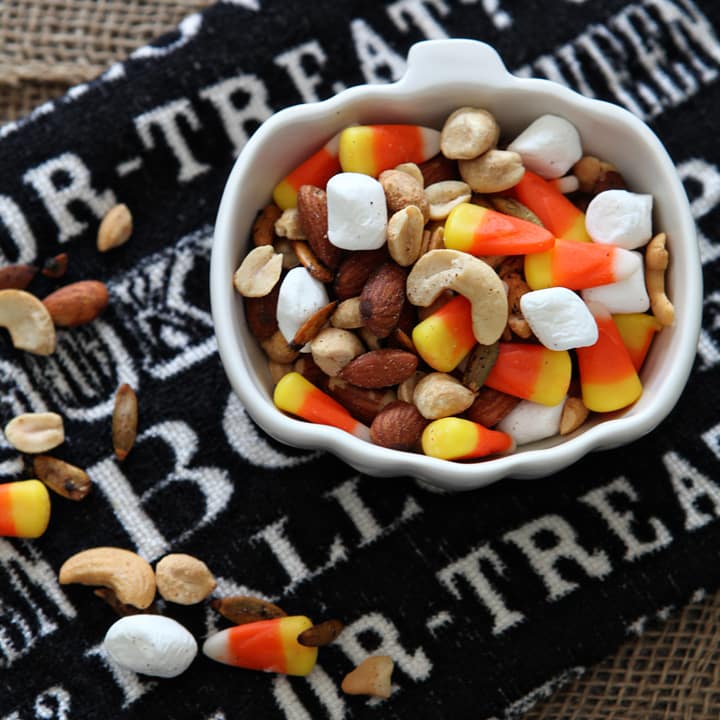 Happy Monday, everyone!
What'd y'all do this weekend?
We had a fabulous one, ate a ton of delicious food at the State Fair of Texas — more about that on Wednesday! — and spent some quality time with my husband's parents. And despite our public transportation adventure ending early because our neighborhood station was closed for a few hours and forced us to call a cab to drive us home, it was all kinds of lovely. Honestly, I wish the weekend had been longer, and we had more time.
That being said, today's Monday, which means the week has officially begun… And to kick things off right today, I'm over at My Cooking Spot sharing my recipe for Halloween Trail Mix.
Real talk: This recipe was devised to keep me from inhaling all of the trick-or-treat candy entirely too early. Because that's a real potential problem I have.


So pop on over to My Cooking Spot, and let me know what you think of this sweet-and-salty snack… or leave a comment here, let me know what you think of the trail mix, as well as what you did this weekend.
And because inquiring minds want to know…
How do YOU combat eating all the Halloween candy before trick-or-treaters come close to your doorstep?