Afternoon snackers, pay attention. I've got the perfect fall-themed snack to get you through the work day: Roasted Pumpkin Seeds! Spicy, savory and delish!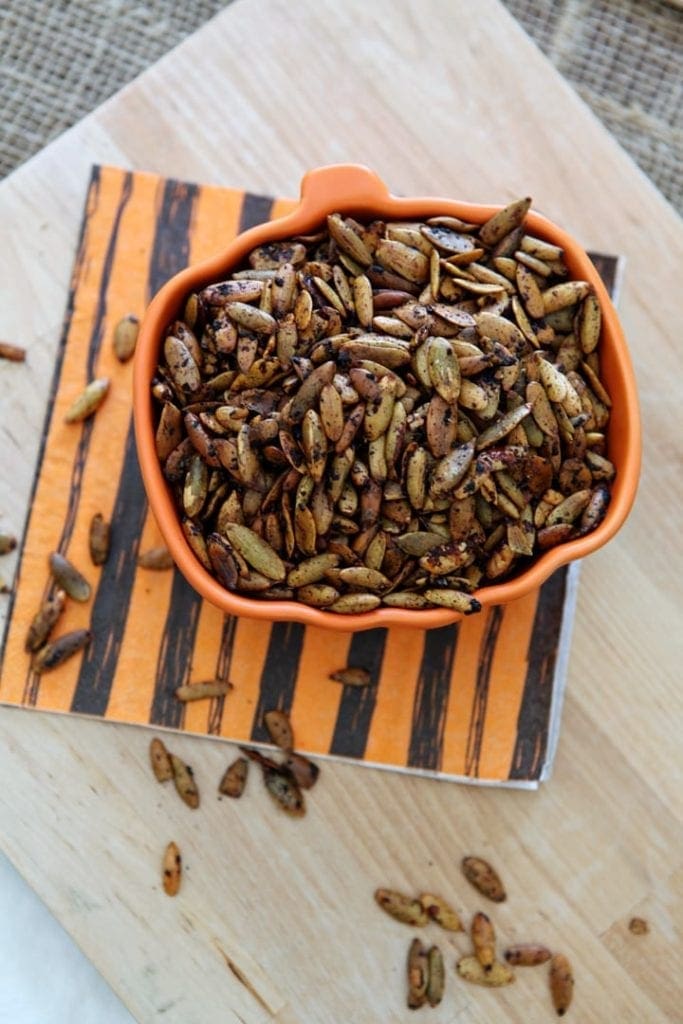 My eating habits have changed a little bit because of pregnancy.
Surprise, said no one ever.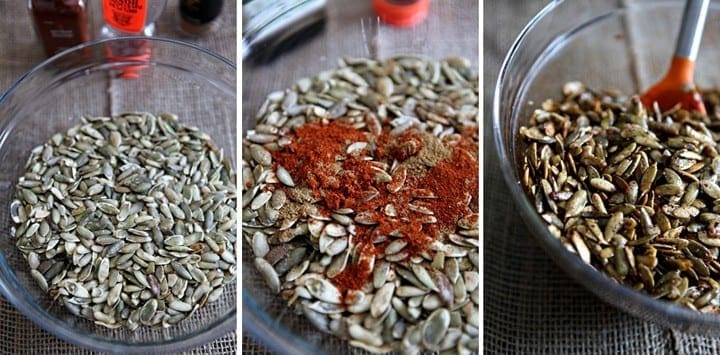 I was eating more than normal (think marathon training quantities without the extreme exercise) for a while during this pregnancy. Recently, I've started filling up faster because Lady Baby S is the size of a mango, and my stomach is losing real estate. That being said, I'm eating more frequently, and I'm turning my nose up at various items I used to love. So if you were planning on offering me scrambled eggs and sautéed spinach anytime in the near future? Umm, just don't.
I'm always on the lookout for good snacks that'll get me through the afternoon, which is the time I am the most tired these days, and I have taken to making my own instead of purchasing pre-packaged snack foods. Because as delicious as that bag of Cheeto Puffs was two weeks ago? I realize it's not the best thing for the baby and that I need to be eating more whole foods to fuel us both.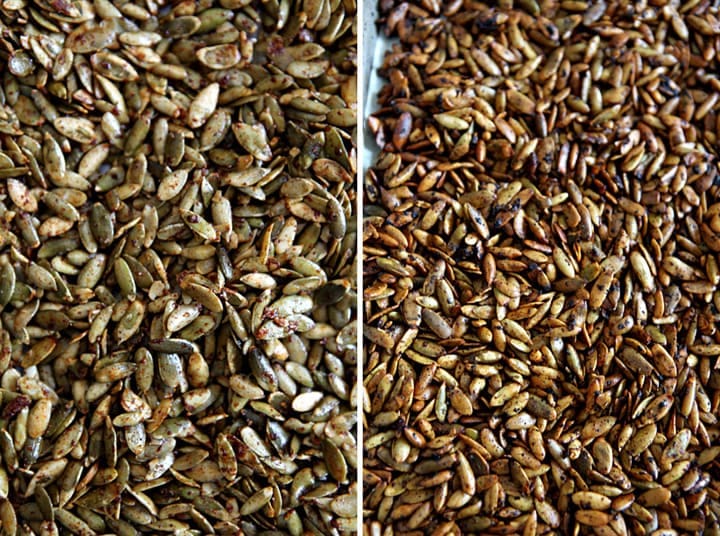 Last year, I bought a bag of raw pumpkin seeds from the grocery and promptly forgot about them.
I rediscovered them this past weekend… and decided it was high time to use them for SOMETHING.
So I tossed 'em with some spices, added a little bit of oil and honey, then roasted them. And they turned out beautifully!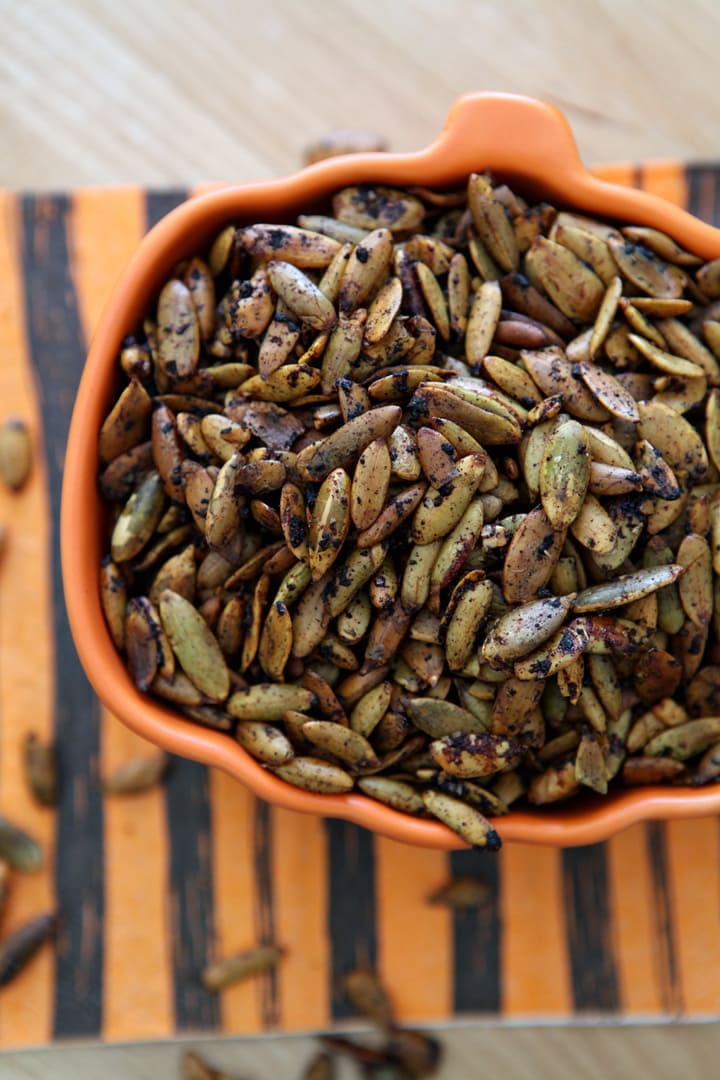 Here's how you can make your own: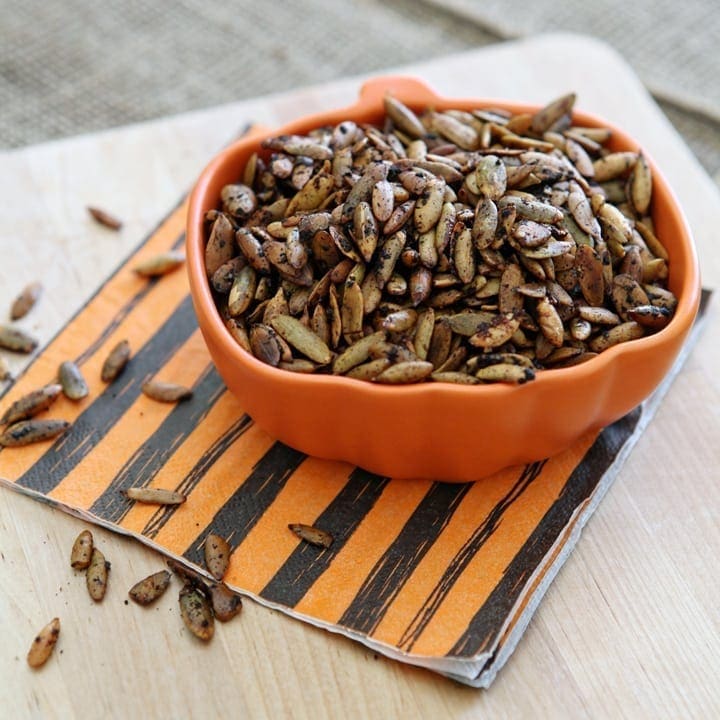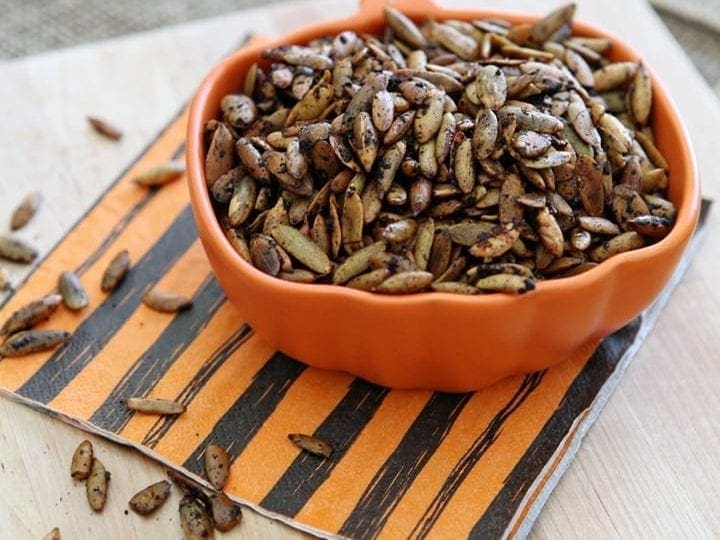 Yield:

10 servings
Roasted Pumpkin Seeds
Afternoon snackers, pay attention. I've got the perfect fall-themed snack to get you through the work day: Roasted Pumpkin Seeds! Spicy, savory and delicious!
Ingredients
1 lb. raw pumpkin seeds
1 teaspoon kosher salt
1 tablespoon chili powder
½ teaspoon cumin
1 teaspoon local honey
1 tablespoon extra virgin olive oil
Instructions
Preheat the oven to 400°F. Line a baking sheet with parchment paper, and spray lightly with cooking spray. Set aside.
In a large bowl, pour in the pumpkin seeds. Measure in the salt, chili powder and cumin and stir until the seasonings are coating the pumpkin seeds.
Mix the honey and extra virgin olive oil together, then drizzle over the pumpkin seeds and seasonings. Stir until the seeds have been coated with the seasoning and oil mixtures.
Pour the seeds onto the prepared baking sheet, and transfer to the oven.
Bake for 30-35 minutes, or until the seeds have toasted (but not burned!)
Cool to room temperature, then enjoy!
Notes
Store in glass food storage containers in the fridge for up to two weeks. Store on the countertop in a similar container for a few days.
Nutrition Information:
Yield:
10 servings
Serving Size:
1
Amount Per Serving:
Calories:

219
Total Fat:

10g
Saturated Fat:

2g
Trans Fat:

0g
Unsaturated Fat:

8g
Cholesterol:

0mg
Sodium:

243mg
Carbohydrates:

25g
Fiber:

9g
Sugar:

1g
Protein:

9g
Nutrition facts are an estimate and not guaranteed to be accurate.
What kind of snacks do you like during the autumn months?