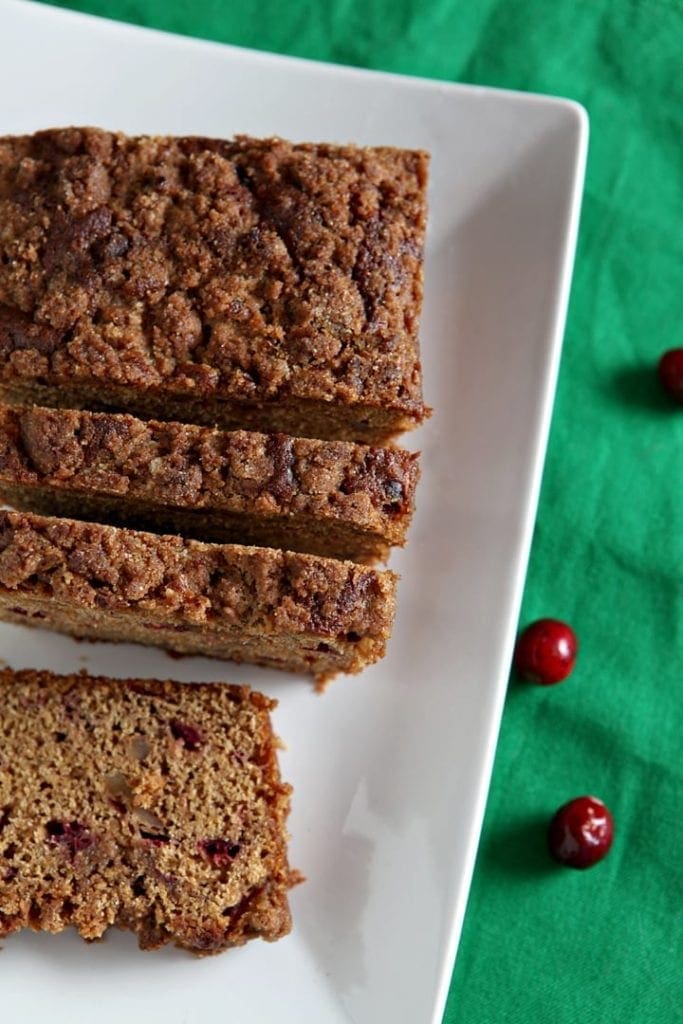 During the last few weeks, I've been bingeing on really awful/amazing Christmas movies that were made for television.
And the older I get, the less I care about these films being so cheesy.
In fact, I kind of like how predictable they are. Because, at the end of the day, each one comes down to someone loving someone else — a family member, a pet, another person who they happened to meet through a freak accident, etc. — and making a decision to go after that person, adore them and spend the holidays happy.
Yes, I'm a sap. Y'all should know this by now.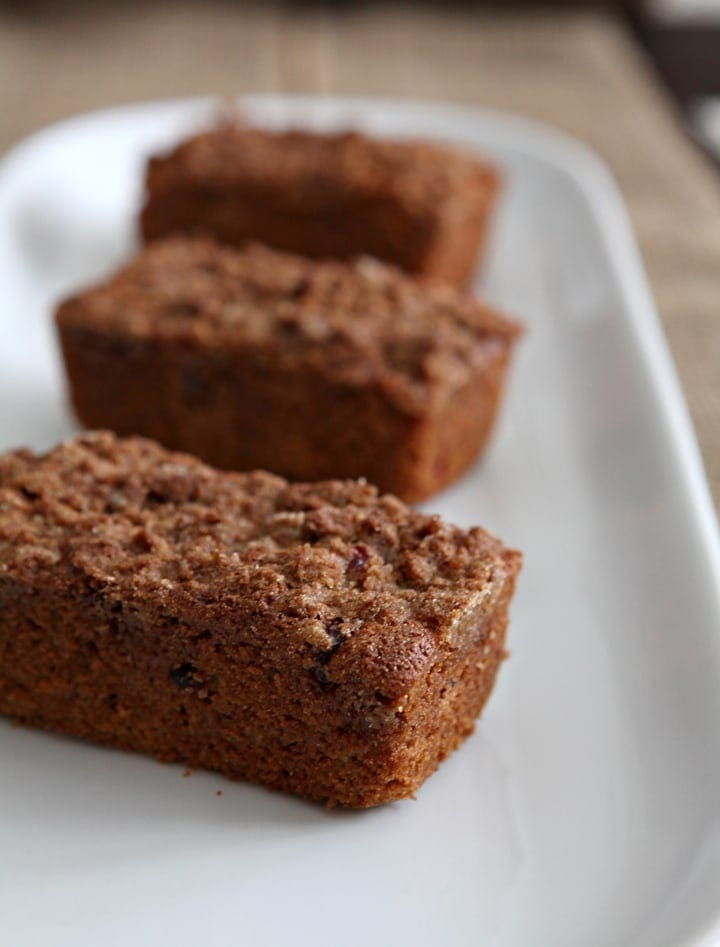 That being said… I surprisingly have not cried during any viewings of these made-for-television movies.
And, as an added bonus, I've spotted two teenage crushes (Dawson Leery and Michael Guerin, obviously) starring as the leading men in two very similar-but-different films.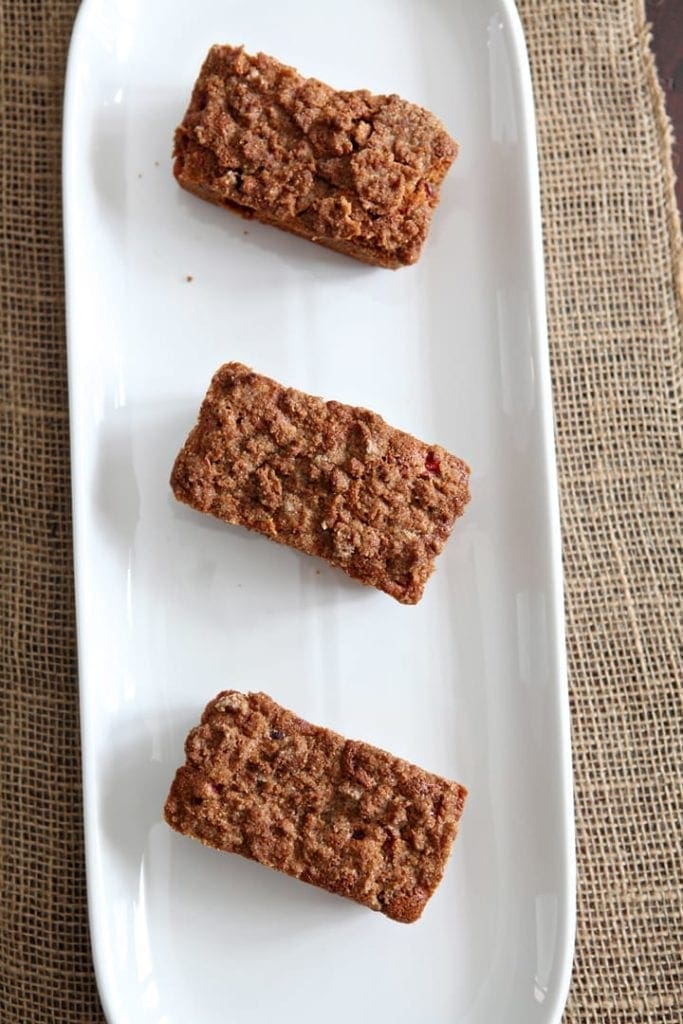 What it comes down to is these movies make me feel warm and fuzzy inside, and I think we all need that this season.
And I plan on bingeing on more until Christmas arrives, as well as watching some of my favorites: Christmas Vacation, White Christmas, Elf.
Because I don't just watch cheesy Christmas movies. I watch quality ones, too, to balance things out… even if the majority of what I've seen this year has fallen into the first category.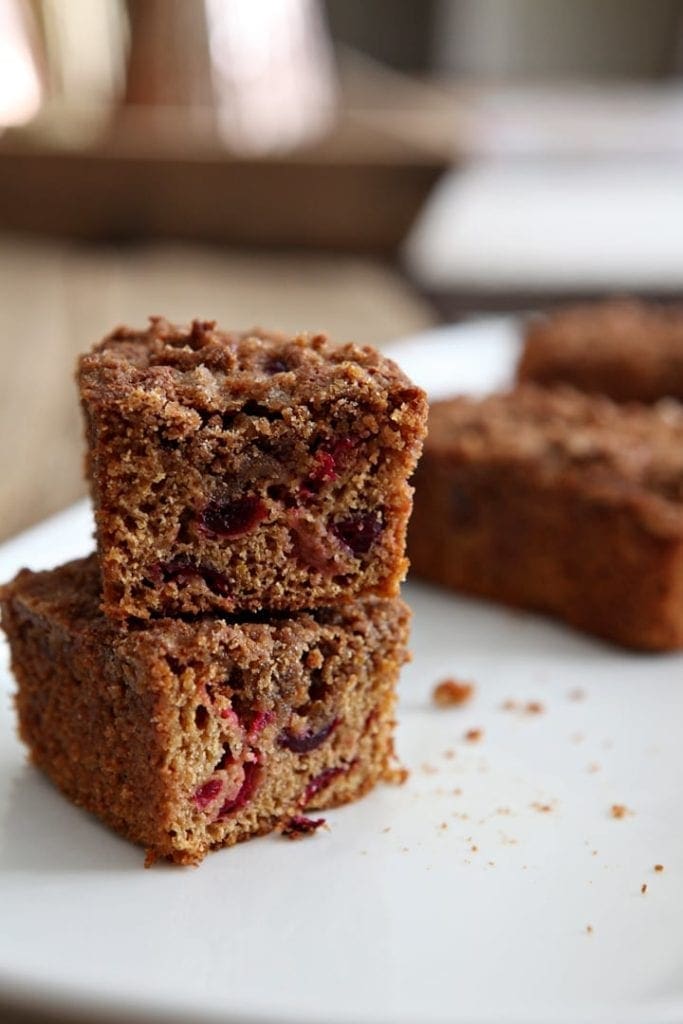 So. Before I embarrass myself more…let's talk about this Cranberry Walnut Bread.
This recipe is a nod to my mother-in-law. She makes the best Cranberry Bread around the holidays, and I was lucky enough to eat about half a loaf when we were visiting Louisiana during Thanksgiving.
That clearly wasn't enough for me, and I had some cranberries in the fridge, so I got out of bed super early this past weekend to bake some cranberry bread. And by "super early," I mean 4 a.m. Pregnancy insomnia is real.
While this isn't my mother-in-law's recipe, it turned out pretty darn good and definitely hit the spot. It tastes like Christmas morning, and I think it would be the perfect bread to bake your family for the holiday.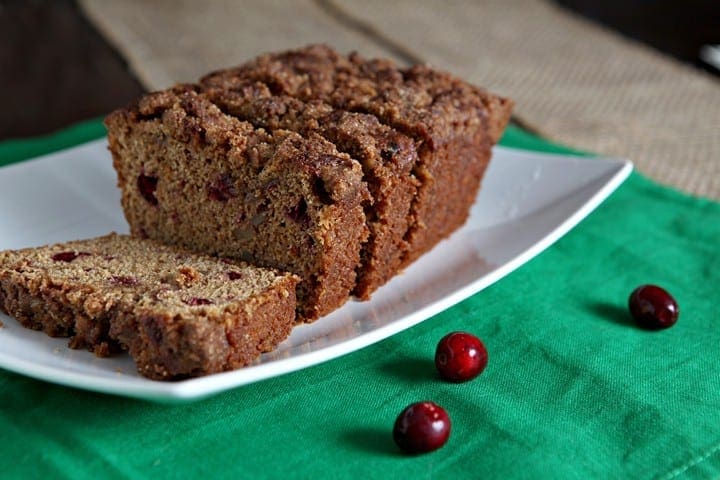 The cranberries are tart, but not too tart, and the orange juice and zest balances them out. Add in the streusel topping, and this bread is to-die-for.
Oh, and I used whole wheat flour.
So, ya know, that means this Cranberry Walnut Bread is healthy. Or something…
Here's how you can make your own: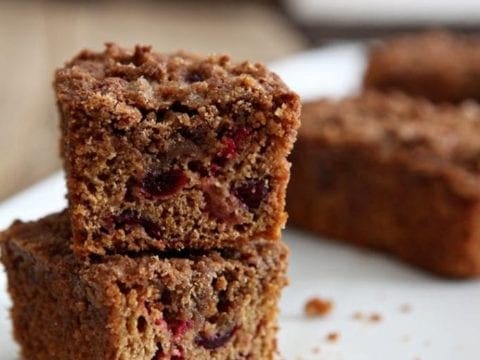 Yield:

1 loaf
Cranberry Walnut Bread with Streusel Topping
Serve up this hearty Whole Wheat Cranberry Walnut Bread on Christmas morn. Topped with a streusel, it's extra decadent and perfect for a holiday breakfast.
Ingredients
Cranberry Walnut Bread
2/3 cup unsweetened applesauce
1/3 cup orange juice
1 cup dark brown sugar
1 large egg
1 ½ teaspoons pure vanilla extract
1 tablespoon orange zest
2 cups whole wheat pastry flour
1 tablespoon baking powder
¼ teaspoon kosher salt
1 1/3 cup fresh cranberries, chopped and tossed in 1 tablespoon whole wheat pastry flour
2/3 cup walnuts
Streusel Topping
2 tablespoons vanilla sugar
4 tablespoons dark brown sugar
1/3 cup unbleached all-purpose flour
4 tablespoons unsalted butter, melted
1 ½ teaspoons orange zest
Instructions
Preheat the oven to 375°F. Spray a loaf pan with nonstick cooking spray. (I used a 9" x 5" regular-sized pan and three mini pans.)
Make the bread batter: In a large bowl, whisk the applesauce, orange juice and brown sugar together until smooth.
Add the egg, vanilla and orange zest to the wet ingredients, whisking until incorporated.
In a medium-sized bowl, combine the whole wheat pastry flour, baking powder and salt. Stir until combined.
Slowly, measure the dry ingredients into the wet ingredients, whisking until just combined.
Add the cranberries and walnuts to the batter, and fold until incorporated.
Pour the bread batter into the prepared baking pans, and set aside.
Make the streusel topping: In a bowl, combine the sugars, flour and orange zest. Stir until combined. Pour the butter on top, and stir until the mixture has come together.
Sprinkle the streusel topping on top of the bread batter in the prepared pans evenly until distributed.
Bake for 45 - 60 minutes, or until the streusel topping is golden brown and the bread has cooked through. (It took 45 minutes for my mini loaf pans to cook through and 60 for the regular-sized bread pan.)
Cool on a cooling rack, then slice and enjoy slightly warm!
Nutrition Information:
Yield:
8
Serving Size:
1 slice
Amount Per Serving:
Calories:

632
Total Fat:

17g
Saturated Fat:

7g
Trans Fat:

0g
Unsaturated Fat:

9g
Cholesterol:

49mg
Sodium:

341mg
Carbohydrates:

108g
Fiber:

9g
Sugar:

38g
Protein:

15g
Nutrition facts are an estimate and not guaranteed to be accurate.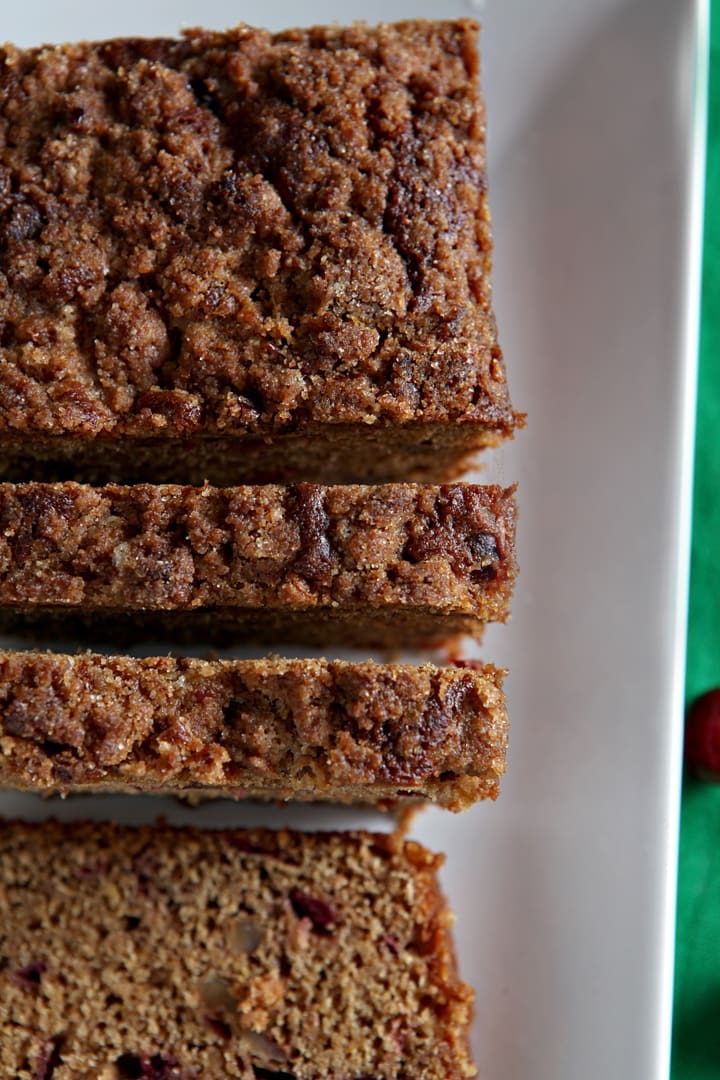 What kinds of traditions do you have around this time of year?
What recipes does your family make?