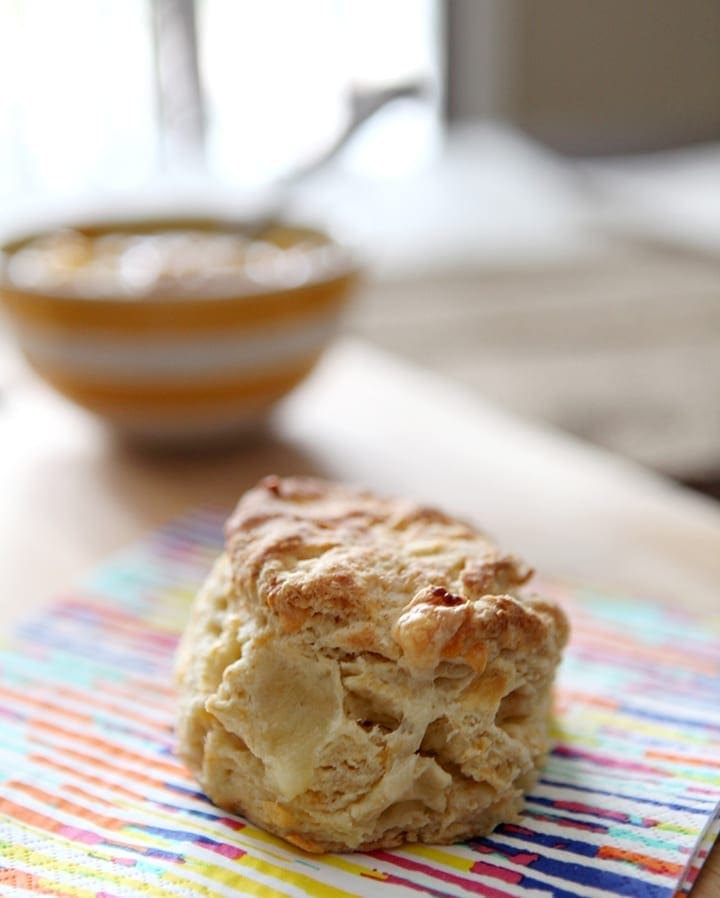 I stayed up entirely too late last night addressing our Christmas cards… and I woke up this morning feeling achey ALL OVER.
Coincidence?
I think not.
To top off the aches and pains of being a 30-year-old pregnant lady who spent a little too much time hunched over the coffee table scrawling addresses on cards, it's a gray day in Dallas.
Days like these make me crave comfort food… and I desperately want a giant vat of soup and some crusty, fluffy Cheddar Biscuits to go along with it so I can be sure to soak up all that goodness.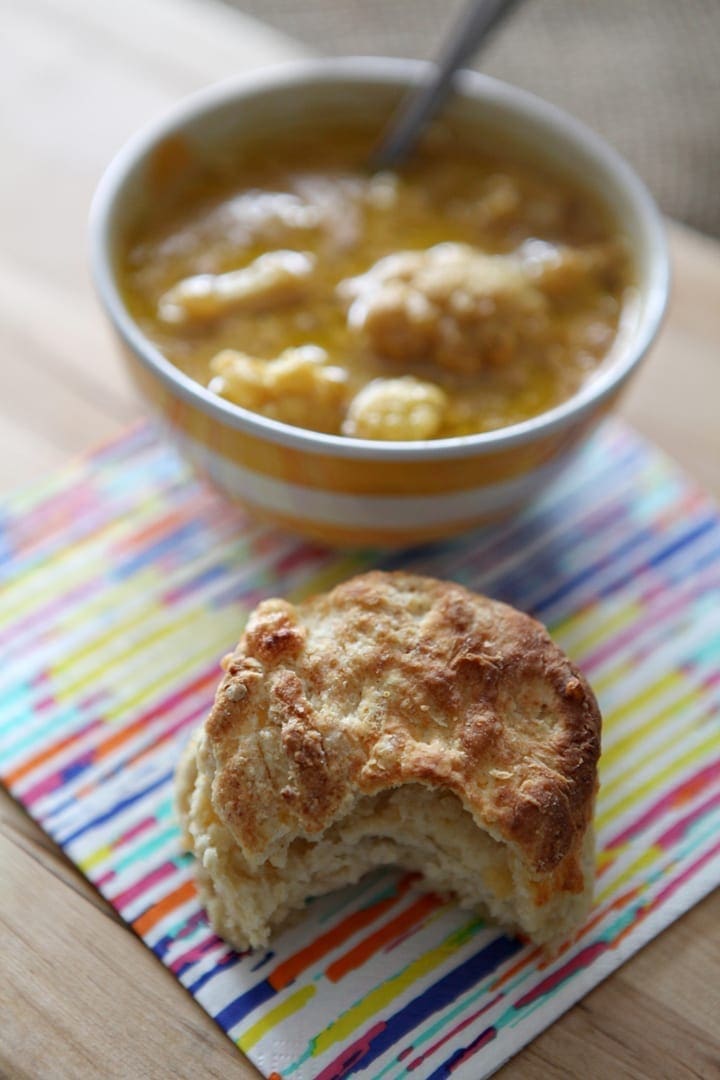 Y'all know fancy food isn't my thing, and these biscuits are anything but…
However, that being said, they're the perfect accompaniment to any wintertime comfort food, and they sop up juices really well. And we all know that's a big, super important thing.
And they basically go with whatever dish you want to serve them with. We've eaten them along side beef stew and cauliflower soup. They'd even be a delightful biscuit for breakfast. Heck, you could even make them into a breakfast sandwich with egg (blerch), sausage/bacon and cheese. OR a regular sandwich!
The possibilities are endless, y'all.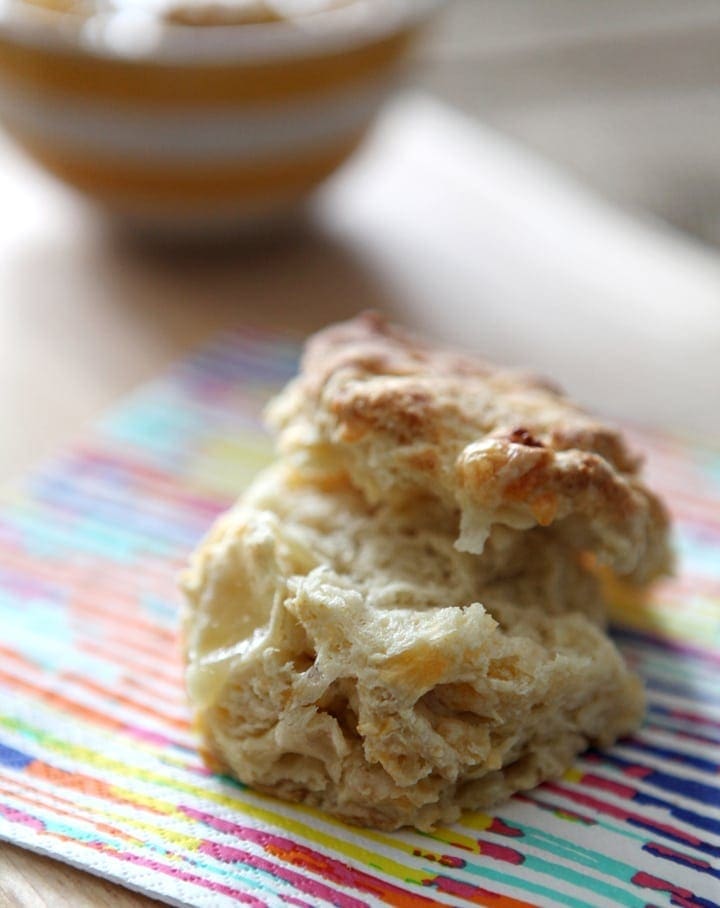 Do y'all know my pal Kelly? She writes a blog called Hidden Fruits and Veggies, and she's all kinds of fabulous. She makes vegetarian dishes and sneaks veggies and fruits into them while she's at it… and her food always looks and sounds divine. (I may or may not have drooled over my keyboard on more than one occasion due to the stunning photos on her blog, taken by her hubby!) She's also a big beer fan, which makes me happy, and she always makes me think differently about adding fruits and vegetables into my food, as well as inspires me to try some different dishes I normally wouldn't.
Kelly's cruising in the Caribbean right now, which makes me uber jealous, especially with my current weather and ache situation going on. However, she lives in Michigan, so she deserves a break from real winter, which I know is waaaaaaaaaaaaaaay more brutal than the winter-esque weather Dallas throws my way occasionally.
That being said, she asked me to write a post for her while she was off galavanting in the tropics, and I'm over there today!
Head on over to Hidden Fruits and Veggies for my scrumptious Cheddar Biscuits recipe.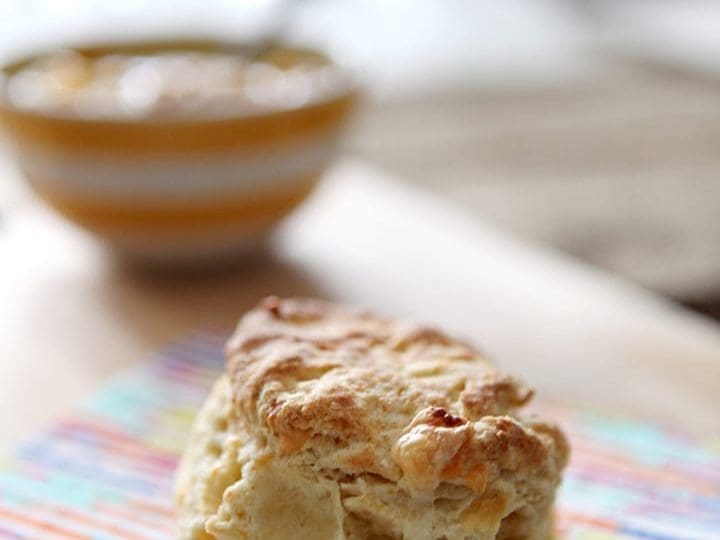 Yield:

10 biscuits
Cheddar Biscuits
Crusty, fluffy Cheddar Biscuits are the perfect side for ANY wintertime comfort dish. I'm sharing my recipe at Hidden Fruits and Vegetables today!
Ingredients
2 cups unbleached all-purpose flour
1 tablespoon granulated sugar
1 tablespoon baking powder
6 tablespoons unsalted butter, chilled and cut into ¼" cubes
½ cup shredded sharp cheddar cheese
½ cup sharp cheddar cubes (about ¼" to ½" cubes)
¾ to 1 cup 2% milk
Instructions
Preheat the oven to 450 ° F, and line a baking sheet with parchment paper. Set aside.
In a large bowl, combine the dry ingredients — flour, sugar, baking powder — and stir until combined.
Add the butter to the dry ingredients, cutting it in with a pastry cutter or a fork until the butter has been cut into pea-sized pieces. (The mixture will look grainy, and you want it to be as even as possible.)
Add the cheddar cheese, stirring until incorporated.
Pour in the milk slowly, adding about ¾ cup first, then adding extra if the dough is dry.
Combine the dough using your hands, then turn out onto a floured surface and form into a ¾" tall round. Don't overwork the dough here, as the butter will melt, and we want it to remain as cold as possible!
Using a biscuit cutter to form the biscuits, and transfer the formed biscuits to the baking sheet.
Bake for 15-20 minutes, or until the tops of the biscuits have browned.
Enjoy warm!
Nutrition Information:
Yield:
10 biscuits
Serving Size:
1 biscuit
Amount Per Serving:
Calories:

260
Total Fat:

15g
Saturated Fat:

9g
Trans Fat:

0g
Unsaturated Fat:

5g
Cholesterol:

42mg
Sodium:

302mg
Carbohydrates:

22g
Fiber:

1g
Sugar:

2g
Protein:

9g
Nutrition facts are an estimate and not guaranteed to be accurate.