Walnut Sticky Buns with Cream Cheese Icing
Decadent Walnut Sticky Buns, chock full of brown sugar, maple syrup and walnut goodness, are topped with a delightful Cream Cheese Icing to make the perfect plan-ahead holiday morning treat.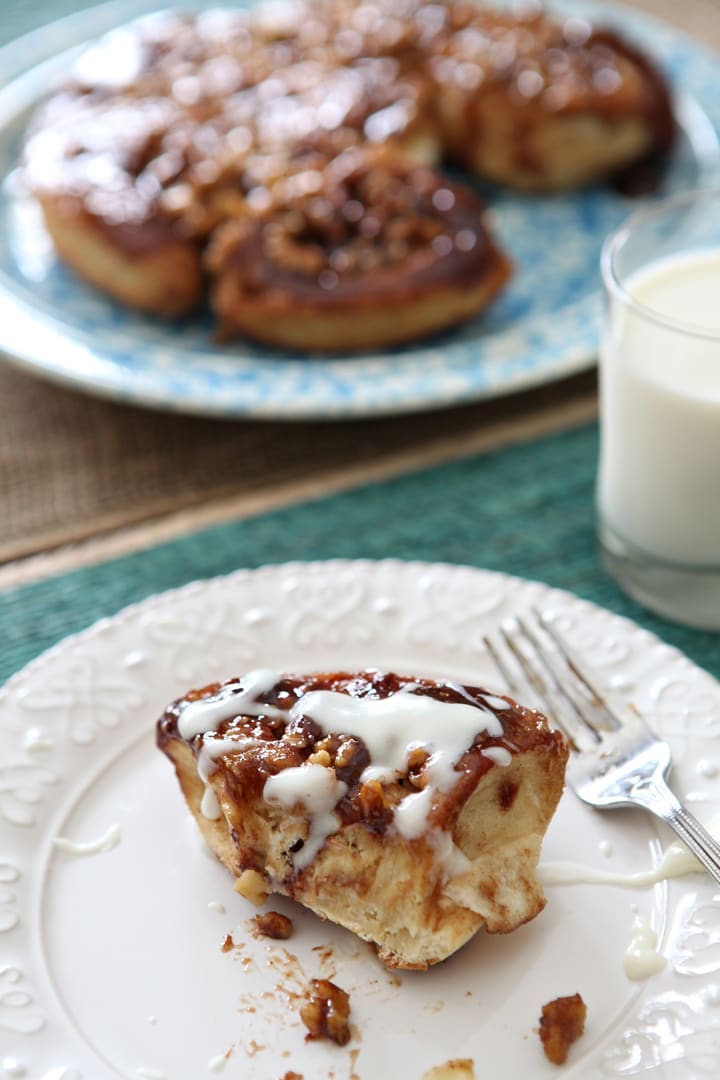 Who's ready for Christmas morning?
I know I am… and in my excitement, I began plotting some breakfast dishes to celebrate in style.
As a kid, I (obviously) looked forward to all the presents underneath the tree.
As an adult, I look forward to the time spent with the people I love and giving them the presents I've purchased on their behalf. It's fun seeing this change in perspective as I've grown older, and the older I get, the more I want to spend quality time with these important people in my life.
I'm sure my perspective will continue to evolve, as next year, we'll have a 9-month-old at Christmastime, and I'm sure that will add some new and amazing revelations to our holiday.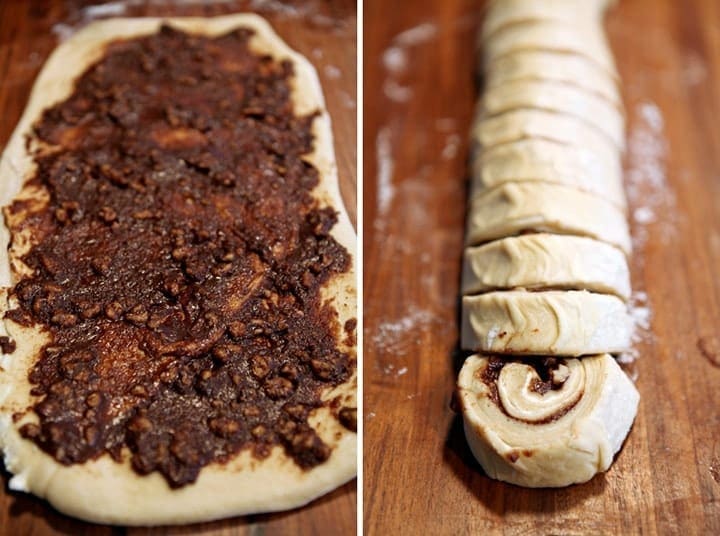 It goes without saying that Christmas morning is one of my favorite mornings of the year and having a good breakfast to savor is an important part of it for me. And since I'm currently on a no-egg kick (thanks, pregnancy!), the traditional Christmas Casserole I was going to share isn't happening.
So how 'bout we make some Walnut Sticky Buns?
You can look at them as a pretty little decadent present to the people you love.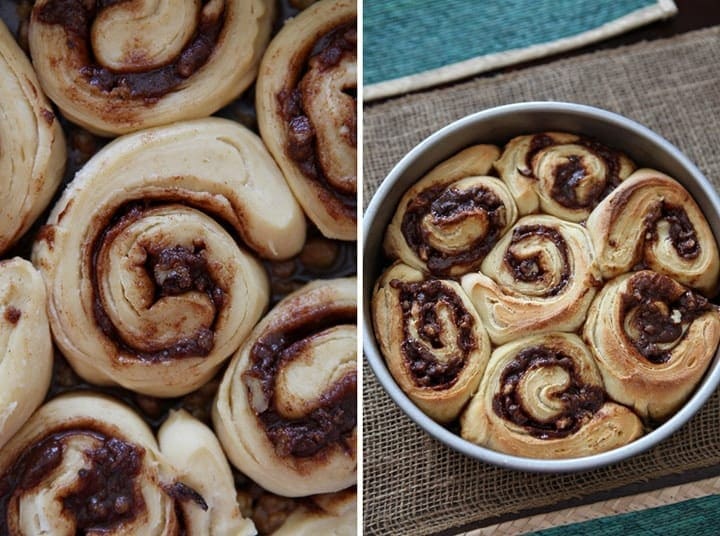 A present?
Yes, they absolutely are. Because these Walnut Sticky Buns require a little bit of planning and foresight to make. Unfortunately, they're not something you'll be able to pull together on Christmas morning. Unless, of course, you're awake at an unreasonable hour, and then maybe, just maybe, you could have them ready in time for when everyone else is out of the bed and hungry.
However, this is a recipe you can make the night before and pop in the fridge, then the morning of, let the rolls come to room temperature and complete their second rise before baking. And then you can bake 'em after presents have been opened.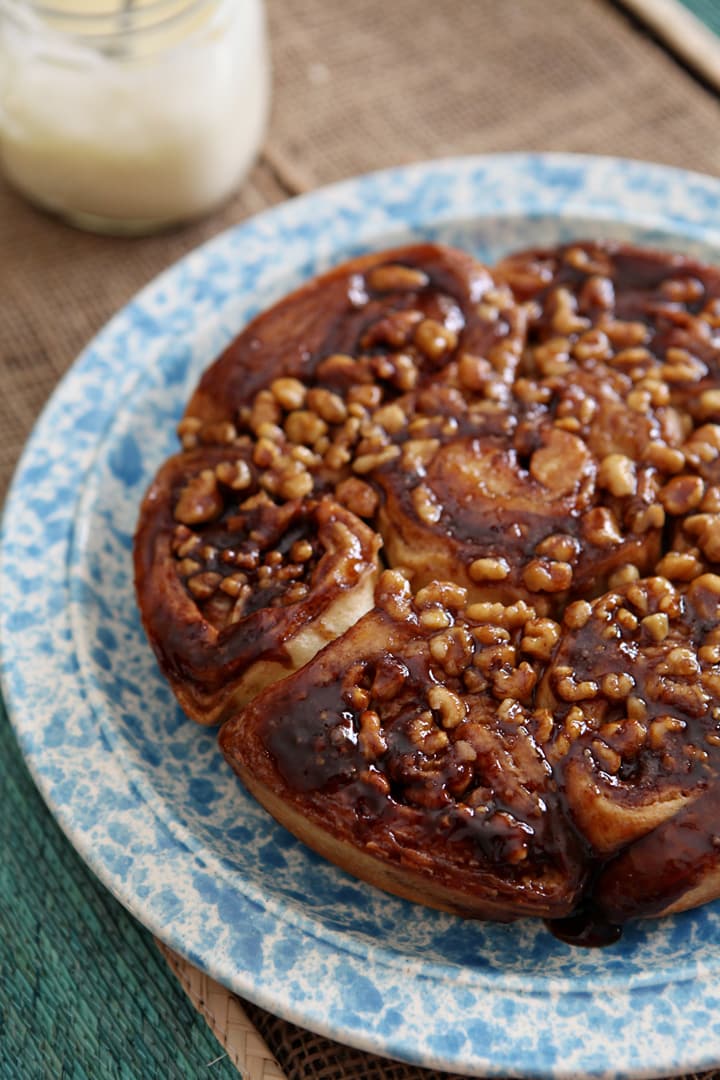 They require some effort, I won't lie, but they're well worth it. These sticky buns are completely decadent and perfect for a big family breakfast… or even a small breakfast because they freeze well!
Here's how you can make 'em: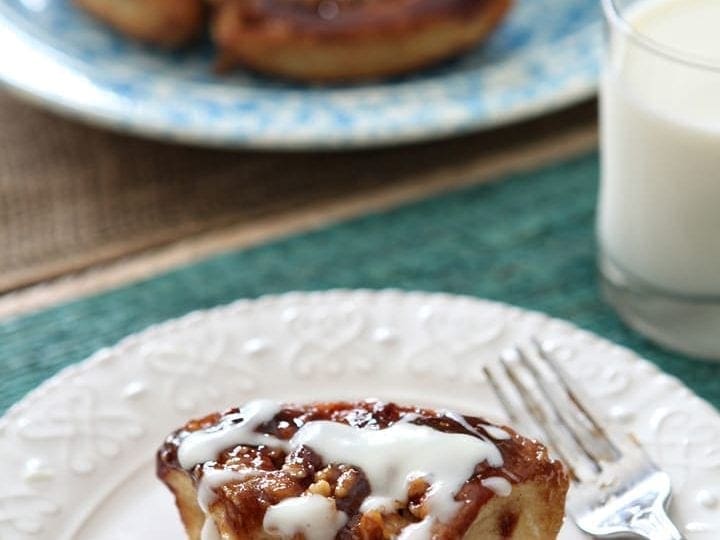 Yield:

18 rolls
Walnut Sticky Buns with Cream Cheese Icing
Total Time:
3 hours
50 minutes
Decadent Walnut Sticky Buns, chock full of brown sugar, maple syrup and walnut goodness, are topped with a delightful Cream Cheese Icing to make the perfect plan-ahead holiday morning treat.
Ingredients
Dough
1 cup milk
2 tablespoons unsalted butter
1 tablespoon unsweetened applesauce
1 tablespoon pure vanilla extract
3 ½ cups unbleached all-purpose flour, divided
½ cup granulated sugar
1 egg
2 ¼ teaspoons active dry yeast
1 teaspoon kosher salt
Filling
4 oz. cream cheese, softened
½ cup dark brown sugar
¼ cup pure maple syrup
½ cup walnuts, chopped
1 tablespoon ground cinnamon
½ teaspoon kosher salt
2 tablespoons unsalted butter, melted
Sticky Glaze (for the bottom of the pan)
8 tablespoons unsalted butter, melted
1 cup dark brown sugar
1 cup walnuts, chopped
½ cup pure maple syrup
2 teaspoons pure vanilla extract
A pinch of salt
Cream Cheese Glaze
4 oz. cream cheese, softened
1 cup powdered sugar
Instructions
Make the Dough
Measure the milk and butter in a glass measuring cup. Microwave until the butter has melted.
Pour the warm milk/butter mixture into the bowl of stand mixer fitted with paddle attachment.
Add 1 cup of the flour, as well as the applesauce, vanilla, sugar, egg, yeast and salt. Beat on low for around 3 minutes, stopping occasionally to scrape the sides of bowl.
Add the rest of the flour to the dough. Mix on low until the dough has come together and feels tacky. If dough is extremely sticky, add flour by the tablespoon until the dough comes together and pulls away from sides of bowl.
When it is of the right consistency, turn the dough onto a lightly floured work surface. Knead until the dough is smooth and elastic, adding more flour if sticky. (This should take around 8-10 minutes.) Form into ball.
Spray a large glass bowl with nonstick spray, and transfer the dough into the bowl. Cover the bowl with plastic wrap, then a kitchen towel, and move to a warm place in the house.
Let the dough rise until doubled in volume. (This took my dough about 2 hours.)
Make the filling
In a medium-sized bowl, combine the brown sugar, maple syrup, walnuts, cinnamon, salt and butter. Stir until combined.
Once the dough has doubled in size, punch it down in the bowl, then transfer onto a floured work surface.
Roll the dough into a rectangular shape, and smear the softened cream cheese over the dough.
Fold the dough in half, then half that and so on until you have folded the dough into a small rectangle. Then roll out the dough again until it is about 1/2" thick rectangle.
Spread the filling mixture evenly on top of the dough, leaving a 1/2" border.
Starting on a long side, roll the dough into a log, pinching gently to keep it rolled. Be gentle with the dough, as the cream cheese makes it a bit more delicate, and this part can get messy. (You've been warned! But it's totally worth it.) Pinch the seal closed gently.
With the seam side down, cut the dough crosswise with a sharp knife into 18 slices. I've found that making a cut in the middle, then making cuts in the middle of those (and so on and so forth) is the easiest way to get evenly-cut rolls.
Prepare the sticky glaze
In a medium-sized bowl, whisk the butter, brown sugar, maple syrup, vanilla and salt until incorporated and smooth.
Spray two round baking dishes with nonstick spray.
Pour the sticky glaze in the bottoms of the baking dishes, then gently place the rolls in the dishes. There should not be much space between the rolls.
Cover the baking dishes with plastic wrap, then kitchen towels. Let the dough rise for a second time in a warm spot until it has doubled in size. (This second rise should take around 45 minutes.)
Bake the Sticky Buns
Preheat the oven to 375°F.
When the oven has preheated, place the baking dishes in the oven. Bake for 20-25 minutes, or until the tops are golden. Remove from the oven.
Invert the rolls onto a plate (so the sticky topping is front and center!), and let cool for 10 minutes.
While the rolls are cooling, make the Cream Cheese Icing.
In a small bowl, whip the cream cheese and powdered sugar together until smooth with a hand mixer (or a stand mixer.)
When rolls have cooled slightly, serve individually, and drizzle the icing on top of the served rolls. Enjoy with a glass of milk!
Notes
Recipe adapted from Epicurious and Joy the Baker.
Note that the prep time includes rising time and rest time.
If you make these the night before, put them in the refrigerator in the baking dishes BEFORE the second rise. The morning of, be sure to pull them out of the fridge in time to do their second rise. This will take a little longer, as they'll be cold, so allot about an hour and a half for them to sit out and rise, then bake as directed.
You can also freeze these cinnamon rolls in pans before the second rise in a freezer-safe container, then when you're ready to eat, defrost in the fridge, do the second rise at room temperature, and bake as directed.
Nutrition Information:
Yield:
18
Serving Size:
1 roll
Amount Per Serving:
Calories:

421
Total Fat:

19g
Saturated Fat:

8g
Trans Fat:

0g
Unsaturated Fat:

10g
Cholesterol:

44mg
Sodium:

242mg
Carbohydrates:

58g
Fiber:

2g
Sugar:

35g
Protein:

6g
Nutrition facts are an estimate and not guaranteed to be accurate.