Figs are in season, and they are so delicious in everything. If you can get your hands on some ripe-from-the-tree figs, make this Fig Tart. The tart starts with sweet tart dough, which is dense and understandably sweet. The sweet tart dough is filled with sticky, slightly sweet fig filling. This tart is perfect for a warm summer's day and a fabulous way to use the fresh fruit.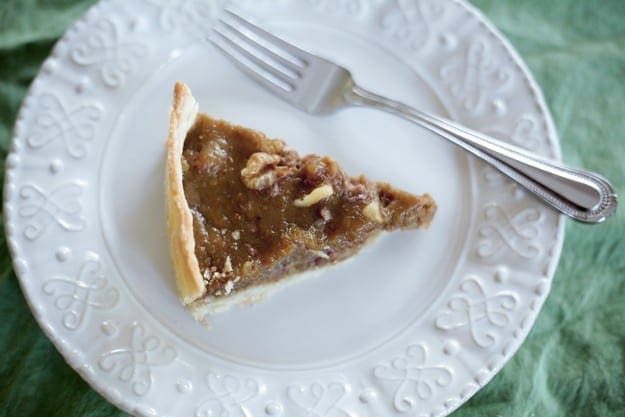 When we were deciding where to live in the great city of Baton Rouge, we had a lot of wants on our list of what our home should have. One thing that was never on our radar, let alone that want list, was a fruit tree.
However, when I arrived three weeks ago, there was a tree on our property line that appeared to have some sort of strange fruit growing on it. Curious, my mother and I pondered what this might be, and one day, I came to the conclusion that it was, aha!, a fig tree.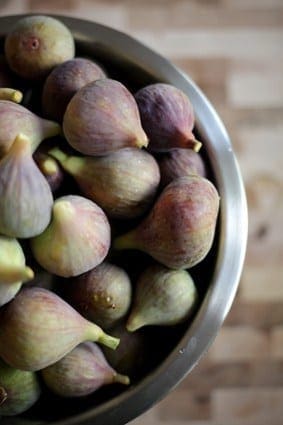 Being someone who has never really eaten figs outside of Fig Newtons, which were one of my favorite treats as a child, I was stumped by what to do with the sudden abundance of fruit.
So, naturally, I looked up some recipes, drew some inspiration, and then made a recipe up.
And the end result? Way more fabulous than I could have ever imagined.
You start out with a pound of fresh figs. Yes. A POUND. And yes, you could probably double or triple this recipe if you wanted. Or you could just pick more than a pound and continue to snack on the fresh figs throughout the day. Because they're really, really good.
You chop up the figs into quarters and throw them in a pot with the water, orange juice and brown sugar. Let this boil down until the water/orange juice/brown sugar mixture is syrupy and the figs are basically falling apart.
They'll look something like this: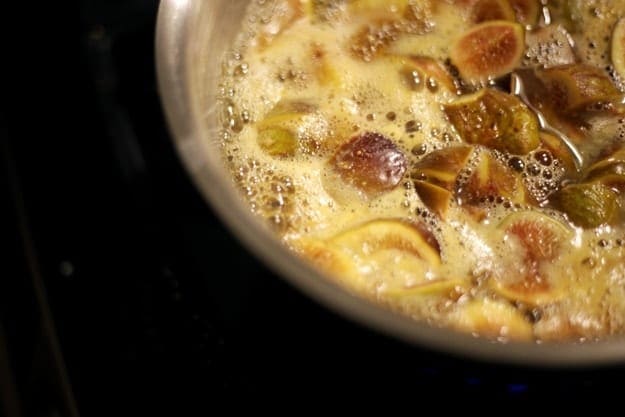 While your figs and those liquids are going in the pot, break the three eggs into a bowl and whisk them together. Set aside for later.
Once the fruit is basically falling apart and the liquid is thick, you simply put them in your food processor (or blender) and blend them together. At this point, you can put the mixture back on the heat to thicken more or you can combine it with the vanilla extract, the walnuts, the eggs – be sure to temper them first! – and the butter, then throw into the tart pan.
You'll bake the dessert for about thirty minutes in a 350 degree oven or until the top of the tart is golden brown.
And then you get to enjoy it. And let me tell y'all, this recipe is so. good.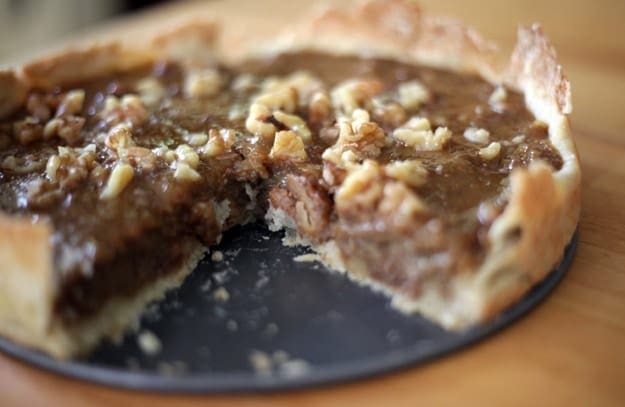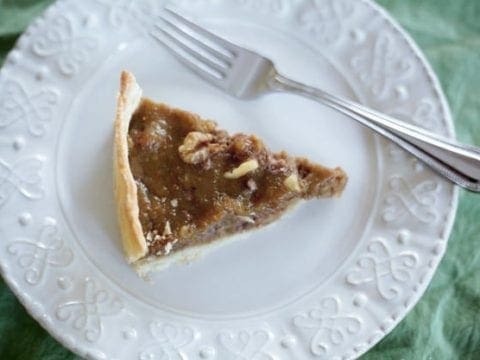 Yield:

1 9"-round tart
Fig Tart
A sweet pie crust for any kind of tart or dessert that needs just a hint of sugar.
Ingredients
Sweet Tart Crust
1 cup unbleached all-purpose flour
1/3 cup vegetable shortening
2 ½ tablespoons granulated sugar
1/3 teaspoon sea salt
4 tablespoons ice cold water (could use more or less depending on how your dough comes together)
Fig Filling
1 lb. fresh figs
1 cup water
1 ½ cups orange juice, fresh, if possible
½ cup dark brown sugar
4 tablespoons salted butter
3 large eggs, lightly beaten
1 teaspoon pure vanilla extract
1 cup walnuts, coarsely chopped
Instructions
Make the Sweet Tart Crust
Fill a drinking glass of water. Place five ice cubes in it. Set aside.
Sift flour, sugar and sea salt together into a large bowl. Whisk together once everything has been sifted.
Measure out the shortening and drop it into the flour/sugar/salt mixture.
Use a pastry blender to break down the shortening into the flour/sugar/salt mixture.
Once the shortening has been broken into smaller pieces, pour in a tablespoon of the ice water. Use the pastry blender in a circular motion to continue mixing and combining the ingredients.
As your dough begins to come together, add more ice water. Add this slowly so you do not have a soup-y dough.
Once the dough is just combined, wrap it in plastic wrap and place in the freezer or refrigerator to chill for at least an hour before rolling out.
Make the Fig Filling
Preheat oven to 350°F.
Chop the figs into quarters and set aside.
Break the three eggs into a bowl, whisk together and set aside.
Place figs into a saucepan with the orange juice, water and brown sugar. Bring to a boil and let simmer until the water/juice/sugar mixture is thick and syrupy and the figs are falling apart.
Use a food processor or blender to puree the fig and syrup mixture.
Transfer mixture back into pan. You can either continue to simmer this or add the last ingredients.
Mix in the eggs, tempering them before pouring all three into the hot mixture.
Add the walnuts, the vanilla extract and the butter.
Pour the batter into a tart pan that has been lined with the Sweet Tart Crust.
Bake for thirty minutes or until top is golden brown.
Once baked, let sit for five minutes to cool, and then enjoy!
Recommended Products
As an Amazon Associate and member of other affiliate programs, I earn from qualifying purchases.
Nutrition Information:
Yield:
8
Serving Size:
1 slice
Amount Per Serving:
Calories:

546
Total Fat:

32g
Saturated Fat:

11g
Trans Fat:

0g
Unsaturated Fat:

19g
Cholesterol:

90mg
Sodium:

284mg
Carbohydrates:

59g
Fiber:

4g
Sugar:

29g
Protein:

8g
Nutrition facts are an estimate and not guaranteed to be accurate.
Have you ever had a fruit tree in your yard?
If so, what kinds of things did you learn how to make so you could enjoy the fruit for as long as possible?