Cool off this summer with a gingery, refreshing Frozen Mule. Made with classic Moscow Mule ingredients, this slushy cocktail drinks easy. Makes 1 drink.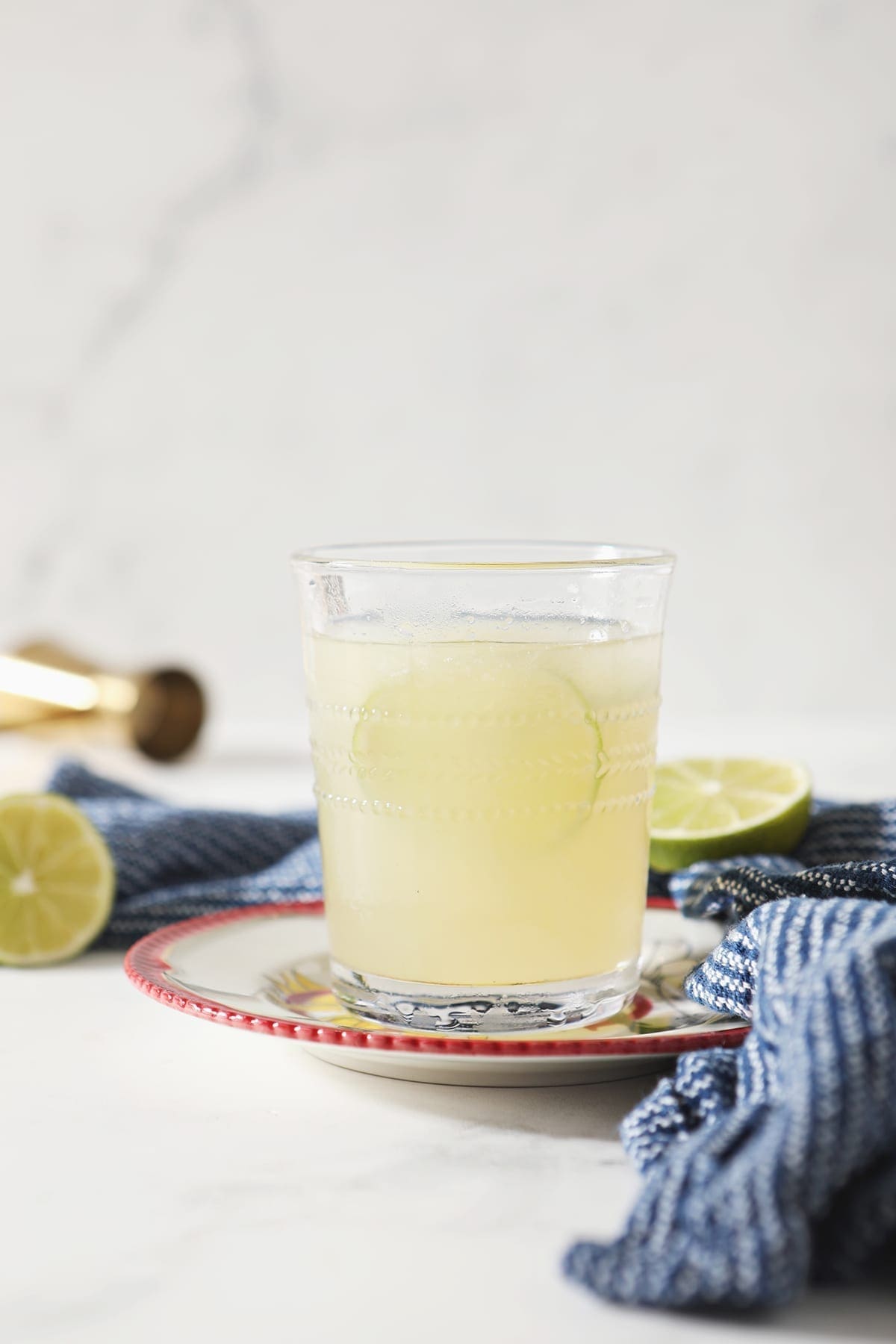 The Year of the (Moscow) Mule rolls on into the month of July, and this month, we're making it frosty!
Yes, friend. We're making a Frozen Moscow Mule for this month's Mule de jour, and I, for one, think it's timed perfectly since it's sizzling hot outside here in Texas.
The only thing that differentiates this recipe from a "regular" Moscow Mule is the fact that we're freezing our ginger beer to make it into ice cubes to make this cocktail a slush!
So all that's to say: this cocktail involves the same ingredients as a Moscow Mule… but you have to take the time to plan in advance and freeze the ginger beer into 1 oz. cubes.
It's a little extra, I know, but the end result is absolutely delightful!
More summertime Moscow Mule recipes: Peach Moscow Mule | Strawberry Moscow Mule | Raspberry Moscow Mule | Mexican Mule
Looking for some more vodka recipes? Check out my vodka recipe index.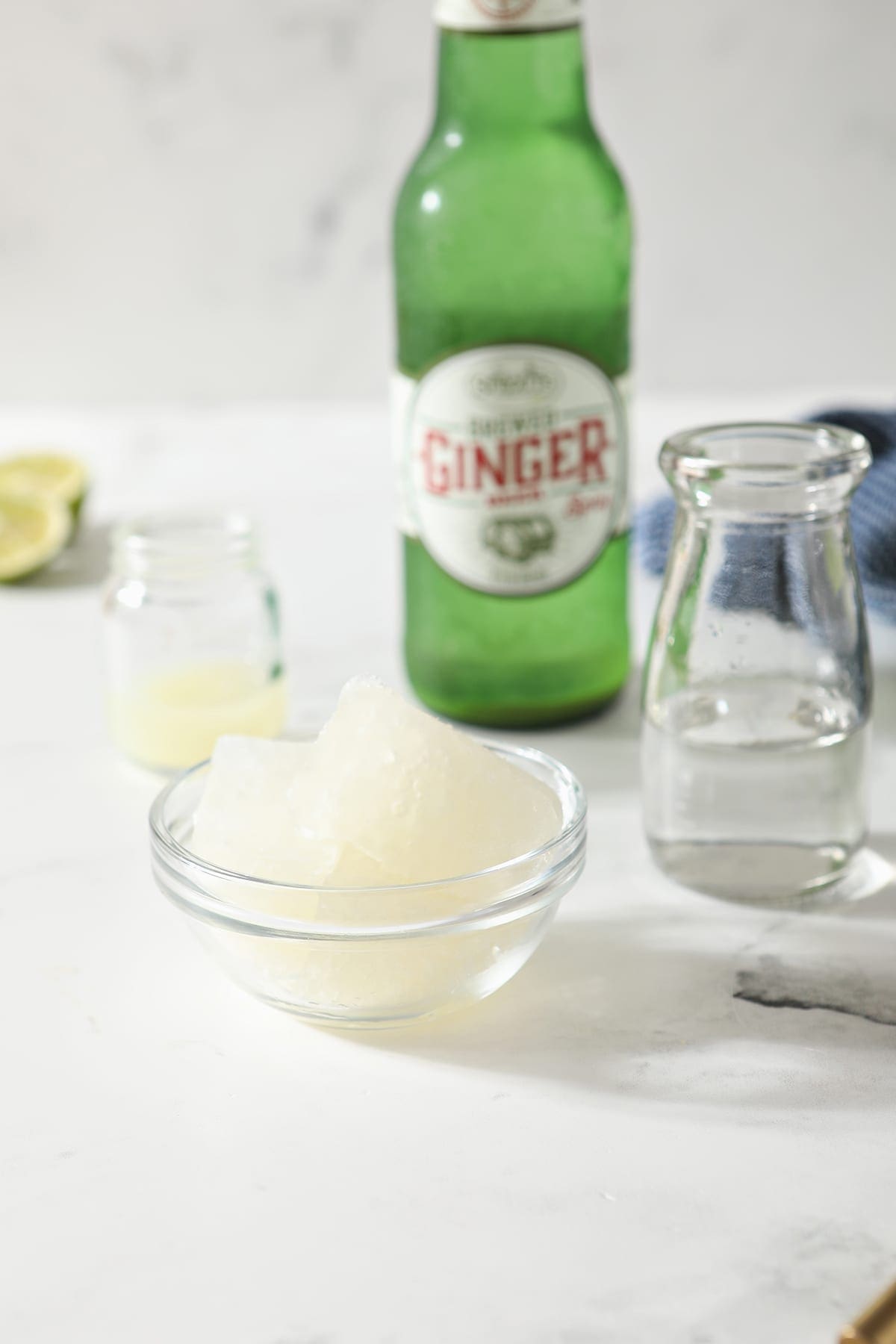 What you'll need to make a Frozen Moscow Mule
The Speckled Palate participates in affiliate programs. As an Amazon Associate, I earn a commission from qualifying purchases. Please refer to my disclosure page for more information about these affiliate programs.
How to make a Frozen Moscow Mule
First and foremost, we must make the ginger beer ice cubes. In a regular ice cube tray, measure 1 ounces of beer into each cube. (Some trays are deeper than others, so if yours doesn't accommodate 1 oz. per cube, do ½ oz. pours instead.)
It's really important to measure out the ounces per cube so we know how many cubes to use in our drink. If you're eyeballing it, you won't have an exact measurement, and while that's OK, it could lead to your drink being too ginger beer-y or too vodka-y.
Once you've measured out your ice cubes, pop 'em in the freezer, and let them chill for 2-4 hours, or until they're solid.
When the ice cubes are ready, take 4 oz. of the cubes and throw them into the base of your blender.
Measure in the vodka, as well as the lime juice.
Blend the ingredients together until smooth, and pour into your favorite glass.
Garnish with a lime round, and enjoy immediately.
Erin's Easy Entertaining Tips
I've said it before and I'll say it again—mules are fabulous party drinks! They require few ingredients and are incredibly easy to prep. They are also simple for your guests to put together on their own if given the option.
A frozen Moscow Mule would make an especially epic drink to serve by the pool, if you're hosting folks for a pool party or even a backyard barbecue where you want a drink to keep you cool.
Instead of making a mule bar, like I normally suggest, I'd make a big 'ol batch of these in the blender instead.
Double, triple or quadruple the recipe. It's pretty easy! (And I've included the math below, as well as in the recipe card for you.)
Freeze several trays of ginger beer ice. The more, the merrier. And that way, if people somehow want more than you expect, you'll have enough ice cubes to keep mixing these frozen mules.
One to two hours before your gathering, squeeze the limes and get that lime juice ready. (You can also purchase freshly squeezed lime juice in the refrigerated section of your grocery. This is especially clutch if you don't want to spend a ton of time squeezing the juice.)
Slice your limes in advance, too. Keep 'em in a food storage container in the fridge for up to a few days beforehand.
When guests arrive and are thirsty, make a big batch. These mules won't stay frozen for long, so make sure you've got enough people to sip 'em!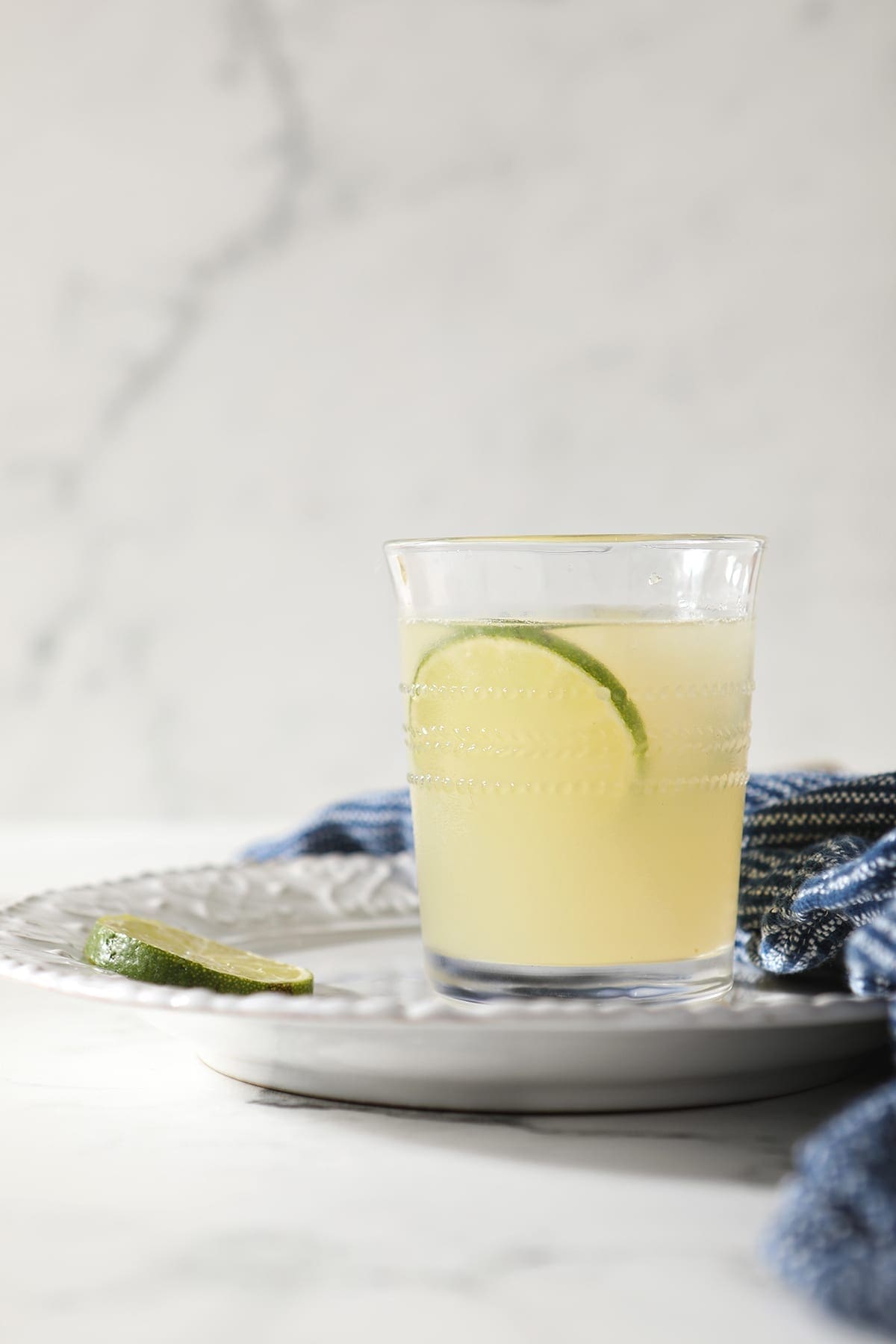 Frequently Asked Questions
Is there a way for me to make this cocktail if I don't have a blender?
Sadly, the beauty in a Frozen Moscow Mule is throwing the ingredients into the blender and letting them do their thing.
If you don't have a blender, I suggest making a pitcher of Classic Moscow Mules or something similar, like Raspberry Mango Sangria. 🙂 Or maybe borrowing a blender from a friend to make this goodness happen.
Is there a specific brand of vodka I should use for Frozen Moscow Mules?
No, there isn't a specific brand! That said, I think it's important not to purchase the cheapest bottle of vodka available. You can taste it, so you want it to taste good.
If you don't know your vodka, I'd speak to someone at your local liquor store who's knowledgeable and who can help you choose a bottle. (This is what I do whenever I visit the liquor store and don't feel confident in my ability to choose a good bottle.
Can I use another type of liquor in this frozen cocktail?
Yes! Use Irish whiskey to make it a Frozen Irish Mule or bourbon to make a Frozen Kentucky Mule.
Can I make this ahead of time?
Unfortunately, you can't blend the drink ahead of time because it will melt, but you can measure out and freeze the ice cubes in advance.
How do you store this cocktail?
In all honesty, I'd keep any leftovers of this in a freezer-safe food container in the freezer. The slush will freeze up, and you can enjoy it at a later date.
Can I make this into a pitcher drink?
You sure can! To make a pitcher that serves six, combine the following in your blender, and blender 'em together:
24 oz. ginger beer ice cubes
9 oz. vodka
3 oz. lime juice
Serve the drinks immediately and garnish with lime rounds.
I don't want to juice limes (or I don't have the equipment.) Can I use the bottled stuff?
I suggest trying to find the freshly squeezed cold press lime juice at your grocery store. (Ours is located with the fresh cut fruit in a cooler near the front of the store when we walk in, but obviously, every store is different.)
While you can use the bottled stuff that's shelf-stable, I don't think it has near as much zing or the fresh taste as freshly squeezed.
What is the best brand of ginger beer?
Our family really likes Sprouts' brand ginger beer, as well as Fever Tree. Be forewarned if you purchase the Fever Tree that it is extremely spicy and that it could be overwhelming for some.
Is ginger beer alcoholic?
Look at the label of your ginger beer, but generally speaking, it is not. That said, there are trace amounts of alcohol in ginger beer due to how it's brewed, but the levels are similar to that of kombucha.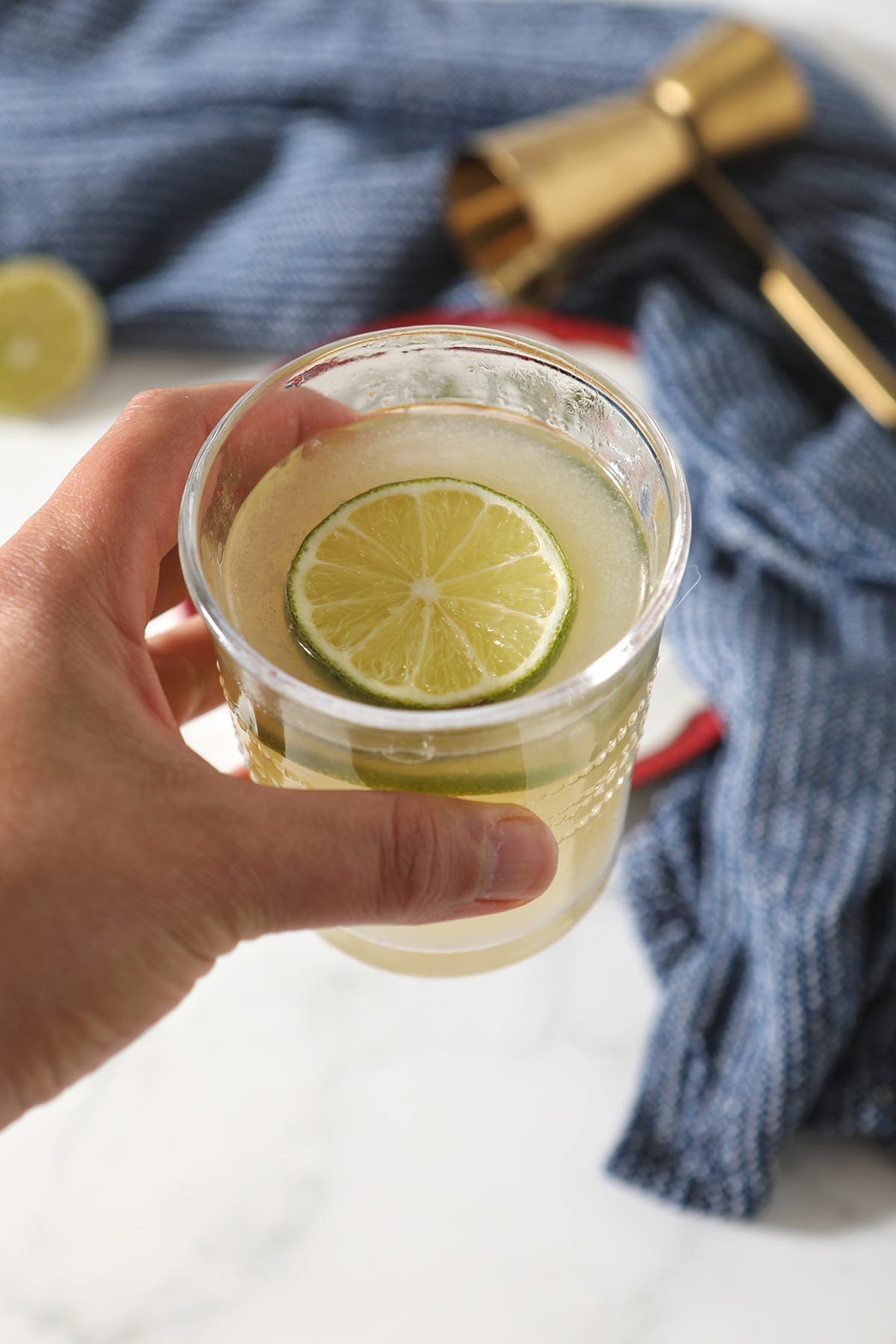 Quick tips for making a Frozen Moscow Mules
If making a batch of mules, prep your ingredients before you start mixing 'em.
Always use fresh lime juice! It makes all the difference.
Use your blender to make a batch of these beauties! It's easy peasy and also a great (and easy!) cocktail for a crowd.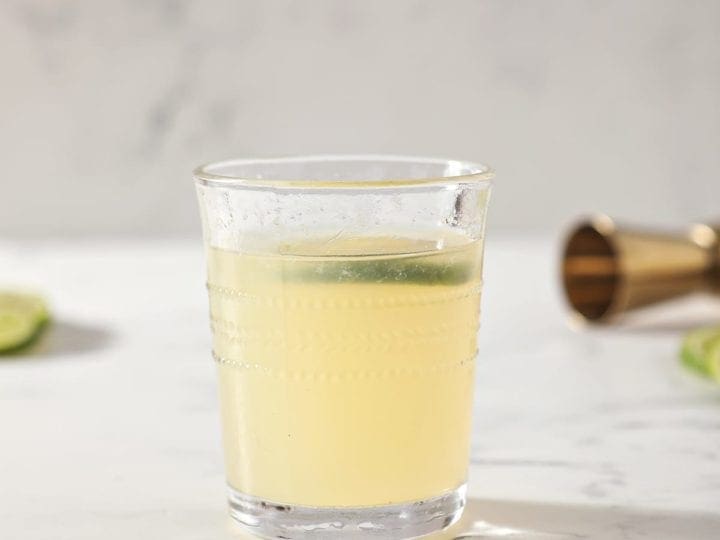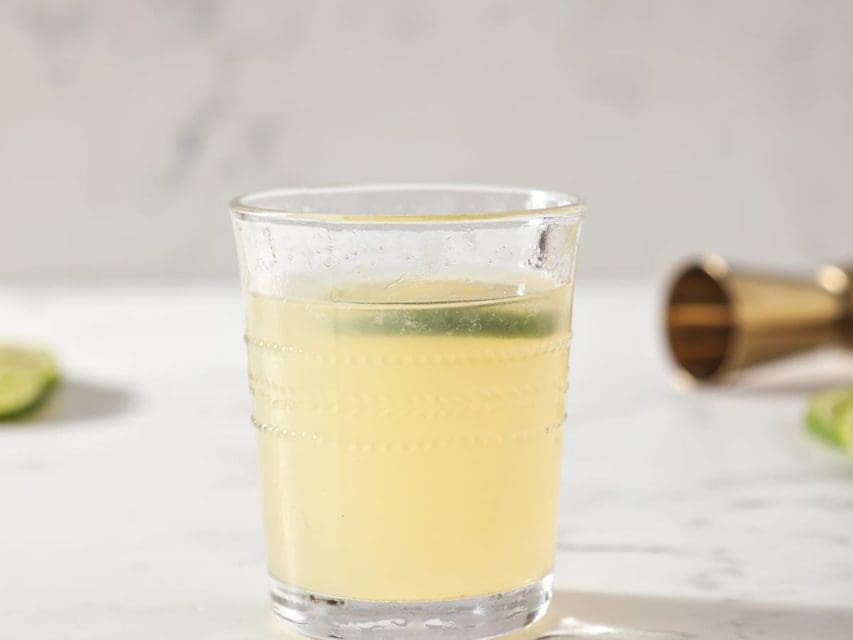 Yield:

1 drink
Frozen Moscow Mule
Total Time:
4 hours
5 minutes
Cool off this summer with a gingery, refreshing Frozen Mule. Made with classic Moscow Mule ingredients, this slushy cocktail drinks easy.
Ingredients
4 oz. ginger beer, frozen into cubes
1 ½ oz. vodka
½ oz. lime juice, freshly squeezed
Instructions
Pour a 12 oz. ginger beer into an ice cube tray. (This will make enough for 3 drinks, but you can easily double or triple it for a crowd.) Freeze for 4-6 hours, or until frozen solid.
Once the ice cubes are frozen, combine the ginger beer ice cubes, vodka and lime juice in the base of a blender.
Blend until smooth.
Garnish with a lime round and enjoy immediately!

Notes
If you like your drinks a little stronger, use 3 ½ oz. of ginger beer instead of 4 to give your drink a little more of a punch!


To make a batch that serves six, throw the following into your blender and blend until smooth:
24 oz. ginger beer ice cubes
9 oz. vodka
3 oz. lime juice
Serve the drinks immediately and garnish with lime rounds.
Recommended Products
As an Amazon Associate and member of other affiliate programs, I earn from qualifying purchases.
Nutrition Information:
Yield:
1 drink
Serving Size:
1
Amount Per Serving:
Calories:

163
Total Fat:

0g
Saturated Fat:

0g
Trans Fat:

0g
Unsaturated Fat:

0g
Cholesterol:

0mg
Sodium:

9mg
Carbohydrates:

17g
Fiber:

0g
Sugar:

16g
Protein:

0g
Nutrition facts are an estimate and not guaranteed to be accurate.