Valentine's Day Dessert Board
Surprise your sweet with a dessert board! Including a homemade Red Velvet Cheese Ball, dippers chocolate-covered candies, fruits and more, this dessert tray is easily customizable and perfect for sharing! Makes 1 candy board.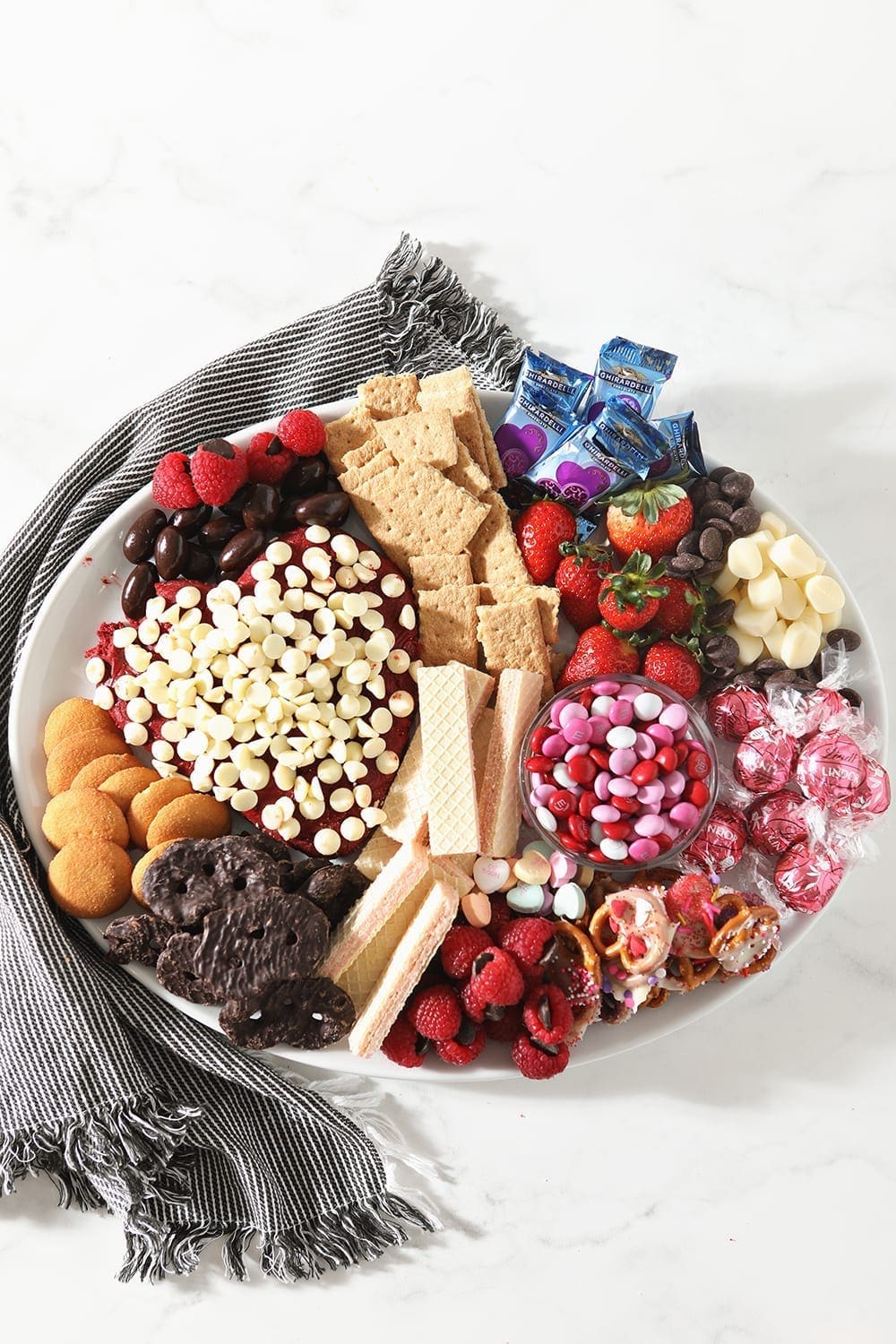 It's one of my favorite recipe days of the quarter: It's FREAKY FRIDAY, and today, y'all, oh my word, I'm sharing a how-to treat from the fabulous Michaela from An Affair from the Heart that is crazy easy but looks super fancy! (Have you noticed that I'm into the dishes that appear to be high-brow but are actually pretty simple to make recently?)
Michaela and I met this past year through this collaboration, and I am so happy to know her!
Not only is she an incredibly creative and prolific blogger, but she is incredibly sweet, encouraging and an all-around good friend. Also, she looooooooooves entertaining, too!
So today, I'm making one of her dishes that's perfect for an upcoming February holiday: a Valentine's Day Dessert Cheese Board!
Why I love this recipe:
Before a year ago, I'd never heard of a dessert board, let alone nibbled off of one, but it's brilliant! Like a cheese board, this platter of sweet treats is perfect for hosting because it can feed a crowd and satisfy a lot of different types of sweet teeth.
And this one calls for a decadent and stunning Red Velvet Heart-Shaped Cheese Ball.
More dessert recipes that are perfect for sharing: Chocolate Chip Cookie Bars / Dark Chocolate Soufflés / Strawberry Mousse / Orange Raspberry Shortbread Cookies | Valentine's Day Pink Oreos | Chocolate Dipped Pretzels
Looking for a Valentine's Day recipe, but don't know where to begin? Check out my Valentine's Day recipe index.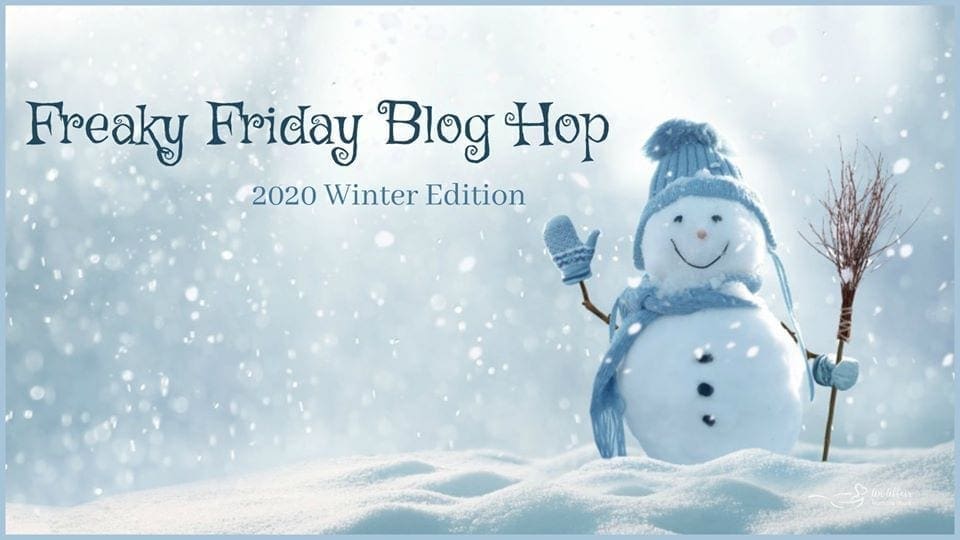 First, Let Me Tell You About Michaela and her blog, An Affair from the Heart
Michaela always enjoyed entertaining, cooking and baking—and she's all about a hosted event, too. (You can learn more about her background as she explains the name of her blog in this post.)
A stay-at-home mom with four kiddos and a husband, Michaela has her hands full, but she loves the creativity blogging allows her. (Hi, who wouldn't enjoy experimenting with recipes and playing with their food, as well as photographing them and sharing them with readers?)
Michaela has so many wonderful looking recipes that I really struggled choosing what to make for this collaboration.
In the end, it was down to this candy board, Baked Spaghetti and Meatballs (because I love a good comforting dish this time of year), Three-Cheese Arancini (hello, decadent dipper that can easily be shared) and Cinnamon Spice Coffee Cake (because breakfast is one of my favorite types of events to host.)
I ended up deciding on this cheese board because I love idea of a dessert and candy board. How brilliant this is for someone who wants to entertain, but doesn't have a ton of time!
I thought this was a recipe we could all use in this season of our lives, and I'm so excited to have made it because it's exactly as I expected, delicious and something I'll make for years to come.
So what IS Freaky Friday?
It's an old-fashioned blog hop.
A blog hop, for those of y'all who haven't been around the blogosphere for as long as I have, which is to say for-freaking-ever, is a collaboration between bloggers where everyone has a post to share and you link to one another in your posts as they go live.
Everyone is secretly assigned another blogger, who we make a recipe from. We make the recipe, photograph it like it was our own, write a post about it and share it on the selected Friday in the hopes that we help YOU (yes, you!) discover new recipes and new bloggers to follow!
For previous Freaky Friday exchanges, I've made Shortbread Brown Butter Cookies, Boozy Bacon Pretzel Peanut Butter Bars, Instant Pot Macaroni and Cheese, Cherry Bourbon Slush and Halloween Peanut Butter Chocolate White Chocolate Chip Cookies.
Take A Look At All Of Our 2020 Freaky Friday Winter Recipes: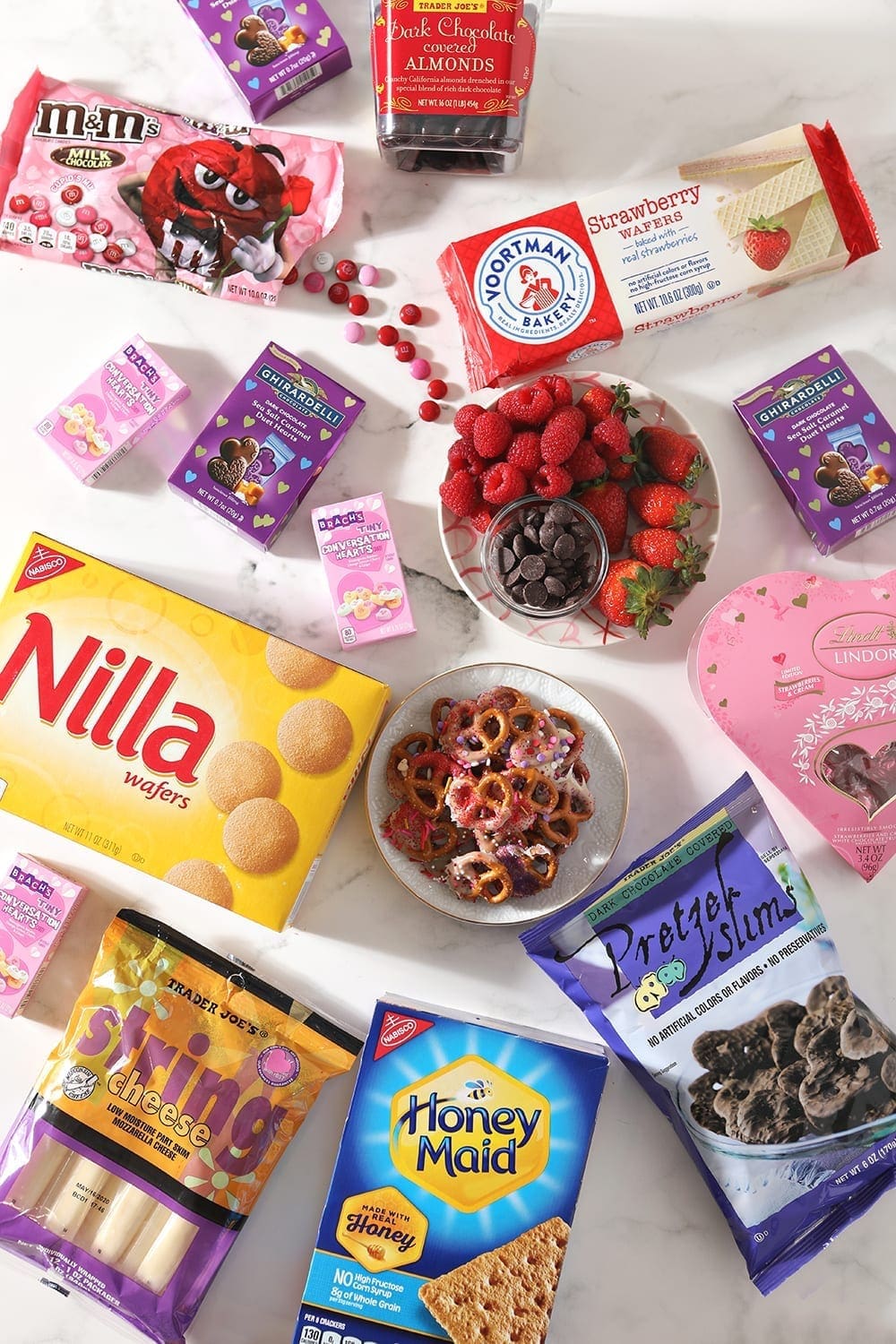 Tools you'll need to make a Valentine's Day Dessert Board and Red Velvet Cheese Ball
Disclaimer: The links below are affiliate links. If you click through and take action, I will receive a small commission. Please refer to my disclosure page for more information about the affiliate programs The Speckled Palate participates in.
Hand mixer to make the Red Velvet Cheese Ball
A platter (like this Threshold one I used) to serve your dessert board on
A cheese knife or something to cut into the cheese ball
Here are the food items we had on our tray:
Dippers, like graham crackers, strawberry filled wafer cookies and Nilla Wafers, too
Red fruits, like strawberries and raspberries
White cheeses, like mozzarella sticks
Salty-sweet items, like white chocolate, dark chocolate covered pretzels or even Cinnamon Sugar Pretzels
Your favorite Valentine's Day candies
Please note that you can make a Dessert Board for any time of year, not just for Valentine's Day!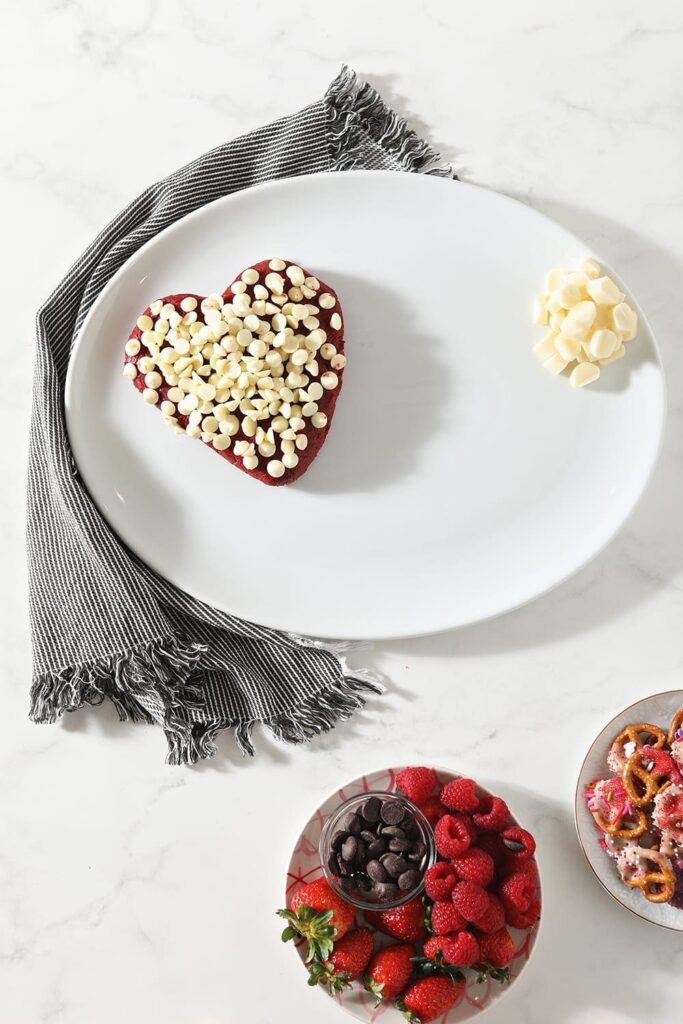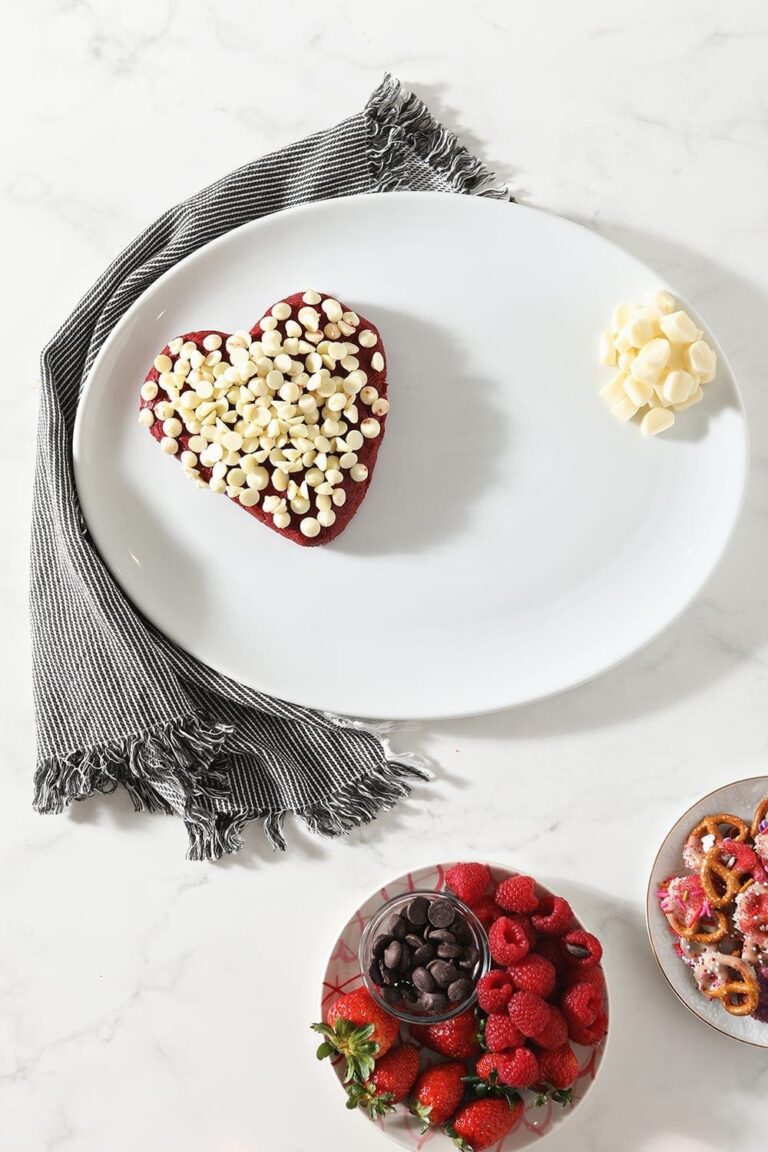 How to make a Dessert Tray for Valentine's Day
Gather your ingredients
The beauty in this candy board is that you can pick and choose the items you use in it! So if there are some things on my board that you're not loving, swap them out with something you and your loved one(s) enjoy.
Gently place dark chocolate chips (or semisweet, milk or white chocolate chips) inside the raspberries for a nice chocolatey surprise when your guests bites into one.
Make the Red Velvet Cheese Ball
Michaela explains this more in depth on her blog (and I link directly to it above and in the recipe card for your convenience), but you're essentially going to mix the ingredients in a stand mixer or with a hand mixer to make the cheese ball.
When it's all combined, dollop it onto plastic wrap, and wrap it up. Using gentle hands, mold it into the shape of a heart (or any other shape you might desire.)
Since the cheese ball is sticky, it's easier to form it when it's already been wrapped. Just don't wrap it so tightly that you can't shape it. If you want to use your hands on the dough itself, you certainly can, but be forewarned that it'll be a mess.
When it's been shaped, let the cheese ball chill for 2-3 hours or overnight to firm up before pressing ½ cup of white chocolate chips onto the top of it.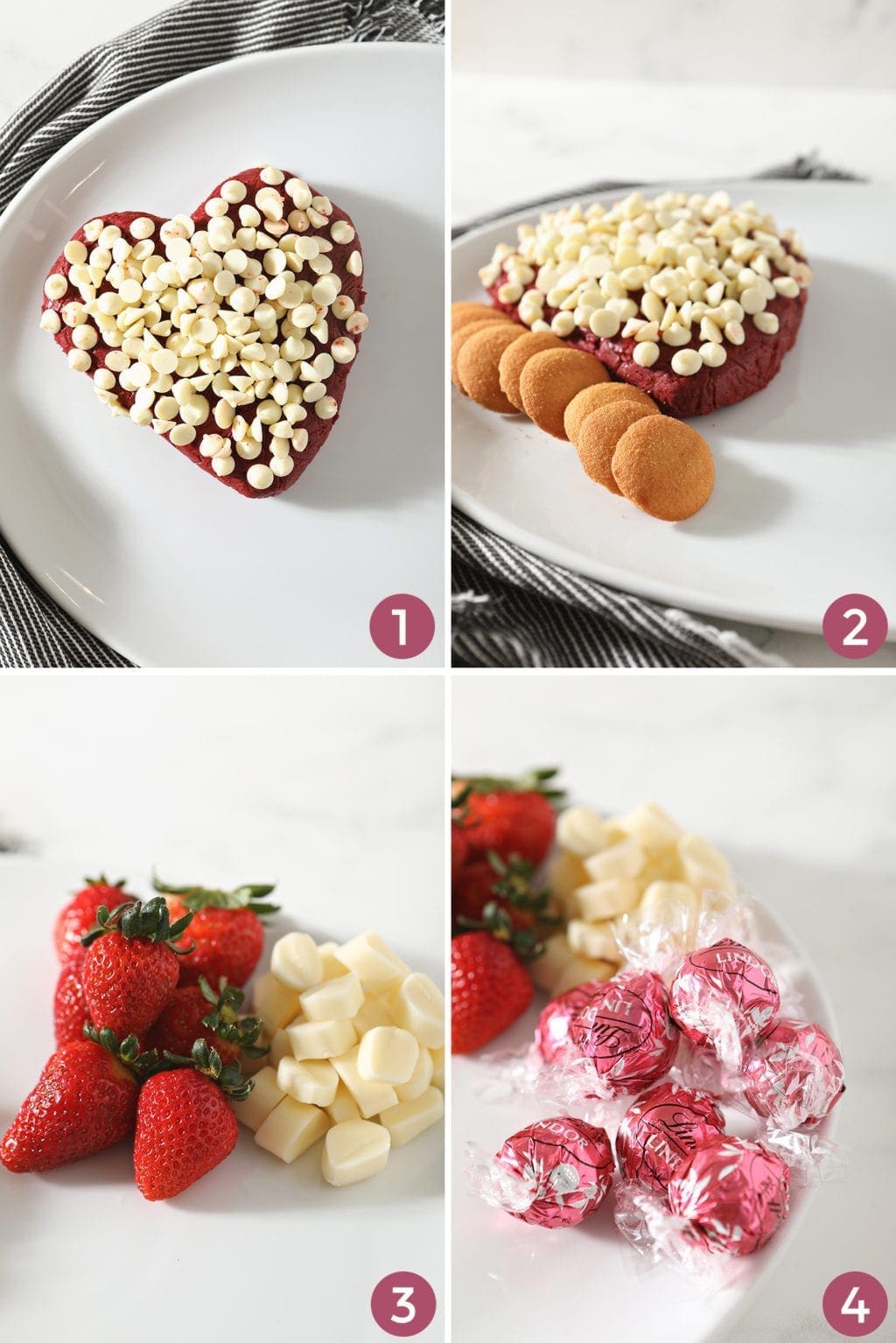 Put together your dessert and candy board
Use the red velvet cheese ball as the centerpiece, and build the board around it!
For me, I like to place the dippers, like the cookies, graham crackers, etc., next to the cheese ball so guests can see those are for dipping.
And then I like to space out the rest of the ingredients based on color because I like to have the pops of pink and red throughout the board.
Let your creativity lead the way and remember: the board doesn't have to look perfect. This is supposed to be fun, and in the end, the taste of the items on the dessert board are what matters, not how gorgeously arranged it may or may not be, so give yourself a break.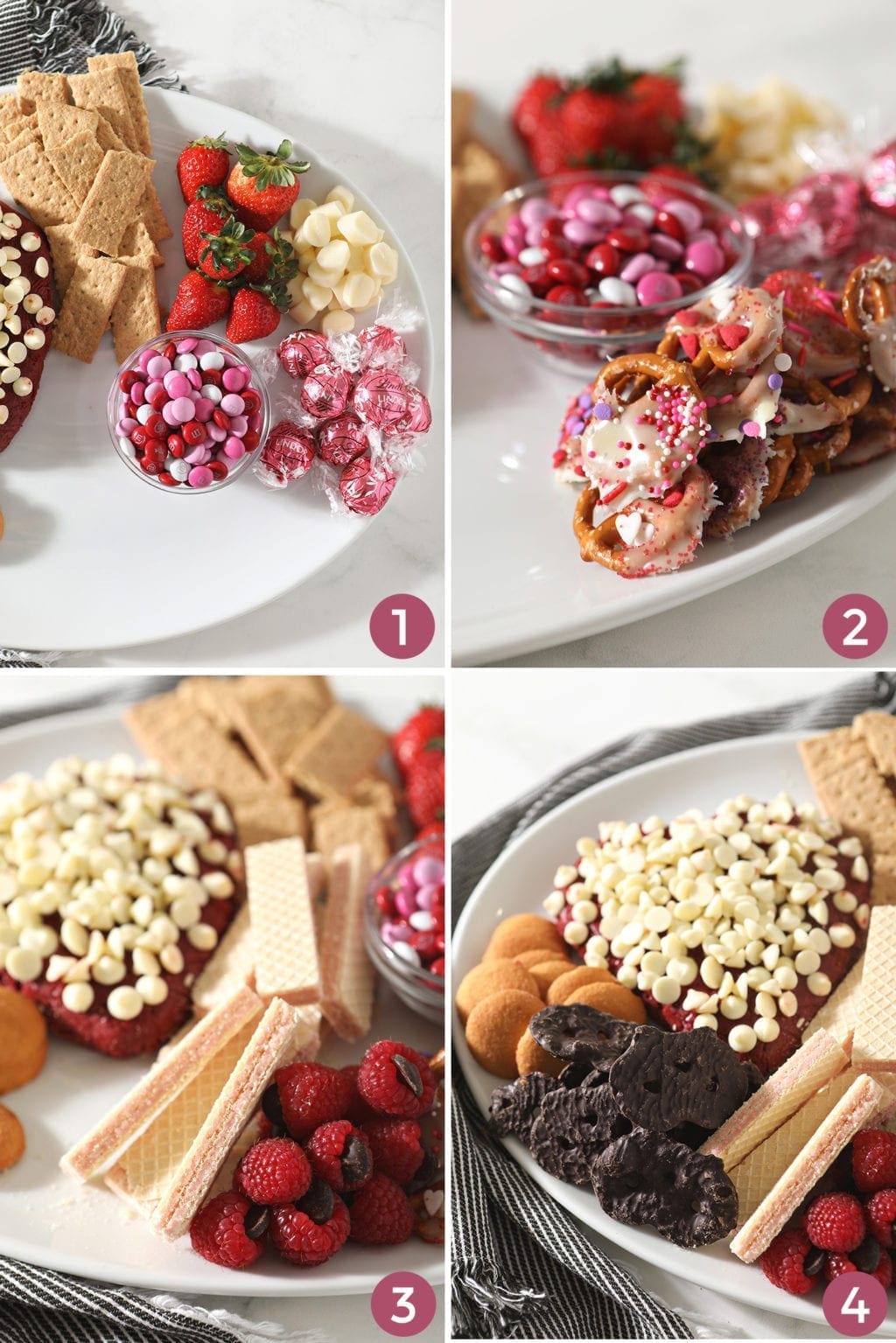 Erin's Easy Entertaining Tips
Whether or not you have kids, Valentine's Day parties are a great way to bring together people you love! Put together a casual get-together that includes appetizers (like Steak Bruschetta with French Onion Marmalade, Raspberry Yogurt Fruit Dip and Caramelized Onion Guacamole) that also includes this DESSERT BOARD!
Here are some things you can do to put this board together with no fuss:
Make the cheese ball early. Since it needs to be refrigerated a few hours in advance, you can make it a day in advance and take the pressure off yourself.
Customize the flavors to your likings. If you don't like dark chocolate, don't put dark chocolate on your dessert board! Just try to keep the pops of color on your board and to space out the ingredients artfully.
Let your kids help. If you're like me and would make a dessert board to share with your kids and friends, let them help put it together! Will it be as spotless and organized? No. But will they have fun? Absolutely.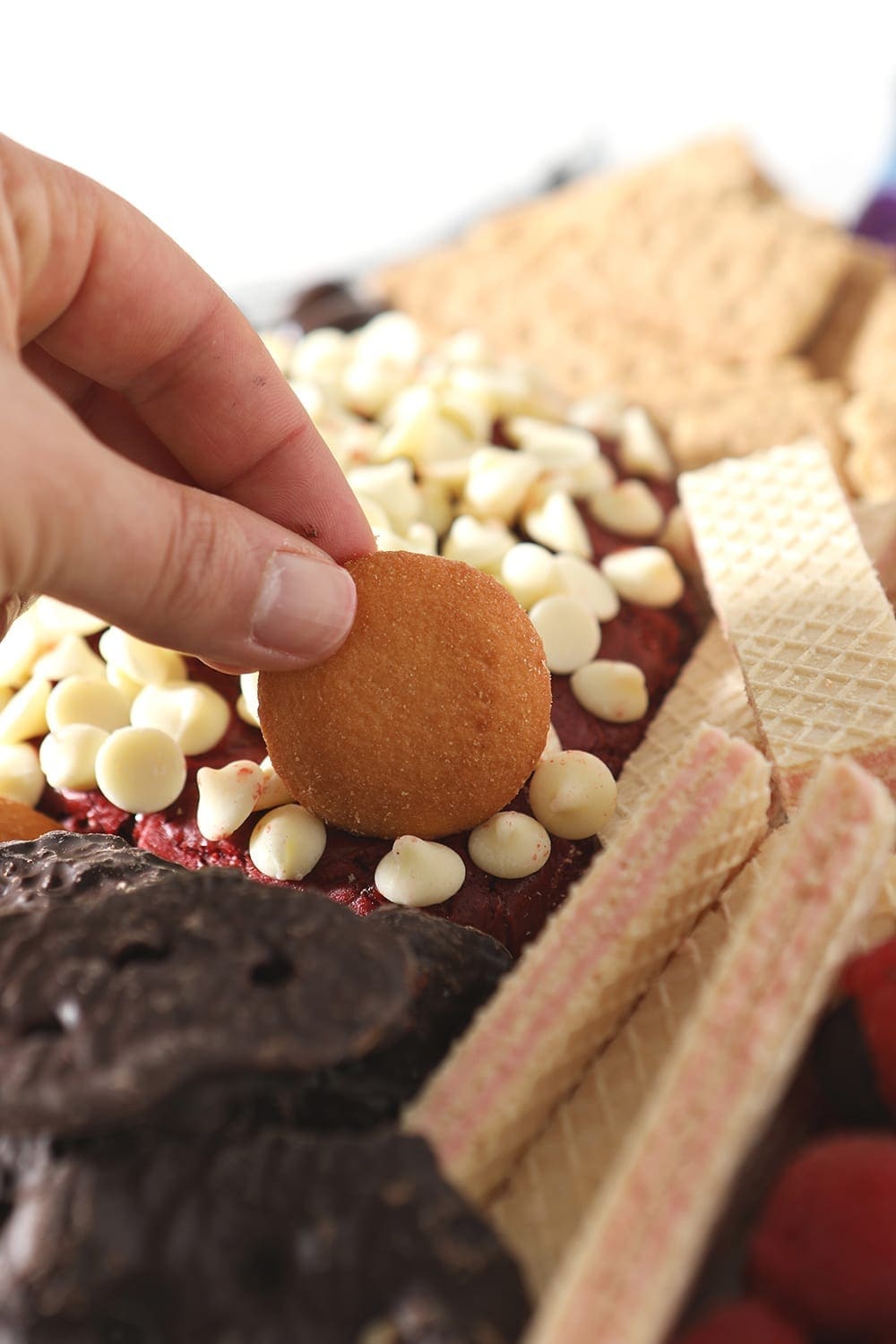 Frequently Asked Questions
What kind of platter or plate should I use to make this dessert and candy board?
I like a large oval platter for this, but Michaela served hers on a marble slab. You do you!
What if I don't like chocolate?
Since this dessert board calls for a Red Velvet Cheese Ball as the centerpiece (red velvet is chocolate dyed red), you're probably best served making another dessert. You can check out my Desserts recipe index for inspiration.
How far in advance can I make the dessert cheese ball?
You can make it the day before and let it hang out overnight before serving. It could sit for probably 2-3 days, but you wouldn't want to let it go much longer than that.
Can I make anything else ahead?
You can purchase your ingredients, but you can't really make anything else in advance except for the cheese ball.
What can I purchase from the store?
You could honestly purchase everything on this board from the store except the dessert cheese ball. Have some fun with it and grab some more interesting dessert items at your grocery if they call your name!
Is there an allergy friendly option?
Yes… you can certainly make this allergy friendly depending on the specifications. The caveat is that you might have to change what's on the dessert board depending on the allergies. If dairy is out, you can replace the cheese and milk chocolates with other items (or possible more fruits.) You can make the cheese ball gluten free with a GF mix, but you'll also have to make sure everything else on the board is gluten free, too.
How do I store the leftovers?
Wrap the cheese ball leftovers in plastic, and refrigerate it. If there are other leftover items, store them separately. Obviously, berries and cheeses will be stored in the refrigerator while crackers, cookies, candies, etc., will be stored at room temperature in separate food storage containers.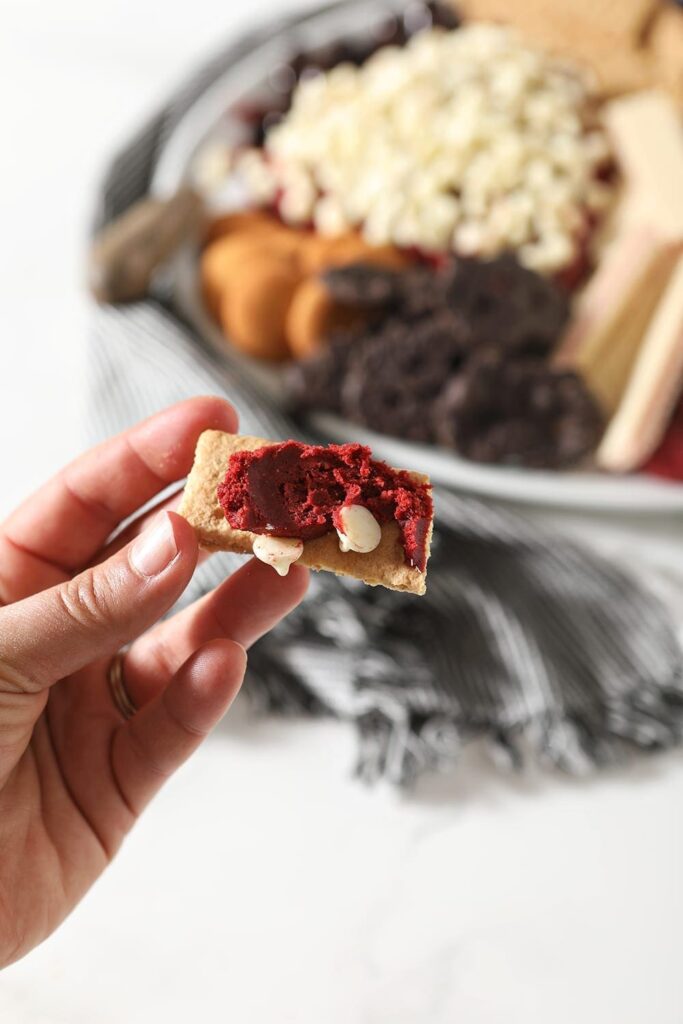 Quick tips for making a Candy Board
Make it gluten free by using a gluten free red velvet cake mix in the cheese ball and serving it with gluten free dippers. (Yes, they exist. Yes, you can find them at your local grocery or specialty store!) Read the packaging of other ingredients you add to the board to confirm that they are, in fact, gluten free.
Store the cheese ball separately from the rest of the board in the fridge. The dippers will become soggy and the chocolate's texture might change if they are refrigerated.
Customize it! If you don't like some things on this candy board photographed here, swap out items that you like! This board is easily customizable and should be catered to your tastes. 🙂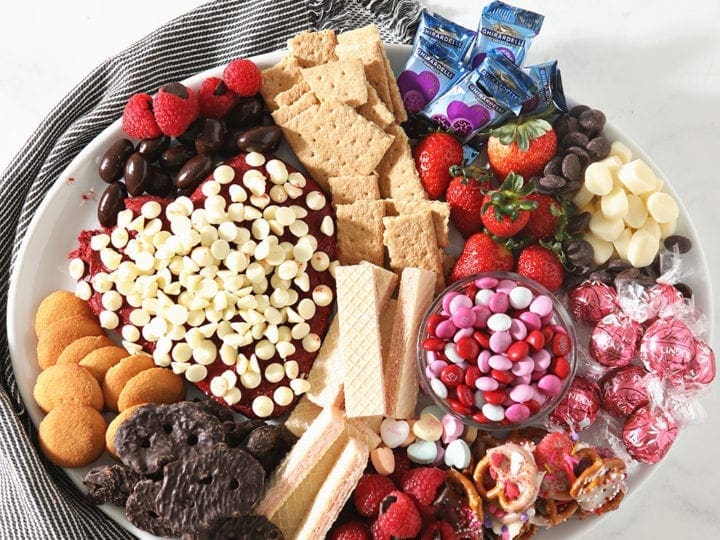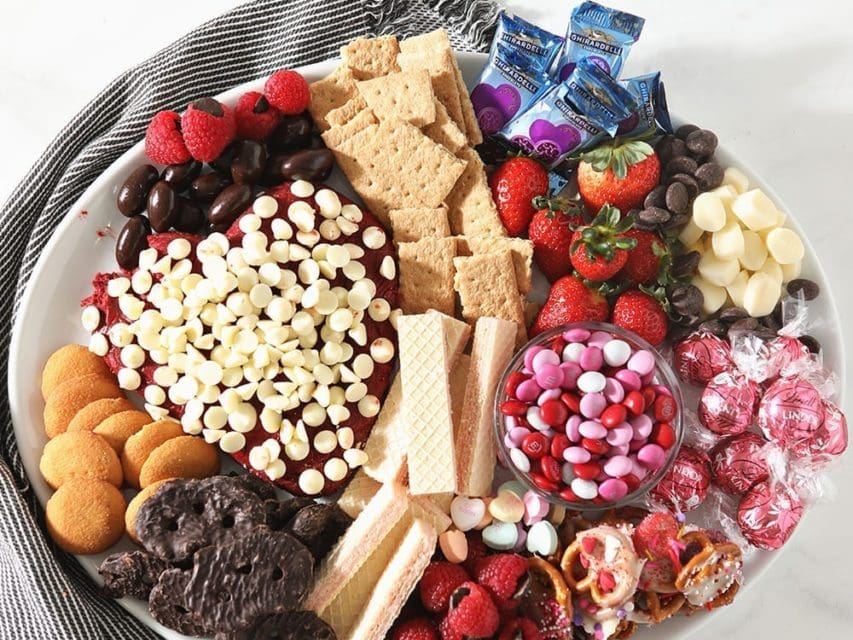 Yield:

1 dessert board
Valentine's Day Dessert Board
Prep + Arranging Time:
20 minutes
Cheese Ball Chilling Time:
2 hours
Total Time:
2 hours
20 minutes
Surprise your sweet with a dessert board! Including a homemade Red Velvet Cake Ball, dippers chocolate-covered candies, fruits and more, this dessert tray is easily customizable and perfect for sharing!
Ingredients
9 Nilla Wafers
4 sheets Graham crackers, broken into 16 crackers
10 dark chocolate pretzels
9 strawberry wafer cookies
2-3 mozzarella cheese sticks, cut into rounds
7 strawberries
20 raspberries, stuffed with dark chocolate chips
16 white chocolate pretzels
6 dark chocolate sea salt caramels
1/3 cup M&M's Milk Chocolate Candies
16 dark chocolate almonds
Instructions
The day before your gathering, make the cheese ball. (Please visit Michaela's blog, linked above, to get the recipe for this dessert dipper!)
The day of your gathering, put together the dessert board, building it around the cheese ball.
Place the cheese ball on your platter. Around the cheese ball, arrange the dippers (Nilla wafers, Graham crackers, dark chocolate pretzels and strawberry wafer cookies) so guests see them as options for dipping.
Place the sliced cheese sticks on the other side of the platter.
Around the cheese sticks, place the strawberries and the truffles since both are pink/red. The goal is to try to space out the colors so we see pops everywhere.
On the other side, add some dark chocolates, as well as a bowl of the M&M's or chocolate candies. (I added these here because I liked the pop of color, but you do you!)
Fill in any holes on the board with miscellaneous chocolate candies, like the sea salt caramels and the chocolate almonds.
Serve and enjoy with friends!
Notes
Please remember: Your board doesn't have to look perfect. Don't let that hold you back! This is supposed to be fun, and in the end, the taste of the items are what matters, not how gorgeously arranged this board may or may not be.
You can make a Dessert Board for any time of year, not just for Valentine's Day! Just mold your Red Velvet Cheese Ball into a circle or any other shape!
Nutrition Information:
Yield:
12 people
Serving Size:
1
Amount Per Serving:
Calories:

619
Total Fat:

29g
Saturated Fat:

15g
Trans Fat:

0g
Unsaturated Fat:

11g
Cholesterol:

19mg
Sodium:

473mg
Carbohydrates:

79g
Fiber:

5g
Sugar:

47g
Protein:

10g
Nutrition facts are an estimate and not guaranteed to be accurate.