Mix up a Cherry Bourbon Slush on a warm day! This adult slush drink is beautifully colorful, wonderfully bold and incredibly simple to make at home.
Looking for more refreshing summertime drinks? Be sure to mix up a Honeysuckle Cherry Smash, Peach Bourbon Slush and Frozen Moscow Mule!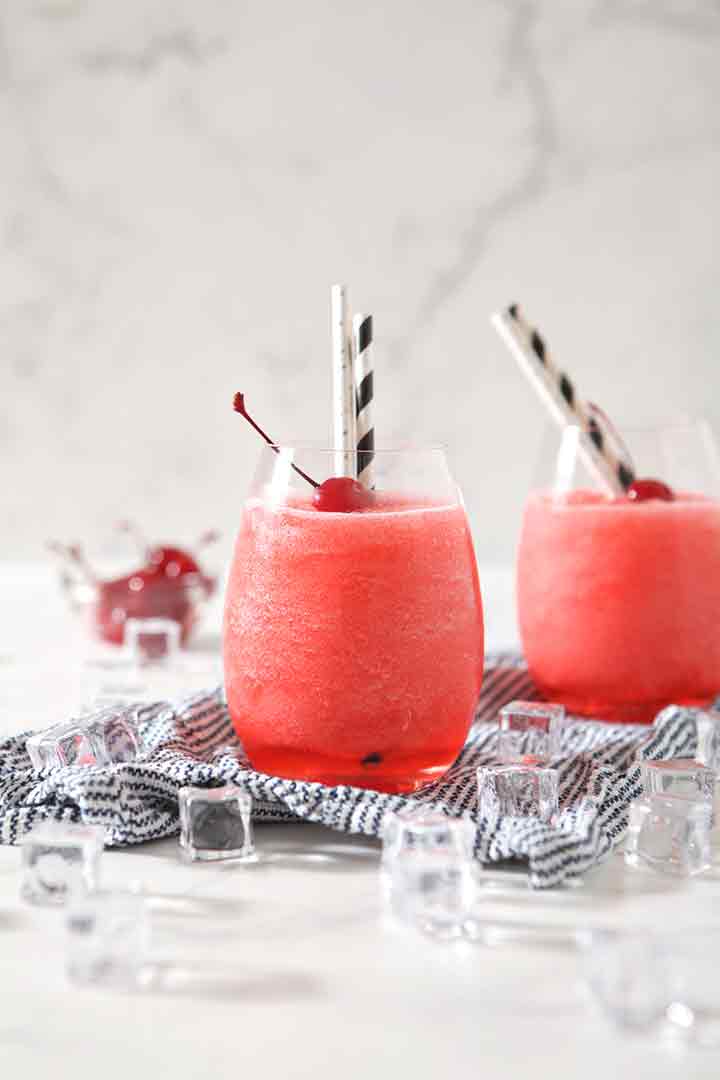 Who has two thumbs and enjoys a colorful, flavorful drink that's perfect for sipping at any kind of gathering?
This lady right here. (And probably you, too. You do like a good drink, yes?)
So it should come as no surprise during this season's FREAKY FRIDAY collaboration that I would choose a fun cocktail to share with y'all.
This recipe comes from Lori and Heather of the site, Who Needs a Cape? .
More summer drink recipes: Cherry Lemonade Margaritas / Spiked Watermelon Limeade / Blackberry Mint Spritzer / Peach Moscow Mule / Vodka Lemonade with Raspberry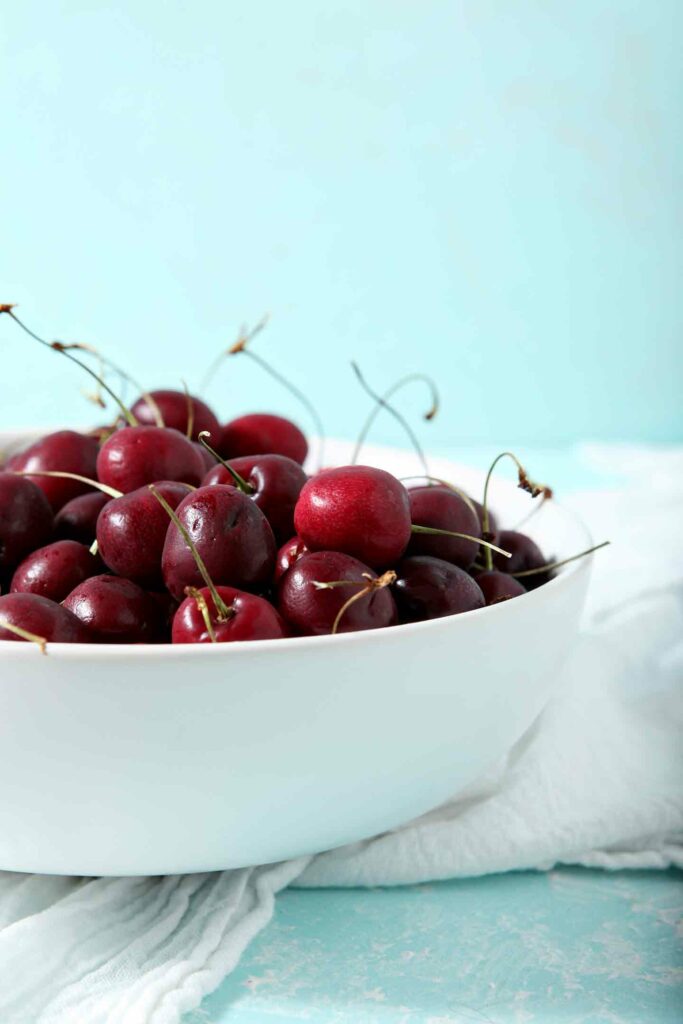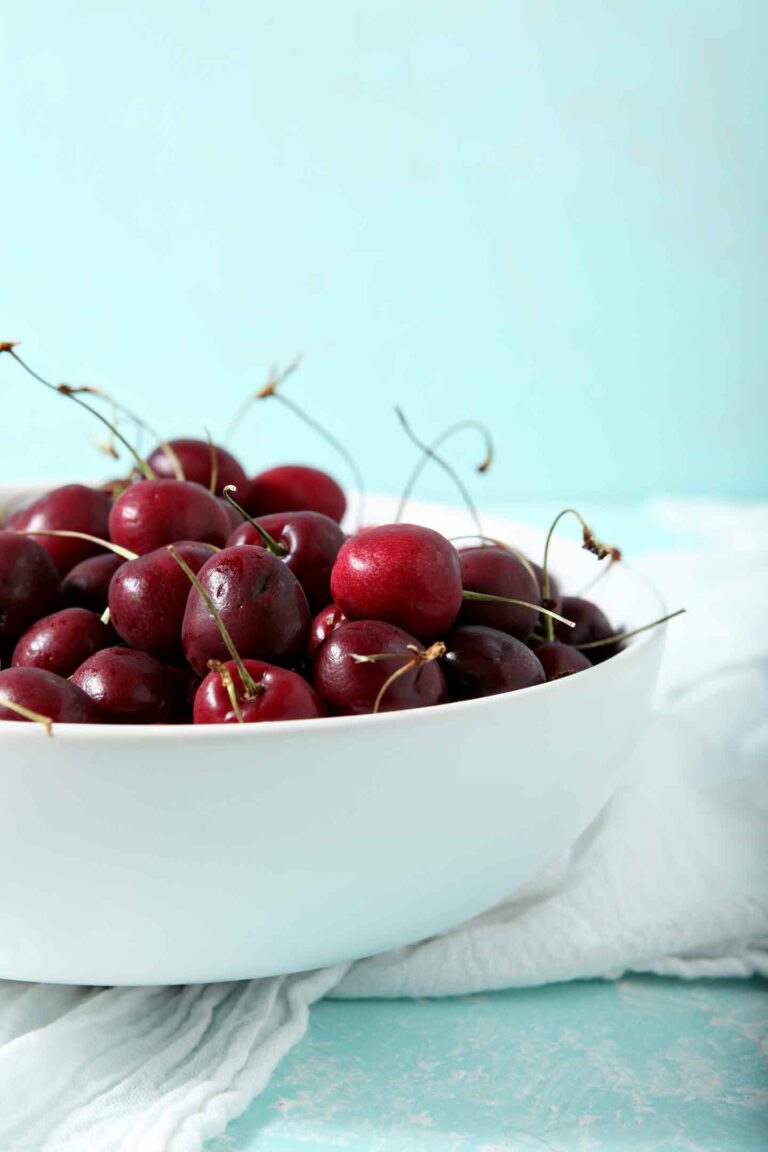 Let me tell you a little bit about Who Needs a Cape?
Lori and Heather are have been friends since they met online during their pregnancies, and their friendship has turned into a sisterhood.
Together, they formed their blog to share simple, easy to prepare recipes their families enjoy… and the occasional cocktail and dessert, too, so long as they don't take too much time.
They say they don't wear the "cape" so many super-moms seem to wear these days. (HI, hello. Who does? Not me!) Meaning… they're real ladies who have real lives and who share what makes their lives easier, as well as bring smiles.
I had a hard time choosing which recipe to make off their blog because everything sounded scrumptious. I mean, hello, their Buttery Bacon Cheddar Rolls look mouthwateringly delicious. So do their Raspberry Lemon Bars. And don't even get me started on their Watermelon Fizz Cocktail.
Ultimately, I chose the Cherry Bourbon Slush because I'm a sucker for a good bourbon drink… and because it's cherry season!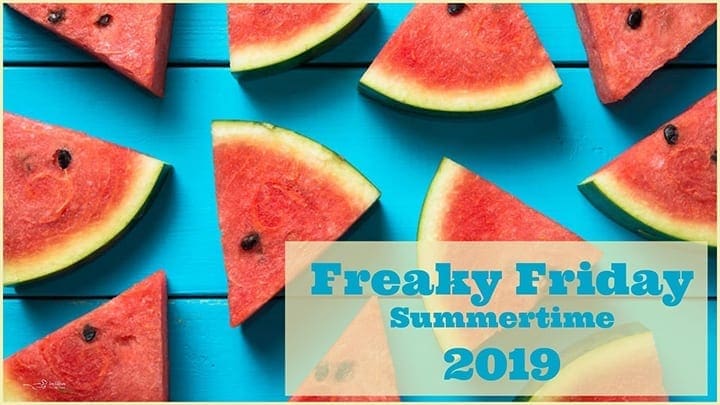 So… What Is Freaky Friday?
It's an old-fashioned blog hop.
A blog hop, for those of y'all who haven't been around the blogosphere for forever, is a collaboration between bloggers where everyone brings something to the table, then you link to one another when the posts go live.
Michaela from An Affair from the Heart, the lady who founded this quarterly collab, secretly assigns everyone another blogger, who we will choose and make a recipe from.
We make their recipe, photograph it as if it were our own, write a post about it with our own personal anecdote and then all share our posts on the selected Friday.
We hope that this collaboration helps you discover some amazing new recipes, as well as find new bloggers to follow!
You can check out these Boozy Bacon Pretzel Peanut Butter Bars, the recipe I made for the Winter 2019 Freaky Friday, and Instant Pot Macaroni and Cheese, which I made for the Spring 2019 Freaky Friday.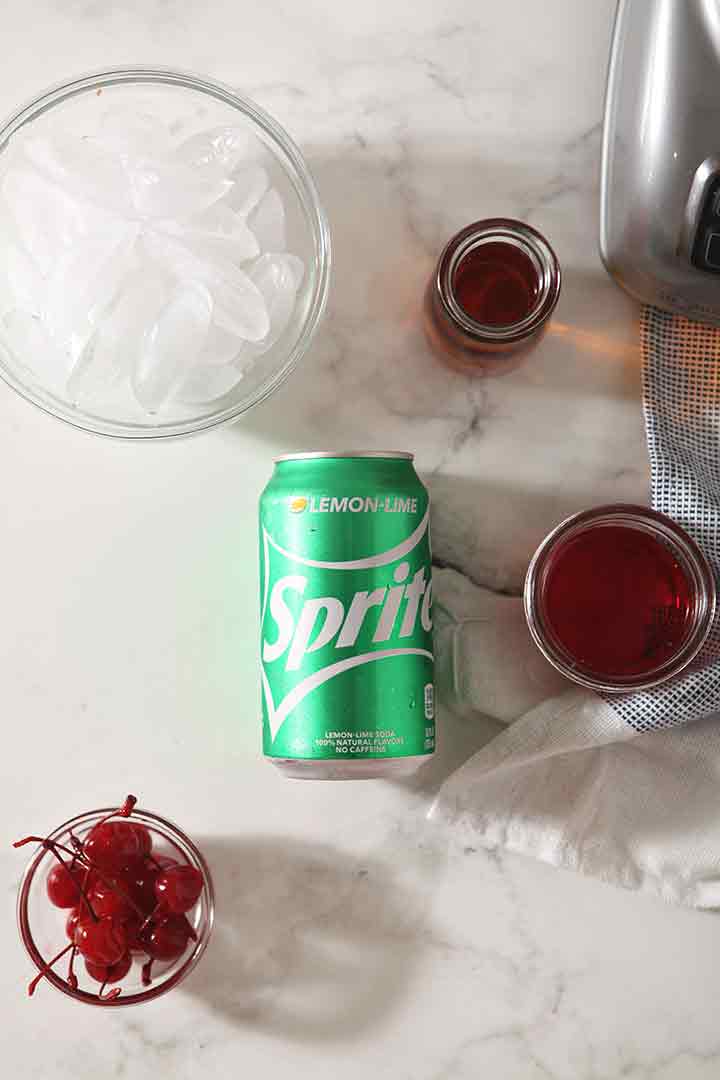 What you'll need to make a Cherry Bourbon Slush
The Speckled Palate participates in affiliate programs. As an Amazon Associate, I earn a commission from qualifying purchases. Please refer to my disclosure page for more information about these affiliate programs.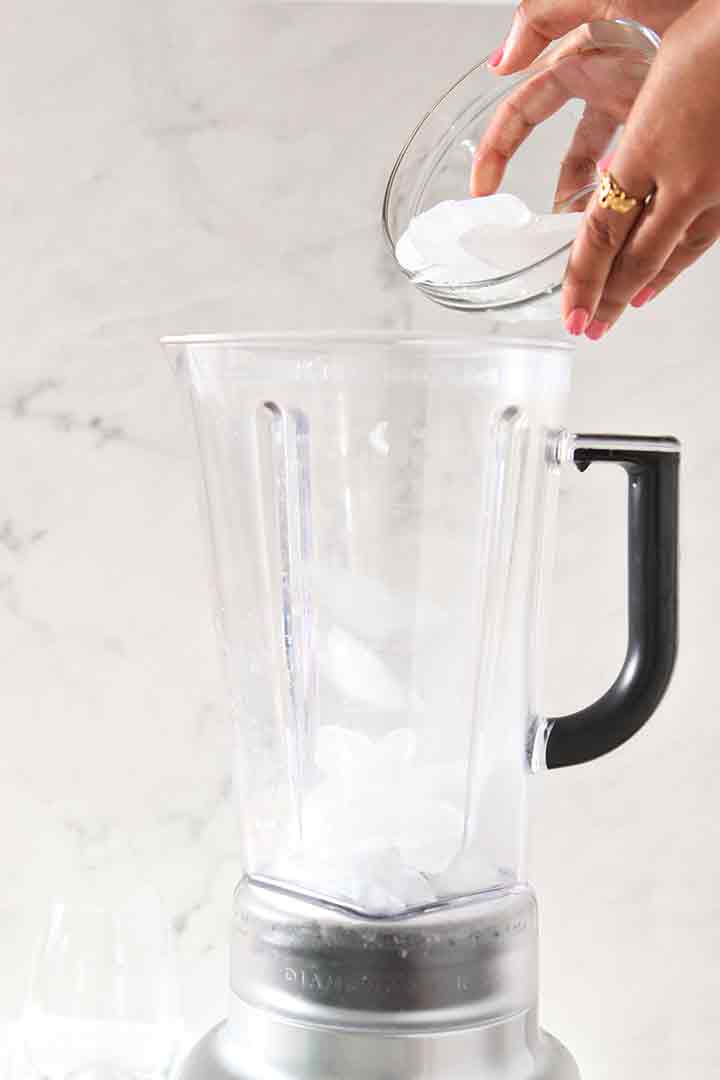 How to make a Cherry Bourbon Slush
Measure out the ingredients.
This recipe, obviously, takes more measuring than anything else. (Hi, it's a blender drink.) So it's measure-heavy at the beginning.
When making this, you can measure the ice, bourbon, cherry juice and Sprite directly into the blender, or you can measure them into separate containers and let kitchen helpers assist you in the pouring.
Whatever you choose, just make your pours as accurate as possible.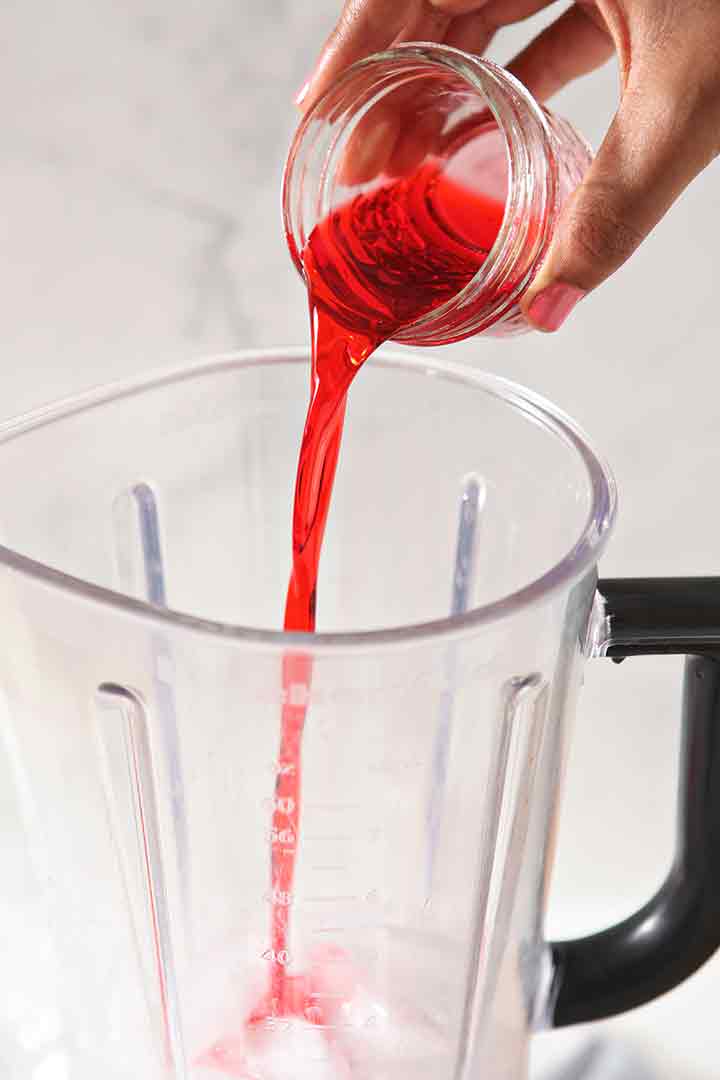 Blend the ingredients.
The next step, obviously, is to blend everything together.
If you like your slush a little less ice-y, you can add ½ cup less ice.
Personally, I like mine where it ended up for these photos—pretty slushy, but still drinkable. And still super flavorful, too.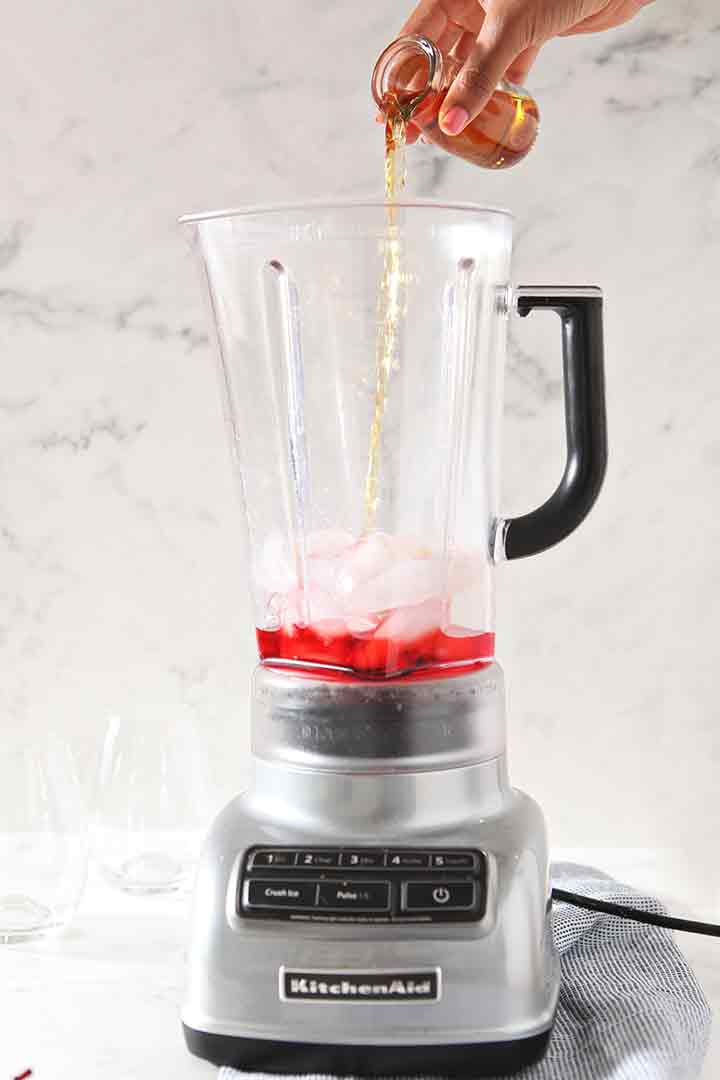 Serve the drinks.
I chose to divide this recipe into two drinks because the bourbon can be a bit strong for me, though it's delicious.
That said, if you want this to just be for you, no judgment. You can pour it into a highball glass instead of a smaller glass, like the ones shown in these photos.
Garnish with a maraschino cherry, add some colorful paper straws and serve immediately!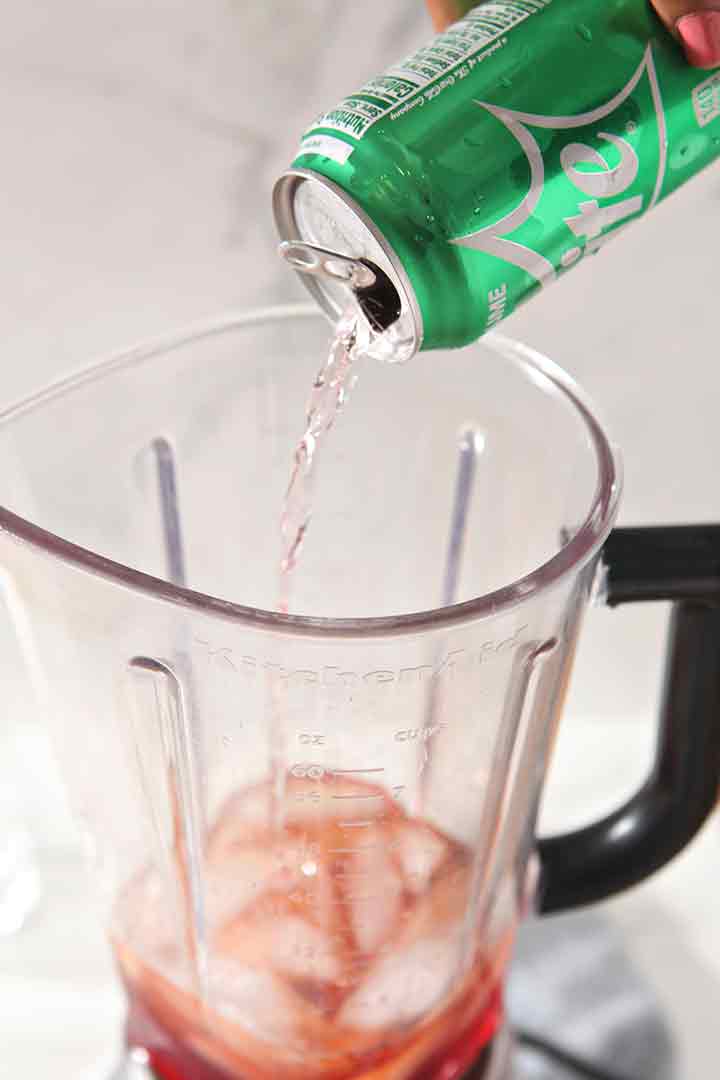 Erin's Easy Entertaining Tips
Slush drinks are perfect for warm weather entertaining… but they're not something you will want to make ahead because they separate.
I find slushes are best to mix as guests arrive and are looking for a drink.
The nice thing about this one, too, is that it's customizable.
Skeptical about all that bourbon in the drink? Add 2 oz. instead of the 3 listed in the recipe.
Interested in a larger serving? You can mix up a whole one instead of diving it into two.
Just want a sip? Offer several smaller glasses to guests so everyone can have a sip!
And if they want it without alcohol, you can make that happen, too! Personally, I think this Cherry Bourbon Slush would be incredible on its own without the bourbon. Basically, it's a Shirley Temple Slush.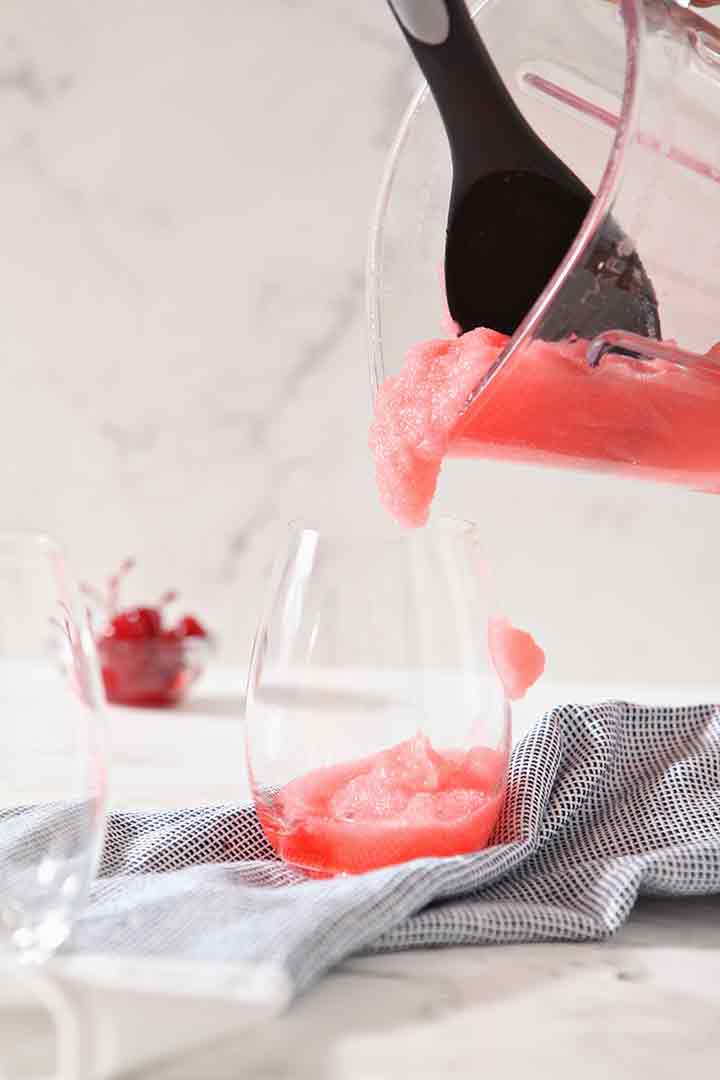 Frequently Asked Questions
What the difference between a slush and a smoothie?
Quite honestly, there isn't much of a difference! Typically, smoothies include some form of dairy (yogurt, milk, etc.) or could also be dairy free, but with a product like almond, cashew or coconut milk that adds a creamy element.
Slushes tend to involve liquids, which is why adding booze is totally acceptable!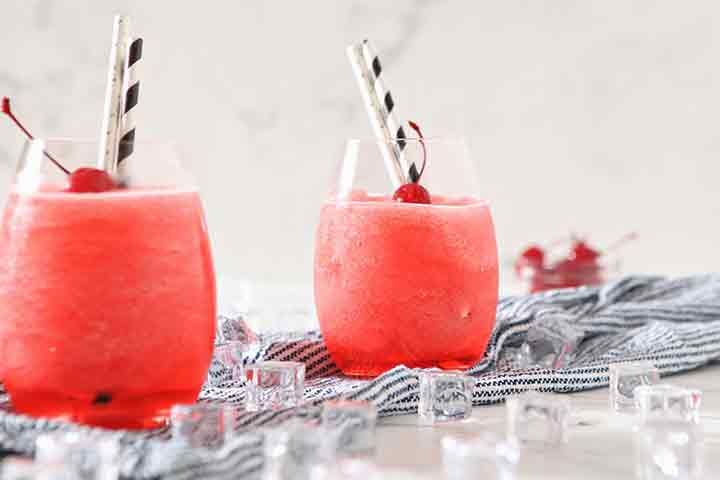 What is the maraschino cherry juice you list in the recipe?
You know the jar of maraschino cherries that you've got in your fridge? The juice inside there is the juice I'm talking about.
You can also use grenadine, though if you do that, this would technically be a Pomegranate Bourbon Slush since real grenadine is made with pomegranate juice.
Can I make a nonalcoholic Cherry Slush?
I haven't tried it without the booze, but I bet it would be delicious! Who doesn't love peachy goodness that's frozen?
To do this, simply leave out the bourbon, mix it all up and call it a day!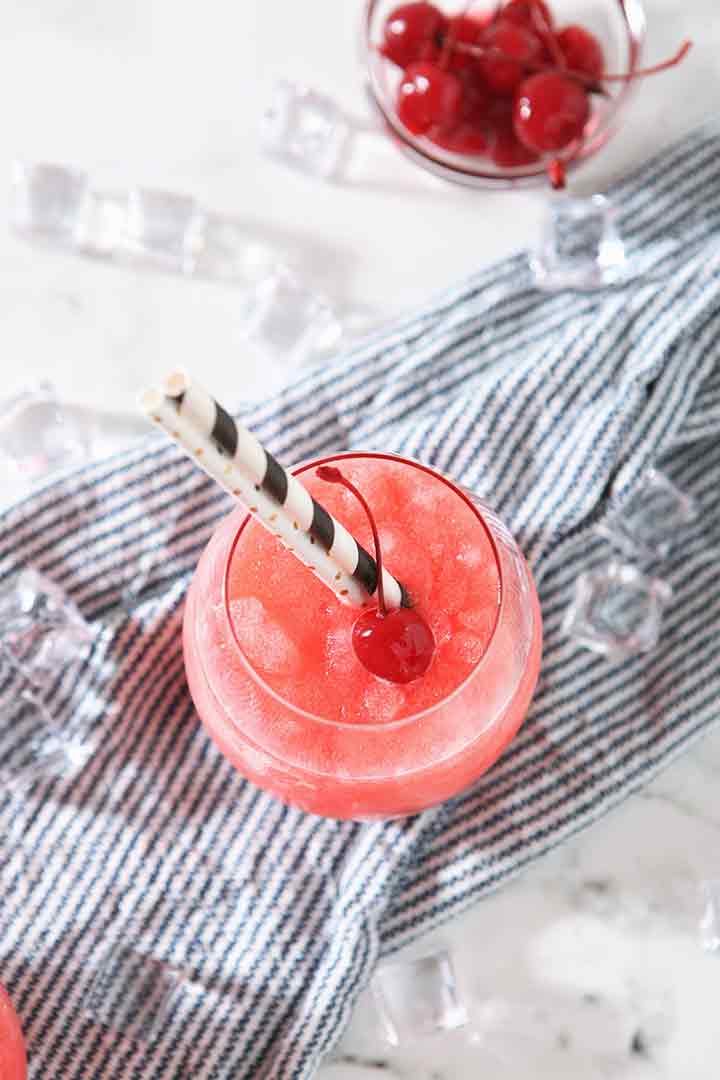 What bourbon do you recommend adding to this frozen cocktail?
Please, for the love of everything good and right in this world, use a good drinking bourbon.
It doesn't have to be Pappy or anything exceedingly fancy, but you want it to taste good. Quite honestly, you wouldn't want to be mixing something exceedingly fancy into a mixed drink, but you want the alcohol to be palatable.
TL;DR: Don't purchase the bottom-shelf bourbon for this drink because you're gonna taste the bourbon.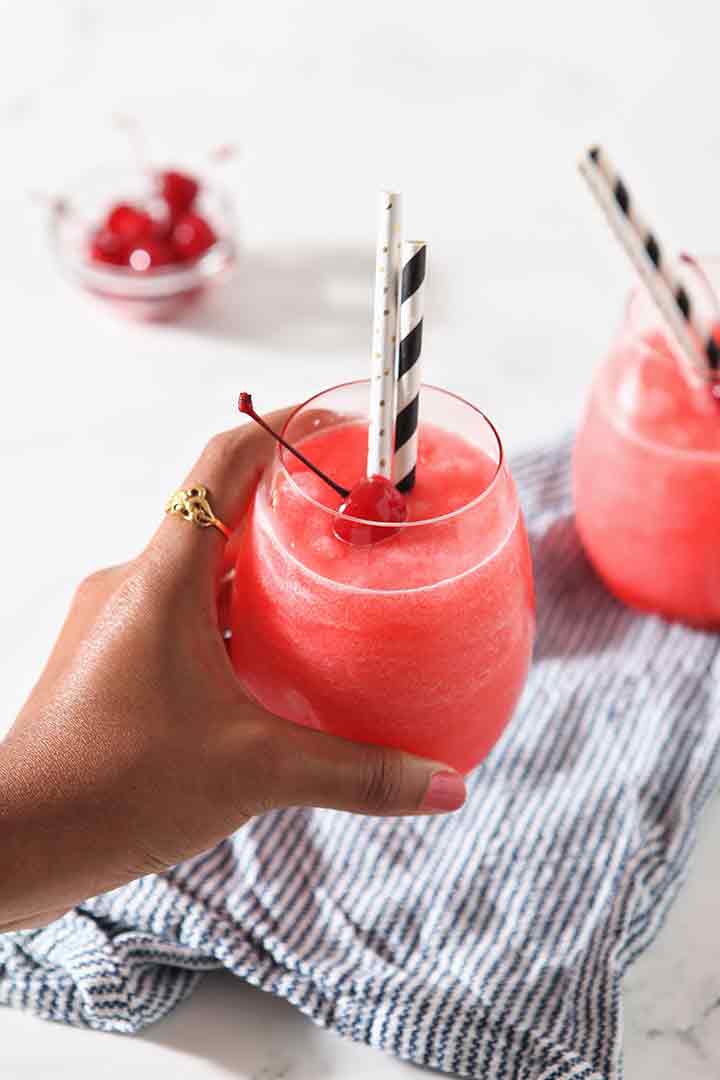 Quick tips for making Cherry Bourbon Slush
Make it virgin by leaving out the bourbon!
Measure out your ingredients in advance for easy entertaining.
If you like more cherry flavor and less bourbon, simply pour in 2 oz. of bourbon instead of the noted 3.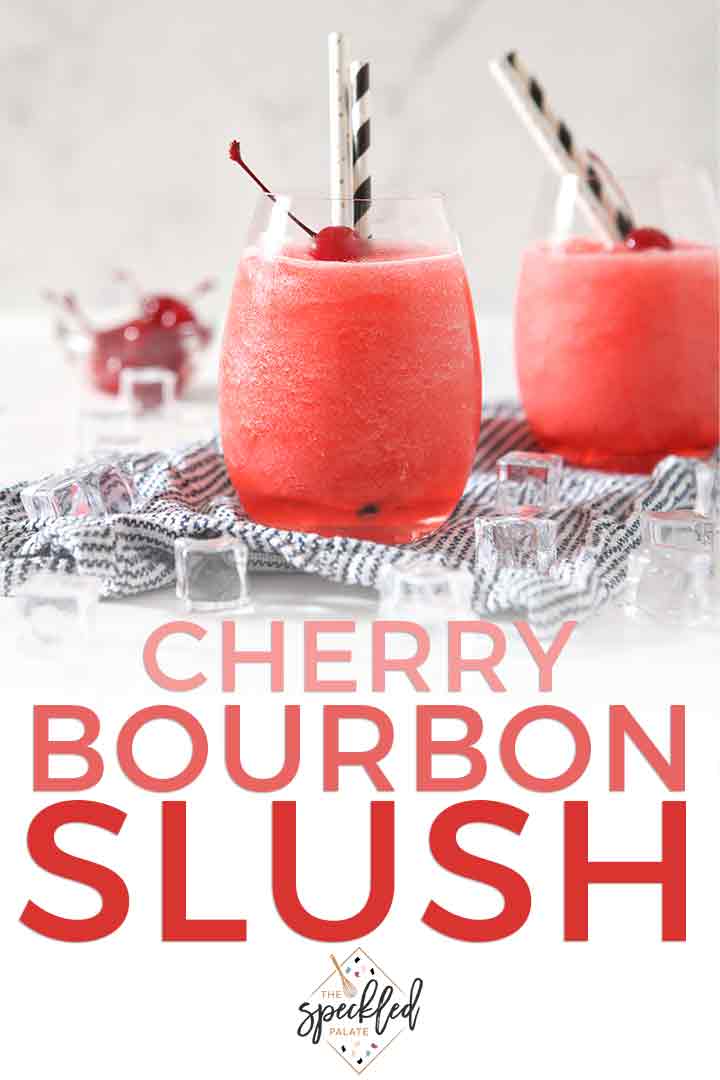 Take a look at all of our Summer 2019 Freaky Friday Recipes:
Lookin' for more boozy slushes? I recommend this Blackberry Ginger White Wine Slush, Bourbon Peach Slush and Blackberry Gin Slush.
And if you just want this drink? Well, you're in luck!
Here's how I made this Cherry Bourbon Slush: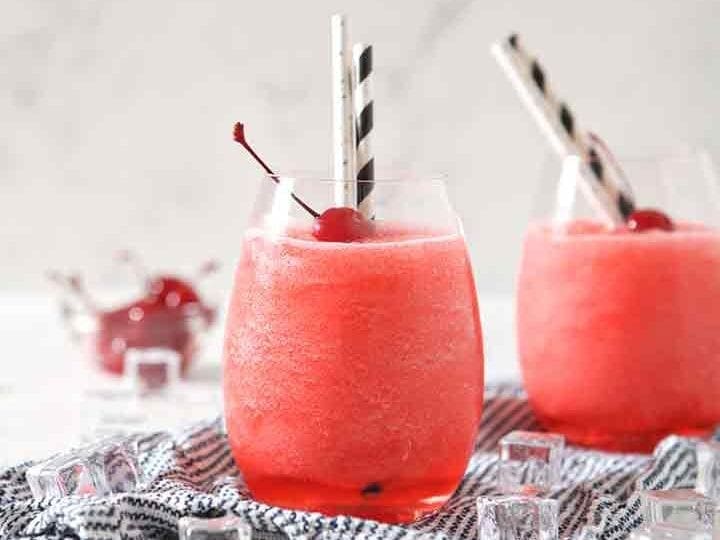 Yield:

2 drinks
Cherry Bourbon Slush
Mix up a Cherry Bourbon Slush on a warm day! This adult slush drink is beautifully colorful, wonderfully bold and incredibly simple to make at home.
Ingredients
2 ½ cups ice
3 oz. bourbon
2 oz. maraschino cherry juice
4 oz. lemon-lime soda
Instructions
Measure out your ingredients into the base of your blender.
Blend the ingredients together until smooth.
Pour into two cocktail glasses, garnish with a maraschino
cherry, add paper straws and serve immediately.
Notes
To make this a Virgin Cherry Slush, leave out the bourbon, and blend everything together.
What is maraschino cherry juice? You know the jar of maraschino cherries that you've got in your fridge? The juice inside there is the juice I'm talking about.
Recommended Products
As an Amazon Associate and member of other affiliate programs, I earn from qualifying purchases.
Nutrition Information:
Yield:
2
Serving Size:
1
Amount Per Serving:
Calories:

232
Total Fat:

0g
Saturated Fat:

0g
Trans Fat:

0g
Unsaturated Fat:

0g
Cholesterol:

0mg
Sodium:

83mg
Carbohydrates:

34g
Fiber:

1g
Sugar:

32g
Protein:

0g
Nutrition facts are an estimate and not guaranteed to be accurate.