Vodka Lemonade with Raspberry
This post is sponsored by Jim Beam and Drizly. As always, all opinions and recipes are my own.
This summer enjoy a perfectly chilled Vodka Lemonade with Raspberry! This refreshing vodka raspberry lemonade calls for just three ingredients and mixes up in a flash. Makes 1 drink.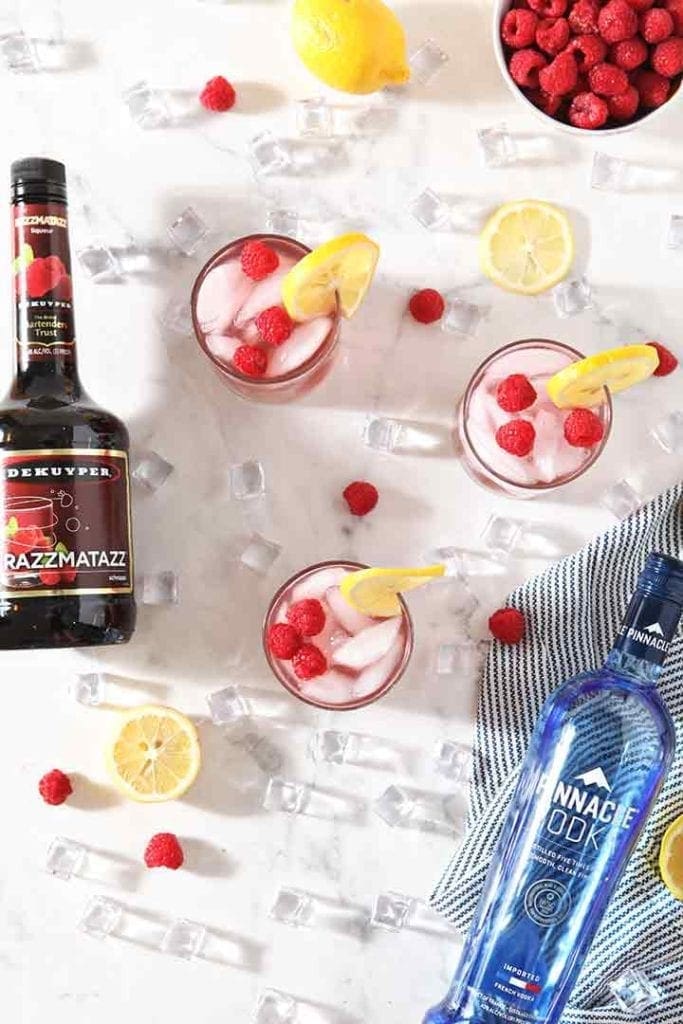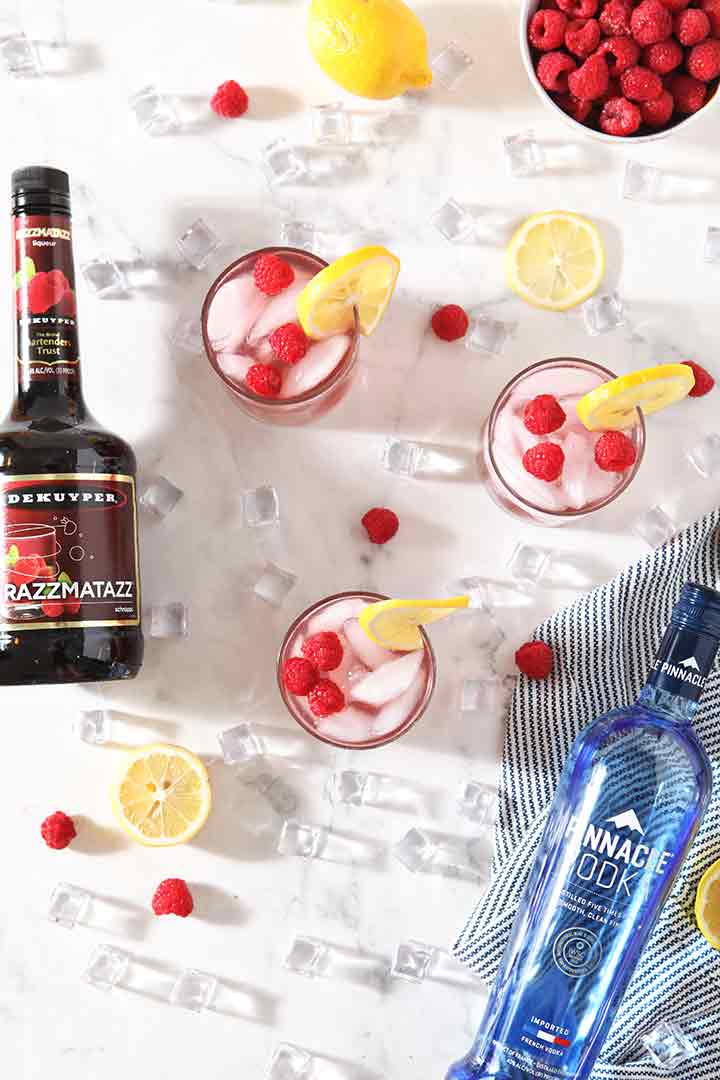 Lemonade is by far my favorite summertime drink.
Don't believe me? Feel free to peruse my recipes for Strawberry Lemonade, Mint Lemonade, Honey Lemonade, Spiked Blueberry Lemonade and Mixed Berry Mint Lemonade, to name a few.
The flavor is just so refreshing.
If you're anything like me, you love the idea of a beverage that's versatile, colorful and calls for seasonal ingredients. (Hi, hello, raspberries!)
And chances are, since today is July 1, you're all about a signature summer cocktail.
Why I love this recipe:
Vodka Raspberry Lemonade is exactly what you're gonna want for the rest of the summertime.
Why? You can mix up a batch of homemade lemonade for the whole family to enjoy, then spike yours with Pinnacle® Original Vodka and DeKuyper® Razzmatazz® Liqueur.
Y'all—this raspberry vodka drink is so delightful and so easy because it calls for three ingredients.
It's also absolutely tasty, bold and perfect for sipping all summer long! Also, just LOOK at that color!
More summer drink recipes: Blackberry Mint Spritzer | Honeysuckle Cherry Smash | Bourbon Peach Slush | Raspberry Mango Spring Sangria | Watermelon Frose
Looking for a summer recipe, but can't put your finger on it? Check out my summer recipe index.
What you'll need to make Spiked Lemonade
Lemon reamer or citrus juicer
Liquid measuring cup
Pitcher (for the lemonade)
In addition to the tools above, you're going to need some ingredients, too:
Pinnacle® Original Vodka
DeKuyper® Razzmatazz® Liqueur
Lemons (to make lemonade)
Fresh raspberries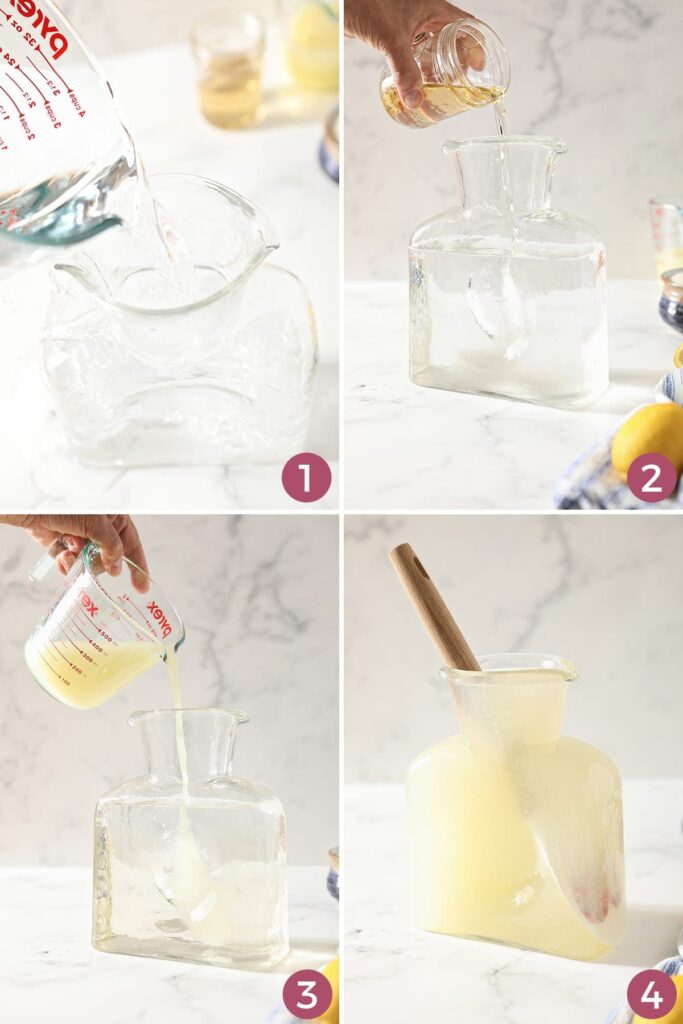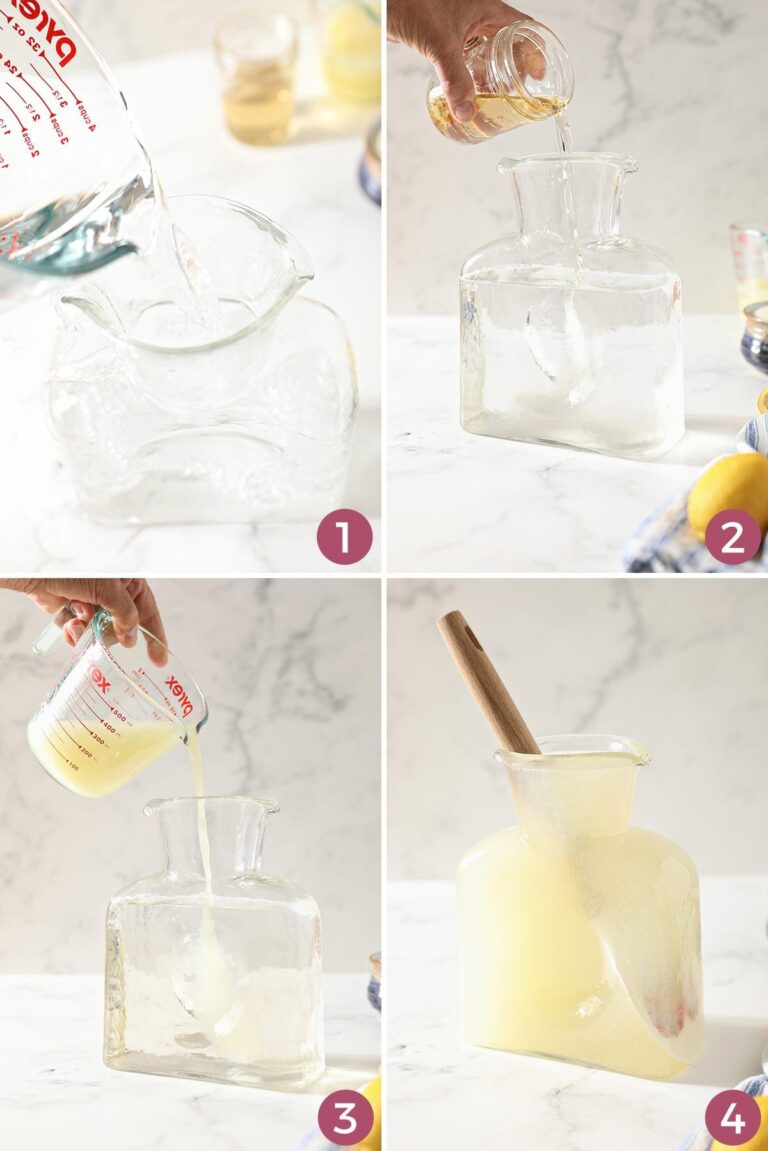 How to make Pinnacle® Lemonade with Vodka
Make the Fresh Squeezed Lemonade
We're making my Fresh Squeezed Lemonade recipe, but I'm going to break it down here for you, too. However, I have more tips and tricks in that post. 🙂
This recipe needs a cup of fresh juice, so it'll take around 6-8 lemons, depending on the size of the fruit. Use a citrus reamer or juicer to juice the lemons, and strain the juice to remove any pulp or seeds.
Pour the fresh juice into a pitcher and add ½ cup of granulated sugar. Stir until the sugar has begun to dissolve. (If your lemon juice is cold, the sugar is going to have a hard time dissolving.)
Add 5 cups of water to the mixture, stirring constantly. When the sugar has dissolved completely, refrigerate until time to enjoy!
Shortcut: If you're not interested in making your own lemonade, purchase your favorite at the store.
Mix a glass of vodka lemonade.
In a glass, measure out the Pinnacle® Original Vodka.
Add a splash of DeKuyper® Razzmatazz® Liqueur.
Pour in the lemonade, and stir with a spoon. Add ice.
Garnish this lemonade razzmatazz drink with a lemon wheel and fresh raspberries and enjoy cold.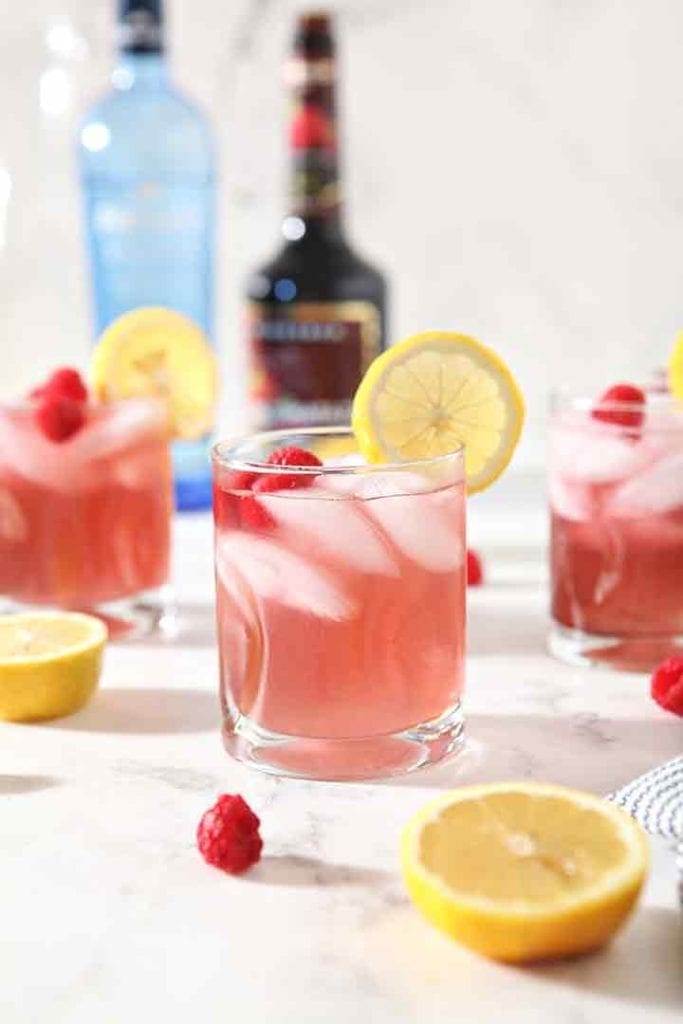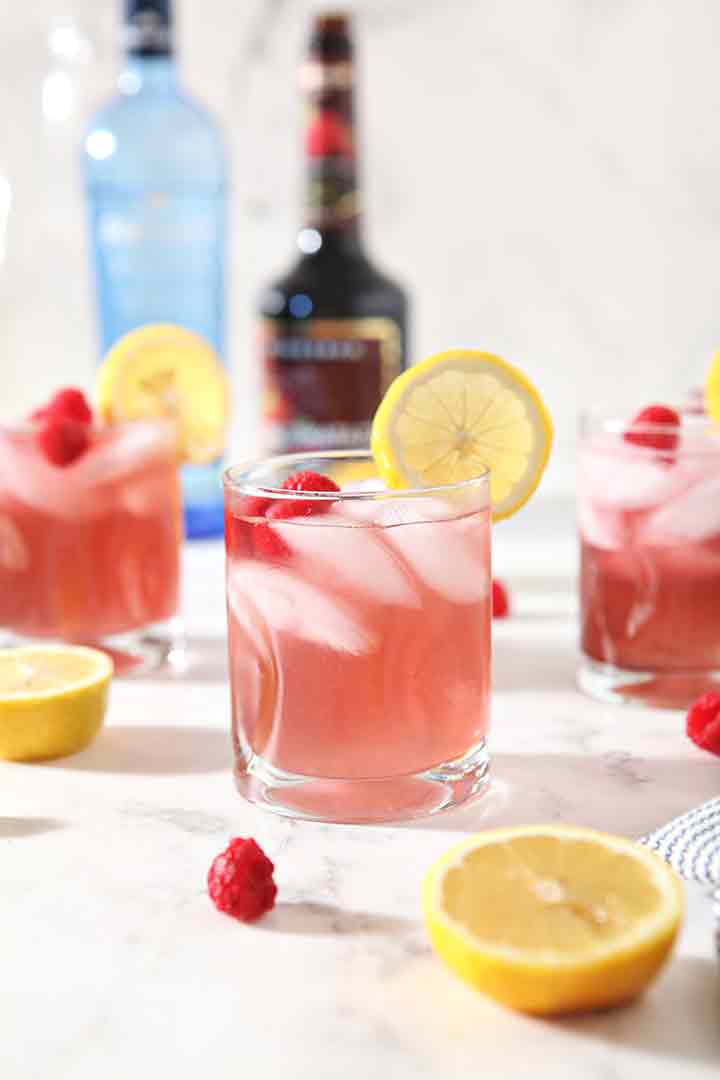 Erin's Easy Entertaining Tips
Entertaining with vodka raspberry lemonade is a brilliant idea because it's such a refreshing cocktail to serve all summer long, whether you're hosting friends for a casual dinner party or a backyard barbecue.
Here are a few tips and tricks to making this razzmatazz drink while hosting:
Make the lemonade a day in advance. Keep it cold in the fridge for any summertime sipper mixing. Alternately, you could also purchase pre-made lemonade to make the mixing situation easier.
Turn it into a vodka lemonade pitcher drink. The size of your pitcher will determine how large of a batch you can make, but a 40 oz. pitcher can hold about 6 servings of the recipe below.
Kid-Friendly Suggestion: Make a separate pitcher of lemonade for kids and leave it out for them. The adult pitcher should look different and be kept in the fridge (or another place that's completely out of reach so there is no confusion.)
Set out the garnishes for guests. Slice up lemon rounds (or make lemon twists for a fancy garnish), fresh raspberries and a jar holding a bunch of fresh mint. Let guests garnish their drinks however they like!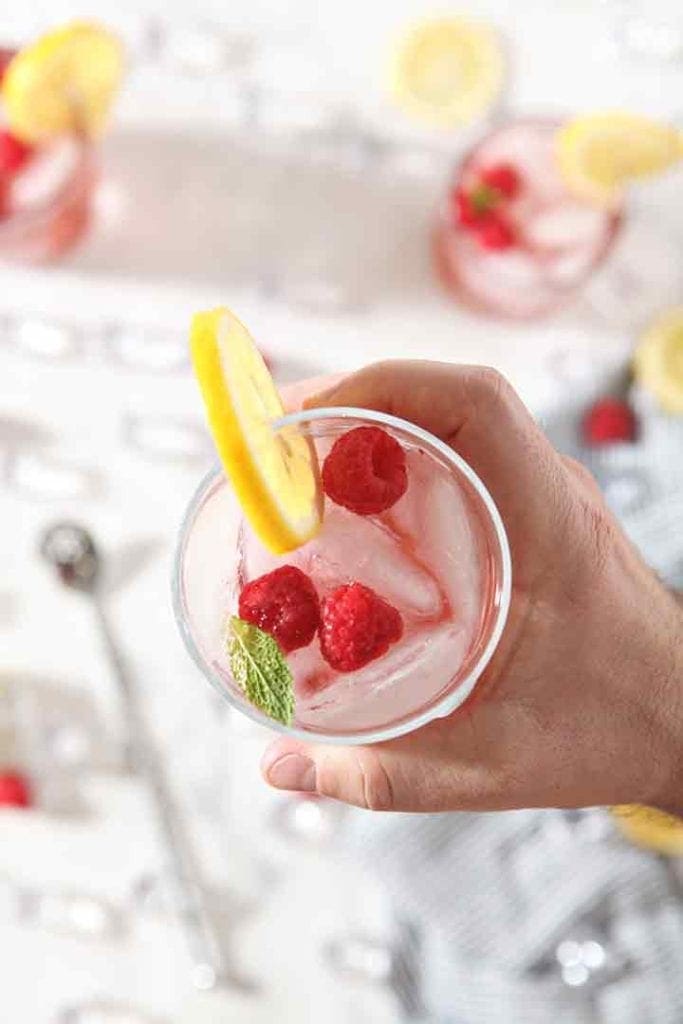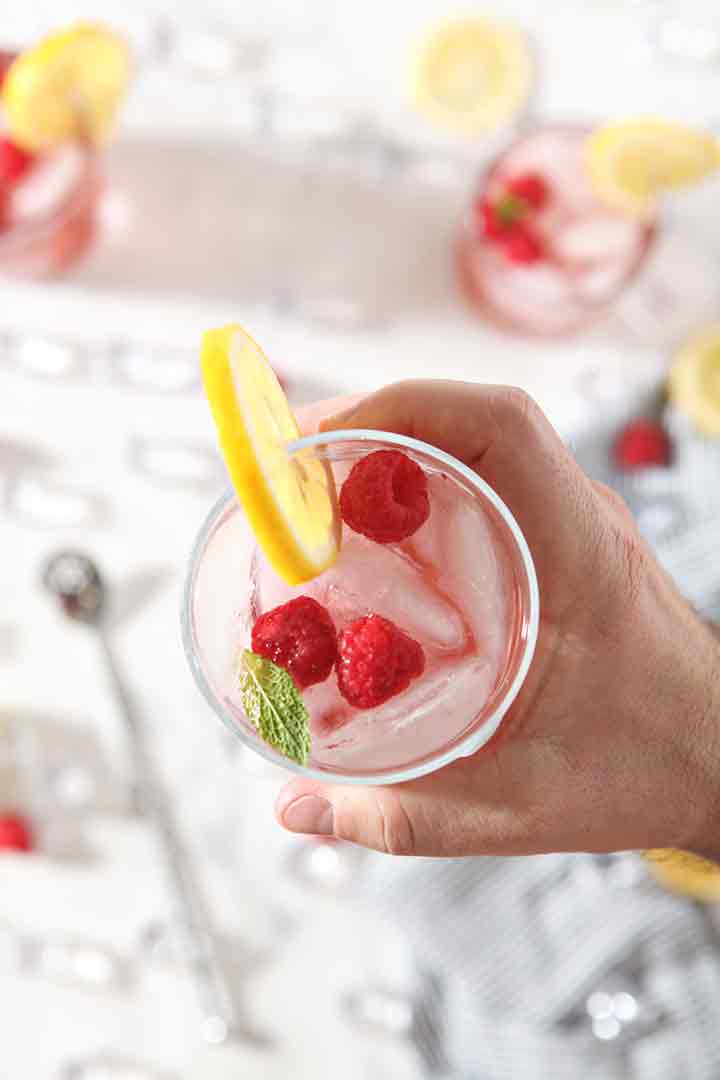 Frequently Asked Questions
How can I turn this recipe into a vodka lemonade pitcher?
It's pretty easy! Here is how I would do the math to make this lemonade cocktail into a pitcher drink:

12 oz. Pinnacle® Original Vodka
3 oz. DeKuyper® Razzmatazz® Liqueur
24 oz. lemonade

MAKES 10-12 COCKTAILS. This will fit into a 40 oz. pitcher easily.

If you're turning this into a pitcher drink, I do not advise icing it. Instead, make it in advance and refrigerate it so it's ice cold… and so the ice doesn't water it down.
Where can I find these ingredients?
I purchased the Pinnacle® Original Vodka and DeKuyper® Razzmatazz® Liqueur from Drizly, a beer, wine and spirits delivery website.

Quite honestly it made my liquor shopping so easy because I didn't have to leave my house to purchase it. You simply type in your address, then search for the alcohols available for delivery in your area. (My store had a minimum order plus a delivery fee, but the amount I was charged was well worth the hassle the service saved me!)

Once you place your order, it's delivered within 60 minutes.

So easy and so perfect if you're putting together a party, are juggling several things at the same time and don't have the time/means to run out to the store. Which, let's be real, is totally me because we have two small kids, and bringing them to a liquor store sounds a bit much to handle at this point in my life…
How much juice is in a lemon?
On average, a lemon has about 3 tablespoons of juice in it. This, of course, is dependent on the lemon.
How many lemons do I need to make lemonade?
To make this lemonade pitcher recipe, you'll need between 5-8 lemons.
Is fresh squeezed lemonade good for you?
I can't speak to the nutrition of homemade lemonade. However, I can speak to this recipe being refreshing and not being too heavy-handed on the added sugar.
What is a good mixture with vodka?
Personally, I think the combination of homemade lemonade with vodka is refreshing and delicious. This drink recipe is also made special with the addition of Razzmatazz liqueur.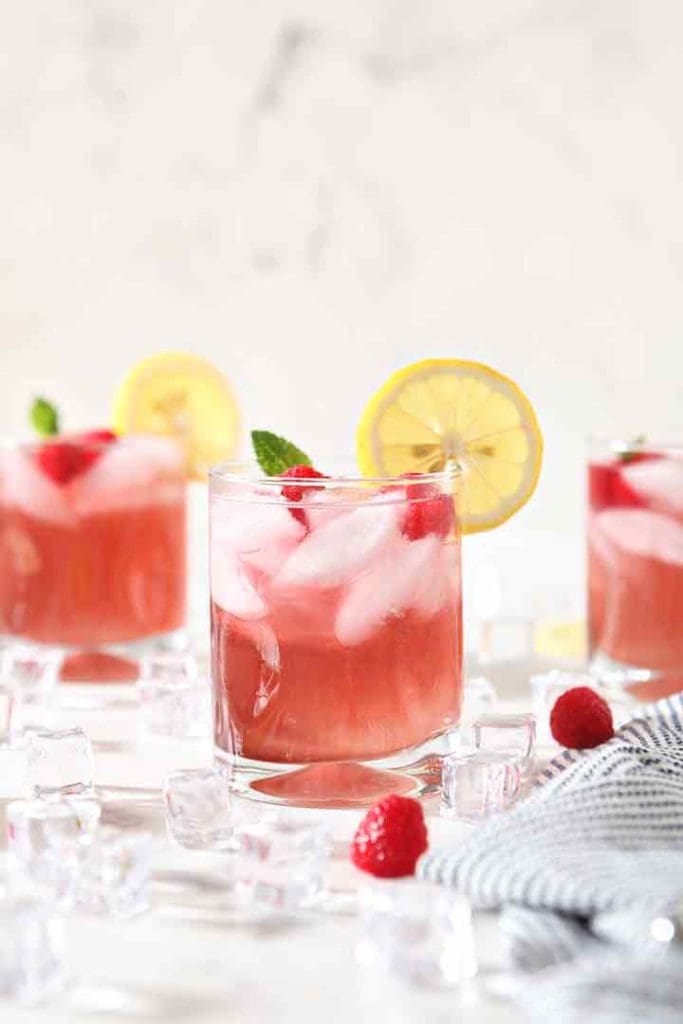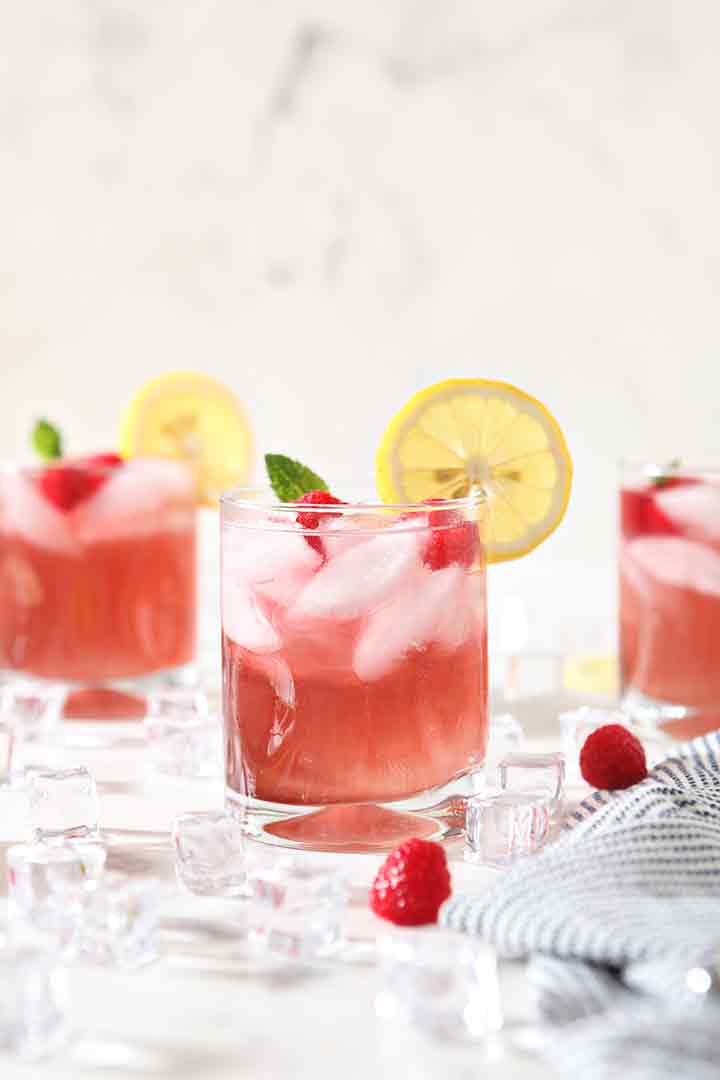 Quick Tips For Juicing Lemons for Homemade Lemonade
Don't juice a cold lemon. A cold lemon won't give as much juice as a room temperature one. If you keep your lemons in the fridge, let it come to room temperature, or pop it in the microwave for 20 seconds to get it to warm up.
Roll the lemon on the countertop because this will bring the juices to the surface.
Slice the lemon down the equator, not from the stem to the tip.
Don't just squeeze it with your hands… use a citrus reamer or a juicer to get that good juice out of it. Personally, I like a lemon reamer better.
Quick tips for making Vodka Raspberry Lemonade
If you don't want to take the time to juice lemons and make your own, purchase lemonade from the store. There's no shame in doing this! Just choose a high-quality lemonade so your drink tastes super fresh.
If you don't like raspberry, leave out the DeKuyper® Razzmatazz® Liqueur. That'll make this an original Pinnacle® Lemonade instead!
Want to make a bigger drink? The Pinnacle® Vodka original recipe recommends 1 part vodka to 2 parts lemonade and ¼ part DeKuyper® Razzmatazz® Liqueur. Do the math and have some fun!
Other raspberry vodka drinks to try:
Now who's ready to make some of this Vodka Raspberry Lemonade for their next summertime gathering?
Here's how you do it: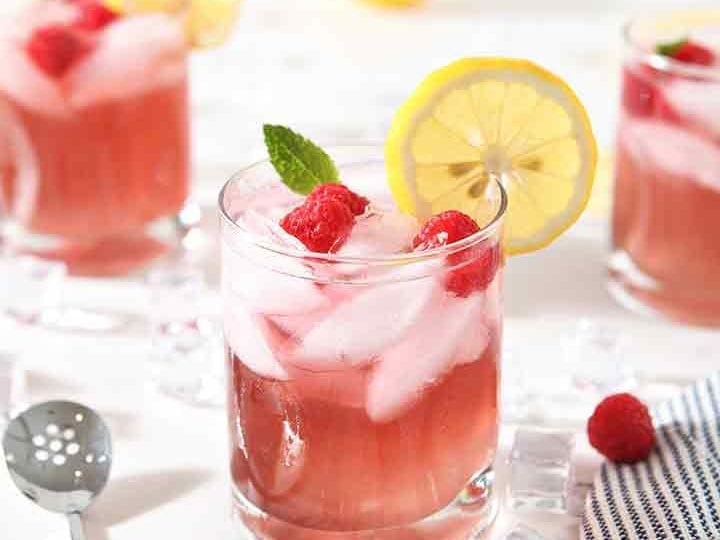 Yield:

1 drink
Vodka Lemonade with Raspberry
Lemonade Time:
15 minutes
Enjoy a cool Vodka Lemonade with Raspberry! This refreshing warm weather cocktail calls for just three ingredients—Pinnacle® Original Vodka, DeKuyper® Razzmatazz® Liqueur and lemonade—and mixes up in a flash. While the recipe makes enough for one drink, you can easily double, triple or quadruple it for a crowd for laid back entertaining. No matter what you mix it for, this Pinnacle® Lemonade with Raspberry is a perfect summertime sipper!
Ingredients
2 oz. Pinnacle® Original Vodka
½ oz. DeKuyper® Razzmatazz® Liqueur
4 oz. lemonade
Instructions
Pour vodka into a glass.
Pour DeKuyper® Razzmatazz® Liqueur into the glass.
Pour the lemonade into the drink. Add ice.
Stir with a cocktail spoon.
Garnish with a lemon wheel and fresh raspberries and enjoy cold!
Nutrition Information:
Yield:
1
Serving Size:
1
Amount Per Serving:
Calories:

319
Total Fat:

0g
Saturated Fat:

0g
Trans Fat:

0g
Unsaturated Fat:

0g
Cholesterol:

0mg
Sodium:

6mg
Carbohydrates:

16g
Fiber:

0g
Sugar:

16g
Protein:

0g
Nutrition facts are an estimate and not guaranteed to be accurate.