Making simple syrup for cocktails couldn't be easier! Calling for two ingredients, homemade sugar syrup comes together with very little time and is wonderful to add to your favorite drinks. Makes 16 (½ oz.) servings.
Looking for a different type of syrup to sweeten a drink? Check out my Strawberry Syrup, Honey Simple Syrup and Pumpkin Spice Syrup recipes, too!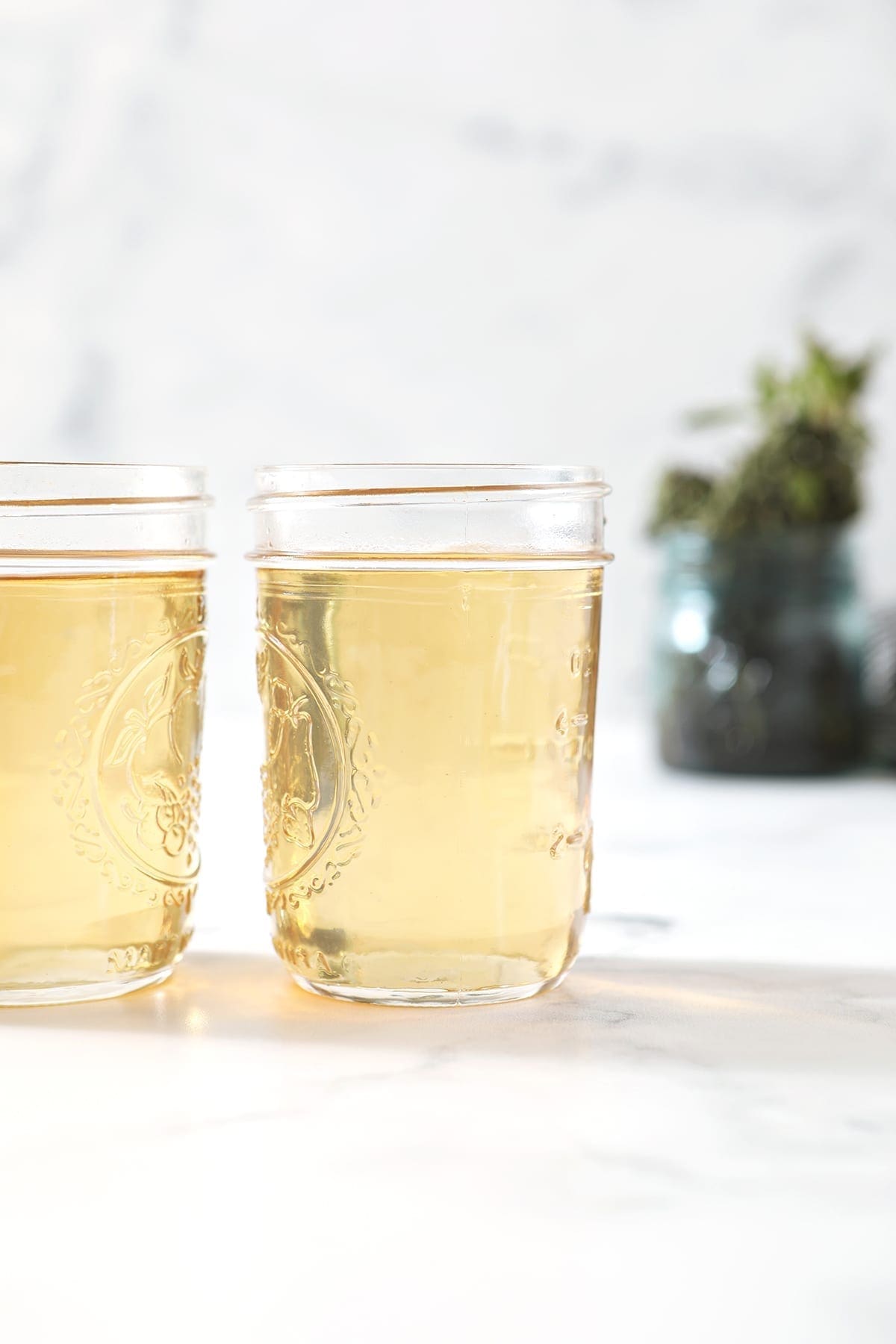 If you're a fan of mixing cocktails at home, chances are you've realized that simple syrup (also known as "sugar syrup") is a must-have for a lot of recipes.
Simple syrup is a liquid sweetener that involves sugar and water. It's mostly used in drinks, however, you can use this simple syrup to brush on a cake, too!
Whether you're mixing white sangria, blueberry lemonade or a whole host of other mixed drinks, like old fashioneds, mojitos and even some mocktails, chances are you need a little bit of simple syrup on hand to mix 'em up.
And yes, of course, you can purchase it at the store, but this simple syrup is so incredibly easy to make at home that we all should learn how to make it.
Why I love this recipe:
Once you know the simple syrup ratio of water to granulated sugar, you're absolutely golden. That ratio is 1-1.
So homemade simple syrup for cocktails requires the same amount of water and sugar together to make it.
Once you know the basic recipe, too, you can make twists on it, like mint simple syrup and cinnamon simple syrup!
You can also take this recipe and twist it a bit farther to use the same idea for honey simple syrup, a molasses simple syrup or a maple simple syrup. Because while these three have liquid sweeteners, they can get clumpy when added to cold drinks!
Recipes where you can use homemade simple syrup: Cranberry Moscow Mule (Yule Mule) | How to Make a Margarita
Need cocktail inspiration? Head on over to my Drink Recipe Index for some ideas of what to mix at home next!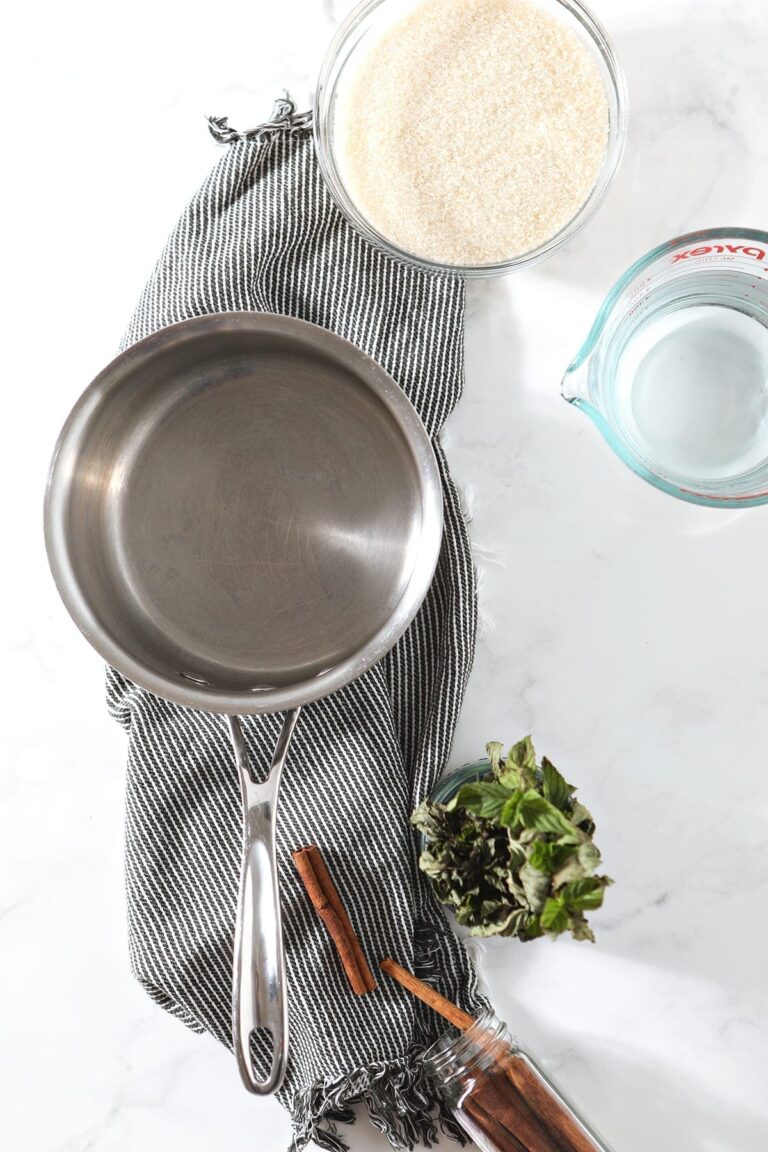 What you'll need to make Simple Syrup for Cocktails
The Speckled Palate participates in affiliate programs. As an Amazon Associate, I earn a commission from qualifying purchases. Please refer to my disclosure page for more information about these affiliate programs.
Let's talk ingredients!
In addition to the tools above, you're going to need some ingredients to make this recipe, too! Chances are, you might already have some of them in your fridge or pantry. Scroll down to the recipe card for the full measurements and instructions.
Here are the two simple ingredients you need to grab:
Granulated sugar — the white kind, if possible, so your simple syrup is a clear color
Water — if you drink your tap water, just use that! You don't need fancy water to make simple syrup.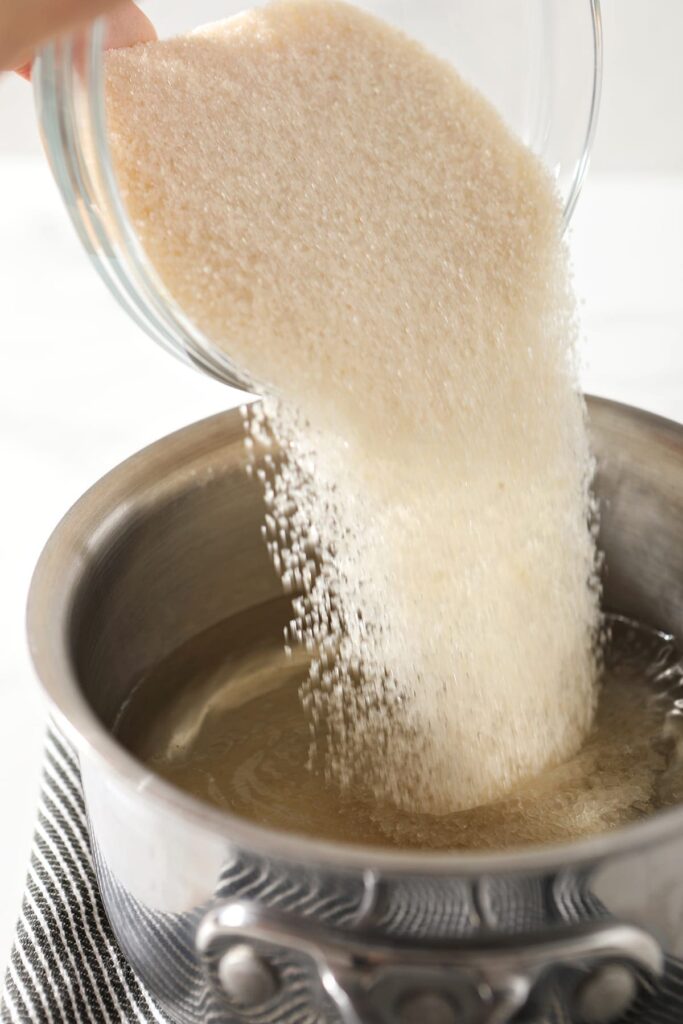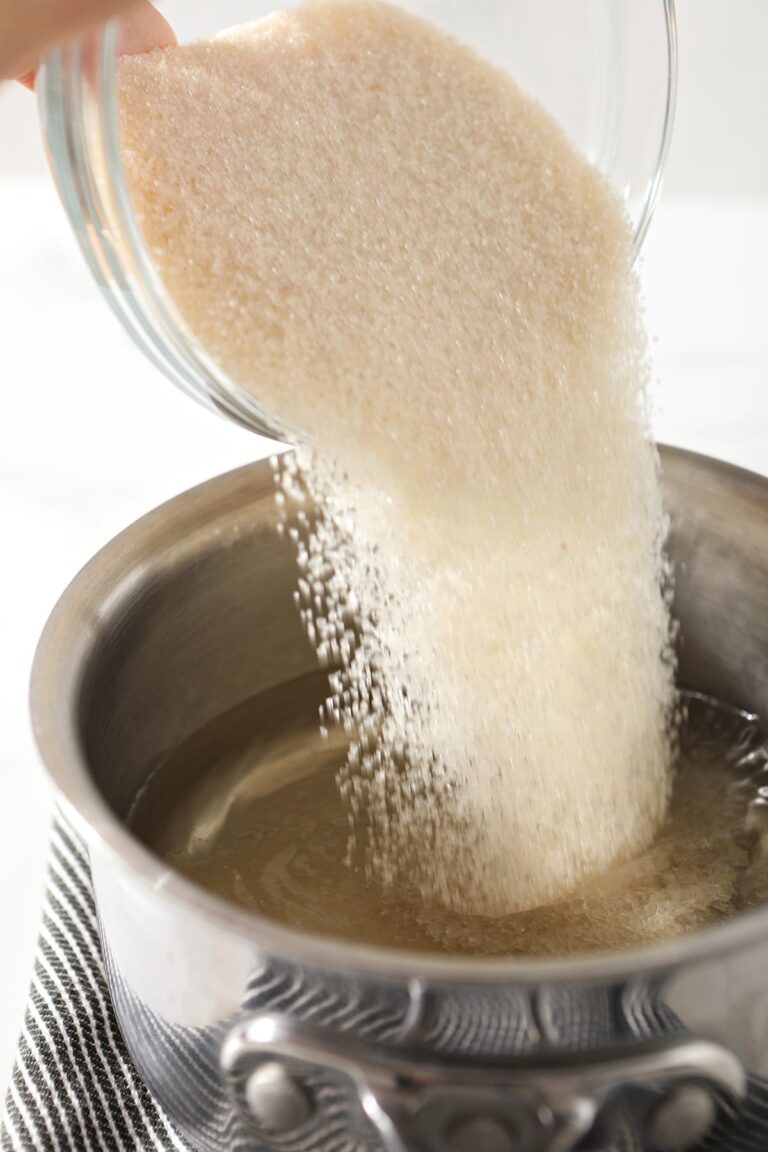 How do you make Simple Syrup at Home?
In a saucepan—I tend to use a 2.5 quart one because that's my favorite and it allows me some wiggle room if I want to make a bigger batch—combine the granulated sugar and water. Swirl them together or stir with a wooden spoon.
Place the saucepan on the stovetop, and heat the ingredients over high heat. You want to heat the simple syrup just until the sugar has dissolved into the water—and this will be before it comes to a boil, so keep an eye on it. This should only take 5 minutes tops.
When the sugar has completely dissolved into the water, remove the saucepan from the heat, and let it cool. If you're going to infuse it with flavors, add those now so they can infuse while the sugar syrup cools, too. (I have information below and in the recipe card about making mint simple syrup, ginger simple syrup and cinnamon simple syrup!)
When the homemade simple syrup has come to room temperature, pour it into a mason jar, and screw on the lid. Store in the refrigerator for a month or until it's all gone. 🙂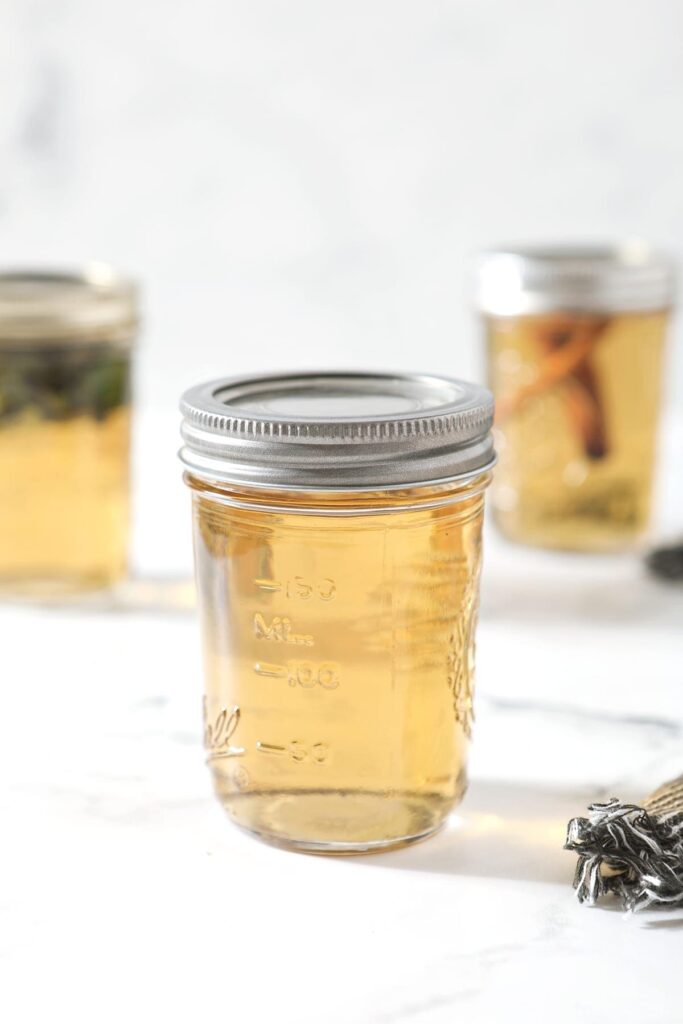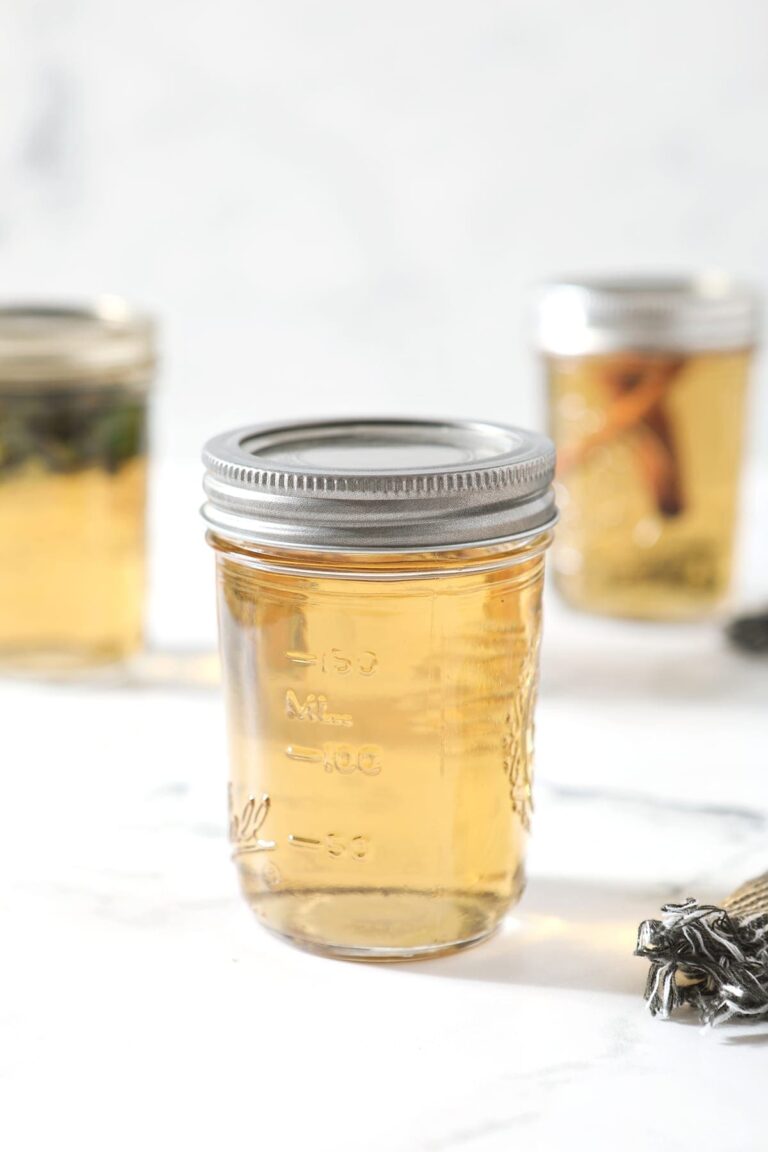 Erin's Easy Entertaining Tips
As someone who adores serving a fun drink at a gathering in her home, y'all know I keep simple syrup for cocktails in my fridge at basically all times. (In fact, I currently have a few jars of mint simple syrup, as well as the classic, just hanging out for our next cocktail.)
If you're planning on hosting friends or having a happy hour, I highly suggest making some homemade simple syrup to accompany your drinks!
Here are a few tips and tricks to make it as easy as possible:
Decide your drink first, and figure out what type of simple syrup, if any, you might need.
Make a batch of simple syrup for cocktails 1-2 days in advance. Let it hang out in the fridge. (Depending on the number of guests, you might need to double or triple the recipe. I always err on the side of too much since this recipe keeps well in the fridge.)
Before friends arrive, get out the ingredients for your drinks. Decide whether you'll mix the drinks yourself or let your friends play bartender! Either way is fun. 🙂
How long does simple syrup last?
If you keep your sugar syrup in the fridge, it'll last for a month or longer. I've tried to keep mine at room temperature in a cool, dry place before and mold formed in a few weeks, which is not optimal.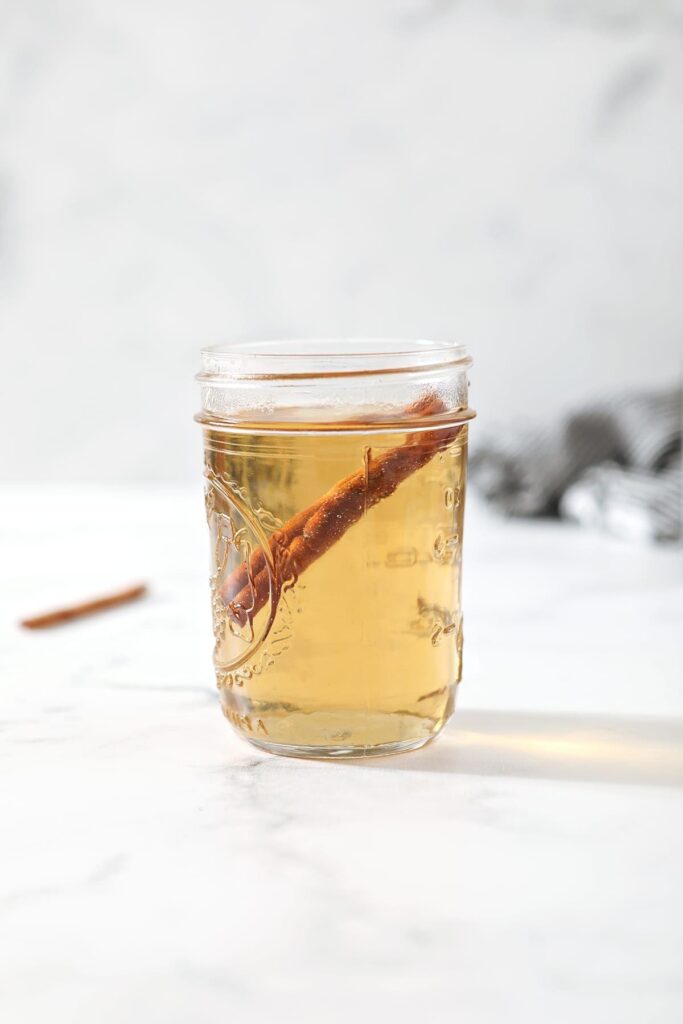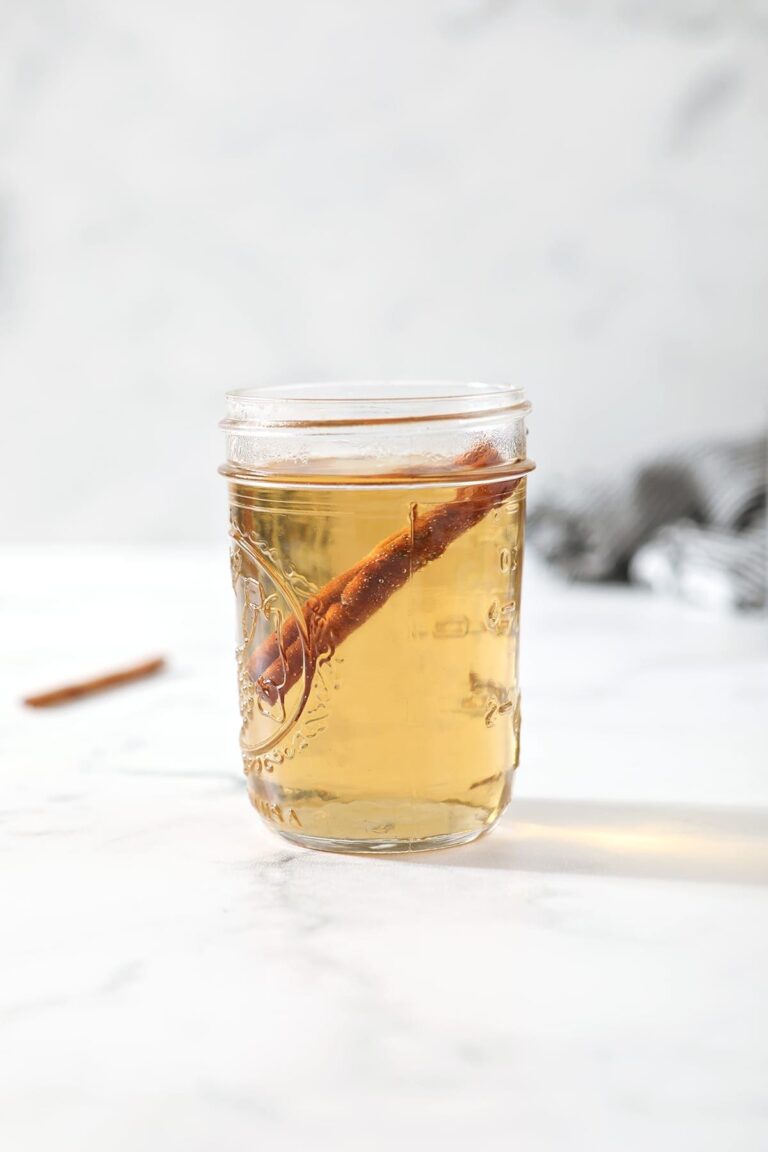 Frequently Asked Questions
What is simple syrup made of?
It's made of equal parts of sugar and water. Typically, granulated sugar is used. When I made the simple syrup for these photos, I used organic cane sugar, which gives it the brown tint.
Does simple syrup need to boil?
No. You want the sugar to dissolve into the water, and that should happen before the mixture comes to a boil.
How long does homemade simple syrup last?
It should last for up to a month in the refrigerator. I do not recommend storing the simple syrup at room temperature because it will not last this long.
Should you refrigerate homemade simple syrup?
Yes. It will last longer. I've had an unfortunate instance with simple syrup forming mold when left at room temperature in my liquor cabinet.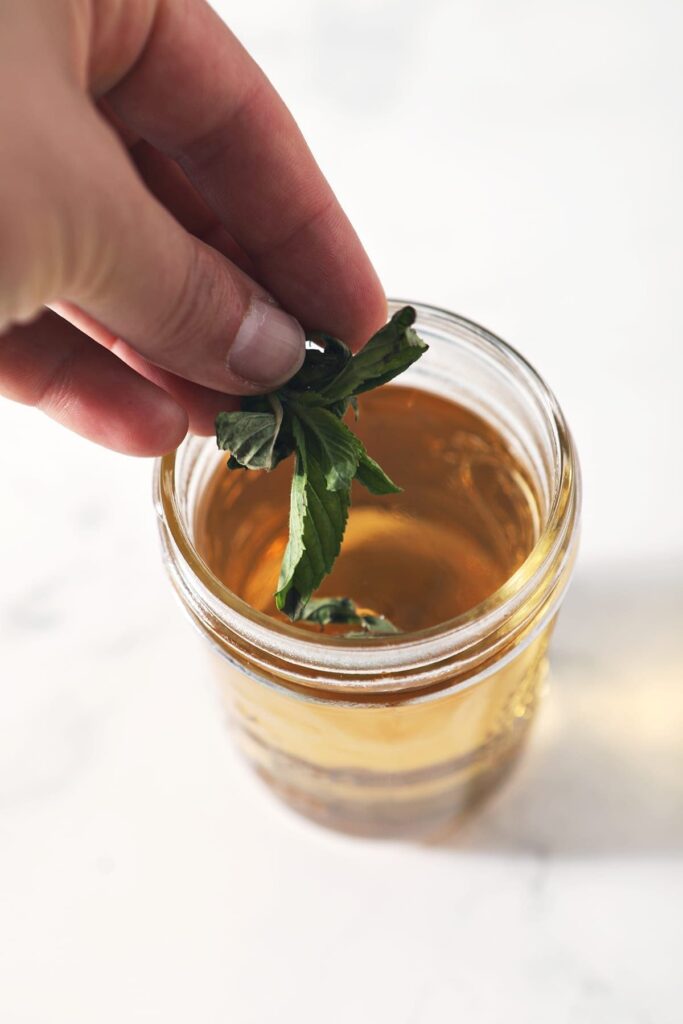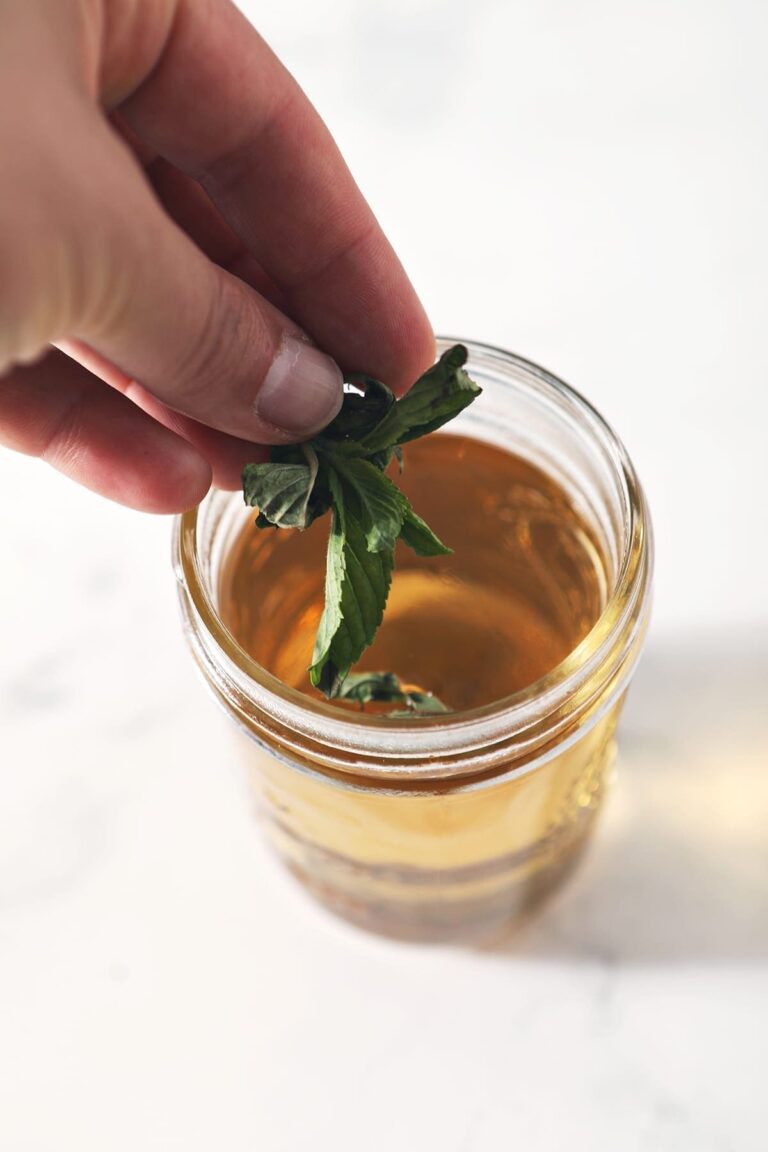 How to make Variations on Classic Simple Syrup
Your simple syrup ratio will remain the same at 1 part water to 1 part sugar. In fact, you'll make simple syrup in the saucepan and then add in these additional flavors to infuse.
Here are some of our favorites:
Add cinnamon sticks, and let them infuse for 1-3 hours to create cinnamon simple syrup. This is spectacular in fall drinks, like Gin Apple Pie Cocktail and Apple Cider Moscow Mule!
Use honey instead of sugar to make Honey Simple Syrup!
Tons of fresh mint in your garden? Wash it well, then toss it into hot simple syrup, and let it infuse for 30 minutes to an hour to make mint simple syrup. You can use it to give lemonade a fun spin!
Add peeled, fresh ginger root, and let it infuse for 30-45 minutes to make ginger simple syrup.
Add rosemary and transform it into Rosemary Simple Syrup.
Sprinkle in lavender buds and make Lavender Simple Syrup.
Add cranberries to make festive Cranberry Simple Syrup.
Keep in mind that when you infuse simple syrup with flavors, the stronger the flavors will be the longer you steep them. Also—everyone's tastebuds are different!
If you're concerned that your infused simple syrup might become too strong (or not be strong enough), do a taste test after 15-20 minutes. This will give you an idea of how the flavors are coming together. You can let them continue to do their thing or remove the infusion ingredient because you're done!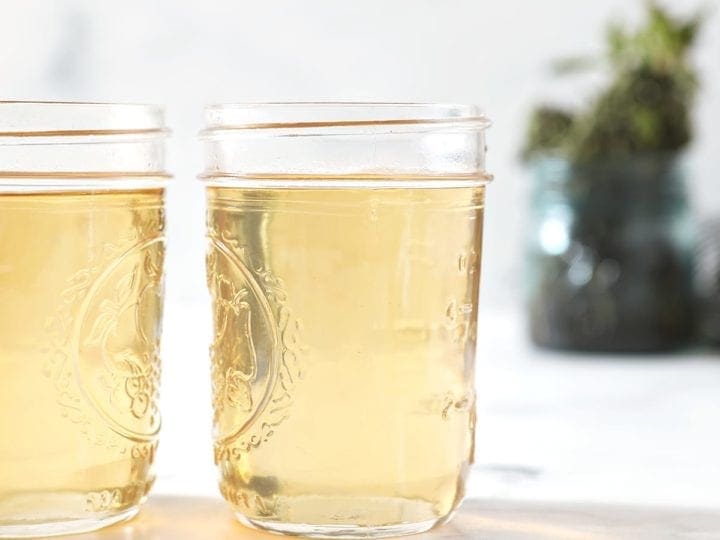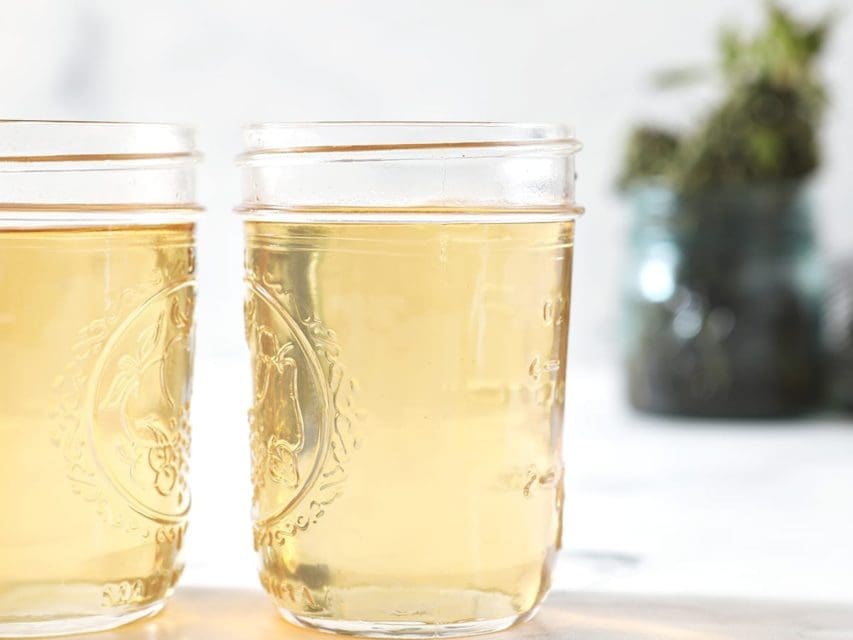 Yield:

16 (½ oz.) servings
Homemade Simple Syrup
Making simple syrup for cocktails couldn't be easier! Calling for two ingredients, homemade sugar syrup comes together with very little time and is wonderful to add to your favorite drinks.
Ingredients
1 cup water
1 cup granulated sugar
Instructions
Mix water and sugar together in a small saucepan.
Heat over high heat until the sugar has completely dissolved in the water. You don't want it to reach a boil, and it shouldn't because the sugar will dissolve as the water heats.
When the sugar has completely dissolved, remove the simple syrup from the heat. Let it cool completely. (If you're going to infuse it with another flavor, now is where you'll add that ingredient!)
Transfer to a mason jar, and transfer to the refrigerator, where it can stay for up to a month.

Notes
This recipe lasts at least a month when refrigerated. We normally make a large batch and will keep it until we've run out for cocktails.

You can make more or less simple syrup than this recipe calls for. Double, triple, half the recipe easily using simple math. 🙂
Make fun variations on this simple syrup:
Add a bunch of fresh mint leaves, and let them steep for 30-45 minutes in the syrup before straining and chilling. You can use this in all kinds of lemonades. It could also be a shortcut for a mint julep, especially if you're making a batch instead of an individual one.
Throw in 2-3 cinnamon sticks, and steep for 1-3 hours to make cinnamon syrup! The cinnamon adds such nice warmth to drinks, and I find myself remarking this makes a drink taste like pie. This pairs well with fall flavors, like apple, pear and pumpkin.
Peel a piece of fresh ginger, and steep for 30-45 minutes to make a ginger simple syrup.
Transform it into Pumpkin Spice Simple Syrup for a Pumpkin Spice Mule, Molasses Simple Syrup for a Gingerbread Mule or Honey Simple Syrup for Honey Lemonade.



Recommended Products
As an Amazon Associate and member of other affiliate programs, I earn from qualifying purchases.
Nutrition Information:
Yield:
16 servings
Serving Size:
1
Amount Per Serving:
Calories:

48
Total Fat:

0g
Saturated Fat:

0g
Trans Fat:

0g
Unsaturated Fat:

0g
Cholesterol:

0mg
Sodium:

1mg
Carbohydrates:

13g
Fiber:

0g
Sugar:

12g
Protein:

0g
Nutrition facts are an estimate and not guaranteed to be accurate.