Homemade Lavender Simple Syrup is floral, light and incredibly simple to make. All you need are 3 ingredients to make this infused syrup for coffee, cocktails, drinks and more. Makes about 10 (½ oz.) servings.
Love different types of syrups for coffee and drinks? Check out Honey Simple Syrup, Homemade Pumpkin Spice Syrup and Classic Simple Syrup.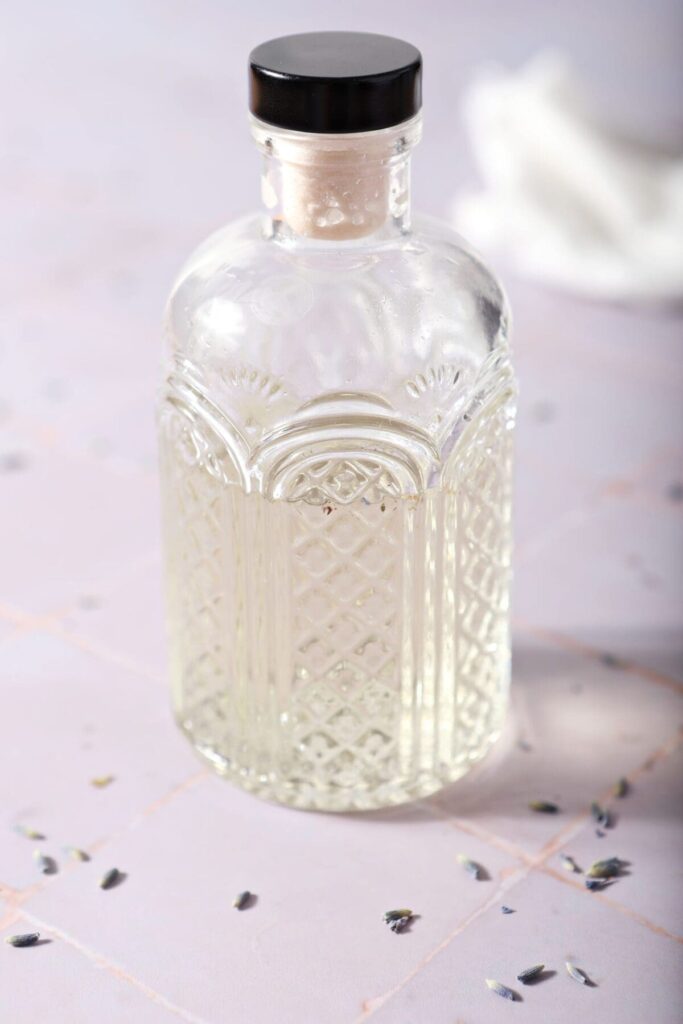 If you love to mix drinks or coffee at home, chances are you know that simple syrup is a must-have for a lot of recipes.
Simple syrup, sometimes called sugar syrup, is a liquid sweetener that involves sugar and water.
Simple syrup can be infused with all kinds of delicious flavors, and this lavender syrup is calls for dried lavender buds to give it the most beautiful floral flavor!
This lavender syrup recipe is excellent to add to cold drinks because you don't have to worry about the sugar dissolving into them, nor do you have to worry about lavender buds floating around in your cup.
Why I love this recipe:
I love flavored syrups, but I do not always love what brands add to their infused syrups. Many of 'em add artificial sweeteners or food dye, and the vast majority of lavender syrup out there is a purple color… which is not natural.
Homemade simple syrup has always been my jam because I know what's going into it, and the same thing goes with this lavender rendition. All you need are simple ingredients, and when together, they shine.
The lavender flavor is subtle, and the floral notes are perfect when added to your favorite beverages. It is an easy recipe to make at home.
I think a lavender coffee would be excellent. So would homemade Lavender Lemonade.
Basically, you can add this syrup to a variety of beverages. Truly, the lavender provides such delicate flavor that it shines when mixed with different ingredients and it has the right amount of sweetness.
I also love that you can make this homemade lavender syrup lighter or stronger, just depending on your tastebuds and what you're making. More on that below.
Need drink inspiration? Head on over to my Drink Recipe Index for some ideas of what to mix at home next.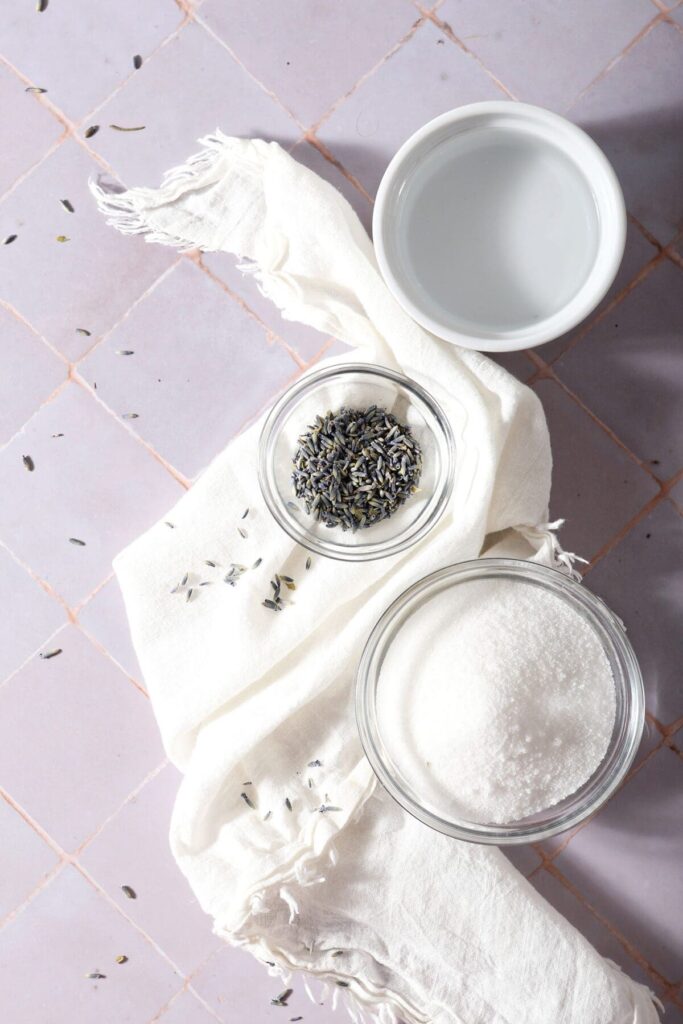 What you'll need to make this recipe:
The Speckled Palate participates in affiliate programs. As an Amazon Associate, I earn a commission from qualifying purchases. Please refer to my disclosure page for more information about these affiliate programs.
Let's talk ingredients!
In addition to the tools above, you're going to need some ingredients to make this recipe, too! Chances are, you might already have some of them in your fridge or pantry. Scroll down to the recipe card for the full measurements and instructions.
Here's what you need:
Granulated sugar — also known as white sugar. While we love cane sugar in our household, the syrup it yields is more brown-ish.
Water — if you drink your tap water, just use that! You don't need fancy water to make simple syrup.
Dried lavender flowers — you want to find food-grade lavender, which is key. I ordered mine from The Spice House, but you can find it at various grocery stores and online retailers.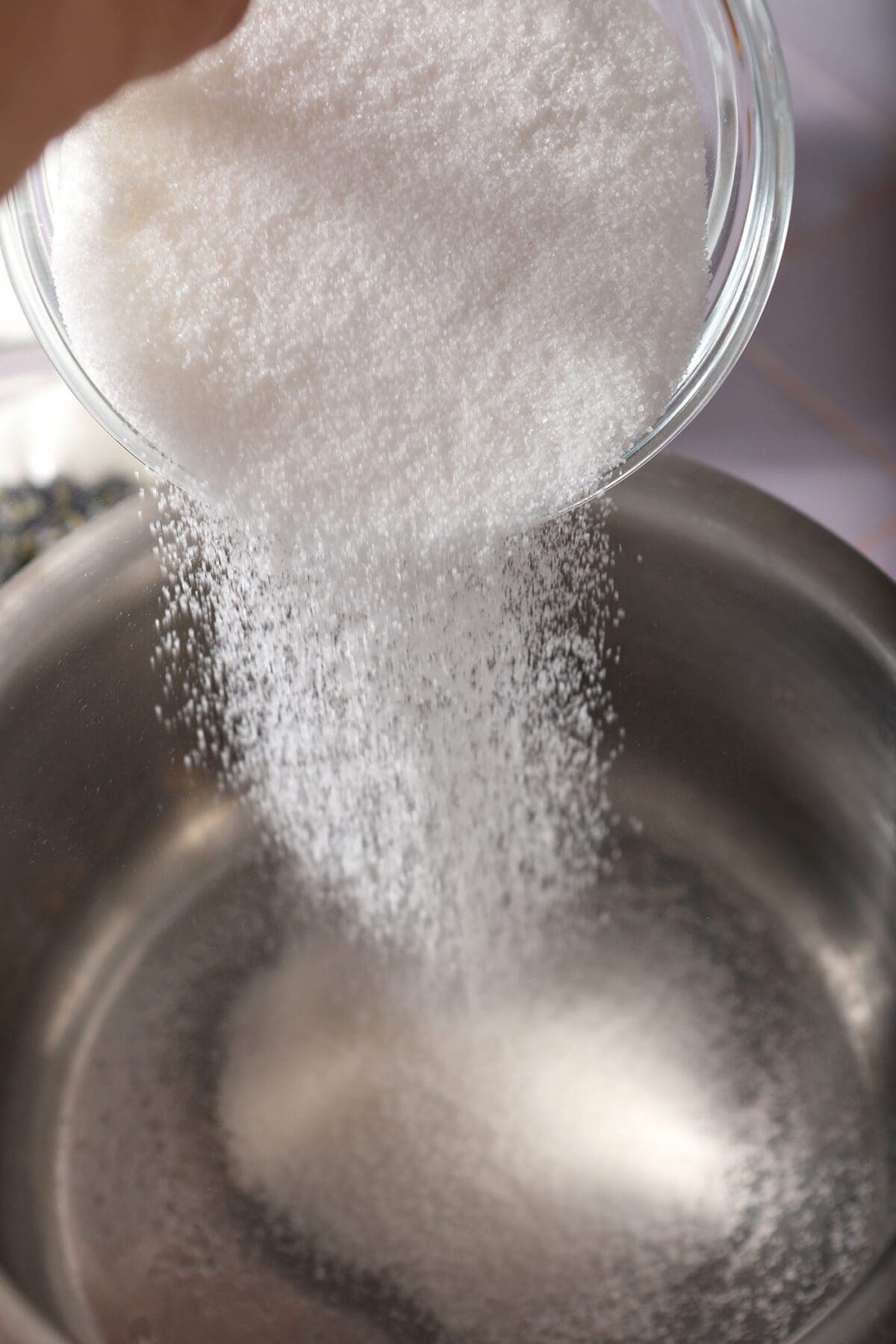 How to make Lavender Simple Syrup
Combine the granulated sugar and water in a medium saucepan. Swirl them together or stir with a wooden spoon.
Place the saucepan on the stovetop, and heat the ingredients over high heat.
You want to heat the simple syrup just until the sugar dissolves in the water—and this will be before it comes to a boil, so keep an eye on it. This should only take 5 minutes tops.
When the sugar has completely dissolved into the water, remove the saucepan from the heat.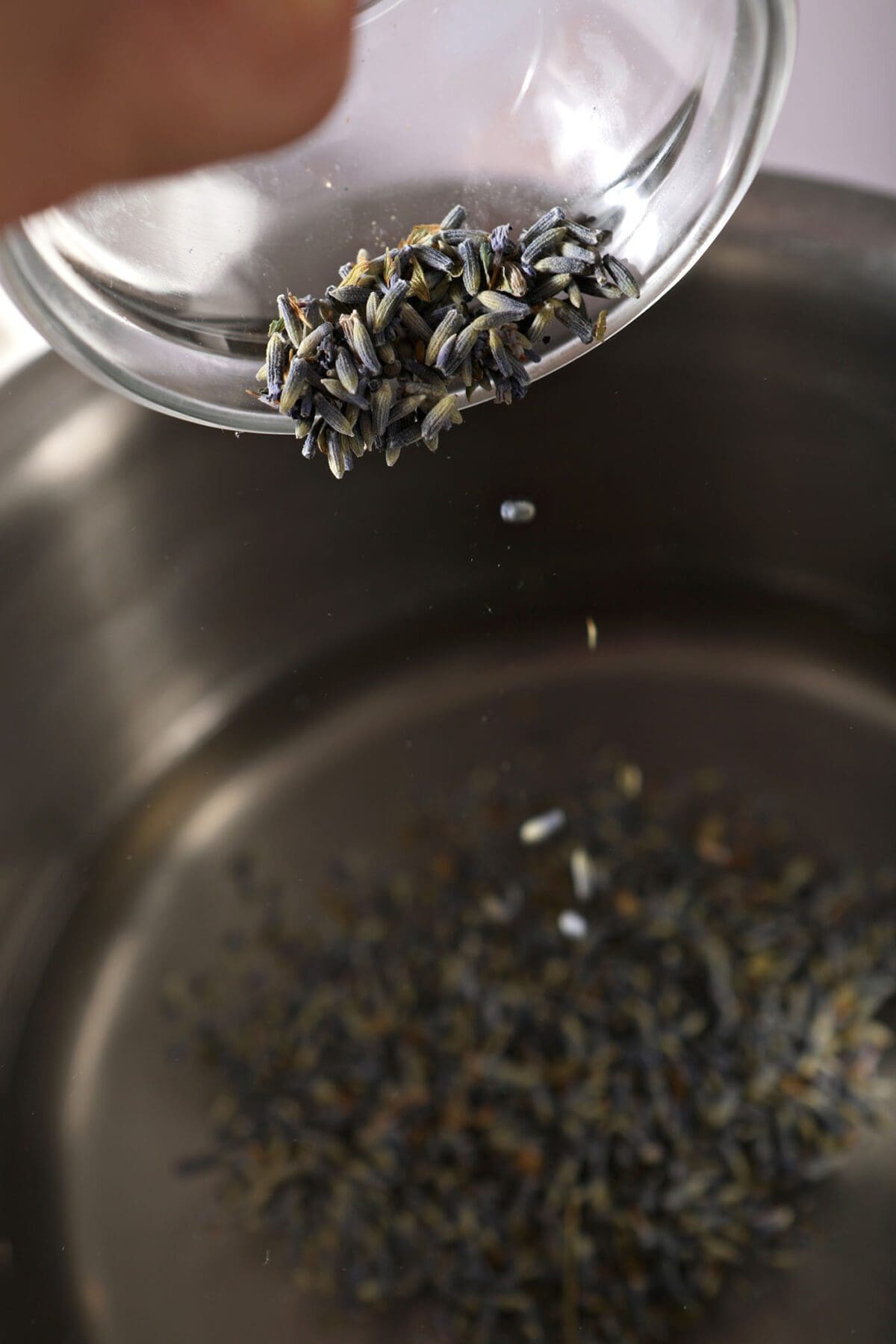 Add the lavender buds to the hot water-sugar mixture, and let the ingredients infuse for 30-45 minutes.
When the simple syrup has finished infusing and has come to room temperature, strain through a fine mesh strainer and pour into its storage container. Refrigerate.
Pro tip!
Depending on how fine your lavender is, you might need to line your mesh strainer with a paper towel to catch any of the finer pieces.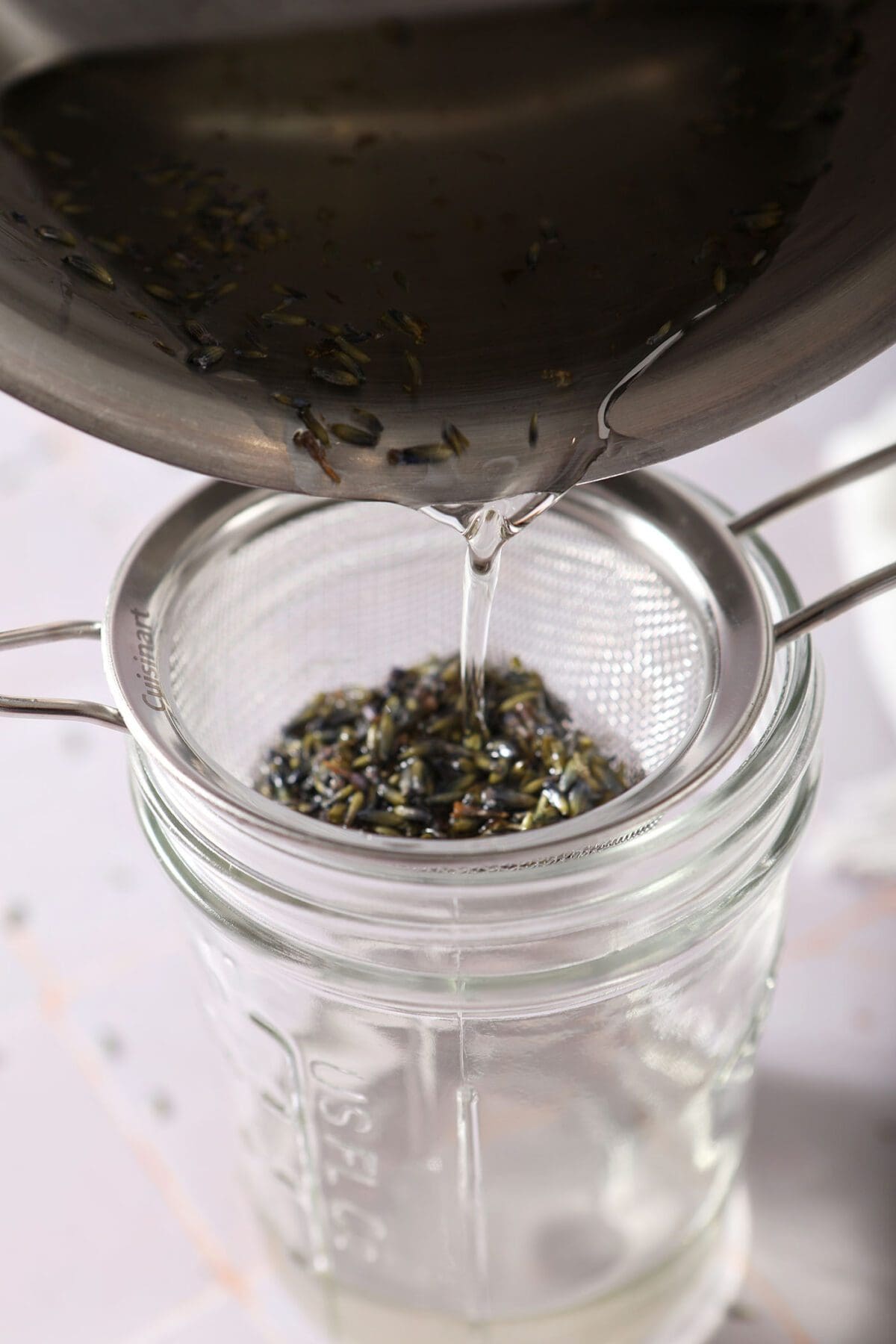 How to store lavender syrup:
Once the syrup has been strained, transfer it to a mason jar, an airtight container or a fun glass jar, like these glass jars.* (affiliate link)
Keep it in the refrigerator for up to a month.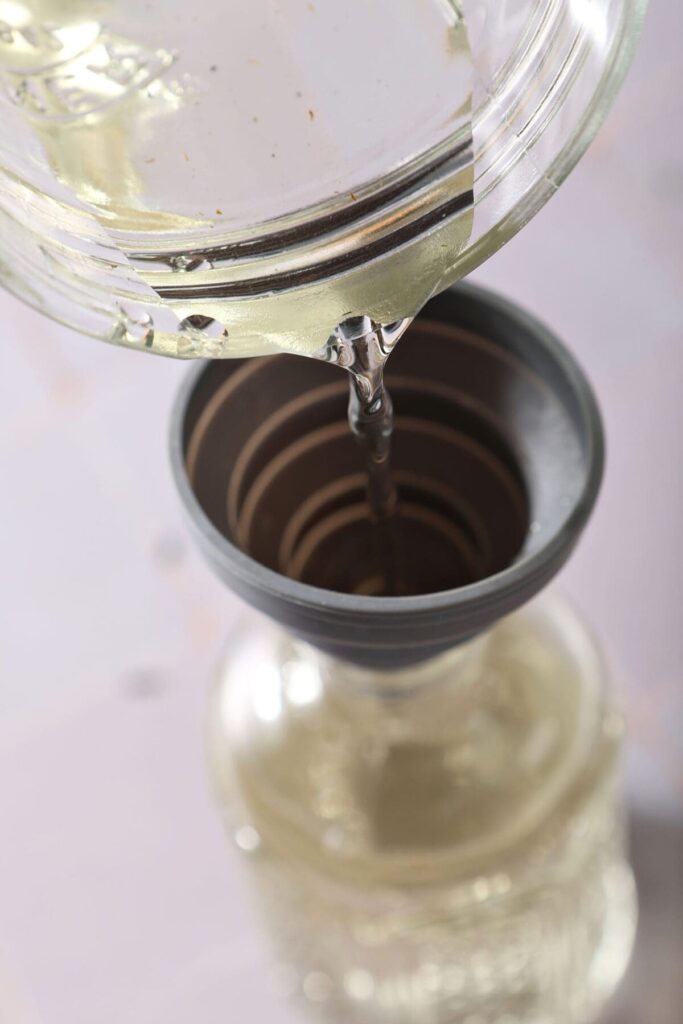 Erin's Easy Entertaining Tips
If you're planning on hosting friends or having a happy hour, I highly suggest making some homemade simple syrup to accompany your drinks!
This is also great for an at-home brunch with friends to make fun coffee drinks, like a lavender latte or even a splash of sweetness to cold brew or your morning cup of Joe.
Here are a few tips and tricks to make it as easy as possible:
Make a batch of lavender simple syrup 1-2 days in advance. Let it hang out in the fridge.
Double or triple the recipe. This will depend on the number of guests, you might need to double or triple the recipe. I always err on the side of too much since this recipe keeps well in the fridge.
Before friends arrive, get out the ingredients for your drinks. Decide whether you'll mix the drinks yourself or let your friends play bartender! Either way is fun. 🙂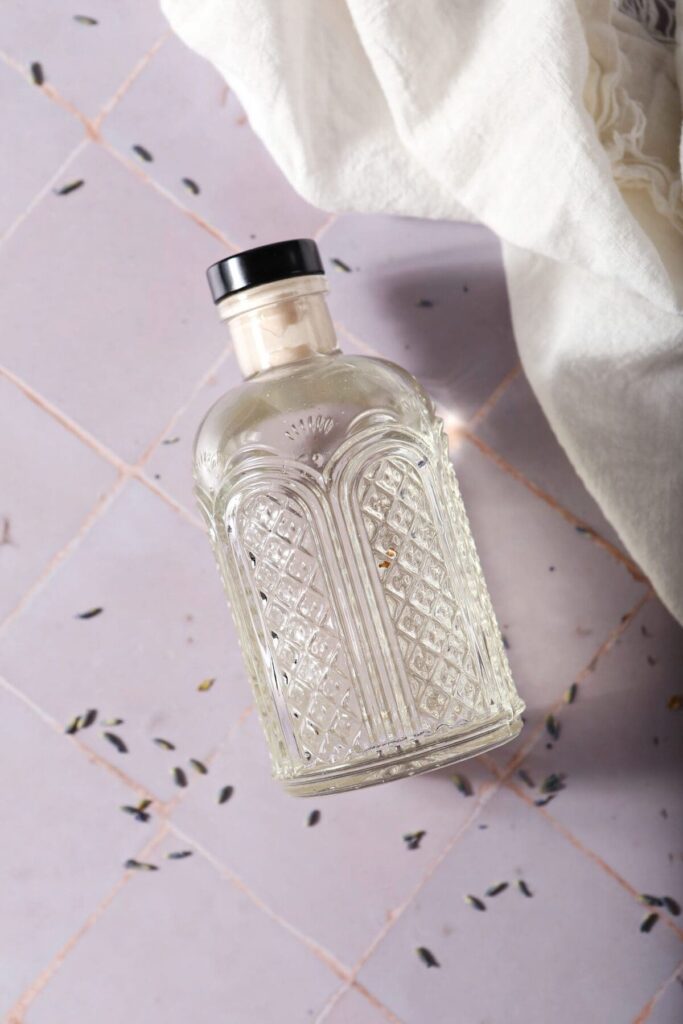 Frequently Asked Questions
What type of lavender should I use?
There are several varieties of lavender that are available on the market, including English lavender, French lavender and Portuguese lavender. You can use any variation you can get your hands on, so long as it is culinary-grade lavender.
Where can I find lavender?
Depending on where you live and the time of year, you can find some at your local farmers market, local grocery stores or health food stores. I recommend using culinary lavender buds that have been dried, but you can dry your own before using it in this recipe.
Does simple syrup need to boil?
No. You want the sugar to dissolve into the water, and that should happen before the mixture comes to a boil.
How long does lavender simple syrup last?
It should last for up to a month in the refrigerator. I do not recommend storing the simple syrup at room temperature because it will not last this long.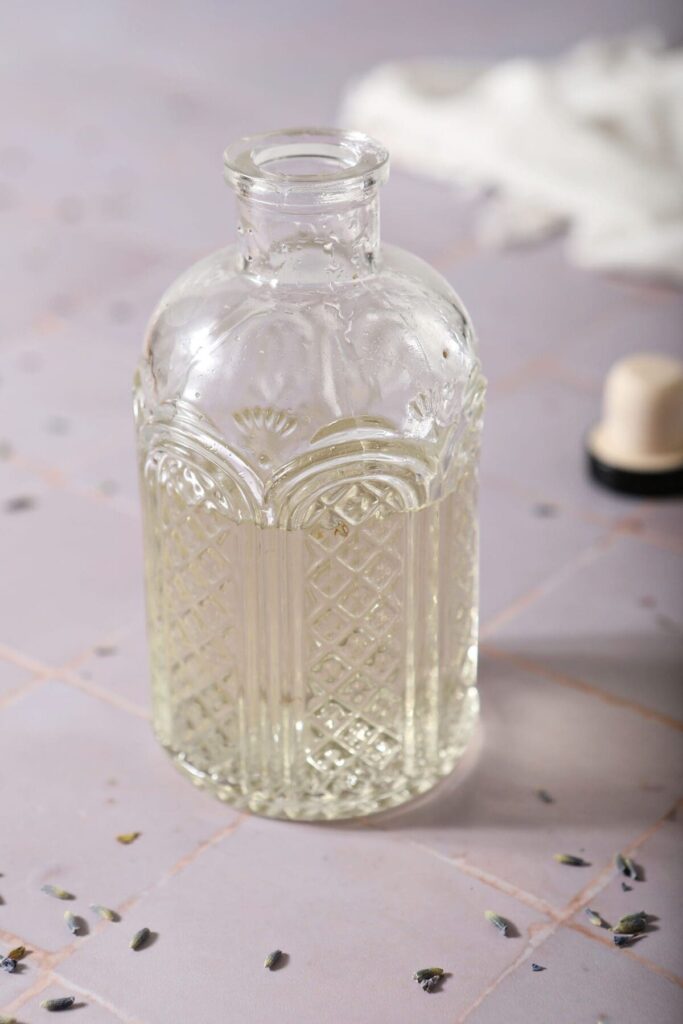 Other variations on simple syrup:
Your simple syrup ratio will remain the same at 1 part water to 1 part sugar. In fact, you'll make simple syrup in the saucepan and then add in these additional flavors to infuse.
Here are some of our favorites:
This basic simple syrup recipe is the classic for a reason!
Add cinnamon sticks, and let them infuse for 1-3 hours to create cinnamon simple syrup. This is spectacular in fall drinks, like Gin Apple Pie Cocktail and Apple Cider Moscow Mule!
Use honey instead of sugar to make Honey Simple Syrup!
Tons of fresh mint in your garden? Wash it well, then toss it into hot simple syrup, and let it infuse for 30 minutes to an hour to make mint simple syrup. You can use it to give lemonade a fun spin!
Add peeled, fresh ginger root, and let it infuse for 30-45 minutes to make ginger simple syrup.
Add rosemary and transform it into Rosemary Simple Syrup.
Keep in mind that when you infuse simple syrup with flavors, the stronger the flavors will be the longer you steep them. Also—everyone's tastebuds are different!
If you're concerned that your infused simple syrup might become too strong (or not be strong enough), do a taste test after 15-20 minutes. This will give you an idea of how the flavors are coming together. You can let them continue to do their thing or remove the infusion ingredient because you're done!
Some recipes to add this lavender syrup to: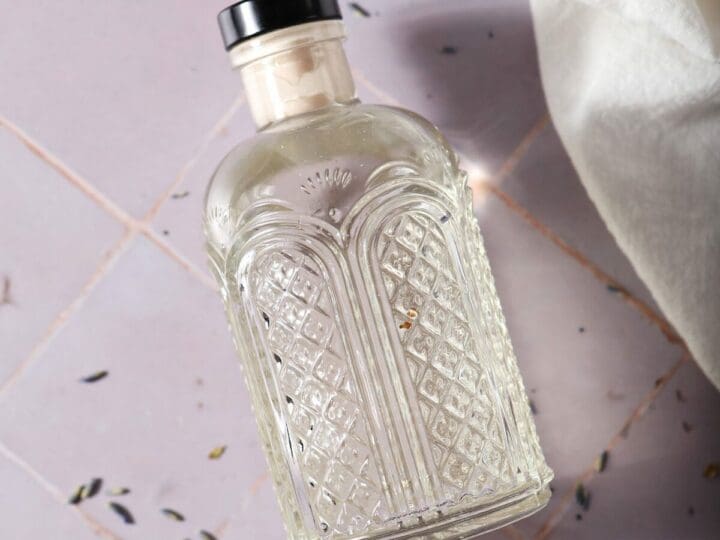 Yield:

~ 2/3 cup
Lavender Simple Syrup
Homemade Lavender Simple Syrup is floral, light and incredibly simple to make. All you need are 3 ingredients to make this infused syrup for coffee, cocktails, drinks and more. Makes about 2/3 cup.
Ingredients
½ cup water
½ cup granulated sugar (120g)
1 tablespoon dried lavender (2g)
Instructions
Combine the water and sugar in a saucepan.
Heat over high heat, swirling or stirring as the syrup ingredients warm, until the sugar has completely dissolved. This should take 3-4 minutes.
Remove from the heat, and add the lavender.
Infuse for 30-45 minutes. (Give it a taste at the 30-minute mark to see how it tastes for you. If you want a stronger lavender flavor, let it steep for longer.)
When done infusing, strain through a fine mesh strainer lined with a paper towel to catch finer pieces of the lavender.
Store in a mason jar for up to a month in the refrigerator.
Notes
Makes 10 (½ oz.) servings
Store in an airtight container (mason jar, bottle, etc.) for up to a month in the refrigerator
Recommended Products
As an Amazon Associate and member of other affiliate programs, I earn from qualifying purchases.