Homemade Pumpkin Spice Syrup
Singing with warming and a spicy sweetness, this easy homemade Pumpkin Spice Syrup is a fall staple! Make a batch of copycat Starbucks pumpkin spice syrup to add to coffee, mixed drinks and more. Makes 16 servings.
Looking for other recipes to stir into your coffee? Don't miss Gingerbread Coffee Creamer, Lavender Simple Syrup and Homemade Vanilla Mint Creamer!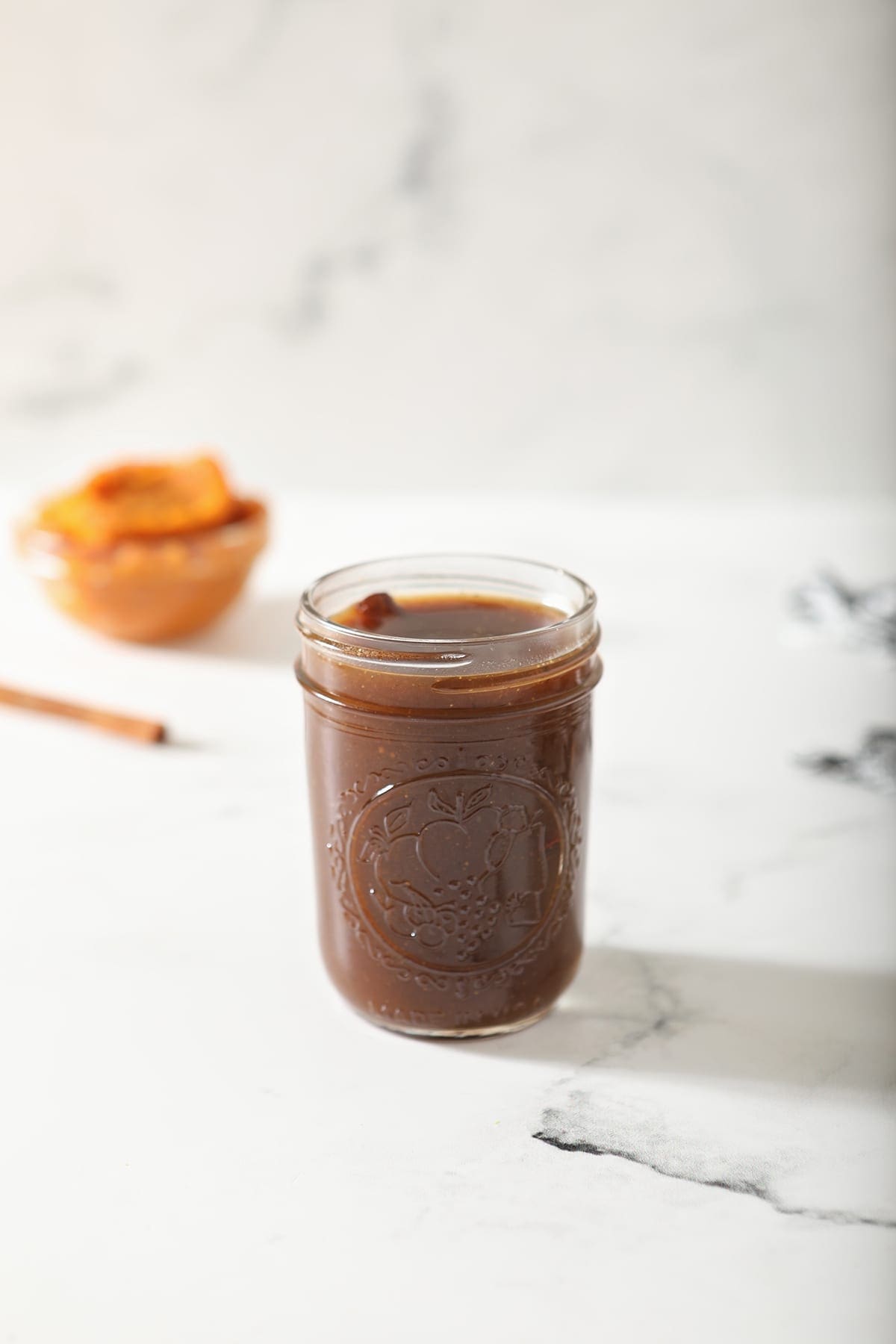 'Tis the season for everything pumpkin flavored, and we're leaning in, full-tilt, at The Speckled Palate this year.
And since it's 2020 and we're not living our usual fall lives, I wanted to share something simple that would make you and everyone you know smile… because fall is the season of pumpkin spice.
And sometimes, you want to feel like you're enjoying a drink from a coffee shop…
Why I love this recipe:
Y'all know I'm a big fan of making quick and easy recipes at home.
This pumpkin simple syrup definitely is considered one of them since it calls for six simple ingredients that you might have in your cupboard already.
It's basically Starbucks Pumpkin Spice Syrup without the drive-through.
Also—it makes your house smell delightful as it cooks.
And it's really fun to add to drinks. Consider this real pumpkin syrup for coffee, a mocktail or even a cocktail like a Pumpkin Spice Mule!
More recipes involving pumpkin spice flavors: Pumpkin Blondies with a Caramel Cream Cheese Swirl | Vegan Pumpkin Muffins | Praline Pumpkin Upside Down Cake | Pumpkin Spice Pancakes
Looking for some more fall recipes? Check out my Fall Recipe Index.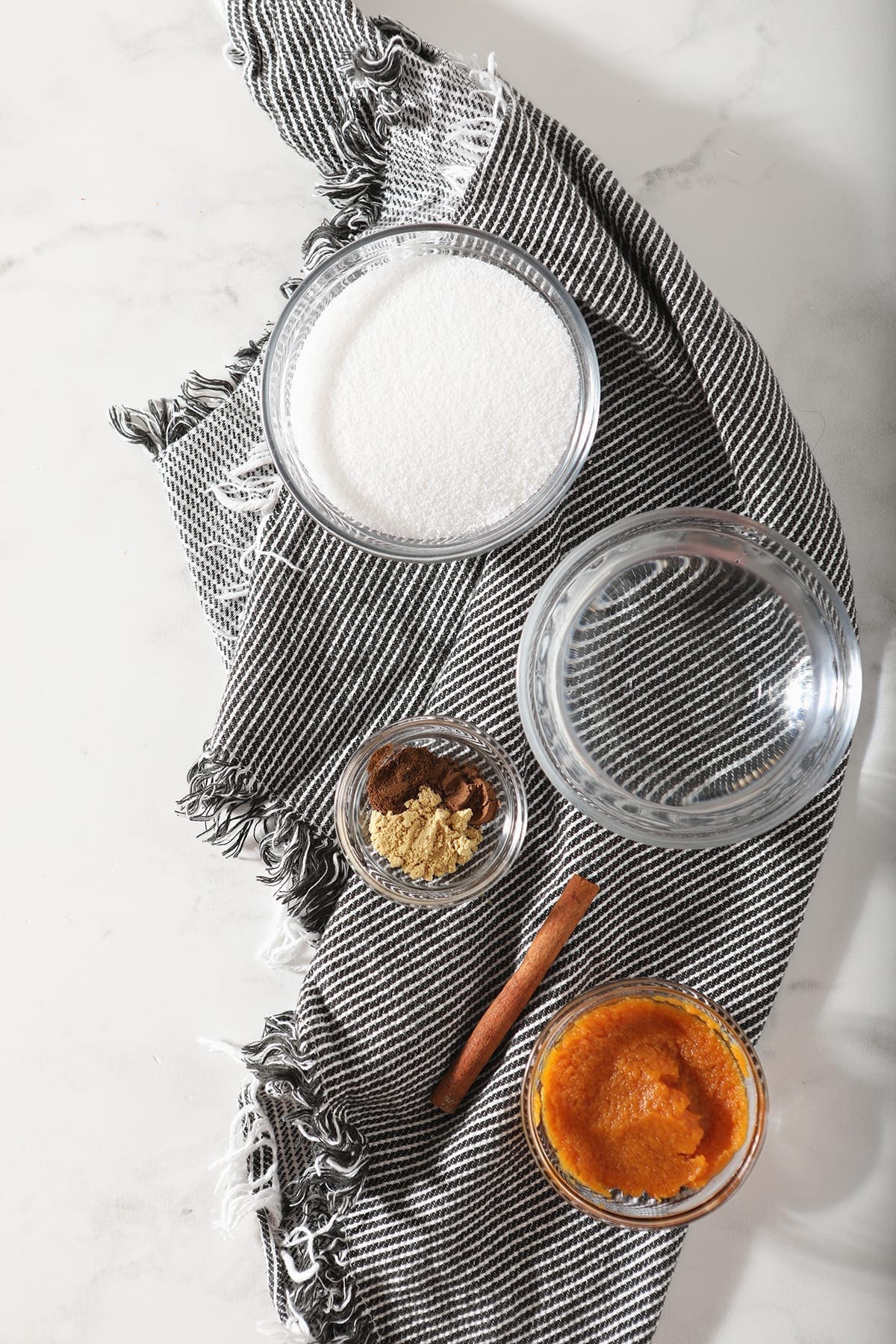 What you'll need to make this homemade Pumpkin Syrup
The Speckled Palate participates in affiliate programs. As an Amazon Associate, I earn a commission from qualifying purchases. Please refer to my disclosure page for more information about these affiliate programs.
Let's talk ingredients!
In addition to the tools above, you're going to need some ingredients to make this recipe, too! Chances are, you might already have some of them in your fridge or pantry. Scroll down to the recipe card for the full measurements and instructions.
Here's what you'll need:
Water
Granulated sugar — this is my go-to for simple syrup, though you could swap it with the same amount of brown sugar if you've got that on hand and like the caramel molasses notes that brown sugar adds
Canned real pumpkin — not the pumpkin pie filling, but the real deal, 100% pumpkin puree
Cinnamon stick — not ground cinnamon, though I suppose you could use that in a pinch
Ginger — the ground kind, not fresh
Allspice — again, we want it to be ground
Cloves — I used ground cloves because I didn't have whole cloves, but if you have some whole cloves, use those and let them steep with the cinnamon stick!
Please know that you can also add in 1/8 to ¼ teaspoon of ground nutmeg if that's your jam. You'll notice that I leave nutmeg out of all my pumpkin-flavored dishes because I really dislike the spice.
You could also swap the cinnamon, ground ginger, allspice and cloves for the same amount of pumpkin pie spice if you've got that. I made my own blend since I don't keep that in my spice cabinet.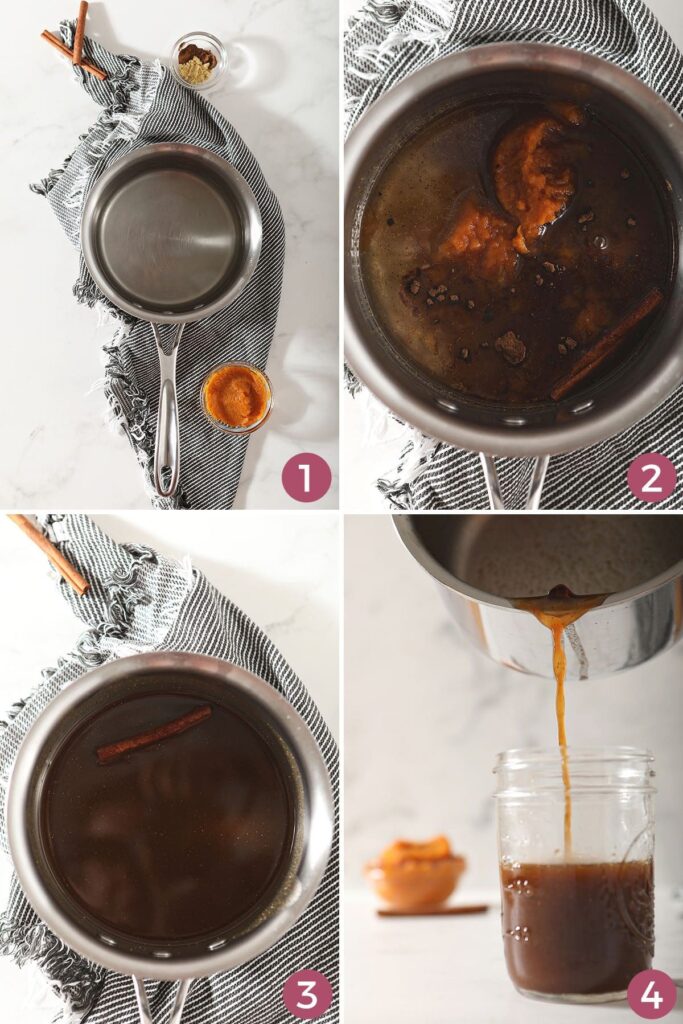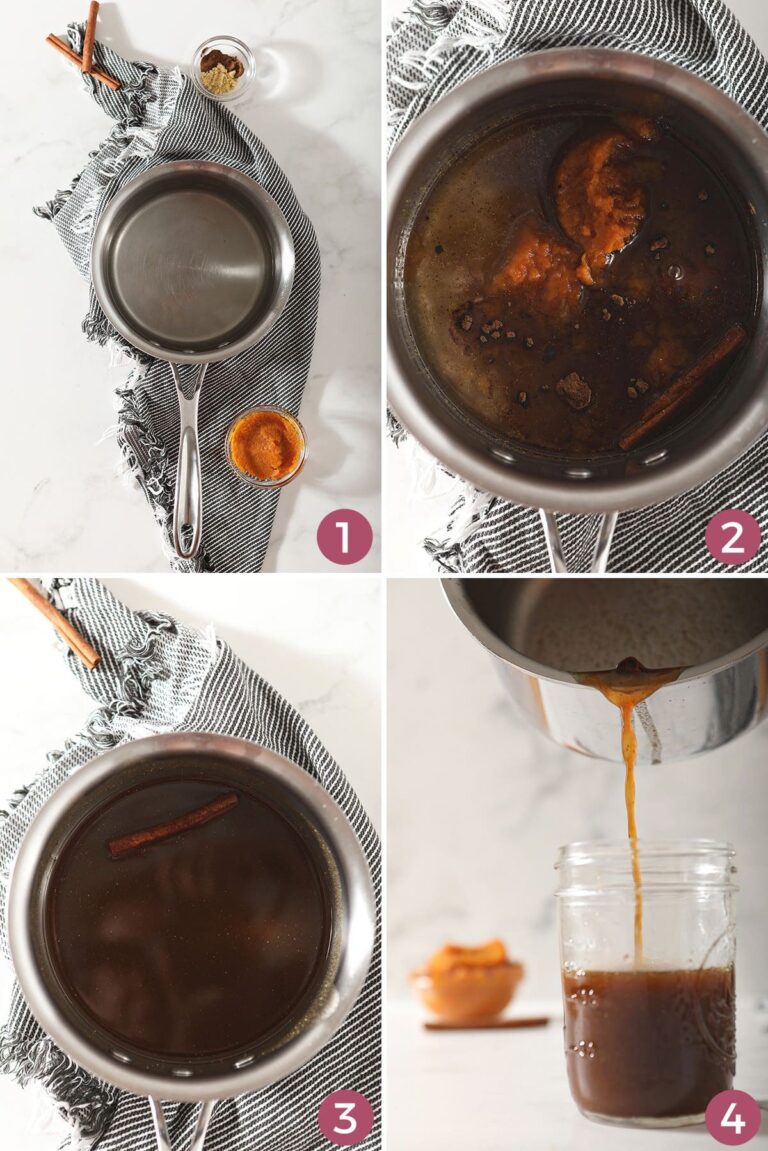 How to make Pumpkin Spice Syrup
Mix the water and sugar together in a small saucepan. We are making a homemade simple syrup here.
Bring to a boil over medium-high heat.
Cook until the sugar dissolves, stirring or swirling the liquid occasionally so sugar crystals don't form on the sides.
Turn off the heat.
Measure in the pumpkin puree and the spices. This incluedes the cinnamon stick, ground ginger, allspice and cloves. Stir.
Let the ingredients steep for 30 minutes to an hour, then remove the cinnamon stick.
Pour into a mason jar once completely cool, and store in the refrigerator for 1-2 weeks.
Use in cocktails, coffee and more to add pumpkin-flavored flair!
Erin's Easy Entertaining Tips
This Pumpkin Syrup is something you absolutely 100% need to have on hand during the fall for any kind of gathering.
Whether you're hosting brunch at home, inviting friends for happy hour (and serving Pumpkin Spice Mules or maybe a Pumpkin Spice White Russian) or having a dinner party and needing something spicy/sweet to serve over ice cream… well… you get the idea.
Here are a few tips for how to use this Pumpkin Spice Syrup recipe in your easy entertaining life—or in your everyday life, too.
Make it in advance and keep it cool in the fridge for yourself or guests.
Add this pumpkin syrup for coffee drinks, cocktails or even hot chocolate to add some fall flavors to your favorite drinks!
Since it's thicker, you could even call this a pumpkin spice sauce and add it to desserts, like ice cream.
Don't shy away from the spice… embrace it! This means doing some experimenting if you're going to add this to a cocktail because this syrup is STRONG.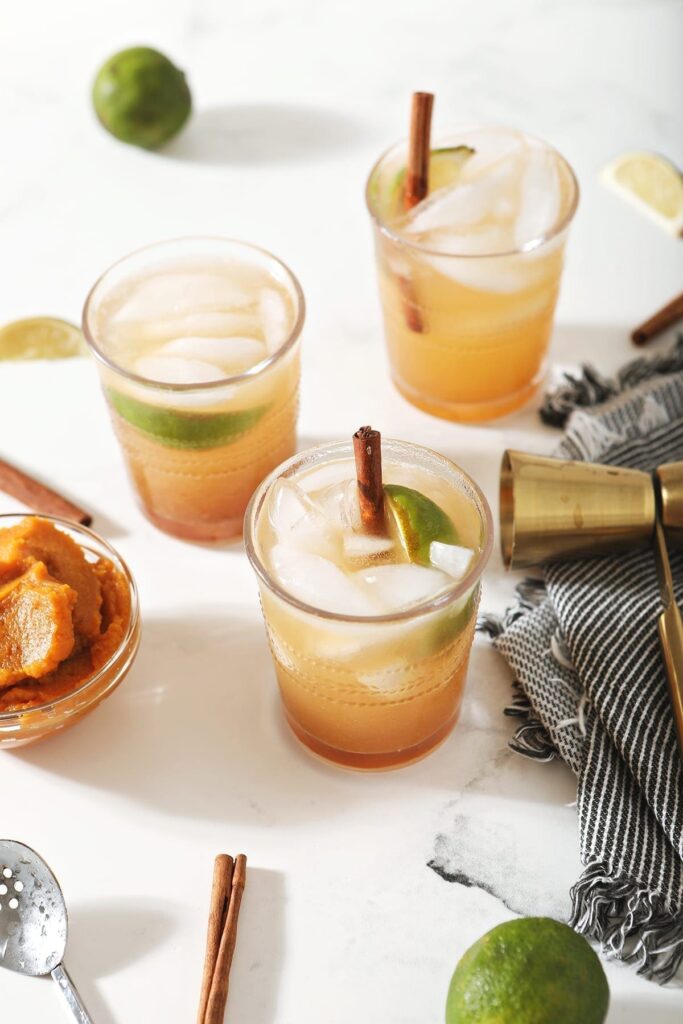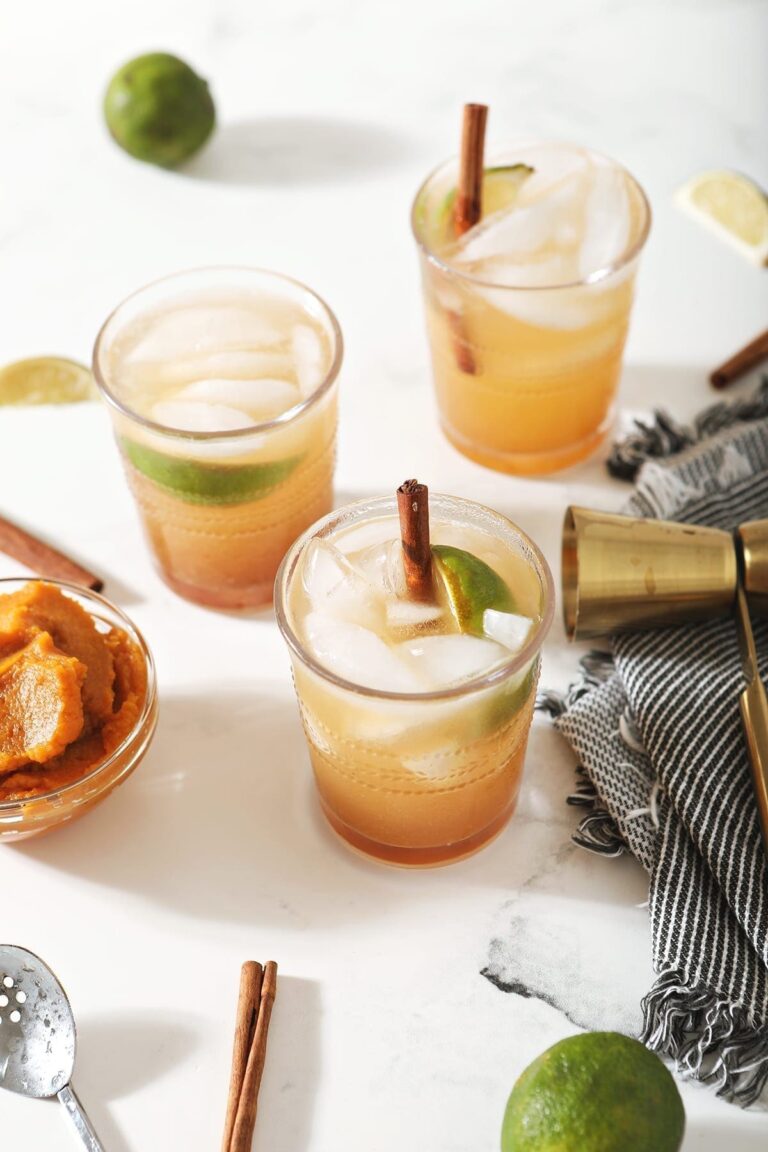 Frequently Asked Questions
What can I use this pumpkin spice syrup in?
I'm not going to tell you that this would be make a Copycat Starbucks Pumpkin Spice Latte, but this syrup would make a sweet addition to any coffee and tea drink that you brew at home.

You can also add it to mixed drinks or jazz up your ginger ale with a shot of this!

You also wouldn't be remiss to add this to a Pumpkin Spice Hot Toddy or a Chai Latte.

Additionally, use this pumpkin syrup to sweeten the custard for french toast. Just don't forget to serve it with a dollop of homemade whipped cream and extra pumpkin pie spice.
Does this pumpkin spice syrup actually have pumpkin in it?
YES, it does! That was key for me in developing this recipe—because I wanted to actually highlight pumpkin for you, not just the spices we often associate with pumpkin spice.
Is this a copycat Starbucks pumpkin spice syrup recipe? Can I purchase this in a store instead?
Yes. Though I will admit that I don't like a Pumpkin Spice Latte, and I haven't gone out of my way searching for Pumpkin Spice Syrup because I've always been able to make it at home.

That said, I'd assume it's similar because they all involve similar spices. You should definitely try it and let me know how it compares!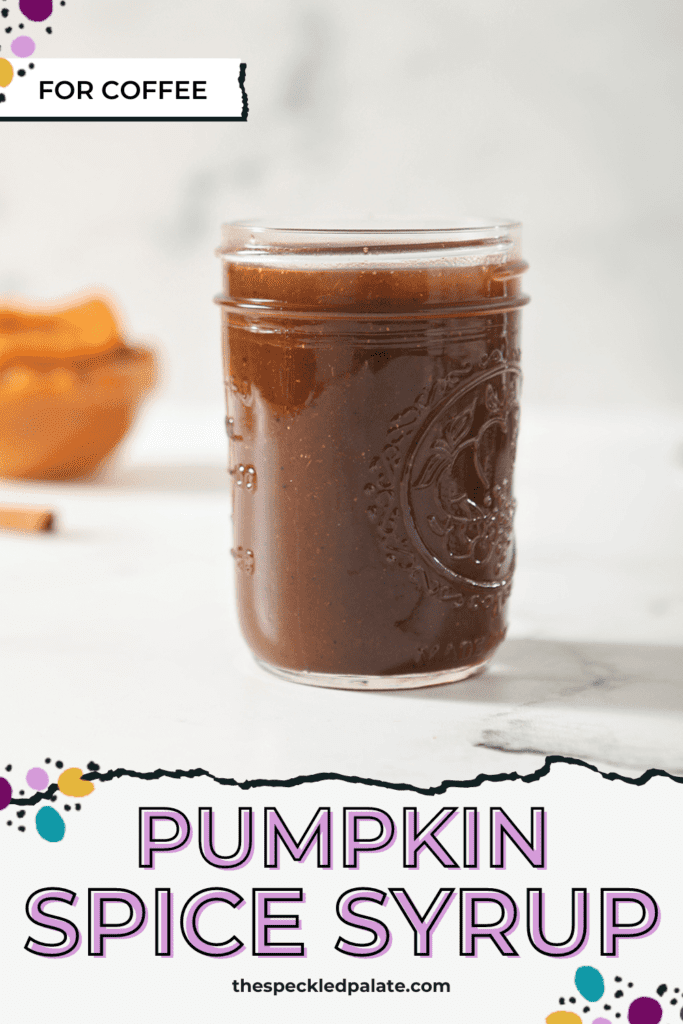 Quick tips for making Pumpkin Spice Syrup
Want to start each morning with a pumpkin spice coffee? Make it on a Sunday night to have enough to enjoy throughout the week!
Replace regular 'ol simple syrup in a cocktail with this syrup to add some fall-flavors! Just make sure that the other ingredients pair well with spices before doing this.
Store in a mason jar in the refrigerator for up to 2 weeks. (I bet it won't last that long, though!)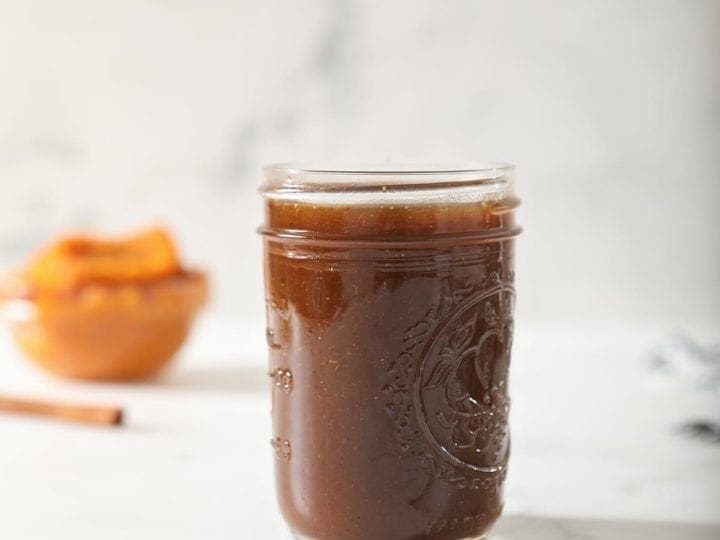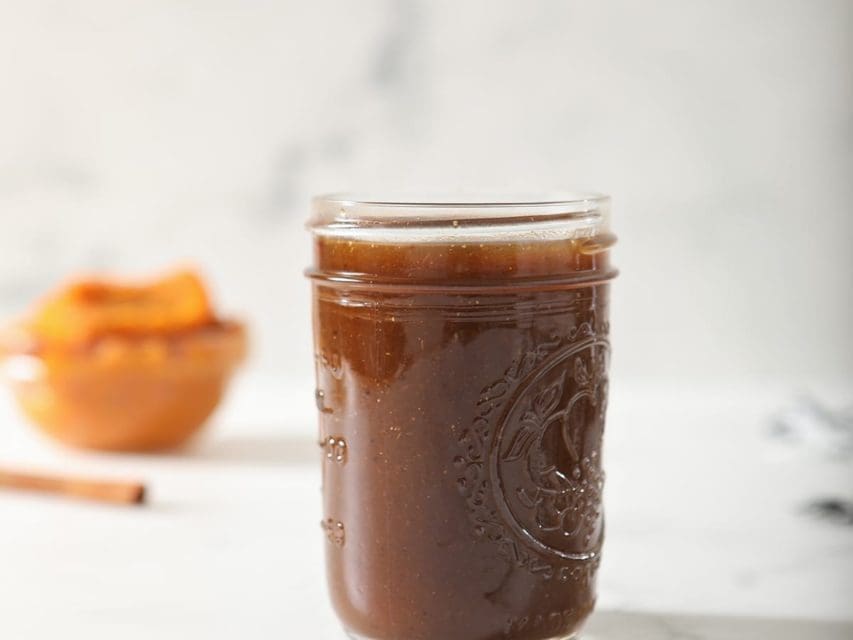 Yield:

16 servings
Pumpkin Spice Syrup
Steeping Time:
30 minutes
Singing with warming and a spicy sweetness, this easy homemade Pumpkin Spice Syrup is a fall staple! Make a batch of this fall-flavored simple syrup to add to coffee, mixed drinks and more.
Ingredients
½ cup water
½ cup granulated sugar
2 tablespoons pumpkin puree (not pumpkin pie filling)
1 cinnamon stick
½ teaspoon ground ginger
¼ teaspoon ginger allspice
¼ teaspoon ground cloves
Instructions
Mix water and sugar together in a small saucepan.
Bring the water to a boil over medium-high heat. Continually stir/swirl the ingredients as they cook until the sugar has dissolved.
Remove from the heat.
Stir in the pumpkin puree, cinnamon stick, ginger, allspice and cloves.
Steep the ingredients for 30 minutes to 1 hour, then remove the cinnamon stick (or leave it in for stronger flavor.)
Transfer to a mason jar, and let cool completely before transferring to the refrigerator.
Notes
Makes 16 (½ oz.) servings.
If you like nutmeg, consider adding 1/8 – ¼ teaspoon of ground nutmeg to the syrup to add some warmth, too.

Store up in a sealed mason jar in the refrigerator for 1-2 weeks.
Recommended Products
As an Amazon Associate and member of other affiliate programs, I earn from qualifying purchases.
Nutrition Information:
Yield:
16 servings
Serving Size:
1 (½ oz.) serving
Amount Per Serving:
Calories:

26
Total Fat:

0g
Saturated Fat:

0g
Trans Fat:

0g
Unsaturated Fat:

0g
Cholesterol:

0mg
Sodium:

1mg
Carbohydrates:

7g
Fiber:

0g
Sugar:

6g
Protein:

0g
Nutrition facts are an estimate and not guaranteed to be accurate.