Fluffy pumpkin waffles are the perfect breakfast treat for fall. Topped with a stellar cinnamon maple syrup, these Pumpkin Waffles with Cinnamon Maple Syrup are sure to be a family favorite.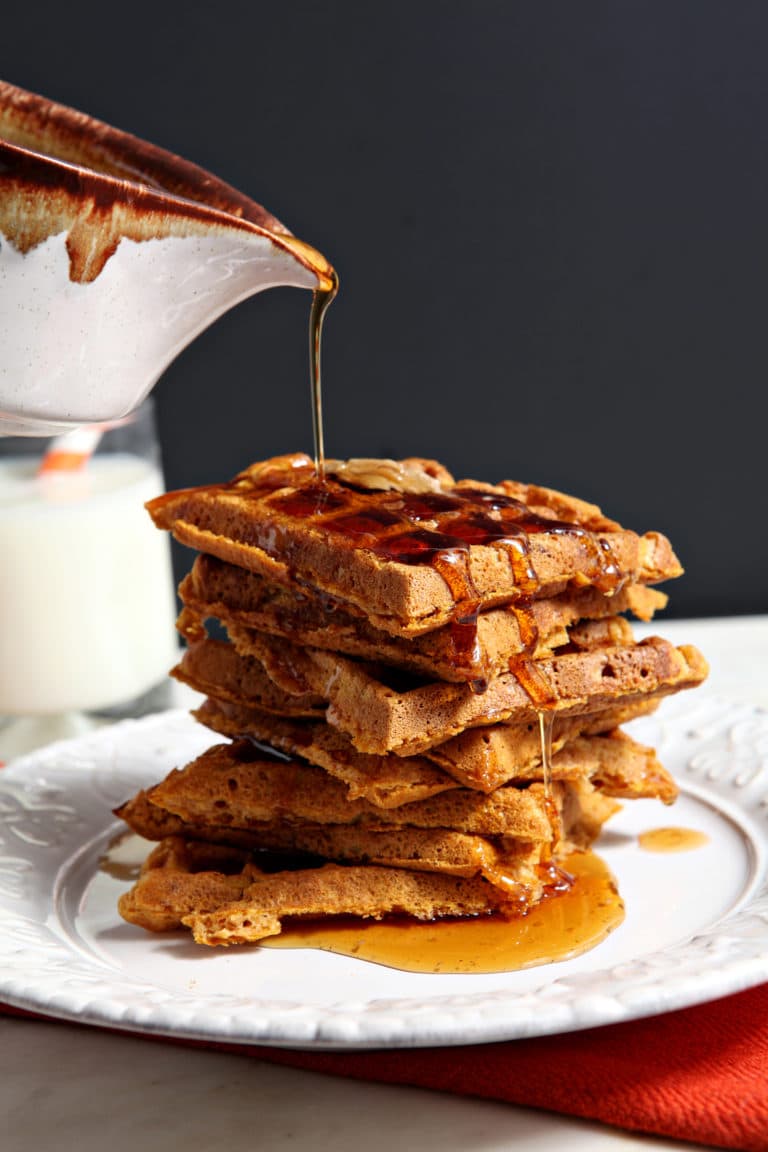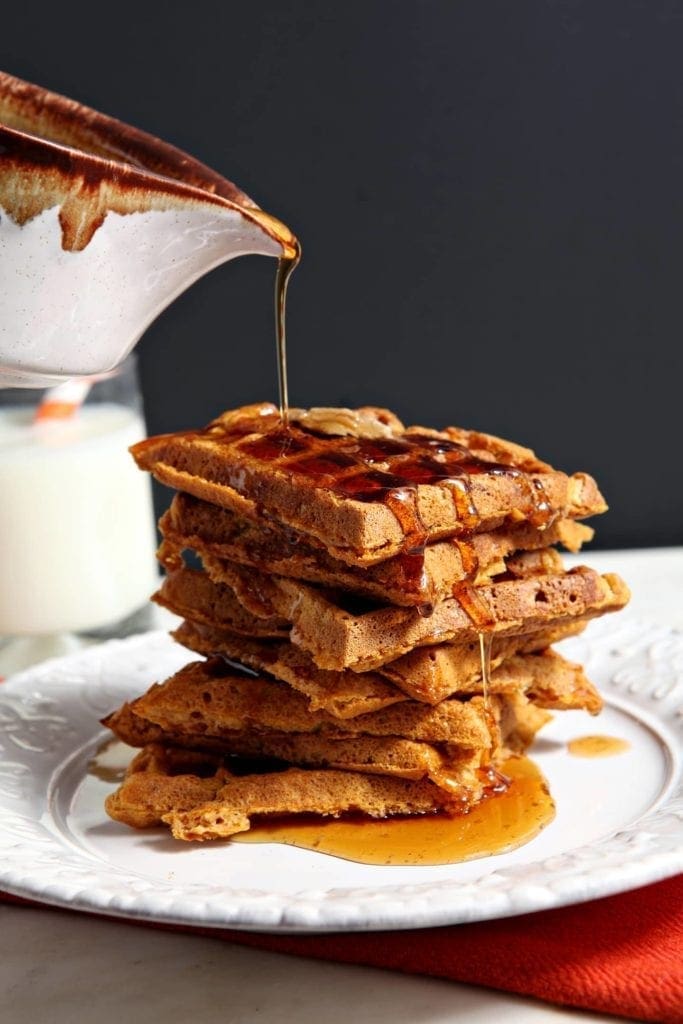 This post contains affiliate links. If you were to make a purchase through one, I would receive a small commission. For more information about the affiliate programs The Speckled Palate participates in, please refer to my disclosure page.
I was late to join the pumpkin bandwagon… this year and in life.
For the longest time, I just assumed I hated pumpkin because I thought pumpkin pie was disgusting.
Turns out, nutmeg is the part of pumpkin pie I despise, which I discovered by accident. After I studied abroad in Italy, I made a beautiful creamy pasta dish that called for just a sprinkle of nutmeg. The dish tasted fantastic during the cooking process… but that sprinkle ruined the entire thing for me, even though my friends were impressed with the dish.
That being said, me and pumpkin spiced things? Nope.
But if you give me pumpkin with ample amounts of cinnamon, I'm a happy girl.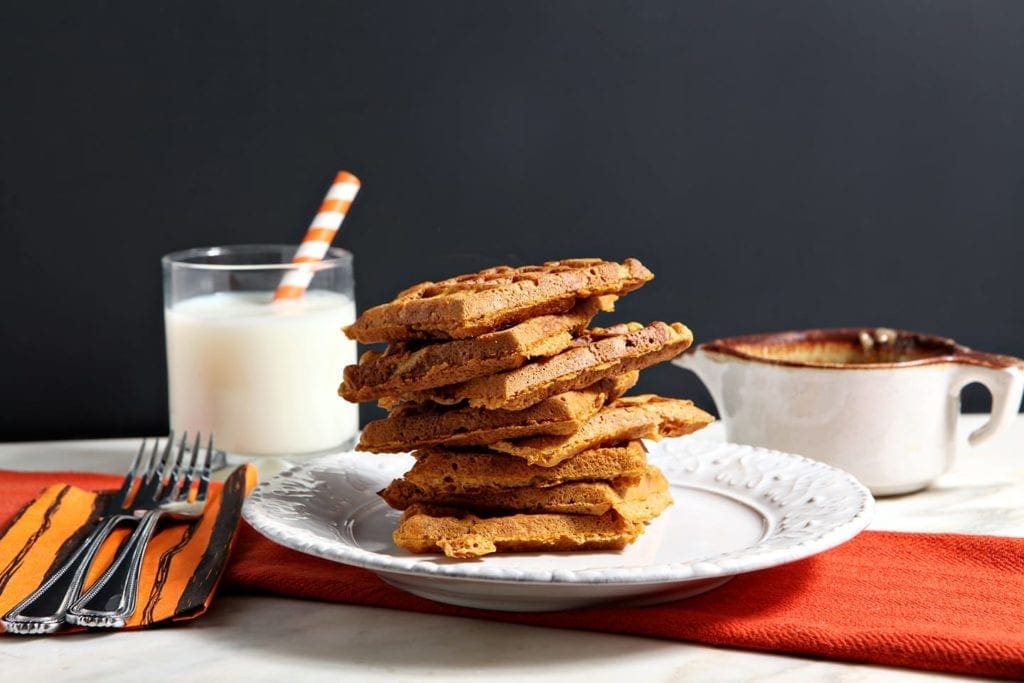 These waffles are all about the pumpkin and are highlighted by cinnamon. That being said, I'm sure you could easily add in the pumpkin pie spice instead of cinnamon if you're into that kind of thing.
They're also dairy free. (Though you can add regular milk instead of cashew or any non-dairy milk.)
And they're naturally sweetened with maple syrup.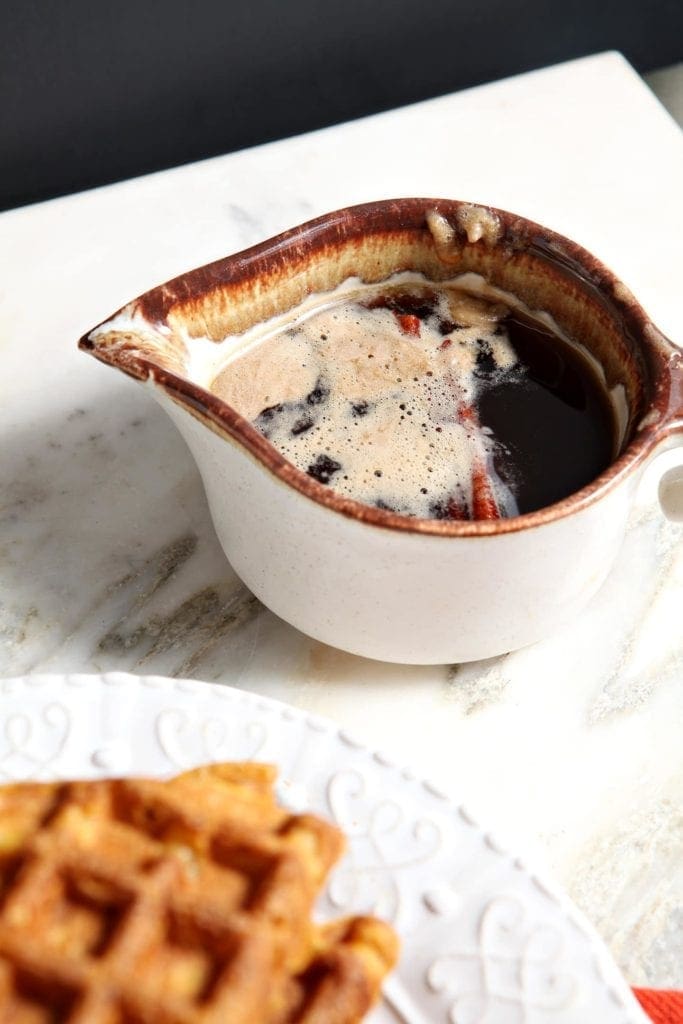 And then! Then! You make this super simple but ridiculously delicious cinnamon maple syrup on the stovetop as your waffles cook.
Then all your breakfast/brunch guests are impressed. (Our one guest was!)
And I think it's fair to say that if you make these waffles? You're totally winning at the breakfast/brunch game.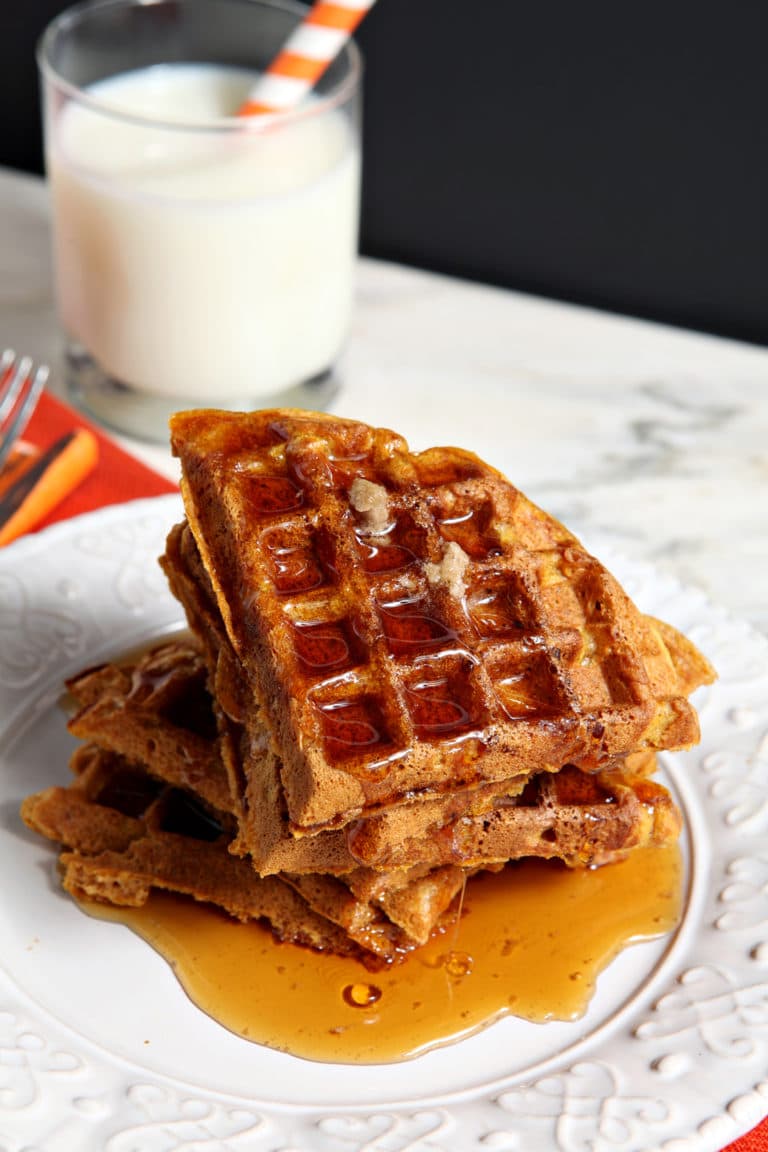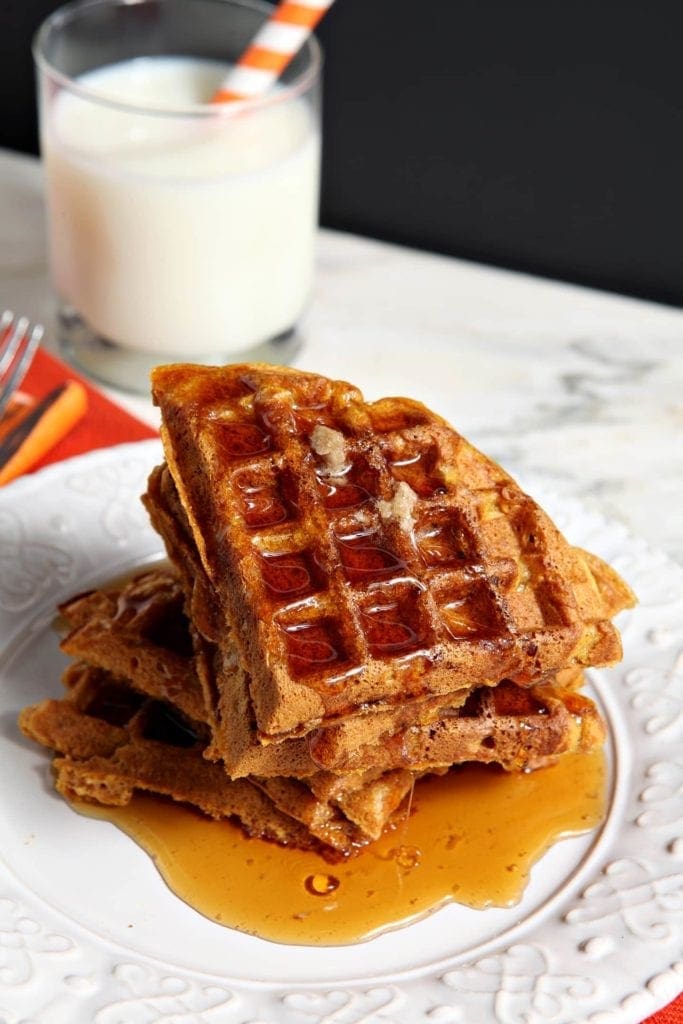 Recommended Tools/Products for Pumpkin Waffles with Cinnamon Maple Syrup


Looking for more pumpkin breakfasts? We adore this Chocolate Chip Pumpkin Bread, as well as these Pumpkin Muffins with Cream Cheese and Nutella Swirl and this Pumpkin Brown Butter Streusel Muffins with Maple Cream Cheese Glaze.
Interested in just these waffles?
Scroll on down to learn how to make 'em at home!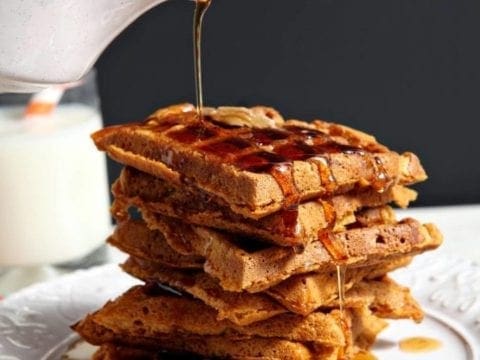 Yield:

10 waffles
Pumpkin Waffles with Cinnamon Maple Syrup
Fluffy pumpkin waffles are the perfect breakfast treat for fall. Topped with a stellar cinnamon maple syrup, these waffles are sure to be a family favorite.
Ingredients
Pumpkin Waffles
1 ½ cups unbleached all-purpose flour
2 teaspoons baking powder
½ teaspoon baking soda
½ teaspoon kosher salt
1 ½ teaspoons ground cinnamon
1 ½ cups pumpkin puree (NOT pumpkin pie filling)
1 cup unsweetened cashew milk (or another non-dairy milk OR regular milk)
2 eggs
2 teaspoons pure vanilla extract
2 tablespoons coconut oil, melted
2 tablespoons pure maple syrup
Cinnamon Maple Syrup
2 cups pure maple syrup
2-5" cinnamon sticks, broken in half
Instructions
In a large bowl, combine the dry ingredients -- the flour, baking powder, baking soda, salt and cinnamon -- and whisk together.
In a smaller bowl, combine the wet ingredients -- the pumpkin puree, milk, egg, vanilla extract, coconut oil and maple syrup -- and stir until smooth.
Pour the wet ingredients into the dry ingredients and slowly mix together, stirring until just combined. Do not overmix the batter.
Preheat the waffle iron, spraying lightly with cooking spray.
Pour 1/4 cup of the batter into the warmed waffle iron, spreading with a rubber spatula until at the edges.
Cook per the manufacturer's instructions. (I like mine crispy on the outside, so I cook them on a higher setting. To each their own.)
While the waffles are cooking, heat the maple syrup and cinnamon sticks over medium heat. Simmer until time to eat.
When the waffles are cooked to your liking, serve warm with the cinnamon syrup. Enjoy!
Notes
These waffles are easy to freeze! Once cooked, let cool on a cooling rack, then wrap in plastic wrap and freeze for up to a month.
Nutrition Information:
Yield:
10 waffles
Serving Size:
1 waffle
Amount Per Serving:
Calories:

309
Total Fat:

4g
Saturated Fat:

3g
Trans Fat:

0g
Unsaturated Fat:

1g
Cholesterol:

37mg
Sodium:

291mg
Carbohydrates:

65g
Fiber:

2g
Sugar:

44g
Protein:

4g
Nutrition facts are an estimate and not guaranteed to be accurate.
How do you feel about nutmeg?
Are you excited about pumpkin season?