Pumpkin Spice Bread is the perfect fall-flavored baked good for breakfast or dessert. This easy pumpkin bread recipe calls for just a handful of ingredients and results in the most moist, spiced pumpkin bread around! Makes 1 loaf.
Love pumpkin baked goods? You've got to try Vegan Pumpkin Muffins and Pumpkin Blondies with Caramel Cream Cheese Swirl.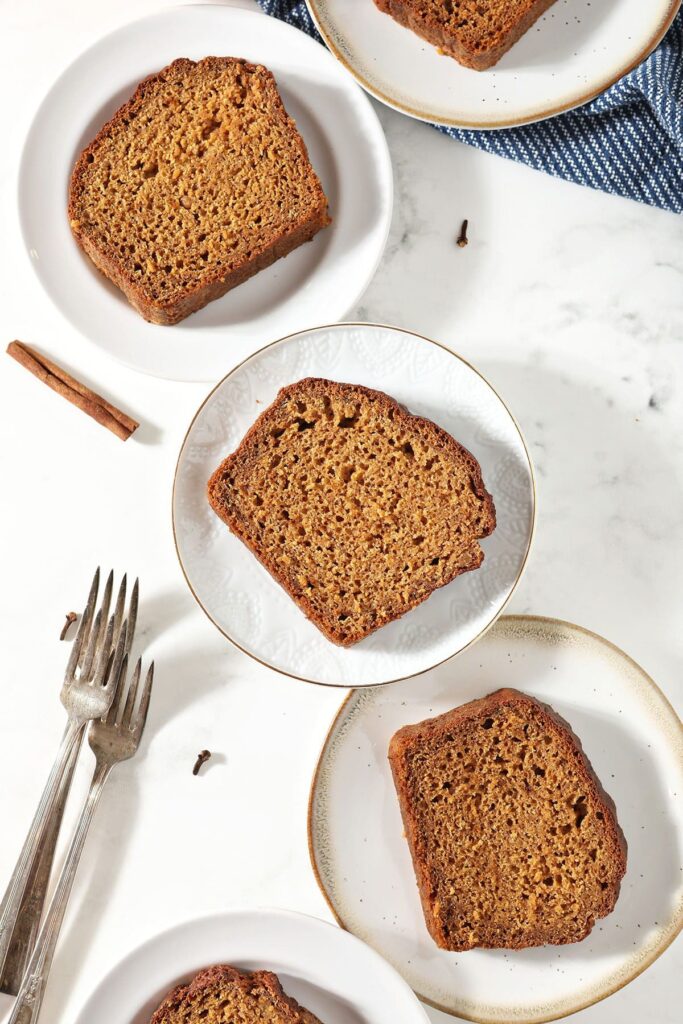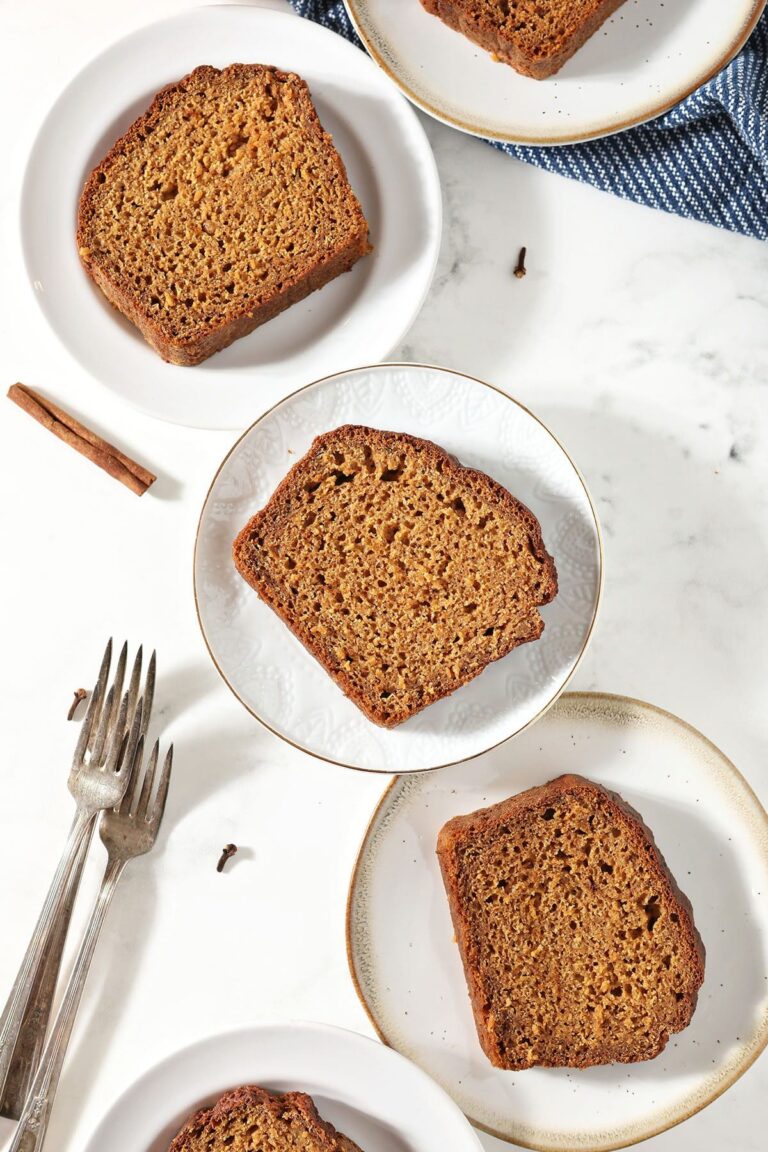 This Pumpkin Spice Bread and I go way back to August, when the girls and I decided to do a test bake in anticipation of the fall.
It took us three rounds of edits to the spice ratio in this quick bread recipe to get it right, but goodness gracious, it was a delicious endeavor.
The end result is a wonderfully spiced pumpkin loaf that's moist, pumpkin-forward and totally delicious for any occasion.
Why I love this recipe:
How can you not love a pumpkin loaf during the fall? There's something magical about it, especially as the weather begins to turn.
This pumpkin bread recipe is particularly magical because it combines autumnal spices with classic pumpkin.
Also, it is an incredibly moist pumpkin bread recipe that just sings of pumpkin flavors.
I also love that you don't need a mixer to make this recipe, either. It's a two-bowl recipe.
Plus, it's oh-so-simple to make with ingredients you might already have in your pantry and fridge. And if you don't have them, they're easy to find at the grocery store now.
Whether you're looking for a special baked good to make for a weekend, want to bake a loaf to surprise a friend or neighbor or simply just want to celebrate pumpkin season, this recipe is for you.
Other recipes to make with pumpkin: Pumpkin Whiskey Smash | Pumpkin Spice Pancakes | Chocolate Chip Pumpkin Bread | Pumpkin Spice Mule | Sage Pumpkin Hummus
Looking for a fall recipe? Check out my Fall Recipe Index for inspiration.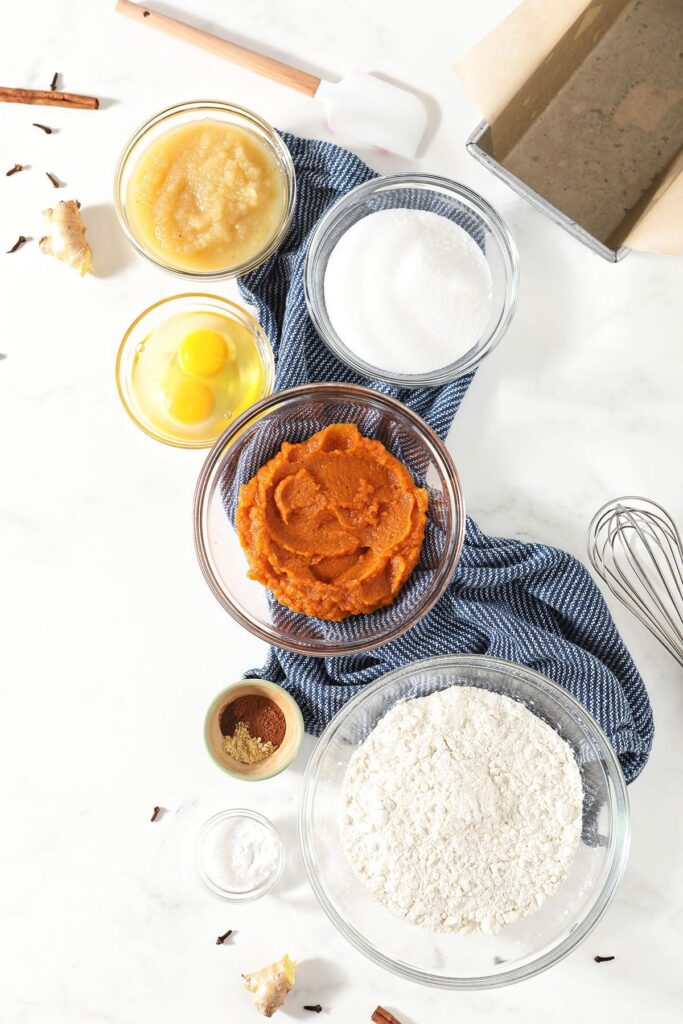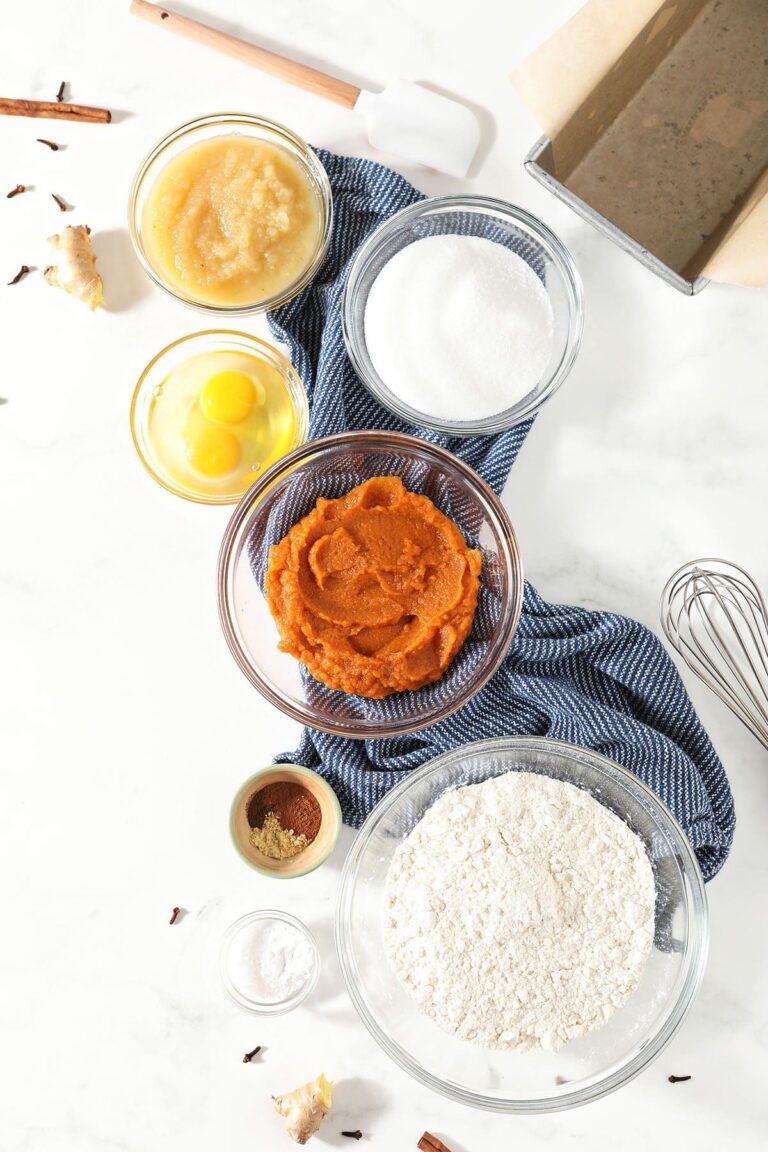 What you need to make this recipe
The Speckled Palate participates in affiliate programs. As an Amazon Associate, I earn a commission from qualifying purchases. Please refer to my disclosure page for more information about these affiliate programs.
Let's talk ingredients!
In addition to the tools above, you're going to need some ingredients to make this recipe, too! Chances are, you might already have some of them in your fridge or pantry. Scroll down to the recipe card for the full measurements and instructions.
Here's what you'll need:
Pumpkin puree—we're looking for a can labeled "pure pumpkin," not pumpkin pie filling. Be sure to read the label, because we want the stuff that isn't already sweetened and spiced.
Granulated sugar—also known as white sugar, this is our sweetener in this bread recipe.
Unsweetened applesauce—since we're adding in sugar, we don't need our applesauce to make this bread sweeter. We use this in place of vegetable oil, which is normally found in pumpkin bread. I like the texture and moisture it adds to the bread.
All-purpose flour—I prefer to use unbleached, but if you've got the regular kind, that works!
Leaveners—we're using baking soda, baking powder and eggs in this recipe to give the bread some rise!
Fall warming spices—ground cinnamon, ginger and cloves make an appearance in this bread, and the combination is totally dreamy. If you like nutmeg, feel free to add a pinch or two! You could also use pumpkin pie spice!
Kosher salt—I use a medium-grain kosher salt in this recipe. If you keep finer grain salt, use a little less so the bread won't veer toward too salty.
Pumpkin Bread Variations
Chocolate: Who doesn't love chocolate chips in their pumpkin bread? Add a cup of your favorite chocolate chips to the batter at the very end before pouring into the loaf pan.
Nutmeg: This warming spice and I aren't friends, but if you love it, add ½ teaspoon of nutmeg to the batter with the other spices. You'll be glad you did!
Nuts: Adding nuts is a fun way to change up this recipe. Use a cup of pepitas, chopped almonds or even pecans for nice crunch!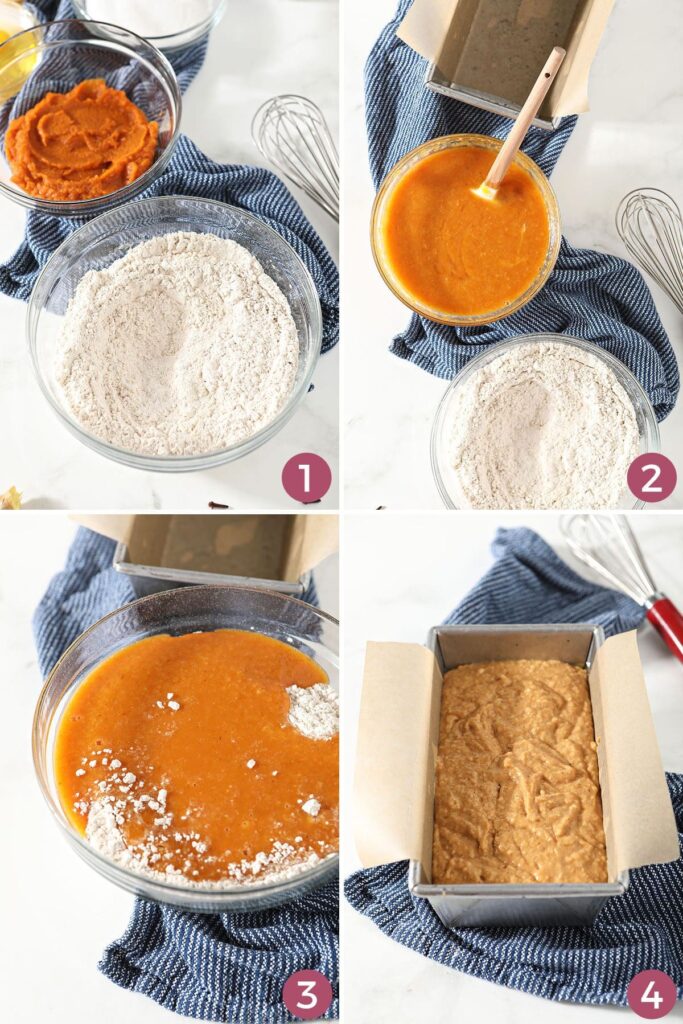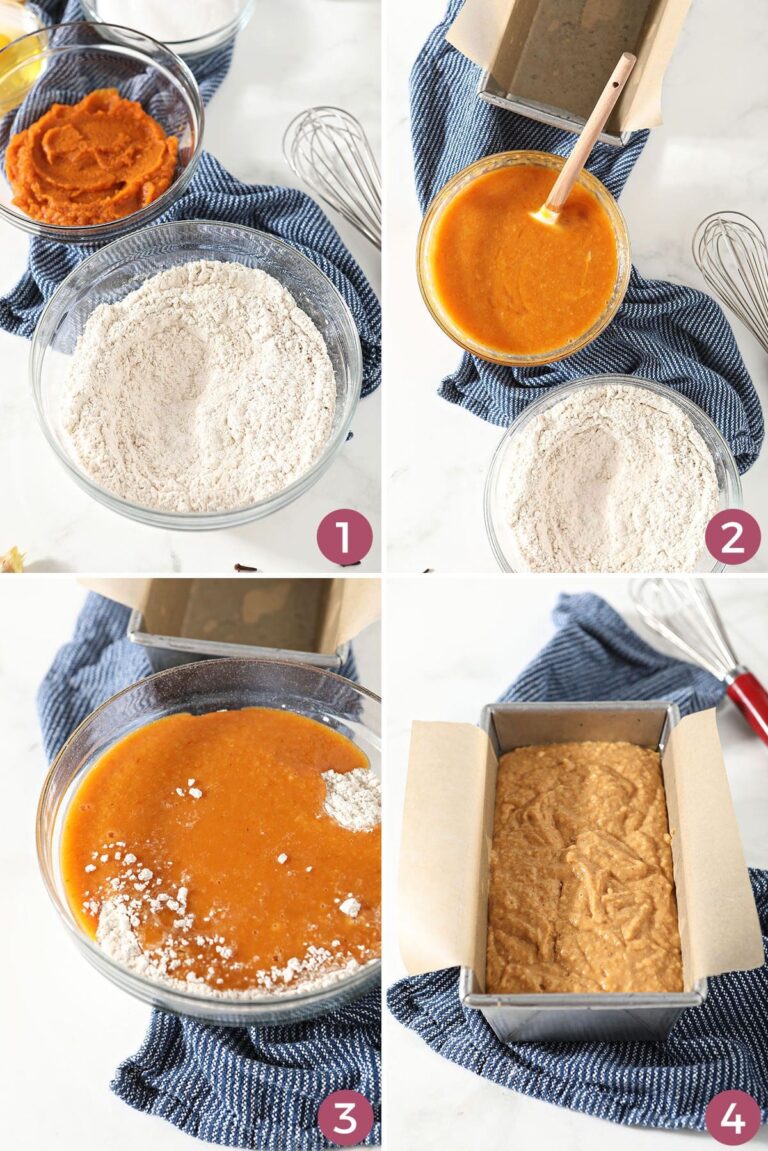 How to make this easy Pumpkin Bread recipe
Preheat the oven. We want this to be preheated and ready to go as soon as you're done mixing the bread.
Prep the loaf pan. Make a parchment paper sling, too. Cut out a small section of parchment to fit into your loaf pan so you can easily lift the bread out when it's baked. Spritz the loaf pan with nonstick cooking spray, fit the sling to it and set aside.
Mix the dry ingredients. Sift the flour, baking soda, baking powder, cinnamon, ginger, cloves and salt into a small bowl. Whisk to combine so that the ingredients will be evenly spread throughout the bread.
Mix the wet ingredients. Whisk the pumpkin puree, sugar, applesauce and eggs in a large bowl until smooth.
Make the pumpkin bread batter. Sprinkle the dry ingredients on top of the pumpkin mixture. Use a rubber spatula to stir them until just combined.
Don't fret about lumps—these will bake out!
Bake the bread. Transfer the loaf pan to the preheated oven, and bake for 50-55 minutes.
The bake time is dependent on your loaf pan, as well as your oven.
How do you know when your pumpkin bread is done?
When the time is done, test to see if toothpick inserted in the center comes out clean. You can also use a butter knife.
If the toothpick has batter on it, bake the bread for additional time.
Cool completely on a wire rack, then slice and enjoy.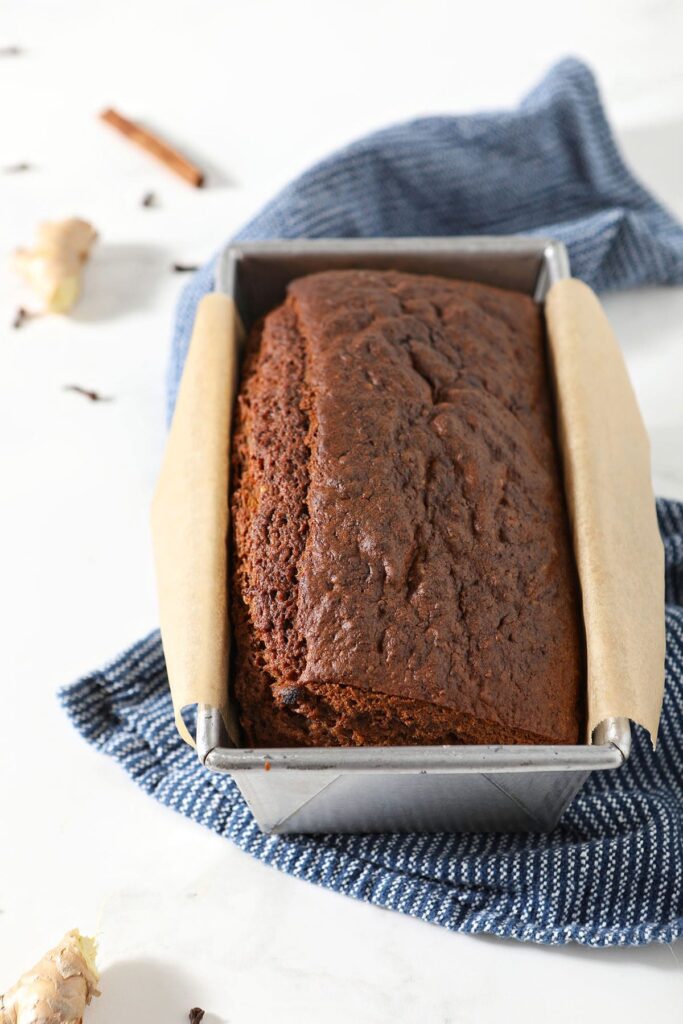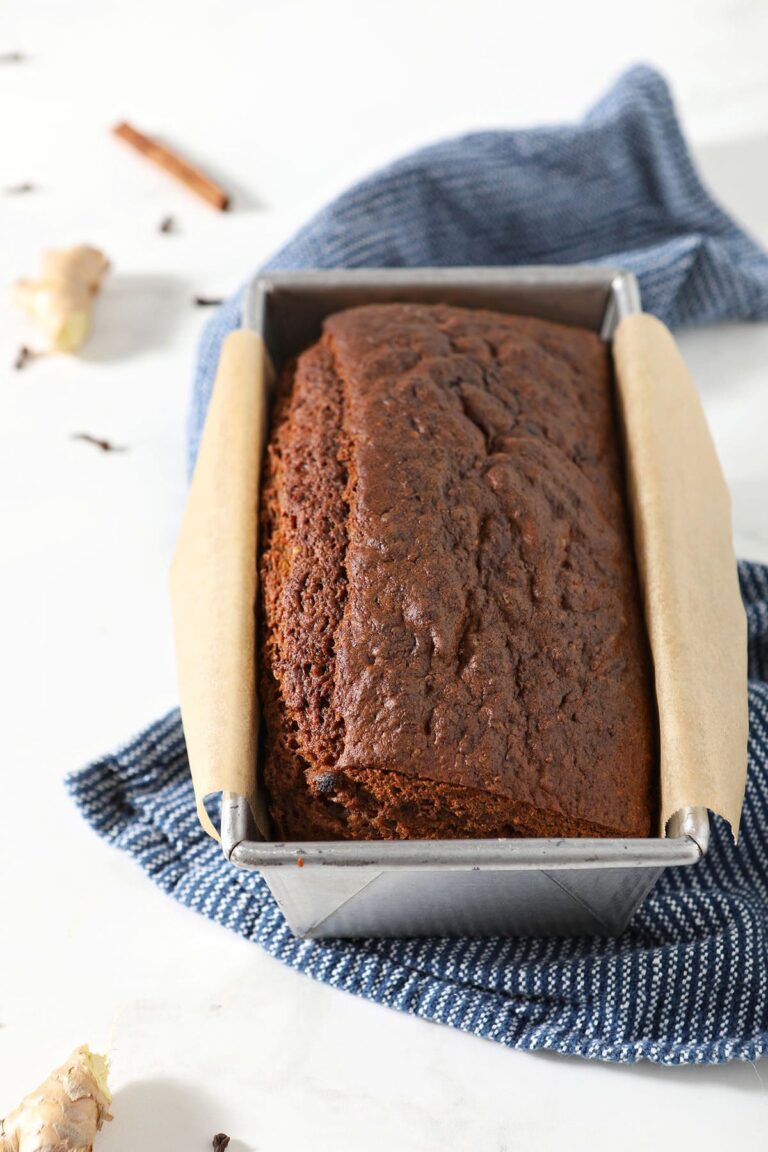 Frequently Asked Questions
How do you keep pumpkin bread moist?
We keep our pumpkin bread moist with applesauce, which we use in place of oil.
Why is my pumpkin bread gummy?
There was either too much moisture in your bread batter or it's not baked through.
Is canned pumpkin the same as pumpkin puree?
Yes, canned pumpkin is pumpkin puree. Read the label, though, because pumpkin pie filling looks similar to pumpkin puree, but is not the same thing. Pie filling has been spiced and sweetened.
Can you use pure pumpkin in place of pumpkin puree?
If you're roasting your own pumpkins, YES. You can certainly use pure pumpkin (or fresh pumpkin puree) in place of canned pumpkin puree.
What can I substitute for pumpkin puree?
There is no substitute for pumpkin puree in this pumpkin bread recipe.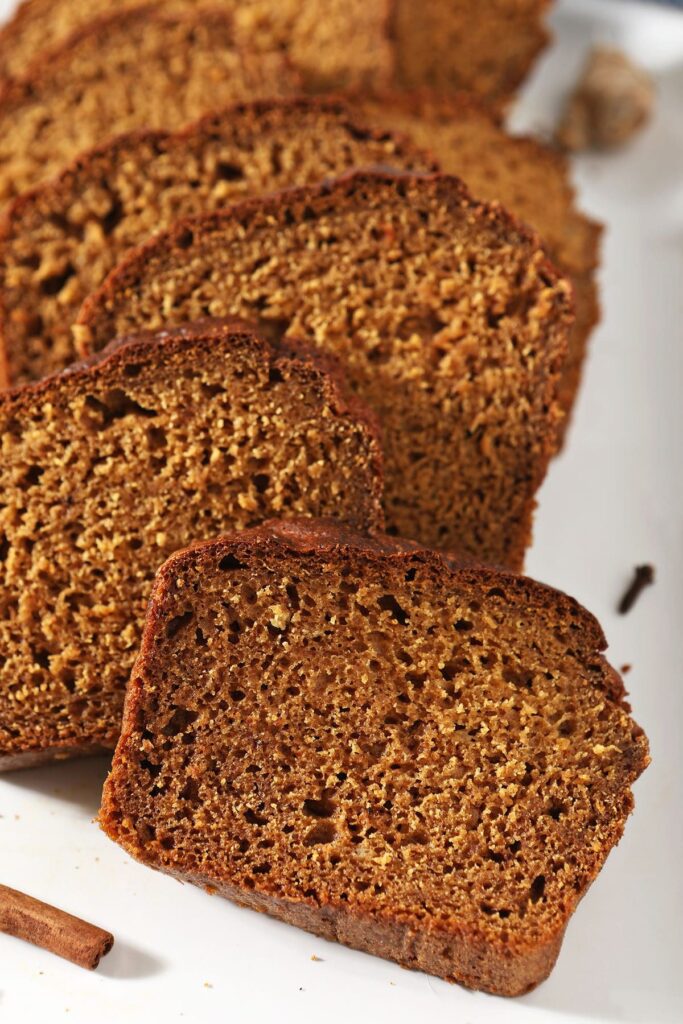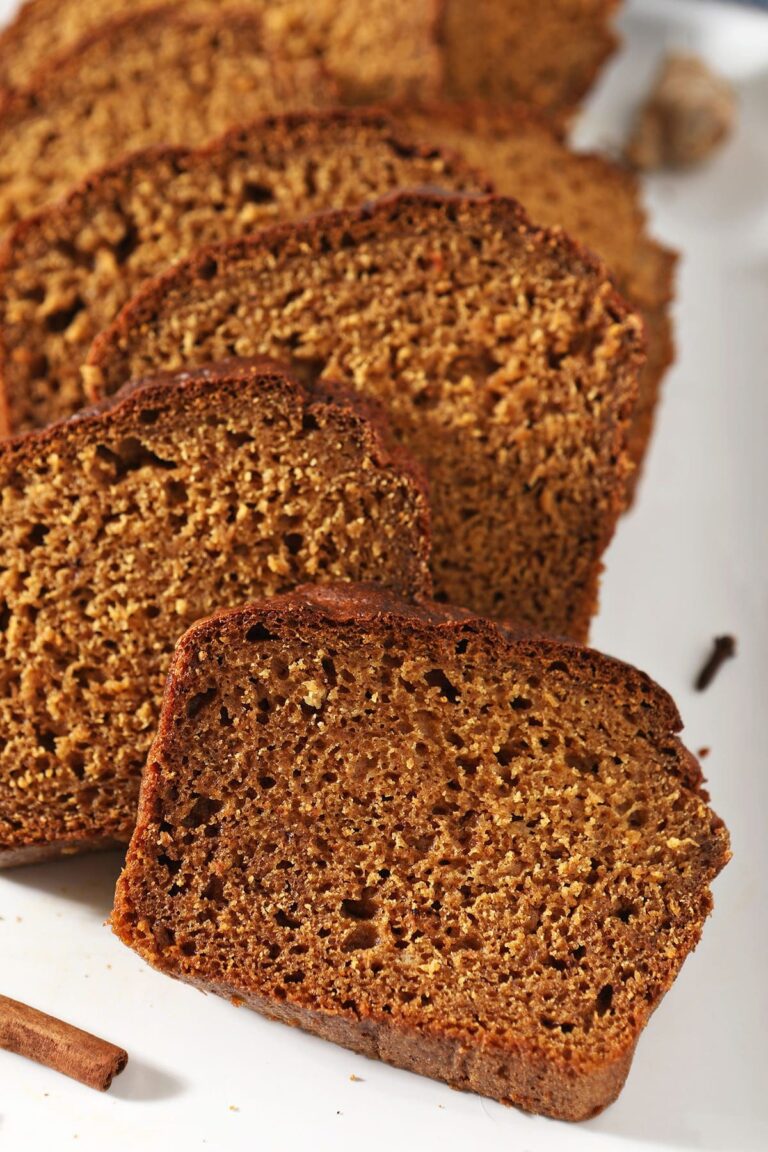 Quick Tips and Tricks for the best pumpkin bread
Bake it on a weekend to have bread throughout the week! That is, of course, assuming you can stop eating it after it's cooled slightly!
Make two loafs. This recipe is easily doubled, though you might find it challenging to find a bowl that will fit a double recipe. If you want to make two, I suggest making them individually.
To store, wrap a completely cooled loaf in plastic wrap. Alternately, you can place it onto a plate and wrap that. Keep it in the fridge. (The loaf is really moist and will keep longer if you have it in the refrigerator.)
Slice the loaf into individual slices when you want to eat it instead of ahead of time. Reheat/toast in the toaster oven for an especially epic breakfast.
More pumpkin recipes to bake…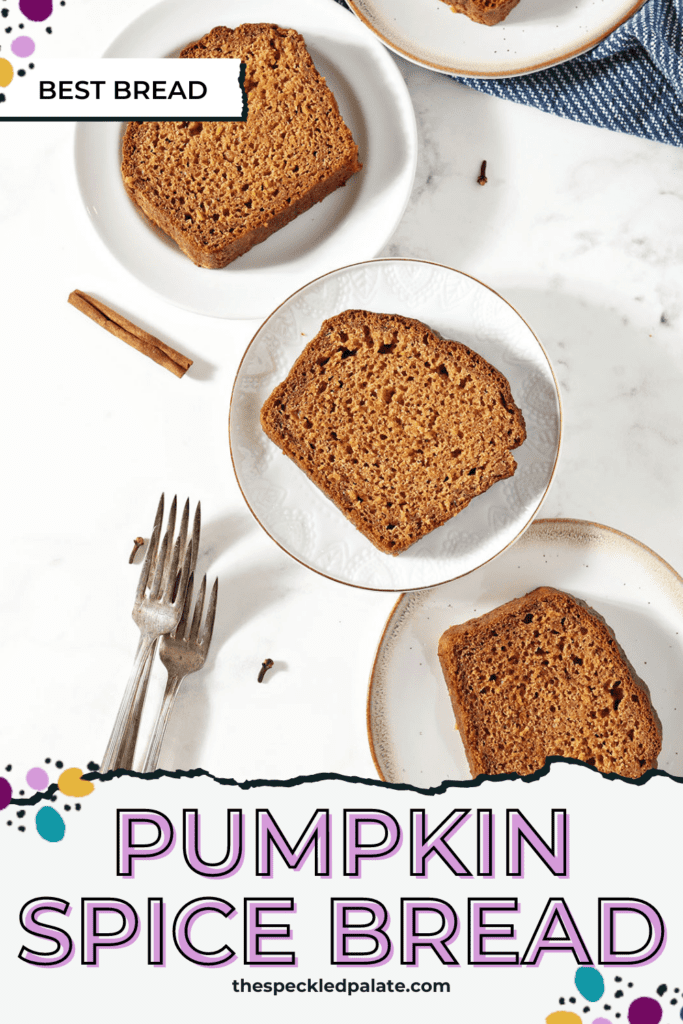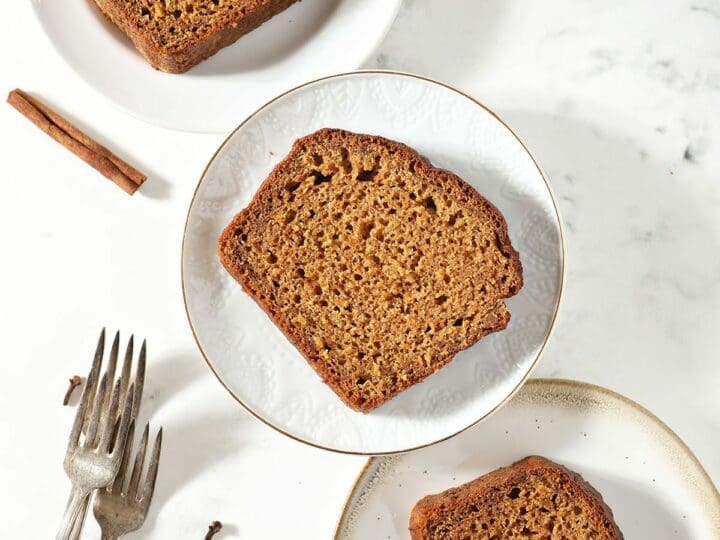 Yield:

1 loaf
Pumpkin Spice Bread
Pumpkin Spice Bread is the perfect fall-flavored baked good for breakfast or dessert. This easy pumpkin bread recipe calls for just a handful of ingredients and results in the most moist, spiced loaf around!
Ingredients
2 cups + 2 tablespoons all-purpose flour (260g)
1 teaspoon baking soda (6g)
1 teaspoon baking powder (4g)
1 tablespoon ground cinnamon
1 ½ teaspoons ground ginger
½ teaspoon ground cloves
½ teaspoon kosher salt
¾ cup pumpkin puree (210g)
¾ cup granulated sugar (190g)
¾ cup unsweetened applesauce (220g)
2 large eggs, at room temperature
Instructions
Preheat oven to 375°F.
Make a parchment paper sling, and spray a loaf pan with nonstick baking spray. Fit the sling into the loaf pan, and set aside.
In a small mixing bowl, sift together the flour, baking soda, baking powder, cinnamon, ginger, cloves and salt. Whisk, and set aside.
In a separate large mixing bowl, whisk the pumpkin, sugar, applesauce and eggs together until smooth.
Sprinkle the dry ingredients on top of the wet ingredients. Stir until just combined using a rubber spatula.
Pour the batter into the prepared loaf pan.
Transfer the pan into the oven. Bake for 50-55 minutes or until an inserted toothpick comes out clean.
Let cool for 15 minutes, slice and then enjoy!
Notes
Recipe adapted from my Chocolate Chip Pumpkin Bread recipe.
How to store: Wrap a cooled loaf in plastic wrap. You can also store it on a plate in plastic wrap or an airtight food storage container. The loaf will keep longer if you store it in the fridge, but it should be fine on the countertop for 1-2 days.

How to reheat: I've found that this bread is best kept as a whole loaf. Cut off a slice whenever you want to eat one, and toast it in a toaster or a toaster oven for ultimate crispness and warmth.

Recommended Products
As an Amazon Associate and member of other affiliate programs, I earn from qualifying purchases.
Nutrition Information:
Yield:
8 slices
Serving Size:
1 slice
Amount Per Serving:
Calories:

197
Total Fat:

2g
Saturated Fat:

0g
Trans Fat:

0g
Unsaturated Fat:

1g
Cholesterol:

47mg
Sodium:

318mg
Carbohydrates:

42g
Fiber:

2g
Sugar:

22g
Protein:

4g
Nutrition facts are an estimate and not guaranteed to be accurate.