Savory Sage Pumpkin Hummus is an excellent fall appetizer for any occasion. Made with toasted pumpkin seeds, pumpkin puree and fresh sage, this savory pumpkin dip recipe is sure to please everyone's tastebuds! Makes 1 bowl for sharing.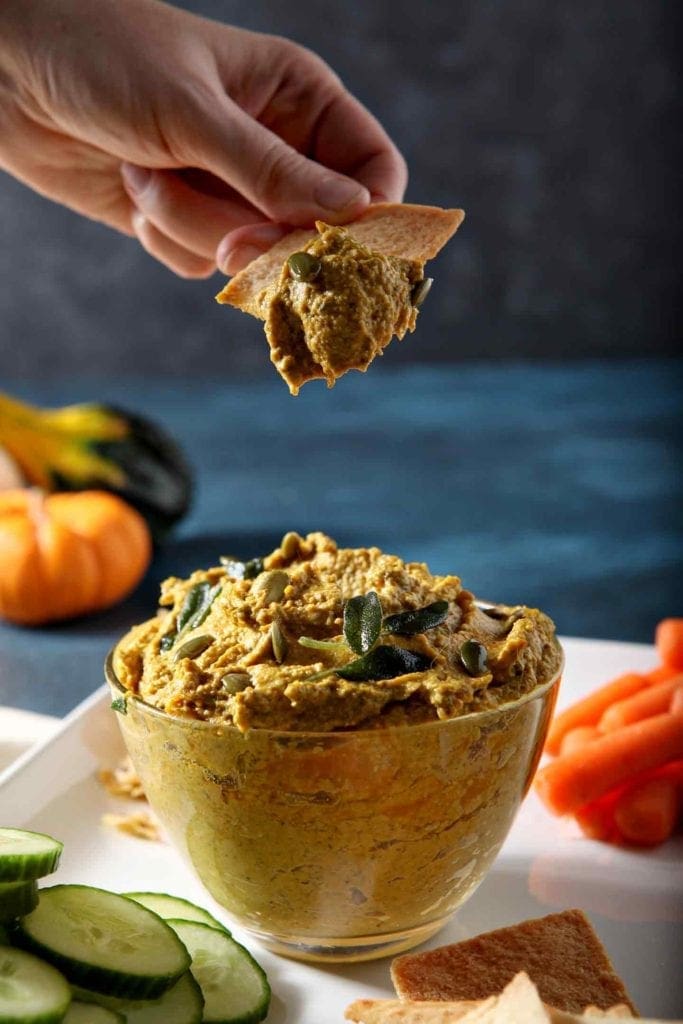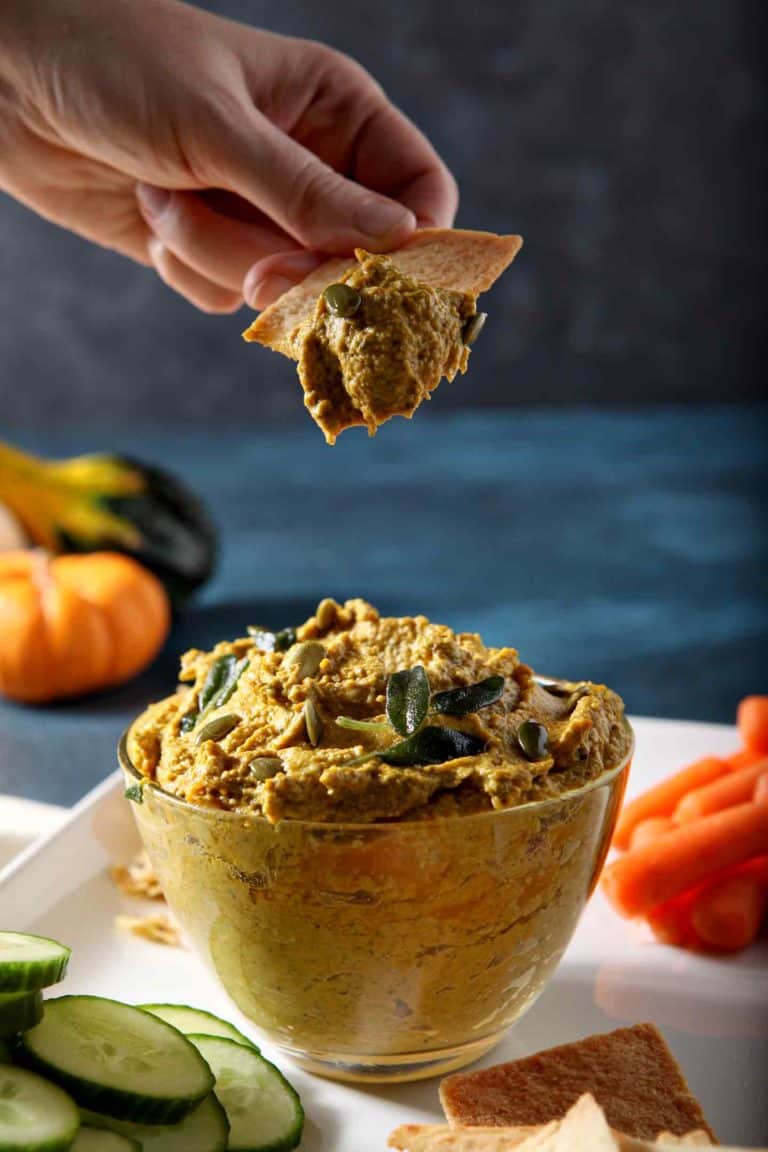 Taking classics and turning 'em on their heads… that's what I like to do.
So today, I've taken a classic and added a seasonal favorite ingredient, as well as a favorite seasonal herb. Because regular hummus wasn't enough…
Thus, today's Sage Pumpkin Hummus.
Why I love this recipe:
If you're looking for a sweet pumpkin hummus recipe, this isn't it.
However, if you like twists on classic flavors, this recipe should be up your alley.
It's also incredibly simple to make and comes together in no time. (Hello, quick dip!)
We need a total of six ingredients to make this magical dip, which is perfect for all kinds of fall entertaining! You may use fresh pumpkin or the canned kind… but be sure to read my ingredient notes below!
Whether you're sharing it with friends at an at-home tailgate party, a Halloween party or even a Thanksgiving starter, you're bound to surprise and please guests with this delicious recipe!
Other appetizers we love to share: Caramelized Onion Guacamole | Cheesy French Onion Pull-Apart Bread | Homemade Loaded Queso | Black Eyed Pea Dip | Apple Chutney Bruschetta | Vegetarian Taco Cups | Roasted Garlic and White Bean Hummus
Looking for an appetizer, but don't know where to begin? Check out my Appetizers Recipe Collection!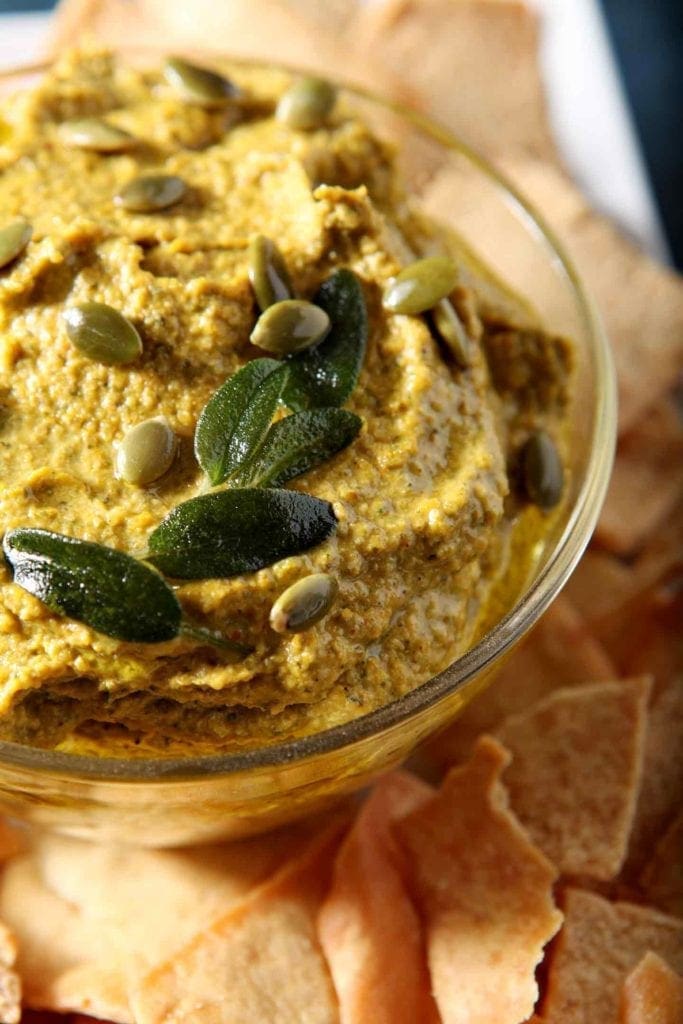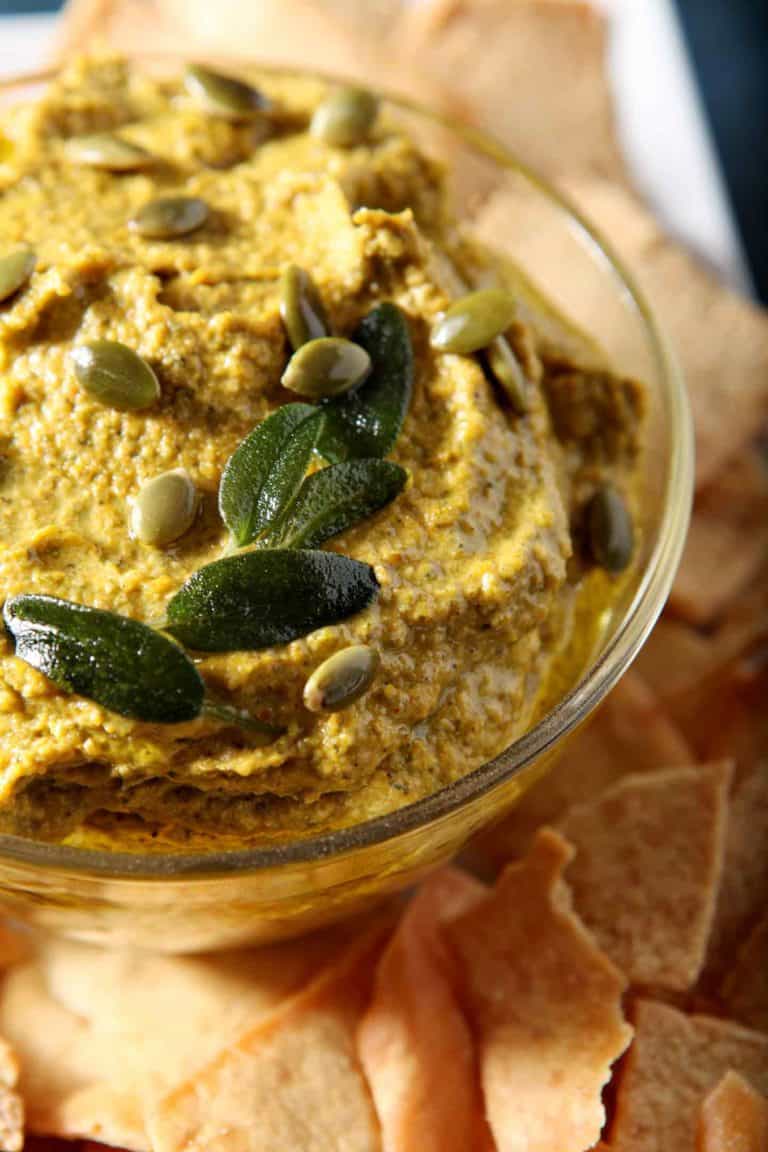 What you'll need to make this recipe:
The Speckled Palate participates in affiliate programs. As an Amazon Associate, I earn a commission from qualifying purchases. Please refer to my disclosure page for more information about these affiliate programs.
Let's talk ingredients!
In addition to the tools above, you're going to need some ingredients to make this recipe, too! Chances are, you might already have some of them in your fridge or pantry. Scroll down to the recipe card for the full measurements and instructions.
Here's what you'll need:
Raw pumpkin seeds—sometimes called pepitas, this is the base of our savory hummus recipe.
Extra virgin olive oil—this is my go-to oil whenever I make hummus.
Fresh sage—you're going to need a lot of this to give us the best sage flavor!
Pumpkin puree—you can use roasted pumpkin or pumpkin puree from a can. Just be sure to read the label, as we do not want to add pumpkin pie filling, which is sweetened and flavored with pumpkin pie spice, to this recipe.
Kosher salt and black pepper—we're using these both as seasonings, and we'll just season to taste.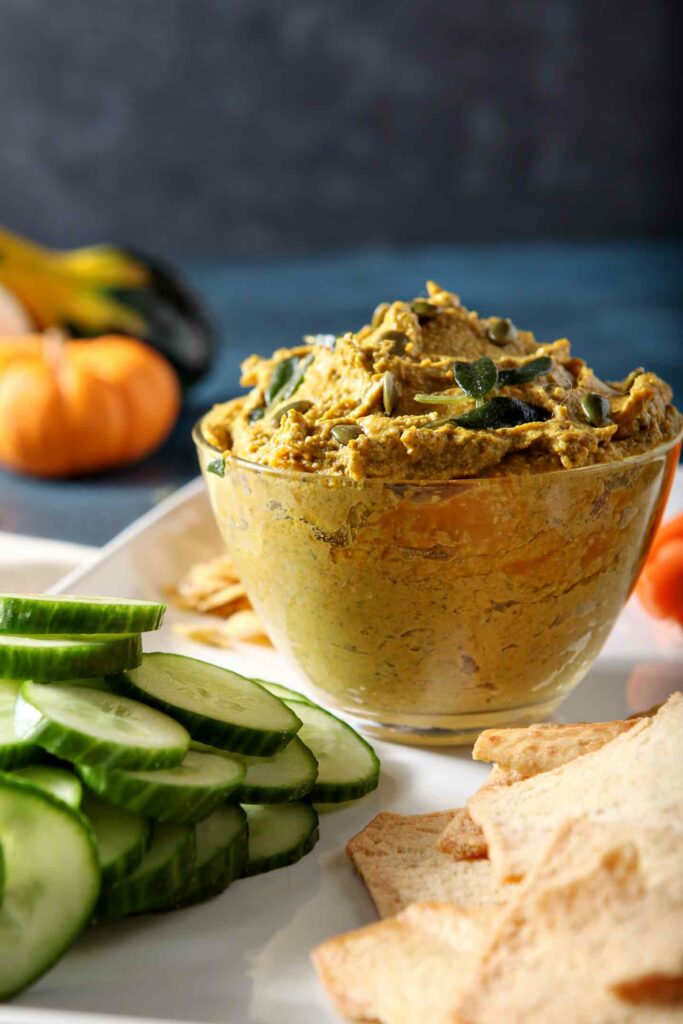 How to Make Savory Pumpkin Hummus
Toast the pumpkin seeds. In a skillet, warm the pepitas until they're browned and toasted. Move them around the skillet so they don't burn.
Once toasty, remove from the pan and let cool before proceeding.
We're adding TWO elements of pumpkin into this recipe—the seeds and the puree.
The toasted pumpkin seeds add such a nutty, rich flavor to the creamy pumpkin dip.
Make sure you don't purchase pumpkin pie filling or you'll be in for a sweet surprise!
Crisp up the sage. Add the olive oil to the skillet and add the sage leaves. Fry until crispy, moving constantly as they cook. Keep your eyes on them because this won't take long.
When they're crisp, remove from the heat and let them cool, too.
Blend the hummus. In a food processor, combine the toasted pumpkin seeds with the oil from the pan, sage and pumpkin puree.
Give it a taste, then season with salt and pepper. I don't tend to salt my recipes a ton, so follow your tastebuds here and season it to where it tastes awesome to you.
Remove the hummus from the food processor.
Serve with pita chips (or sliced pita bread), carrots, cucumbers and other munchies guests can dip into this savory pumpkin dip!
Garnish with additional pepitas and those beautiful crispy sage leaves, too!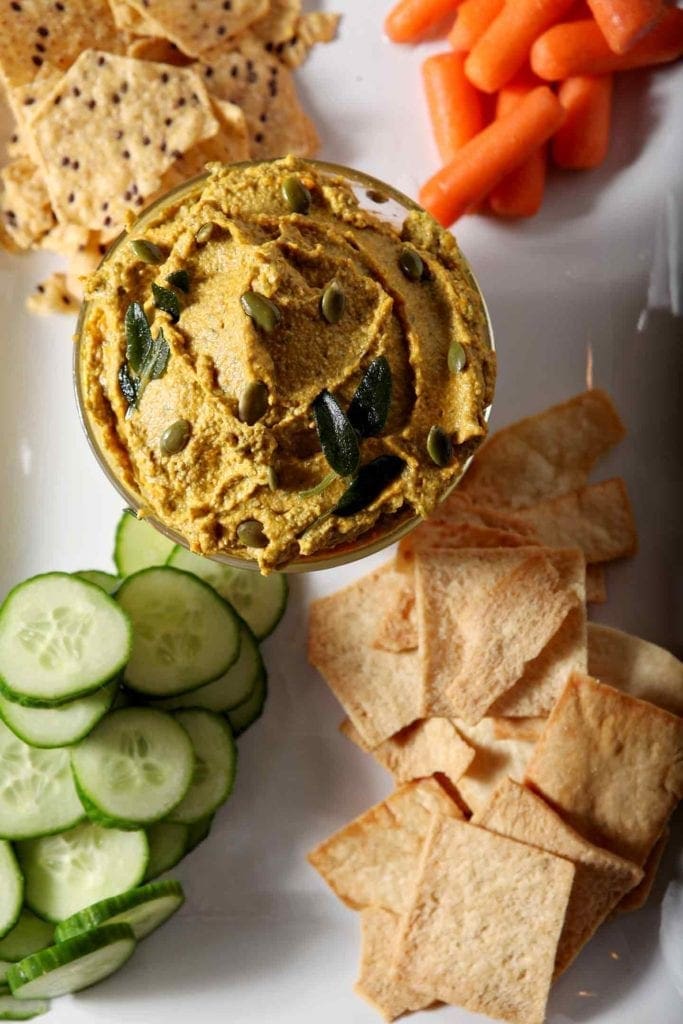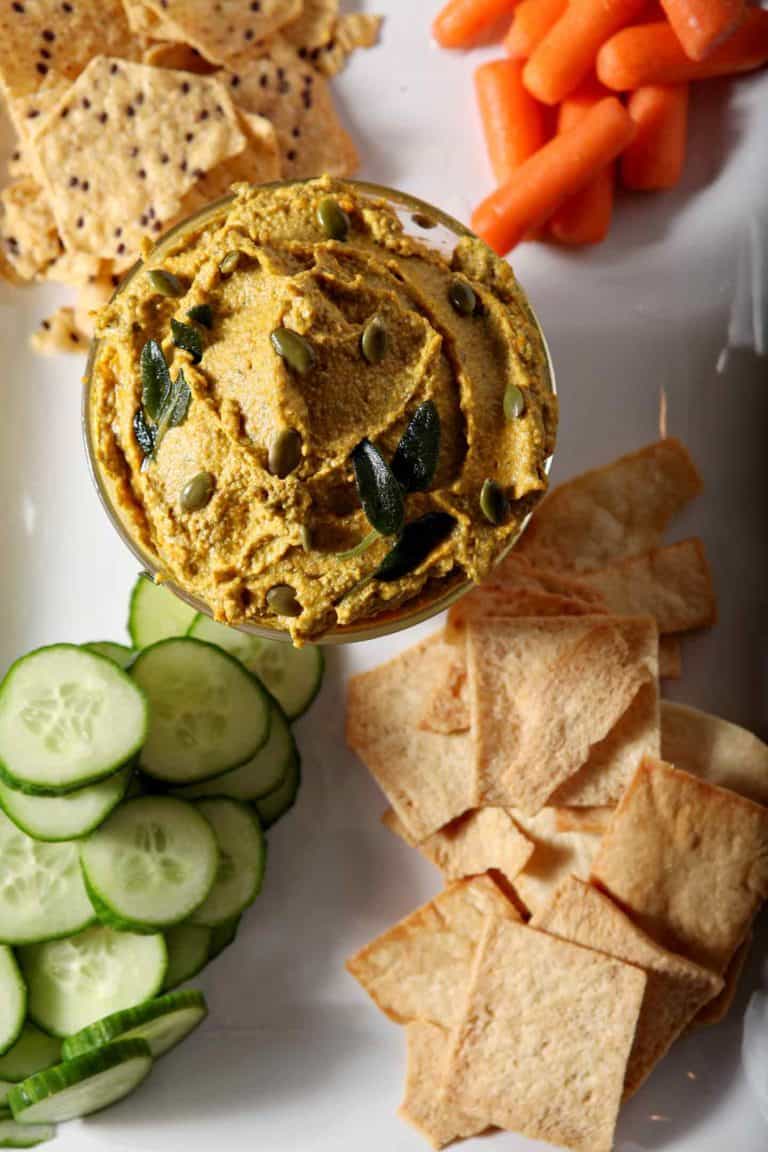 Frequently Asked Questions
How long does pumpkin hummus last in refrigerator?
This will keep up to 5 days in the fridge.
How can I make hummus more interesting?
This hummus recipe is a unique twist on the classic hummus! Adding pumpkin seeds and puree to the hummus adds incredible toastiness and creaminess.
Is hummus a healthy snack?
Hummus is a delicious snack that's packed full of protein! This Pumpkin Hummus recipe does not call for traditional garbanzo beans (also known as chickpeas), but it's totally delightful.
Erin's Easy Entertaining Tips
This Homemade Hummus with Sage and Pumpkin is perfect for any kind of autumnal gathering.
Whether you're hosting guests for dinner and need a quick appetizer or you're watching a game together, this savory pumpkin dip is what you need!
Here are some tips to serving this to a crowd:
Double the recipe. If you're serving a crowd, doubling this recipe isn't a bad idea! If your food processor is large enough, you should be able to make a double batch in it.
Make your hummus ahead of time! The beauty of making any kind of hummus is it can be served cold or at room temperature. Before guests arrive, set your hummus out, and arrange your dippers so you're set!
Chop your veggies in advance, too. Whatever dippers you're including with your savory pumpkin dip, whether it's cucumber rounds, red pepper slices, carrots or something else, have them ready to go for the party in advance so there's less stress on you to put it together.
Fry up the sage last minute for the garnish. This is the one ingredient that won't keep well in the fridge, so I recommend waiting until the last minute to cook the sage, then add it to your Pumpkin Hummus as a garnish.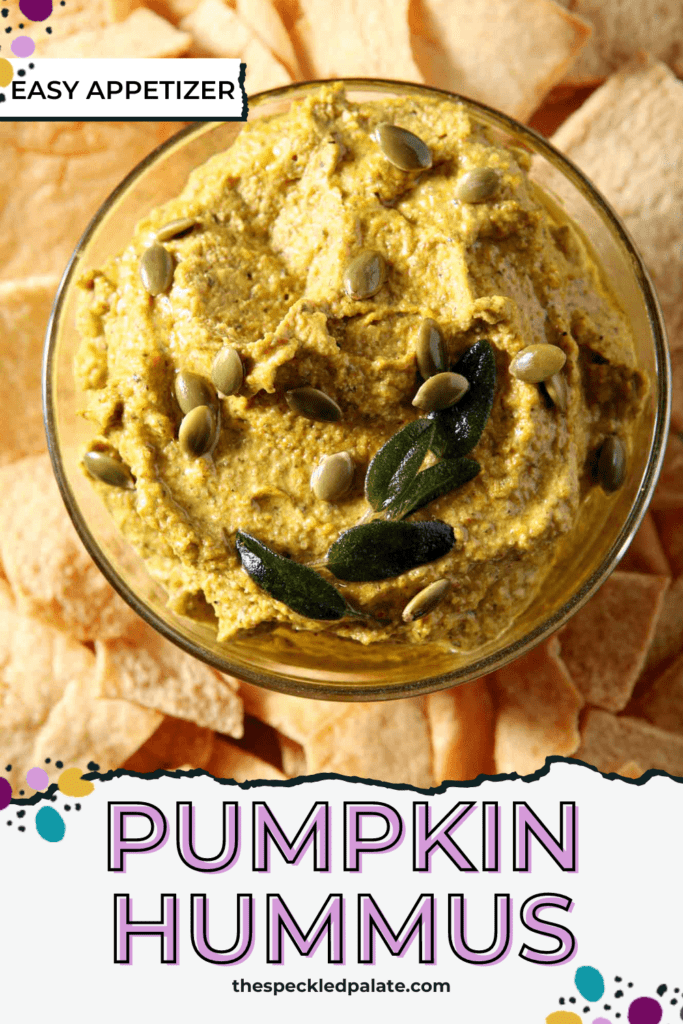 Tips and tricks to the best pumpkin hummus:
Make it in advance. Hummus keeps beautifully in the fridge!
Purchase the correct ingredients. It sounds silly, but pumpkin puree is not the same thing as pumpkin pie filling. The puree is unsweetened, and THAT is what you want to use for this here savory pumpkin dip!
How to store: Once the hummus has been made, transfer it to an airtight food storage container. Keep in the refrigerator for up to 5 days.
More savory pumpkin recipes to try this fall:
Interested in making this pumpkin dish instead?
Here's the recipe for you…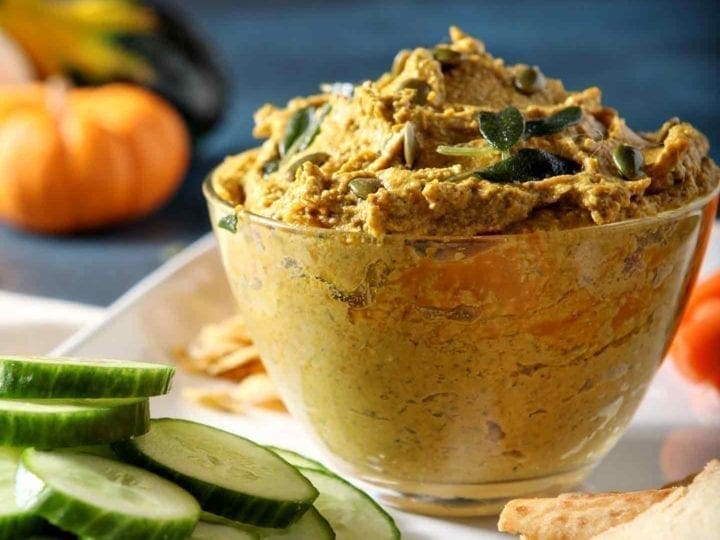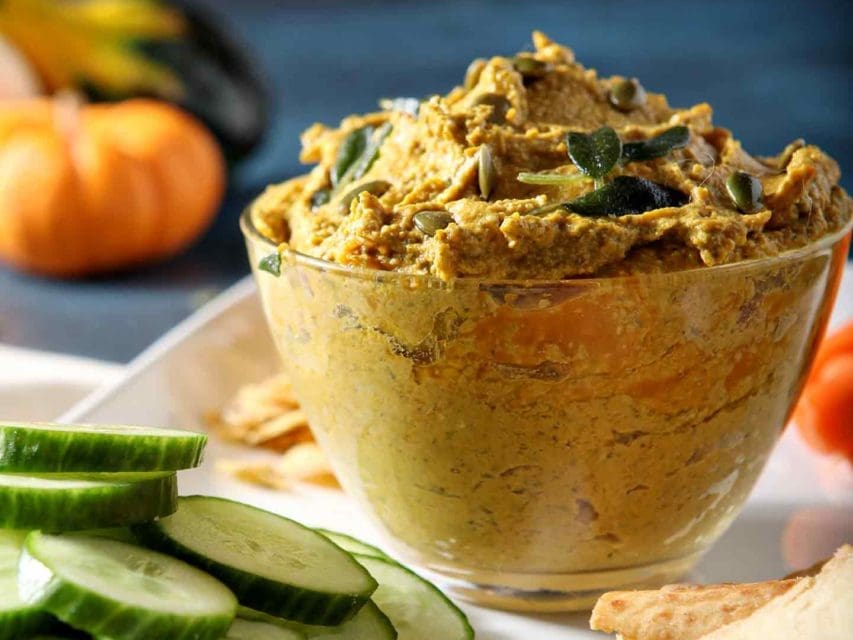 Yield:

8 servings
Sage Pumpkin Hummus
Savory Sage Pumpkin Hummus is an excellent fall appetizer for any occasion. Made with toasted pumpkin seeds, pumpkin puree and fresh sage, this savory pumpkin dip recipe is sure to please everyone's tastebuds!
Ingredients
1 cup raw pumpkin seeds, plus extra for garnish
½ cup extra virgin olive oil
2 bunches fresh sage (about 20 leaves)
15 oz. pumpkin puree (not pumpkin pie filling)
Kosher salt, to taste
Black pepper, to taste
Instructions
Heat the pumpkin seeds over medium-high heat in a nonstick skillet.
Constantly move the seeds around until they've browned and toasted, about 3-5 minutes.
Remove the seeds from the skillet, and let cool in a bowl.
Pour the olive oil into the skillet, and add the fresh sage.
Cook the leaves until crispy, about 2-3 minutes, then remove from the heat, and cool. Do not toss the oil, as we need it for the hummus.
In the base of a food processor, blend the toasted pumpkin seeds, the olive oil, the sage and the pumpkin puree. Season with salt and pepper.
Scoop the hummus out of the food processor, and serve in a bowl with pita chips, carrots, cucumbers, etc.
Garnish with additional pumpkin seeds and extra crispy sage.
Notes
If you're not a big fan of SAGE, use one bunch of the herbs in this recipe and add more as needed. They're herbaceous and flavorful, but they could become overwhelming if you're not a fan of the flavor.
You can easily double this recipe for a crowd.
How to store: Transfer the hummus to an airtight food storage container. Keep in the refrigerator for up to 5 days.
Recommended Products
As an Amazon Associate and member of other affiliate programs, I earn from qualifying purchases.
Nutrition Information:
Yield:
8
Serving Size:
1 serving
Amount Per Serving:
Calories:

176
Total Fat:

15g
Saturated Fat:

2g
Trans Fat:

0g
Unsaturated Fat:

13g
Cholesterol:

0mg
Sodium:

78mg
Carbohydrates:

9g
Fiber:

3g
Sugar:

2g
Protein:

2g
Nutrition facts are an estimate and not guaranteed to be accurate.
The photos and recipe for this Sage Pumpkin Hummus recipe were originally published on October 12, 2017. The text of this blog post was updated on October 7, 2019.