Black Eyed Pea Dip is a fun way to enjoy a New Year's Day tradition. A nod to the traditional Southern recipe, this appetizer, sometimes known as Texas Caviar or Cowboy Caviar, is full of black-eyed peas, tomatoes, red onion, jalapeño and green onions with a drizzle of a savory-sweet dressing. Serve with corn or tortilla chips to completely the perfect appetizer to ring in the new year.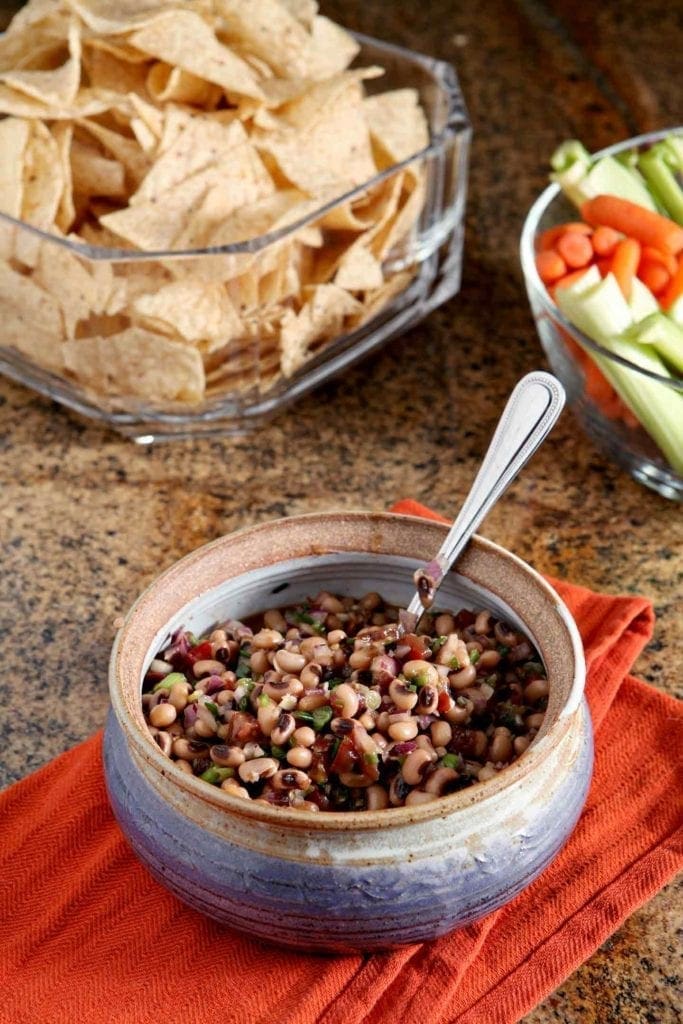 My husband's parents hosted a New Year's Day gumbo get-together for a long time, and when we moved to Texas in 2012, we adopted their tradition.
For years, we've opened up our home to serve our favorite Chicken and Sausage Gumbo recipe, and we always pair it with honey cornbread, sauteed collard greens and this black-eyed pea dip. (Because, you know, those leafy greens are the color of money, and cornbread is the color of gold. You can't say we're not superstitious.)
This dip is our nod to the traditional Southern dish, Hoppin' John.
Hoppin' John is a Southern stew (of sorts) that features black eyed peas, ham hock, veggies and rice. It's eaten on New Year's Day and is thought to bring good luck and herald in a prosperous year.
Why I love this recipe:
This nod to the Southern traditional New Year's day dish is a delicious appetizer to serve to your family or guests. You could also serve this as a side dish, if you're into that. It's incredibly versatile and has a wonderful texture.
The beans are a little soft but still have a bite to them. The fresh veggies add a little crunch and a lot of flavor. The dressing brings all the ingredients together and lets them sing.
This is one of our favorite appetizers for this time of year and it doubles as an app to serve on game days, too.
This is my favorite way to enjoy black eyed peas, and as an added bonus, it's pretty easy to make pieces of it in advance, too! Also, this delicious dip recipe comes together very easily, so it's quick to make the day you're planning to serve it if you prefer that.
Either way, this is a fun way to enjoy a classic New Year's ingredient.
More appetizer recipes to try this season: Charred Corn Salsa | Hot Crawfish Dip |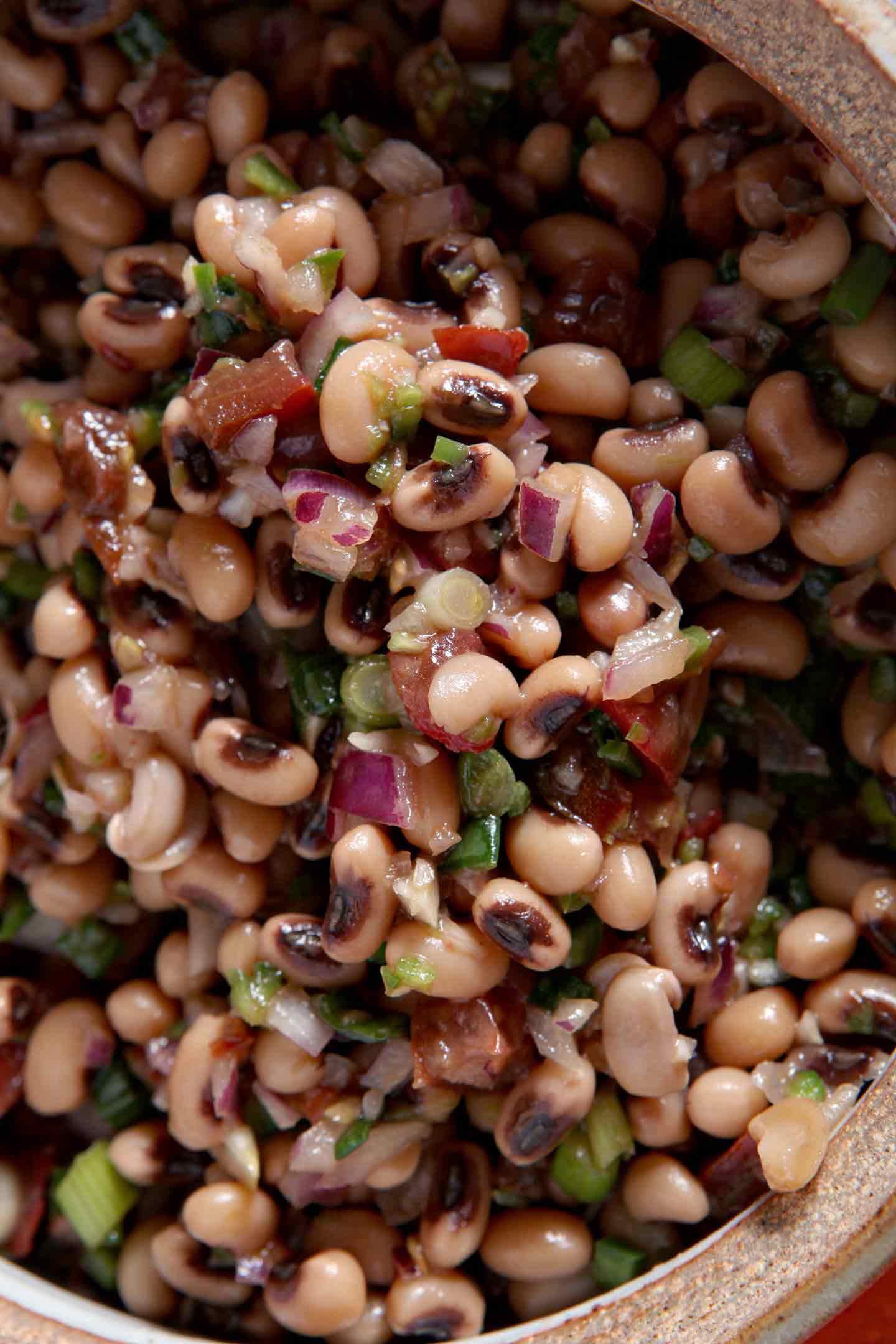 What you need to make this recipe:
The Speckled Palate participates in affiliate programs. As an Amazon Associate, I earn a commission from qualifying purchases. Please refer to my disclosure page for more information about these affiliate programs.
Large bowl
Mason jar
Tongs
Serving bowl
Serving spoon
Chip bowl
Let's talk ingredients!
In addition to the tools above, you're going to need some ingredients to make this recipe, too! Chances are, you might already have some of them in your fridge or pantry. Scroll down to the recipe card for the full measurements and instructions.
In addition to these tools, here's what you will need to grab at the grocery store:
Black eyed peas — I purchase the kind are fresh and have already been steamed from the store. You could most likely use canned blackeye peas, though I have never tried them with this dip.
Tomatoes — I like to use smaller heirloom tomatoes, but you do you. Quality fresh tomatoes are harder to find in the wintertime, so purchase whatever looks best.
Red onion — you only need a small part of a red onion to add some additional flavor to this dip. This is also sometimes called a purple onion.
Fresh jalapeno pepper — this will add a bit of heat to the mixture. You need one. Leave in the seeds if you like a kick, but remove them if you do not like a lot of heat.
Green onions — also known as scallions, these add some bright earthy flavors to the dip without overwhelming it with onion flavors
Extra virgin olive oil — or another neutral oil to serve as the base for the dressing we toss this dip in
Honey — use whatever you've got in your kitchen. This adds a nice touch of sweetness to the dressing without overwhelming it.
Balsamic vinegar — adds lovely acidity to the dressing. While some recipes for this call for red wine vinegar or lime juice, I really like the flavor balsamic brings to the mix
Kosher salt — I like to use a medium grain kosher salt in recipes like these. A medium grain sea salt will also work. Keep in mind that table salt is saltier than kosher salt, so if that's what you have, please use less.
Garlic — all you need is a single clove. Mince it yourself for best flavor!
Chips — purchase your favorite tortilla chips or corn chips
Other variations on this recipe to try:
Swap out the black eyed peas for black beans… ​or pinto beans. Or another favorite bean of yours.
Add in bell pepper. Red bell pepper and green bell pepper would add brilliant color to this dip! Add half of one.
Finish with a sprinkle of fresh cilantro or parsley for a pop of green.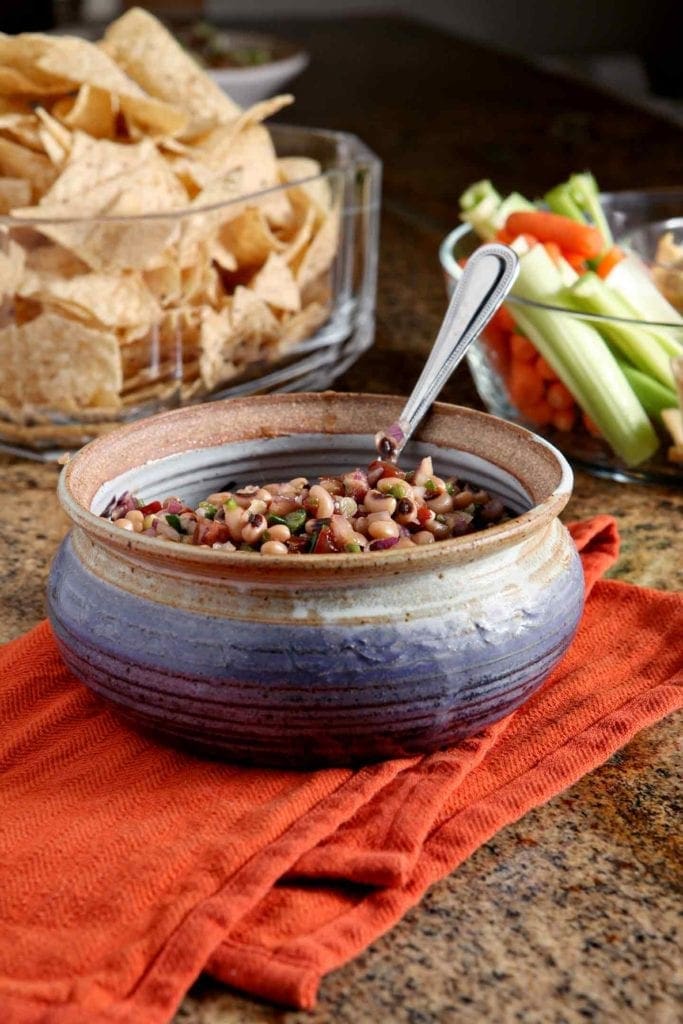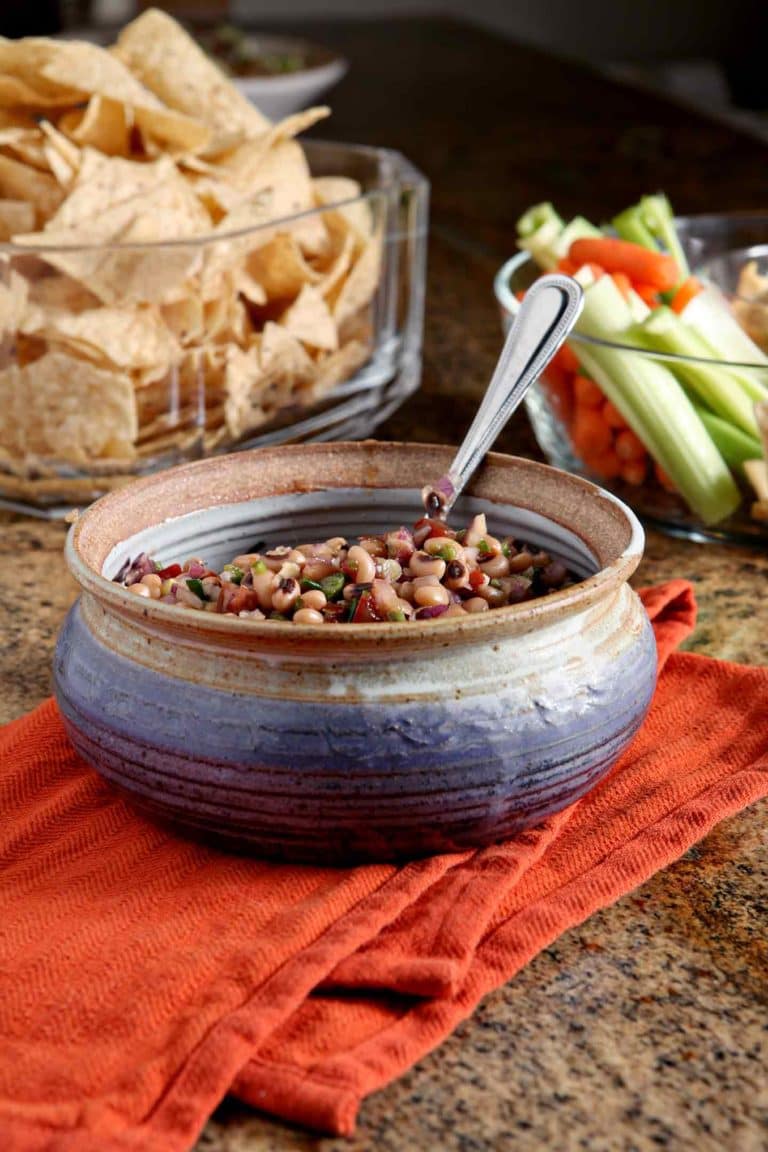 How to make Black Eyed Pea Dip
Mix the dressing ingredients. Pour the olive oil, honey, balsamic vinegar, salt and garlic clove into a mason jar.
Shake vigorously until combined. Set aside until time to serve the dip.
Steam the black eyed peas. You can do this on the stovetop in a saucepan or in the microwave in a microwave-safe bowl. You could also cook them in an Instant Pot. Do not overcook them. Once fork tender, drain and cool.
Combine the cooled black eyed peas with the chopped tomatoes, red onion, jalapeño and green onions ​into a large mixing bowl. Toss to combine.
Pour on the dressing​, then toss to combine and serve immediately.
Serve immediately ​with your favorite chips.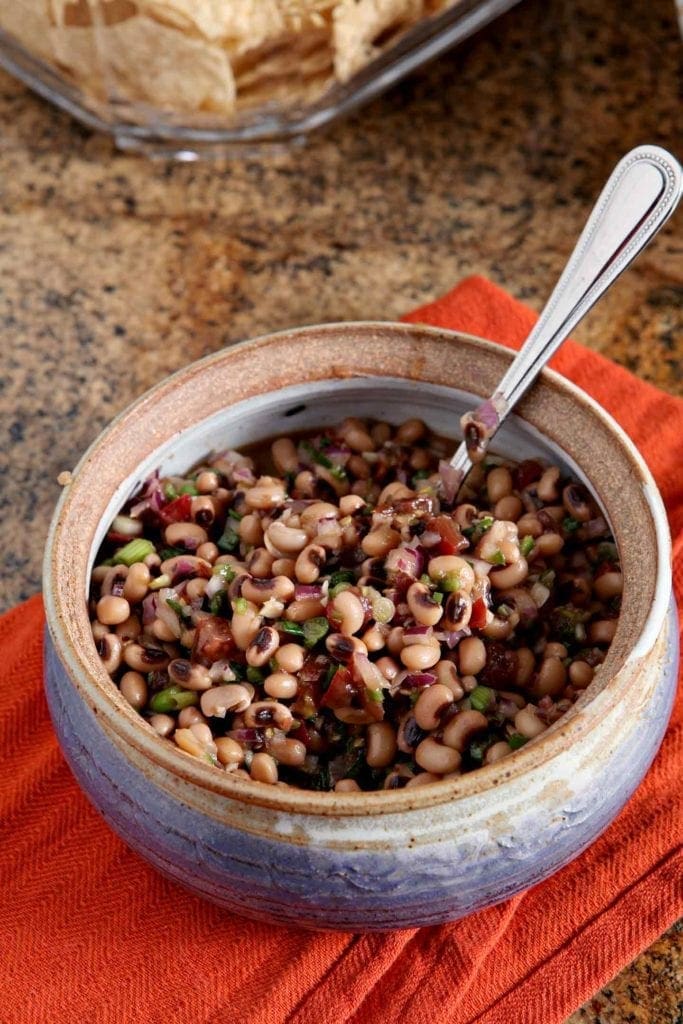 Erin's Easy Entertaining Tips
This is one of my favorite recipes to make for New Year's because it can be made in advance.. to an extent.
It also provides vibrant flavor and color to our appetizer spread, which normally includes Caramelized Onion Guacamole.
Here are some tips for entertaining with this dip:
Combine the dip ingredients, ​and store in an airtight container in the refrigerator for up to a day before your gathering.
Mix up the dressing (and store in the fridge in a mason jar)… but don't add to the dip until it's time to serve! The olive oil will harden in the refrigerator, and it will cause a strange texture for the dip.
Double or triple the recipe​ for a crowd. If your people love black eyed peas, I suggest doing this!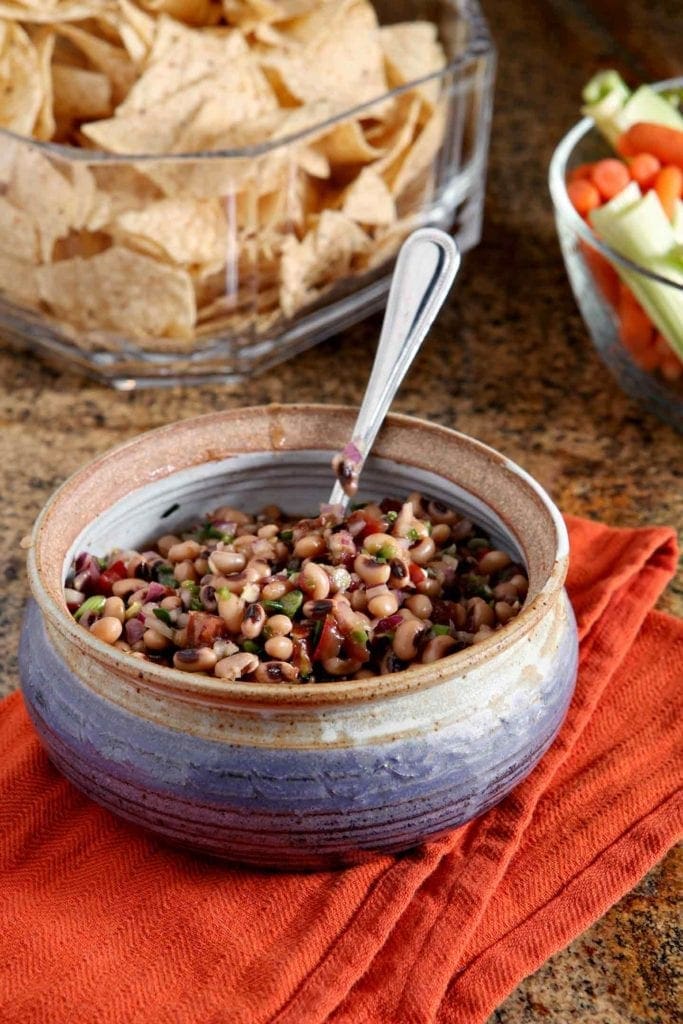 Frequently Asked Questions
What is cowboy caviar actually?
Cowboy caviar is a combination of a black eyed pea salad and a salsa and got its name. According to Southern Living, it was invented by food director and chef Helen Corbitt for a New Year's Eve party at a Houston country club. Guests at the party called it "cowboy caviar" because it elevated a humble ingredient with more interesting flavors. It's still popular to this day.
Can you eat black-eyed peas raw?
So long as they are now dried, yes.
Are navy beans the same as black-eyed peas?
No. Navy beans are not the same legume as black eyed peas, though they are similar in taste and texture.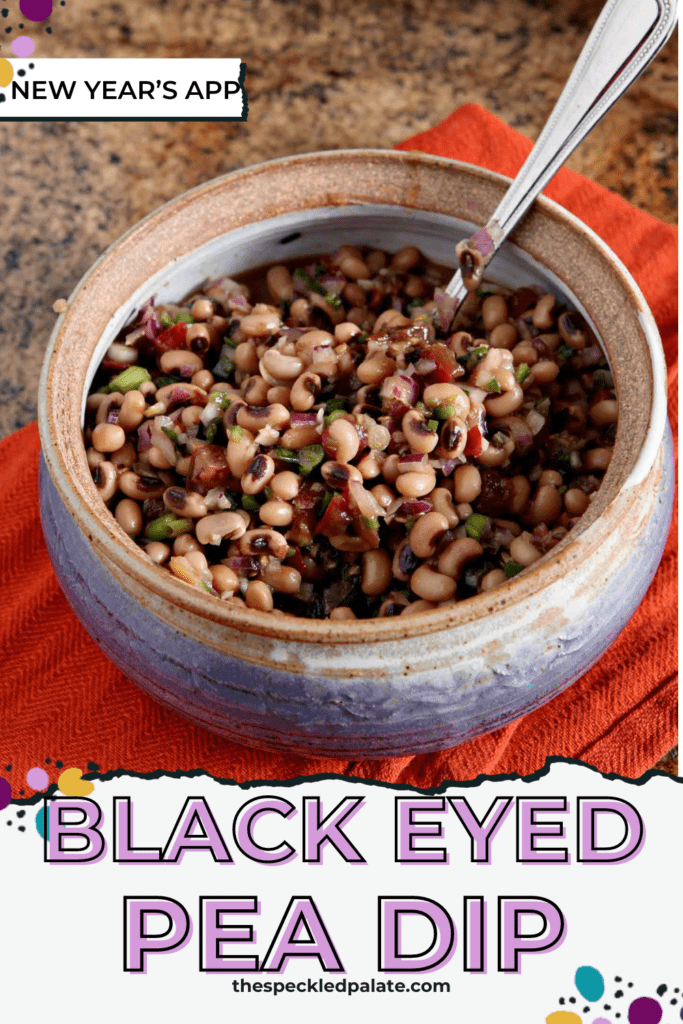 Quick tips and tricks to the best black eyed pea dip
Make pieces of this in advance. ​The black eyed pea mixture, as well as the dressing ingredients, should be stored separately in airtight containers in the fridge for 1-2 days before mixing together to serve.
Have fun with the dippers. We love corn chips and tortilla chips, but you can certainly try this with pita chips or another dipper, if desired.
How to store leftovers: If you have leftovers, store for a day in an airtight container in the refrigerator. The fresh veggies will begin to wilt in the dressing, so I do not recommend keeping this in the refrigerator for a long time.
This easy Black-Eyed Pea Salsa is super simple and super delicious. Trust me when I say your New Year's Day guests will enjoy this dip. So will you.
Here's how we do it: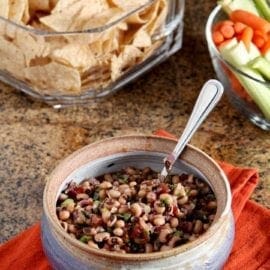 Black Eyed Pea Dip
Instead of making Hoppin' John, serve Black Eyed Pea Dip to guests on New Year's Day. A nod to the traditional Southern recipe, this app calls for similar ingredients. Chock full of black eyed peas, heirloom tomatoes, red onion, jalapeño and some green onions, this vegetarian dip comes together with a honey-balsamic dressing. Serve Black Eyed Pea Dip with corn or tortilla chips. What a scrumptious appetizer to bring prosperity in the new year!
Ingredients
Dip
12

oz.

black eyed peas

steamed

2

small heirloom tomatoes

chopped

¼

red onion

chopped (about ½ cup)

1

jalapeño

minced

5

green onions

chopped
Dressing
¼

cup

extra virgin olive oil

1 ½

tablespoons

honey

2

tablespoons

balsamic vinegar

¼

teaspoon

kosher salt

1

garlic clove

minced
Instructions
Mix the Dressing
In a mason jar, combine the olive oil, honey, balsamic vinegar, salt and garlic clove.

Shake until combined.

Set aside until time to mix and serve the dip.
Make the Dip
On the stovetop or in the microwave, steam the black eyed peas until tender. Do not overcook. Drain, and let cool.

In a large glass bowl, combine the room temperature black eyed peas, chopped tomatoes, red onion, jalapeño and green onions.

Using a spoon or tongs, toss the dip until the ingredients are combined.

If making in advance, stop here, and store in the refrigerator until time to serve.

When ready to serve, pour the dressing into the dip. Toss again, ensuring all the ingredients are coated.

Serve at room temperature with tortilla and corn chips.
Notes
Please note that this dip, once combined with the dressing, does NOT refrigerate well. Do not mix the dip and the dressing until it's serving time because of this.
Make ahead tip: You may pre-chop and keep the ingredients in separate containers in the refrigerator for up to a day beforehand. When time, toss the ingredients together with the dressing and then serve immediately.
Nutrition
Serving:
1
g
Calories:
134
kcal
Carbohydrates:
15
g
Protein:
4
g
Fat:
7
g
Saturated Fat:
1
g
Polyunsaturated Fat:
6
g
Sodium:
45
mg
Fiber:
3
g
Sugar:
6
g