Celebrate Halloween in style by mixing up a Candy Corn Martini! Strong on candy corn flavors, this cocktail is perfect for anyone who enjoys a sweet drink. Make the infused vodka a few days beforehand, and then share! Makes 1 drink (and a pint of candy corn vodka!)
Looking for more festive Halloween sippers? Don't miss Melting Monster Halloween Punch and Fizzy Potion Halloween Punch!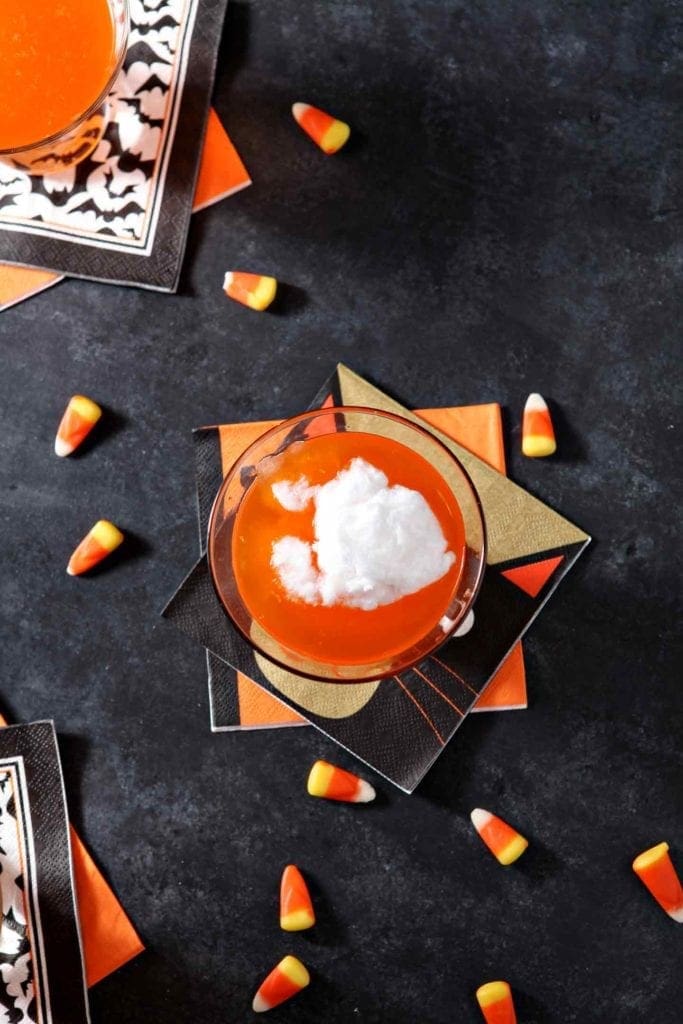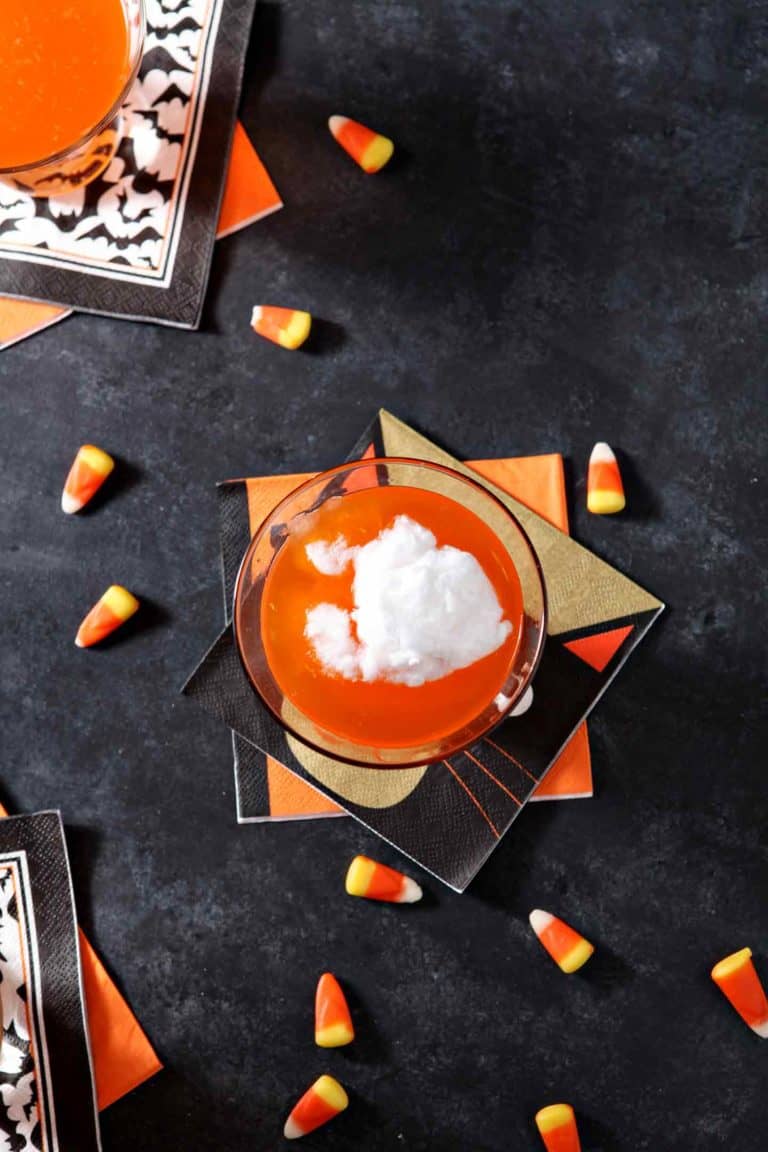 This recipe first appeared on Drizly, where I was a contributor.
For those of you who love to indulge on Halloween candy, I've got a treat for you.
However, instead of creating a candy-centric dessert, I've gone the Halloween drink route because y'all know I love to infuse spirits and wondered how candy corn would fare in vodka. (Spoiler alert: Caramel Apple Martini with Salted Caramel-Infused Vodka, Toasted Pecan Old Fashioned and Smores Martinis are all a brilliant idea, too.)
Turns out, it fares wonderfully (if not a little strongly) and creates a delightful ORANGE infused spirit.
Why I love this recipe:
This Candy Corn Cocktail is somethin' else. If you like sweet cocktails, I have a feeling this will be your go-to for All Hallows Eve!
The key is infusing the vodka a few days in advance so it's ready to go when you're ready to mix Halloween drinks.
Yes, we're making our own flavored vodka.
Whether you're handing out candy (and will need a little sipper to get through your dog barking frantically every time the doorbell rings) or are hosting pals for a Halloween party, this Halloween martini is festive and goes down easy!
Other Halloween recipes we adore: Halloween Peanut Butter Chocolate White Chocolate Chip Cookies | Spiked Caramel Apple Cider | Halloween Trail Mix | Halloween Dessert Nachos | Apple Cider Margaritas
Looking for a specific Halloween recipe, but you can't put your finger on it? Check out my Halloween recipes collection here.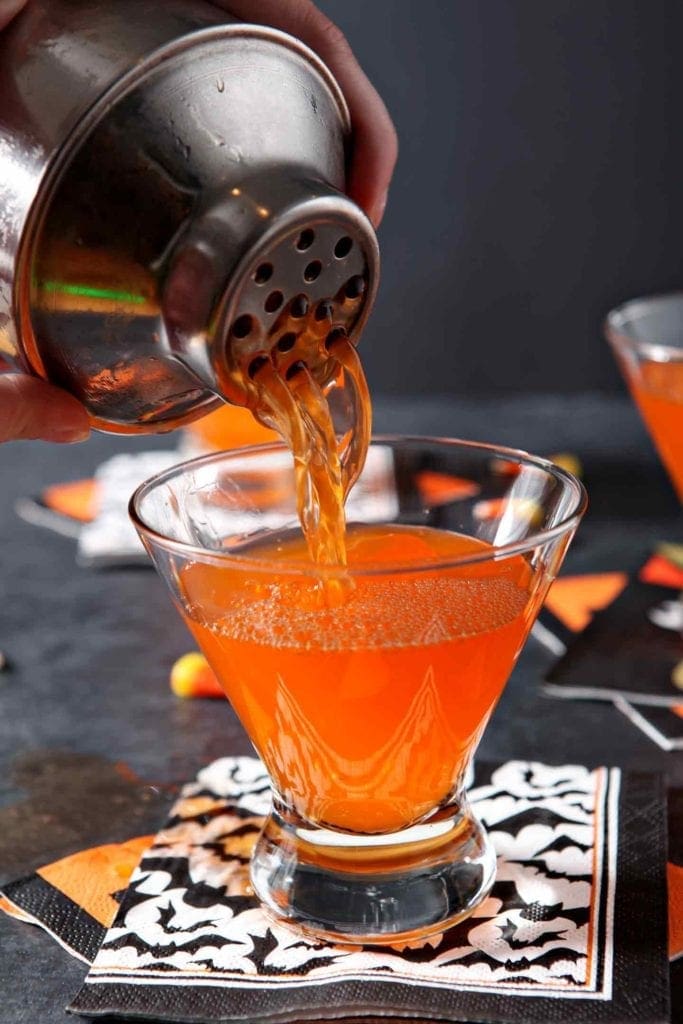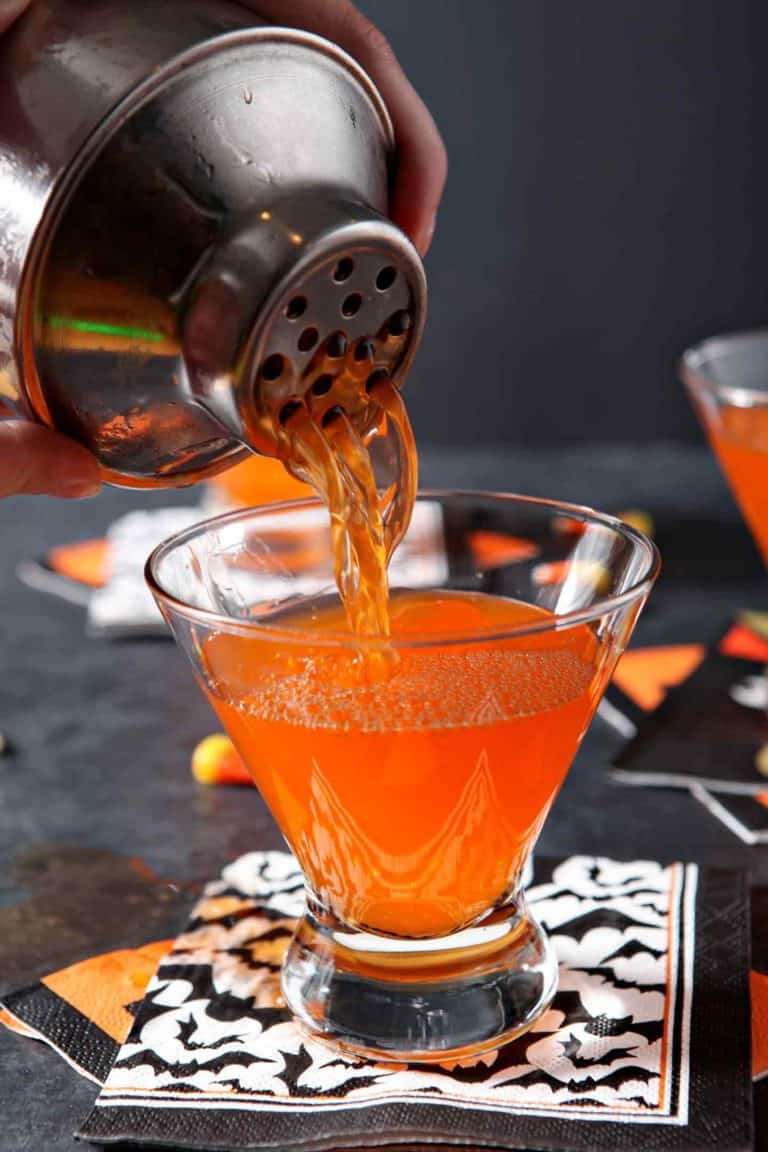 What you'll need to make this recipe:
The Speckled Palate participates in affiliate programs. As an Amazon Associate, I earn a commission from qualifying purchases. Please refer to my disclosure page for more information about these affiliate programs.
Let's talk ingredients!
In addition to the tools above, you're going to need some ingredients to make this recipe, too! Chances are, you might already have some of them in your fridge or pantry. Scroll down to the recipe card for the full measurements and instructions.
Here are some ingredients you'll need:
Candy corn — this is going to infuse the vodka! I like a classic candy corn for the recipe.
Vodka — a plain vodka is perfect here. No flavor necessary since we're infusing it with the candy corn.
Mixers — we're using a combination of the homemade flavored vodka, pineapple juice, ginger beer and vodka to mix this cocktail.
Cotton candy — it's not completely necessary, but it's a fun garnish for our drink! I've seen some Candy Corn drinks topped with whipped cream, if you'd rather go that direction.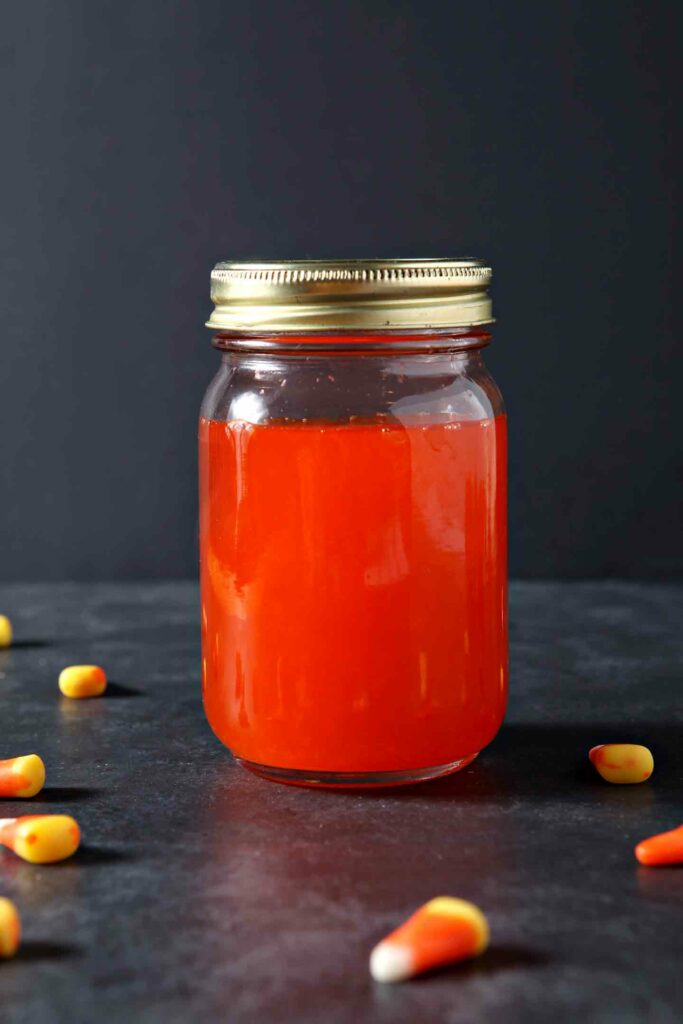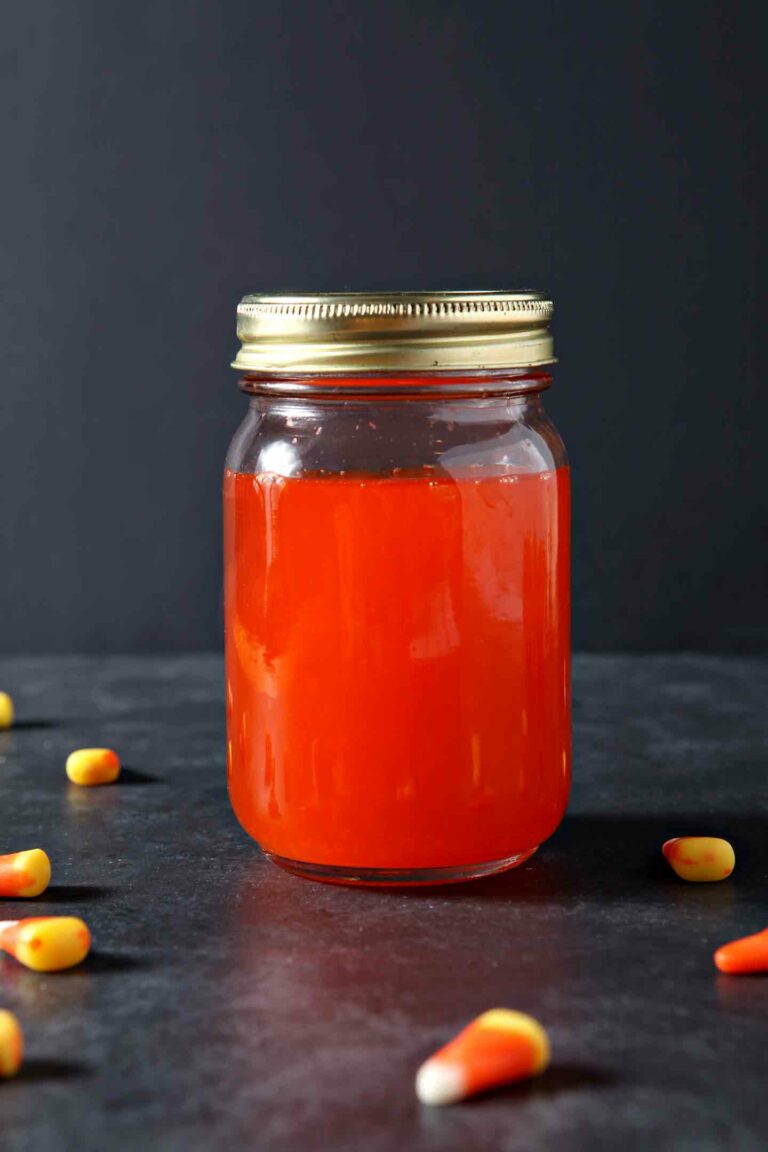 How to Make Candy Corn Martinis
Infuse the vodka with candy corn
Measure the candy corn into a mason jar. Pour the vodka on top of it. Add the cap, and shake.
Let the mixture infuse for 1-2 days, or until the candy corn has dissolved.
You will see some silt at the bottom of the mason jar after it sits, so shake it occasionally to mix it up before pouring any drinks.
Store in a cool, dark place at room temperature.
Mix up a martini
Get out your cocktail shaker. Add ice.
Measure in the candy corn vodka. Add the pineapple juice and ginger beer, too.
Shake vigoriorsly until the liquids are super cold.
Pour into a chilled martini glass.
Top with tonic water. Garnish with cotton candy, and enjoy!
Pro tip!
Don't add the cotton candy to this Halloween cocktail until right before you hand it off to a friend or take a sip. The cotton candy melts into the drink really fast, and it's a cool effect!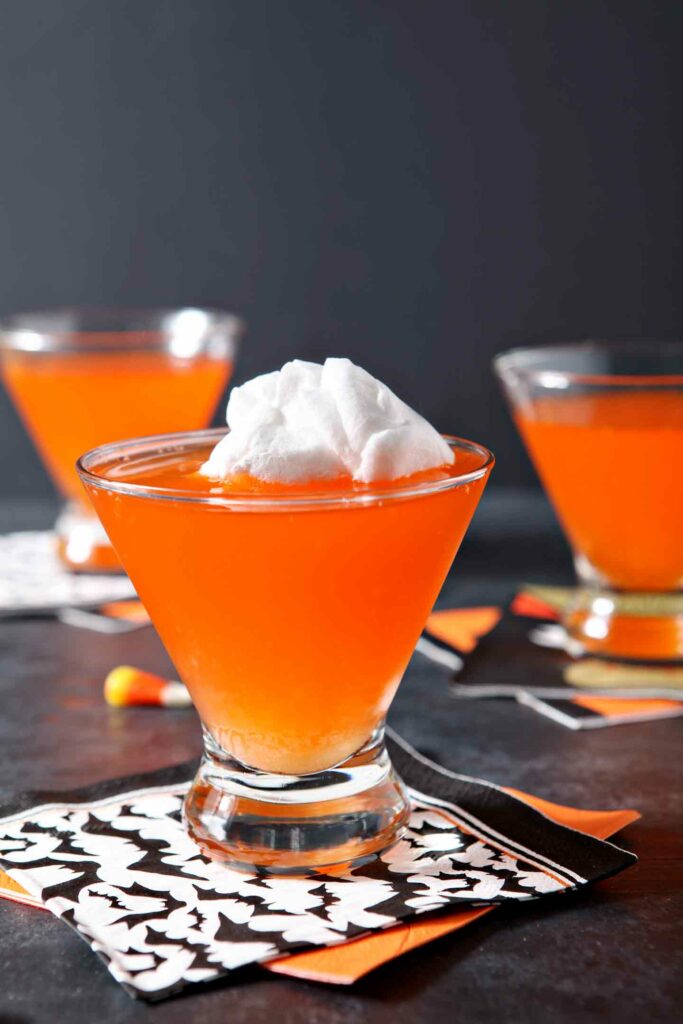 Erin's Easy Entertaining Tips
This Candy Corn Martini recipe would be excellent to mix up at a Halloween party!
Here are some things you can do if you plan to entertain with this cocktail:
Plan ahead and make the Candy Corn Vodka in advance! You can infuse it 1-2 weeks in advance, and this takes off the stress the week of your gathering.
Let guests mix their own martinis! Print out a copy of this recipe, and set it on the bar with ingredients. Let guests measure the ingredients, shake and then pour their own before garnishing with cotton candy.
Keep this out of reach from kids. This Halloween cocktail is bright orange, and if your kids are anything like mine, they'll want a sip when they see the neon mixture in your glass.
Pro tip!
When we're entertaining and have kids around, we keep the adult drinks separate from the kid drinks (and do our best to keep 'em out of the kids' reach so there is no confusion.)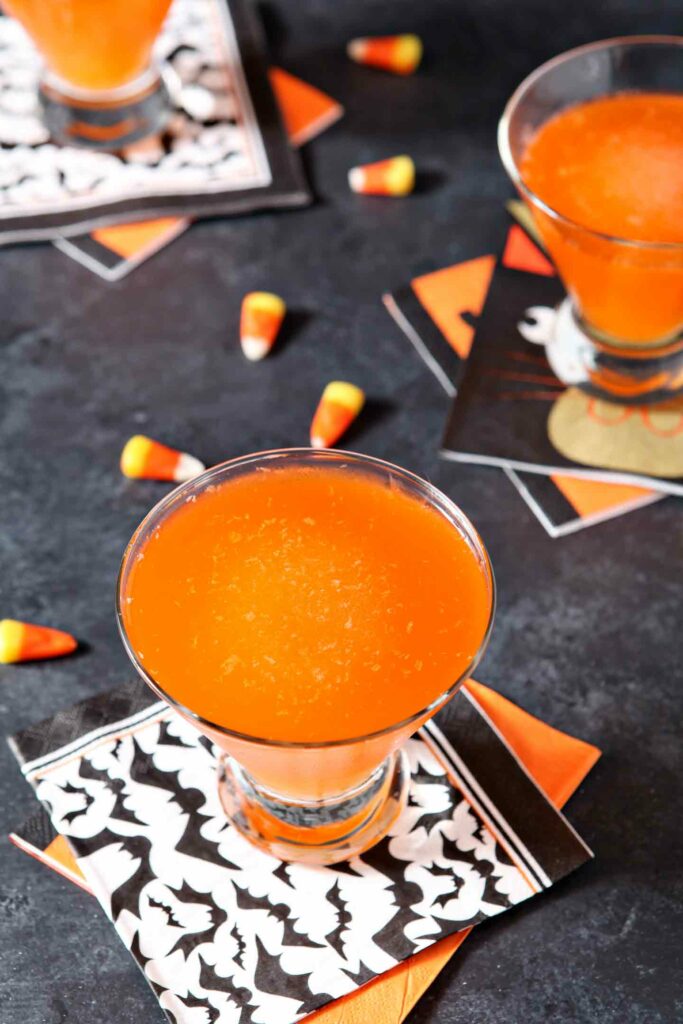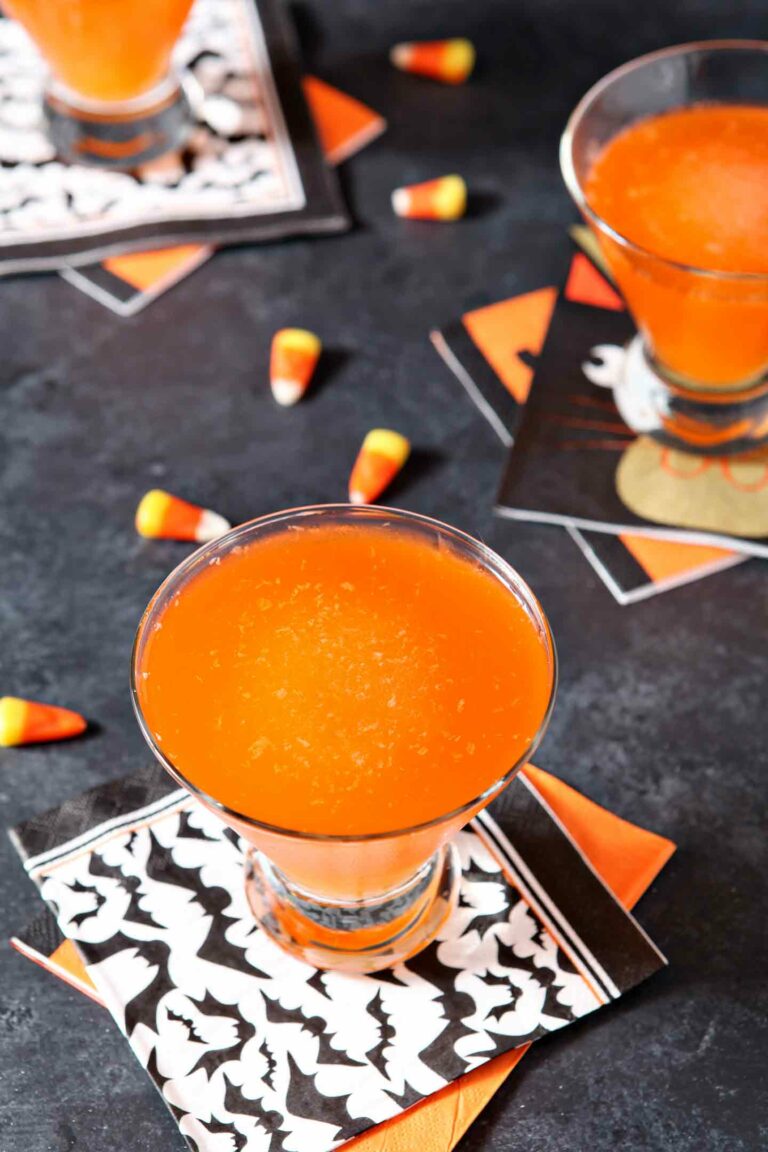 Frequently Asked Questions
How far ahead can I make this infused vodka?
Honestly, the earlier, the better. This vodka has always taken me 1-2 days to infuse, but if your conditions are different than mine, there's nothing wrong with giving yourself extra time to make sure it's ready.
What does the cotton candy actually do?
It melts into the drink and adds a little extra sweetness, while also adding an initial pop of white. If it's not your thing or you think it'll make the cocktail too sweet, feel free to skip it.
How long does infused vodka last?
Since this vodka is made with candy, it can last a loooooooong time. (I've had a small amount in my house for the last two years, and it hasn't gone bad.) I advise only making as much as you'll want to serve at your party, but rest assured that leftovers won't go bad and will certainly make it to next Halloween.
Does this infused vodka need to be refrigerated?
No. While it wouldn't hurt to refrigerate this vodka after it's been infused (and all the candy corn has melted into the vodka), it's not necessary. Alcohol sanitizes the infused ingredients and also prevents bacteria from growing.
Need some more Halloween cocktail inspiration?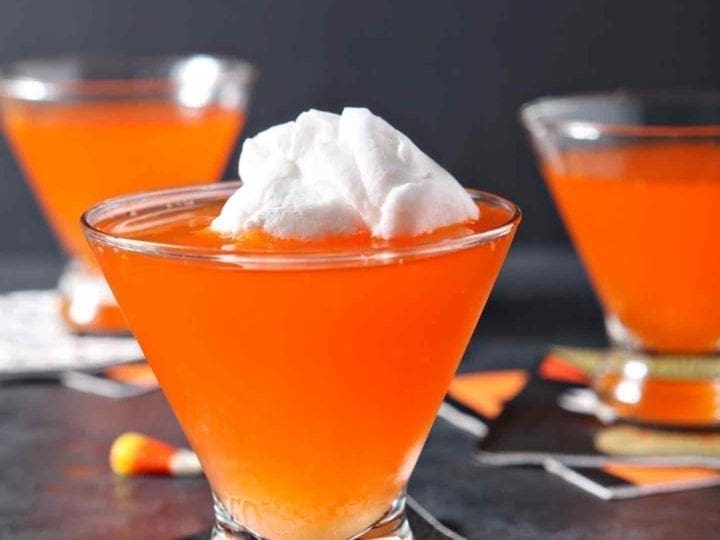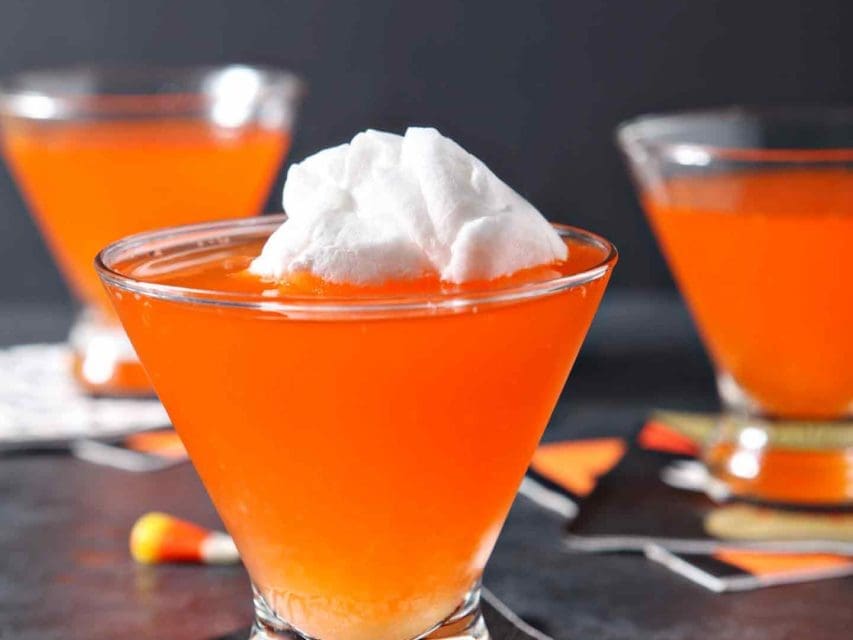 Yield:

1 cocktail
Candy Corn Martini
Total Time:
2 days
5 minutes
Celebrate Halloween in style by mixing up a Candy Corn Martini! This festive martini features homemade candy corn-infused vodka, ginger beer, pineapple juice and tonic water before it's garnished with cotton candy, which dissolves into the drink. Strong on candy corn flavors, this cocktail is perfect for anyone who enjoys a sweet drink. Make the infused vodka a few days before Halloween, and then serve to friends while you celebrate the holiday!
Ingredients
Candy Corn Vodka (Makes 3 drinks)
1 cup candy corn
1 cup vodka
Candy Corn Martini (Makes 1)
2 ½ oz. Candy Corn Vodka (recipe above)
½ oz. pineapple juice
½ oz. ginger beer
3 oz. tonic water
White cotton candy, for garnish
Instructions
Make the Candy Corn Vodka
In a 16 oz. mason jar, measure out the candy corn, then top with vodka.
Shake, then let sit for 1-2 days until the candy corn have all dissolved. Shake occasionally to mix the particles. (There will be sediment once everything has dissolved, and that's OK. Just be sure to shake it up again before you serve drinks.)
Store at room temperature until it's time to make drinks!
Make the Martinis
In a cocktail shaker filled with ice, combine the candy corn vodka, pineapple juice and ginger beer.
Shake until chilled, then pour into chilled martini glasses.
Top with tonic water.
Garnish with cotton candy, which will melt into the drink almost immediately, and enjoy!
Notes
Please note that the Candy Corn Vodka takes 1-2 DAYS and that the drink takes about 5 minutes to mix up. Prepare accordingly.
Recommended Products
As an Amazon Associate and member of other affiliate programs, I earn from qualifying purchases.
Nutrition Information:
Yield:
1
Serving Size:
1 cocktail
Amount Per Serving:
Calories:

510
Total Fat:

0g
Saturated Fat:

0g
Trans Fat:

0g
Unsaturated Fat:

0g
Cholesterol:

0mg
Sodium:

21mg
Carbohydrates:

104g
Fiber:

0g
Sugar:

101g
Protein:

0g
Nutrition facts are an estimate and not guaranteed to be accurate.
Have you ever infused a spirit before?
Would you like to try a sip of this Candy Corn Martini?
This post was originally published October 6, 2017. The text and recipe portions of the post were updated on September 30, 2019.