If you're hosting Friendsgiving or attending one, you need to bring a dish with you! Here are 50+ Friendsgiving food ideas that can be brought along or made where you're going to share with your nearest and dearest.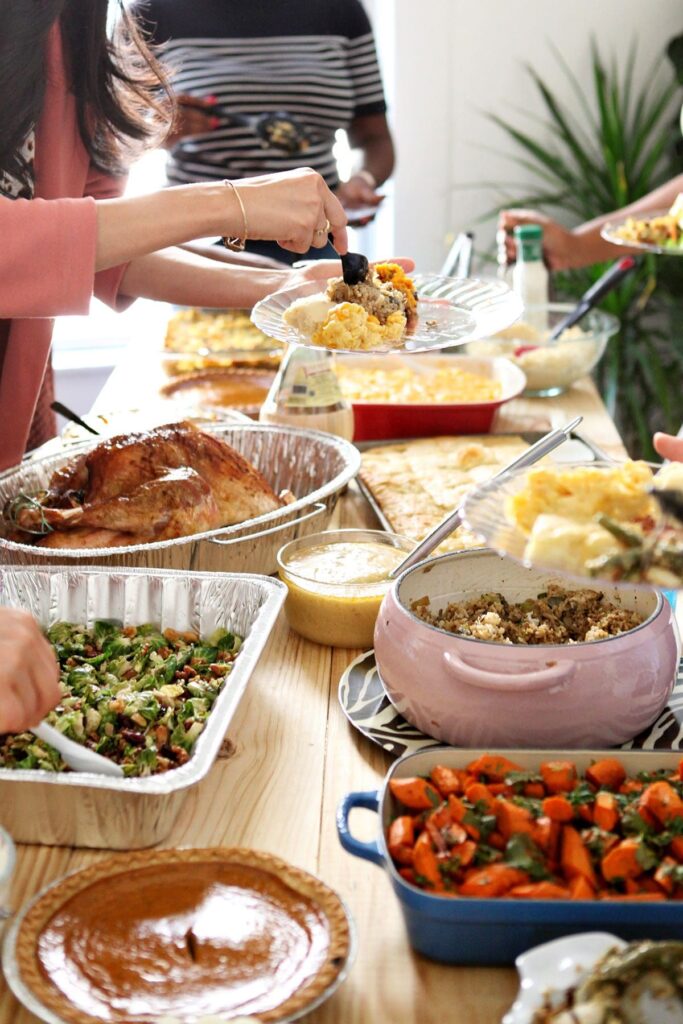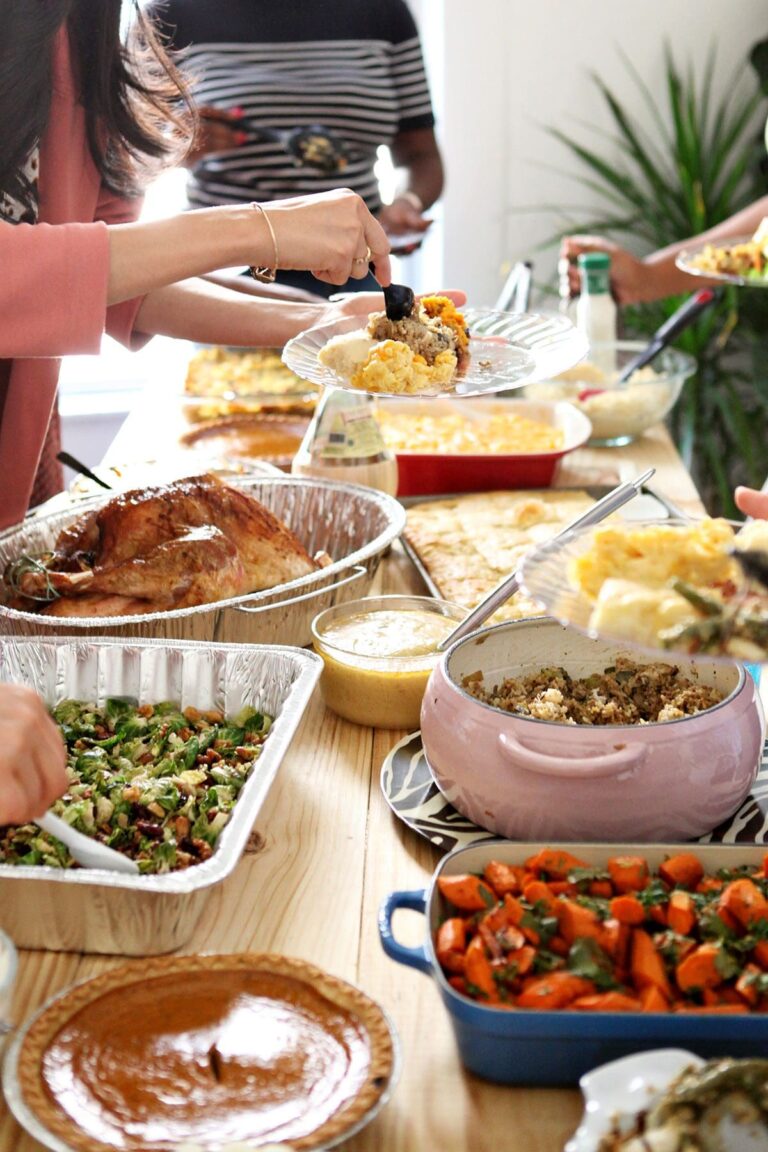 Friendsgiving Dinner season is here, and I don't know about you, but I'm excited to gather with my friends around a table, share food and hang out for an afternoon or evening.
If you're new to Friendsgiving and are hosting this year, check out my How to Host Friendsgiving guide. It has all the details and probably more than you ever wanted to know about this fun fall holiday.
Today, we're talking Friendsgiving food.
This post includes food ideas to make or try, how to plan to have enough food and how to strategize with the food and make it work with your friends' and your diets, lifestyles, etc.
Y'all ready to dive in?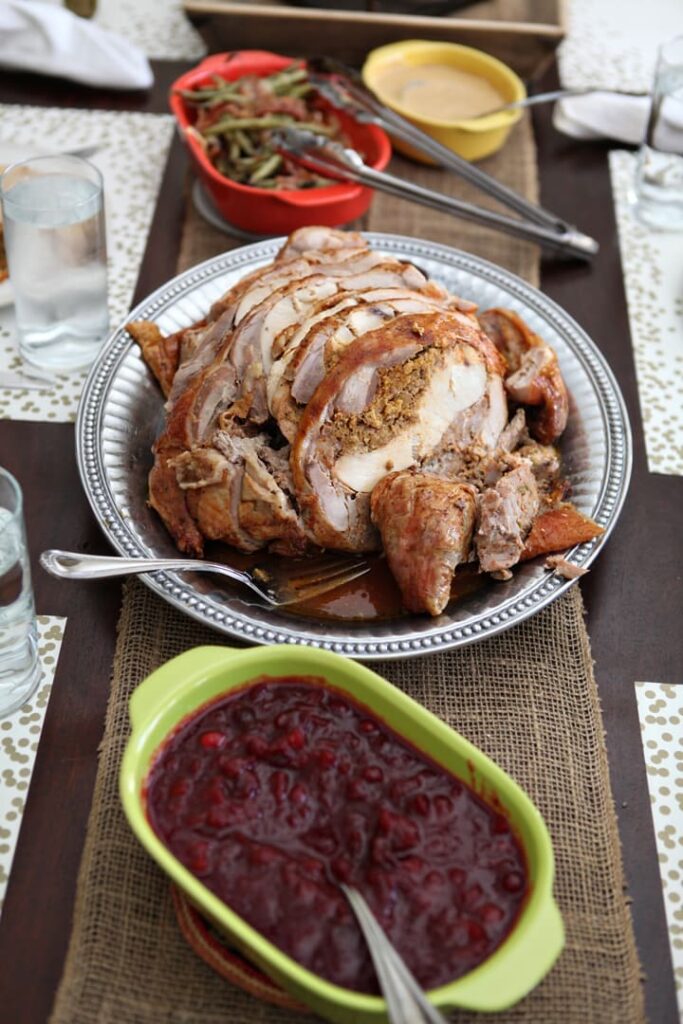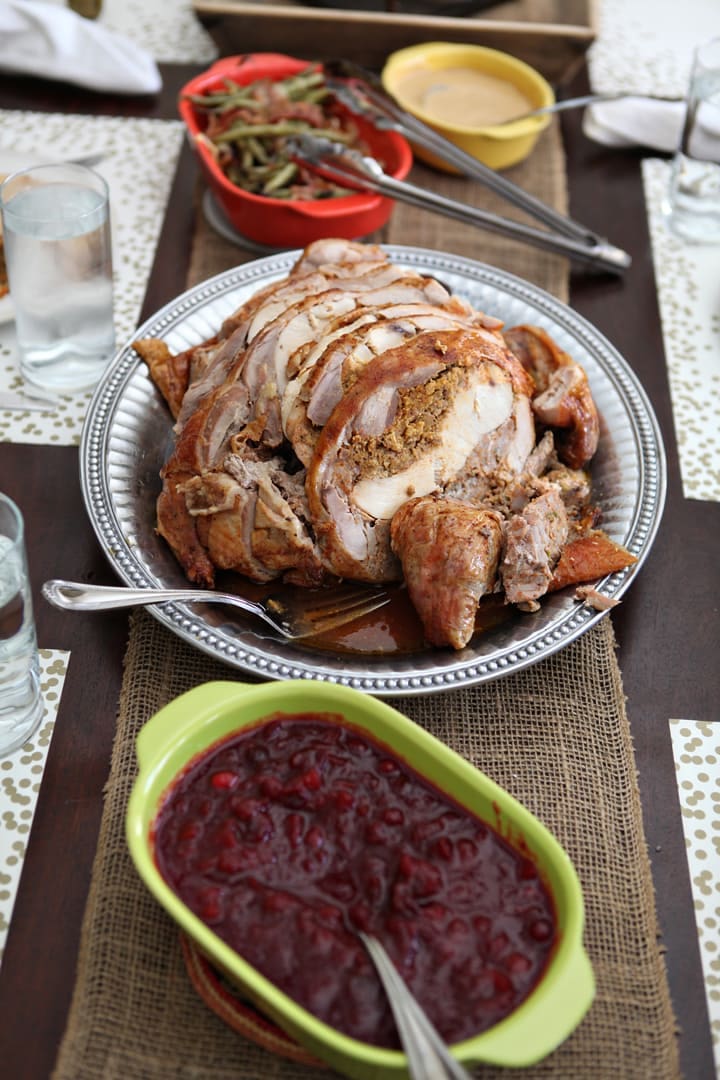 I want to host Friendsgiving. How should it work?
While you're not the only person who is going to be cooking for Friendsgiving, you're the one who is planning this… which means you're coordinating the dishes.
This means…
Write out a list of ideal dishes you'd like to have at your Friendsgiving table.
Decide what you're going to cook.
Assign other dishes to guests or let guests run their favorite dishes by you before they make them. I realize this might sound a little controlling, but it's best to do this so you don't have three Green Bean Casseroles at your Friendsgiving and no mashed potatoes.
Obviously, you need to take into account the number of guests that you're hosting to ensure there is enough food for everyone.
And since every guest is going to be bringing a food or drink item, you can ensure you're going to have enough.
How much food should I serve?
Obviously, the answer to this question is going to depend on how many friends you're hosting for Friendsgiving. A crowd of 10 is going to eat less than a crowd of 20-30. And so on and so forth.
Generally speaking, here's what I like to plan for each person:
4-6 bites of appetizers
1-2 dinner rolls
½ lb. boneless turkey (or 1 lb. of bone-in turkey)
½ cups of 2-3 side dishes
1 slice of dessert
2-3 drinks
The portioning is going to be different for each group, too, and everyone's diets and likes/dislikes, too.
A note on appetizers
Obviously, serving chips and dip is going to be different, bite-wise, than making crostini.
If serving appetizers that are already individually portioned, plan for 4-6 bites of those.
If serving chips, plan for each guest to enjoy 2-3 oz. of chips along with whatever dip you're serving. Since the "regular" bag of chips is about 8 oz., plan accordingly.

You can find some awesome appetizer ideas here: The Best Thanksgiving Appetizers!
What food should I serve at Friendsgiving?
That all depends on you and yours!
Planning your menu is especially important if you're making traditional Friendsgiving fare because several of those dishes take some TIME.
This means you're going to need a plan and not want to throw this together last minute.
Also, you need to consider your guests, their tastes, their allergies and sensitivities and diets, too.
If you're hosting vegetarians or vegans, you won't need as much turkey or turkey breast (assuming that your crowd isn't vegetarian or vegan), but you might need to tweak some of the side dishes to ensure they can eat them.
Whenever I'm hosting an event, I reach out to all guests to confirm any food allergies or sensitivities, too.
If you've got a gluten free guest, you need to have a few dishes they can eat. If someone has a nut allergy, other guests need to know about this before someone brings a Pecan Pie.
It comes down to being considerate and have some food everyone can eat! Chances are, you already know this information, too.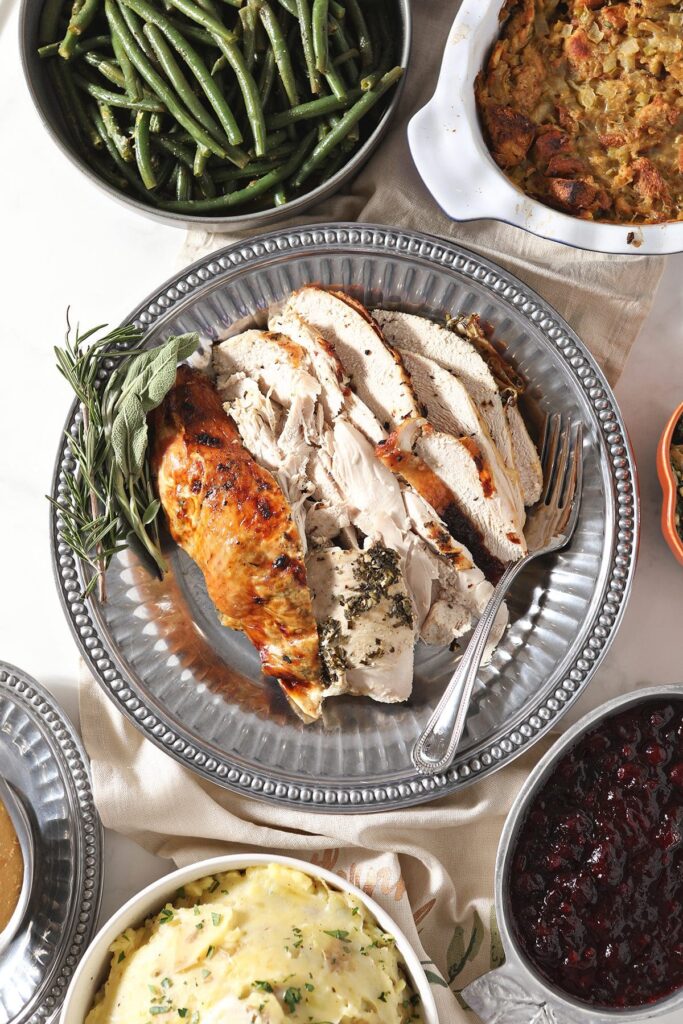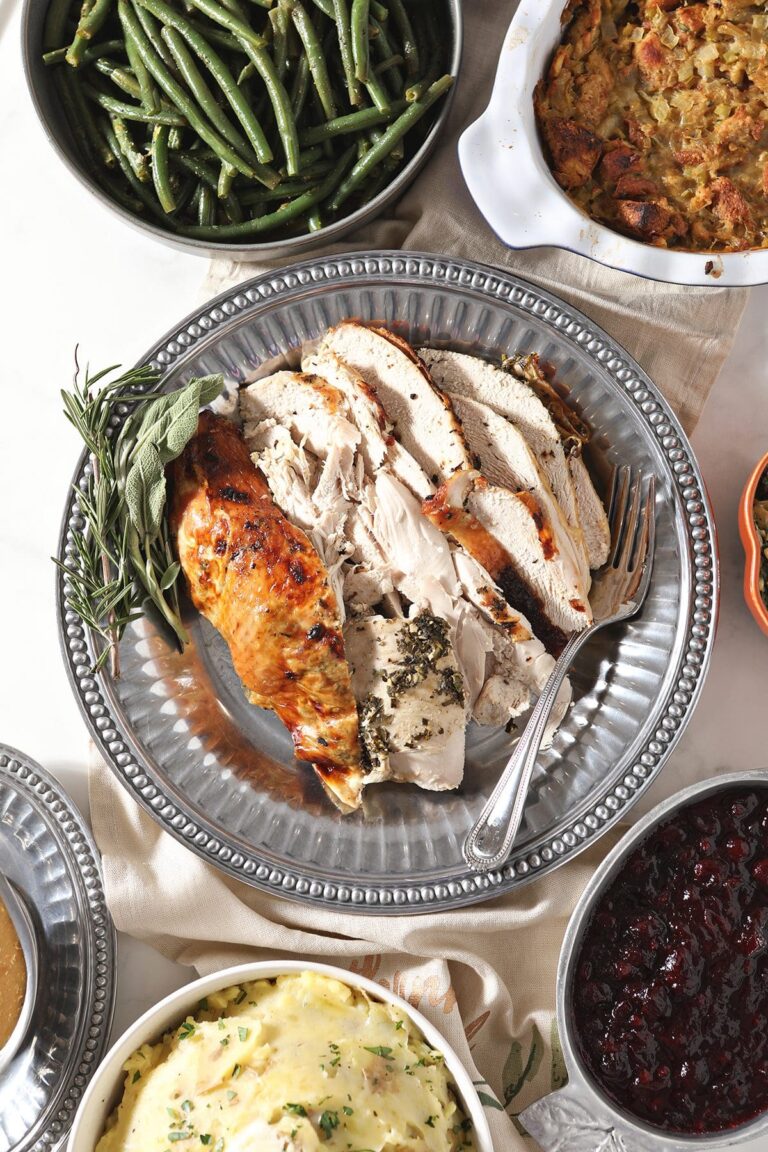 I was invited to Friendsgiving. What should I bring?
If you're attending a Friendsgiving this year, I suggest reaching out to your host about the food.
As I mentioned above, it's helpful if guests and hosts chat because you don't want overlapping dishes while missing others.
For me, when I attend Friendsgiving (or Thanksgiving, for that matter), I like to consider a few things before deciding what I'm going to cook:
What can I make ahead of time?
What will be easily transportable? For example, casseroles are easy to bring on the road. Sauces can be more complicated. Desserts are generally pretty easy to bring along if you package them right.
Can I heat up the dish where I'm going, or does it need to be cooked before I leave my house?
Does the dish need to be served warm? Or can it be room temperature or even cold? This obviously varies from recipe to recipe, but salads are great at room temperature. Homemade cranberry sauce can be kept cold or at room temp, too.
If I don't like to cook, can I purchase rolls or dessert from a favorite bakery? The answer to this question should be a YES because being able to cook a dish should not prevent you from attending.
The key, for me, when it comes to Friendsgiving food is to make something that doesn't stress me out and make something that works for the occasion, too. Which means it needs to be something that I can bring along with me…
How to transport food:
The Speckled Palate participates in affiliate programs. As an Amazon Associate, I earn a commission from qualifying purchases. Please refer to my disclosure page for more information about these affiliate programs.
If you're a guest at Friendsgiving, transporting your food is obviously very important, especially since you might not be able to cook on location. (Also, do you want to cook when you arrive at Friendsgiving? Probably not.)
Here are some ideas about transporting food and some tools that can assist you.
Keep it warm. If your dish needs to be kept warm, I suggest making a casserole and carrying it with you in an insulated casserole carrier so you can ensure the dish stays toasty during the transportation.
Keep it cool. If your dish needs to stay chilled, invest in a cooler.
Package it in a food-safe travel container. This particularly comes in handy for things that can be kept cold because all you have to do when you arrive is plate, and then you're done.
Bring your serving dish and utensils, too. Decide on what your dish is going to be served in ahead of time and bring that with you, especially if the dish doesn't cook in it and will be kept cold.
What to do with Friendsgiving leftovers:
I always plan to have some leftovers because Thanksgiving leftovers are the best!
Ask guests to bring their own food storage containers along so they can bring home leftovers.
My friend, Ginger, provided us all with to-go containers* (affiliate link) when she hosted Friendsgiving. It was brilliant and so helpful!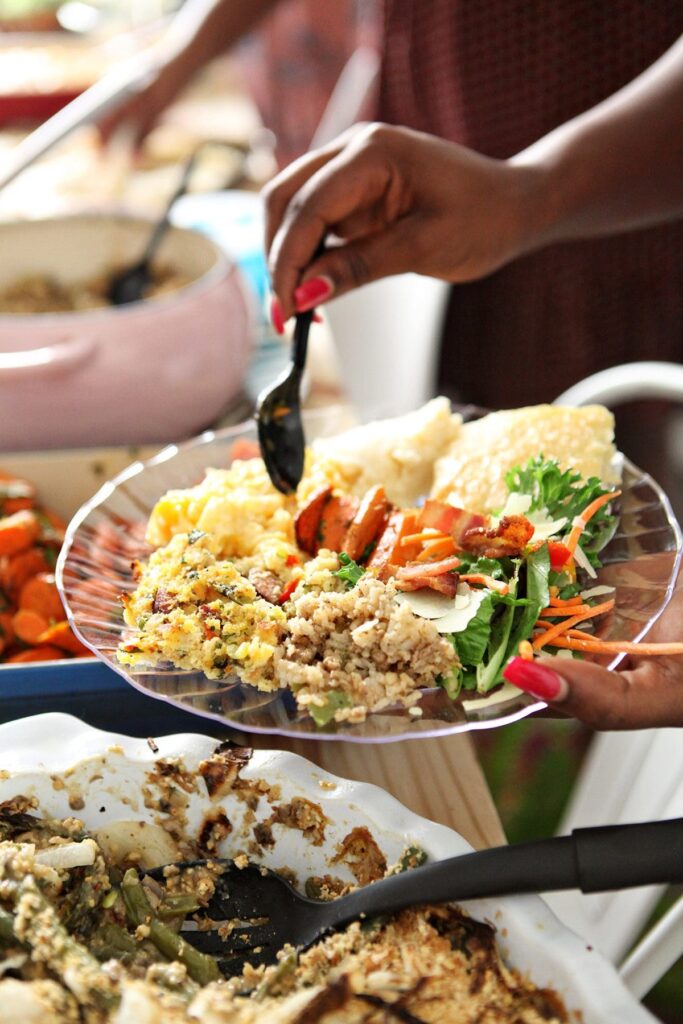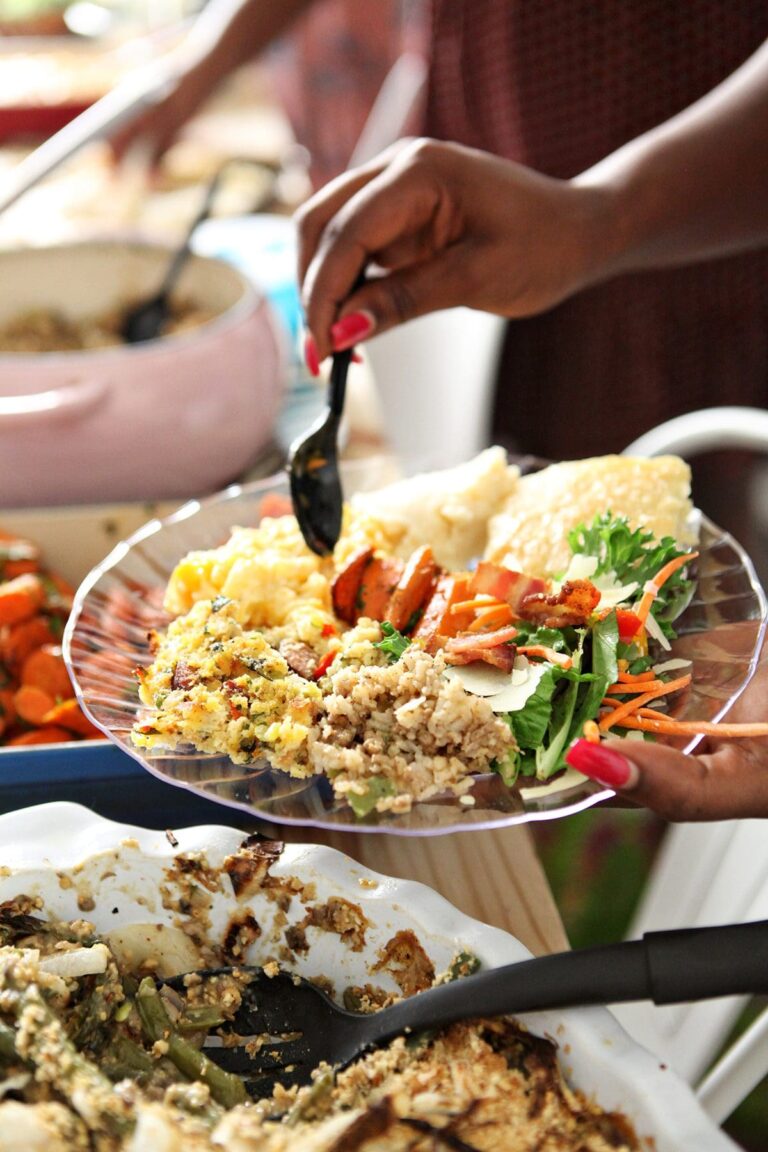 Friendsgiving food ideas:
Now that we've talked through logistics, let's talk about the actual food and recipes!
From sweet potato casserole to turkeys of all shapes as sizes; from brussels sprouts to butternut squash to mac and cheese to a classic stuffing recipe; from apple pie to pumpkin pie and everything in between, we've got some recipes for you.
Here are some ideas of various dishes to make and serve at Friendsgiving:
Friendsgiving Food Ideas
If you're hosting Friendsgiving or attending one, you need to bring a dish with you! Here is a list of 50+ Friendsgiving food ideas that can be brought along or made where you're going to share with your nearest and dearest.