Creamed Cornbread Casserole
This from-scratch Creamed Cornbread Casserole is a Southern classic and a decadent casserole for the holiday table. Combine creamed corn with a homemade sweet cornbread batter and a jalapeño to make a great side dish that's perfect for sharing. Makes 6-8 servings.
Looking for more holiday sides to serve for this year? Don't miss Fresh Green Bean Casserole from Scratch and Bourbon Sweet Potato Casserole!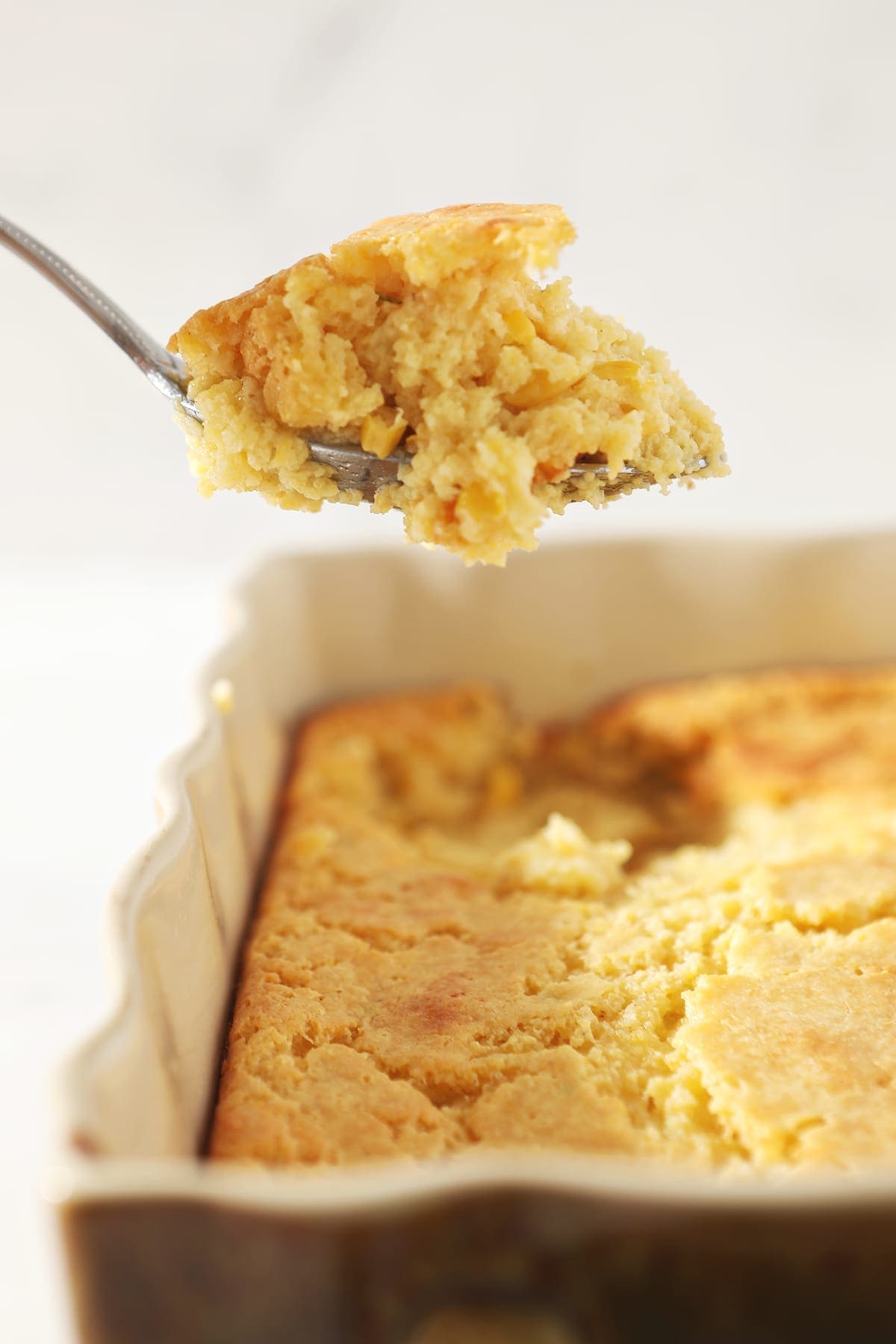 Creamed Cornbread Casserole was my absolute favorite side dish as a kid. It's sometimes called Corn Pudding. Other folks call it Jiffy Corn Casserole because the original recipe calls for Jiffy corn muffin mix.
Something about it was and is so wonderfully comforting.
Creamed Cornbread Casserole is a classic side dish for a decadent meal like Thanksgiving, Christmas dinner or even New Year's Eve.
And yes, before you ask, you can absolutely make this for a weeknight dinner, too.
There's a reason why this recipe is one of the traditional favorites.
Why I love this recipe:
The recipe my mom made for us years ago is essentially the Jiffy Cornbread Casserole. I wanted to try my hand at making this creamy cornbread from scratch because that's how I roll.
I tinkered with the original recipe a bit, as well. I added a jalapeño for a little heat, as well as melted butter for something extra.
And when this beauty came out of the oven, it was just the way I remembered it.
It tasted just as delicious, except it had a lovely zing of heat to it.
Other holiday favorite side dishes at our house: Spinach Madeline | Cranberry Feta Brussels Sprout Salad with Candied Pecans and Warm Bacon Vinaigrette | Creamed Kale | Brioche Bread Stuffing Recipe | Green Bean Bacon Bundles
Need side dish inspiration, but don't know where to turn? Check out these Side Dish Recipes.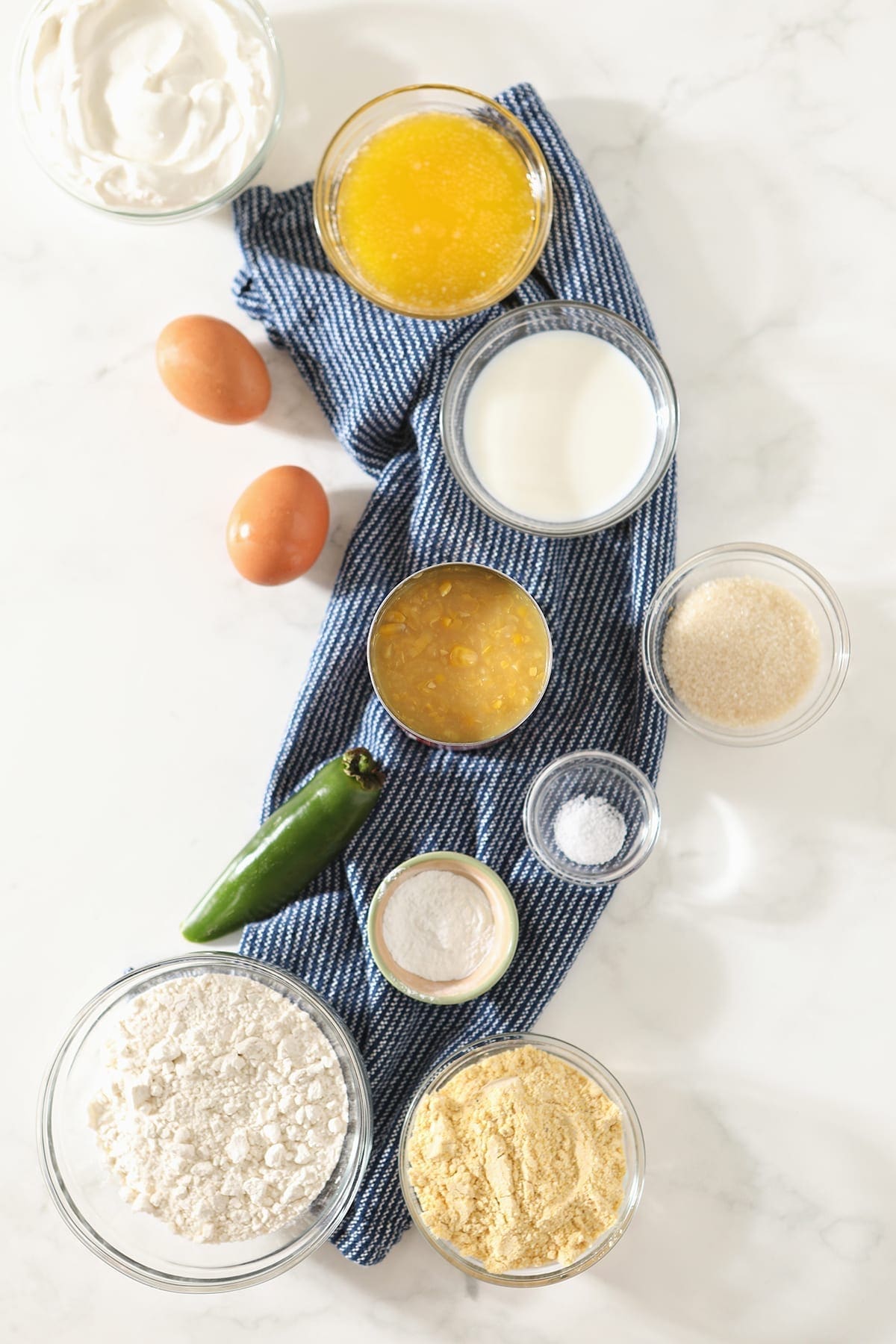 What do I need to make homemade creamed corn casserole?
The Speckled Palate participates in affiliate programs. As an Amazon Associate, I earn a commission from qualifying purchases. Please refer to my disclosure page for more information about these affiliate programs.
Glass bowls (you need at least one large mixing bowl)
Baking dish—I like using a 9″x13″ casserole dish, but you could use a larger square baking dish, too.
Let's talk ingredients!
In addition to the tools above, you're going to need some ingredients to make this recipe, too! Chances are, you might already have some of them in your fridge or pantry. Scroll down to the recipe card for the full measurements and instructions.
Normally, a creamed cornbread casserole calls for cornbread mix (like Jiffy cornbread mix). Since we're making this from scratch, we need extra ingredients.
I know—it's a little extra work, but it's absolutely worthwhile to me since this recipe doesn't have any weird additives that boxed mixes do.
Here's what you need:
A can of creamed corn—this is sometimes labeled as cream corn or cream-style corn. This is not the same thing as canned corn, kernel corn or sweet corn. It's different and has a creaminess you don't get with just the whole corn kernels.
Unsalted butter
Eggs—these help bind the casserole together, as well as give it a little bit of rise.
Milk—we keep whole milk in our house, so that's what we use in this recipe. However, you could use 2%, 1% or nonfat milk in place of it if that's what you have.
Sour cream
Jalapeño pepper—you could use some roasted green chile peppers in place if you want a smokier flavor!
All-purpose flour—we keep unbleached AP flour at our house, but the regular kind works, too! We have not tried making this recipe gluten free, and I do not recommend it at this time.
Yellow cornmeal—be sure to read your label since some bag of cornmeal look exactly like bags of cornbread mix. We've made this mistake before, and the corn bread casserole won't turn out the same.
Granulated sugar—also known as white sugar. I do not suggest using turbinado or brown sugar in this recipe.
Baking powder—this helps our casserole rise. Make sure yours is fresh!
Kosher salt—I like a medium grain kosher salt. If you're using finely ground salt, consider using less so your casserole doesn't get too salty.
If you want to try variations on this recipe, here are a few ideas:
Mexican Cornbread Casserole: Swap the jalapeño for a 4 oz. can of green chile peppers. Add in a tablespoon of Homemade Taco Seasoning and toss in 1 ½ cups of shredded cheese (like cheddar Monterrey Jack or Pepperjack), too. Garnish with green onions. You could also cook up some ground beef in taco seasoning to make this a main dish.
Bacon Cornbread with Cream Corn: Love bacon? Cook up 4-5 slices of your favorite, crumble them and throw them into the cornbread batter before baking. You can also add shredded sharp cheddar cheese, too.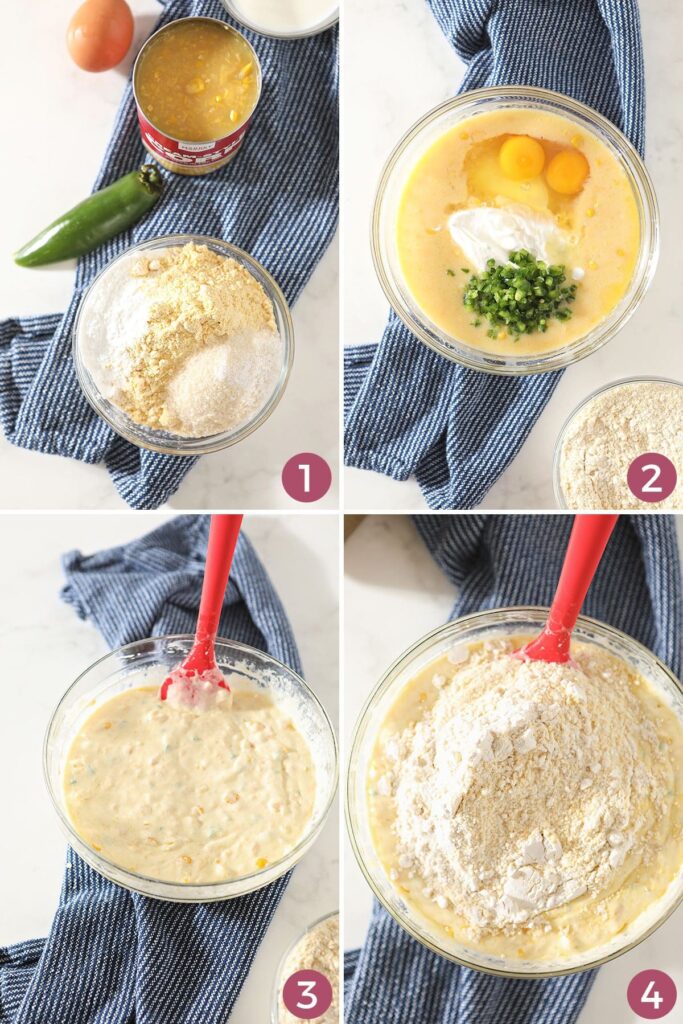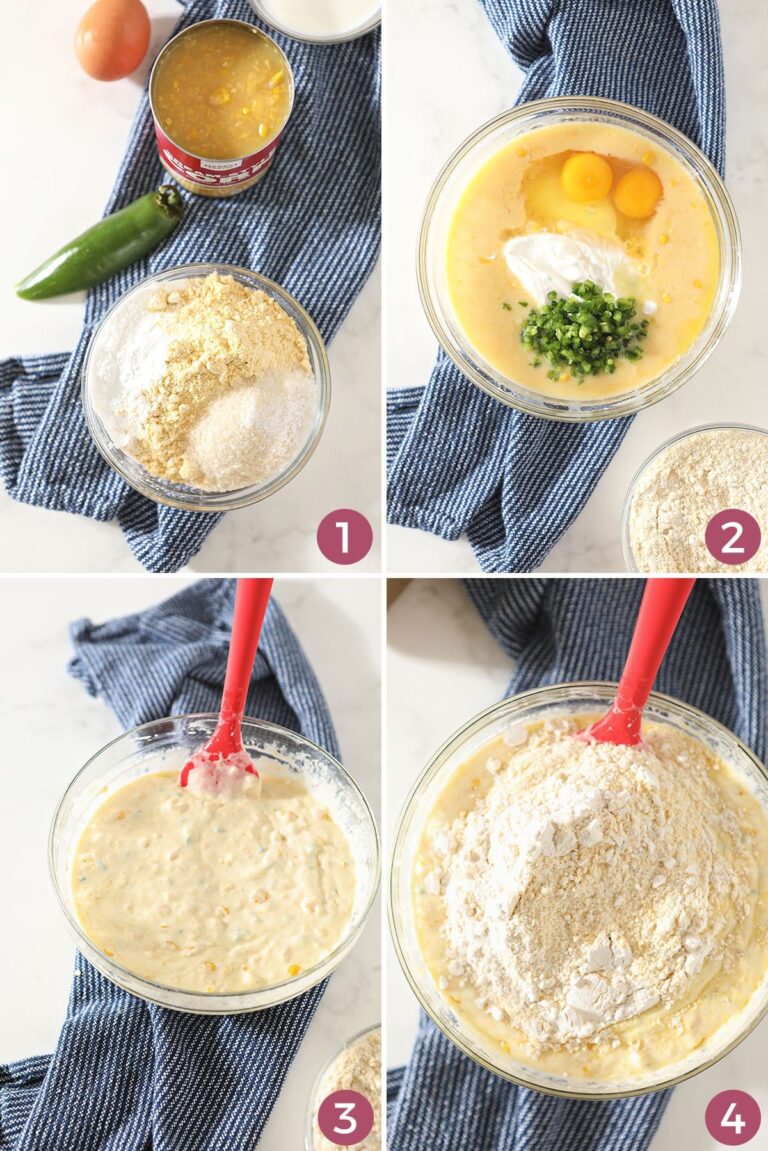 How to Make Creamed Cornbread Casserole
First and foremost, preheat your oven, and spray a baking dish with nonstick baking spray. (You could also butter the dish if you don't keep baking spray on hand.) Set that aside for later.
Now, in a large bowl, you're going to combine your can of creamed corn with the melted butter and milk. Stir them together really well—you can use a whisk, a rubber spatula or even your hand mixer for this step.
Next, measure in the sour cream.
Crack the eggs in a small bowl.
Pour the eggs into the mixture, along with the jalapeño, and mix until combined.
In another bowl, measure in the dry ingredients, which are the flour, cornmeal, sugar, baking powder and salt. Whisk them together to distribute the ingredients evenly.
Sprinkle the dry ingredients into the wet ingredients, and stir just until smooth.
Do not overmix this batter because the moment the baking powder hits the wet ingredients, it begins creating bubbles. We want this to happen in the oven to help the casserole rise.
Immediately pour the batter into the prepared baking dish, and bake in the preheated oven.
When the casserole is done, it should be golden brown on top but still be slightly soft to touch.
Serve the creamed corn casserole warm.
Enjoy with your favorite holiday dishes, like Garlicky Spagetti Squash, Roasted Green Beans, Citrus Cranberry Sangria and Browned Butter Sage Turkey.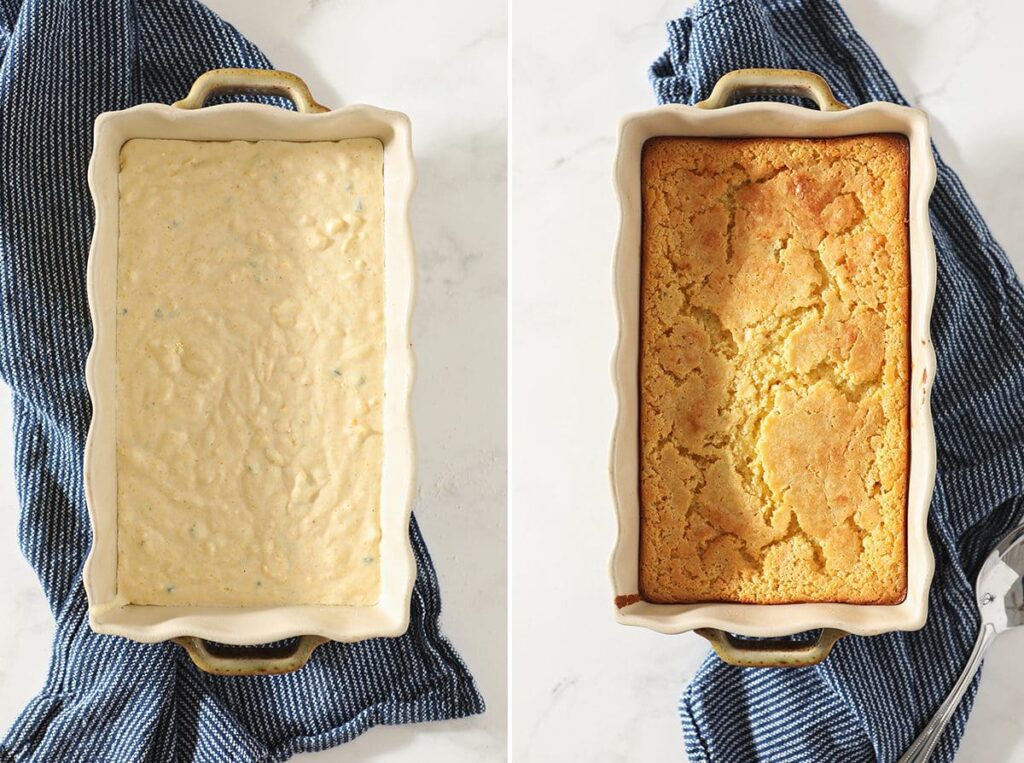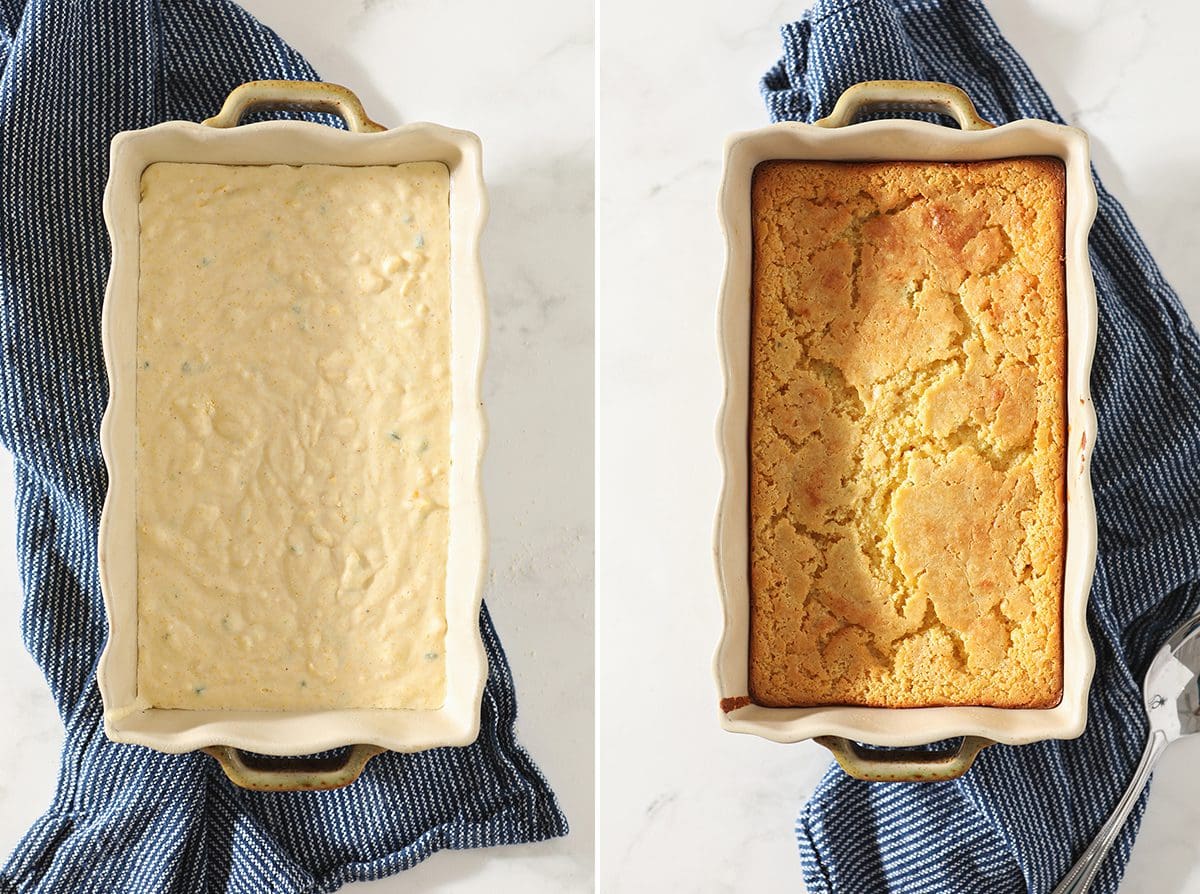 Frequently Asked Questions
Can I make this savory side dish dairy free?
Look. This cornbread casserole is loaded with dairy. As much as I'd like to tell you that it can be made dairy free, I have never tried it.

As a rule, I am comfortable swapping 1-2 ingredients to make it dairy free. However, swapping multiple ingredients is more risky.

If you want to give this a go as a dairy free casserole, let me know how it goes! But if it doesn't work out, please don't hold it against me because you will have to make a lot of substitutions.
Can you make corn casserole without creamed corn?
No. The creamed corn is integral to this recipe. Please don't try to substitute it with something else because it will not turn out the way it is intended.
Can corn casserole be made ahead?
Yes! You can make this easy side dish up to a few days ahead of time and store covered in the fridge. (You can wrap it in plastic wrap or foil.)

Reheat in a 300F oven for about 20-30 minutes or until warmed through.
Can I substitute Jiffy Mix for cornmeal?
You can… but it's not quite as easy as that since Jiffy Mix is a combination of cornmeal with other ingredients.

I do not suggest substituting it here in this recipe for the cornmeal because of this.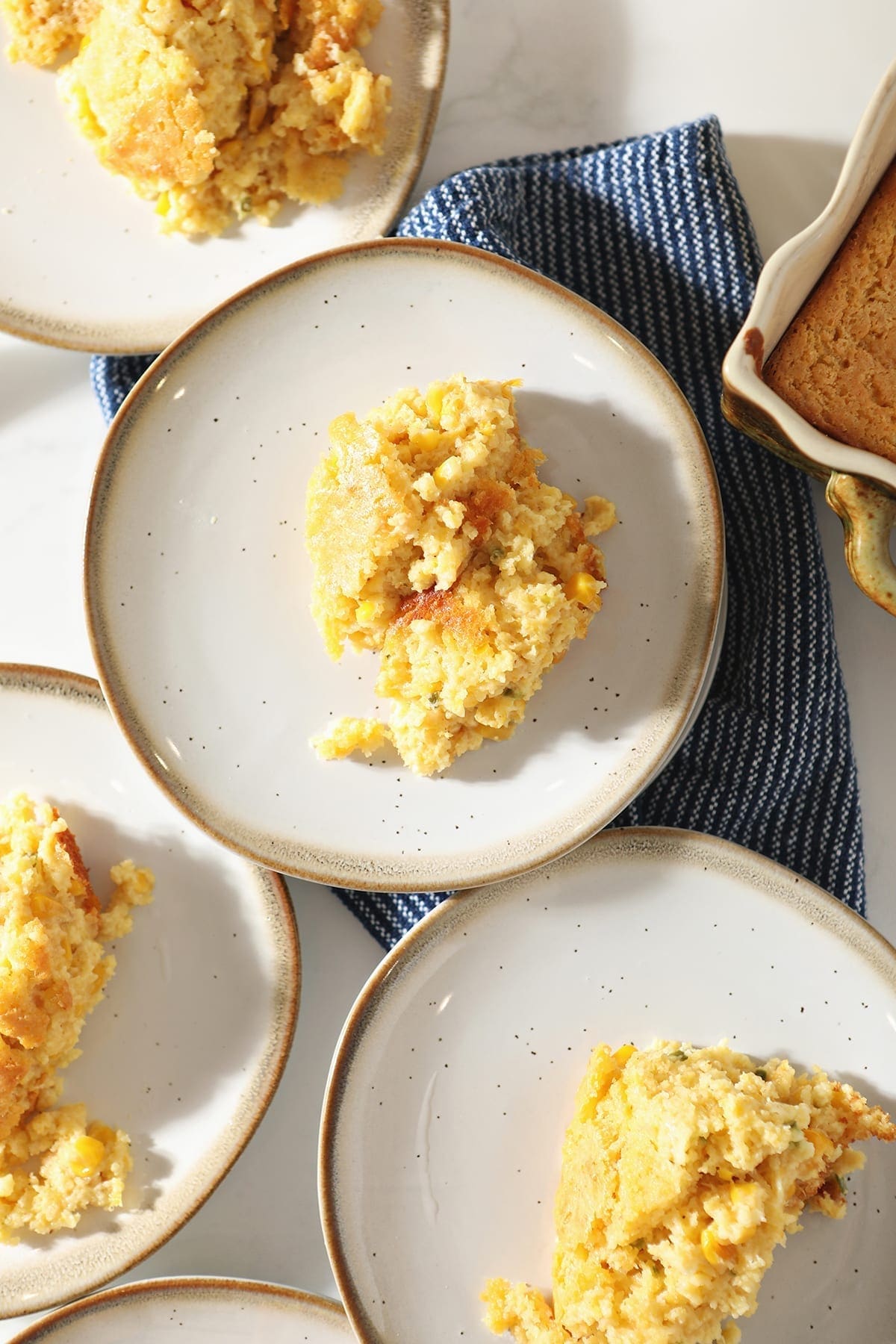 In short, Creamy Corn Casserole is where it's at for Thanksgiving dinner, Christmas dinner or any holiday meal on any holiday table.
It's also fabulous for a fancier-feeling weeknight meal.
Here's how you make it: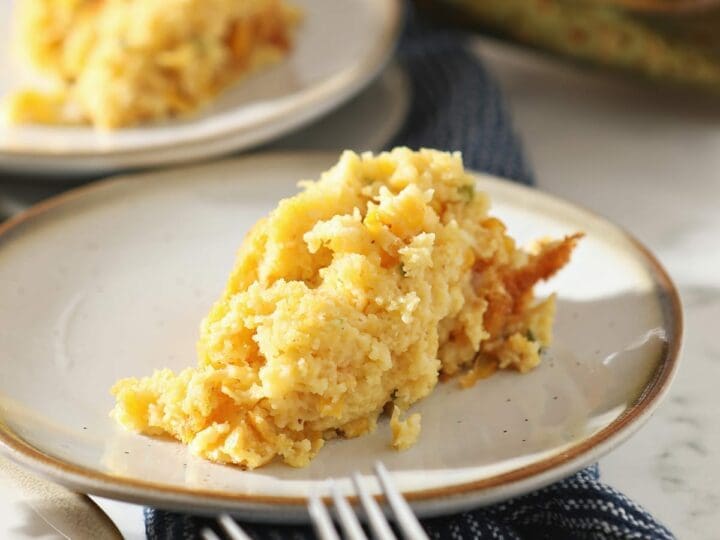 Yield:

6 servings
Creamed Cornbread Casserole
Total Time:
1 hour
15 minutes
This from-scratch Creamed Cornbread Casserole is a Southern classic and a decadent casserole for the holiday table. Combine cream corn with a homemade sweet cornbread and a jalapeño to delightful side dish that's perfect for sharing.
Ingredients
14.75 oz. creamed corn (1 can)
6 tablespoons unsalted butter, melted
¼ cup milk
8 oz. sour cream
2 eggs
1 jalapeño pepper, small, seeded and minced
2/3 cup unbleached all-purpose flour
½ cup yellow cornmeal
3 tablespoons granulated sugar
1 tablespoon baking powder
¼ teaspoon kosher salt
Instructions
Preheat the oven to 350°F. Spray a baking dish with nonstick baking spray. You can also butter the dish or use a little bit of oil and smear it all over the surface, if you don't have the spray.) Set aside.
In a large bowl, combine the can of creamed corn, melted butter and milk. Stir until mixed with a whisk, spoon or hand mixer.
Add the sour cream and eggs to the wet ingredients. Add the chopped jalapeño pepper, too. Whisk these wet ingredients together until well combined.
In another bowl, measure in the flour, cornmeal, sugar, baking powder and salt. These are your dry ingredients. Whisk together to ensure that these ingredients are evenly spread out in your dish.
Sprinkle the dry ingredients into the wet ingredients, and stir until everything is incorporated and smooth. Do not overmix.
Pour the batter into the prepared baking dish immediately, and bake for 1 hour, or until the casserole has browned on top and is slightly soft to the touch.
Serve warm, and enjoy.
Notes
Not a heat fan? Leave out the jalapeño pepper or just add in a pinch of cayenne instead.
Recommended Products
As an Amazon Associate and member of other affiliate programs, I earn from qualifying purchases.
Nutrition Information:
Yield:
6 servings
Serving Size:
1 serving
Amount Per Serving:
Calories:

370
Total Fat:

21g
Saturated Fat:

12g
Trans Fat:

0g
Unsaturated Fat:

7g
Cholesterol:

116mg
Sodium:

560mg
Carbohydrates:

41g
Fiber:

2g
Sugar:

10g
Protein:

7g
Nutrition facts are an estimate and not guaranteed to be accurate.
This Creamed Cornbread Casserole recipe was originally published November 11, 2015. The post and images were updated and republished in October 2020.