Today, I'm sharing a recipe that is a new one for this Christmas season, and it was actually invented during the summer.
Even though it is new, it is quite delicious. And it even won third runner-up in the Best of the West Cookie Competition.

Today's Participants in the Cookie Week Carnival: Cait shared her delicious-looking Snickerdoodle recipe! (Who doesn't love something that is dipped in sugar and cinnamon and is all kinds of delicious?) And Renee baked some fancy looking (and sounding!) Pillowy Lemon Crinkle Cookies! Check their recipes out and leave them some love… and then try their recipes because they both sound amazing.
As y'all might remember, we were inundated with fresh figs by the random, yet substantial fig tree in our side yard. Not knowing what to do, I learned how to make fig preserves, fig tarts and basically any recipe that called for any kind of fig.
The fig tree puttered out in August, finally giving up its final fifteen pounds of fresh fruit, and we were once-again knee deep in fig preserves.
So it was time for me to figure out what to do with those.
A friend and her fiance were in town one weekend, and they came over to visit. She and I decided we needed to make Tea Cakes, but since the recipe is so large, we had tons of batter left over. I stuck it in the freezer, not thinking much about it, and forgot about the cookie dough for a week.
The next week, I was struck by the idea as I was adding fig preserves to a piece of toast. What if I put the fig preserves in a cookie? Kind of like a Fig Newton… but way better and homemade. And then, I realized we had leftover Tea Cake batter. And then, I was throwing together these cookies.
It was a lightbulb moment, y'all. And my life is better for it.
You'll take the chilled Tea Cake batter. You'll also need some fresh fig preserves (or some other kind of preserves) to makes these pinwheels happen.
First thing's first. Coat the surface you are going to be working on in flour. And sprinkle it onto your rolling pin.
Then form the dough into a rectangular shape. It should be longer than it is wide. (See below.)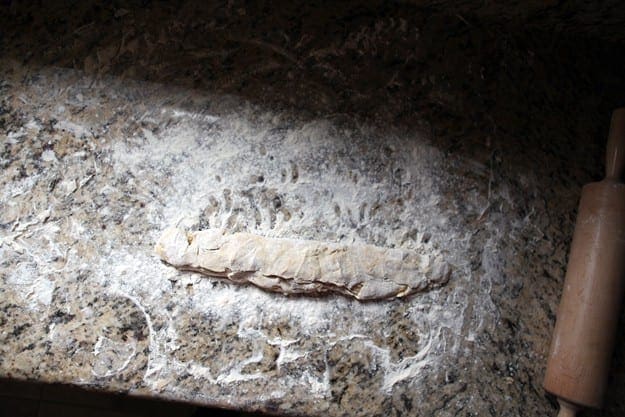 Now, you're going to roll the dough out thick. It needs to be at least half an inch thick so it doesn't fall apart when you are rolling the pinwheels.
… Trust me here. I messed this up before because I rolled the dough too thin.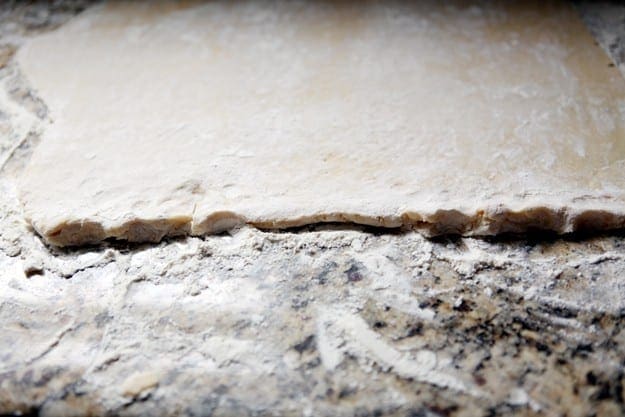 And then, once the dough is the right thickness and has been formed into a rectangle, slather it in the Fig Preserves… or your favorite jam.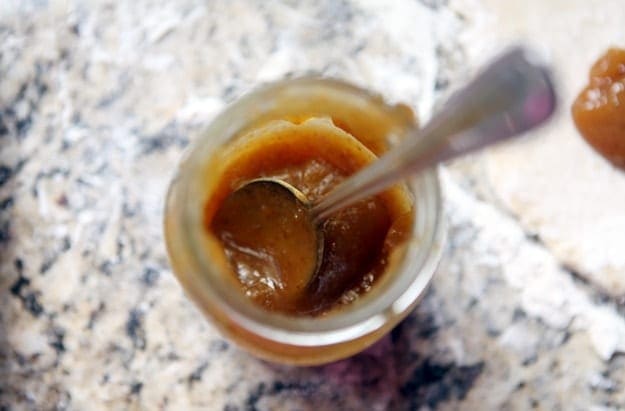 You can scoop the preserves onto the dough by a spoon… or you can actually measure it out.
I'd guesstimate I poured on about a cup of preserves. But put as much or as little as you like. Just make sure to leave about an inch on each side of the dough so the preserves don't leak out and all over the counter.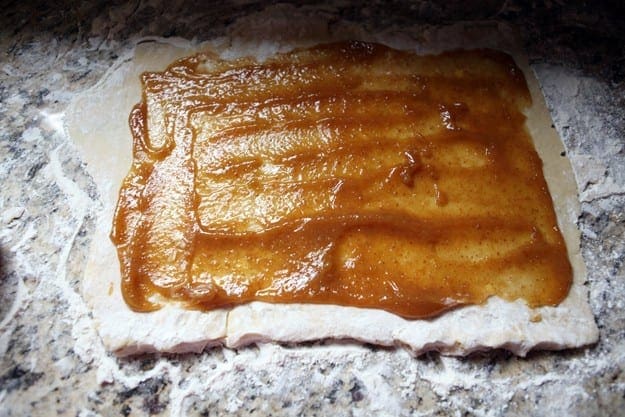 And now, it is time to roll!
Start on the side closest to you and slowly peel the dough up from the counter. Once you get this edge up, it should be pretty easy to roll the dough.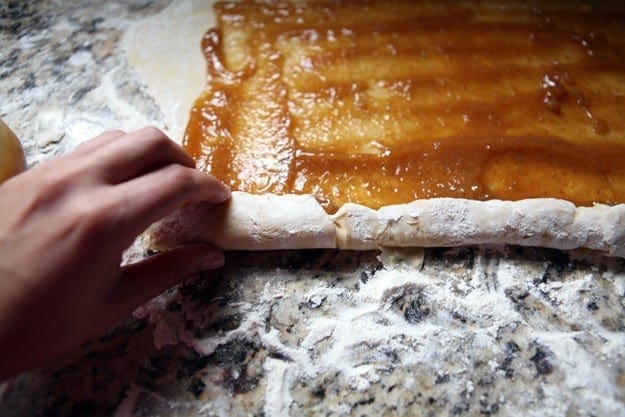 Use both hands to push the dough away from you, moving slowly to roll the pinwheels.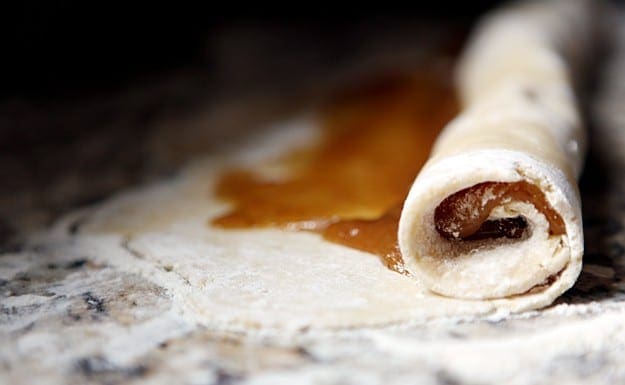 When your dough is completely rolled up, move it to the center of your countertop and begin to cut it into 1″ slices.
They will look a lot like cinnamon rolls right now, so don't fret.
They will probably also be a little messy. So don't worry about that, either.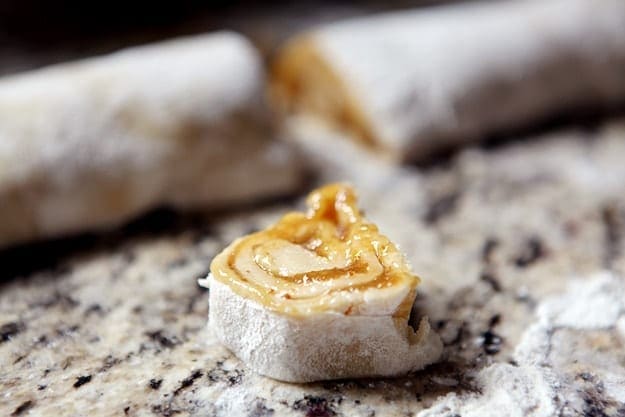 Cut the dough into pieces until you reach the ends. You can either bake these along with the other cookies and accept that they won't be nearly as gooey and delicious since they have less preserves in them. Or you can eat them right now. Or you can toss them. Your choice.
Place the cookies onto a greased baking sheet about an inch apart from one another.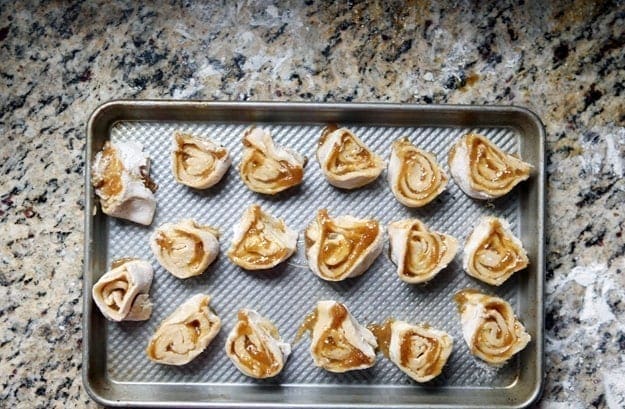 Bake at 350 for 10 minutes – or until tops of cookies are golden and delicious.
And then enjoy!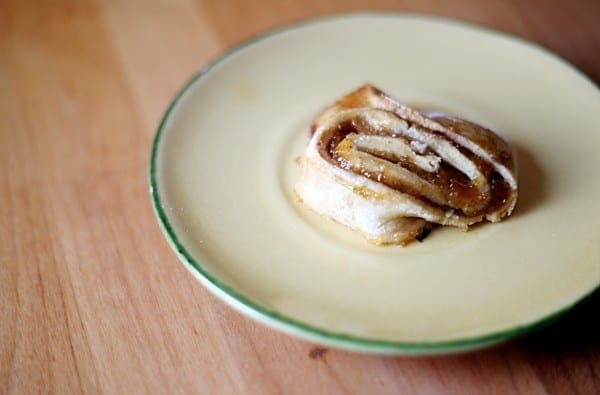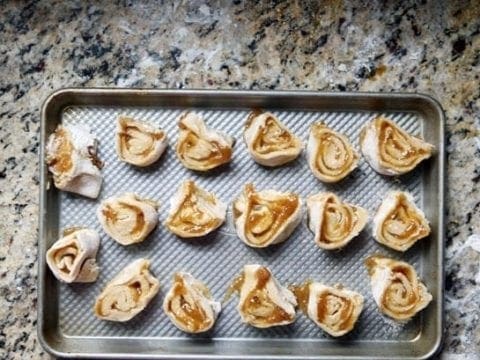 Yield:

2 dozen cookies
Fig Pinwheel Cookies
Prep Time:
2 hours
30 minutes
Total Time:
2 hours
45 minutes
Ingredients
Cookie Dough
¼ cup vegetable shortening
¼ cup unsweetened applesauce
¾ cup granulated sugar
¾ teaspoon pure vanilla extract
1 egg
3 tablespoons skim milk
¾ teaspoon white vinegar
2 cups unbleached all-purpose flour
1 teaspoon baking powder
¾ teaspoon baking soda
¼ teaspoon kosher salt
Filling
Instructions
Make the Cookie Dough
In the base of a stand mixer (or in a bowl using a hand mixer), combine the vegetable shortening, applesauce, sugar, vanilla, egg, milk and vinegar. Beat until smooth.
In another bowl, sift together the flour, baking powder, baking soda and salt. Whisk.
Pour the dry ingredients into the wet ingredients incrementally, mixing until just combined.
Cover the bowl with plastic wrap, and refrigerate for at least one hour.
Make and Bake the Cookies
Preheat the oven to 350°F. Line a baking sheet with parchment paper or a nonstick baking mat, and set aside.
Once dough has chilled, roll into a 10″ by 20″ rectangle on a floured surface using a rolling pin.
Slather 1 to 1 ¼ cups of fig preserves onto the dough, spreading almost to the edges.
Carefully, roll the dough up like you would a cinnamon roll.
Using a sharp knife, slice into 24 separate cookies.
Transfer these cookies to the prepared baking sheet.
Bake for 10 minutes in the preheated oven, or until tops of cookies are puffy and slightly golden.
Let cool and then enjoy!
Notes
Substitution alert: Use ½ unsalted butter, softened, in place of the combination of shortening and the applesauce.
Recommended Products
As an Amazon Associate and member of other affiliate programs, I earn from qualifying purchases.
Nutrition Information:
Yield:
24 cookies
Serving Size:
1
Amount Per Serving:
Calories:

95
Total Fat:

2g
Saturated Fat:

1g
Trans Fat:

0g
Unsaturated Fat:

1g
Cholesterol:

9mg
Sodium:

86mg
Carbohydrates:

17g
Fiber:

1g
Sugar:

9g
Protein:

1g
Nutrition facts are an estimate and not guaranteed to be accurate.
Have you ever made up a recipe like this one?
And are you planning on participating in the TSP Christmas Cookie Week? If so, send me a link to your post!
Happy Tuesday, y'all!